LeBron James Diet & Workout Plan
Just when we thought we'd covered every celebrity workout and diet, LeBron James comes in like, "hold my barbell." The NBA legend reportedly spends up to US$1.5 million a year taking care of his body and has plenty to show for it. King James is looking as 8 Insane Charts that Will Change the Way You See NBA as ever before as he continues to rack up championship rings and MVP awards like a…well…king.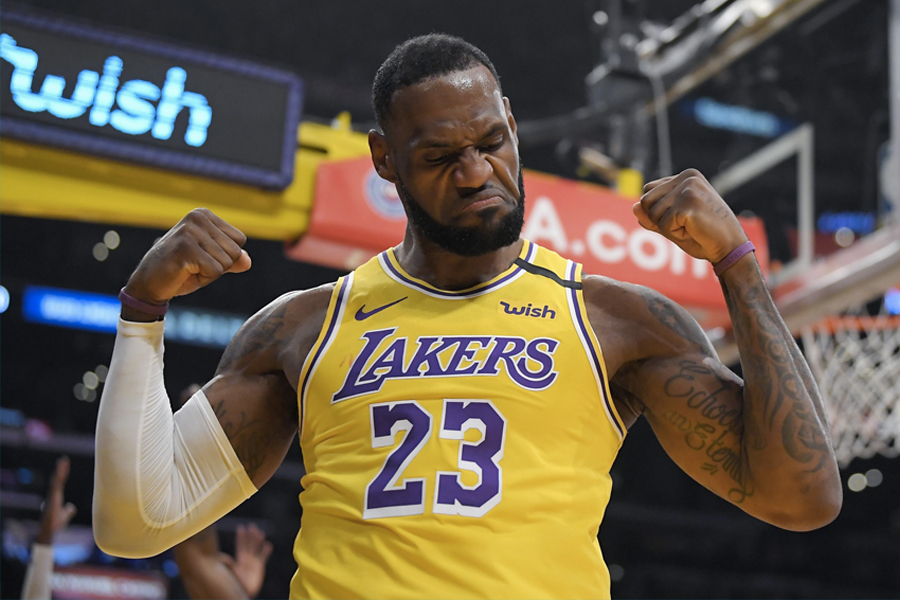 While the LeBron James workout plan is equal parts consistent and precise, his regular diet isn't necessarily what you'd expect. Former teammate Tristan Thompson once referred to it as the "worst diet ever," in fact. That was on the heels of a Men's Health article, describing LeBron's weight loss and healthy diet in 2014. So does the man eat right or doesn't he?
The answer is a little bit of both. With help from personal trainer Mike Mancias, the NBA star eats with intent, even as he partakes in the occasional cheat or two…or ten. Of course, LeBron James' height alone requires plenty of caloric intake and that's before we even get to gameplay and workout routines. Something tells us he can handle it. Here's how the king stays the king.
Who is LeBron James?
LeBron James Key Stats:
Age: 35 years
Height: 6 ft 9 inches
Weight: approximately 250 lbs
Playing career: 2003 to the present
In contention for the greatest NBA player of all time, LeBron James was drafted fresh out of high school by the Cleveland Cavaliers. Since then, he's played for three separate franchises–Cleveland Cavaliers, Miami Heat, and Los Angeles Lakers—and brought NBA championships to each one. To list off his remaining accomplishments would potentially use up all of our bandwidth. Currently, he plays for the Lakers.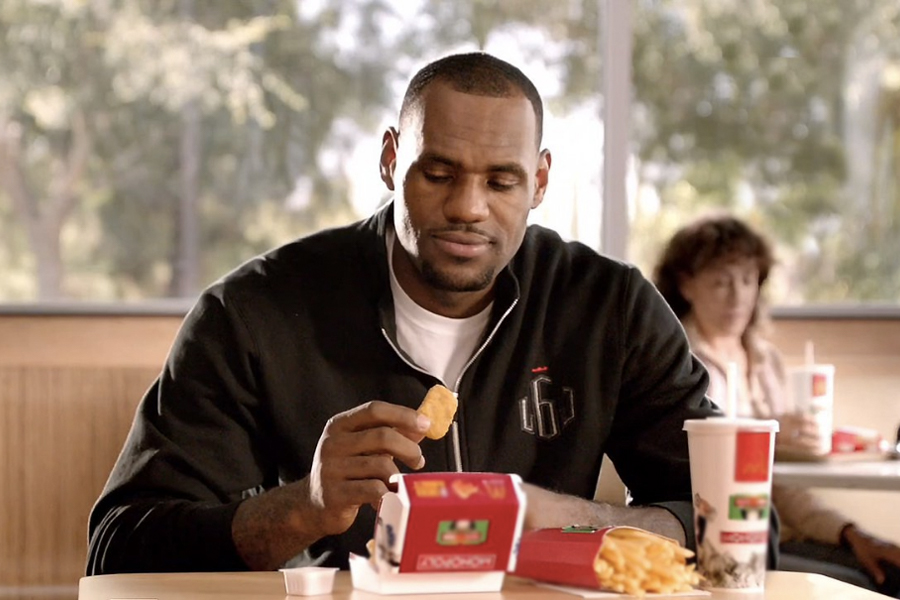 You'll also like:
Arnold Schwarzenegger's Diet and Workout Plan
Tyson Fury's Diet & Workout Plan
Lionel Messi's Football Diet & Workout Plan
LeBron James Diet Plan
In essence, the LeBron James diet is every bit as epic as the man himself. Depending on who you ask, he's either occasionally indulgent or consistently pandering to his every whim. One thing we can say for sure is that the man definitely has a sweet tooth. Nevertheless, it seems to be working for him.
---
Featured Video from Man of Many
---
To get to the heart of the LeBron James diet plan (though we use the word "plan" loosely), one must go back to 2014. That was when the king himself posted a photo to the 'gram, looking conspicuously slimmer than before. Naturally, the diet rumours began to fly. But were they true?
As it turned out, LeBron had indeed taken a closer look at his personal health. This was confirmed by ESPN sports writer Brian Windhorst, who claimed that James was probably in "the worst shape he's been in a while" when the 2013-2014 season kicked off.
At a later unveiling of the Nike LeBron 12 sneakers, King James explained the rapid weight loss: "I had no sugar, no dairy. I had no carbs. All I ate was meat, fish, fruit, and veggies. That's it. For 67 straight days." We can thus safely deduce that the LeBron James diet plan resembled a paleo-style program…for 67 days.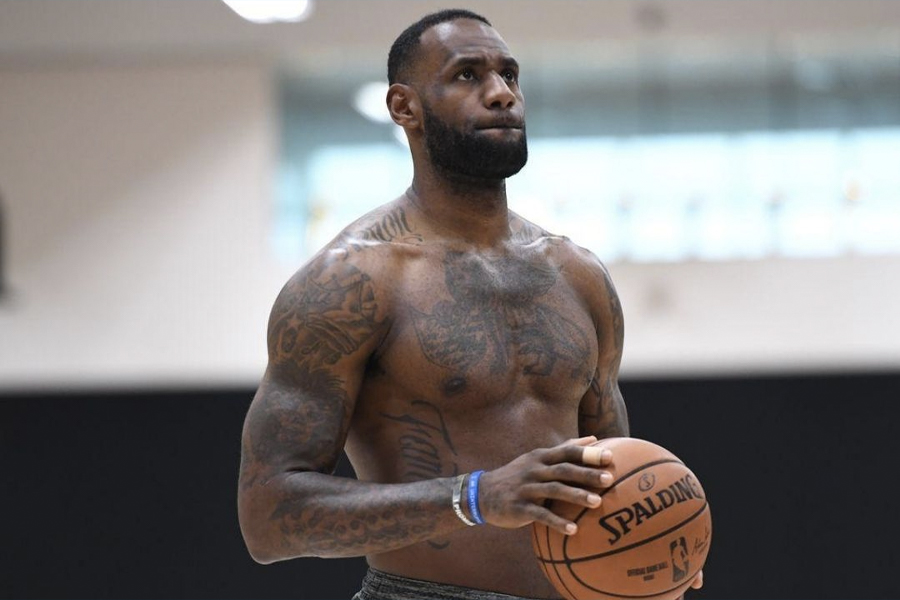 In a separate interview with Business Insider, James once discussed his pre-game eating ritual: "Before competition for me would be like a chicken breast and maybe a little pasta. The carbs help because you're going out and playing a lot of minutes. But a salad and some veggies will have me perfectly fine. And before the game I might have a protein shake and some fruit, and I'll be ready to go."
It all might sound like a standard athletic diet in the making, and one designed to yield maximum results. Ask former teammate Tristan Thompson (as The Athletic once did), however, and a starkly different picture begins to emerge.
According to Thompson, there's really no LeBron James diet plan to speak of, unless one qualifies copious sugar consumption as a "diet plan." To quote Thompson directly: "Ask him what he eats for breakfast. He has like five French toast, drowns it in syrup with strawberries and bananas. Then he has like a four-egg omelet and then he just goes and just fucking dunks on somebody. It doesn't make sense."
Thompson went on to say, "He eats desserts with every meal. He'll come with his one-week diet, vegan crap, but he literally eats like it doesn't make sense. He's really a specimen. He eats like shit. I remember one year I tried to eat like he ate and it just didn't work out. I started gaining weight and said, 'Fuck this'. I mean it works for him. He loves sweet. He loves sweets. He eats desserts and French toast. It's crazy how his body just burns it."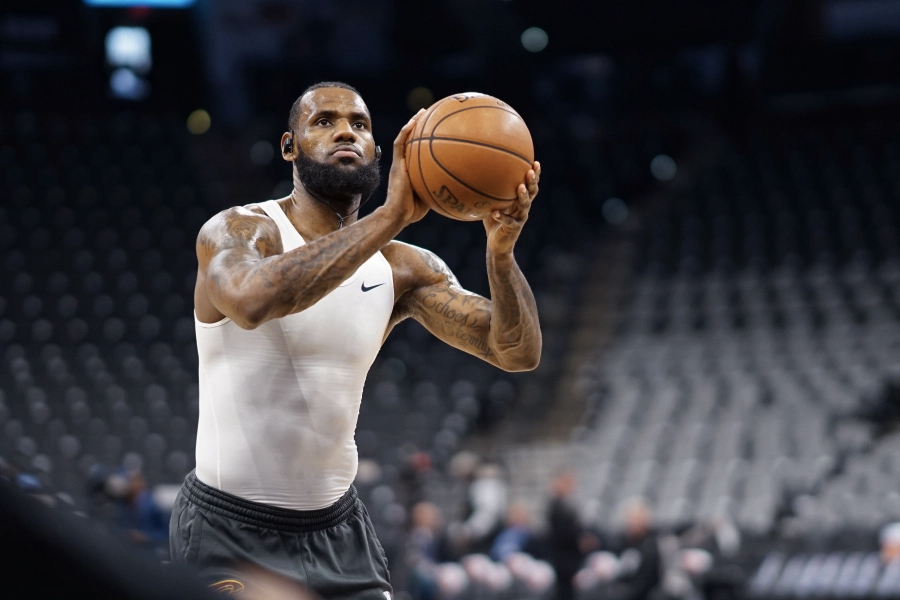 One should probably take Thompson's comments with a grain of salt (or shall we say sugar), as LeBron is definitely no stranger to nutrition. For example, his personal chef aka Chef D reportedly supplies him with healthy, delicious meals. There's also the fact that James and wife Savannah Brinson once owned a short-lived juice store in Miami.
Then we have personal trainer Mike Mancias, who once discussed LeBron's diet in a 2019 interview with GQ. King James was recovering from an injury at the time and Mancias was helping the NBA star maintain a healthy meal program.
Mancias explained, "As far as his diet goes, we've eliminated extra carbohydrates and extra sugars in order for him to drop the weight, because the more weight he's carrying around, the more stress that can be on the body."
During the same interview, Mancias acknowledged that James would still partake in the occasional cheat, namely a glass of wine with dinner and a chocolate cookie with ice cream for dessert. If Tristan Thompson is to be believed, those little "cheats" were likely more than just occasional.
Put it all together and you get a fairly broad diet plan, which seems to fluctuate based on certain variables. We'll go ahead and assume that LeBron practices a healthy diet when he finds it necessary, such as when he's recovering from an injury, preparing for a big game, or trying to lose weight. Otherwise, all bets are off!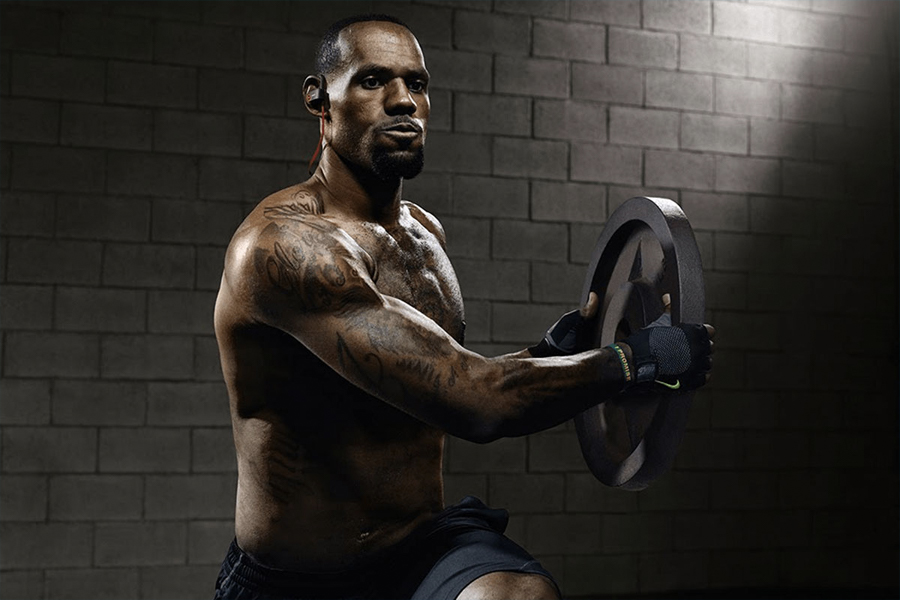 LeBron James Workout Routine
Unlike his diet regimen (or lack thereof), the LeBron James workout plan is quite disciplined. As we said before, the man spares no expense when it comes to fitness and physical self-improvement. That takes him well beyond traditional exercise, athletic training, and muscle building into the realm of cryo-chambers and compression gear. According to business partner Maverick Carter, the bill adds up to about US$1.5 million a year.
So where does the money go, exactly? The better question is: where doesn't it go? Not only does King James deck out his personal home gym with high-quality equipment, but he explores every mode of physical fitness that modern science can muster.
One of those modes is biomechanics, which studies the effect of mechanical laws as they relate to the structure of physical organisms. With help from former Navy SEAL turned biomechanist Donnie Raimon, King James swiftly recovered from a back injury in 2015. Soon thereafter, Raimon moved to Ohio and joined LeBron's full-time staff of personal trainers, professional masseuses, and other fitness experts.
James is also quite serious when it comes to things like optimal blood circulation and muscle recovery. He was one of the NBA's earliest adopters of cryotherapy, for instance. He also reportedly uses a hyperbaric chamber to increase oxygen levels and enhance his mental acuity.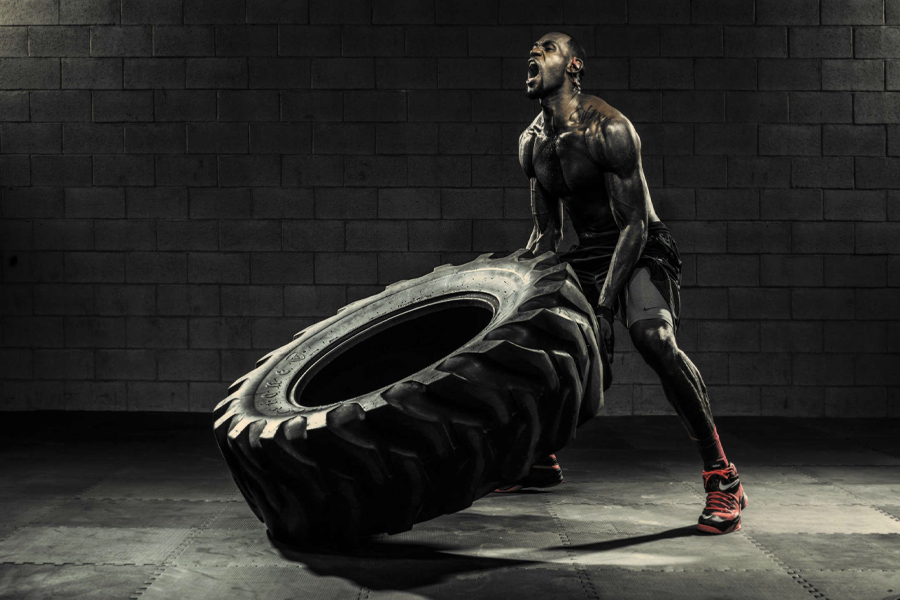 You thought we were done? Not even close. To stimulate blood flow, James wears special compression gear like sleeves, shorts, and (massive) boots. During post-game flights, he flushes out toxins and contracts his muscles with help from an electrostimulation machine. He's also a big fan of ice baths, manicures, and massages.
Of course, not all of us have access to high-performance compression gear, personal cryo-chambers, and electrostimulation machines. Thankfully, the LeBron James workout also employs the kind of traditional routines that we mere mortals can still practice at home. That includes core exercises, high-intensity strength training, yoga, meditation, and Pilates.
King James is also a huge fan of the VersaClimber machine, so much so that he takes classes during both the playing season and the off-season. Essentially a high-performance step climber, the cardio-boosting machine combines upper and lower body exercise. Pair that with some dedicated supersets and you get a truly well-rounded workout, the kind of which builds upon spryness, endurance, flexibility, recovery, and power alike.
Are you ready to pack in the muscle, LeBron James style? If so, here's a suggested 5-day workout routine fit for a king, plus an extra "recovery workout" from trainer Mike Mancias. The workout is taken from the fitness website Superhero Jacked, which based its plan on various articles and sources: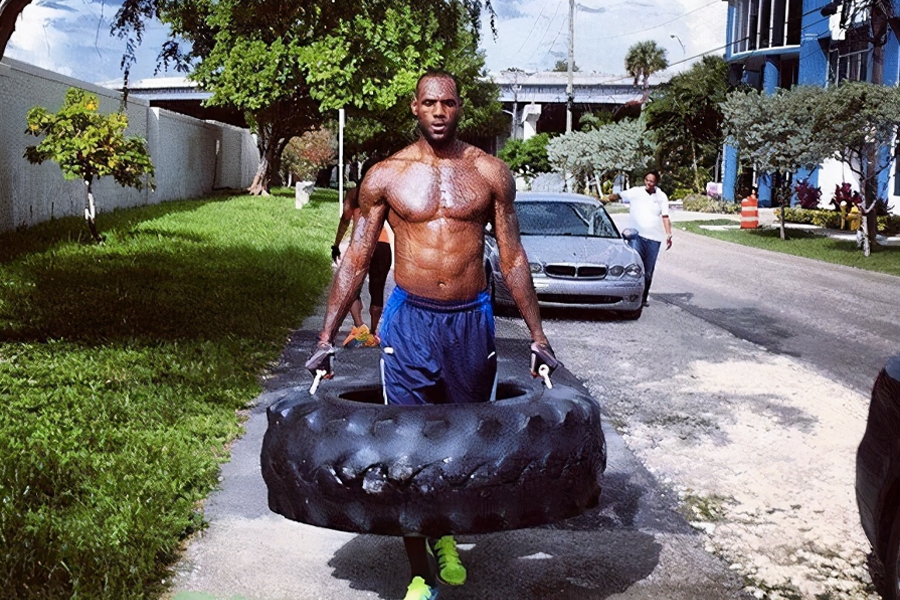 Monday: Chest, Triceps, Shoulders
VersaClimber: 20-30 minutes (warm-up)
Incline dumbbell bench press: 4 sets of 12 reps
Seated dumbbell overhead press: 4 sets of 12 reps
Seated overhead tricep extension with one dumbbell: 4 sets of 12 reps
Clap push-ups: 3 sets of 20 reps
Triangle push-ups: 3 sets of 20 reps
Yoga: 15-30 minutes (cooldown)
Tuesday: Plyometrics and Yoga
Plyometrics or spin class: 30-60 minutes
Yoga: 30-60 minutes
Wednesday: Back, Biceps, Traps
VersaClimber: 20-30 minutes (warm-up)
Barbell deadlift: 4 sets of 12 reps
Standing bicep curls with barbell: 4 sets of 12 reps
Barbell bent-over rows: 4 sets of 12 reps
Wide push-ups: 3 sets of 20 reps
Chin-ups: 3 sets of 15 reps
Wide grip pull-ups: 3 sets of 10 reps
Yoga: 15-30 minutes (cooldown)
Thursday: Plyometrics and Yoga
Plyometrics or spin class: 30-60 minutes
Yoga: 30-60 minutes
Friday: Legs, Calves, Calisthenics
VersaClimber: 20-30 minutes (warm-up)
Back squat: 4 sets of 12 reps
Leg press: 4 sets of 12 reps
Seated calf raise: 4 sets of 12 reps
Jumping lunges: 3 sets of 20 reps
Box jumps: 3 sets of 15 reps
Weighted jumps: 3 sets of 10 reps
Yoga: 15-30 minutes (cooldown)
Weekend: Plyometrics, Yoga, and Rest
Extra: Mike Mancias Recovery Workout
Spider-man crawl: 1 set of 10-12 reps
VersaClimber: 3 sets of 30 seconds (with 15-20 seconds of rest between each set)
Inverted row: 3 sets of 8-10 reps
Landmine rotational press: 3 sets of 8-12 reps per side
Multi-planar lunge: 3 sets of 3 rounds per leg
Cable lateral chop: 3 sets of 10 reps per side
You'll also like:
Arnold Schwarzenegger's Diet and Workout Plan
Tyson Fury's Diet & Workout Plan
Lionel Messi's Football Diet & Workout Plan
General FAQ
How does LeBron James take care of his body?
Despite his somewhat erratic diet, LeBron James practices a rigorous fitness and recovery program. In addition to strength training, cardio, and stretching, he partakes in biomechanics, cryotherapy, ice baths, electrostimulation, and other non-traditional methods.
What protein does LeBron use?
Before a game or post-workout, LeBron will often consume Ladder Plant Protein, which provides his body with essential amino acids and aids with muscle growth.
What does LeBron James eat in a day?
LeBron James reportedly has a massive appetite and a sweet tooth to match. He's been known to eat cereal, French Toast, eggs, lobster, steak, fish, smoothies, protein shakes, cookies, pasta, chicken, fruit, veggies, and more. He also helps himself to the occasional glass of wine.
---
Featured Video from Man of Many