18 Best Fried Chicken & Wings in Sydney
Is there anything more satisfying than eating with your hands? Chomping down on a deliciously crispy piece of chicken or getting sauce all over your face and hands from a juicy wing? Answer: Probably not! With fried chicken and wings being more popular than ever with Sydney-siders, the dining options are endless. It may seem like a simple snack to some, but the art of making the perfect piece of crispy fried chicken takes skill and eating it is some deeply satisfying stuff. We all love to get our caveman on and eat meat off the bone, so here's the ultimate list of the best fried chicken and wings Sydney's got to offer.
You'll also like:
17 Best Ribs in Sydney
20 Cool Restaurants in Sydney
16 Best Steak Restaurants in Sydney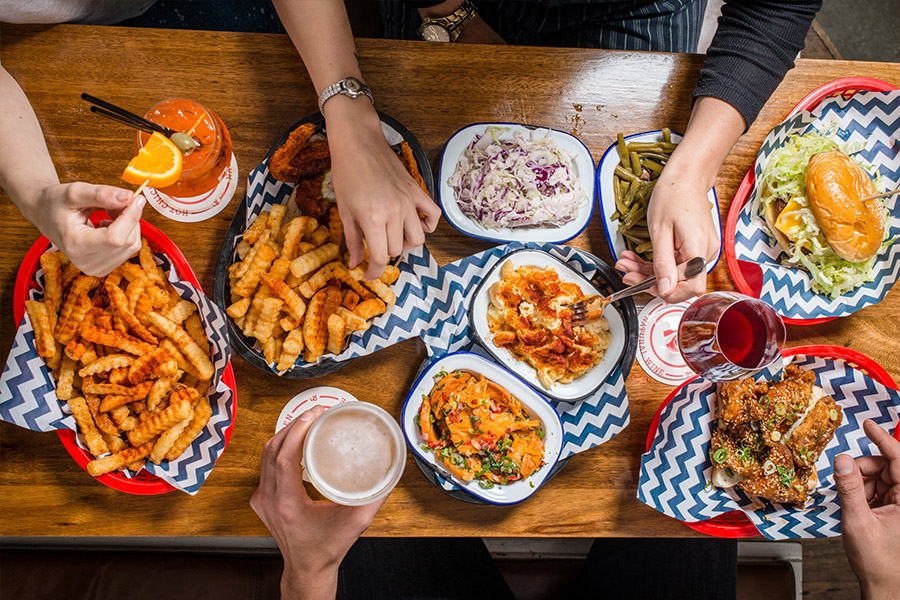 1. Belle's Hot Chicken
After years of cooking in Nashville, Tennessee, Belle's Hot Kitchen founder Morgan McGlone, has perfected the art of fried chicken. If you're after intense crunch, succulent meat and spices that make your tongue tingle, you've come to the right kitchen. Take your pick of tenders, wings or drumsticks and choose your own level of heat from mild to tear jerking. With friends? Then try the Baller Bucket which includes 16 wings, 4 southern sides and sauces.
Address: 5/33 Barangaroo Avenue, Barangaroo NSW 2000
Phone: (02) 8355 7879
Trading hours: Sun-Thu 11:30am-9:30pm, Fri-Sat 11:30am-10:30pm
Address: 7 Steam Mill Lane, Haymarket NSW 2000
Phone: (02) 8355 7891
Trading hours: Mon-Thu 11:30am-9pm, Fri-Sat 11:30am-10pm, Sun 11:30am-8pm
Address: 1 Dalgal Way, Forest Lodge NSW 2037
Phone: (02) 8355 7890
Trading hours: Sun-Thu 11:30am-10:30pm, Fri-Sat 11:30am-11pm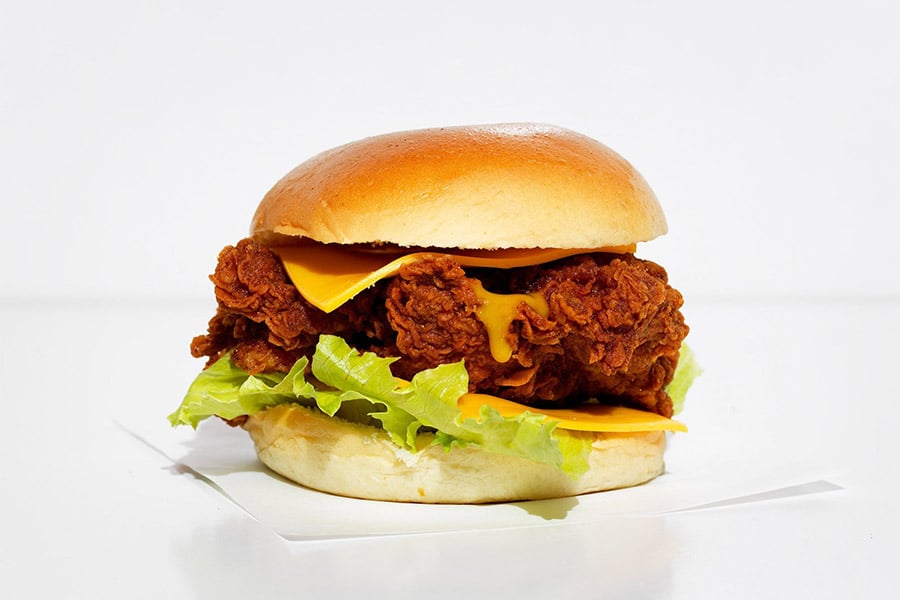 2. Butter
Described as a hybrid sneaker, fried chicken and champagne bar is, the one and only, Butter in Surry Hills. Celebrating all thing peng, this is not a place to miss on the tour of Sydney's chicken shops. With a surprising touch of class, Butter delivers some of the best fried chicken burgers, wings and collared greens all paired to your choice of champagne. While you're in there make sure you check out their catalogue for the latest streetwear and sneakers.
Address: 6 Hunt Street, Surry Hills NSW 2010
Phone: +61 2 8283 9146
Trading hours: Mon-Wed 11:30am-10pm, Thu-Sat 11:30am-12am, Sun 12pm-10pm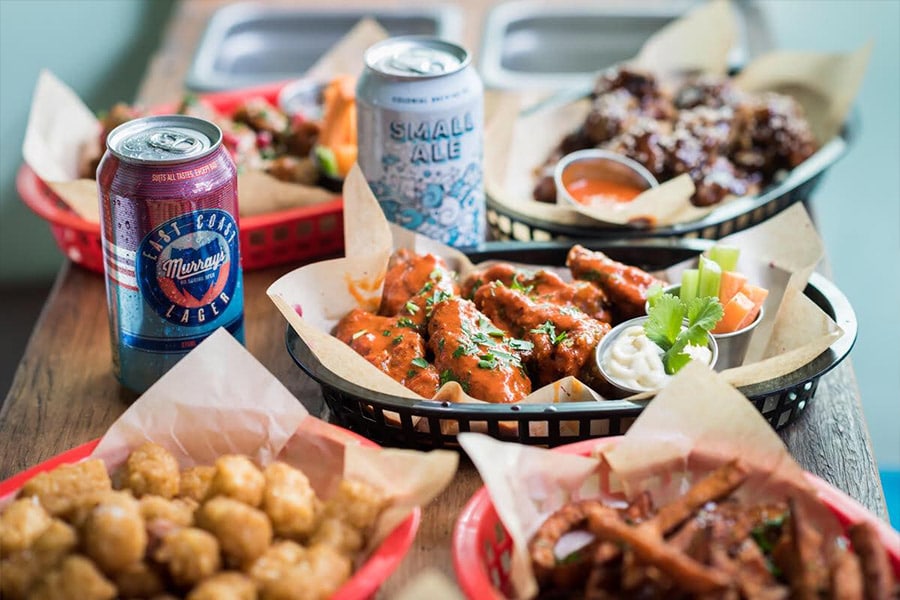 3. Wings X Tins
Wings X Tins are a fairly new restaurant but have already garnered much attention for their simple and fun approach to food. This is the kind of place you go to, not just for the food but the dive bar atmosphere. Try the Cajun Dry-Rub, made extra crispy by being twice fried and comes with a garlic and parmesan dip. After something more traditional? Try the house-made Buffalo wings or the simple yet delicious Salt and Pepper crispy wings. Want your name immortalised on the 'Wall of Pain'? Just finish a serving of T-Bone's DOOM Juice made from The Carolina Reaper, the hottest chilli in the world.
Address: 2 Chapel Street, Darlinghurst NSW 2010
Trading hours: Tue-Wed 5pm-11pm, Thu 12pm-11pm, Fri-Sat 12pm-12am, Sun 5pm-10pm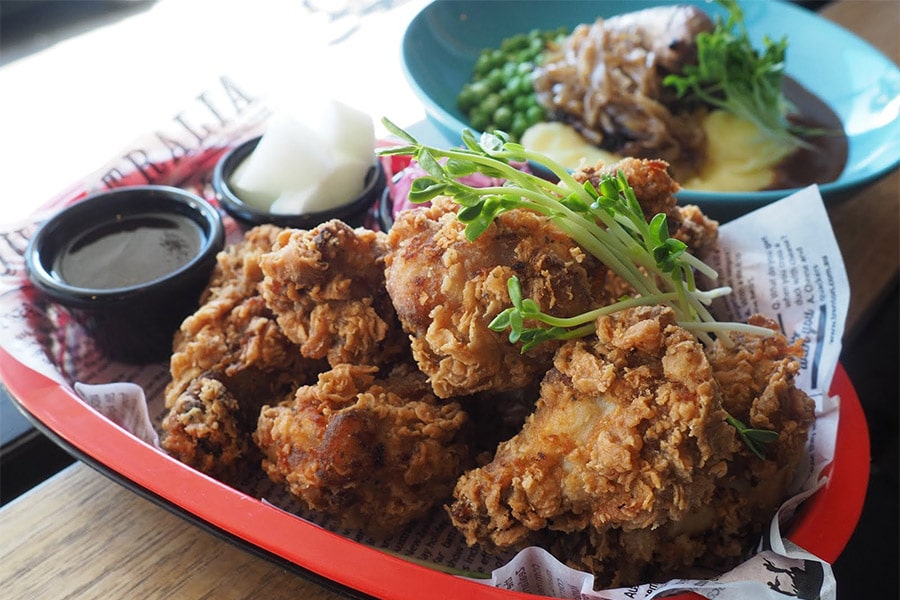 4. Harts Pub
With an impressive collection of local beers, it's not hard to see why Harts Pub is a local favourite. Settled in Sydney's historic 'The Rocks', this pub offers a traditional jovial atmosphere and some of the best wings Sydney has on offer. Their chicken wing are famous with Sydney's locals, making Harts Pub a one stop shop for lovers of good pub grub and a good wing. Not only that, they also have 12 different Australian craft beers.
Address: Essex St & Gloucester Street, The Rocks NSW 2000
Phone: +61 2 9251 6030
Trading hours: Mon-Wed 11:30am-11pm, Thu-Sat 11:30am-12am, Sun 11:30am-10pm

5. Ribs and Burgers
Ubiquitous throughout Australia, Ribs and Burgers don't just make good on their name but also their chicken wings. Ribs and Burgers pride themselves on 'real ingredients', so you can be sure your chicken wings are 100% free range and hormone free. Take your pick from Barbecue, chilli or smoky and get stuck in with some ranch dip on the side.
Address: 88 George St, The Rocks NSW 2000
Phone: +61 2 9251 4488
Trading hours: Sun-Thu 11am-9:30pm, Fri-Sat 11am-10pm

6. Soda Factory
Eat fried chicken by the bucket at the Soda Factory and score some southern fried chicken courtesy of Fat Bubba. This quirky bar is actually hidden behind a soda machine inside Bobby's Boss Dogs, a fully functioning fast food joint. Pull on the handle of the coke machine and enter to the Soda Factory where you'll find comfy booths and no decor from the latter half of the 20th century. Try the Kick Ass Buffalo Wings – deep fried and tossed in spicy buffalo and served with homemade ranch sauce or Fat Bubbas's Chicken Poppers.
Address: 16 Wentworth Avenue, Surry Hills NSW 2010
Phone: +61 2 8096 9120
Trading hours: Mon-Wed 5pm-2am, Thu 5pm-3am, Fri 5pm-4am, Sat 6pm-4am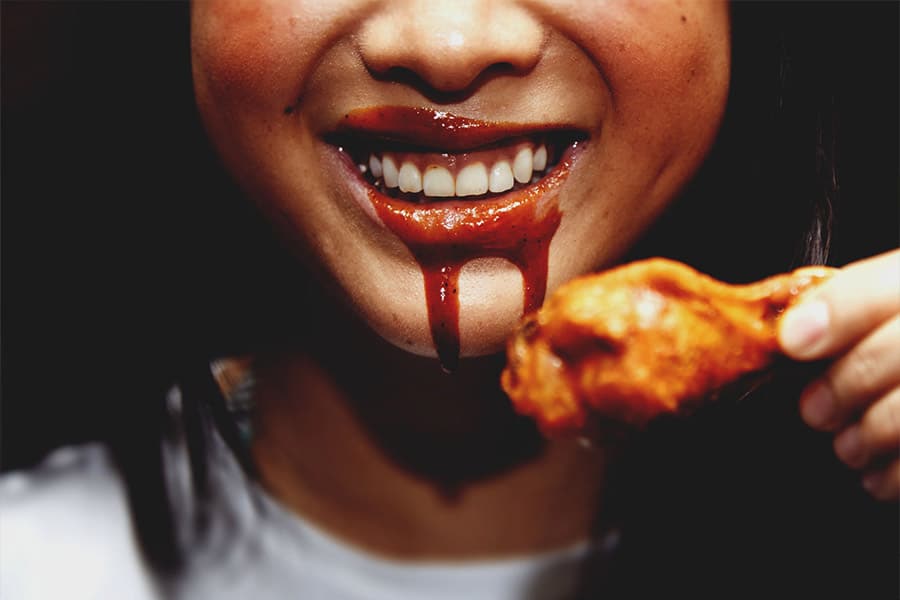 7. Stuffed Beaver
Stuffed Beaver is modeled after Canadian dive bars and offers a laid back charm and some of the best chicken wings in Sydney. Take your pick from 3 differently seasoned wings. The Bang Bang Wings are of the dry rub variety and come with a kick and hot sauce. Try the infamous Tom's Hot Wings served with ranch dressing, or if you're after something a bit more mellow, the Beaver BBQ Wings are sure to leave you sticky and satisfied. Then to wash it all down, there's craft beer on tap and cocktails.
Address: 271 Bondi Rd, Bondi Beach NSW 2026
Phone: +61 2 9130 3002
Trading hours: Tue-Sat 12pm-12am, Sun 12pm-12am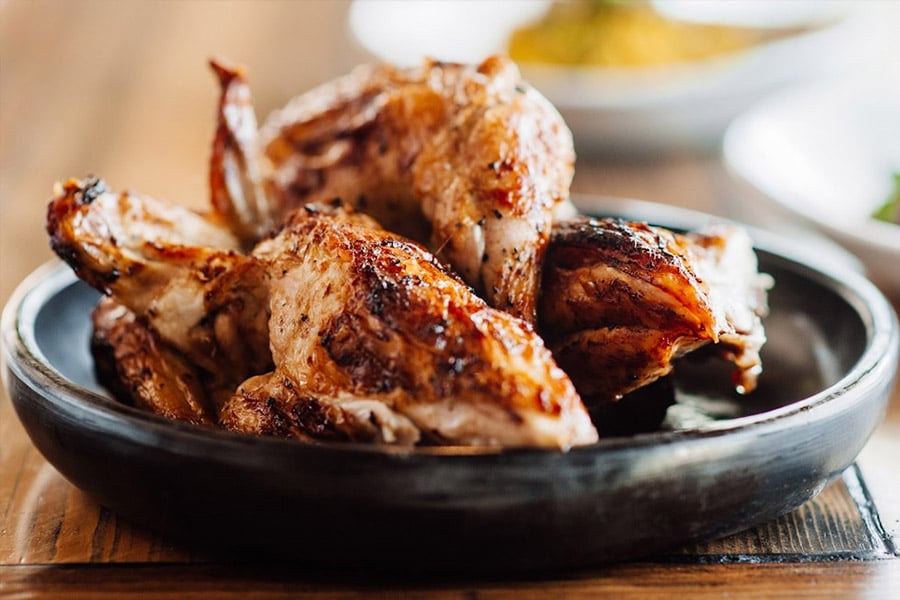 8. The Char Rotisserie
The Char Rotisserie is one of the top chicken restaurants in Sydney and offers almost every style of chicken you can think of with a smile. Choose from the Char crispy batter, teriyaki, coconut milk and lemongrass, garlic pepper and soy or sweet chilli marinated chicken wings for just $2.50 a piece. Or if you're after something with a kick, The Char offers a spicy little number with the unholy name of Devil Wings.
Address: 125 Bondi Rd, Bondi Sydney 2026
Phone: +61 2 9389 3446
Trading hours: Mon-Sun 10am-9pm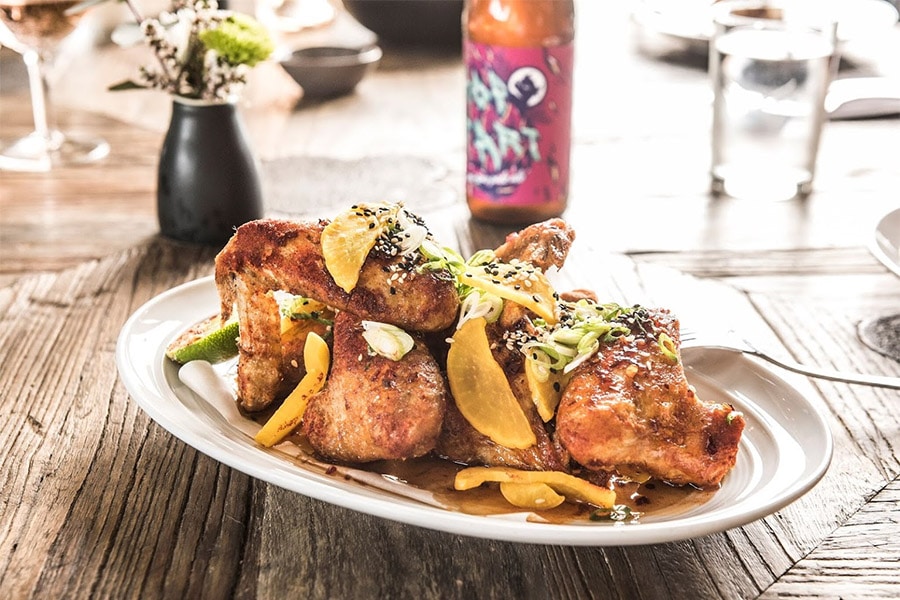 9. Whirly Bird
'Fine poultry and liquor' is the Whirly Bird slogan and really what more could you want? This place is all about the bird and every which way you can eat it. Try the Whirly Bird Messy Wings with a selection of different marinades including, Seoul wings, Satay wings and the traditional Buffalo. For some of the best fried chicken Sydney has to offer, nothing beats Whirly Bird's boneless buttermilk fried chicken.
Address: 84 Union St, Prymont NSW 2009
Phone: +61 2 9660 6996
Trading hours: Mon-Tue 12pm-12am, Wed-Fri 12pm-1am, Sat-Sun 3pm-12am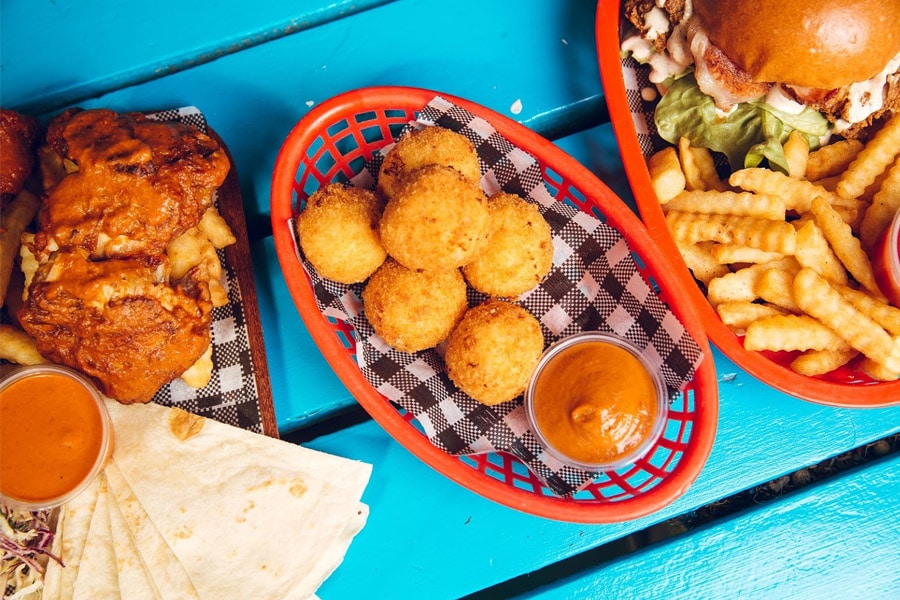 10. The Norfolk Hotel
Located on the corner of Cleveland and Walker streets, The Norfolk Hotel revamped its look back in 2010 and also its menu. For a cold beer and a basket of wings, you can't really go wrong. Try the Buffalo hot wings served with ranch, blue cheese and crunchy celery or if you're after something more substantial try the fried chicken burger served with crispy chicken, lettuce, bacon and chipotle aioli.
Address: 305 Cleveland St, Redfern NSW 2016
Trading hours: Mon-Tue 4pm-12am, Wed-Sat 12pm-12am, Sun 12pm-10pm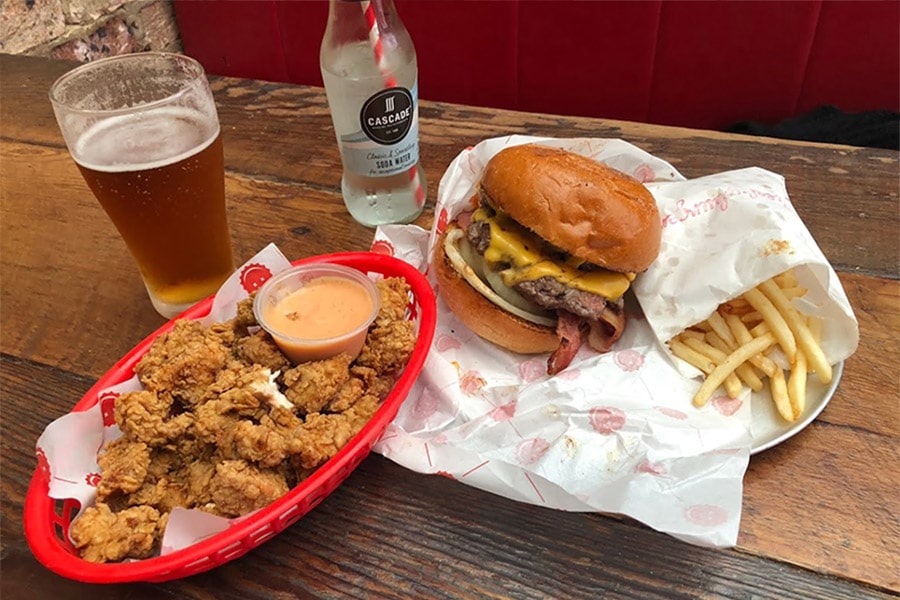 11. CheekyBurger
CheekyBurger goes all out as an American style diner. With a modest appearance from outside, the restaurant boast a comfy courtyard area out back. And tasty burgers are not the only thing on the menu, Cheekyburger also offer their very own take on Buffalo wings served with creamy ranch and celery. Plus if you go down on Wednesdays it's $1 wings.
Address: 312 Oxford St, Paddington NSW 2021
Trading hours: Tue 5pm-10pm, Wed 5pm-8pm, Thu 12pm-4pm & 5pm-10pm, Fri-Sat 12pm-4pm & 5pm-11pm, Sun 12pm-4pm & 5pm-10pm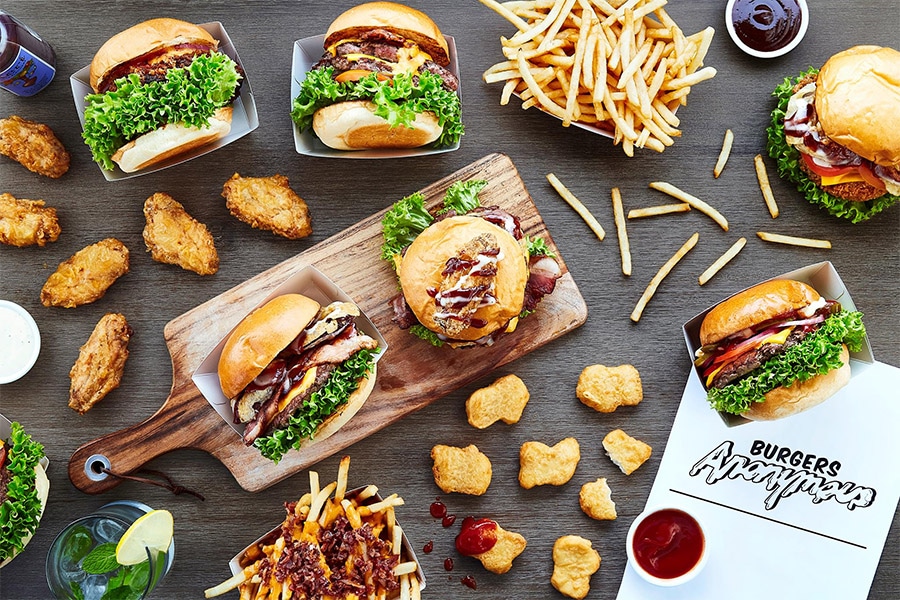 12. Burgers Anonymous
Just a 2 minute walk from Museum Station, Burgers Anonymous offer some of the tastiest chicken wings Sydney has to offer. Garlic Soy, Honey BBQ and Buffalo are just some of the delectable treats on Burgers Anonymous' menu. The aptly named Maple Mayhem wings are a delicious sticky and sweet fried wing that will have your mouth watering.
Address: 80 Oxford St, Darlinghurst NSW 2010
Phone: +61 415 980 019
Trading hours: Mon-Thu 11am-3pm & 5:30pm-10pm, Fri-Sat 11am-12am, Sun 11am-8:30pm

13. Bat and Ball
Bat and Ball is a local pub in Redfern and are all about good food, good service and good fun. Keeping it simple, you can either choose from hot or mild wings served with ranch sauce. Whatever you choose, you're guaranteed to have some of the best chicken wings Sydney has to offer. If you swing by on Monday, take advantage of the 1kg bucket of hot wings for just $10.
Address: 495 Cleveland St, Redfern NSW 2016
Phone: +61 2 8399 0303
Trading hours: Mon-Thu 11:30am-11pm, Fri-Sat 11:30am-1am, Sun 11:30am-10pm

14. Thirsty Bird
If you want some of the best fried chicken in Sydney, you've come to the right place. Thirsty Bird meticulously prepares their fried chicken through a 4 step process. The chicken is brined with a mix of spices, garlic and herbs then air dried for 24 hours for ultimate crispiness. The chicken is then repeatedly coated in a secret seasoned flour mix and butter milk then fried to perfection. And if that's not enough chicken for you, then try the delicious and equally appetising buffalo and BBQ wings.
Address: Shop 3, 2-14 Baywater Rd, Potts Point NSW 2011
Phone: +61 2 8937 4672
Trading hours: Mon-Thu 5pm-10pm, Fri-Sun 11:30am-10pm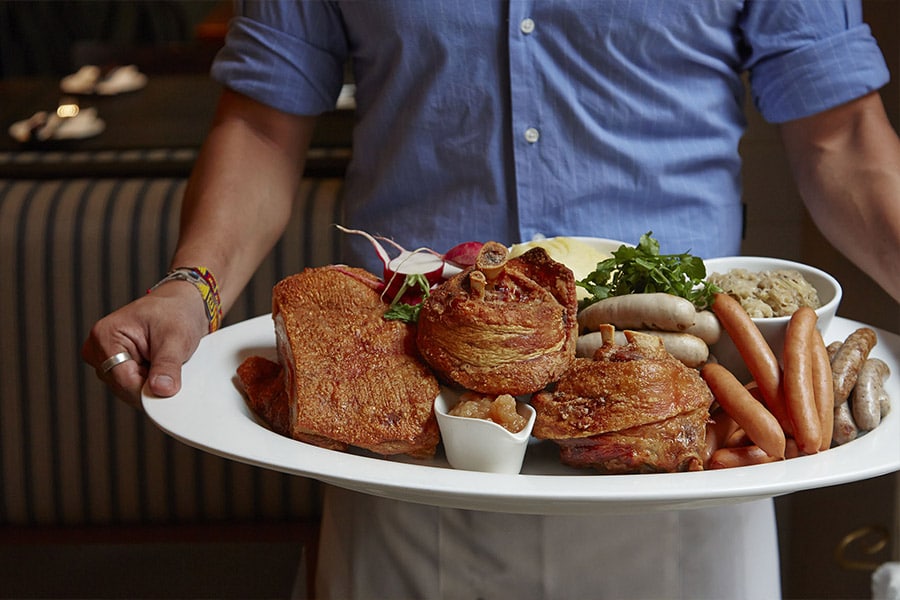 15. The Bavarian Beerhouse
Sausage and schnitzel are not the only things that should spring to mind when it comes to The Bavarian Beerhaus, because this vibrant inner city restaurant also offers an array of tantalising chicken wings. Get half a kilo of some of Sydney's finest chicken wings in either BBQ, Buffalo or the spicy Diablo served with a side of rich blue cheese dipping sauce, and wash it all down with a few steins of cold beer.
Address: 24 York St, Sydney NSW 2000
Phone: (02) 9259 5600
Trading hours: Mon-Sun 12pm-9pm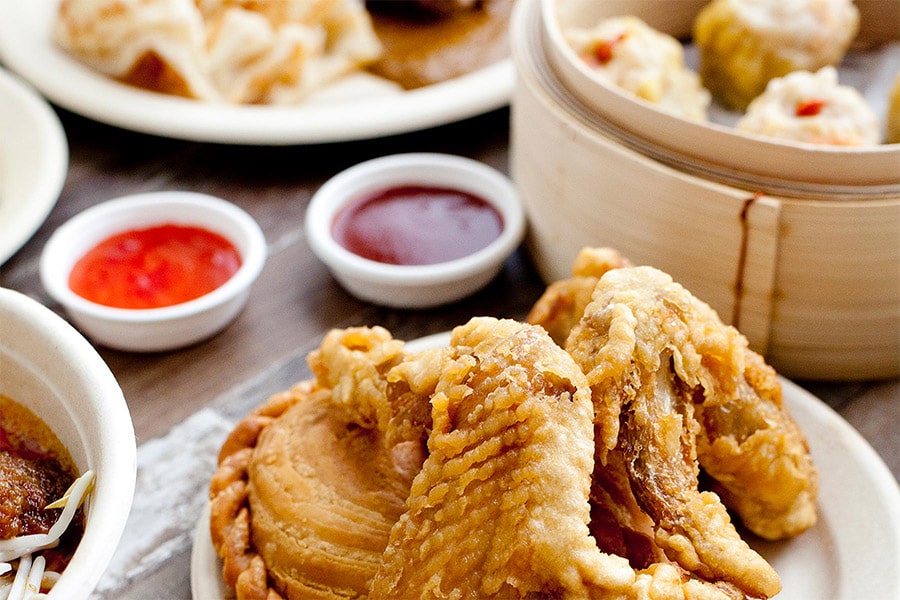 16. Old Jim Kee
Old Jim Kee located in Spice Alley, and run by veteran Chef Jim Yong is a master course in authentic Malaysian cuisine. Fondly referred to as Uncle Jim, his specialties lie in Malaysian Nyonya cuisine. But if you're after some of the best chicken wings in Sydney, at just $1.50, you won't be disappointed with Old Kim Jee's mouth watering and succulent salt and pepper chicken wings.
Address: 18-20 Kensington St, Chippendale NSW 2008
Phone: +61 2 9281 0822
Trading hours: Sun-Wed 11am-10pm, Thu-Sat 11am-10:30pm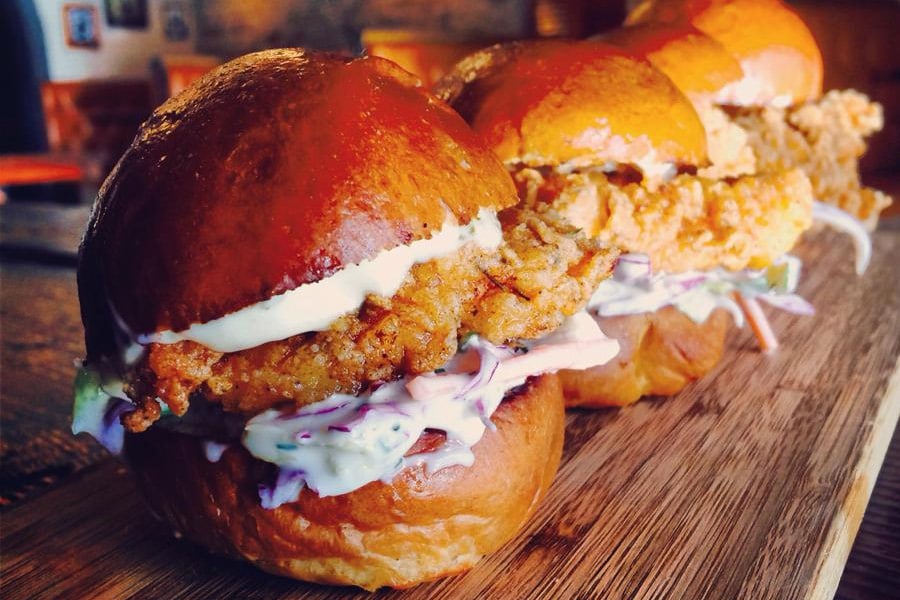 17. The Hayberry
Late night bar, The Hayberry located in Crows Nest offers all the regular boozy food you could want including delicious chicken wings. With craft beer on tap to accompany many fine and delicious options, you'll want to make this your local. Choose from Buffalo or BBQ wings served with your pick of ranch or blue cheese sauce, or try the Southern Fried Chicken Fries. Better yet, take advantage of their Thursday special with $1 wings.
Address: 97 Willoughby Rd, Crows Nest NSW 2065
Phone: +61 2 8084 0816
Trading hours: Tue-Sun 12pm-8:30pm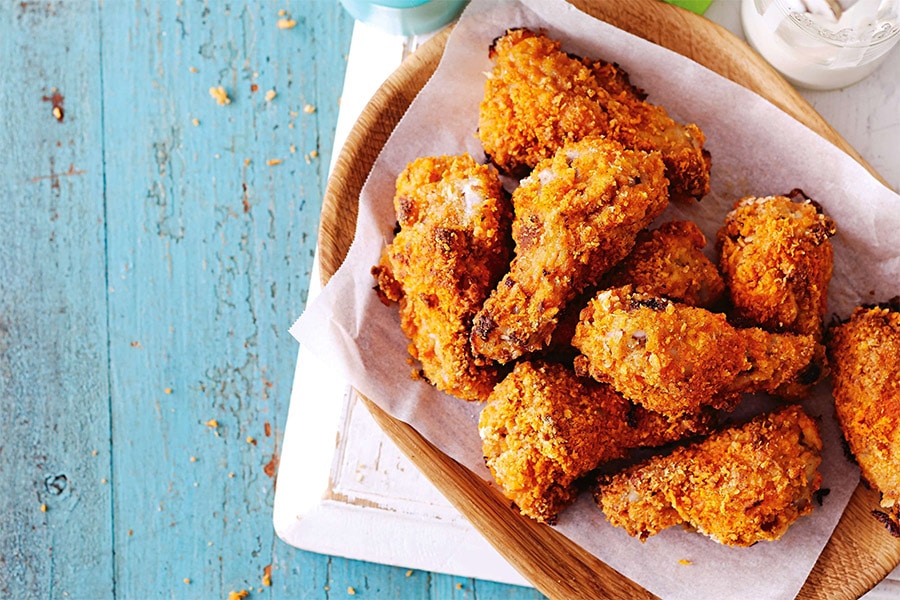 18. The Wanderer
The Wanderer is the creation of a Welshman, an Irishman and a Texan, and has been serving locals and travelers alike since 2014. If you're looking for an easy going, fun night with a group of friends, this is the place for you. Claiming to have the hottest hot wings not just in Sydney but the whole planet, it also boasts its own brewery, which can be sampled on tap. Try the smoked chipotle chicken wings at your own risk!
Address: 501 Elizabeth St, Surry Hills NSW 2010
Phone: +61 431 331 722
Trading hours: Wed-Sat 4pm-12am

You'll also like:
13 Best High Teas in Sydney
15 Best Beer Gardens in Sydney
15 Best Yum Cha Restaurants in Sydney
Have you subscribed to Man of Many? You can also follow us on Facebook, Twitter, Instagram, and YouTube.