20 Places for the Best Outdoor Dining in Melbourne
There's still time left to enjoy all that summer has to offer, and that includes alfresco dining. Melbourne, known as a culinary mecca in Australia is the perfect spot to enjoy the outdoor city atmosphere while snacking on some of your favourite cuisines. Outdoor dining has gained more and more traction over the years even if Melbourne's weather can sometimes leave a lot to be desired. Not only that, studies also suggest that being outside is inherently good for your health, both mentally and physically. Surrounding yourself in luscious green gardens or by a breezy waterfront might be just what the doctor ordered.
Rooftop bars, leafy gardens and waterfront decks are just some of the spots you can expect from Melbourne's restaurants. Check out the top 21 places for the best outdoor dining Melbourne has to offer.
---
You'll also like:
13 Best Ramen Restaurants in Melbourne
Catch of the Day: 15 Best Fish and Chip Shops in Melbourne
21 Best Fried Chicken & Wings in Melbourne
---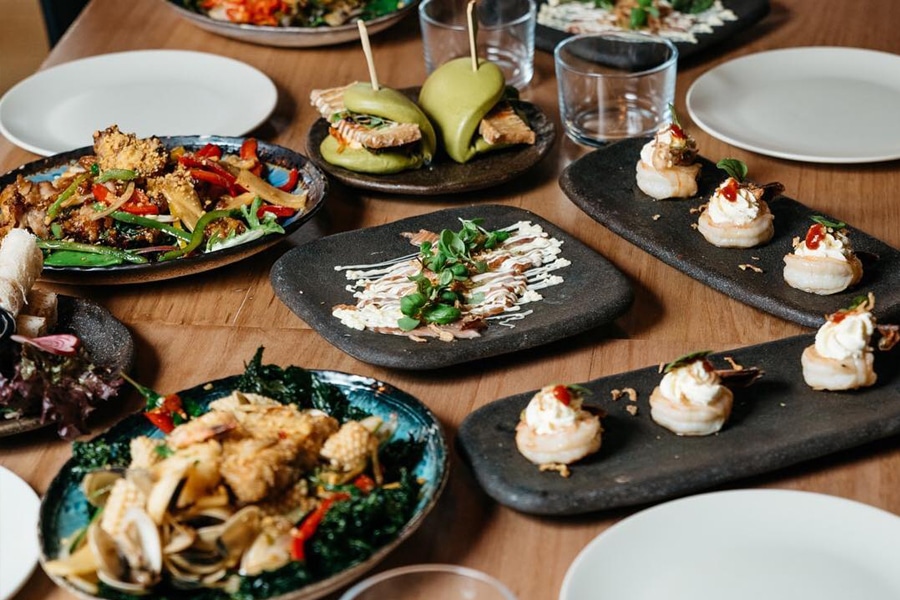 Hochi Mama
Hochi Mama serves up delicious Vietnamese cuisine, street food style. They have a great outdoor dining area for sun lovers and a delicious menu utilising contemporary flavours. You can expect delicious Vietnamese inspired dishes like chicken banh bao, Saigon curry crispy pork hok and Hanoi seafood spring rolls. The main star though is the cocktails which also incorporates Vietnamese flavours such as lemongrass and coconut.
11 Liverpool Street, Melbourne VIC 3000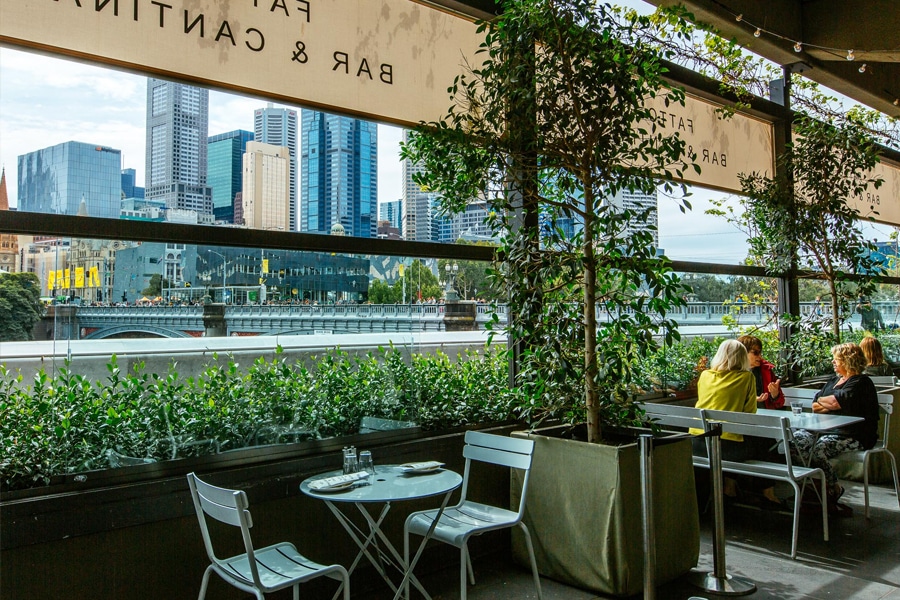 Fatto Bar and Cantina
Overlooking the Yarra River, you couldn't pick a prettier spot for a bit to eat. Fatto Bar and Cantina offers an outdoor heated terrace that runs the whole length of the building, so you don't have to worry what the weathers like. Grab some antipasto or specials like the formaggi burger and $10 pizzas and soak up the Melbourne city skyline.
River Terrace, Hamer Hall Arts Centre, 100 St Kilda Road, Melbourne VIC 3000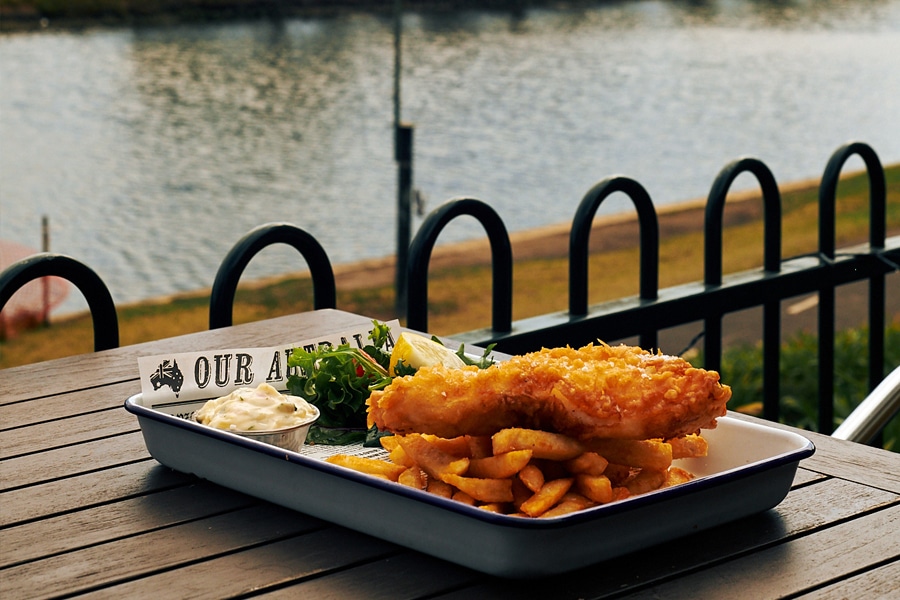 The Boathouse
For the best outdoor dining Melbourne has to offer, look no further than The Boathouse. It's one of the best spots for a summery drink along the Maribyrnong River and features a whimsically decorated outdoor area. The menu features modern Australian dishes and more seafood and meat than you can eat.
7 The boulevard, Moonee Ponds VIC 3038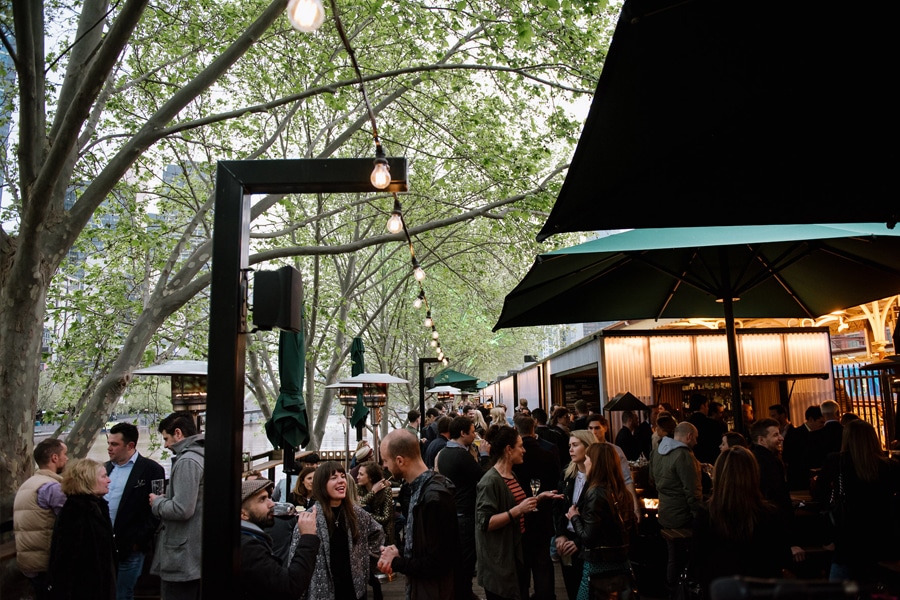 Arbory Bar and Eatery
This lively outdoor bar and eatery is one of the most well-known spots for the best outdoor dining Melbourne has to offer. Arbory Bar and Eatery sits on the heart of the CBD, the Yarra River. With uninterrupted views and boasting a huge outdoor dining area, you'll have no problem finding a nice spot to settle in and enjoy the spectacular river views and a bite to eat.
Flinders Walk, Melbourne VIC 3000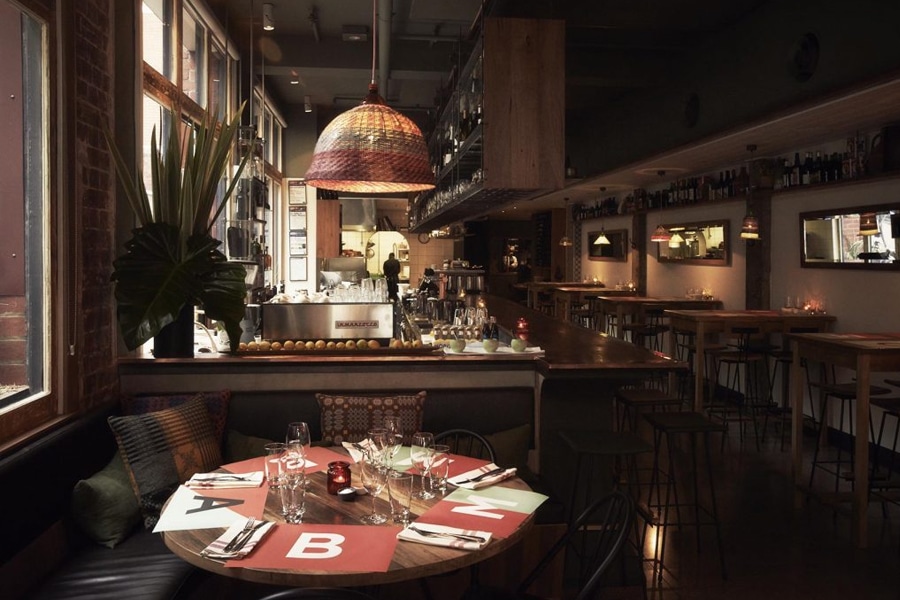 Bomba
Bomba's rooftop bar is one of the best outdoor dining spots Melbourne has to offer. The two level venue pays homage to Spanish workers bar and was inspired by the modern bodega. Take a seat on the rooftop bar and take in the scenes while eating some of Bomba's flavourful tapas.
103 Lonsdale Street, Melbourne VIC 3000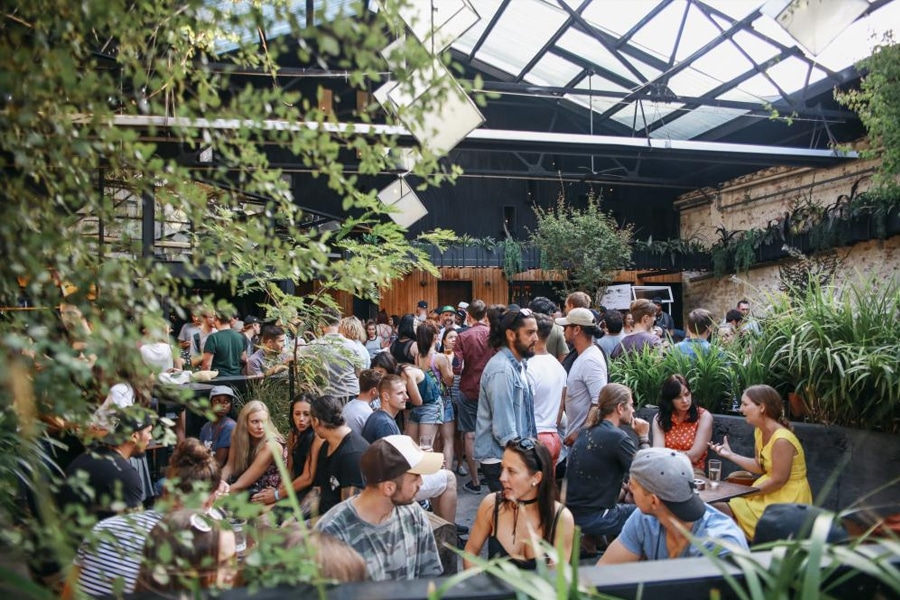 Howler
Just opposite the Brunswick city baths you'll find Howler, a converted warehouse featuring a light and airy garden oasis. Pull up a chair in the garden and grab a cocktail for some outdoorsy vibes. Two performance spaces also means there is never a dull moment at Howler with live DJs, bands, art exhibitions and screenings.
7-11 Dawson Street, Brunswick VIC 3056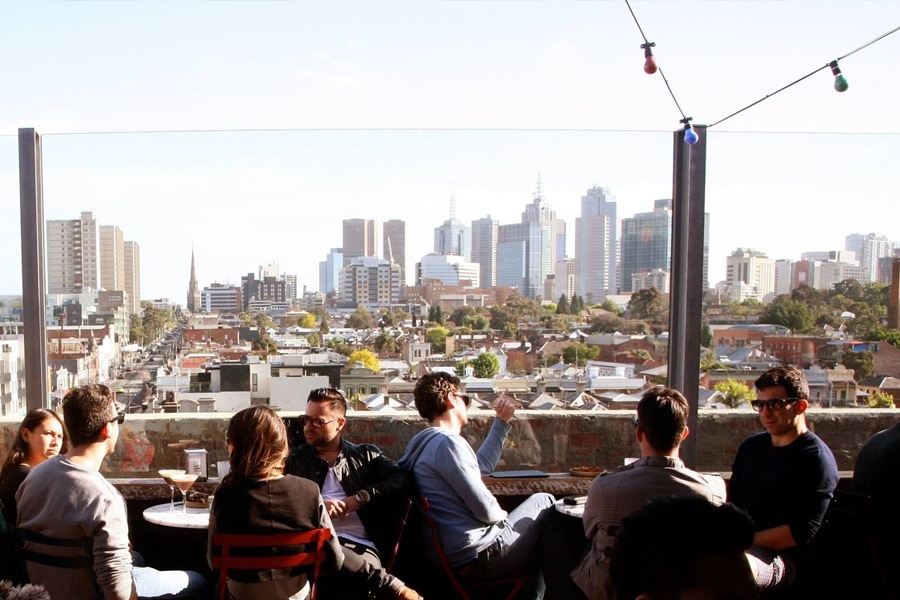 Naked in the Sky
Sitting above its famous pintxos bar, Naked for Satan, Naked in the Sky provides some of the best views of the CBD making it a fantastic option for outdoor dining in Melbourne. The menu is heavily skewed towards Spanish cuisine with flavours from the Basque region. The drinks list will not disappoint either with Spanish beers and ciders, cava and more.
285 Brunswick Street, Fitzroy VIC 3065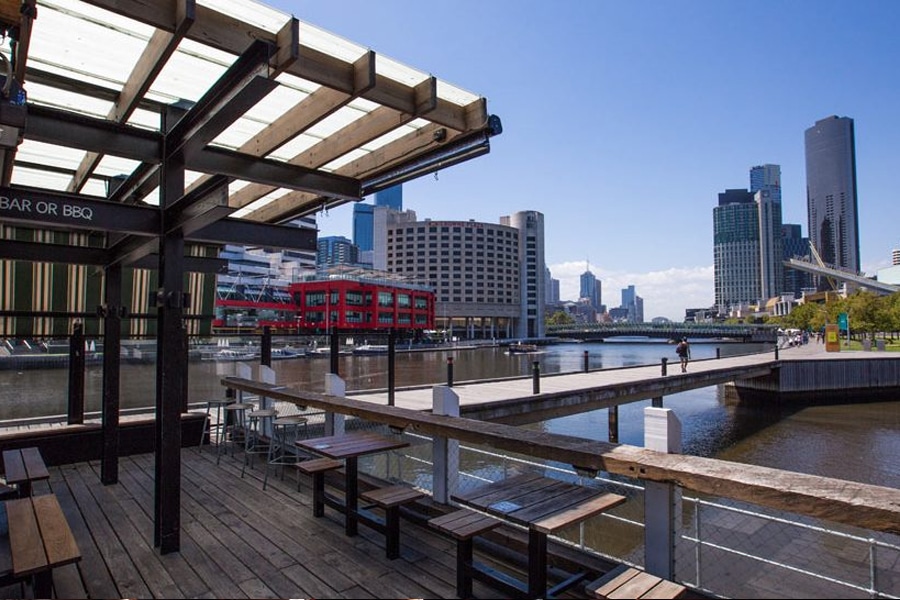 The Boatbuilders Yard
Located in Melbourne's South Wharf, The Boatbuilders Yard is a unique spot for some alfresco dining.  This place is so scenically beautiful that people get married here. It offers a year round summer beer garden feel and has endless drink and food options making it one of the best outdoor restaurants Melbourne has to offer.
23 South Wharf Promenade, South Wharf VIC 3006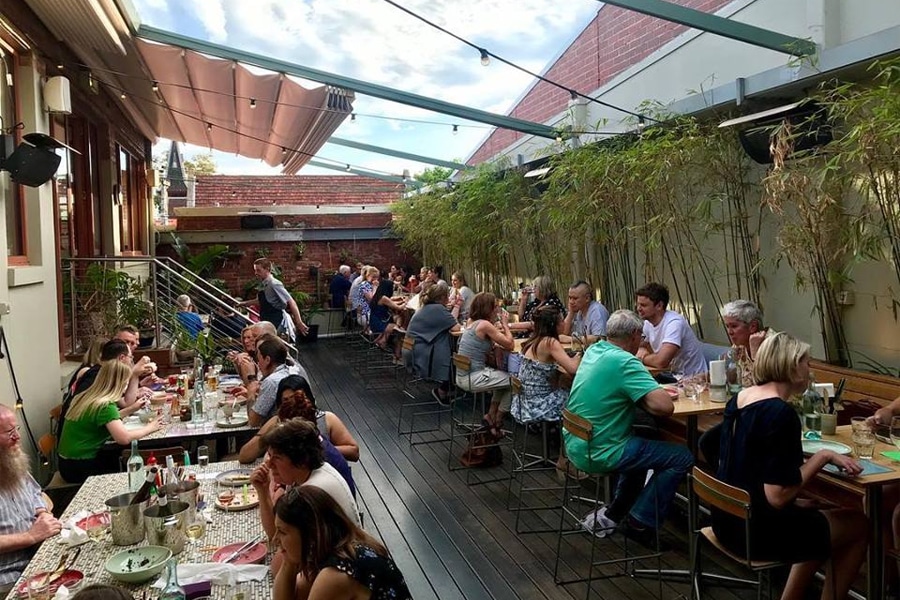 Uncle
The bamboo encircled rooftop area at Uncle is the perfect spot for some outdoor dining in Melbourne. When most people think 'Vietnamese' they think pho, but the cool thing here is that you can order a 'mini' pho to save room for the other delicious menu items. Plus it's the only Vietnamese restaurant with a rooftop terrace.
188 Carlisle Street, St Kilda VIC 3182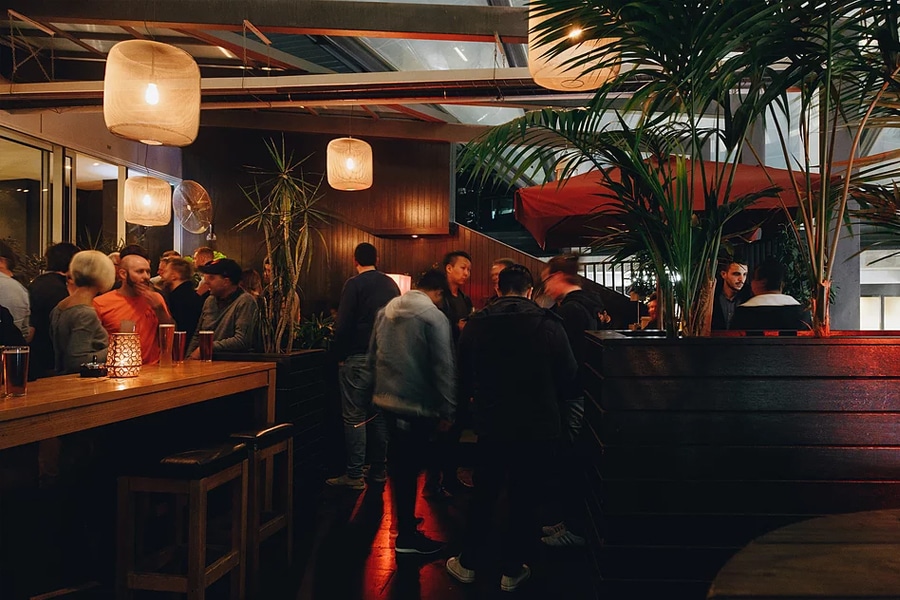 Slate Restaurant and Bar
Slate Restaurant and Bar has some beautifully zoned off spaces, including a rooftop bar and a front and back terrace. You won't need to worry about the weather either as it's fully protected against rain, hail or shine. Inspired by New York rooftop bars, it's slick and sophisticated and the perfect spot for some alfresco dining in Melbourne.
9 Goldsbrough Lane, Melbourne VIC 3000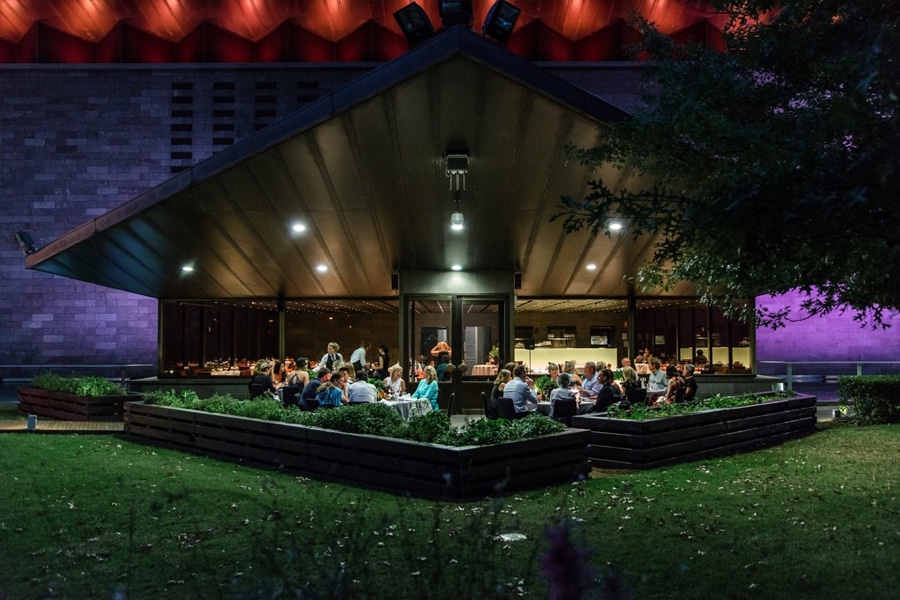 National Gallery of Victoria Garden Restaurant
If you're after something a bit different than the usual outdoor restaurants then look no further than Melbourne's National Gallery of Victoria Garden Restaurant. If you have the time, settle in with a two or three course lunch special with wine included. The beautiful outdoor space is also reflected throughout the menu through its use of seasonal produce plucked straight from the soil.
180 St Kilda Road, Melbourne VIC 3006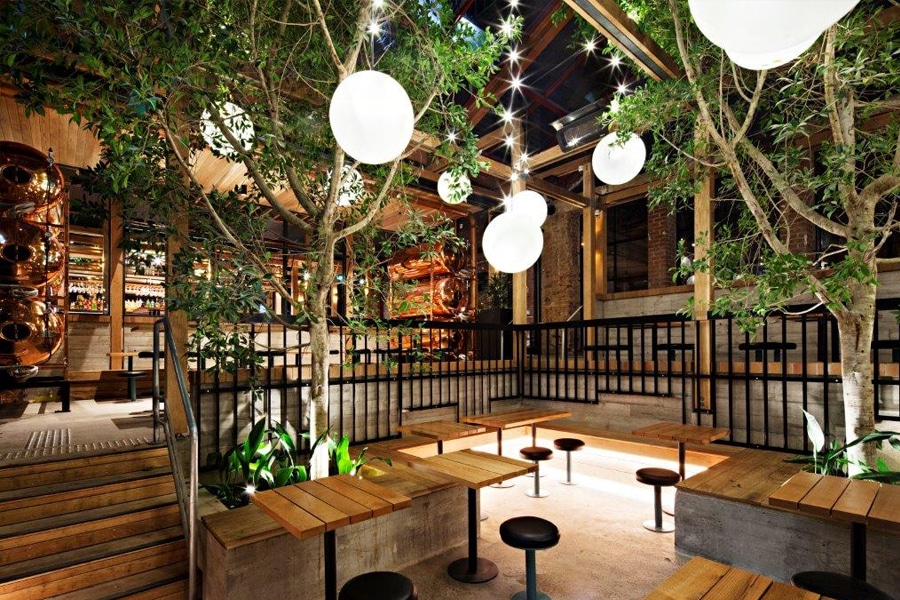 Garden State
Garden State Hotel has a whopping four levels with a two level beer garden to satisfy your outdoor dining needs. Select from a comprehensive list of cocktails, craft brews, wines and a serious whisky collection. Grab something from the small bites menu, like the snapper and dill croquettes or the spiced cauliflower fritters.
101 Flinders Lane, Melbourne VIC 3000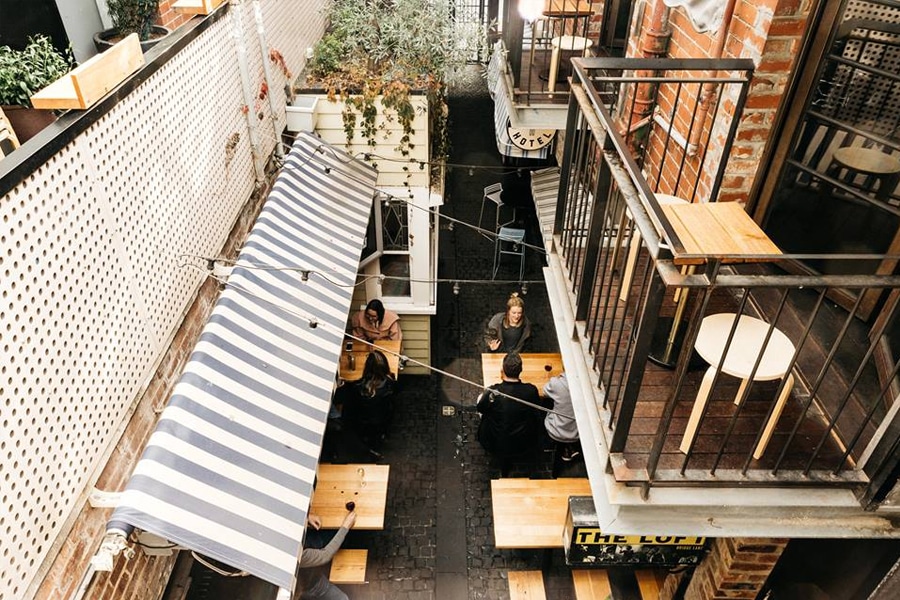 The Bridge Hotel
At The Bridge Hotel, nothing could be more quintessentially Melbourne than a pub with a cobblestone land running through it. It's all about bringing the outdoors in, with five themed areas it's like a a mini city in itself. Balconies and terraced spots make great places for outdoor dining with traditional pub food and seasonal mains.
642 Bridge Road, Richmond VIC 3121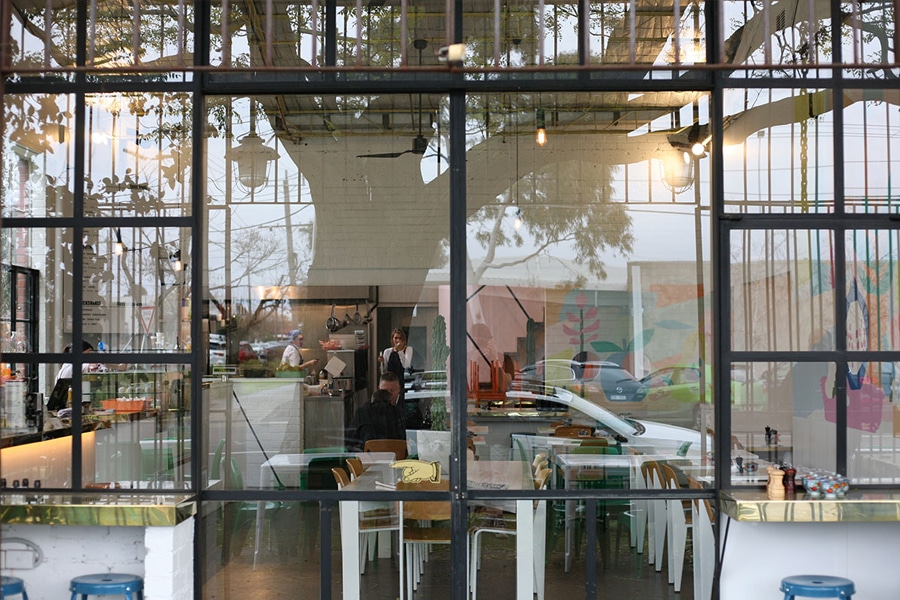 Punchbowl Canteen
Punchbowl Canteen is situated in a huge airy converted warehouse and offers up a simple but excellently executed menu. The outdoor dining area makes for a great spot to sit in the sunshine with a nice meal and a coffee and also includes a custom made wood fire to fight even the slightest chill in the Melbourne weather.
1 Fennell Street, Port Melbourne VIC 3207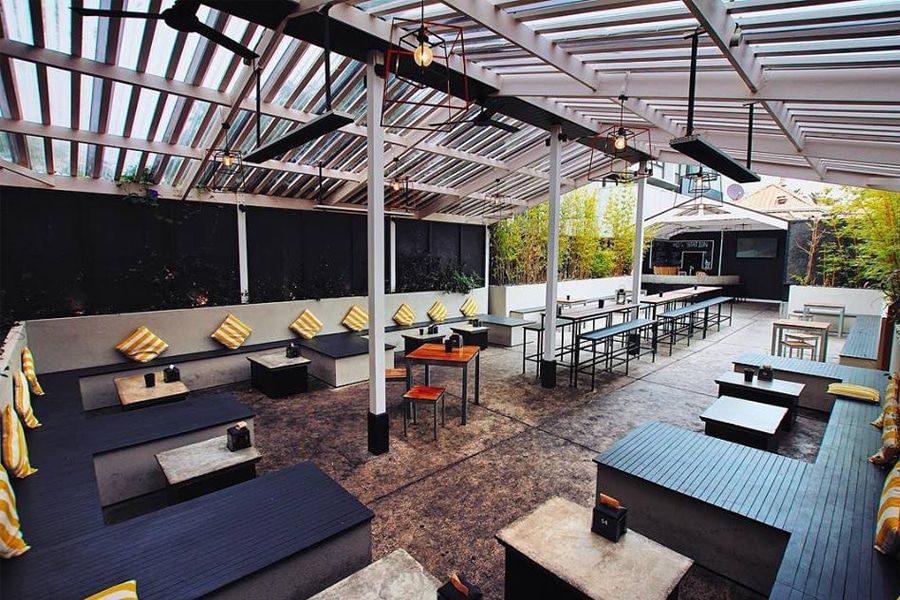 Lona
Lona's philosophy is all about sharing and trying new flavours. From shared tapas to pork and crackling sliders, it's all about a shared dining experience. The newly renovated Garden Bar is the perfect place for some outdoor dining while you share a plate of tasty tapas and a beer with some friends.
64-66 Acland Street, St Kilda VIC 3182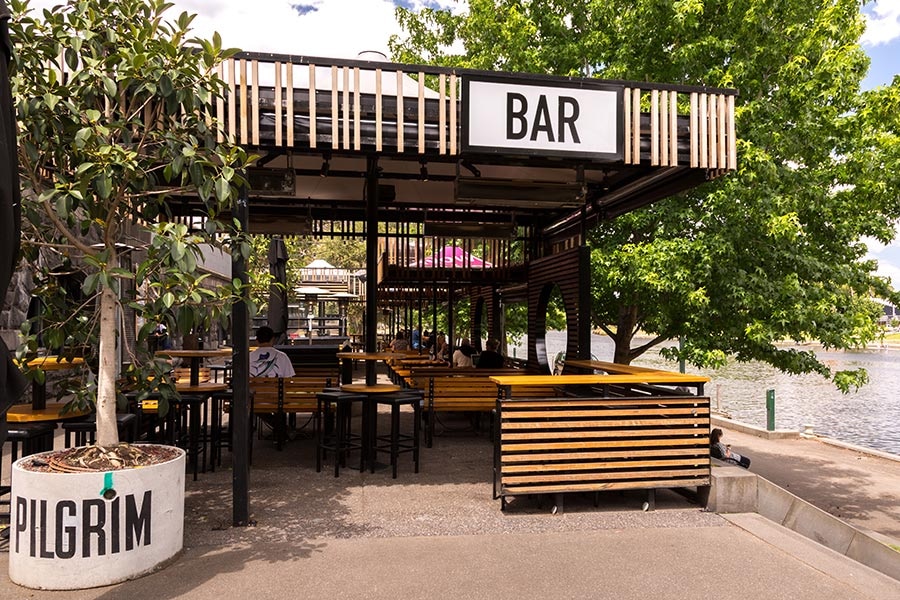 Pilgrim
If you want a great outdoor restaurant with summer vibes then Pilgrim is one of the best outdoor dining spots in Melbourne. It's architecturally beautiful and surrounded by foliage and wooden beams set against the backdrop of the river. It's seasonally bespoke food is wonderfully indulgent and paired with a selection of boutique beers and wines, is a recipe for a good time.
15-19 Federation Wharf, Federation Square, Melbourne VIC 3000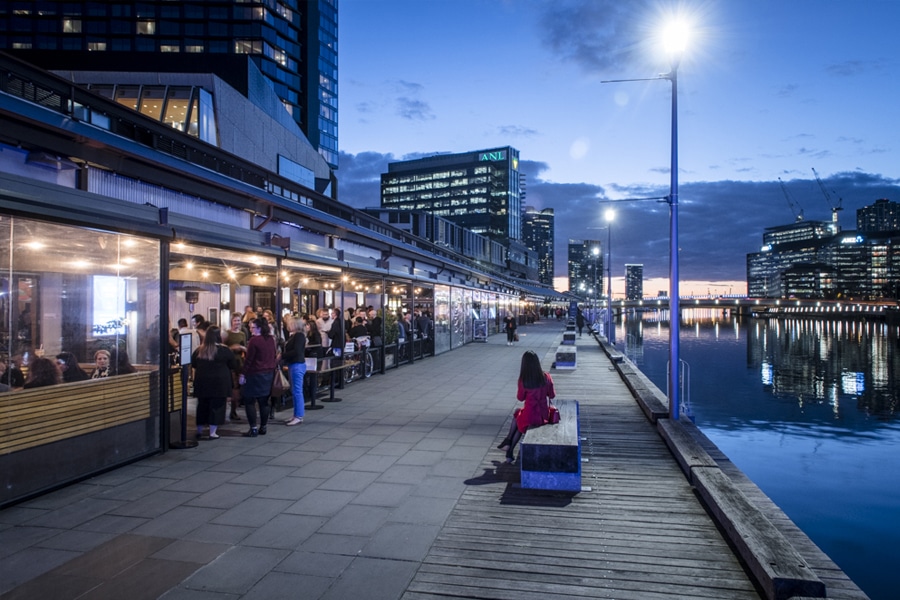 The General Assembly
Just next door to the Melbourne Exhibition and Convention Centre, The General Assembly is a great place for some outdoor dining in Melbourne. The outdoor dining areas offer a relaxed atmosphere with stunning river views. For the menu, there's lots of tasty share plates, seafood like tiger prawns and salmon rillettes, grass fed locally sourced steak and lamb, plus local and import beer and wine.
29 South Wharf Promenade, South Wharf VIC 3006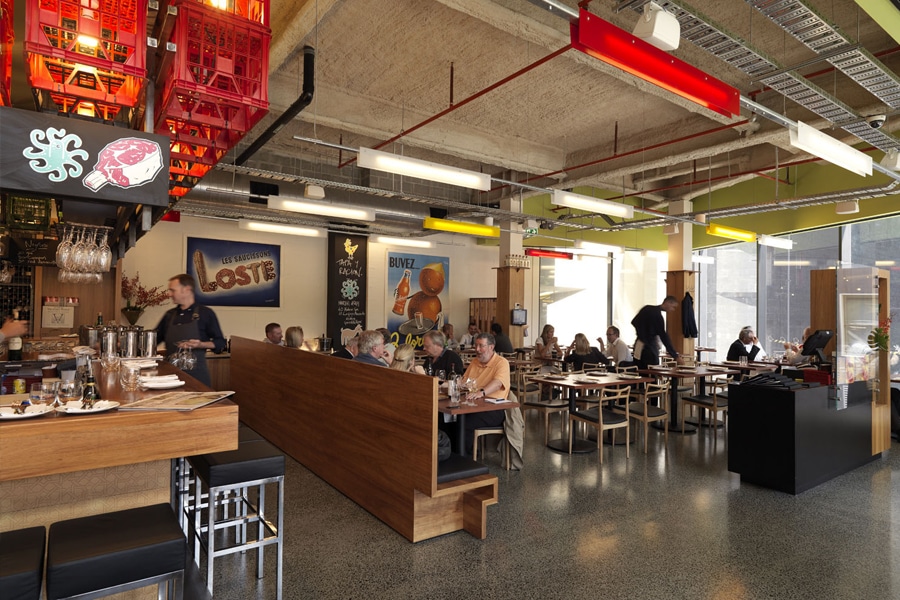 Movida Aqui
Movida Aqui offers a Spanish respite from the hustle and bustle of the city. It's big, it's open and it has a killer outdoor dining area. For the menu think big whole joints grilled to perfection over charcoal, slow braised beef cheeks and rustic paella perfect for sharing in groups in the outdoor dining area.
Level 1, rear of 500 Bourke Street, Melbourne VIC 3000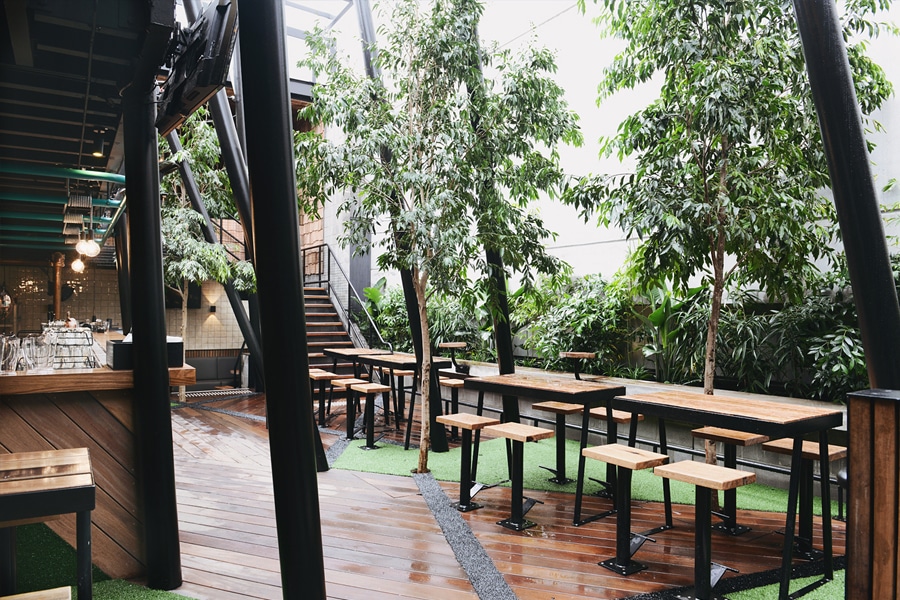 The Terminus Hotel
The resurrected and reinvigorated, Terminus Hotel returns with a fresh new look and a huge urban jungle beer garden. The leafy beer garden is a great spot for some outdoor dining and a look at the menu will have your taste buds salivating. On top of that there's a broad selection of craft and draught beers, spirits, cocktails and ciders.
605 Victoria Street, Abbotsford VIC 3066

Da Guido La Pasta Melbourne
If you're in the mood for some Italian, you can't look past De Guido. The menu gives a real slice of Venetian taste and style, serving up traditional dishes by trained Italian chefs. Pasta is made fresh every day using only the best and most natural ingredients. The outdoor dining area is a real treat on warm evening or even on cooler nights with blankets and heating provided.
130 Lygon Street, Carlton VIC 3035
---
You'll also like:
12 Best Specialty Coffee Shops in Melbourne for Your Daily Caffeine Fix
13 Best Outdoor Cinemas in Melbourne
18 Best Beer Gardens in Melbourne
---