27 Joints for the Best Burgers in Melbourne
We have searched high and low, traversed the many streets and laneways of Melbourne to find the Best Burgers in Melbourne to satisfy your craving.
Hailing from the United States, the burger's inspiration hails from Hamburg, or the Hamburg Steak to be specific, which arrived in the US in the 19th Century. There is so much to admire about the worldwide staple that is the hamburger. Least of all, the fact that is a complete meal that you can enjoy anywhere at any time, even on the go. It is no wonder why the hamburger has widespread appeal, earning legendary status globally.
One of the world's most beautiful women 2020 Christmas Gift Guide – The Foodie has said: "Eat clean to stay fit, Eat burgers to stay sane". However, a new wave of burgers has emerged in recent years which could actually pass as genuine health food. Today, burger shops are increasingly serving up grass-fed beef, free-range chicken, homemade pickles, and even vegetarian and vegan options like portobello mushrooms, or black quinoa with roast pumpkin and chickpea patties. Gluten-free buns have become mainstream to cater to Celiacs or those following a gluten-free diet. There is a definite shift in how we perceptive the humble hamburger.
But, do not fear, our list of the best burgers Melbourne has to offer still includes the potentially artery-clogging, mammoth, carnivorous creations that frankly most of us just cannot resist – even when, perhaps, we know we should.
Here is our list of the best burgers in Melbourne that no doubt would meet Gigi's approval.
You'll also like:
22 Best Steakhouses in Melbourne for Your Next Big Feed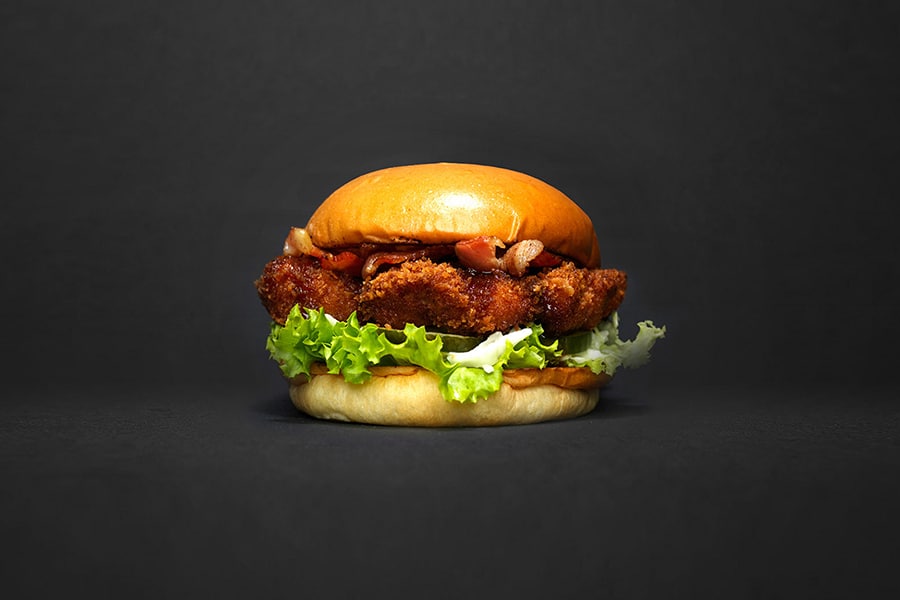 1. Burger Project
What do you get when you match fine ingredients with one of Australia's most renowned and admired chefs? A kickass burger joint named the Burger Project, that's what. Neil Perry has used his culinary prowess to create some of the most lavish and tantalizing burgers known to Melbourne. Serving up the finest Tasmanian Cape Grim 100% grass-fed beef burgers, and a Southern-style fried free-range chicken burger with pickles and aioli, house-made shakes, soft serve, chips, and sauces, this mouth-watering burger joint is well worth a visit if you're looking for some of the best burgers Melbourne CBD has to offer.
Address: 2/260 Collins Street, Melbourne VIC 3000
Phone: +61 2 9259 5600
Hours: Mon-Sun 11am-9pm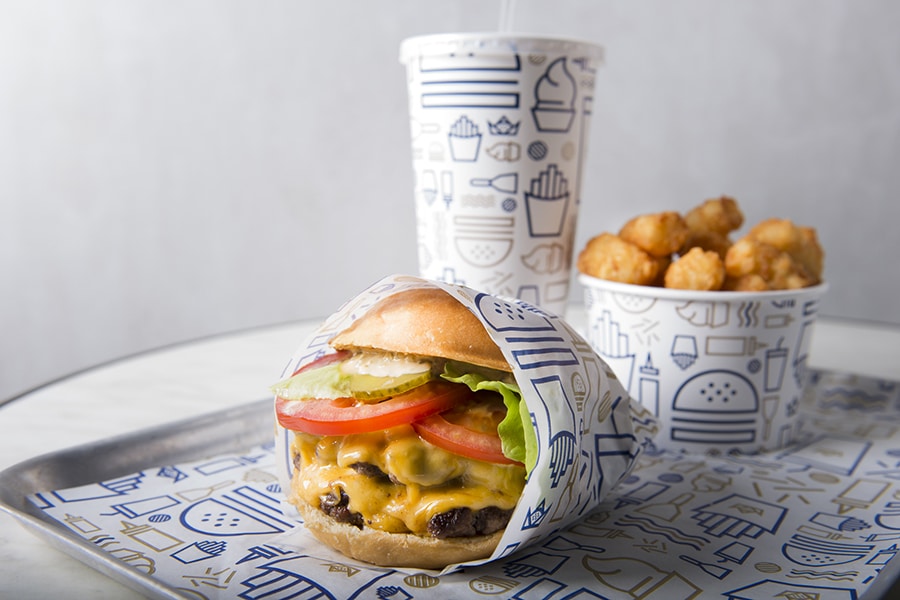 2. Royal Stacks
Founded by Dani Zeini to deliver American-style burgers to the Australia scene. After successfully running and operating one of Melbourne's most popular family restaurants – The Dandenong Pavillion – Dan started a new venture to bring American-style burgers to the people of Melbourne. Royal Stacks was inspired by the US burger chain Shake Shack. Dan says he fell in love with burgers while having his first Shake Shack burger. This revered, high-end burger shop in the heart of Melbourne offers an alternative in the fast-food arena. Serving up 100% pasture-fed Australian beef that is GMO, Hormone, and Antibiotic free. With a cool atmosphere and a menu that includes chicken burgers, fries, shakes, and cool desserts, Royal Stacks will have you coming back for more.
Address: 470 Collins Street, Melbourne VIC 3000
Phone: +61 3 9620 0296
Hours: Mon-Sat 11:30am-10pm, Sun 11:30am-9pm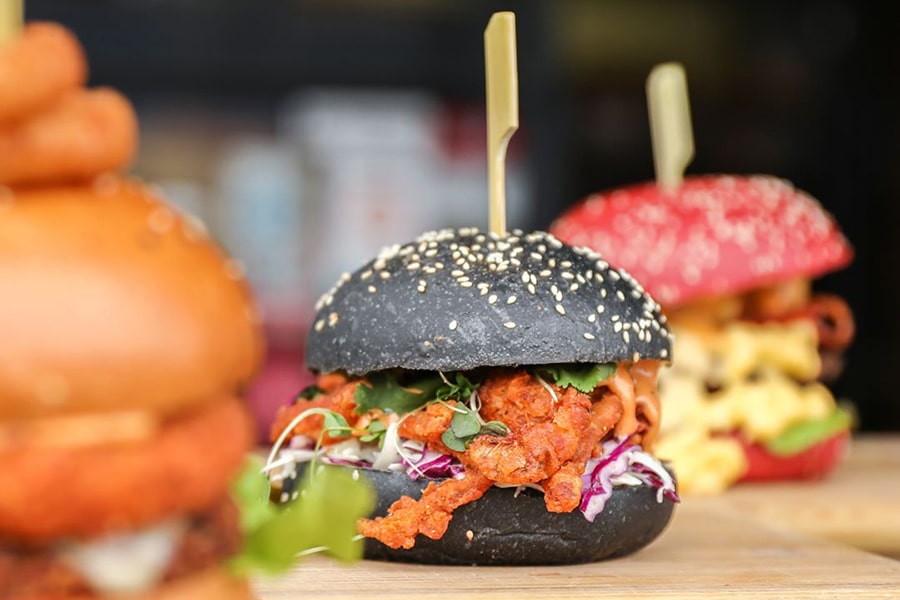 3. Three One 2 One
Pushing the boundaries, this innovative burger joint led by talented head chef  Sargum Chaudhary serves up seemingly endless options. Three One 2 One is the Melbourne burger shop that caters to all walks of life, giving them something to behold. The presentation of their creations is culinary art and each bite as good as it looks.  If you're looking for a burger that is close to perfection, this is the place for you – Here you'll find perfectly cooked flavourful patties with generous lashings of delicious sauces that complement the finest ingredients. If you appreciate a good milkshake, you'll find amazing creations that are truly Insta-worthy. Offering breakfast, lunch and dinner options all day, as well as vegetarian and gluten-free choices, this is the place for everyone.
Address: 424 Bridge Road, Richmond VIC 3121
Phone: +61 3 9429 4409
Hours: Mon-Sun 11am-8:15pm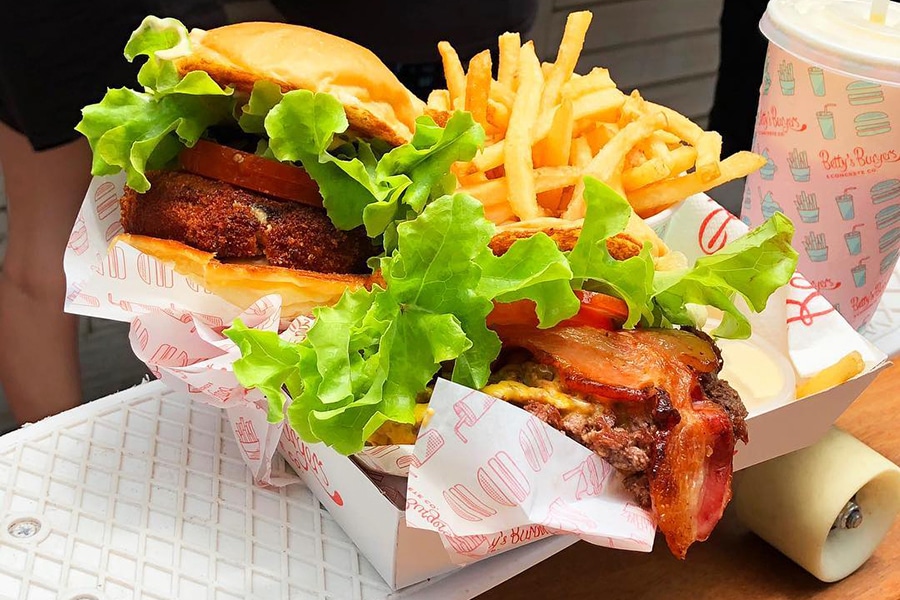 4. Betty's Burgers & Concrete Co
This Queensland chain has opened up its doors in Melbourne to an adoring public. Adoring why? The burgers here are delicious and no fuss. Constructed from a wide array of ingredients and options. Just in case you're wondering the concrete part of the name derives from the Betty's Burgers & Concrete Co house-made "concrete" ice cream made from frozen custard churned thick. The menu includes burgers such as the classic Betty made from Angus beef, Southern fried chicken, crispy pork belly, mushroom, and a bun-less burger served between lettuce. The southern fried chicken burger might be the best burger Melbourne has to offer.
Address: 97 Elizabeth Street, Melbourne VIC 3000
Phone: +61 3 9642 5823
Hours: Mon-Wed 11am-10pm, Thu 10:30am-10:30pm, Fri-Sat 10:30am-12am, Sun 10:30am-10pm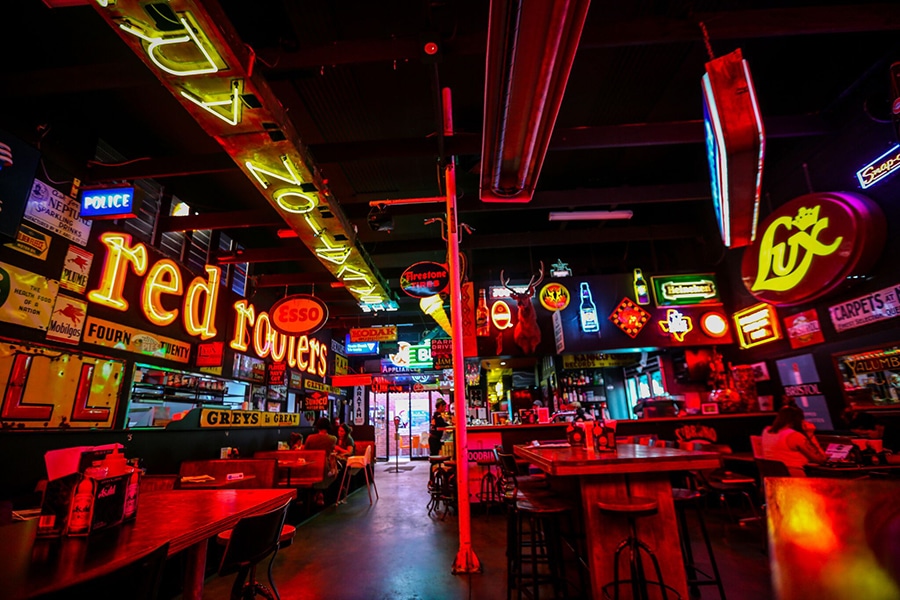 5. Fat Bob's Bar & Grill
Taking inspiration from classic US diner's, Fat Bob's is an award-winning burger ship with a winning formula, dishing up hearty and delicious burgers. Here you'll get generous portions of grass-fed beef, paired alongside ice-cold beer and gourmet sides. There is a good chance you will need an angioplasty after eating here, but, you know, you can't live forever.
Address: 80A Cochranes Road, Moorabbin VIC 3189
Phone: +61 3 9555 0909
Hours: Wed-Thu 5pm-9pm, Fri-Sat 12pm-10pm, Sun 12pm-8pm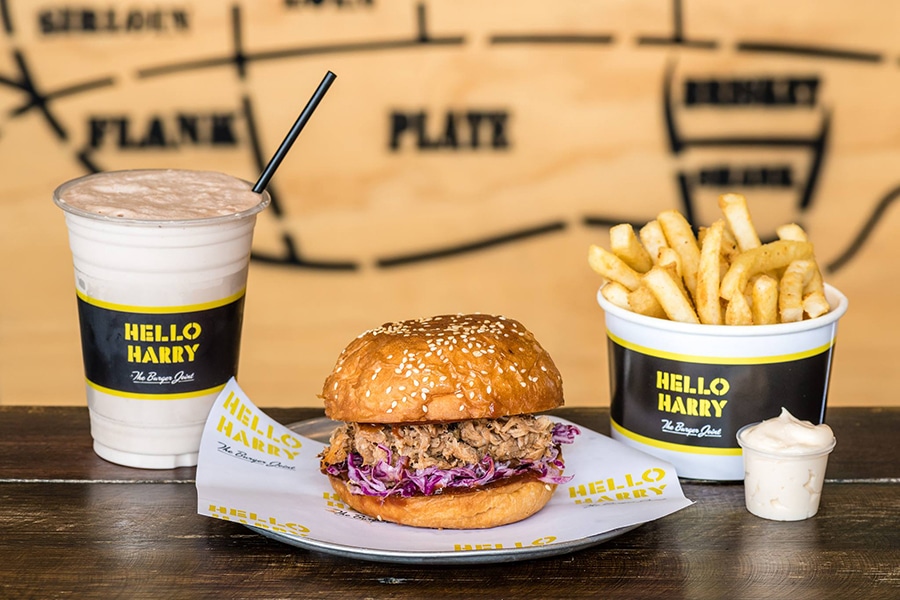 6. Hello Harry
Originating in Maroochydore's renowned Ocean Street, this winning burger shop now has multiple stores located in Queensland, NSW, Victoria, and South Australia. Hello Harry utilises finely crafted cooking techniques to create distinctively different burgers at a great price point. The menu offers loads of cool and different options such as grass-fed beef, pulled pork, brisket, and Tijuana chicken which features jalapenos, house-made relish, and baked peppers. No nonsense, no fluff, just delicious burgers, icy cold craft beer served up in a funky, casual dining room.
Address: 245 Main Street, Lilydale VIC 3140
Phone: +61 3 9735 1455
Hours: Mon-Sun 11am-9pm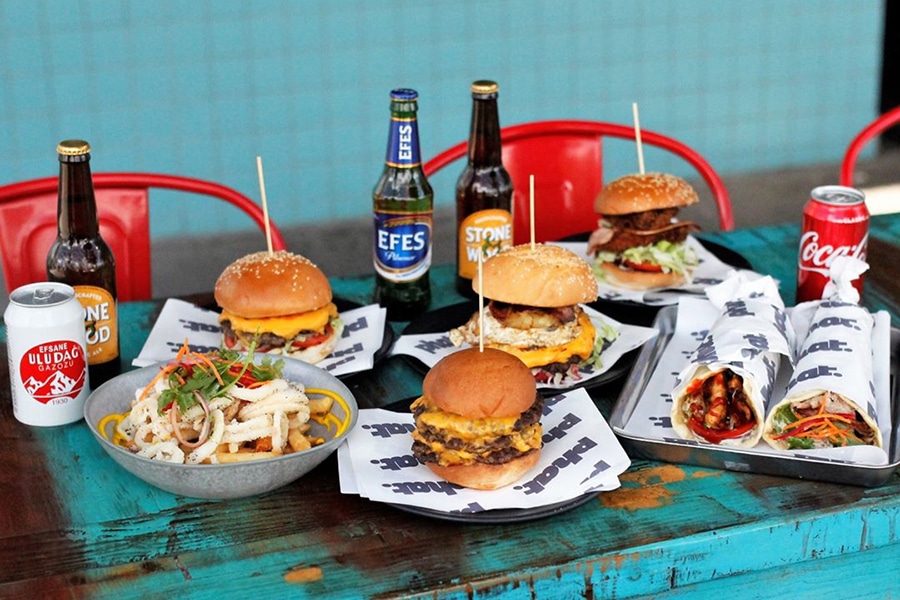 7. Phat Pizza and Burger
Offering customers fast service, Phat Pizza and Burger mean business. With an average turn-around time for the order to arrive in 5 to 8 minutes, this Elwood eatery is one to watch out for. The menu includes big and small burgers to cater to all appetites, and the burgers are consistently delicious and also moderately priced.
Address: 79 Brighton Road, Elwood VIC 3184
Phone: +61 3 9531 7733
Hours: Tue-Thu 10:30am-10pm, Fri-Sat 10:30am-1am, Sun 10:30am-10pm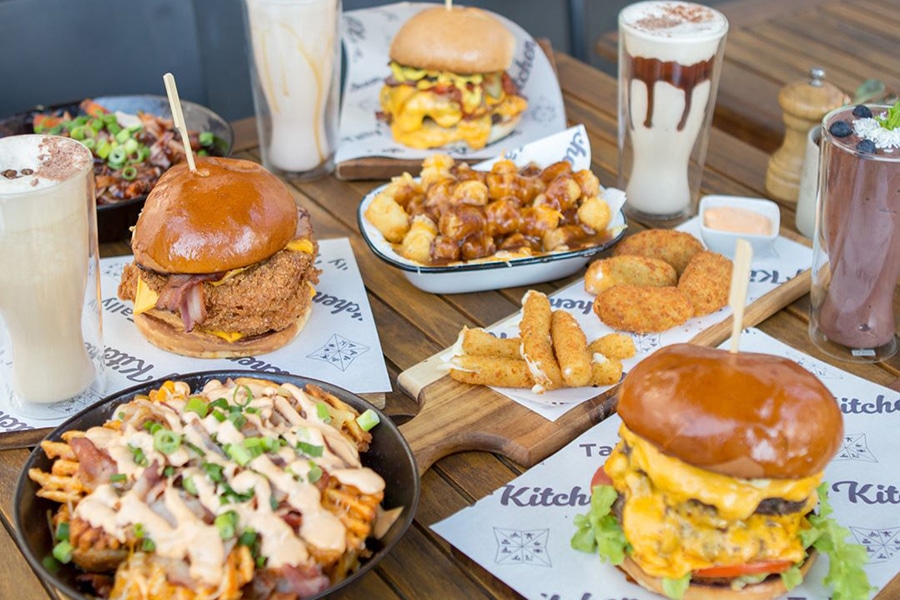 8. Tally Kitchen
Part of the Tally group, which includes a cross-fit gym and day spa, Tally Kitchen is all about the best food for both your taste buds, along with your exercise program and your guts. The team here aims for their customers to thrive with delicious nutrition. Featuring a wide selection created using some of the freshest ingredients available. This South Melbourne eating spot is an excellent place to try if you're looking for both healthy and hearty options.
Address: Unit 5 297 Ingles Street, Port Melbourne
Phone: +61 3 8842 3595
Hours: Mon-Tue 6am-8:30pm, Wed-Fri 6am-9pm, Sat-Sun 8:30am-2:30pm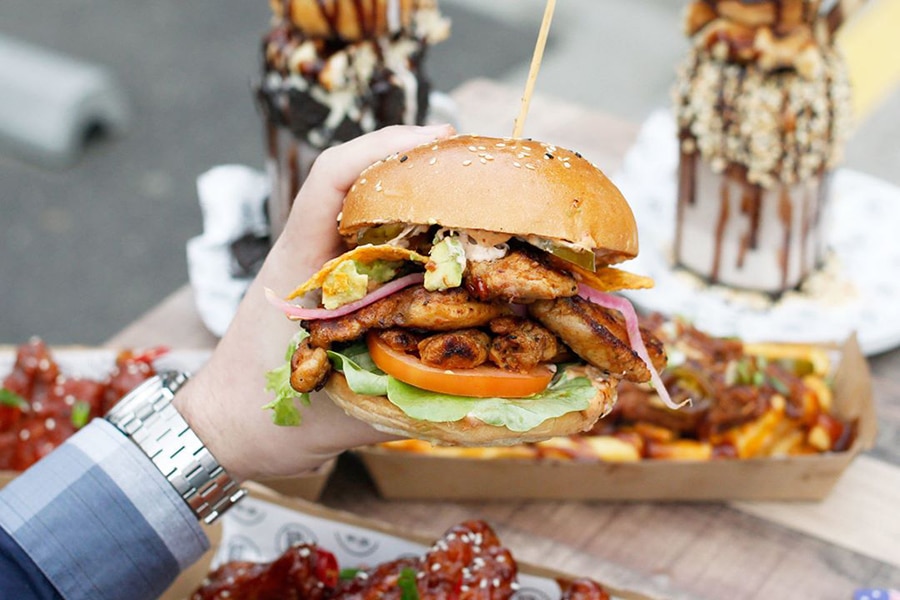 9. Burger Road
An American-style burger shop that caters to everybody. Serving up gluten-free, vegetarian and vegan options. What makes Burger Road so desirable is the fact that many of their products are heavy on the spice. Yes, flavourful spicy wagyu beef burgers and loaded fries are what this place is all about. Burger Road featured on as best burgers on Burgers of Melbourne and Urbanlist in 2017. But that's not all, it seems that the desserts offered at this Fairfield joint are equally impressive.
Address: 89 Station Street, Fairfield VIC 3078
Phone: +61 3 9489 1351
Hours: Sun-Wed 11am-9pm, Thu-Sat 11am-10pm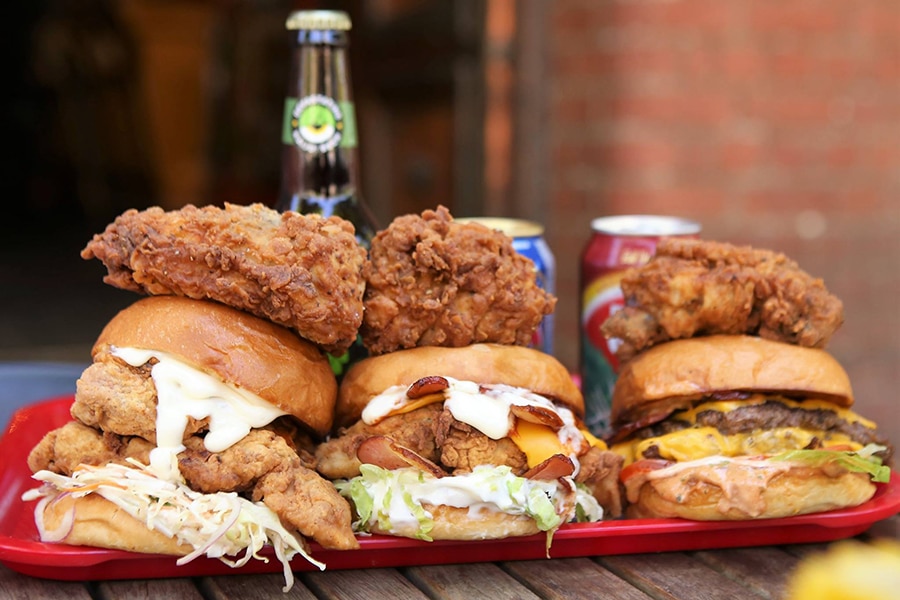 10. Sonny's Fried Chicken & Burgers
If you like it heavy, this is the best burger shop in Melbourne. Located on Melbourne's infamous Lygon Street, you will find perhaps the best chicken burger place in Australia. If you love fried poultry, you'll love this joint. While beef burgers are on offer, fried chicken is the star here. We encourage anyone visiting Sonny's Fried Chicken & Burgers to consider the copious amounts of grease you will intake, then chow down on a burger so crispy and tender you'll want to cry. The chickens used in said burgers are brined for 24 hours, pressure fried and delivered with a smile. Just feast your eyes above, need I say more?
Address: 29 Lygon Street, Carlton VIC 3053
Phone: +61 3 9663 6350
Hours: Mon-Sun 12pm-10pm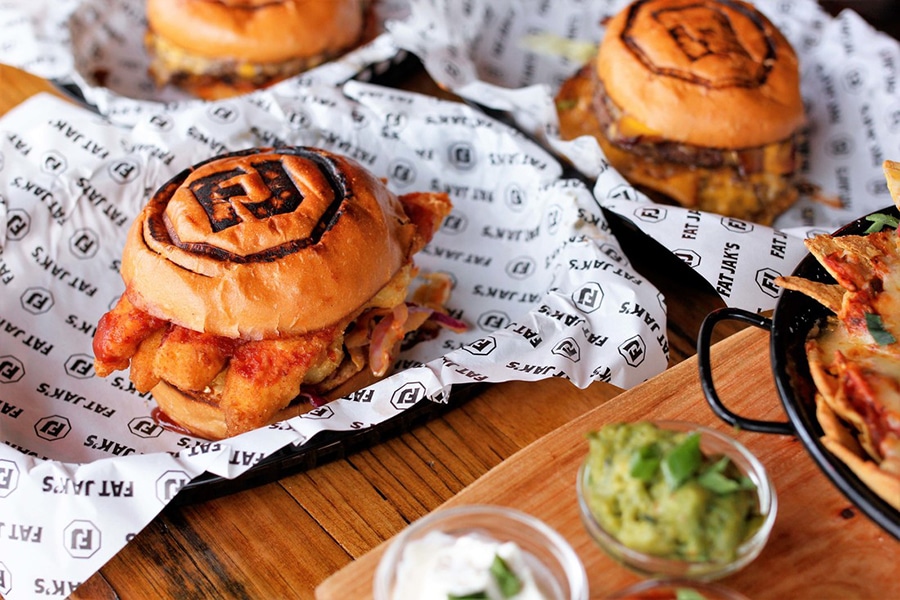 11. Fat Jaks
Located in the heart of St Kilda, this is the second entrant with the name Fat on our list. Fat Jaks is an American-style burger joint that doesn't disappoint in the portion and taste departments. Burgers are made with locally sourced premium ingredients in a comfortable and relaxed space. Another way of defining this Melbourne burger place is that the owner, Rich Slade, brands each bun with a big, black FJ.
Address: 205 Barkly Street, St Kilda VIC 3182
Phone: +61 3 9593 9232
Hours: Sun-Thu 11am-12am, Fri-Sat 11am-1am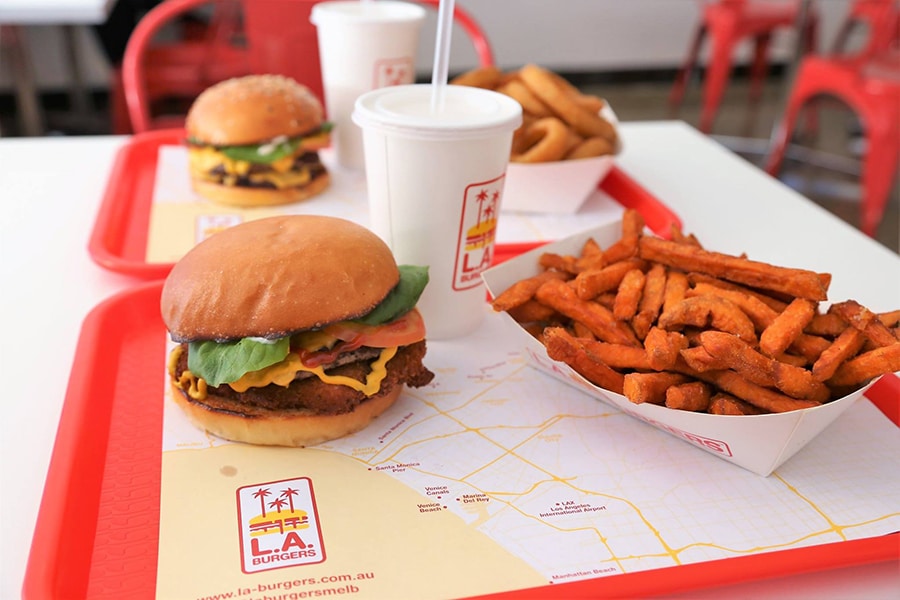 12. L.A. Burgers
Located right next to South Yarra Railway Station, the burgers here are inspired by sunny Los Angeles. L.A. Burger is a relatively new player in the Melbourne burger scene. What makes this place so special is not only the fresh and inviting brioche buns but also the juicy and flavourful meat patties. Customers also have the option of a Milk Bun, Gluten-Free Bun, Vegan Bun, or Lettuce Wrap. With burgers names that include Bel Air and Venice Beach, you'll be sure to find the perfect flavour for you.
Address: 2/166 Toorak Road, South Yarra 3141
Phone: +61 3 9827 2569
Hours: Mon-Sun 11am-10pm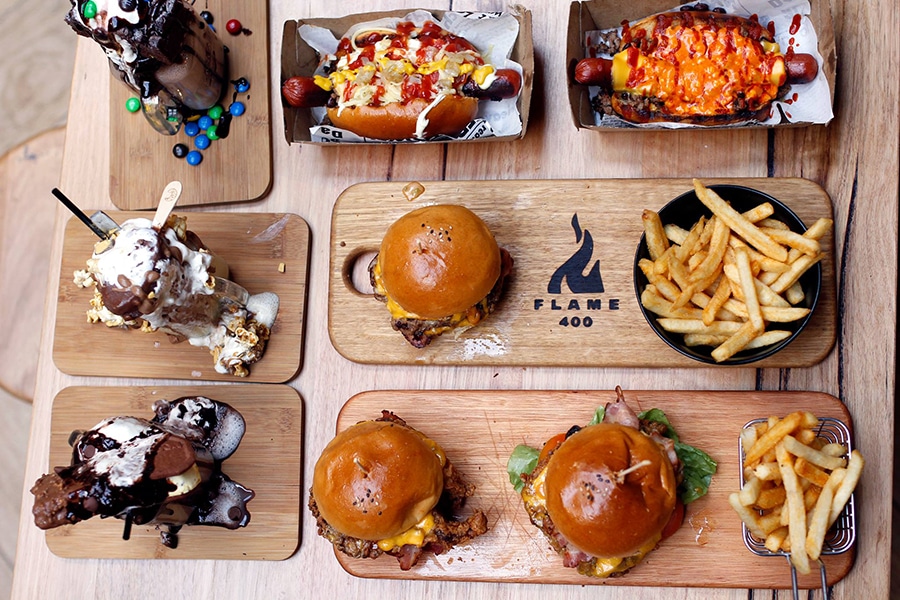 13. Flame 400
Flame 400 pride themselves on creating mouth-watering burgers, ribs, and crazy delicious shakes. Made on-site with fresh ingredients every day, Flame 400 serves up quality food and provides value for money. Try the Burger Down Under, Deep Fried Buffalo Wings, Sriracha Hotdog, and other crowd favourites. A genuine contender for one of the best burger shops in Melbourne.
Address: 25 Main Street, Greensborough VIC 3088
Phone: +61 3 9434 3679
Hours: Sun-Wed 11am-8:30pm, Thu 11am-9pm, Fri-Sat 11am-9:30pm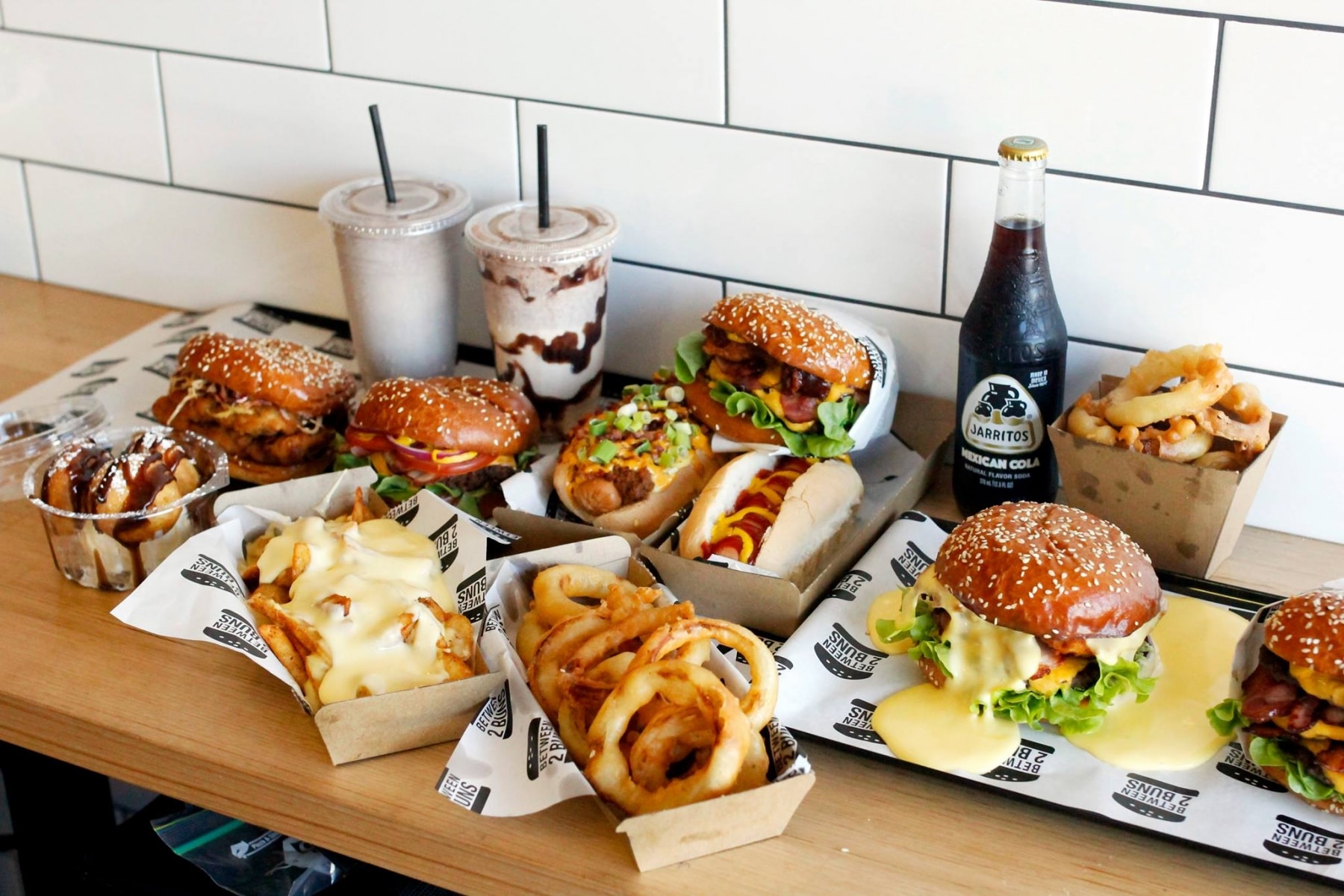 14. Between 2 Buns
To say that Between 2 Buns offers its customers a healthy option would be a bit farcical. To say that it offers flavourful options would be more than factual. With 4 locations across Melbourne, this popular burger shop is if anything decadent. With succulent burgers and sides follow the restaurant's advice that "skinny people are easy to kidnap, eat a burger".
Address: 28 Pier Street, Altona VIC 3018
Hours: Mon-Thu 11:30am-8pm, Fri-Sat 11am-9pm, Sun 11am-8pm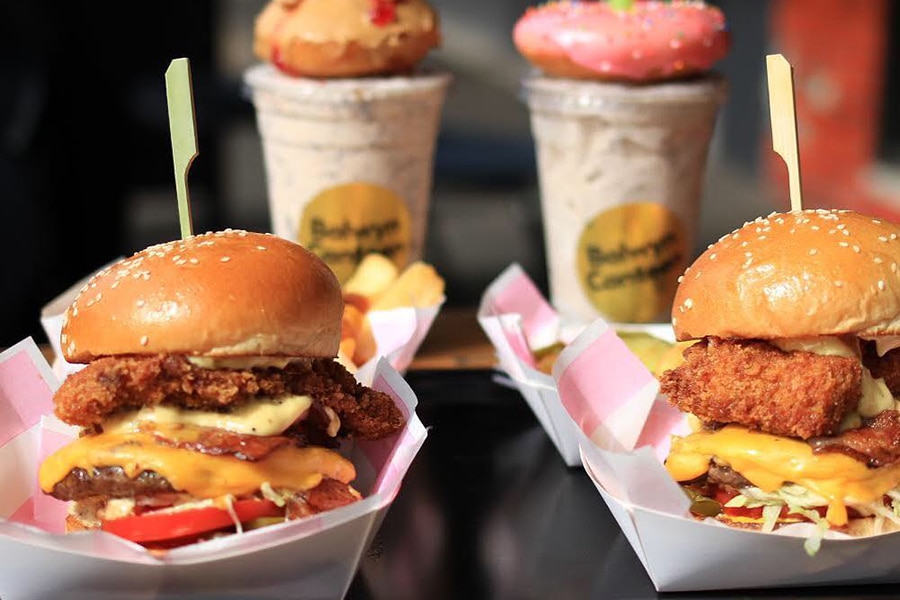 15. Balwyn Canteen
Want more decadence? Voila. Bursting on the burger-scene in 2017, this little burger shop is famous for its enormous Burgers. And, it would appear as though Balwyn Canteen is trying to truly differentiate itself from the burger pack. How so? Well for instance both the buns and donuts offered are baked in-house and often the two are combined in these deliciously deranged burger-donut Frankenstein creations. This joint is not for the faint-hearted.
Address: 262 Whitehorse Road, Balwyn VIC 3103
Phone: +61 3 9042 9429
Hours: Wed-Sun 11am-9pm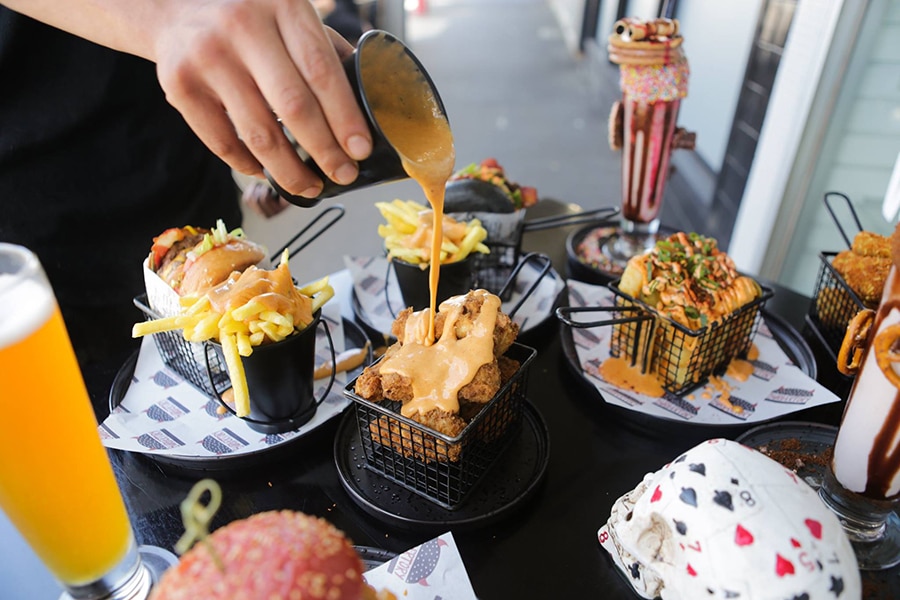 16. Burgertory
As stated on its website, Burgertory opens its doors in September 2017, welcoming those seeking the best of both worlds. Bringing heavenly freshness and quality fit for gods, with a touch of Lucifers cheekiness. The menu is divided into 2 categories – 7 Deadly Sins and Archangel Chapter II. Burgertory is a sinfully delicious haven for those who are seeking refuge.
Address: Shop 8/330 Ballarat Rd, Braybrook VIC 3019
Phone: +61 3 9069 2151
Hours: Mon-Sun 11am-12am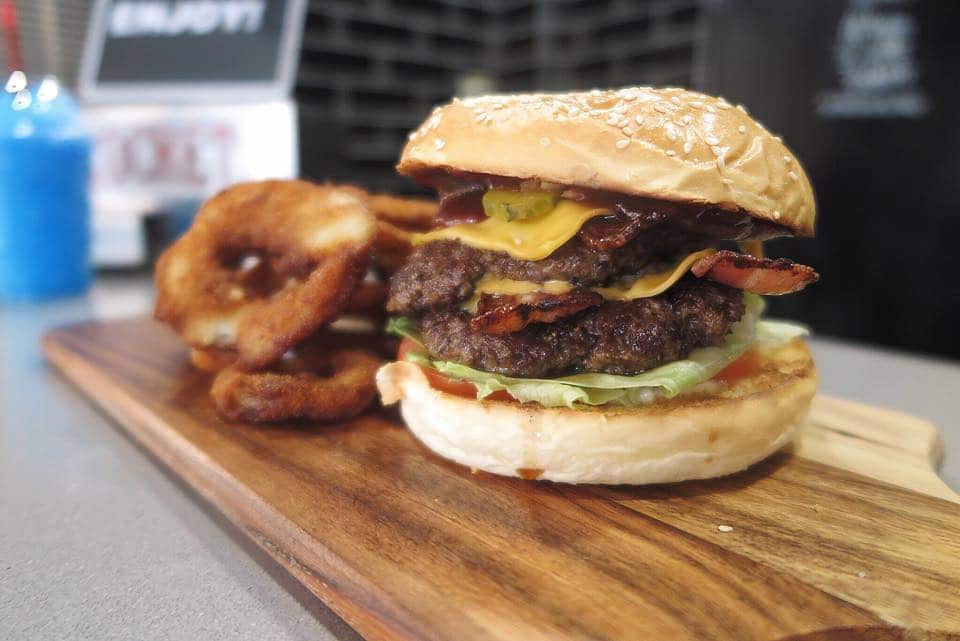 17. Rocket Burgers and Fries
Sometimes, simplicity is the most important element when it comes to a burger. None of this brioche bun drizzled with aioli, I just want a greasy piece of meat. Rocket Burgers and Fries is perfect for just that. The burger menu is small, but, with an extensive choice of sauces, the result is big flavour.
Address: Corner of Flinders Street & Elizabeth Street, Melbourne VIC 3000
Phone: +61 3 9078 8478
Hours: Sun-Thu 10am-4am, Fri-Sat 10am-6am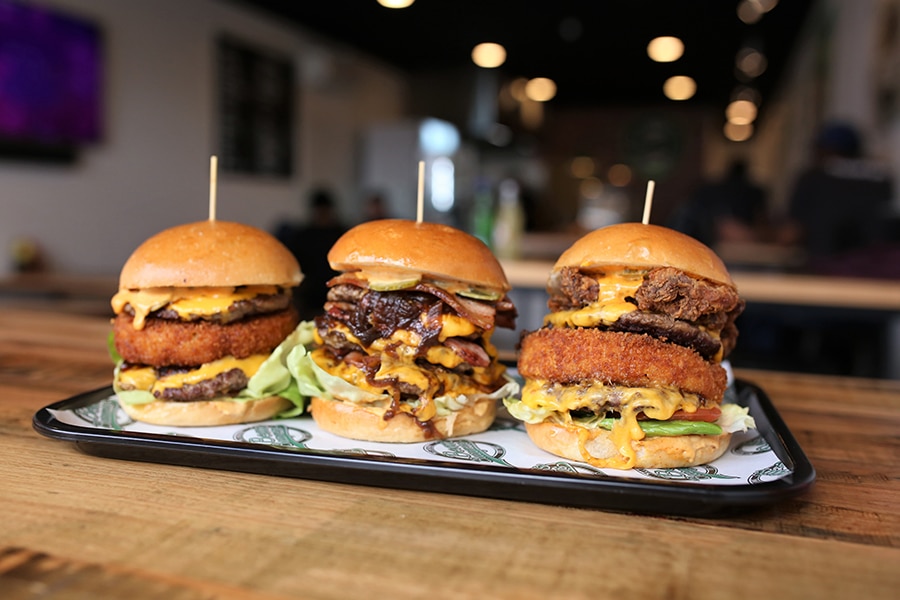 18. Beats Burgers
Located in Essendon, Beats Burgers is another no-nonsense burger joint. It provides customers with tasty meals at an affordable price that are made with quality ingredients. Whether you're in the mood for beef, chicken or pulled pork burger, or a tasty hotdog, this Melbourne burger shop can cater to your desires. If you feel like something a little different, try the Flavor Flav burger; made with butternut pumpkin, goats cheese & beetroot pattie, tomato, lettuce, cheese, onion, pickles, and special sauce.
Address: 255 Keilor Road, Essendon VIC 3040
Phone: +61 3 7018 3501
Hours: Tue-Sun 11:30am-9pm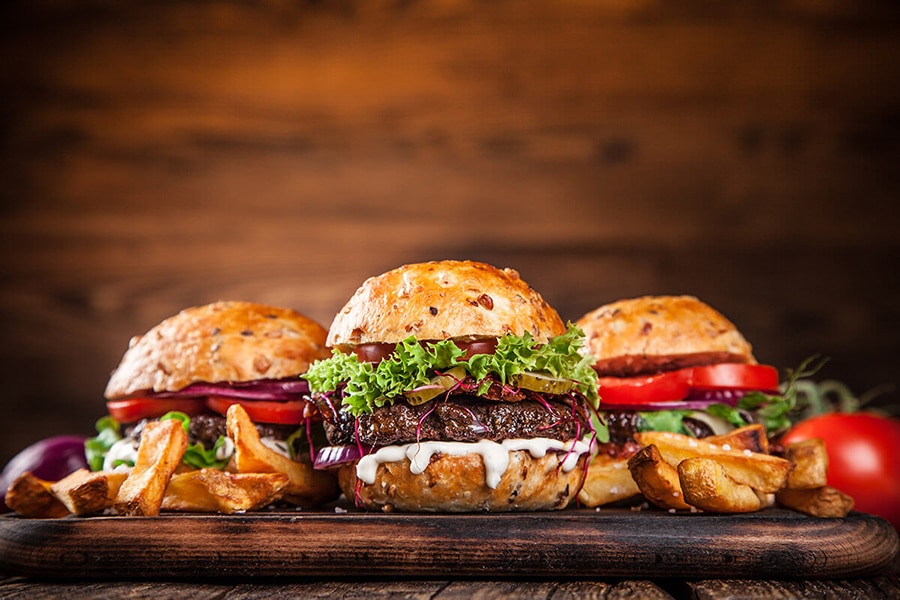 19. Mad Patties
With 3 locations in Melbourne and an emphasis on a plethora of options, Mad Patties provides Melbournians carnivorous, mouth-watering burgers. But, vegetarians and vegans, don't despair, the menu includes several veggie choices and an excellent selection of shakes and sides. This is a sublime burger place.
Address: 62 Tunstall Square, Doncaster East, VIC 3109
Phone: +61 3 9873 3303
Hours: Sun-Thu 12pm-9pm, Fri-Sat 12pm-10pm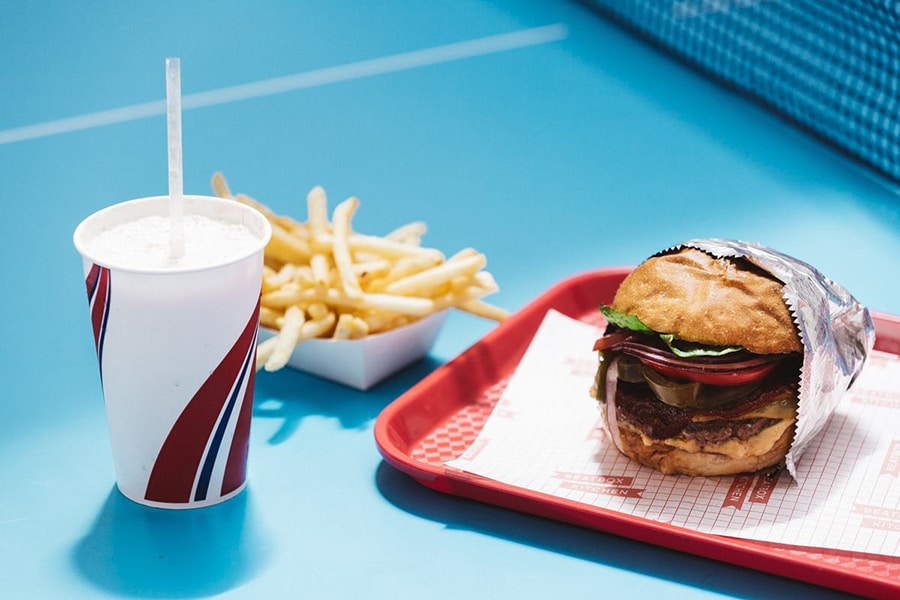 20. Beatbox Kitchen
Starting out over a decade ago, food truck innovator Rafael Rafael now heads a brick and mortar eatery located in Brunswick. Beatbox Kitchen is bare-bones in design, but, not in products. With flavour and freshness of the utmost importance. Serving up a simplistic, but, delicious menu, Beatbox Kitchen provides burgers of all sizes to cater to all appetites. And, while the menu is small, there is more than one vegetarian and vegan option.
Address: 682 Sydney Road, Brunswick VIC 3056
Phone: +61 3 9386 5694
Hours: Sat-Thu 11:30am-9pm, Fri 11:30am-10pm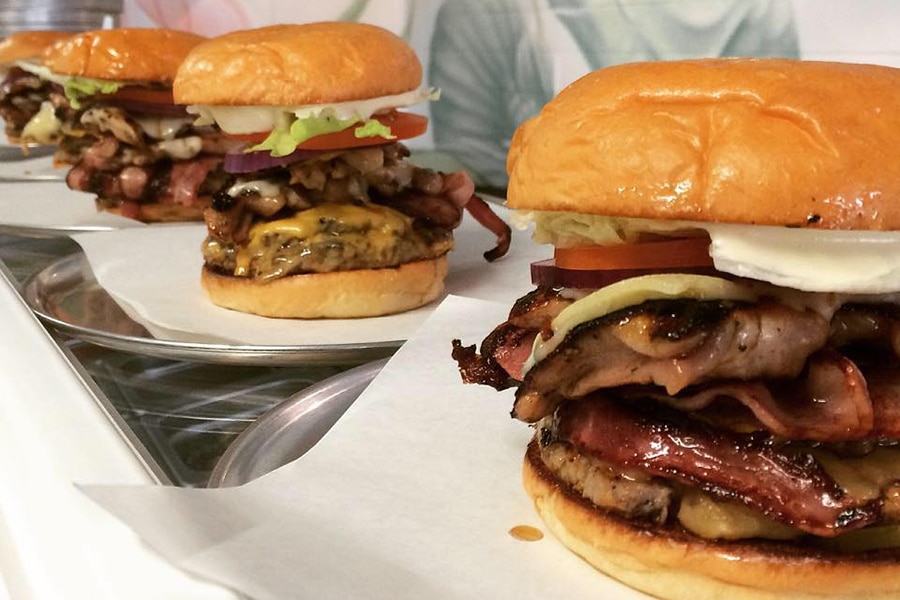 21. 1090 Burger
Also starting out as a food truck, this contender for best burgers Melbourne has to offer is now parked permanently in Richmond. There are a lot of things that make 1090 Burger ahead of the rest. For instance, all of its beef burgers use grass-fed Angus beef, aged over 60 days that is then minced daily and formed into patties by hand. Alongside this is a secret marinade that targets your umami senses and a ratio of 10 percent fat and 90 percent beef is followed religiously.
Address: 181A Swanson Street, Richmond VIC 3121
Phone: +61 3 8529 3485
Hours: Tue-Thu 11:30am-2:30pm, 5pm-8pm; Fri 11:30am-3pm, 5pm-9pm; Sat 12pm-9pm; Sun 12pm-8pm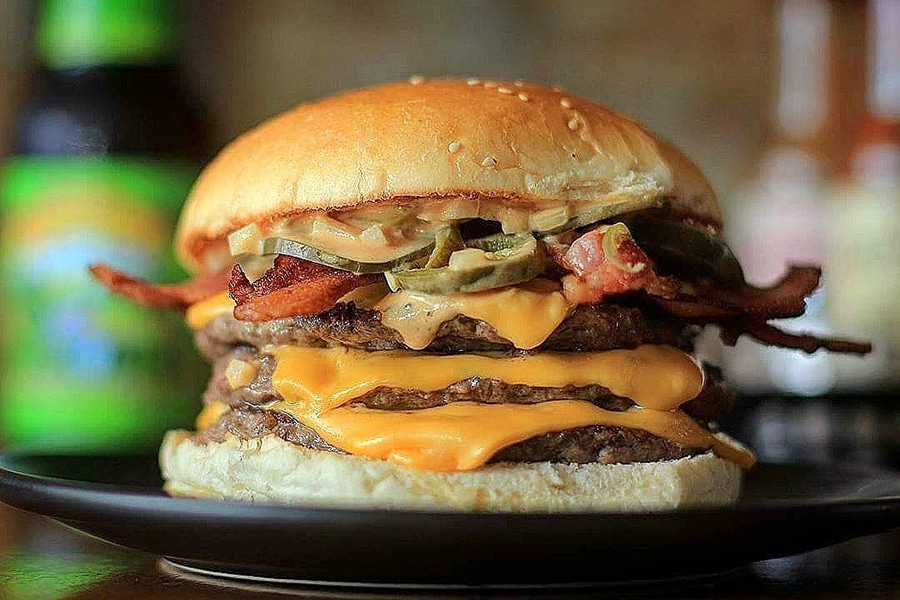 22. Changz Canteen
With an ever-changing and circulated weekly list of burger specials, Changz Canteen provides platforms for their burgers made using Japanese-styled milk buns to host this wide array of delectable patties of meat and chicken. Burger options range from a classic cheeseburger, southern fried chicken, Japenese fried chicken, truffle & mushroom, fish – battered rockling, or the curious vegetarian option featuring, black quinoa, roast pumpkin, and chickpea cake.
Address: 256 Glen Eira Road, Elsternwick VIC 3185
Phone: +61 3 9077 0353
Hours: Mon-Sat 12pm-9:30pm, Sun 12pm-9pm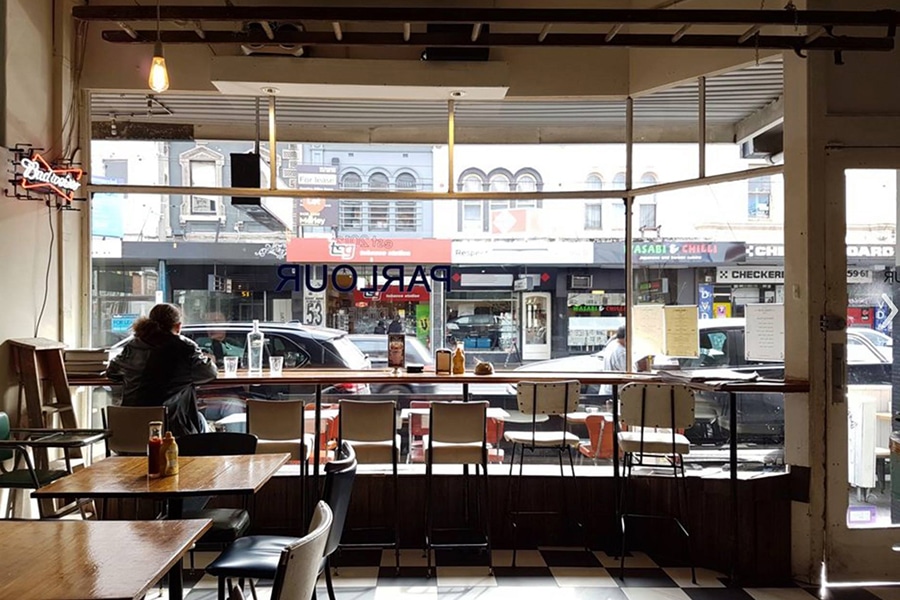 23. Parlour Diner
Parlour Diner would be best suited to be the proverbial poster child for what an authentic American Burger joint should look like. With classics that contain influences from international cuisines, you may just find the best burger in Melbourne here. The crispy fried chicken and brioche bun combination are revered by locals and burger lovers who travel from further afield for one of the best burger shops in Melbourne.
Address: 64 Chapel Street, Windsor 3181
Phone: +61 3 9533 2006
Hours: Wed 5pm-9pm, Thu & Sun 12pm-9pm, Fri-Sat 12pm-10pm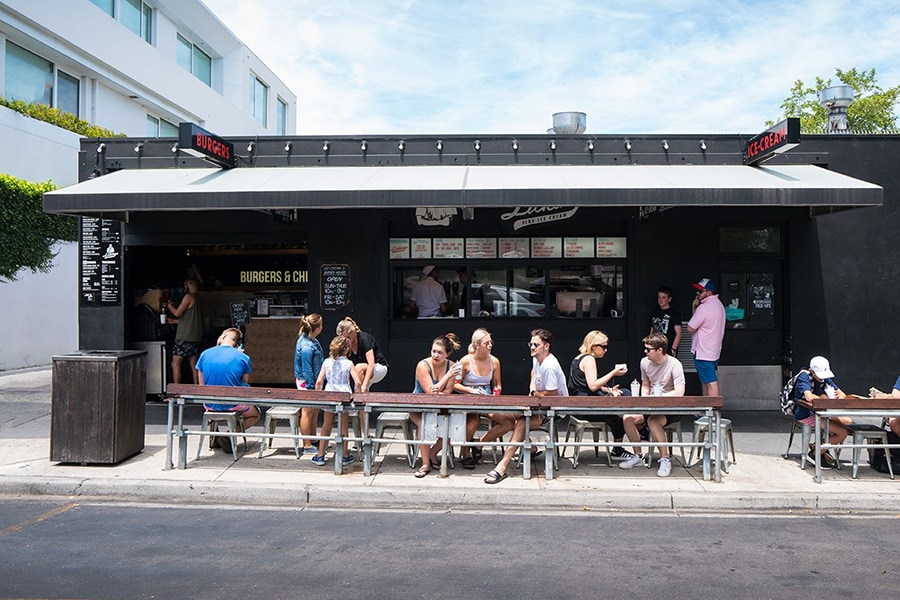 24. The Royale Brothers
Tucked away behind Melbourne staple The Pantry is The Royale Brothers burger joint. Offering patrons some of the best burgers to grace the city. A simple but delicious menu that caters for pescatarians, vegetarians, and vegans. The team here work hard to maintain their enviable status as one of the best Melbourne hamburger shops. All of the options are lovingly crafted by some of the best burger chefs in the business, naturally a necessity for anything associated with The Pantry.
Address: The rear of 1 Church Street, Brighton VIC 3186
Phone: +61 3 9005 4242
Hours: Sun-Thu 10am-9pm, Fri-Sat 10am-10pm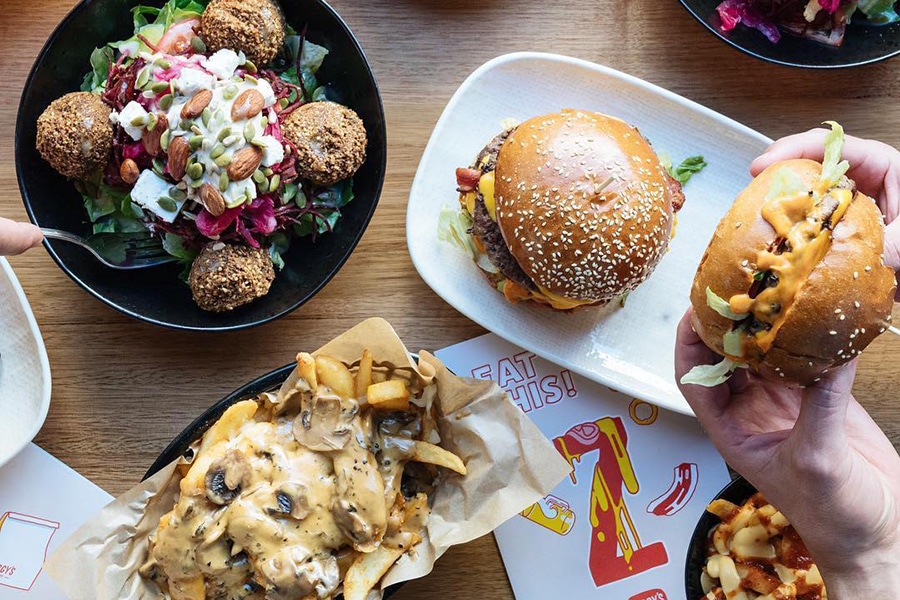 25. Ziggy's Eatery
Utilising all of the best flavours from around the world, Ziggy's Eatery specialises in not only superb burgers, but, also delicious wraps, falafel, salads, and an assortment of sides. Back to the burgers, the joints famous classic Texan burger is a must-try. If you're really hungry, why not go for the Giant Texan. These guys cook some of the best burgers in Melbourne.
Address: 195 Carlisle Street, Balaclava VIC 3183
Phone: +61 1300 944 497
Hours: Sun-Tue 11:30am-9pm, Wed-Thu 11:30am-9:30pm, Fri-Sat 11:30am-10pm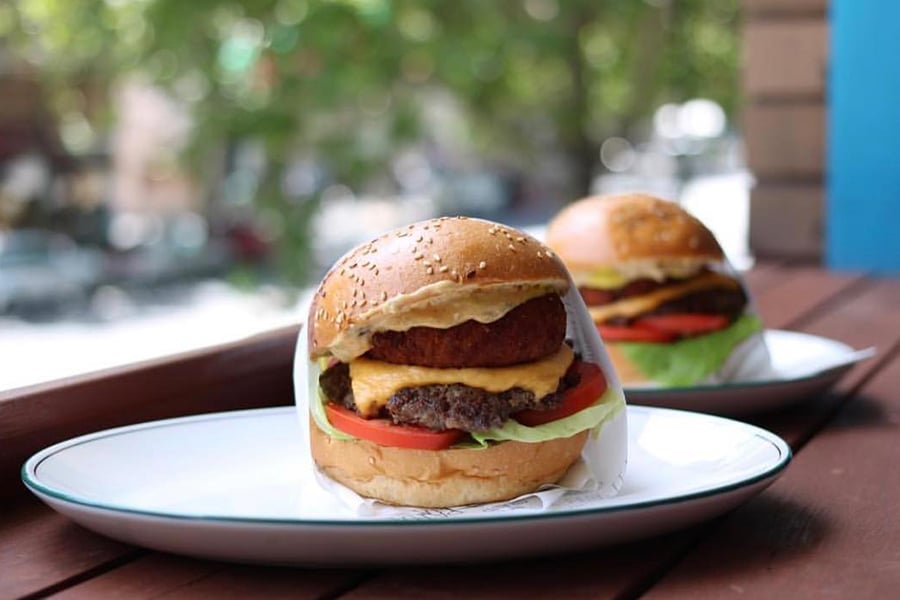 26. Grand Trailer Park Taverna
An East-Coast-inspired burger-and-bar diner, Grand Trailer Park Taverna serves up Melbourne's best new burgers, alongside signature spiked shakes, cocktails and desserts. A worthy contender for best burgers Melbourne CBD has on offer.
Address: 87 Bourke Street, Melbourne VIC 3000
Phone: +61 3 9972 3699
Hours: Tue-Thu & Sun 11:30-10pm, Fri-Sat 11:30am-11pm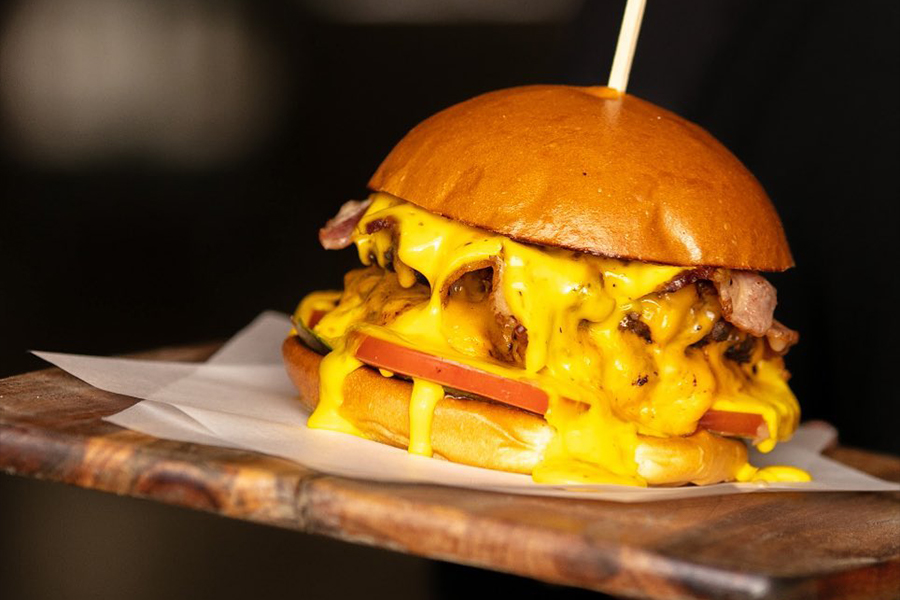 27. Burger Basement
Located in Pascoe Vale, the cheesy, gooey and glutenous fare at Burger Basement is well worth the trip. Enjoy some classic American favourites and a few modern twists at this cheeky little burger shop.
Address: 1/3 Pascoe Street, Pascoe Vale VIC 3044
Hours: Mon-Sun 11:30-9pm
General FAQ
Where can I find the best burgers in Melbourne?
Ziggy's Eatery, Flame 400 and Tally Kitchen have some of the best burgers you can find in Melbourne.
Where can I find burgers near me in Melbourne?
Hello Harry, Sonny's Fried Chicken & Burgers and Between 2 Buns are just some of the many burger joints in Melbourne.
Where can I find a good chicken burger in Melbourne?
Betty's Burgers & Concrete Co and Sonny's Fried Chicken & Burgers have some of the best chicken burgers in Melbourne.
You'll also like:
22 Best Steakhouses in Melbourne for Your Next Big Feed
16 Spots For The Best Yum Cha in Melbourne
27 Spots for the Best Brunch in Melbourne