25 Best Fish and Chips Shops in Brisbane
For any of you stunned mullets and bronzed beach bums feverish for fish and chips, cast your eyes on our list of the best fish and chips in Brisbane. Whether you're a cod connoisseur or a barramundi buff, if you live in Brisbane, you can rest a-shored there are good fish and chips shops near you.
Here's a list of the 25 best fish and chips shops in Brisbane.
You'll also like
14 Best Fish and Chip Shops in Sydney to Dine in or Takeaway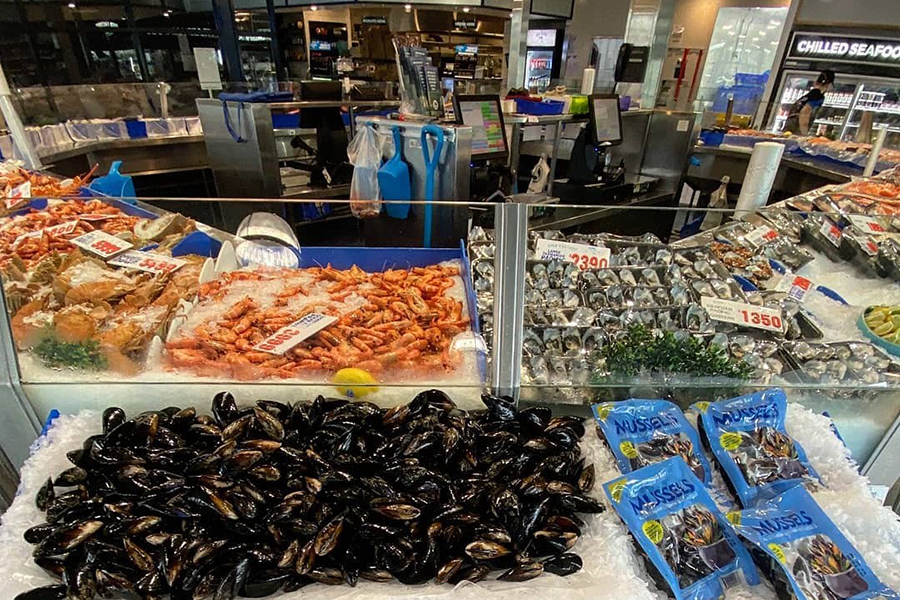 1. The Fish Factory
As anyone near Morningside would know, The Fish Factory is a shoe-in for Brisbane's best fish and chips shop. Bringing a tempest of tastes in Morningside, the eatery offers fresh seafood in a bistro and alfresco setting. The menu includes fishy favourites; Whiting, Barramundi and King Snapper, but also features extra edibles; grilled Salmon, Moreton Bay Bugs and amazing fish burgers, dine-in or takeaway.
Known for: Spaghetti Marinara, Crumbed Calamari Rings and Fisherman's Basket for One
Address: 355 Lytton Rd, Morningside QLD 417
Phone: +07 3399 9888
Hours: Mon-Sat 7 am-6 pm and Sun 9 am- 6 pm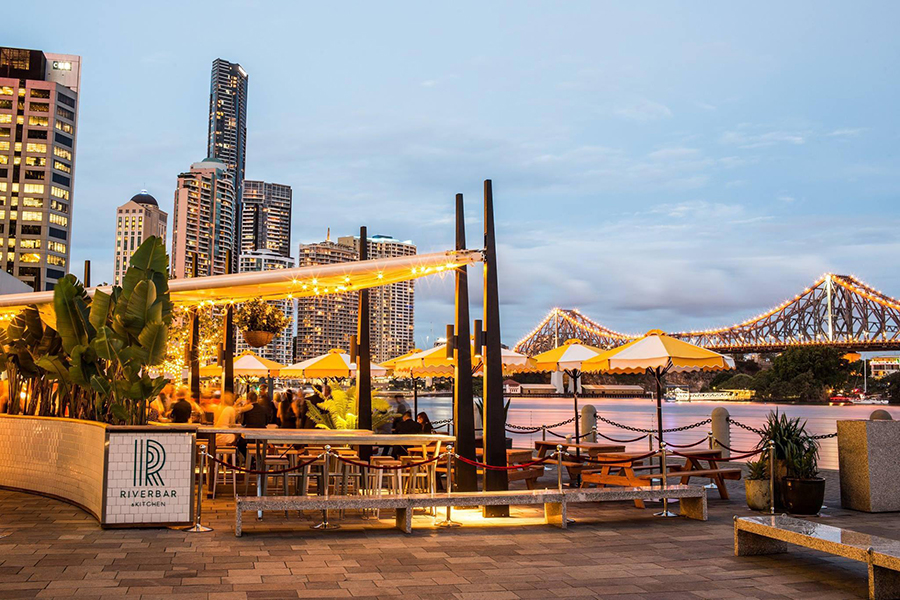 2. Riverbar and Kitchen
Beside the iconic Brisbane River, you'll find Riverbar and Kitchen, a windswept waterfront restaurant with alfresco dining and a killer view. Even better, the restaurant also dishes out breakfast right through to afternoon drinks in the balmy sun, or dinner with fine beverages under the stars. The menu features delectable options for every taste profile along with options for our gluten-free, vegetarians, vegans and dairy-free friends, making it one of the best fish and chip shops Brisbane has to offer.
Known for: Salt and pepper squid with aioli and fried shallots and the Gamberetto meal
Address: 71 Eagle St, Brisbane City QLD 4000
Phone: +07 3211 9020
Hours: Mon-Wed 12-8 pm, Thu 11-9 pm, Fri 11-11 pm, Sat 8 am-11 pm and Sun 8 am-8 pm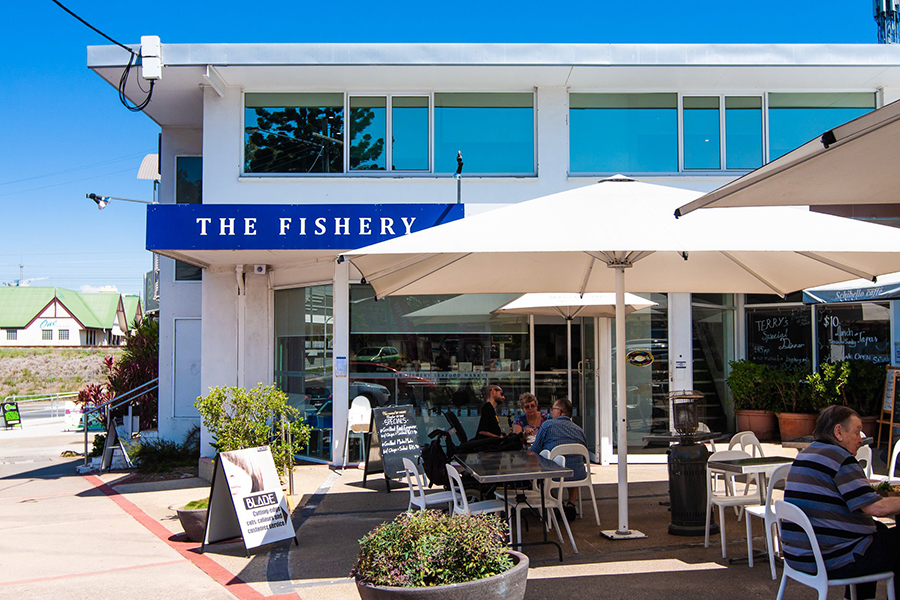 3. The Fishery
The Fishery is serving up all things fish in their Milton shop. This lax little eatery offers locally sourced seafood and traditional fish and chips; premium fillets, shellfish, prawns and oysters. Helmed by Murray Dalton, with over 20 years' experience in working with Australian and New Zealand seafood, rest assured this is some of the freshest fish and chips and seafood Brisbane has to share. The restaurant's first-line dishes include the Salt & Pepper Squid, BBQ Whole Snapper with Asian Noodles.
Known for: Blue Grenadier Fish and Chips and Salt & Pepper Squid, Chips & Salad
Address: 6a/16 Baroona Rd, Milton QLD 4064
Phone: +07 3369 4707
Hours: Mon-Sun 10 am- 8 pm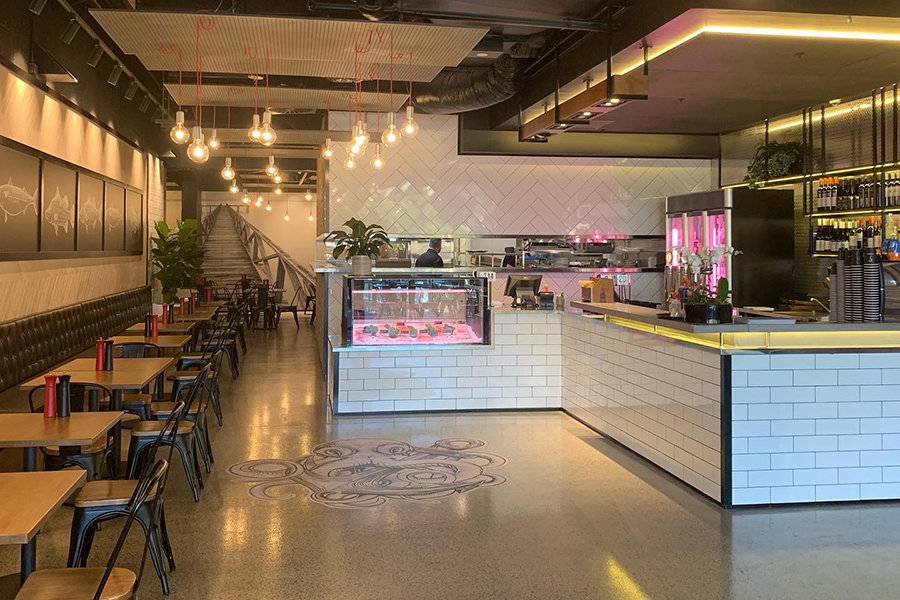 4. Sea Fuel
Within walking distance of the Brisbane River, this mum-and-dad operation began on a wing and prayer and ballooned to be one of the best shops for fish & chips in Brisbane. Sea Fuel offers high-quality seafood at reasonable price tags. Their cooking techniques leverage a myriad of sustainable fish that will inevitably satiate you sizzling savours. Scarf down their fillets, golden crumbed, succulently grilled or an old favourite – battered. All meals are complemented with a choice of five savoury salads and of course to wash it all down, you need the right beverage. The restaurant is open to functions and serves gourmet beef and chicken burgers, and vegetarian meals to customers coveting counter menu options.
Known for: Cod Meal, Panko Crumbed QLD Prawn Cutlets Meal and Seafood Platter for Two
Address: 57 Vulture St, West End QLD 4101
Phone: +07 3844 9473
Hours: Mon-Sun 10-8:30 pm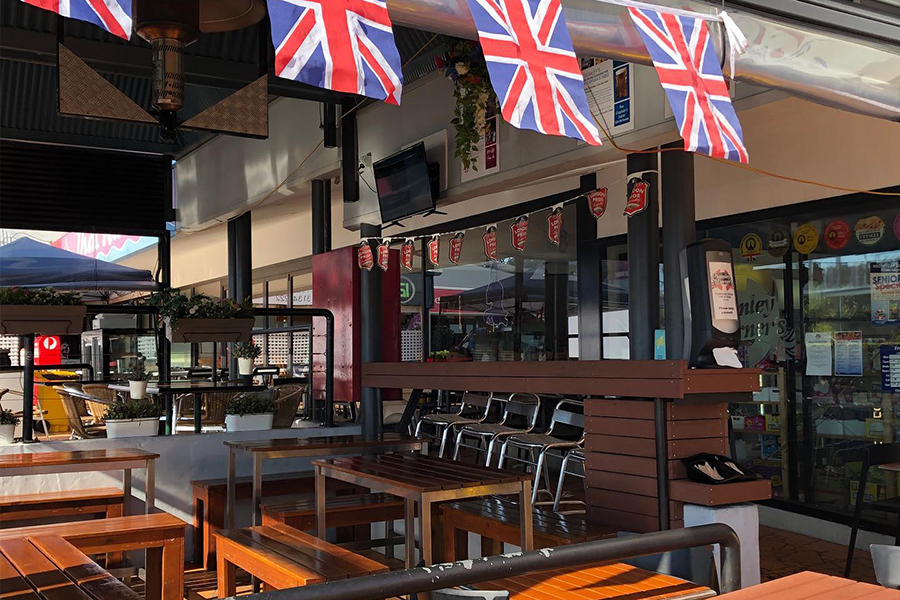 5. Chumley Warner's Traditional British Fish & Chips
Brisbane's bayside suburbs are monotonous with fish and chip shops. For something unordinary— bringing you Great British fish and chips down under—Chumley Warner's Traditional British Fish & Chips is the in situ to be. A traditional British fish and chippery, it serves up large slabs of specially imported cod and haddock from the North Atlantic and cones of crisp chips, Plaice and Scampi, black pudding, steak, pastries and puddings and a glut of mushy peas right down to the mushy peas, kidney pies, pork pies and rush of steam that escapes when you break open the bundle at nearby Waterloo Bay. Chumley Warner's also brings a full menu of Scottish meals, too.
Known for: Mini Haddock & Chips Battered, Chicken & Mushroom Pie and Steak & Kidney Pie
Address: Shop 8/190 Birkdale Rd, Birkdale QLD 4159
Phone: +07 3822 7787
Hours: Tue-Thu 11-7:30 pm, Fri-Sat 11-8:30 pm and Sun 11-7 pm
Chumley Warner's Traditional British Fish & Chips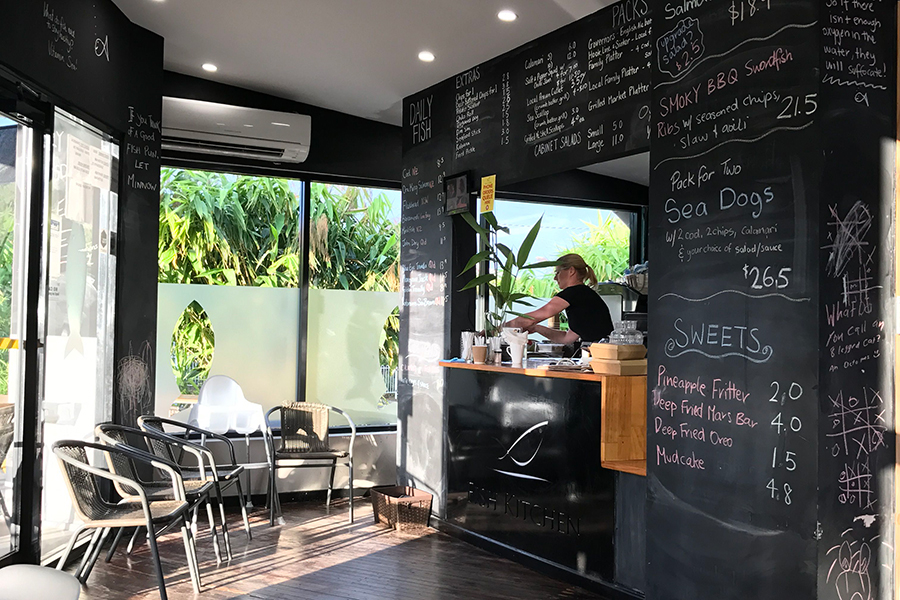 6. Fish Kitchen
Fish Kitchen is a seafood sanctuary, offering a plethora of specialties, from classic fish and chips to heart-warming comfort food such as their Seafood Chowder. While waiting for your meals to be prepared, why not check out the family-friendly seafood-related jokes inside or submit your own to be added. For those hankering an alfresco repast, an outdoor dining space circumambient by herbage is offered. For families with younger children, their indoor chalkboards and outdoor concrete floors are made for children, keeping them diverted whilst you enjoy your meal. If you are wanting to just take some fresh seafood home to cook, check out their rotating fresh fish and seafood lists. With freshly shucked oysters constantly available, fresh prawns and mud crabs may be rare but well worth grabbing some to take home when available. But get in quick as they do sell out fast.
Known for: Whole Rainbow Trout, Southern Fried Snapper and Fish Tacos
Address: 220 Annerley Rd, Dutton Park QLD 4102
Phone: +07 3844 7943
Hours: Wed-Sun 11-8:30 pm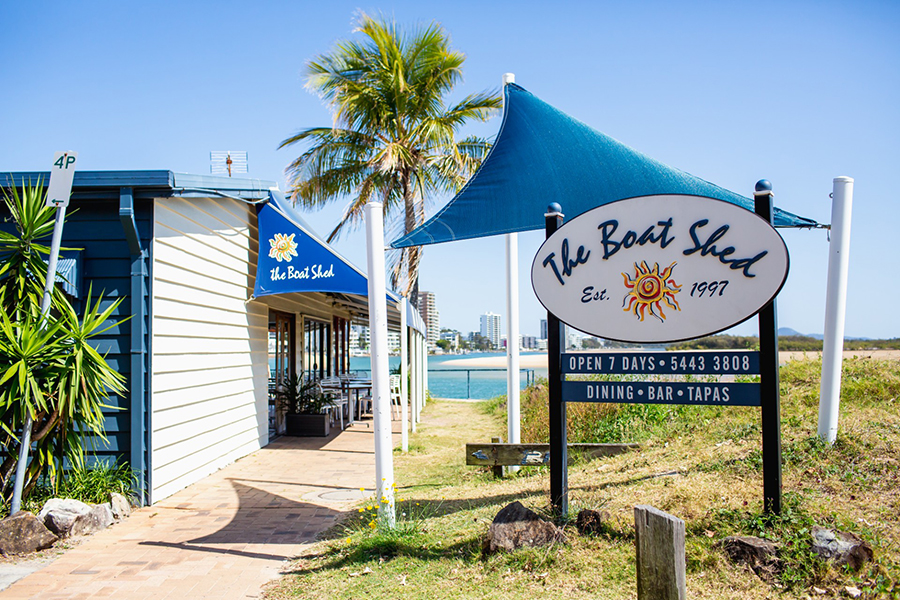 7. The Boat Shed
For fish and chips in North Brisbane, prepared to be charmed by Scarborough's most precious pearl, The Boat Shed; serendipitously adjacent to Scarborough Beach Park with scenic outlooks towards Moreton Island. Once you're there, you'll find lavish servings of quality seafood, cooked golden-brown in a light, crisp tempura batter and finished with corncobs and sweet potato crisps. The restaurant instantiates coastal dining on the Sunshine Coast. Casual, quality service with a focus on local produce and etching views over the Maroochy River—the Sunshine Coast's best-kept dining secret. For a prawn porn experience, try the eatery's most favoured dish Scallop & Prawn Spaghettini or their scrumptious Salt & Pepper Calamari.
Known for: Scallop & Prawn Spaghettini, Salt & Pepper Calamari and Sticky Bourbon Beef Brisket
Address: (Behind the pool), The Esplanade, Cotton Tree QLD 4558
Phone: +07 5443 3808
Hours: Mon-Sat 12-10 pm and Sun 12-5 pm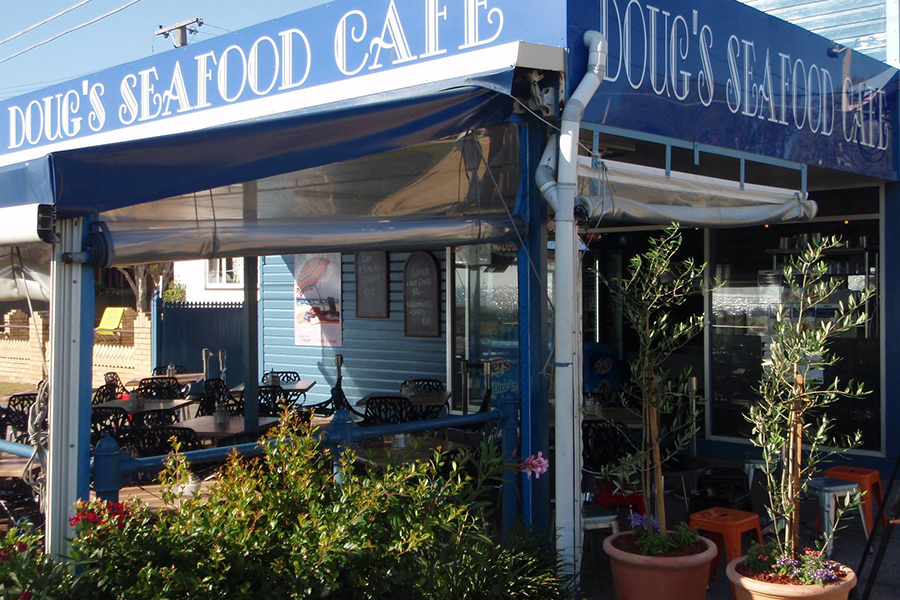 8. Doug's Seafood Café
Located 20km north of Brisbane's CBD, Doug's Seafood Café, for decades, has been the cynosure of local cafés to relish a myriad of quality seafood form. The restaurant proffers fresh seafood dishes to appease any appetite. From burgers, salads and catch-of-the-day, their farm-raised salmon, to fresh Bribie Island oysters, local trawler-caught prawns, octopus, fish and chips, calamari, barramundi and fresh salads, they have it all. Doug's brings the ocean to your table in a lax space with a terrace featuring pristine Moreton Bay and the views of Redcliffe and the Shorncliffe Pier. The Café also serves corking coffee, made from Australian Merlo beans to cloy your coffee covets.
Known for: Halloumi & Grilled Prawn Salad and Grilled Octopus Salad
Address: 60 Flinders Parade, Sandgate QLD 4017
Phone: +07 3269 4713
Hours: Mon-Fri 9–8 pm, Sat-Sun 7–8 pm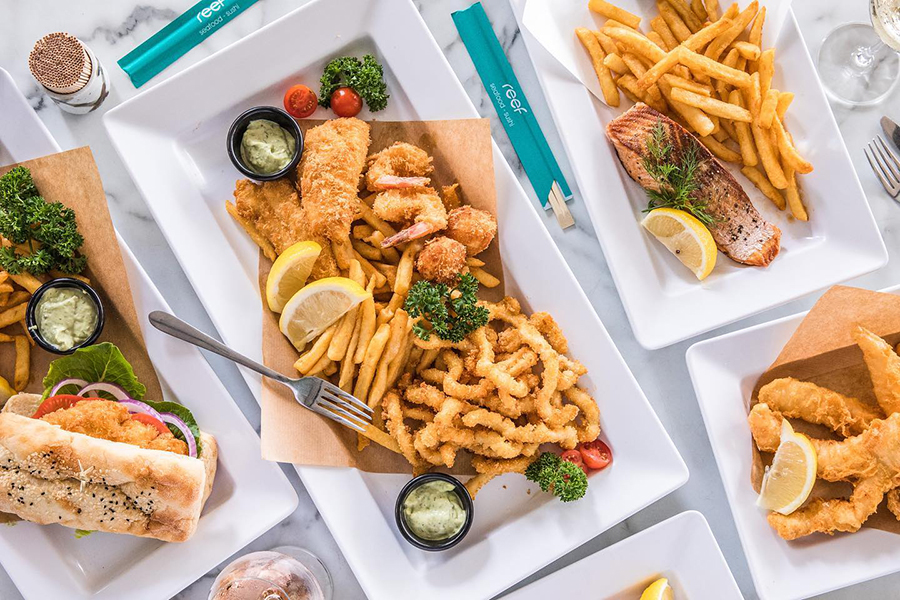 9. Reef Seafood & Sushi
With Brisbane's deficit in sashimi, Reef Seafood & Sushi has acted as ballast in bringing Brisbane savoury sushi and succulent seafood. The restaurant serves Japanese inspired seafood dishes with an undercurrent of western-inspired fish and chips. Reef's is fervent about oysters, too, and sources only the best quality from Australian shores, with all oysters being shucked live in the store while you wait for your meal. Reef's sushi has also garnered repute as one of the best sushi shops in Queensland. Their mouth-watering range of sushi, a rainbow of fresh sashimi, hearty miso soups and a variety of hot, cold don sets, grilled salmon, panko crumbed snapper, crumbed calamari and everyone's favourite, fish and chips will leave you comatose.
Known for: Japanese Seafood Curry, Assorted Sashimi and Fisherman's Basket meal
Address: Gasworks Plaza, Tenancy A1-d Gaswork Towers, 76 Skyring Terrace, Newstead QLD 4006
Phone: +07 3257 7554
Hours: Mon-Sun 8-8 pm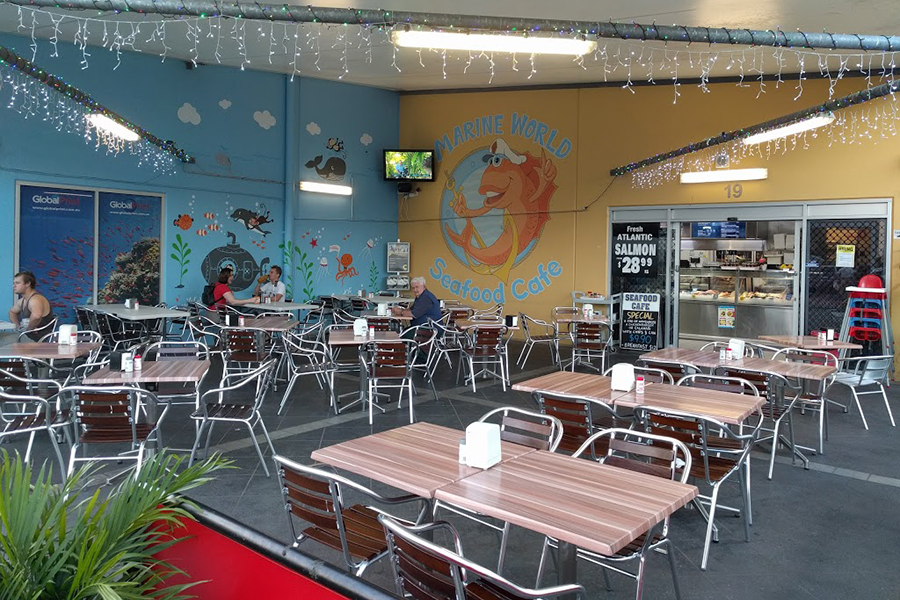 10. Marine World Seafood Café
This seafood sanctum has reverberated raves of customers with their pop star lobster, Moreton Bay bugs, and gluten-free fish and chips. Marine World Seafood Café is one of the prominent fish and chips take away outlets on Brisbane's Bayside. The eatery also prepares bewitching gourmet burgers and caters fish, prawns and other seafood to events and celebratory junctures. At Marine World, fish arrives cooked in two ways, followed by blue-chip chips, cooked to completion, and served by the scoop atop a greaseproof paper; with all the appetising accoutrements—salt, malt vinegar, citrus and a selection of house sauces, including a truffle mayo. Their sides include salads, made for the perfect fresh fish match, potato scallops and deluxe dim sims—for comfort crunchiness.
Known for: Seafood Basket, Barra Burger, Reef and Beef Burger
Address: 19/1029 Manly Rd, Tingalpa QLD 4173
Phone: +07 3907 0776
Hours: Mon-Sun 8 am-8 pm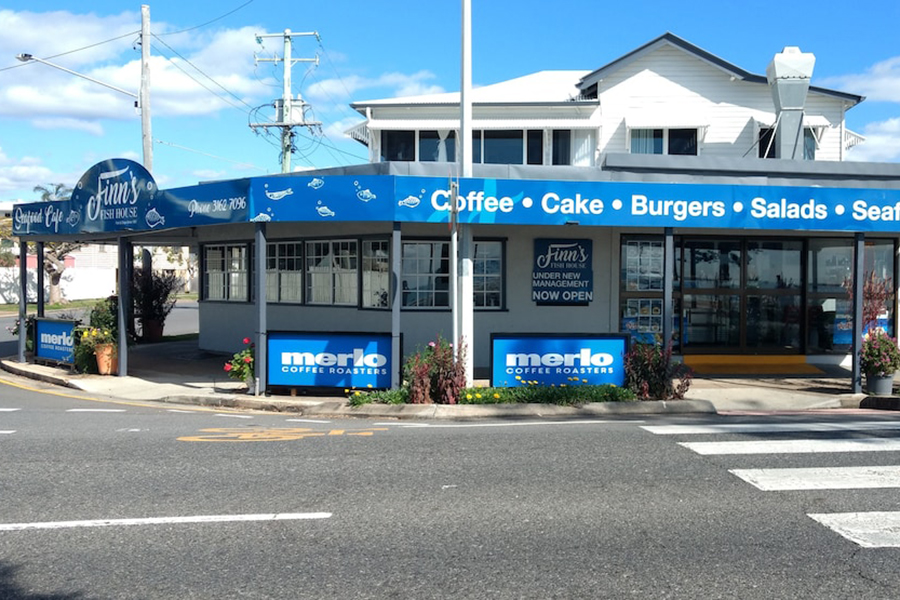 11. Finn's Fish House
For flavoursome fish & chips, mollifying music and a modest restaurant setting for family and friends to savour the serenity of the seaside, cod and hamburgers, Finn's Fish House is your shtick. Finn's is teeming with sociable and skilful staff that will serve you with the finest seafood, in one fell swoop. Their Mediterranean Platter is the crowning glory; fish, prawns, bugs, scallops, octopus, chips and halloumi. If you fancy other fried delights, their calamari is lightly battered and perfectly fried with tentacles; served with codfish and chips. Crab melt, red emperor, and salubrious salads are the secondary favourite. Finn's unique fish and chips have imbued a penchant into almost all of its patrons.
Known for: Finn's Burger and Seafood Basket for One
Address: 205 Wynnum Esplanade, Wynnum West QLD 4178
Phone: +07 3162 7096
Hours: Wed-Sun 10-7:30 pm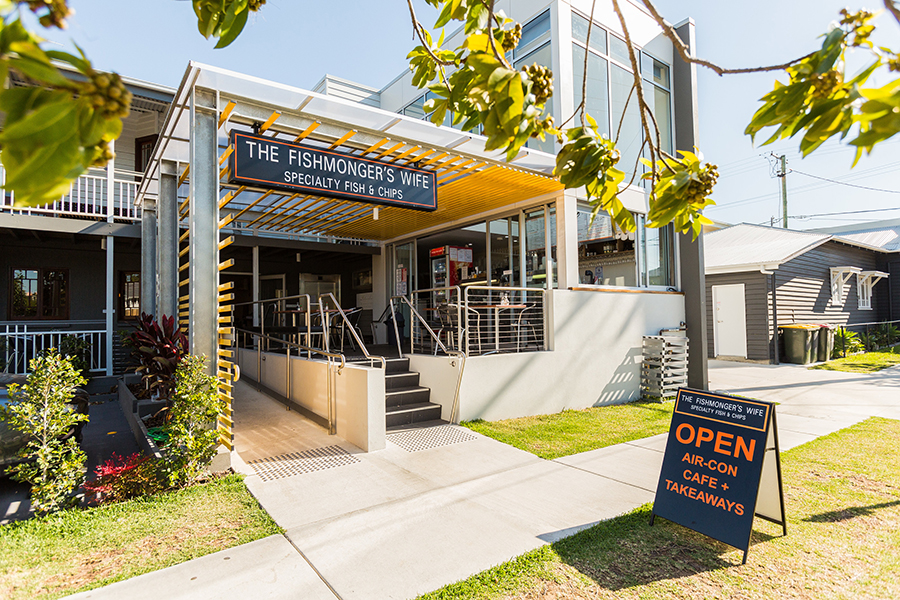 12. The Fishmonger's Wife
The Fishmonger's Wife always cooks up a storm in Hawthorne. The restaurant dishes up from the swish suburb of Hawthorne, featuring its popular haul of the finest finned cuisine. Their panoply of fish are cooked in one of three ways; with Japanese bread crumbs, French beer batter, or conventionally grilled. The restaurant's menu is predicated on an Asian undercurrent; one may switch their chips for jasmine rice for a healthy option. The restaurant's décor is also steeped in Asian ambient features. Their menu flaunts the likes of salt, pepper and garlic calamari, fresh barramundi served in either Moroccan, Mediterranean herb or pesto style, freshly grilled and dukkah-crusted Atlantic salmon, spicy Thai octopus, and rib fillet burgers.
Known for: Grilled Moroccan Fish Burger, Pesto Crumbed Fish Burger and King Snapper
Address: 48 Orchard St, Hawthorne QLD 4171
Phone: +07 3899 5873
Hours: Wed-Sun 12-7:30 pm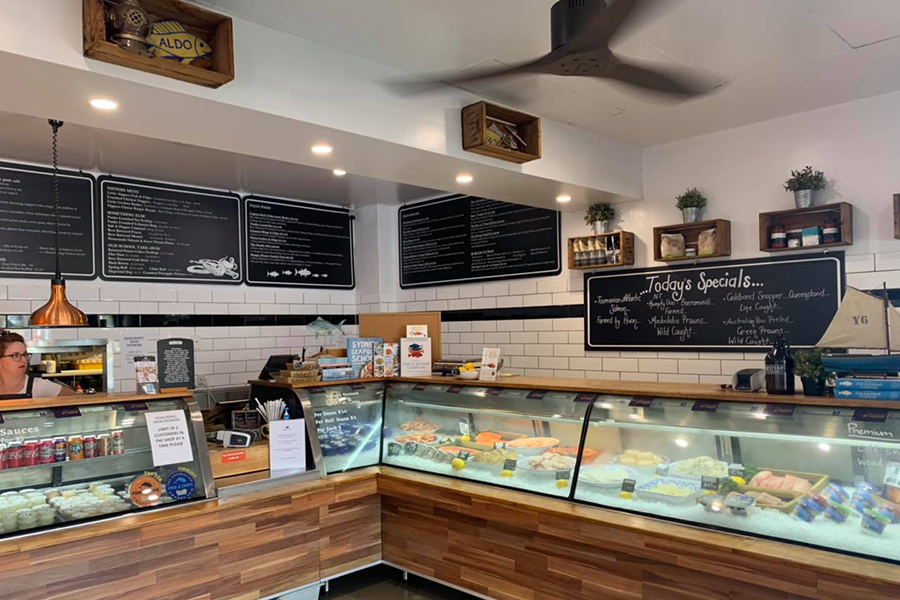 13. Clayfield Seafood Markets
If you live in Brisbane's Northside and hanker for some crumbed, flaky goodness, Clayfield Seafood Markets are your best bet. Voted Top 10 Fish & Chip Shops nationally in the Australian Fish & Chips Awards, 2018 and 2019 and as well as the Top 10 in Australia Qantas Magazine. An aberration in ownership overhauled this suburban takeaway joint into a locally focused north-side go-to for fish and chips shop. Their fish is fine-quality snapper, barramundi, salmon or Hoki that's sourced regionally; boned and filleted in situ; and deep-fried in a Newstead Brewing Co. amber ale batter or panko crumbs. Clayfield also opens for breakfast, purveying smoked salmon and a fried egg burger; best washed down with an espresso, by award-winning Bellissimo Coffee.
Known for: The Kraken Fish Burger, Tradies Lunch Box and The Able Tasman
Address: 5/823 Sandgate Rd, Clayfield QLD 4011
Phone: +07 3262 6279
Hours: Sat-Thu 10 am-8 pm, Fri 10 am -8:30 pm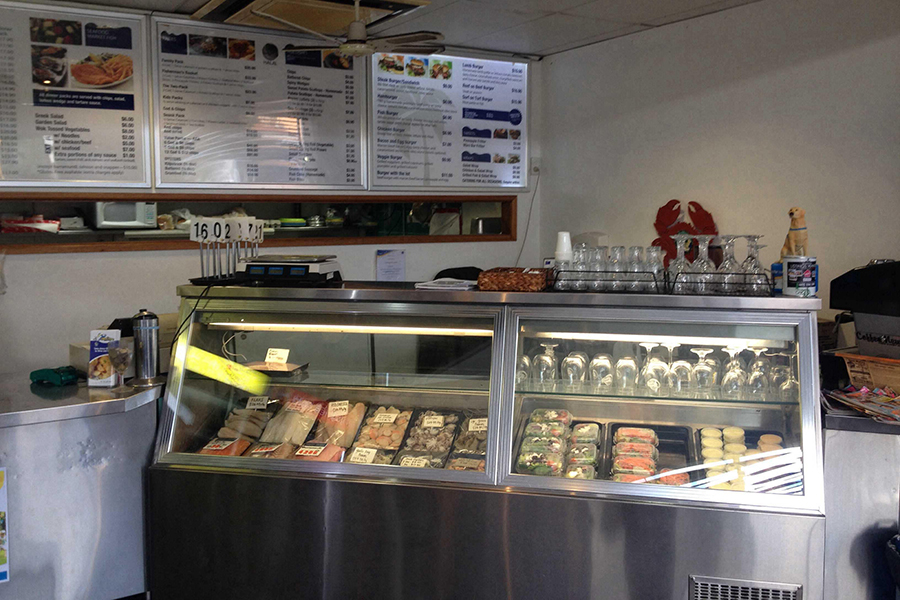 14. Blue Ocean Seafood
With a restaurant in Sydney, Blue Ocean Seafood proffers the best fish and chips in south-east Brisbane; fresh fish—grilled, crumbed, or, battered if you're feeling decadent— salubrious salads and melt-in-the-mouth calamari, plus BYO. Blue Ocean offers ample serving to a menu of fresh and prepared seafood, platters, and burgers in alfresco. Expect oysters, prawn spring rolls, the whiting—4 fresh, crispy crumbed huge portions per serve —chunky battered chips, tender salt and pepper calamari tossed in garlic and a little chilli and fresh moist crumbed Tasmanian sea scallops, to have from their extensive menu. Overall, this seafood restaurant reigns supreme for a suburban fish and chips shop.
Known for: Red Emperor, Coral Trout and Chili Squid
Address: 5/380 Cavendish Rd, Coorparoo QLD 4151
Phone: +07 3397 8027
Hours: Mon 4-8:30 pm, Tue-Thu 11-8:30 pm, Fri-Sun 11-9 pm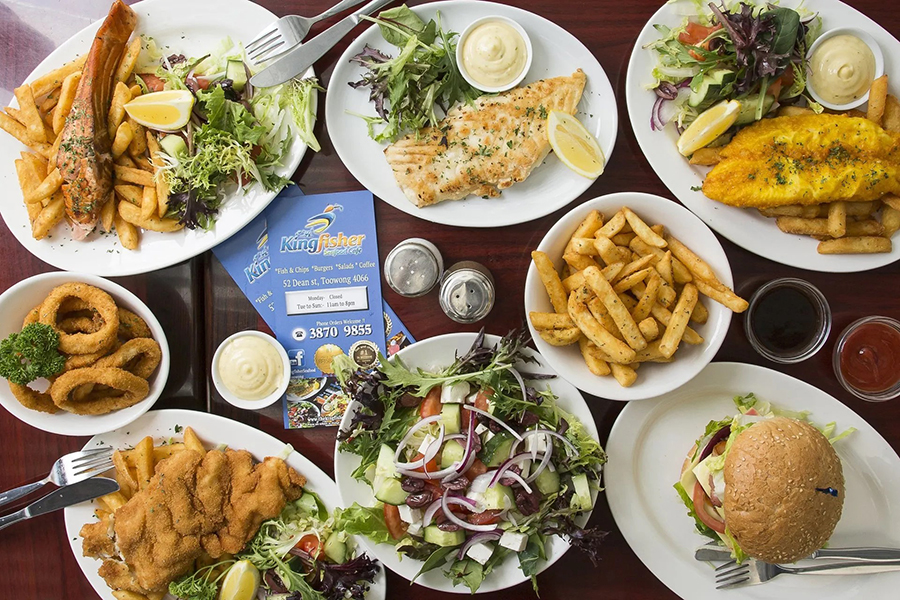 15. The Kingfisher Seafood Café
Its moniker is indicative of its listing—king. A genteel and lax spot for nourishing breakfasts, gourmet burgers and flavourful fish and chips, environed by a covered courtyard. The Kingfisher Seafood Café is to-die-for. With the freshest and most salubrious of salads, fish and chips, gourmet burgers, and vegetarian-friendly meals, you're always going to covet a meal from this restaurant. With an ethos that provides you with the best quality food, friendly service and a welcoming atmosphere at affordable prices, the restaurant also proffers an outdoor and indoor seating, chow down on their most satiating and scrumptious meals; Codfish fillet with beer battered chips, with a Greek or Caesar salad.
Known for: Grilled Salmon meal, Prawn Cutlet meal and Dory meal
Address: 52 Dean St, Toowong QLD 4066
Phone: +07 3870 9855
Hours: Tue 4-8 pm, Wed-Thu 11-8 pm, Fri 10-8 pm and Sat-Sun 11-8 pm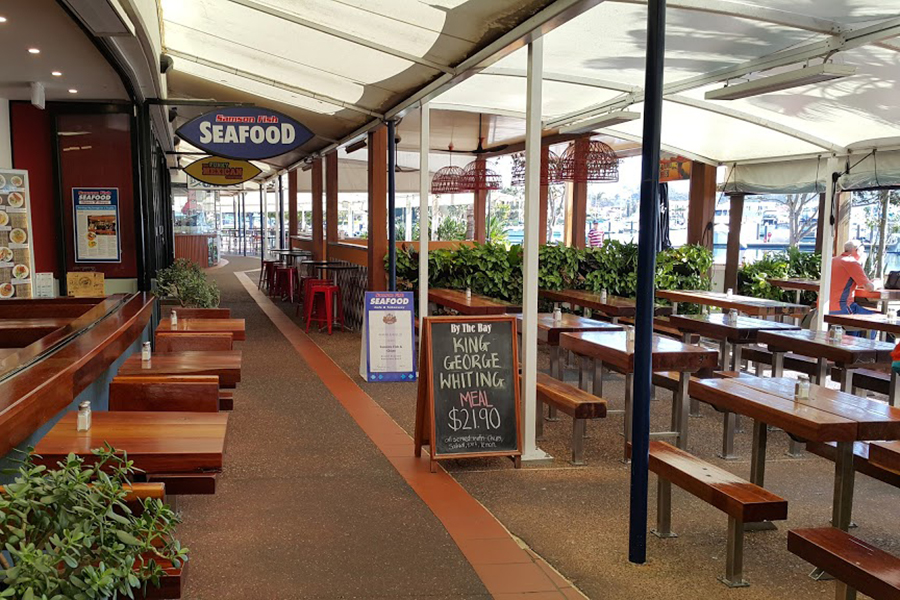 16. Samson Fish Seafood
Envisage fish and chips, burgers and platters in an unperturbed, cafe with a mesmerising vista of Raby Bay Harbour. In Brisbane's far south-east Samson Fish Seafood is extant for all savoury seafood meal. With ample covered seating, inside and for alfresco dining, not many restaurants can hold a candle to Samson. The restaurant is a superlative destination for lunch or dinner. All their fish produce, barring Cod —patently from South Africa—and Dory —from Vietnam— are Australian. Samson prides itself in ensuring its fish and chips are cooked in acme Australian oils; crumbing and battering is also daily prepared at their premise. Experience their famous Hot & Cold Platters, or simply chomp on a scrumptious Bowl of Beer Battered Chips.
Known for: Tasmanian Salmon Meal and SeaPerch Meal and Hoki Meal
Address: 152 Shore St W, Cleveland QLD 4163
Phone: +07 3488 2088
Hours: Mon-Thu 11-8 pm, Fri-Sun 11-9 pm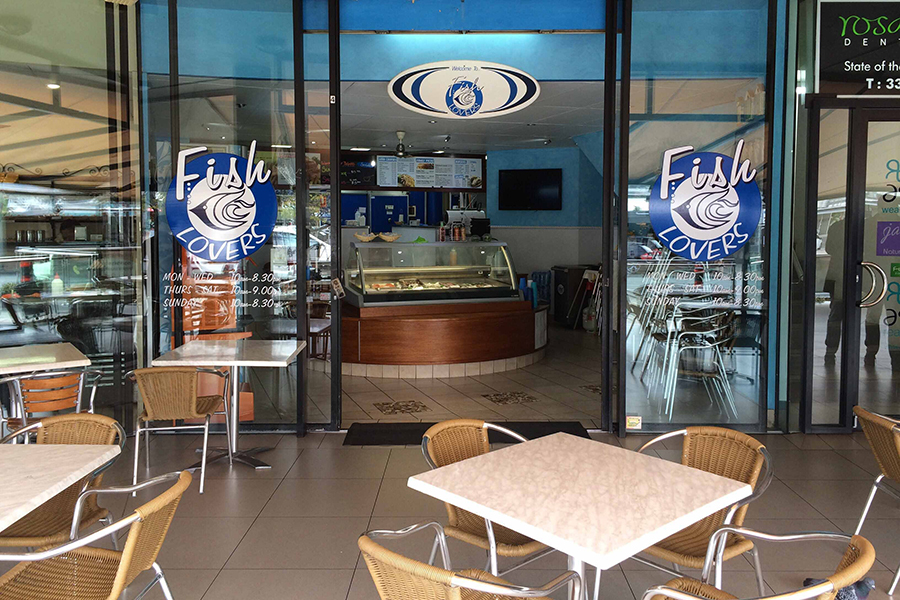 17. Fish Lovers
Born in Rosalie in 1990, Fish Lovers has reified its repute in purveying one of the best fish and chips in Brisbane. The eatery is one of the most historical and iconic venues in Paddington and Rosalie. Their ethos is artless and pertinent; serve only the freshest seafood, with great customer service, and consistency at the best possible prices. Peruse their menu and enjoy some of Queensland's finest seafood; brilliantly battered, crumbed or grilled and is drivelling-delicious. Tuck into their snapper with one of Fish Lovers' freshly-made salads and a big old serve of chips. Their Head Chef toys with various sauces and combinations, balancing the flavours for exclusivity and your palatable zests.
Known for: Braised Baby Octopus, Kilpatrick and Lemon Pepper Calamari
Address: 4/165 Baroona Rd, Paddington QLD 4064
Phone: +07 3217 6511
Hours: Mon-Tue 5-8 pm, Wed-Sun 12-8 pm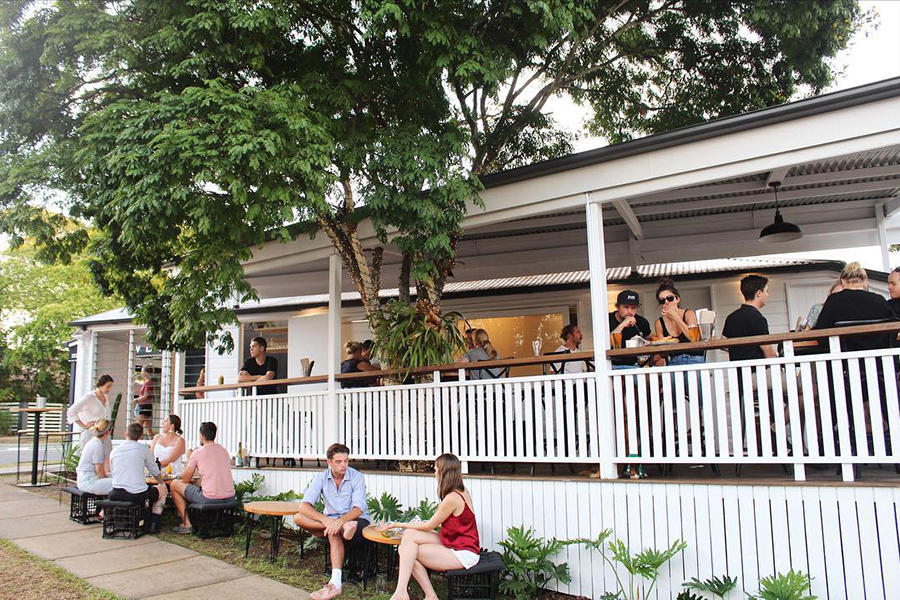 18. Perch'd
Perch'd is a calm and off-the-cuff fish and chippery boarded in an old Queenslander on a blooming Coorparoo street corner. The shop is a serious contender for Brisbane's best fish and chips. This former café has been revamped into a casual eatery-bar, where locals can sit on the big, breezy deck and enjoy some classic fish and chips along with their recourse of beverages. The shop's owners pride themselves in making their pickles, condiments,  potato scallops,  hand-cut chips, crumb. Customers can choose from fresh fish; perch, barramundi or salmon and add a delicious house-made side like corpulently hand-cut chips, onion rings, battered pineapple or mushy peas. Or, enjoy tasty chip butties, fish burgers and veggie burgers topped with halloumi, salad and curry sauce.
Known for: Pack for Two and Famous Fish Burger
Address: 1/252 Cavendish Rd, Coorparoo QLD 4151
Phone: +07 3705 1174
Hours: Wed-Fri 4- 8 pm, Sat-Sun 12-8 pm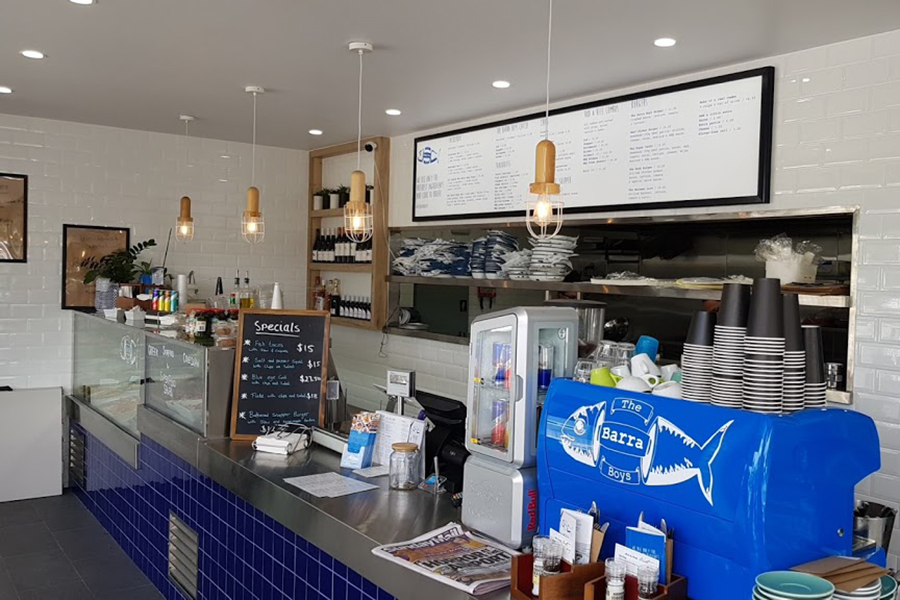 19. The Barra Boys
In 2018, East Brisbane hailed a fresh face to the fish and chips industry. Occupying a bright corner spot in Stanley Street East and Edgar Street, The Barra Boys is not your faint fish and chip shop. A multitude of fresh seafood, fish and chips, salads, burgers, platters and classic snacks such as potato scallops, calamari, dim sims and Chiko Rolls feature on their menu. Customers can choose from a rod and reel combo that features the likes of cod, snapper, barramundi, salmon, calamari, barbecued octopus or prawn skewers. If you're gluttonous for gourmet burgers, you can quash it with one of five types – crumbed barra, classic cheeseburger, a stacked beef, grilled chicken breast, and halloumi burgers are offered, for dining in or takeaway.
Known for: The Barra Boys Burger, Tacklebox for 1 and All aboard The Barra Boys Feast
Address: 1007 Stanley St E, East Brisbane QLD 4169
Phone: +07 3391 3487
Hours: Mon 5-8 pm, Tue 10:45-8 pm, Wed-Sun 10:30-8 pm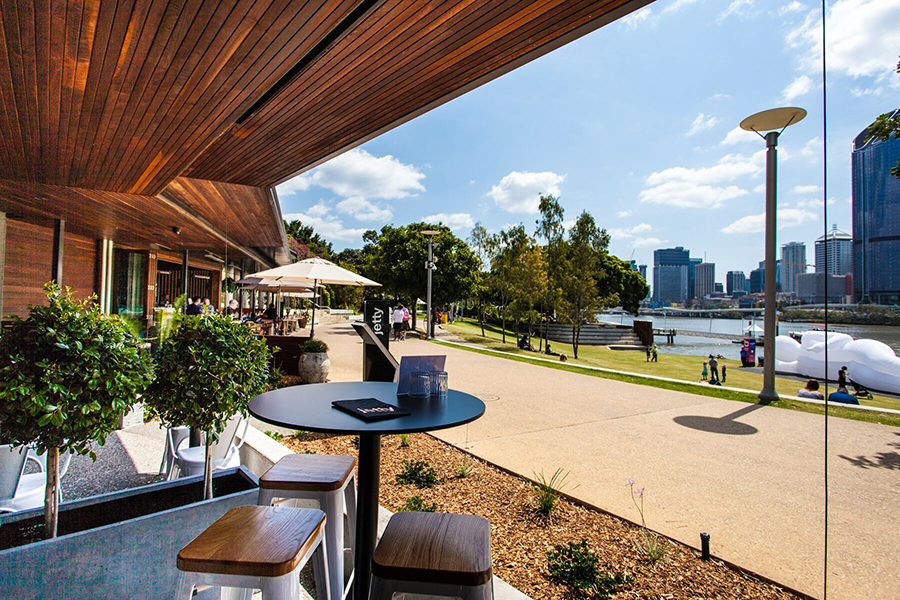 20. The Jetty Southbank
Situated at the northern end of South Bank's River Quay dining precinct, The Jetty Southbank, is a quayside bar, cafe & restaurant celebrating everything we love about Queensland. Nestled in a riverside nook with spectacular uninterrupted views across the Brisbane River to the CBD, The Jetty is the perfect spot for long, lazy lunches with friends, pre-show cocktails, romantic date nights, and everything in between. Pull up a seat, grab a spritz, and relax as you watch the world go by.
Known for: Chilli Mussels and Moreton Bay Bug Sliders
Address: River Quay, Shop/4 Sidon St, South Brisbane QLD 4101
Phone: +07 3844 8838
Hours: Mon-Fri 11:30-12pm, Sat 7 am-12pm and Sun 7 am-5 pm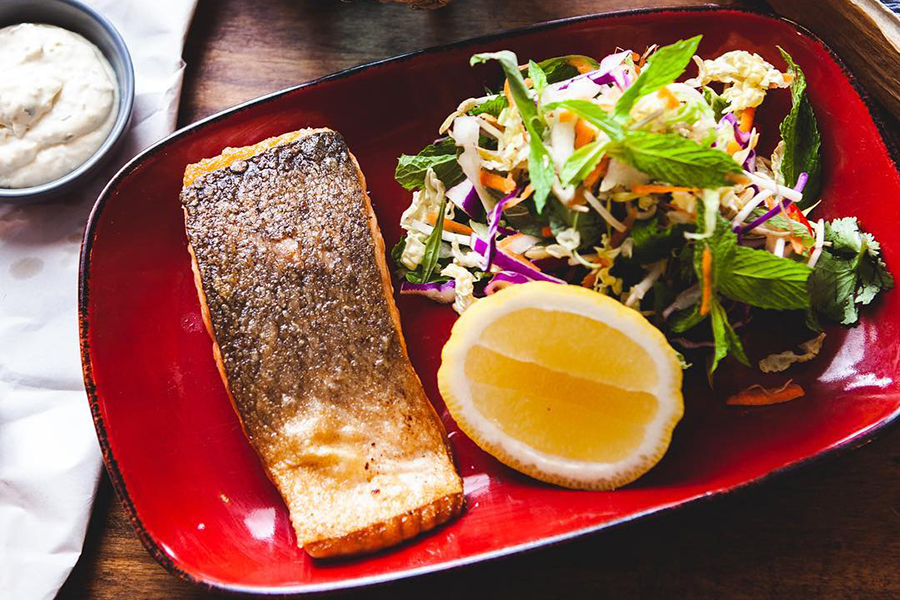 21. Spotted Cod
Located in North Brisbane, Spotted Cod's maxim "caught local, for locals," instantiates their ethos and how they source the best seafood; slinging fish, chips and burgers with a timeless approach. The restaurant is the spot for all the classics; handmade onion rings and potato scallops, as well as delicious hearty gourmet burgers. The eatery proffers you a chance to choose to stick to familiar favourites, of a traditional catch, whether it be grilled, crumbed or battered. The Spotted Cod also serves up a daily catch of fresh oysters, prawns, crab and fish for take-home consumption, but those dining in can sip on a selection of boutique beverages.
Known for: Salty Box meal, Seafood Frenzy meal and Healthy Pack meal
Address: 5 173/159 Hamilton Rd, Wavell Heights QLD 4012
Phone: +07 3266 6008
Hours: Mon-Thu 10-7:30 pm, Fri 10-8:30 pm, Sat 11-8 pm and Sun 11-7:30 pm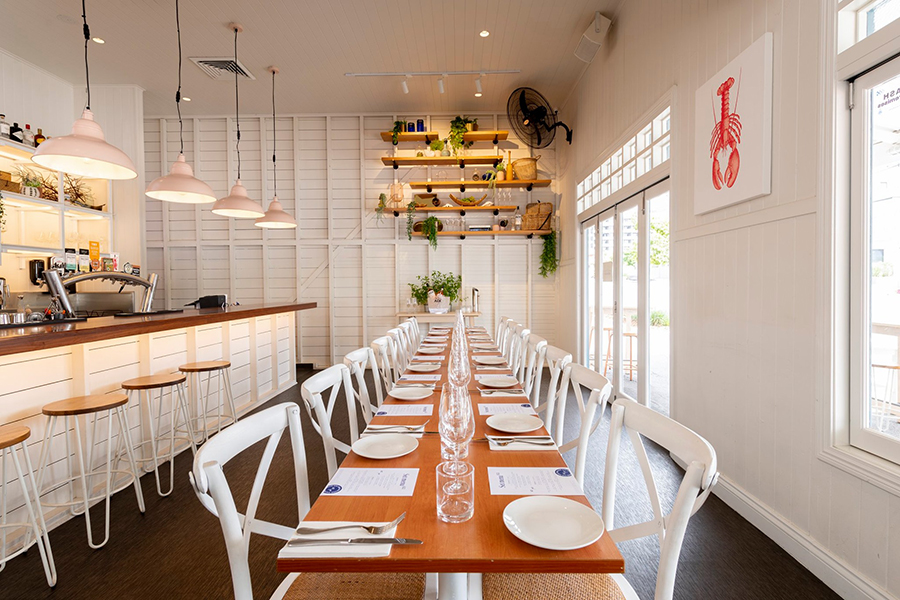 22. One Fish Two Fish
Taking over the spot recently vacated by a banal bar, One Fish Two Fish is another quasi-prissy fish and chippy enticing Kangaroo Point locals. A fresh-off-the-boat take on the local, the eatery is an inner-city seafood venue poised at providing you and your family a spot for your midweek and end-of-week coddlings. Their eclectic restaurant setting and menu is a remix of global seafood dishes, bringing you shellfish pot-au-feu, seafood risotto, and softshell crab sliders, tiger prawns, kingfish sashimi and Cajun fish tacos. Housed in a converted Queenslander, One Fish is perfect for a casual dinner, takeaway, or a weekend warrior's waistline and serves them in styles to suit every fish eater's flavour.
Known for: Steamed Goldband Snapper, Quarter Flounder Burger and Fraser Isle Spanner Crab
Address: 708 Main St, Kangaroo Point QLD 4169
Phone: +07 3391 7680
Hours: Wed-Thu 5-9 pm, Fri-Sat 12-9 pm and Sun 12-8:30 pm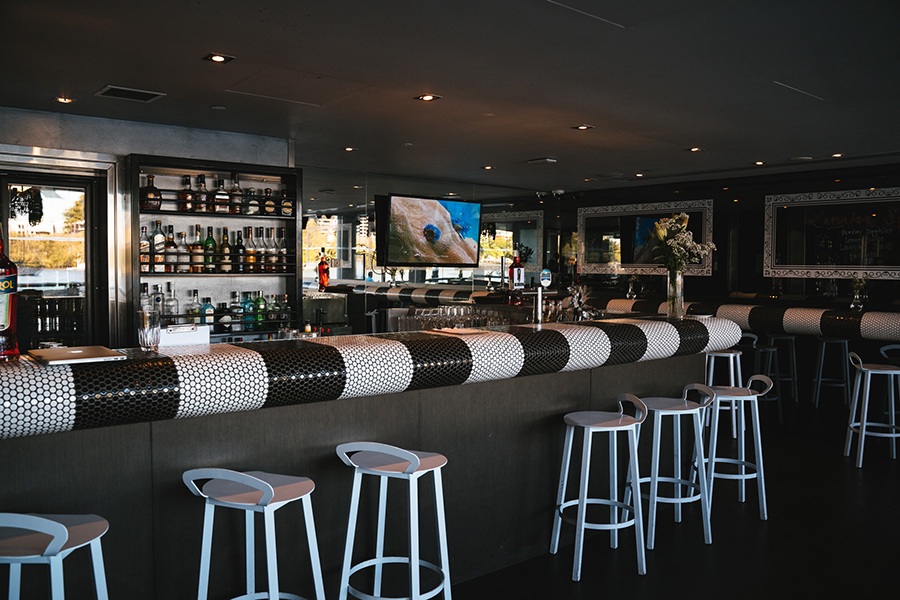 23. Jellyfish
Jellyfish is a distinct dining space with an inventive seafood menu and a riverfront terrace. The ritzy restaurant source and serve 14 species of fish, with divergent textures and specific qualities. Swaggering one of the city's best addresses on the river, the Jellyfish dining room has an unobstructed view of Story Bridge and an indoor-outdoor dining room. Their chefs create sauces, batters and crumbs as well as an extensive series of side dishes that perfectly compliment your repast. The Restaurant has transpired, veritably, as one of Brisbane's top dining destinations. Blending years of experience with a reputation for the freshest produce, enticing seafood dishes and skilled service.
Known for: BBQ octopus, Salmon and Fennel Cerviche and Grilled Snapper
Address: 123 Eagle St, Brisbane City QLD 4000
Phone: +07 3220 2202
Hours: Mon-Fri 12-11 am, Sat-Sun 5-11 pm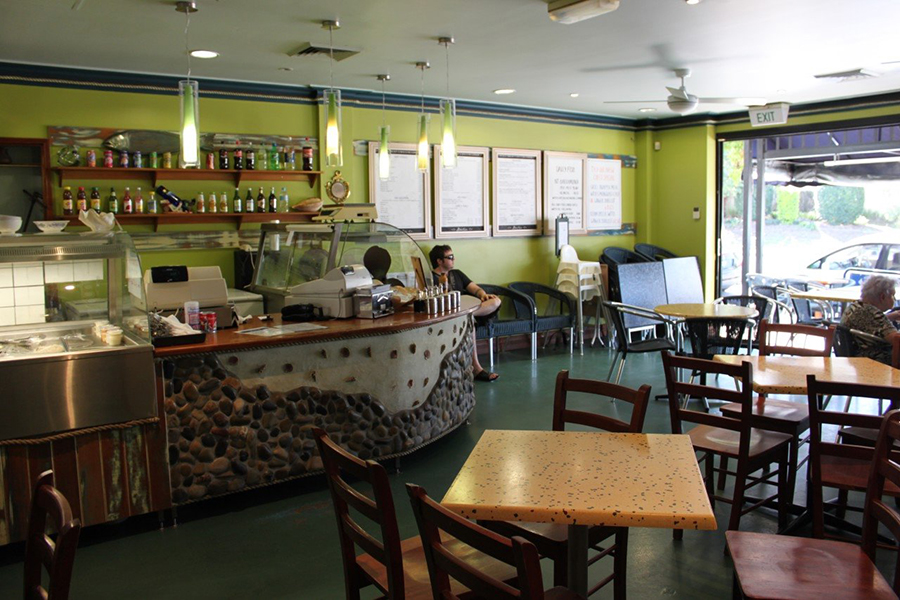 24. D'lish Fish & Chippery
With a shop in Melbourne, D'lish Fish & Chippery in the northside of Brisbane is a cutesy fish and chips restaurant, perfect for families, couples, and solo dining. With a myriad of fish and morsels to choose from, and salads as a palate cleanser, at this eatery, one may forsake their eating etiquette. D'Lish also dishes out dainty burgers and a gluten-free menu. Their Aussie burger is quartered with beef, egg, cheese, tomato, onion, lettuce, beetroot and ketchup is an apex appetizer. Gluten-free foodies will go gluttonous for D'lish's gluten-free dim sims and potato cakes, skirted with a gluten-free battered and fried fish. Be sure to mix and match from their local range of blue grenadier, flake, barracuda or Atlantic salmon.
Known for: NT Barramundi, Prawn Wontons, Prawn Cutlet meal
Address: 102 Kedron Brook Rd, Wilston QLD 4051
Phone: +07 3356 3474
Hours: Tue-Sun 11:30-8:30 PM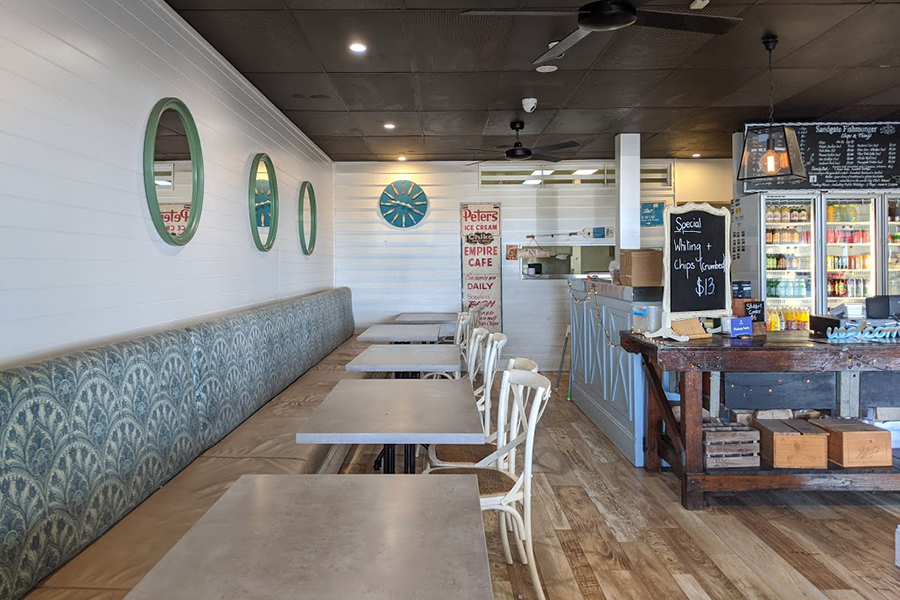 25. Sandgate Fishmonger
Competition among fish and chip shops augments in Sandgate and Shorncliffe. Though, Sandgate Fishmonger will putatively have you reeled in and anchored; fresh barramundi, cod or snapper, moreish calamari in a crunchy batter and the chef's choice of daily salads. Don't forget to pack a beach umbrella, and blanket take your feast to the beachside park adjacent to the restaurant. The crowning glory of their menu is the calamari: supple, toothsome and delivered in princely serves. The restaurant's barramundi is another favourite; a zesty texture, cooked well with a corpulent batter. The Fishmonger also dishes up huge portions that are more bang for your buck. Finally, for all you instantiable gourmands, the restaurant additionally purveys gelato and commendable coffee.
Known for: Potato Scallop Burger, Seafood Basket and Fish Bites
Address: 90 Flinders Parade, Sandgate QLD 4017
Phone: +07 3269 0416
Hours: Tue-Sun 11-7 pm
You'll also like
14 Best Fish and Chip Shops in Sydney to Dine in or Takeaway
15 Best Fish and Chip Shops in Melbourne
20 Restaurants for the Best Thai in Brisbane
What is the best fish and chips shop in Brisbane CBD?
According to Google Reviews, the top-rated fish and chips shop near the Brisbane CBD is West End's Sea Fuel.
What makes a good fish and chip shop?
While you could argue it is high-quality fish products and fresh seafood, for many Aussies, a good fry-up and a healthy dose of chicken salt make for a good fish and chips shop.
Is fish and chips British or Australian?
Fish and chips were first popularised in the United Kingdom, however, by the 1850s, Australian editions had begun to emerge. The nation's proximity to high-quality fishing areas, coupled with an extensive farming history made for the perfect synergy.