Spicy Roulette with Domino's Halloween Ghost Pepper Pizza
Make some sweaty memories this Halloween. Dominos has created a new Halloween Roulette pizza that is both hilarious and cruel depending on your chosen slice. The twist of the new release is that seven of the slices are normal, however, one Trojan Horse slice is covered in ruthless Ghost Pepper sauce, among the world's hottest and most feared chilli peppers at over 1 million Scoville units. Yikes. Until November you can order the Halloween Roulette pizza and we here at Man of Many admire those who do.
You'll also like: 
Burger Lords Carl's Jr. are Officially Coming to Sydney
27 Best Pizza Shops in Sydney For a Fresh Slice
14 Best Spots for Late Night Food in Sydney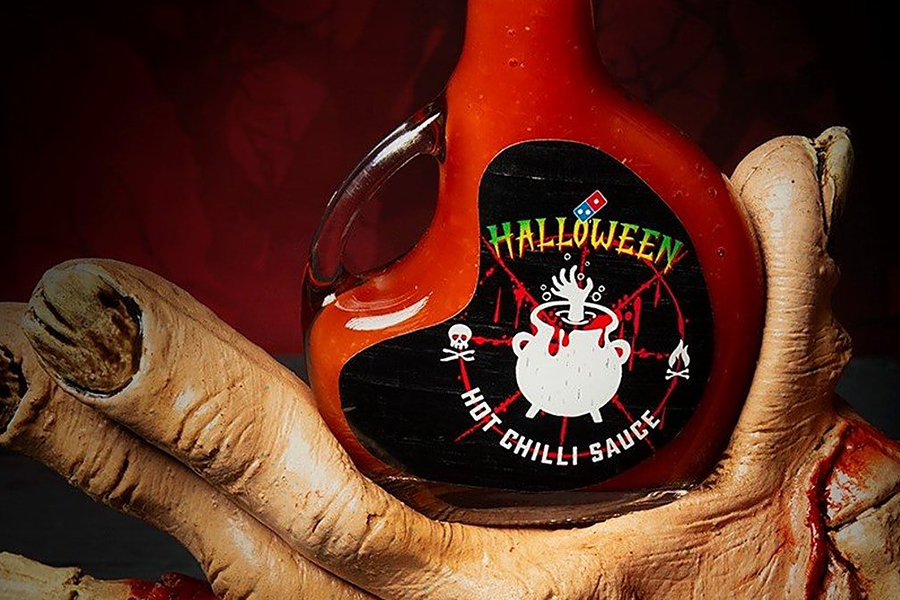 Dominos CEO Nick Knight said of the spooky addition: "It will give your taste buds an experience they will never forget and not knowing whether the next bite you take is the one with the hot sauce or not really adds to the thrill. It's perfect for sharing with fellow chilli-loving mates… or enemies."
Evil geniuses the lot of them. What's sinister about this challenge is that 7/8 of the slices are totally fine, they tempt you in with the image of laughing at your friend's mouth burning in agony. "It won't be me!" You say. "Think of the Snapchat story, it'll be hilarious watching Jack suffer!" Then it is you, and you realise you've made a terrible mistake…
The Ghost Pepper is no joke, holding the Guinness Record for the world's hottest chilli pepper until 2011 when it was beaten by the Trinidad Scorpion. Even so, it'll still send your mouth to the fifth circle of hell for a while. However, for those lucky enough not to be on the receiving end of the Ghost Pepper, you can expect great banter with the boys as Zack the group doofus cries for mercy to the chilli gods for around half an hour. You can dare to order the Halloween Roulette pizza now until 1st of November so if you've got the guts; get the boys together summon this devil-in-disguise and hope your luck holds out when you choose your slice!
You'll also like: 
Burger Lords Carl's Jr. are Officially Coming to Sydney
27 Best Pizza Shops in Sydney For a Fresh Slice
14 Best Spots for Late Night Food in Sydney