Man of Many's Staff Favourites – 20 August 2022
How's old Hugh Jackman, right? The big dog Aussie actor has scored himself a new $30 million New York City Penthouse while we're all still eating Maggi Noodles from last night's takeaway container. Where is the justice in the world? Ah well, it turns out being incredibly talented, good looking and a genuinely top bloke are pretty solid pre-requisites for success, so we were never going to win that battle. For us, it's a return to the drawing board and back to basics as we shell out another instalment of good vibes and great products to satiate your spending needs. Here's what we uncovered this week in Man of Many's Staff Favourites.
You'll also like:
Man of Many's Staff Favourites – 13 August 2022
Man of Many's Staff Favourites – 6 August 2022
Man of Many's Staff Favourites – 30 July 2022
Santa Margherita St. Ali Italian Film Festival
Nick Hall – Editor-in-Chief
Truth be told, I'm a bit of a basic bitch. I'm partial to a succulent, I enjoy the music of Ke$ha and most of all, I love drinking Prosecco in the sun. While you'll generally find me slurping down on drops from Dan Murphy's $4 bin, this week, I was treated to something a little more grandiose courtesy of the sweet taste of Santa Margherita Prosecco Superiore. The fabled winemaker is celebrating 70 years of bubbly brilliance and to mark the occasion, Santa Margherita has teamed up with the 2022 St. Ali Italian Film Festival as the official Gold Partner. For me, this is like the Superbowl – wine and movies packed together in one all-encompassing package.
The St. Ali Italian Film Festival kicks off from September 13 – October 16 and will showcase the best new films and cherished classics to come out of the epicentre of the art. Best of all, event-goers lucky enough to attend opening nights across Melbourne, Sydney and Brisbane will experience a special pop-up bar experience from Santa Margherita, which I can attest will be glorious. After receiving a bottle of the Prosecco Superiore and enjoying the Festival (virtually) last year, I'm supremely pumped for September. If you love film and Prosecco, I can't recommend this drop and this festival enough. Saluti!
Favourite Article of the Week: Style Through the Generations: IWC's Ageless Big Pilot Takes Flight
---
Featured Video from Man of Many
---
Westward Whiskey Barrel-Aged Ale with Coffee
Scott Purcell – Co-Founder
A beer you won't want to miss for Father's Day if you love whisky, coffee, and… beer. Three cult brands have come together for a wild night of mixing with Mary Coffee, Westward Whiskey (yes, the ones who made our very own Man of Many Whiskey) and Stomping Ground Brewing partnering to create a taste sensation with this limited edition brew. The Westward Whiskey Barrel-Aged Ale with Coffee is exactly as it sounds with a rich biscuity taste matched with golden syrup. Basically, the perfect winter beer that reminds you of Christmas. The beer was aged for two months in Westward's American Single Malt Whiskey barrels before they added a touch of cold brew espresso from Proud Mary Coffee. This beer won't put you to sleep with that caffeine hit.
Favourite Article of the Week: Father's Day Gift Guides 2022
NBA Gallery Sydney
Frank Arthur – Co-Founder
This week I attended the launch of the NBA Gallery in Sydney, which is a must-visit for NBA fans and art lovers alike. Located at Central Station on Eddy Avenue, the NBA Gallery is a celebration of the NBA's influence on Australian art and culture. Throughout the gallery are artworks commissioned from nine Australian and First Nation artists including Scottie Marsh, Serwah Attafuah, Sonny Day and Dennis Golding and more. The experience spans multiple mediums from canvas to digital art and installation, as well as depictions of a few familiar faces like Patty Mills and Josh Giddey thrown in the mix. The NBA Gallery is open to the public from 19th August – 31st August, Central Station, Shops 4-7, 1 Eddy Avenue, Haymarket NSW.
Favourite Article of the Week: American Airlines' Big Boom: Carrier Orders 20 Supersonic Jets
Dr Dough Donuts with Custom Messaging
Denise Barnes – Head of Branded Content
The only thing better than receiving a box full of surprise doughnuts, is receiving a box full of surprise doughnuts that has a custom message on it. It's an instant mood booster. I love this offering from Dr. Dough Donuts as it's such a great and thoughtful gift. These boxes come with 24 mini doughnuts inside so you've got enough space to write a cute, witty, funny or just plain old "Happy Birthday" or "Thank You" message. A simple yet effective way to show someone you care.
Favourite Article of the Week: 60+ Best Afterpay Day Deals for 2022
Haydenshapes Season 1 Collection Launch
Tim Fernandes – Senior Sales & Partnerships Manager
Hayden Cox, founder of Haydenshapes, has been well known in the surfing world as one of the best board shapers for well over a decade. Unlike most shapers though, his constant innovation, progression and use of unique and sustainable materials in his work has led him to become a "multi-disciplinary designer" who has collaborated with some of the biggest artists, brands and fashion designers all around the world. Released exclusively only on Mr Porter and the Haydenshapes website, Hayden has just launched his first ready-to-wear collection with a 35-piece capsule that mixes his surf DNA with an elevated contemporary apparel offering. The collection strikes a balance between leisure and versatility, featuring a range of Men's and genderless pieces including design-led, high-quality jersey staples, versatile outerwear and technical men's swim. The debut collection makes use of forward-thinking sustainability initiatives including up-cycled buttons made from surfboard waste, custom 'leashplug' inspired metal hardware, contemporary silhouettes and bespoke construction methods.
Favourite Article of the Week: Seiko Unveils Two Australian Exclusive Prospex Dive Watches
Lavazza's Recyclable & Carbon-Neutral Coffee Capsules
Rob Edwards – Branded Content Writer
Having a coffee machine is great and all, but I've always known that the capsules I go through in search of that caffeine hit are an environmental nightmare and it's something I've long had a guilty conscience over. Enter Lavazza to help relieve my burden with the new entirely recyclable and carbon-neutral aluminium capsules it's now using to house its espresso blends. While the carbon neutrality is achieved by offsetting the emissions, it's enough to keep the self-loathing at bay every time I pour a cup, which is often.
Favourite Article of the Week: 2026 Polestar 6 Plans Confirmed, Including 884HP Output
The Polo Custom Shop Pop Up
John Guanzon – Head of Social
Who doesn't love a personalized item of clothing? I mean they're both fashionable and practical – in case you ever forget your own initials. Polo Ralph Lauren has recently launched the Polo Custom Shop across selected stores around the country and the customisation options are endless! Aussie fans went wild for the opportunity to be a Ralph Lauren fashion designer at the Australian Open pop-up shop earlier in the year, but now you can design your custom Polo magnum opus in-store. The easy-to-use touch screens allow you to personalise almost anything just the way you like it, whether it's a T-shirt with a Teddy Bear dressed up as a barista, a monogrammed water bottle or a denim jacket covered in embroidered patches. I got invited to visit the pop-up shop inside the Chatswood Chase store in Sydney this week and after spending way too long at the touch screens scrolling through all the combinations, I opted for a simple navy crew neck fleece, embroidered with my initials. In case anyone is stuck on ideas for a good Father's Day present *stares intensely at my kids*, this is the perfect shout!
The Polo Ralph Lauren 'Create Your Own' experience will be available at the following locations.
Polo Ralph Lauren at Chatswood Chase from 8 August – 4 September.
Polo Ralph Lauren at Canberra Centre from 19 September – 3 October.
Polo Ralph Lauren at Pacific Fair from 16 – 30 October.
Polo Ralph Lauren at Indooroopilly from 7 – 20 November.
Favourite Article of the Week: Experts Say Extended Toilet Time is Harming Your Health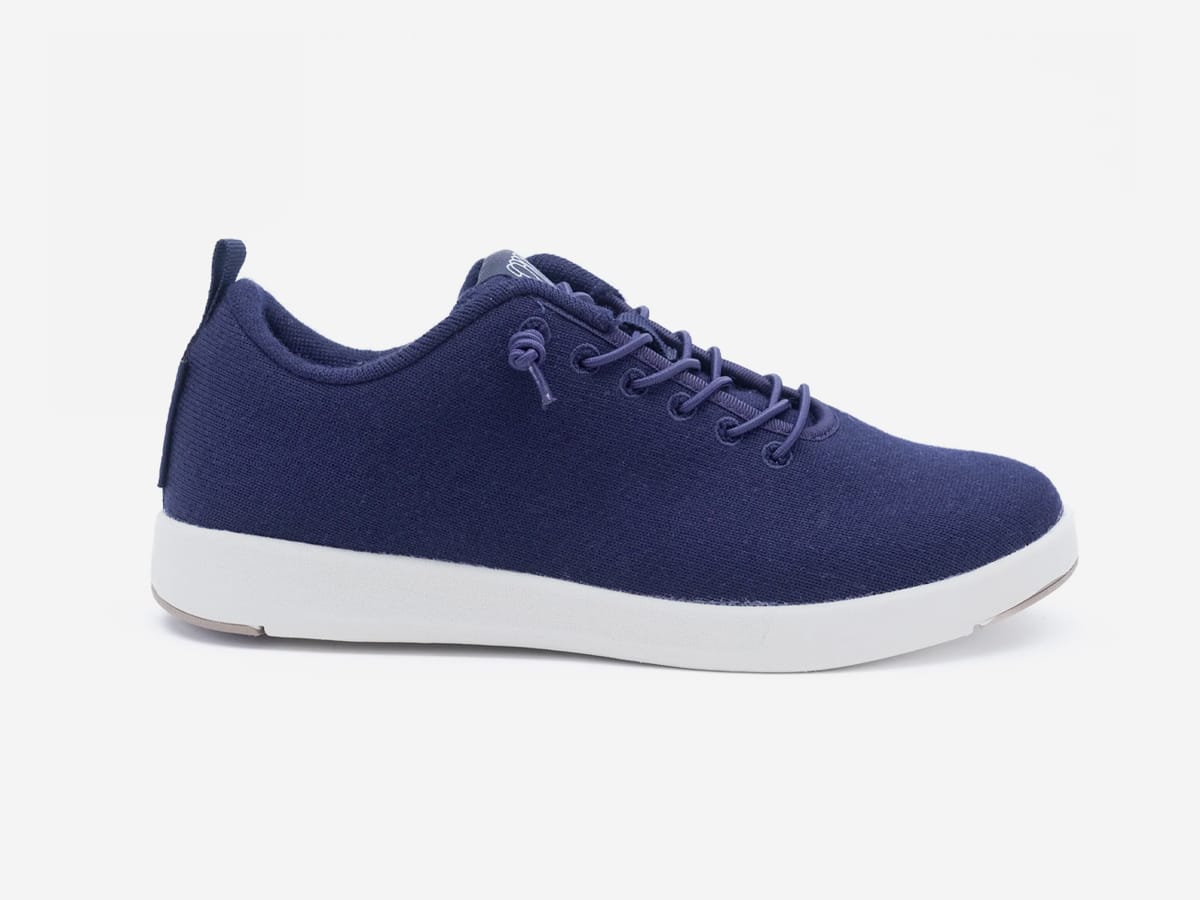 Woolloomooloo Lambton | Image: Woolloomooloo
Woolloomooloo Lambton
Jacob Osborn – Staff Writer
I'm still trying to pronounce Woolloomooloo, but only so I can tell all my friends about their amazing output. Based in Australia, the brand crafts legendary footwear out of the finest quality Aussie Merino wool. I scored a pair of the Lambton tennis shoes and these kicks aren't just stylish and comfortable, but impeccably versatile by way of their elastic lace system. Honestly, I don't even use the laces because the shoes fit so perfectly without them, taking on the essence of athletic slippers.
Thanks to the use of merino wool, Woolloomooloo shoes are both machine-washable and naturally sustainable. They're also breathable, lightweight, animal-friendly, odour-resistant, and water-resistant. The Lambtons come available in a variety of monochromatic colourways and they impart striking minimalist design, whilst the wool itself injects a certain amount of visual distinction. Additional silhouettes such as the Fraser, Mudgee, Belmont, Suffolk, and Cheviot offer a similarly masterful blend of colour and material. This is love at first wear.
Favourite Article of the Week: Feel-Good Friday: August 19 – High Vibration
---
Featured Video from Man of Many