Men's "Must Have" Travel Essentials
We men like to travel light and only bring the necessities and essential items on the road. The fewer items we bring, the fewer items we are responsible for. Sounds like good logic, right? So whether you travel frequently or twice a year travelling in style is always the objective. Every guy should have a set of travel accessories he uses when venturing off. We at Man of Many will outline a few must-have pieces that will have you travelling like "Don Draper" in no time.
1. Travel Journal
No matter how many appointments you schedule on your iPhone or Blackberry nothing substitutes having a planner handy. Writing appointments down is just another way to make sure the job gets done and recording your appointments and meetings in a planner is a great way to keep organized. Since we use our phone for everything, it's easy to lose track with a device filled with clutter from emails, text/voice messages and Instagram photos and for that reason, you should invest in a planner. Besides not having to charge it a planner is a great place to keep a hard copy of documents and a great travel companion for your business trips and vacations when you're forced to carry the bare essentials. If you're in search of a planner with style and class then the Coach Bleecker Journal is just what you need. The Bleecker comes in a leather case with a snap closure and the perfect size to keep your appointments and work schedule housed in one place.
Features: pebbled leather
Price: from $283
2. Travel Toiletry Bag
When it comes to housing your grooming products no other luggage piece does a better job than a toiletry bag. Trust me theirs nothing worse than throwing all your clothes and grooming products in one suitcase only having to deep scrub your favourite tie after it had an encounter with your toothpaste. Save yourself the time and the headache and opt for a toiletry bag. Every good toiletry bag comes with a leather outer with a waterproof interior with a standard pouch on the outside. But keep one thing in mind this is simply a luggage piece for your grooming accessories! So your neckties, shirt pendants and pocket squares should be stored in a tie case. And we will explain later the importance of tie case. To get your hands on a great toiletry bag check-out the options Brooks Brothers have to offer.
Price: options from $98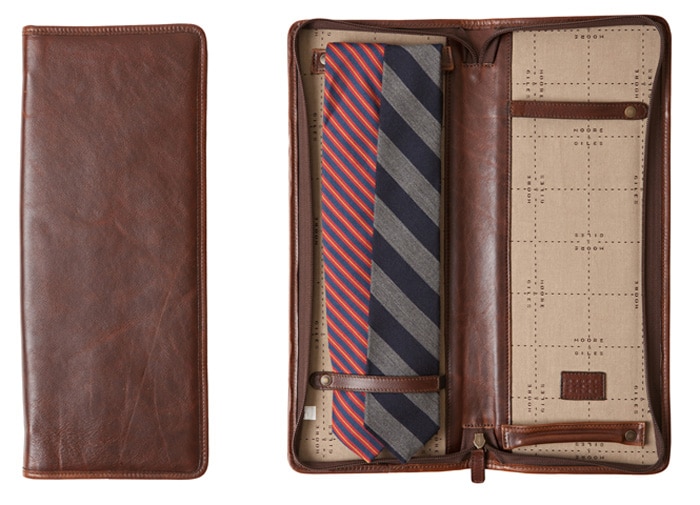 3. Tie Travel Case
A small travel accessory every guy should have when travelling is a tie case. A tie case is a case that houses and protects your neck ties from creasing when travelling. The case comes in handy particularly for heavier silk ties that get damaged more easily when bunched up. More popular in the early 1940's through 70's the use for tie travel cases and its popularity slowed down but are still visible for those who like to preserve their neckwear. Most tie case features a folding rack where you can hang your neckties and a cushioned lining to protect your neckties when travelling. It also keeps the ties neatly organized and in place for those who are adamant about the organization. If you're looking to pickup a tie case for your next business trip then keep Burberry in mind. Not only limited to clothes Burberry also sales great tie cases that guaranteed to protect your neckwear on your next outing.
---
Featured Video from Man of Many
---
Price: from $575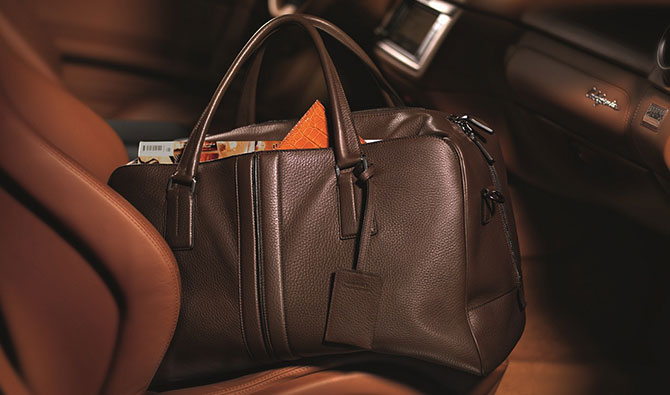 4. Weekend Bag
Every weekend getaway starts with a great weekend bag. When shopping for the perfect travel bag here are a few quick guidelines. 1) Make sure you find one with tough material. You want a weekend bag that's gonna stand the test of time and handle the weather conditions that will come its way. So when looking for a travel bag look for ones that are waterproof. 2) Keep the size in mind for your needs. The weekend bag is a bag for the weekend, always keep that in mind. So if you're looking for a luggage piece for long business trips or a lengthy vacation then you might want to invest in a suitcase 3)Look for travel compartments. Compartments may not be a big deal to some but for someone like me, it's a deal breaker. Compartments in any travel bag is a major plus to have to house little things like your headphones, keys or a passport. It's one more place to have everything without overstuffing your pockets while travelling. Next time you travel, make sure you head to ASOS to look at their Smart Faux Leather Holdall duffle. Having a great weekend bag is a style accessory that should compliment your style when you travel.
Features: brown faux leather
Price: from £35
Extra swag accessories
Shwood Francis Fifty/Fifty Acetate Sunglasses
Having a nice pair of frames is necessary and let's admit it, it also makes you look bad ass when paired with the right fit. One brand that's trusted when it comes to eyewear is Shywood. Each frame is complete with authentic wood inlays and sophisticated metal accents. Available in Black or Tortoise. Keep your eyes protected with a pair of Shywood frames.
Features: metal accents, authentic wood inlays
Price: from $169
MVMT Classic Leather Watch
Combing formal and casual all into one watch, MVMT timepieces are on time for every occasion. See what we did there? The timepiece features a mineral crystal face with gunmetal markers with a stainless steel backing. Designed for a clean minimal look, MVMT strives to create quality timepieces while paying close attention to detail.
Features: 45mm, brushed stainless steel case, 100% geniune leather strap
Price: from $123
You'll also like:
5 Tips to Carry Items & Travel With Ease
10 Best Frequent Flyer Hacks
31 Best Dopp Kits & Toiletry Bags For Men
---
Featured Video from Man of Many