The Standard Hotel is Coming to Melbourne in 2023
It's one of the fastest-growing boutique hotel chains in the world, backed by Hollywood elites like Leonardo DiCaprio and Benicio Del Toro, but for the first time ever, The Standard is coming to Australia. Private Melbourne developer DealCorp has announced a new partnership that will see the global sensation make its debut in Fitzroy, fittingly one of the country's most boujee suburbs.
The Standard Fitzroy will feature 127 rooms over seven levels including an intimate rooftop area that will deliver culture by the bucket-load. Since launching in 1999, the boutique hotel chain has become famous for its blend of relentless class and abstract design, so much so it's caught the eye of the world's most esteemed investors. With properties in New York, Los Angeles, Miami, London, The Maldives and an upcoming few hotels in Asia, The Standard's global reputation is growing quickly. And while kicking off Australian operations in Fitzroy might not necessarily be the most obvious choice, Standard International CEO, Amar Lalvani believes it's the perfect fit.
"The Fitzroy neighbourhood in Melbourne represents exciting new territory for The Standard but at the same time feels totally familiar," Lalvani said. "DealCorp's commitment to making long-lasting contributions to its community is aligned with our own history of enhancing the neighbourhoods we become part of."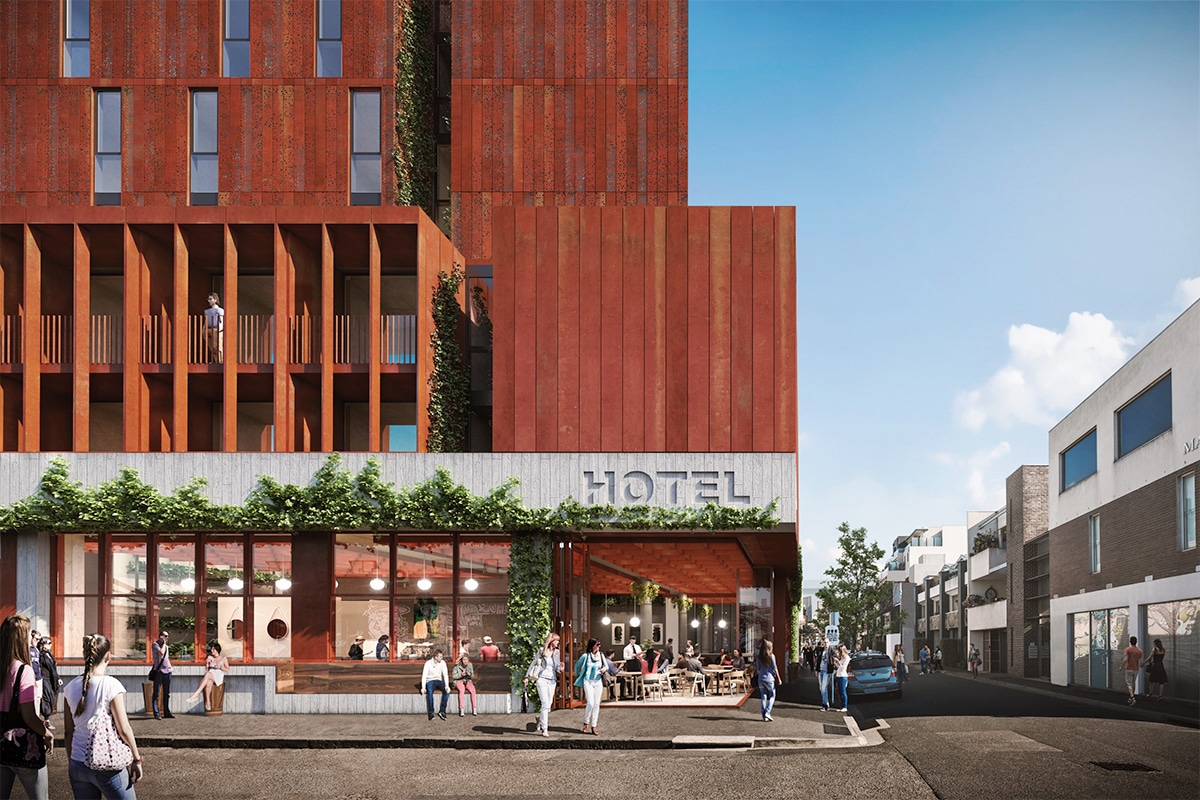 Taking cues from Fitzroy's industrial heritage, The Standard will sit smack bang on Rose Street and will be designed by Woods Bagot architects with interiors by Hecker Guthrie. "In designing this hotel, we designed it to be local—to continue the architectural traditions of Fitzroy and sustain the neighbourhood's artistic and cultural spirit," said Woods Bagot principal and regional design leader (Australia & New Zealand), Peter Miglis. "Fitzroy's history of corner pubs, workers cottages, grand housing and industry-inspired our approach to the building's façades. Weathered steel and concrete are robust, timeless materials that sit comfortably straight away and, over time, will add charm as they patina."
The Standard Fitzroy is slated for completion in 2023, at which time locals and travellers will be able to enjoy the out-of-the-box design and branding of the now-iconic boutique hotel chain.
You'll also like:
InterContinental Sorrento Takes Aim at a Morning Peninsula Legend
Inside the Massive Luxury Ski Resort Lionel Messi Just Bought
Waldorf Astoria's Record-Breaking Miami Residences Take Jenga Sky-High