Vespa and Christian Dior Pair Up on a Special 946 Scooter
Vespa and Christian Dior share a few things in common. First, they have the same birthdate tracing back to 1946. Second, they're easily the most recognisable brands in their markets—Vespa in the scooter world and Christian Dior in fashion. And finally, they now have a scooter in common with the Vespa 946 Christian Dior edition.
You'll also like:
18 Best Electric Motorcycles
Monday Motorbikes' Anza: An Ultra-Light 500W Moped with a Racing Heart
Guy Creates Lawn-Mower Powered Harley-Davidson
To mark this year's combined company birthdays, Vespa and Christian Dior came together to deck out a Vespa 946. The scooter was unveiled at EICMA 2012, and was quickly accepted and celebrated by the public for its refresh of the original design of the first Vespa. Everything that people love about the original—the shape of the front shield, the profile and position of the headlight, and the design of the seat—were revived and updated for the 946. For the collaboration version, the Vespa 946 was put in the hands of Christian Dior Creative Director Maria Grazia Chiuri. Chiuri added exclusive graphics and elements that speak to both brands, such as the blue leather seat trim and handlebar grips, the cream white paint with gold pinstriping, and handmade aluminium inserts. The seat also sports the Christian Dior exclusive diagonal finishing for the seat support structure. That same theme appears on the top case, backpack, and helmet.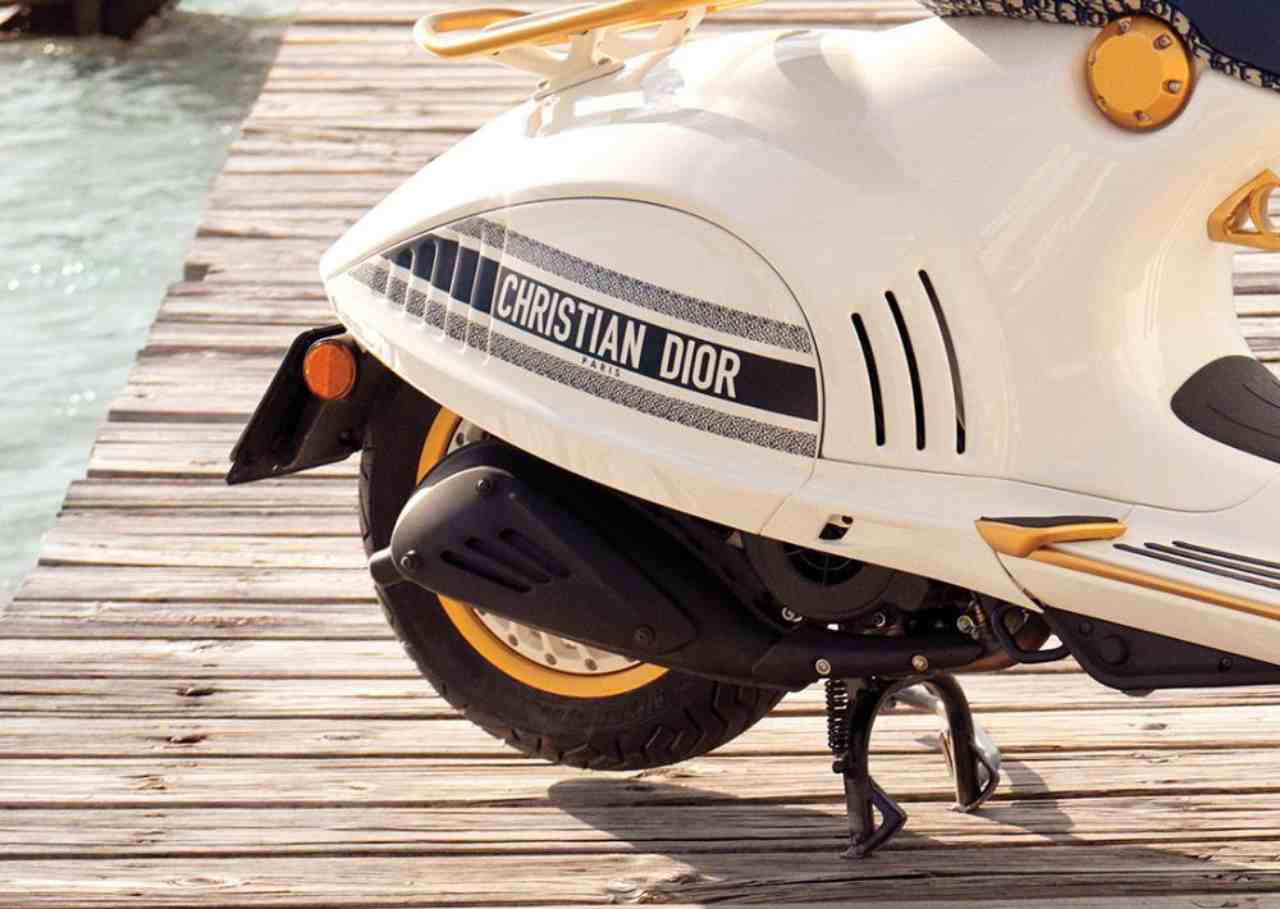 The 946 was launched in 2013 and comes with a single-cylinder 125cc four-stroke, three-valve, air-cooled engine with electronic injection. The scooter was modernized to reduce fuel consumption and gaseous and noise emissions.
"I was very excited about this project with Vespa," says Chiuri. "For me, Vespa is linked to my city, Rome. It's linked to the freedom to move around the city with ease, like in the film Roman Holiday (1953), which has left that extraordinary image of Audrey Hepburn clinging to Gregory Peck on a Vespa forever etched in our collective memory." There's a new iconic image of Vespa—and that's a vision interpreted by Christian Dior.
You'll also like:
18 Best Electric Motorcycles
Indian Motorcycle Scout Bobber Sixty is a Brute
Guy Creates Lawn-Mower Powered Harley-Davidson