Sony's New WH-1000XM3 Wireless Noise-Cancelling Headphones Silences the Competition
Put these on and feel the pinnacle of silence, noise and comfort working together.
There's a feeling only those with noise-cancelling headphones know – sitting on a plane watching others unwrap the tinny-plastic airline provided options, while you recline into your cocoon of silent bliss. It's a wonderful feeling of superiority.
For many noise cancelling headphones are considered a luxury, they should be moving into the 'essentials' category.
The Sony WH-1000XM3, or for the sake of this review the XM3s, are the third generation of Sony's already successful 1000X range and are by far the best. I came into this article a more than happy Bose user but have been converted; the XM3s build, sound quality and noise cancelling innovation means they now hold the title of best-in-market today.
At the core is the new 'Optimization' feature which specifically moulds the ear-cup to your head. For the first time, your headphones will be able to identify if you a wearing glasses or a hat or if you're resting your head on the side of an aeroplane seat and will alter their pressurisation for a better suction. I was sceptical about this until I tried it, but it works; although it does feel odd when you first notice your headphones moving and settling around your ears.
Through Sony's 'Headphones Connect' app you can also run the 'Atmospheric Pressure Optimiser' so they better operate if you are on a plane, in the office, or on a bus but that part feels more like a gimmick. The best part is however, the XM3s now have the technology to specifically block out voice, which means a major reduction in the sound of a baby crying near you or someone in the phone near you in the office.
It's not complete silence, if someone is talking to you directly you can make out a muffled noise, but you'd be hard-pressed to understand what they're saying. Which is why Sony has added 'Quick Attention Mode' where you hold your hand over one ear cup to reduce the volume of the music and let outside noise in. It's a great addition as it allows the other person to be heard while still saying 'I'm clearly not interested in giving you my full attention.'
You can also use hand gestures to swipe your ear cup up or down for volume control, and importantly Sony has improved the microphones used for voice call, or voice-activated-app requests. Though it's still not to the level of say the Apple AirPods for sheer wireless voice quality.
Next is the comfort. Straight out of the box, the XM3s feel like a premium product. The XM3s also come in two colours, the black which the copper SONY finishes, which I I'm a huge fan of and Champagne Gold which has a Platinum Silver finish.
Those familiar with the XM2s will note the move from a metal to plastic headband but it doesn't feel like a step backwards. By doing this Sony have reduced their weight which is perfect for long-haul flights and extended wear. A new, thicker and genuinely soft cushion also means there is very little actual weight on your head, and while I have a fat bald scull, I'm told by those with skinny little pinheads they can be worn comfortably by all head sizes (which is an odd sentence to write).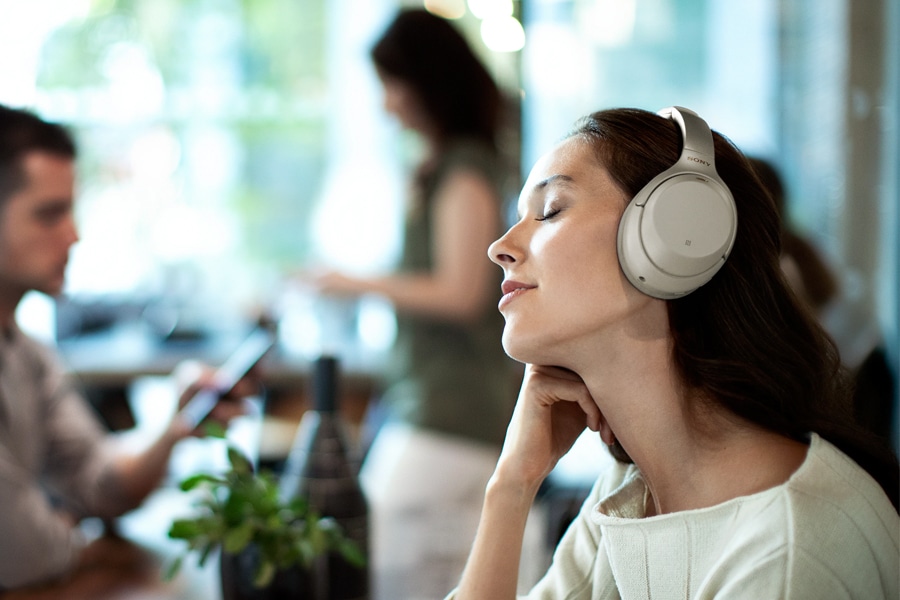 But what use are headphones if the audio itself is tinny, shallow and meek? The XM3s sound like a beast. I think I actually laughed when I first heard music on them and kept the smile when I switched to a movie and then to gaming. In fact, such is the quality of the sound and comfort the XM3s have become my preferred all-use headphones. They have a rich, deep bass that can be really noticed when your rip a high-powered shotgun shell into a terrorist in Call of Duty, and a crispness of sound which makes moves like 'A Quiet Place' genuinely striking.
To finish it off, Sony has also extended the life of the USB-charge battery to 30hours of constant use which means there's no flight in the world you could go on and lose power. A full charge is slow, three hours in-fact, but if you're racing out the door and have forgotten to charge them a quick 10-minute-hit will still give you five hours of use which is pretty bloody good.
Overall, the WH-1000XM3s is a weapon and at $499 not an outrageously priced one. If you previously only used noise-cancelling tech on a flight, you'll find these headphones starting to make their way into your everyday life. And if you're yet to experience what all the fuss is about this is where you should start and end your search. The challenge has been thrown down to Bose.