'Thor' Images Reveal How Massive Chris Hemsworth Is
At the risk of sounding obvious, Chris Hemsworth is huge – not just in terms of star power, but also sheer girth. For years, we've watched the hulking Aussie grow in popularity, but judging by a new Instagram post taken from the set of Thor: Love and Thunder, Hemsworth may have finally hit critical mass.
Thirty-seven-year-old Hemsworth revealed that the latest instalment of his hit Marvel franchise had wrapped up filming in Australia. Pictured alongside director and co-star Taika Waititi, the actor celebrated the big day the best way he knows how, by getting the guns out.
"That's a wrap on Thor Love and Thunder, it's also national don't flex day so I thought this super relaxed photo was appropriate," Hemsworth captioned the image. "The film is gonna be batshit crazy off the wall funny and might also pull a heart string or two. Lots of love, lots of thunder! Thank you to all the cast and crew who made this another incredible Marvel journey. Buckle in, get ready and see ya in cinemas!!"
You'll also like:
Chris Hemsworth's New 'Mad Max' Will be the Biggest Film Ever Made in NSW
Chris Hemsworth's House in Byron Bay is Huge
Chris Hemsworth's Thor Diet & Workout Plan
Enormous biceps aside, the post marks a big step in the Marvel universe. With the long-awaited sequel now finished filming, fans have turned their attention to the first trailer, which could appear in a matter of months. Thor: Love and Thunder is a welcomed return to the big screen for Hemsworth and Waititi, who previously collaborated on Thor: Ragnarok. The hyper-colour, '80s-inspired instalment marked a stark departure from other films in the Marvel Cinematic Universe, revitalising the Thor franchise and ushering in a new era for superhero flicks.
This time around, Waititi and Hemsworth are planning to go bigger and better. The director recently announced the Love and Thunder "makes Ragnarok seem like a really run of the mill, very safe film". Creative marketing? Maybe, but that hasn't stopped fans from speculating on the premise, plot and production. Interest flared again when Oscar-winner Russell Crowe announced he was joining the film as Zeus, alongside Christian Bale, Natalie Portman and Matt Damon.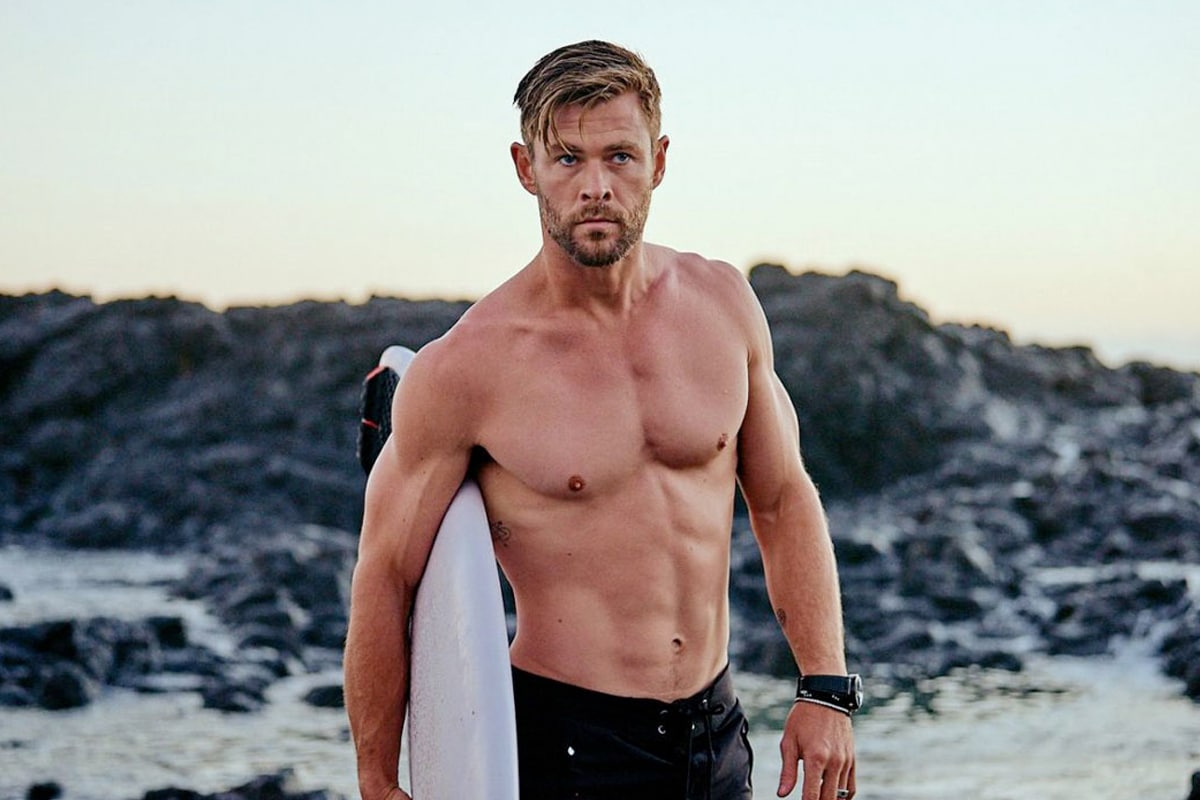 "It's of the best scripts I've read in years," Hemsworth told ComicBookMovie last year. "It's Taika at his most extreme and best. If the version I read is the one we get running with, it's going to be pretty insane."
Thor: Love and Thunder is expected to be released in cinemas on May 6 2022, leaving us with a fair wait between innings. For now, images of Waititi, Hemsworth and his god-like rig will have to suffice.
You'll also like:
Chris Hemsworth's New 'Mad Max' Will be the Biggest Film Ever Made in NSW
Chris Hemsworth's House in Byron Bay is Huge
Chris Hemsworth's Thor Diet & Workout Plan