14 Best Places to Watch Super Bowl in Melbourne
Have you locked-in that sick day? NFL Super Bowl 54 kicks-off around 10:30 am AEST on Monday, February 3 with the Kansas City Chief taking on the San Francisco 49ers. If you're planning on watching the Super Bowl in Melbourne at a bar or pub, we've pulled together a list of the 14 best places to watch the game in and around the city.
Each of these Melbourne venues is going above the usual bar service to make your Super Bowl 2020 one for the ages. Expect American beers, American-style food, prizes, cheerleaders and a street party. Most venues expect to hit capacity, so be sure to reserve a table at your bar or pub of choice.
Where to Watch the Super Bowl in Melbourne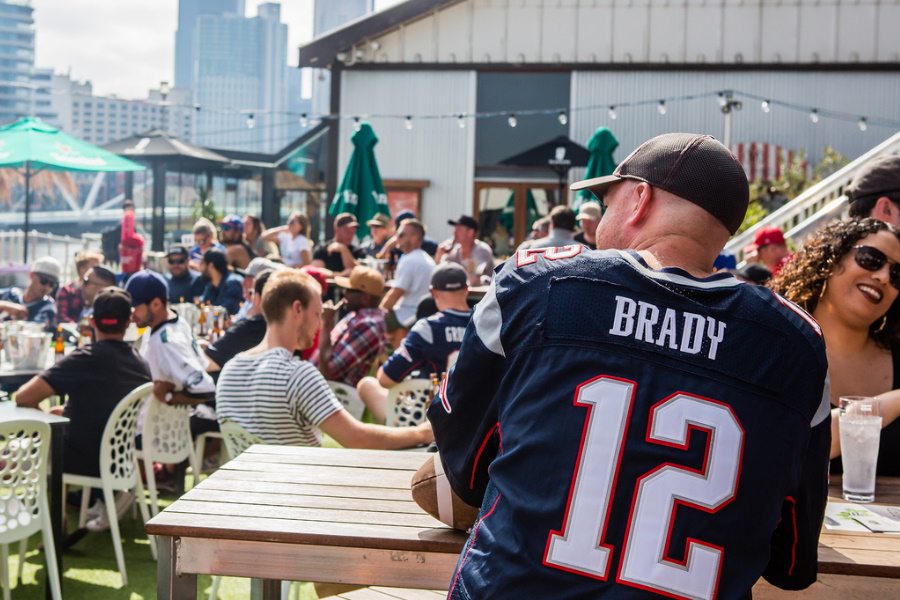 1. The Common Man
Game Day: The Common Man plays the best games of the week live every Monday, being a natural home for Super Bowl in Melbourne. American Brunch Specials and Beer Buckets to get you in the mood and a Mega Screen came to the outdoor lawn area in December, in anticipation of Super Bowl LIV. Drink specials TBA.
Address: 39 Dukes Walk, South Wharf, 3000
Phone: +61 3 9696 3774
Hours: Mon-Thu 7:30am-10pm, Fri 7:30am-10:30pm, Sat 8:30am-10:30pm, Sun 8:30am-10pm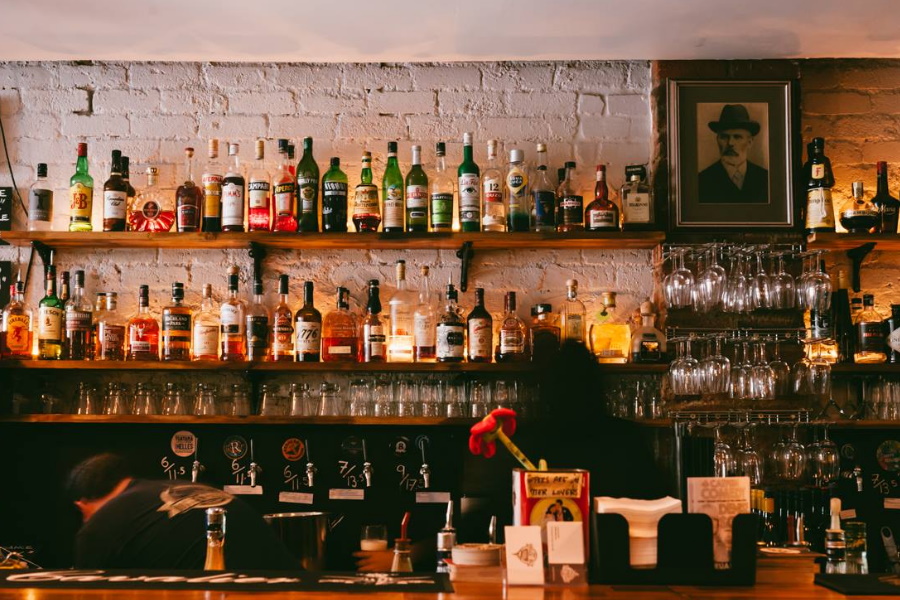 2. The Catfish
Game Day: The party commences bright and early at 8 am with a big screen playing the game, Philly Cheesesteak breakfast specials, chilly dogs, Sierra Nevada beer on tap, half time hotdog eating contest and cheap pints are guaranteed to make this the best Monday day drinking of the year!
Address: 30 Gertrude Street, Fitzroy, 3065
Phone: +61 3 9417 6420
Hours: Mon-Sat 12pm-1am, Sun 12pm-10pm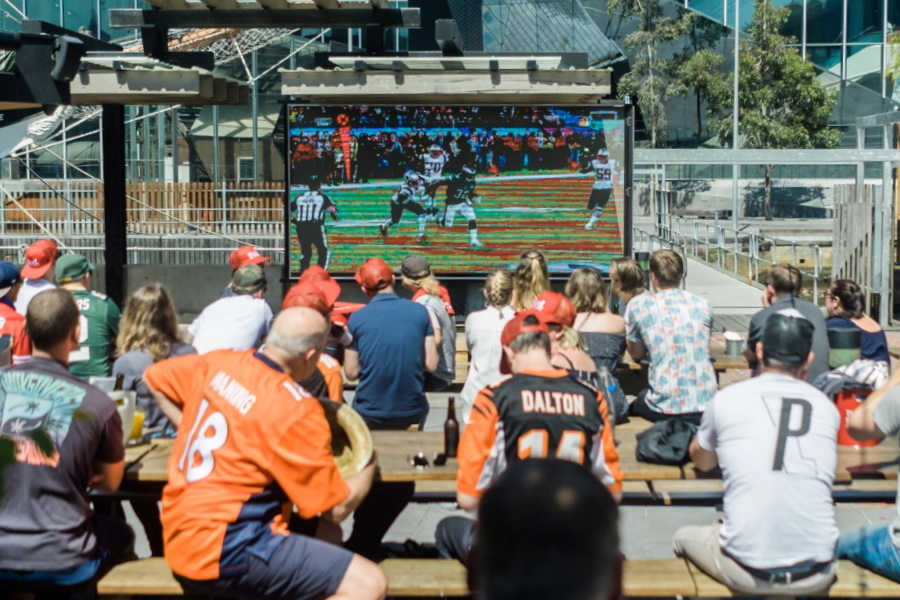 3. The Boatbuilders Yard
Game Day: Grab your crew a prime position in front of the big screen, win Budweiser merch, snack on burgers, wings and hot dogs and crack open the beers bright and early from 9 am. This is a great outdoor venue for watching the Super Bowl 2020 in Melbourne, so expect the Yard to reach capacity. Book via the link below.
Address: 23 South Wharf Promenade South Wharf, 3006
Phone: +61 3 9686 5088
Hours: Mon-Thu 7am-11pm, Fri 7am-12am, Sat 8am-12am, Sun 8am-11pm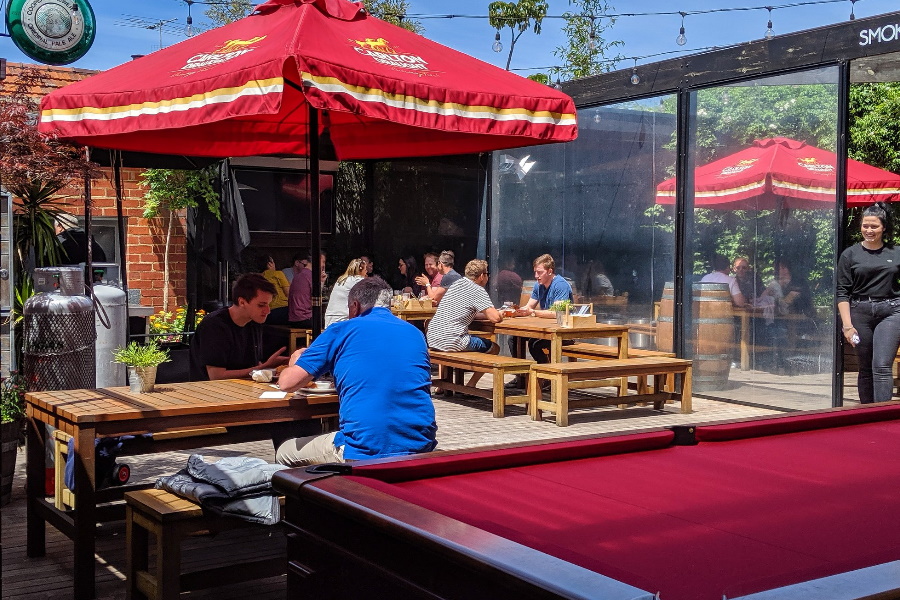 4. Royal Derby Hotel
Game Day: Screens in both the beer garden and main bar area will be playing the Super Bowl. Fans can get in on a half time hotdog eating competition and giveaways throughout the day. Food and drink specials include $30 Budweiser buckets with wings and $40 Jack Daniel buckets and wings.
Address: 446 Brunswick Street, Fitzroy, 3065
Phone: +61 3 9417 2321
Hours: Mon-Thu 3pm-11pm, Fri 12pm-12am, Sat 12pm-1am, Sun 12pm-11pm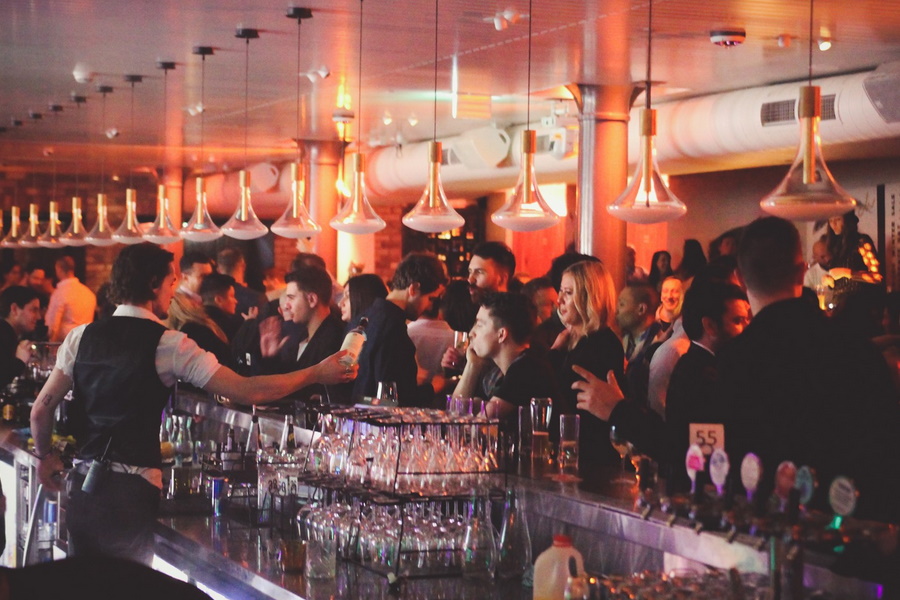 5. The George on Collins
Game Day: Doors open at 9 am, and guests can enjoy the game live across multiple big screens with cheerleaders doing what they do best! Yes. Cheerleaders. An American menu will be offered especially for this event, including items like burgers and chicken wings. $40 will get you a main meal, two house drinks and a bowl of chicken wings.
Address: 162-168 Collins Street, Melbourne, 3000
Phone: +61 3 9663 7226
Hours: Tue-Thu 11:30am-11pm, Fri 11:30am-3am, Sat 5pm-3am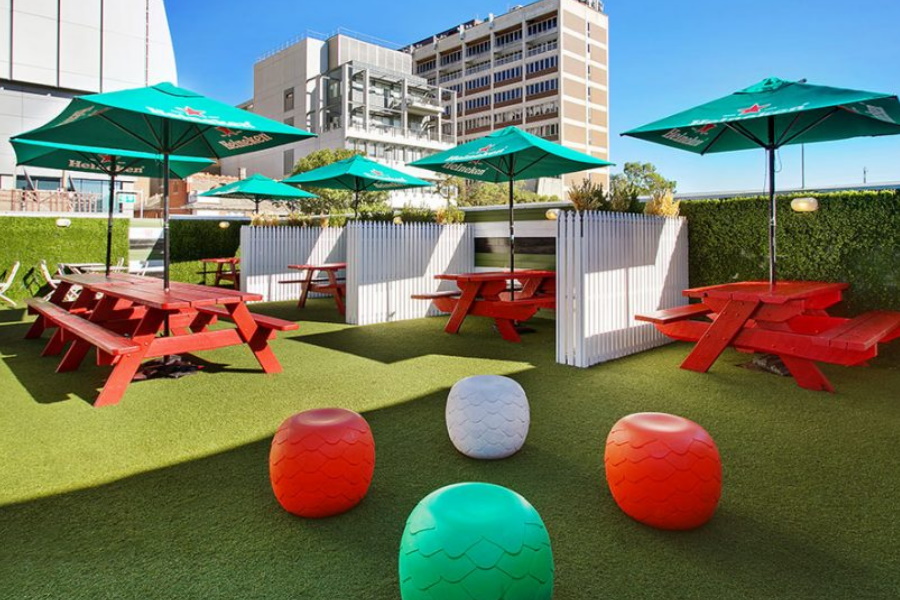 6. Hawthorn Hotel
Game Day: Doors open at 8 am for the $8 New York Bagel Breaky. Brooklyn Lager is on tap, competitions are running throughout the day and even post-game. Drinks are $5 until the first points are scored and $20 will get you bottomless buffalo wings, chips and slaw.
Address: 481 Burwood Road, Hawthorn, 3122
Phone: +61 3 9810 0022
Hours: Mon-Fri 11:30am-1am, Sat 12pm-1am, Sun 12pm-11pm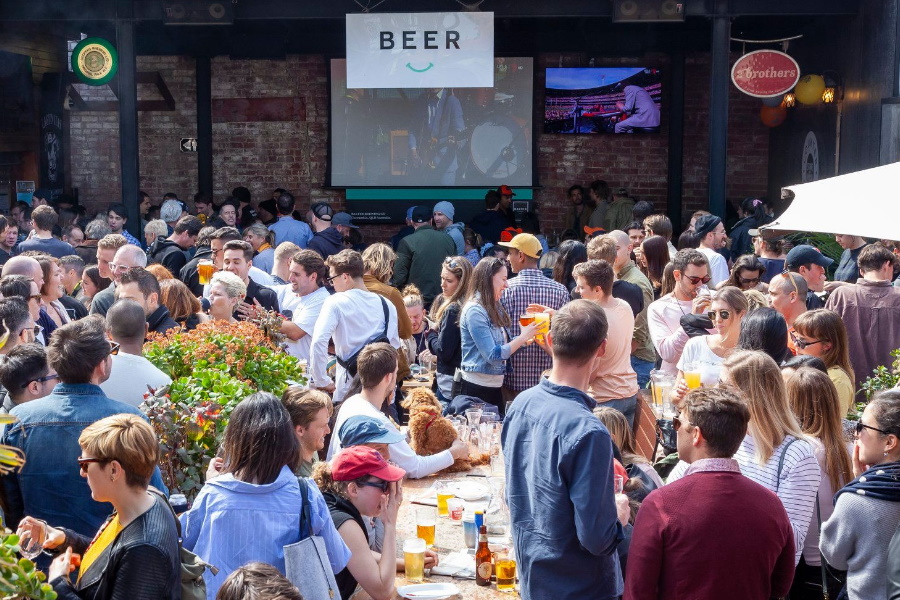 7. The Great Northern
Game Day: For the 10th year running, The Great Northern is throwing a Super Bowl party with the game live across all of their TVs and two massive projectors. The hotel is yet to reveal specifics, although we do know they open doors at 8 am and will be serving American style food and beers from the get-go.
Address: 644 Rathdowne Street, Carlton North, 3054
Phone: +61 3 9380 9569
Hours: Mon-Wed 11am-12am, Thu-Sat 11am-1am, Sun 11am-11pm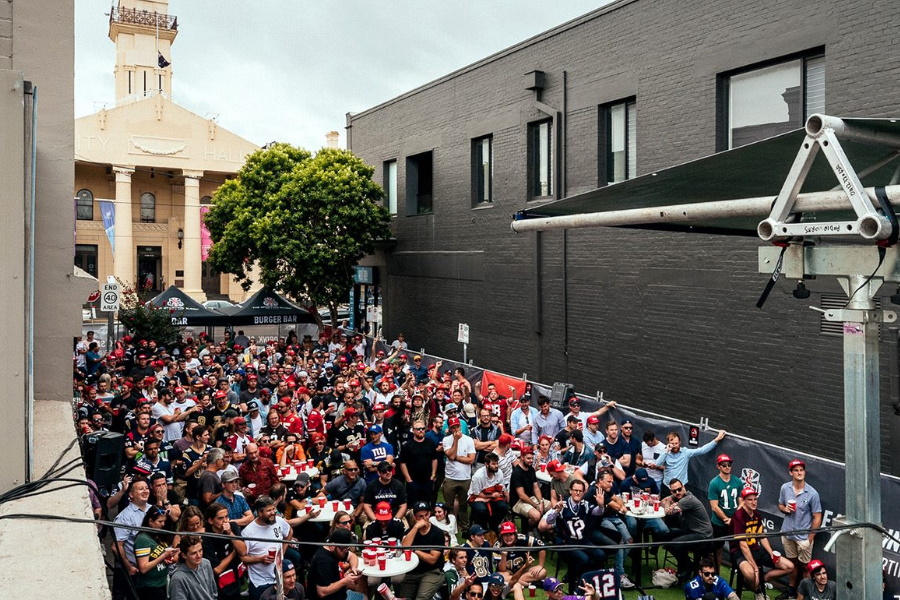 8. The Sporting Globe
Game Day: Possibly the biggest Melbourne Super Bowl party is at the Sporting Globe. You won't miss a minute of the action with 50+ screens, a projector, a street party and more. The exclusive breakfast menu commences from 8 am with signature wings, burgers, ribs and share plates available from 10:30. The Super Bowl Street Party is home to a pop-up Budweiser bar, and for those looking to live large, there's a VIP rooftop party with drink packages and roaming platters priced at $130 per person. Expect similar offerings at other Sporting Globe venues.
Address: 288 Bridge Road, Richmond, 3121
Phone: +61 3 9428 2656
Hours: Sun-Thu 11:30am-10:30pm, Fri-Sat 11:30am-1am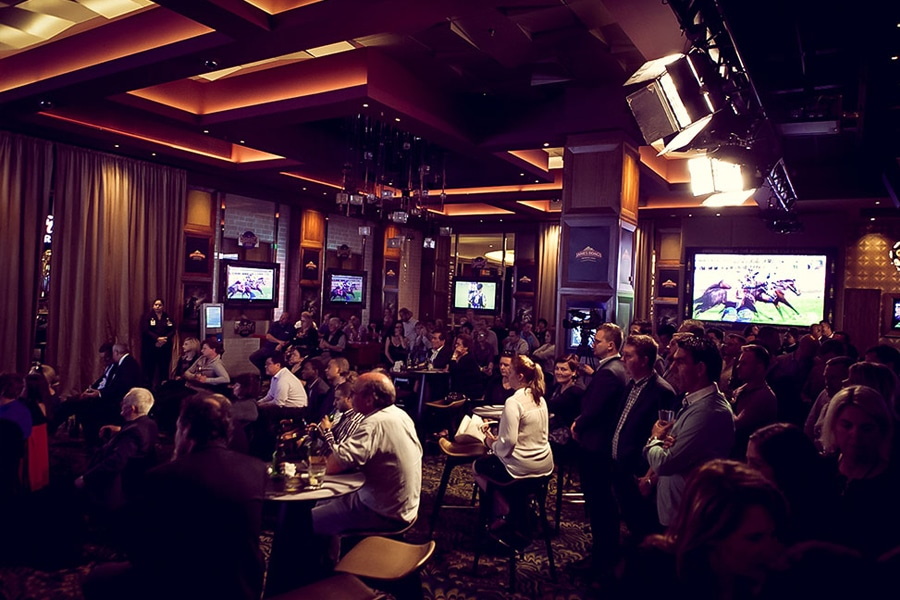 9. CrownBet Sports Bar & Pub
Game Day: Gather your mates for the American sports event of the year at the Crown Sports Bar or Pub, both showing the game live on mega screens and serving up Budweiser. Score a bonus Budweiser cap when you share a bucket of 5 Buds for $40. The pub also has VIP booths with personal flat screens, surround sound and access to the TAB and table services.
Address: 8 Whiteman St, Southbank, 3006
Phone: +61 3 9292 8888
Hours: Mon 12am-11pm, Tue-Thu 11am-11pm, Fri 11am-1am, Sat 11am-4pm Sun 10am-3pm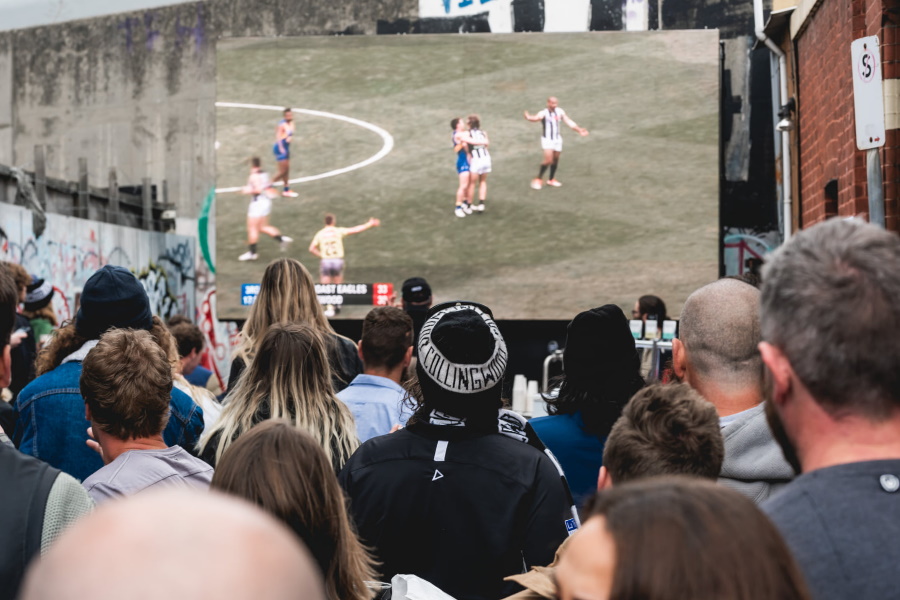 10. Terminus Hotel: Abbotsford
Game Day: The Super Bowl will be live and loud at the Terminus Hotel. Get in the mood with an American-inspired menu and see the game from wherever you wind up thanks to the many HD TVs placed throughout. No menu or drink specifics have been announced, so keep an eye to the hotel's socials and website linked below.
Address: 605 Victoria Street, Abbotsford, 3067
Phone: +61 3 9427 0615
Hours: Mon 4pm-11pm, Tue-Thu & Sun 12pm-11pm, Fri 12pm-2am, Sat 12pm-3am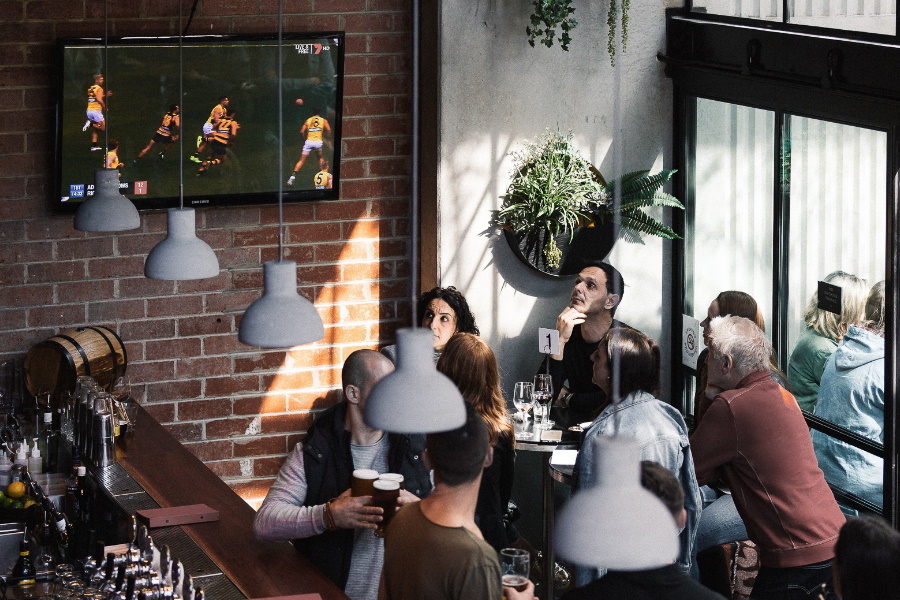 11. The Prahran Hotel
Game Day: Doors open at 9 am, which gives you 90 minutes to explore the American-inspired menu and grab a $25 bucket of Budweiser. The historic Melbourne hotel is set to be a go-to for the game, so place a booking if you want the best seats in the house, or seating in general.
Address: 82 High Street, Prahran 3181
Phone: +61 3 9529 2168
Hours: Tue 4pm-11pm, Wed & Sun 12pm-11pm, Thu-Sat 12pm-12:30am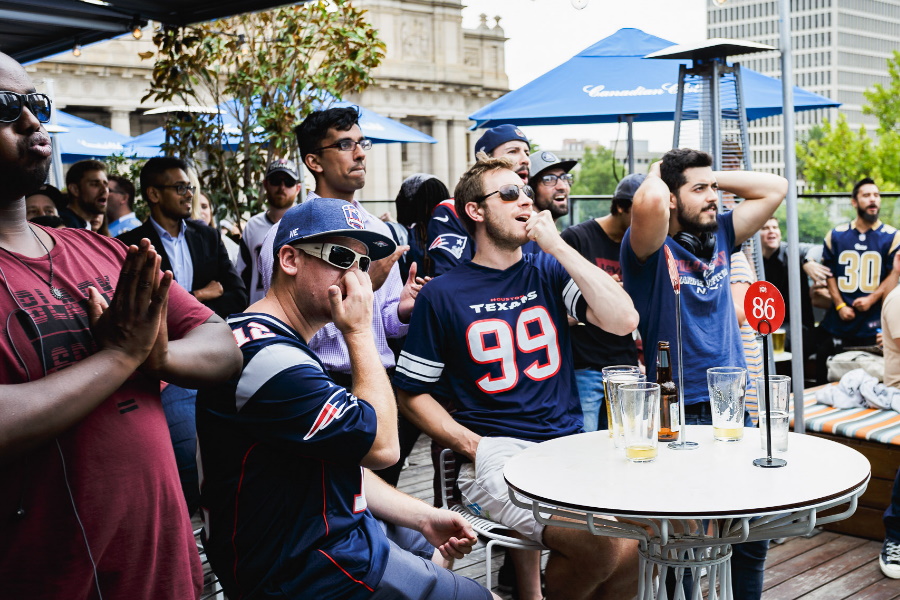 12. The Imperial
Game Day: Doors open at 8 am with the Super Bowl broadcast live from Miami. Of the all the great Melbourne venues, The Imperial might have the most extensive game day menu: Chicken burgers, beef sliders, nachos, loaded chips, buffalo wings, meatball subs and party platters exclusively for the Super Bowl. Book a table online. Walk-ins are also welcome.
Address: 2-8 Bourke Street, Melbourne, 3000
Phone: +61 3 9810 0062
Hours: Sun-Thu 11am-12am, Fri-Sat 11am-1am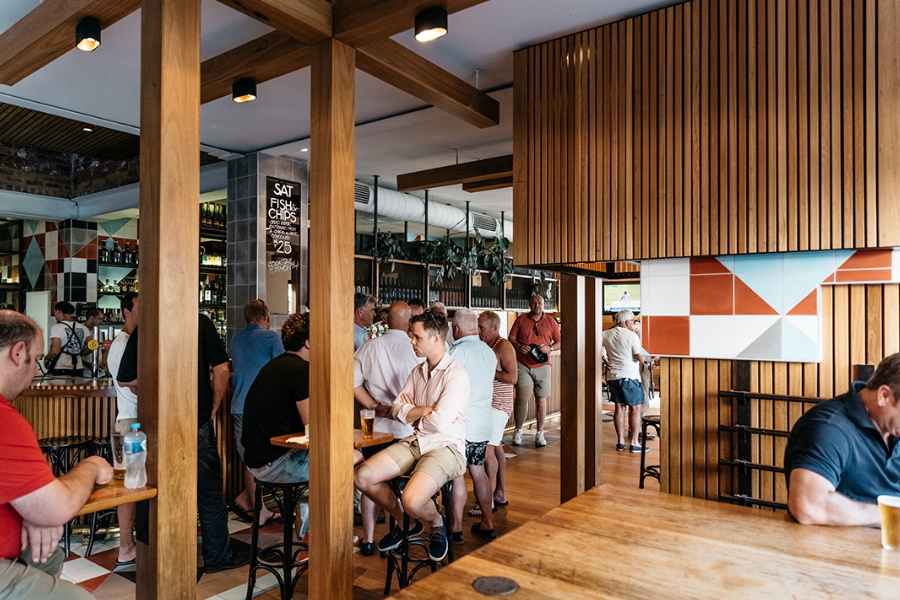 13. Half Moon
Game Day: The Half Moon pub in Brighton throws open doors at 9 am so you can get in early and secure a spot. Taking care of the essentials, American beer buckets consist of 3 x Samuel Adams for $20 and 4 x Coronas for $32. Buckets of Buffalo wings are priced at $12.
Address: 120 Church Street, Brighton, 3186
Phone: +61 3 9591 0611
Hours: Sun-Wed 12pm-11pm, Thu 12pm-12am, Fri-Sat 12pm-1am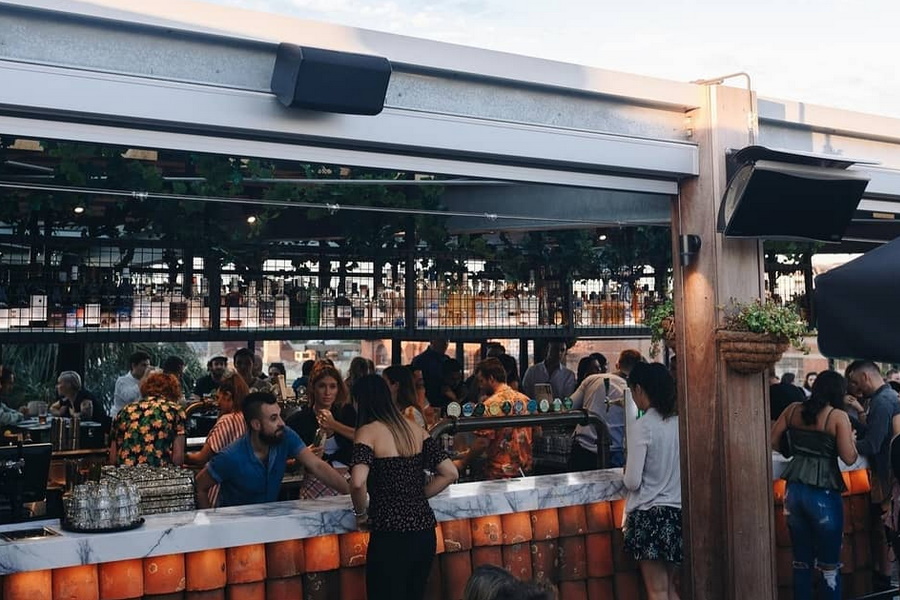 14. The Provincial
Game Day: The iconic pub and rooftop bar advises that you get in quick to secure a spot in front of the Jumbotron. With $7 Brooklyn schooners, merch giveaways, and 1kg buckets of chicken wings for $10, your Super Bowl Monday is now complete.
Address: 299 Brunswick Street Fitzroy, 3065
Phone: +61 3 9810 0042
Hours: Mon-Wed 12pm-1am, Thu 12pm-12am, Fri 12pm-3am, Sat 11am-3am, Sun 11am-1am
Stream Super Bowl on Kayo Sports
Kayo is Sports is streaming Super Bowl LIV with all the action on the field including all the ads and halftime show. Kayo is with you wherever you are, available on phone, tablet, desktop browser, Apple TV and more. Kayo Sports is $25 a month to sign up, with the first 14 days free and there's with no lock-in contract.
Watch the Super Bowl Live and Free on 7mate and 7plus
To watch the game on free to air TV, head to 7mate or stream 7plus.
Watch the Super Bowl Live on Foxtel
If you're a Foxtel subscriber, tune into ESPN (channel 508) to watch the Super Bowl live.
Where to watch the Super Bowl in Melbourne?
Most Sports Bars and Pubs will open early on Super Bowl Monday to show the big game.
Who will host Super Bowl 54?
Super Bowl LIV will be hosted by Miami Florida.
Who is playing in Super Bowl 54?
The Kansas City Chiefs will take on the San Francisco 49ers in Maimi Florida.