17 Best Duffel Bags for All Purposes
There is no bag more versatile or useful than the duffel bag. The duffle serves several important functions that can make or break your day, and apart from the obvious role it plays in carting your belongings around, it has to cop a flogging while it does it. When it comes to bags, the duffel bag is as simple as they come, yet it manages to do a job that many other bags simply cannot. The bag carts around items from laptops, spare clothes, and other bits and pieces, doing so with ease.
When you imagine the duffle bag you think of the classic oblong shape with two straps and a zipper, but that barely scratches the surface. The traditional backpack can't serve the needs of every lifestyle. Thankfully, there's a plethora of options and variations of the bag to suit everyone's needs. There's travel duffle bags, business bags, gym duffle bags, and the list goes on.
We have compiled an all-inclusive list that suits everyone's needs, no matter the situation. Here we've compiled a comprehensive list of the 17 best duffel bags money can buy, to ensure that your lifestyle is kept neat and convenient.
You'll also like:
14 Best Weekender Bags for Your Next Getaway
10 Tips to Get the Most Out of Your Workout
Men's "Must Have" Travel Essentials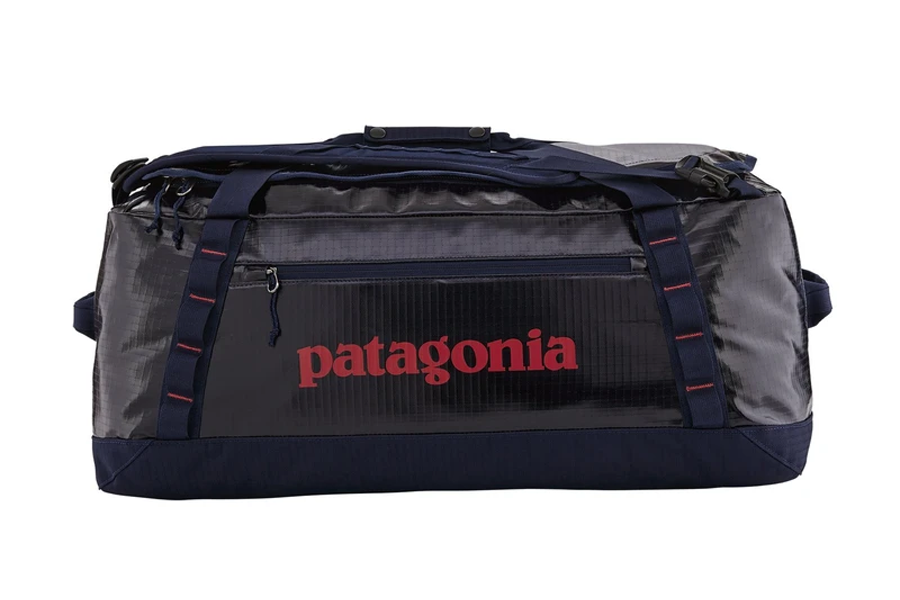 1. Patagonia Black Hole
The king of duffel bags, this workhorse will organize your gear efficiently. Patagonia's Black Hole bag has enough space for both weekend trips and well-organized extended trips. It includes a large centre compartment, zippered side pockets, mesh lid, and padded base for protection. This is the best all-around option on the market.
Dimensions: 26.7″ x 15.7″ x 11.8″
Capacity: 55L
Colours: Black, Navy, Green, Blue, Brown, Crater Blue, Purple, Red
Weight: 1,165 g
Material: Recycled polyester ripstop with TPU-film laminate and a DWR (durable water repellent).
Best for: Everything!
Price: $199.95
Study Reveals Every Hot Dog You Eat Shortens Your Life by 36 Minutes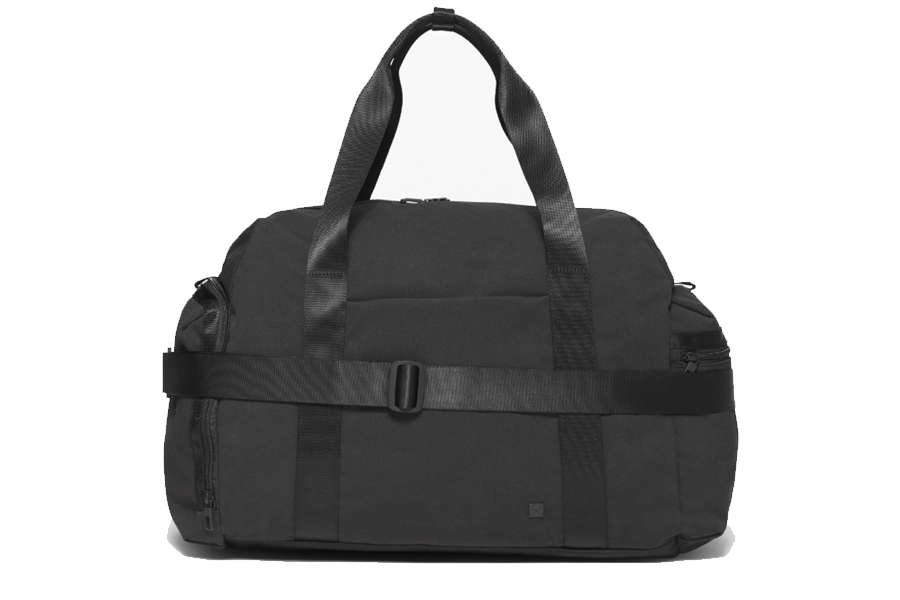 2. Lulu Lemon Command the Day
Designed to be used every day, Lulu Lemon's Command the Day is super functional with divided spaces that won't mix your running gear with your laptop. The exterior padded pocket will fit a 13-inch laptop, and the shoe garage will separate your sneakers when they're not in use. This is the best duffle for those who like to work out.
---
Featured Video from Man of Many
---
Dimensions: 21″ x 8″ x 16.5″
Capacity: 37L
Colours: Dark Grey Camo, Black, Burnt Caramel
Material: Mesh: 100%, Polyester Body: 100%, Liner: 100% Polyester
Best for: Everyday life with a work and play balance.
Price: $230
Lulu Lemon Command the Day Duffel
3. Dakine Split Roller Bag
This is a serious duffle bag, with top and bottom compartments and wheels. On the inside, there is a large main compartment and individual divided sections that separate dirty and clean gear. The split wing design means the duffel can fold flat when not in use, and the wheels mean you can pull it anywhere. This is the best duffle bag for travel.
Dimensions: 32″ x 17″ x 13″
Capacity: 110L
Colours: Night Sky, Olive, Camo, Botanics Pet, Woodrose
Weight: 5kg
Material: 600D polyester ripstop with print and water repellent finish, bluesign® approved material
Best for: Carrying heavier item, a person who needs a lot of space.
Price: $230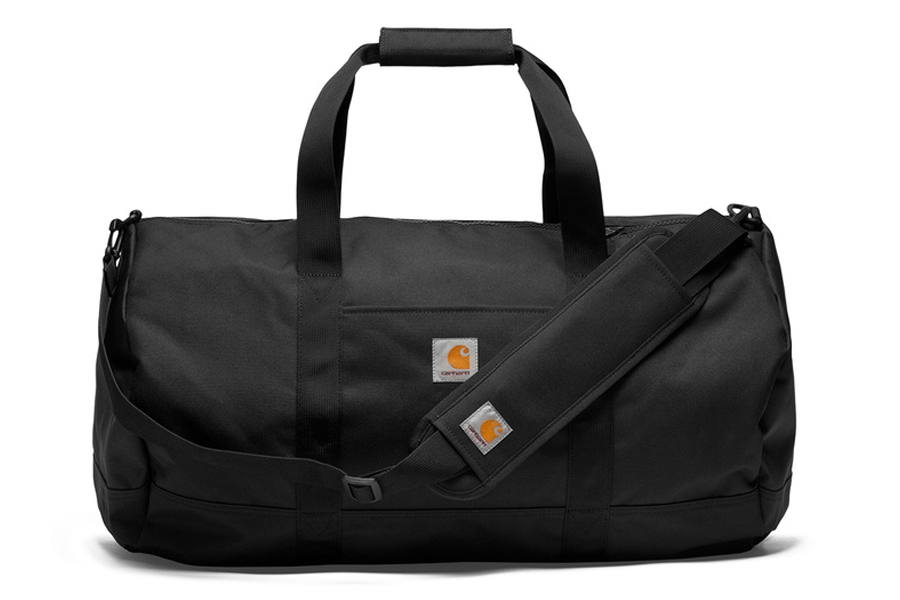 4. Carhartt WIP Wright
A stylish canvas design that reflects everything we've come to love about Carhartt. The brand knows a thing or two about quality, and the Wright Duffle has all that and more. With an 11 oz Duck Canvas outer that's water repellant and a large unlined main compartment.
Dimensions: 12.5″ x 22.1″ x 12.5″
Capacity: 57L
Colours: Black, Hamilton-Brown
Weight: 311 g
Material: 100% Polyester Duck Canvas, Water Repellant.
Best for: Those looking for a blend of style and durability.
Price: $106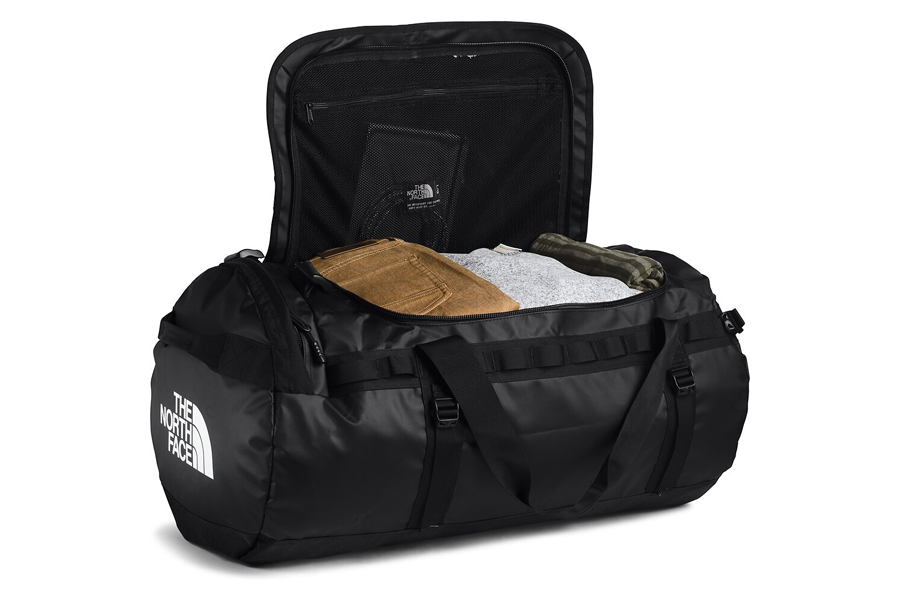 5. The North Face Base Camp
The icon that is The North Face Base Camp Duffel. This bag will give you everything you need and more in a stylish design, allowing you to stash and organise everything you need for when you're on the go. With a zippered end-cap compartment that will separate wet and dirty clothes, it can be used every day. You can easily carry this bag thanks to the bags outer alpine-cut shoulder straps and padded handles.
Dimensions: 15.75″ X 27.56″ X 15.75″
Capacity: 95L
Colours: Black, Black/ White, Red/ Black, Blue, Olive Green, Purple, Summit Gold.
Weight: 1840 g
Material: 1000D Phthalate-Free TPE Fabric Laminate, 840D Jr. Ballistic Nylon
Best for: Outdoor exploration
Price: $270
The North Face Base Camp Duffel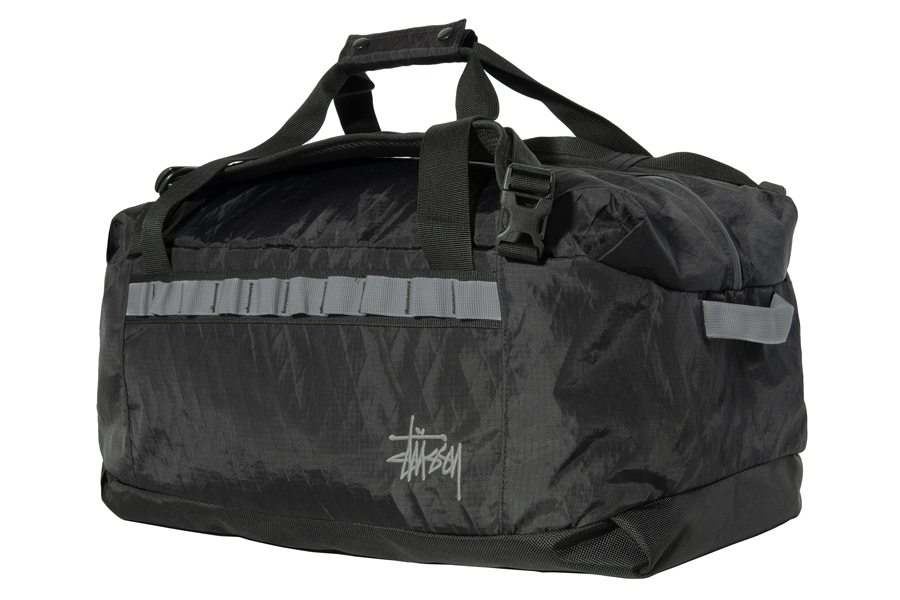 6. Stüssy 2 Way
The Stüssy 2 Way Duffle Bag will give you the style you're looking for in a duffel bag. The nylon construction and ballistic base will provide protection and the main compartment will give you the storage. You'll find DURAFLEX X-LITE components on the exterior and a direct embroidered logo to let everyone know you're with it.
Dimensions: H20cm x W52cm x D24.5cm
Capacity: 55L
Colours: Black
Material: Nylon Structured Body Fabric, Ballistic Nylon Base, 70D Nylon Ripstop Lining.
Best for: Those who are style conscious and want the convenience of a well-sorted bag.
Price: from $129.95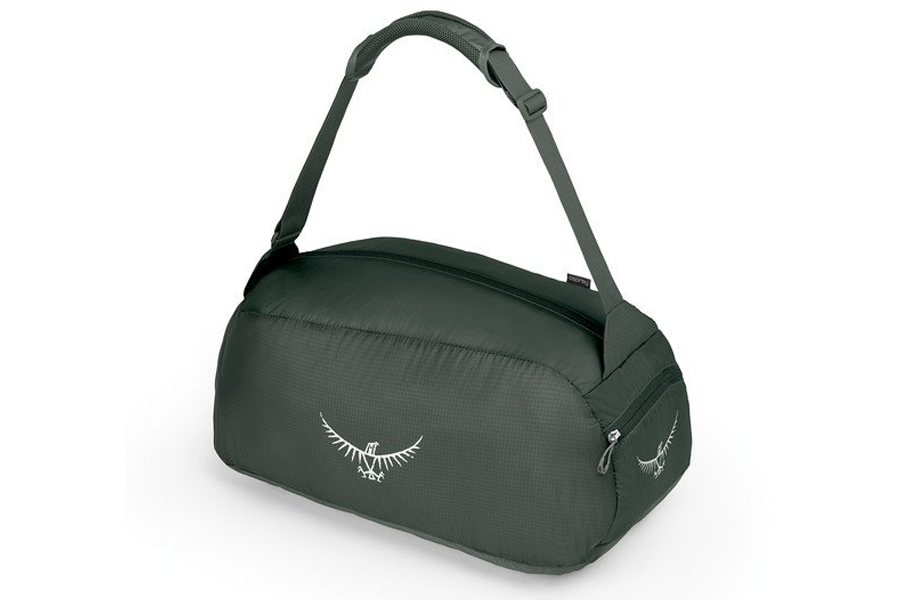 7. Osprey Ultralight Stuff
Osprey has a philosophy for travel to make it easier to organise and pack your gear. They've achieved this philosophy with the Ultralight Stuff Duffel. The bag incorporates a packable design that will pack down into a tiny pocket. This duffle is simple and to the point, but oh so convenient for quick day trips.
Dimensions: H23cm X W56cm X D30cm
Capacity: 30L
Colours: Tropic Teal, Poppy Orange, Electric Lime, Shadow Grey
Weight: 200 g
Material: Main: 40D Nylon Ripstop, Bottom: 100D x 70D Nylon Mini Ripstop
Best for: Those who don't want to risk being caught without a bag when on the go.
Price: from $40
Osprey Ultralight Stuff Duffel Bag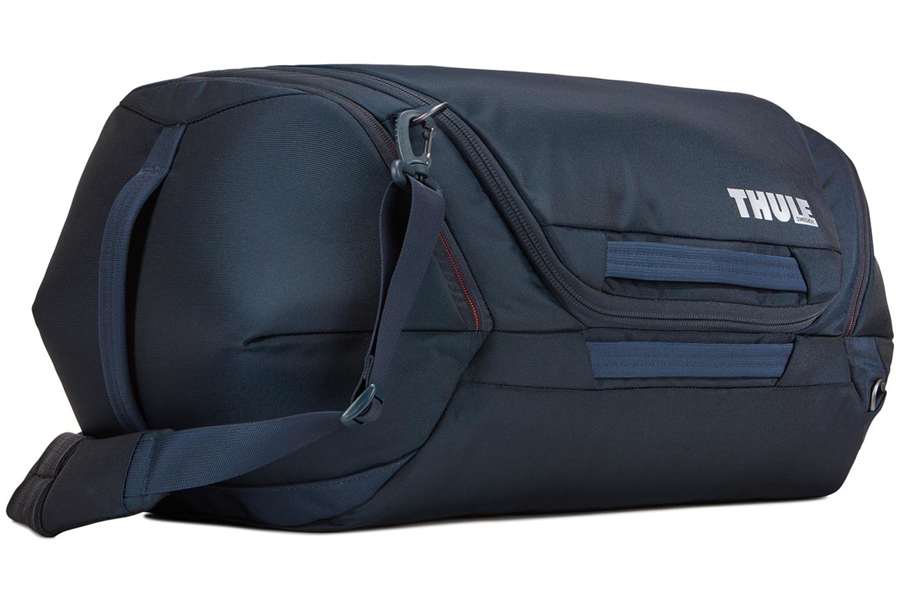 8. Thule Subterra
Thule brings convenience and quality with the Subterra. We all know Thule manufacturers some of the highest quality products on the market and their duffle bag is no exception. The Subterra features multiple pockets for shoes and accessories, including wide-mouth access for bulky items. There's even a small mesh pocket for keys and quick access items. This is one of the best duffel bags on the market.
Dimensions: 13.4″ x 14.6″ x 25.6″
Capacity: 60L
Colours: Black, Dark Shadow, Mineral, Ember
Weight: 1.1 kg
Material: Durable, water-resistant 800D nylon
Best for: Those who want an inconspicuous looking quality duffle.
Price: $299.95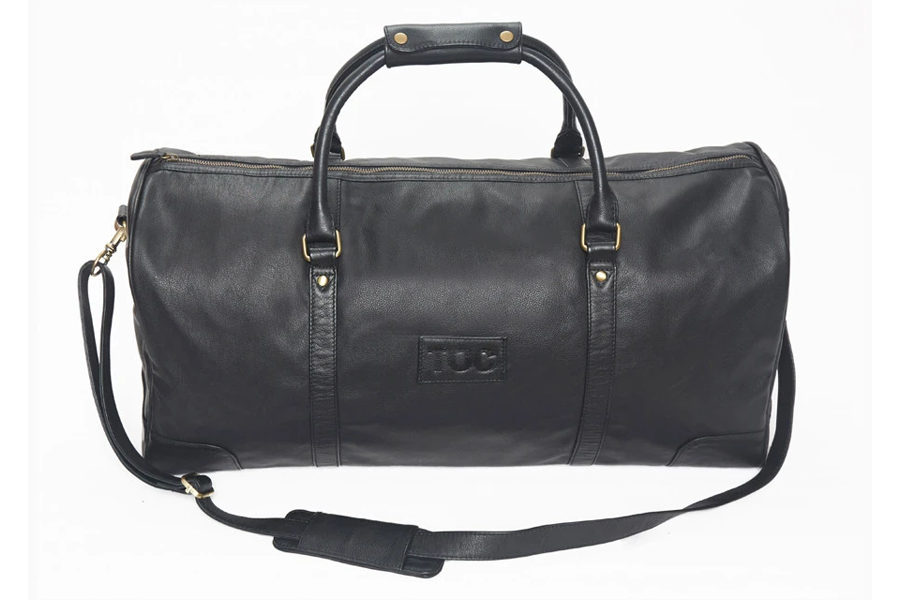 9. TOC Globetrotter Holdall
One of the most premium bags on the market. The TOC Holdall features quality materials throughout, with full-grain cow leather and brass hardware its an impressive piece of kit. The two open internal pockets are great for organisation and they're handmade, so you know it's never falling apart.
Dimensions: H30cm x W24cm x D60cm
Colours: Black, Cognac
Material: Full Grain Cow Leather
Best for: The leather goods connoisseur who wants to make a statement in quality.
Price: $499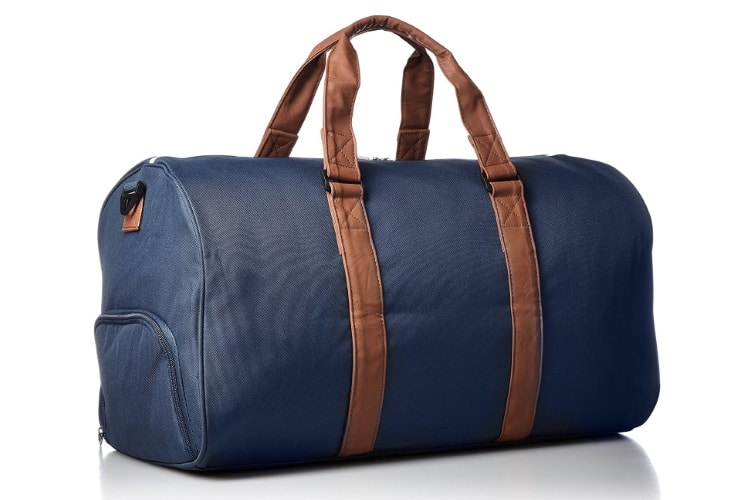 10. Herschel Novel Duffel Bag
Canadian urban luggage outfitters Herschel Supply Co. are everywhere you look now, and with good reason. The company has gone from strength to strength in a few short years, earning its reputation as one of the best for rugged backpacks and practical solutions for carrying stuff around. Their principles of great design and quality construction, of course, extend to this, the best in their range of gym duffel bags. We love the separate compartment at the bottom for your shoes and the fact that it comes in 29 different colour combinations.
Dimensions: 11.75″ x 20.5″ x 11″
Capacity: 42.5L
Colours: Night Camo, Woodland Camo, Denim, Rainbow Tie-Dye, Peacoat Camo, Crosshatch, Black
Material: Synthetic Leather
Best for: A well-priced stylish option with a heritage of durability and quality.
Price: $159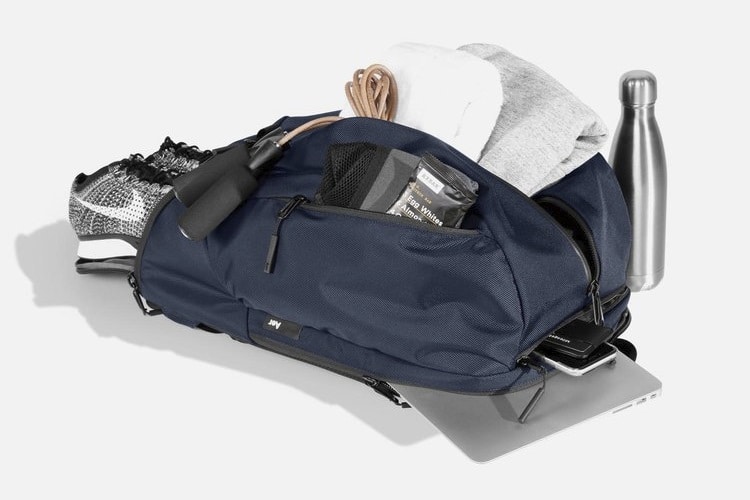 11. AER Duffel Pack 2
AER makes some seriously quality backpacks – this is their latest answer to the gym duffel bag. With more compartments than you can poke a creatine-pumped finger at, separate areas for things that come off your sweaty back and things you consume post-pump and sealed zips, it's definitely earned its spot on this list.
Dimensions: 12″ x 21.5″ x 8″
Capacity: 24.6L
Colours: Navy, Gray, X-Pac, Black
Weight: 1088 g
Material: 1680D Cordura® ballistic nylon exterior
Best for: Those who want a portable option.
Price: $170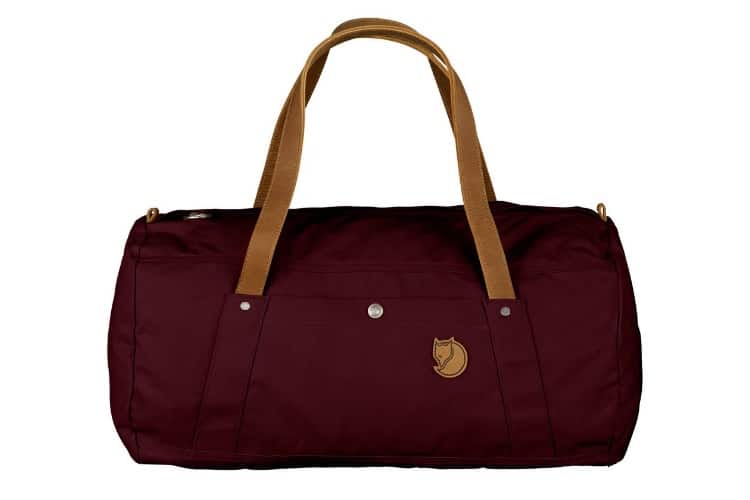 12. Fjallraven No.4 Duffel Bag
This is the perfect gym duffel bag if you need something that's durable and built to last for the occasional gym sesh, but can also double as a stylish weekender or overnight bag. The waxed canvas and leather straps are just two quality ingredients that make this an easy pick for the perfect combination of quality and style.
Dimensions: H27.9cm x W47.6cm x D27.9cm
Capacity: 40L
Colours: Green, Burgundy
Material: G-1000® HeavyDuty Eco Fabric
Best for: A high-quality heavy-duty fabric option for a quality feel.
Price: $199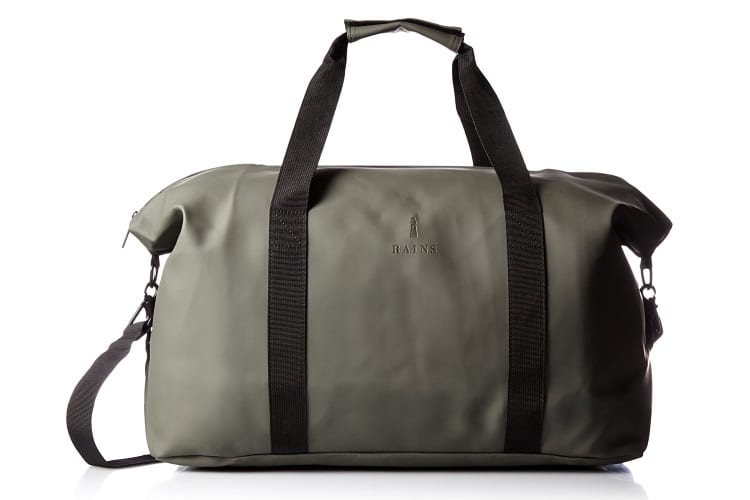 13. Rains Weekend Bag
Feminists might be up in arms that Rains have evidently made a gender-specific bag, but either way, this does the job and is classic, durable, super spacious and not too exxy, from a trusted brand. This gym duffel bag is set to serve you for many years to come.
Dimensions: H34 cm x L60 cm x W23 cm
Capacity: 46L
Colours: Black, Blue, Green, Charcoal, Beige, Shiny Brown, Shiny Black
Material: Matte, waterproof fabric, water-resistant zipper and matte hardware.
Best for: Trips away on the weekend.
Price: AU$140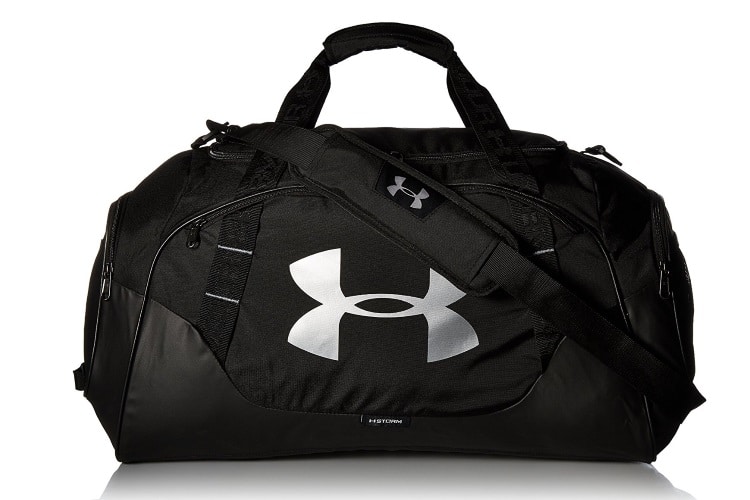 14. Under Armour Undeniable 4.0
Water Resistant, padded, durable, tough and comfy – this gym duffel is everything we'd expect from Under Armour. It also happens to be one of the biggest bargains on this list – considering the number of colours available, it's a hard one to go past.
Dimensions: 11.8″ x 24.4″ x 13″
Capacity: 58L
Colours: Black (005), Black (001)
Material: 100% Polyester
Best for: A great go-to medium duffle bag for everyday performance.
Price: AU$60
Coopers Brewery Eyes $50 Million Beer and Whisky Centre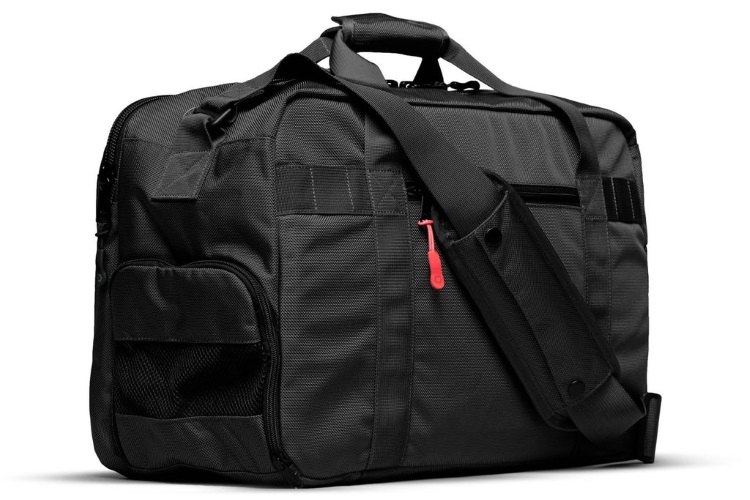 15. DSPTCH Gym/Work Bag
Designed to do the job of a rugged gym bag, but also look half-decent on the ensuing ride to work, this Gym/Workbag from DSPTCH will have you pumping iron and smashing spreadsheets like a boss.
Dimensions: 18″ x 12″ x 8″
Capacity: 23L
Colours: Black, Grey, Moss, Navy
Weight: 2 lbs 15 ozs
Material: 1680D Ballistic Nylon with DWR coating
Best for: Working professionals that are accustomed to weaving in workouts.
Price: $224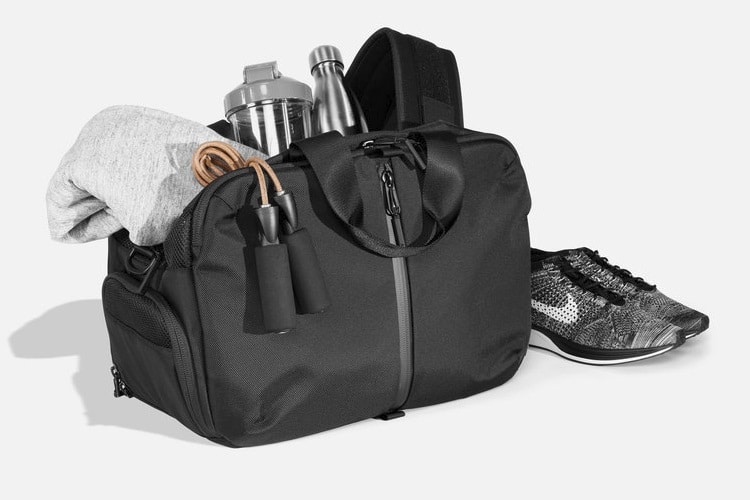 16. Aer Gym Duffel 2
Another top bag from Aer, this duffel has been specifically designed for the gym. Comfy, classy, understated – plenty of room for all your exercise needs and then some. These guys are fast becoming a favourite at Man of Many for several reasons – the minimalist look and robust construction makes them a massive winner for us.
Dimensions: 19″ x 13″ x 11″
Capacity: 37.4L
Colours: Black
Weight: 3.1 lbs
Material: 1680D Cordura® ballistic nylon exterior
Best for: Those who want to look sharp before and after a workout.
Price: $136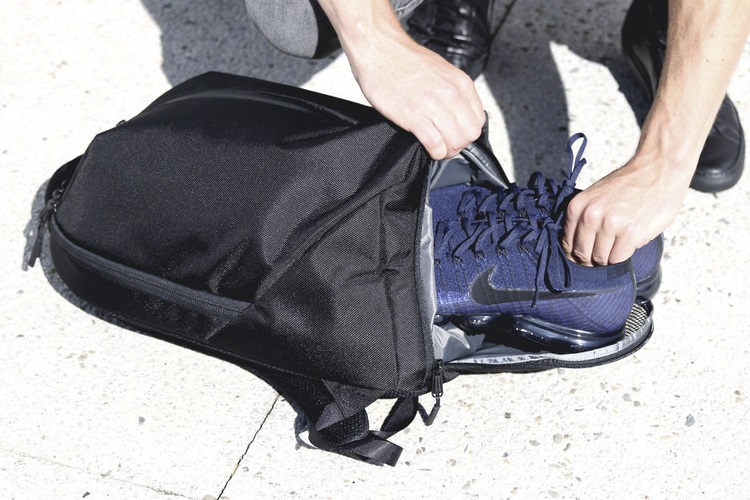 17. Aer Fit Pack 2
Okay, we know it's not a duffel, but we use it to go to the gym so figured that you could too. The ventilated pouch in the bottom makes it easy to keep the gross stuff away from your laptop, etc, making it perfect for when you need to be in the gym at 7, work at 8 and not home again until late. We gave it a proper review that you can read here, but if you're after something gym-friendly that isn't as big as a duffel, give it a thought.
Dimensions: 18.5″ x 12.5″ x 8″
Capacity: 18.8L
Colours: Black
Weight: 1.9lbs
Material: 1680D Cordura® ballistic nylon exterior
Best for: Office, gym, everywhere
Price: $135
General FAQ
What is the best duffel bag for the gym?
The Lulu Lemon Command the Day Duffle is a great duffle bag for the gym. The bag includes compartments that will separate your laptop and sneakers so you can take it straight to work.
Is it spelt Duffle or Duffel?
The correct way to spell it is Duffel, which has been the preferred spelling since the Second World War. Duffle is an English interpretation of the original word, both are still used today.
What is the best duffel bag?
Patagonia's Black Hole Duffel is the best all-around duffle. It has enough space for both weekend trips and well-organized extended trips. This duffel includes a large centre compartment, zippered side pockets, mesh lid, and padded base for protection.
You'll also like:
14 Best Weekender Bags for Your Next Getaway
10 Tips to Get the Most Out of Your Workout
Men's "Must Have" Travel Essentials
---
Featured Video from Man of Many