The Rock Just Released His Own Under Armour Sportsmask
Nothing keeps Dwyane The Rock Johnson down. Whether he's acting or charming his way through Hollywood, clanging and banging in the gym, or laying the Smackdown on all the candy asses in the squared circle of the WWE, you can bet your ass he's doing it with the help of Under Armour. Arriving as part of the Project Rock Winter Collection, you can break through and own your outcomes with Under Armour.
You'll Also Like:
Under Armour's SPORTSMASK Protects an Active Life
Under Armour X JBL's True Wireless Earbuds Approved by The Rock
Dwayne 'The Rock' Johnson Just Bought His Own Football League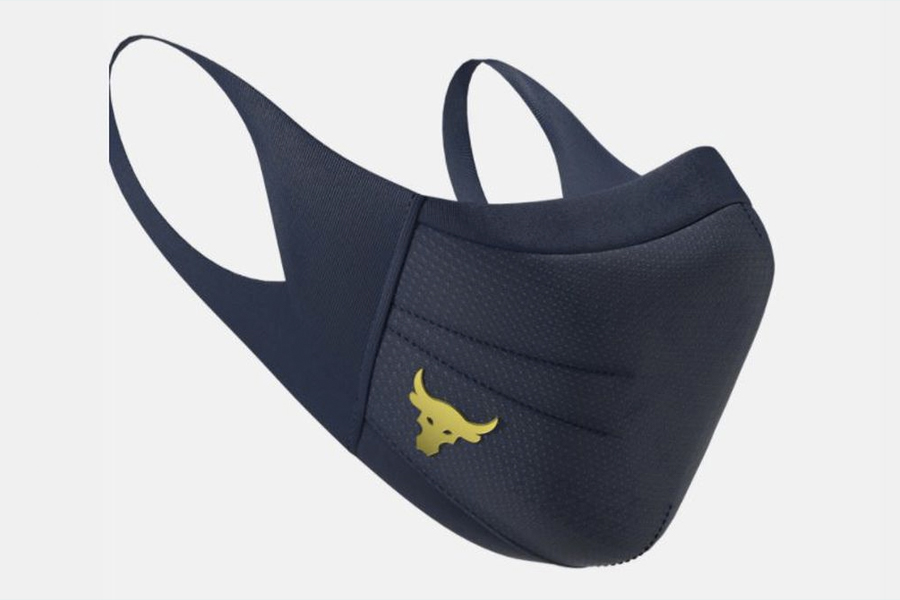 In collaboration with Under Armour, The Rock is bringing a whole new collection of sportswear items for men, women, and kids. Clothing items include a Project Rock Break Through short-sleeved T-shirt, a Sweat Equity Tank top, Project Rock 3 training shoes, a hilarious 'Rent's Due' long sleeved T-shirt and a Project Rock Down jacket in black or gray. Also in the lineup are beanies, track pants, hoodies, caps and sweatshirts.
But the biggest and best addition is a certified steezy Project Rock Sportsmask. Coming in midnight navy blue and gold, at only USD$35, much like the brand's other masks, it's designed to be worn all day long and is perfect for sports. The non-medical grade mask features a structured design that sits up off the face and lips for added comfort and breathability. Sporting a water-resistant outer shell and anti-microbial inner layer, and built-in UPF 50+ sun protection, it'll protect you from anything.
You'll Also Like:
Under Armour's SPORTSMASK Protects an Active Life
Under Armour X JBL's True Wireless Earbuds Approved by The Rock
Dwayne 'The Rock' Johnson Just Bought His Own Football League