50 Best Perfumes and Colognes for Men
If you're looking for the best perfumes and colognes for men this article is for you. Our team of experts have tested all of the most popular men's colognes on the market – including Tobacco Oud by Tom Ford, Sauvage by Dior, and Aventus by Creed – to determine the best fragrances for men at any budget. From there, they've broken down the best scents by season, type, and notes below.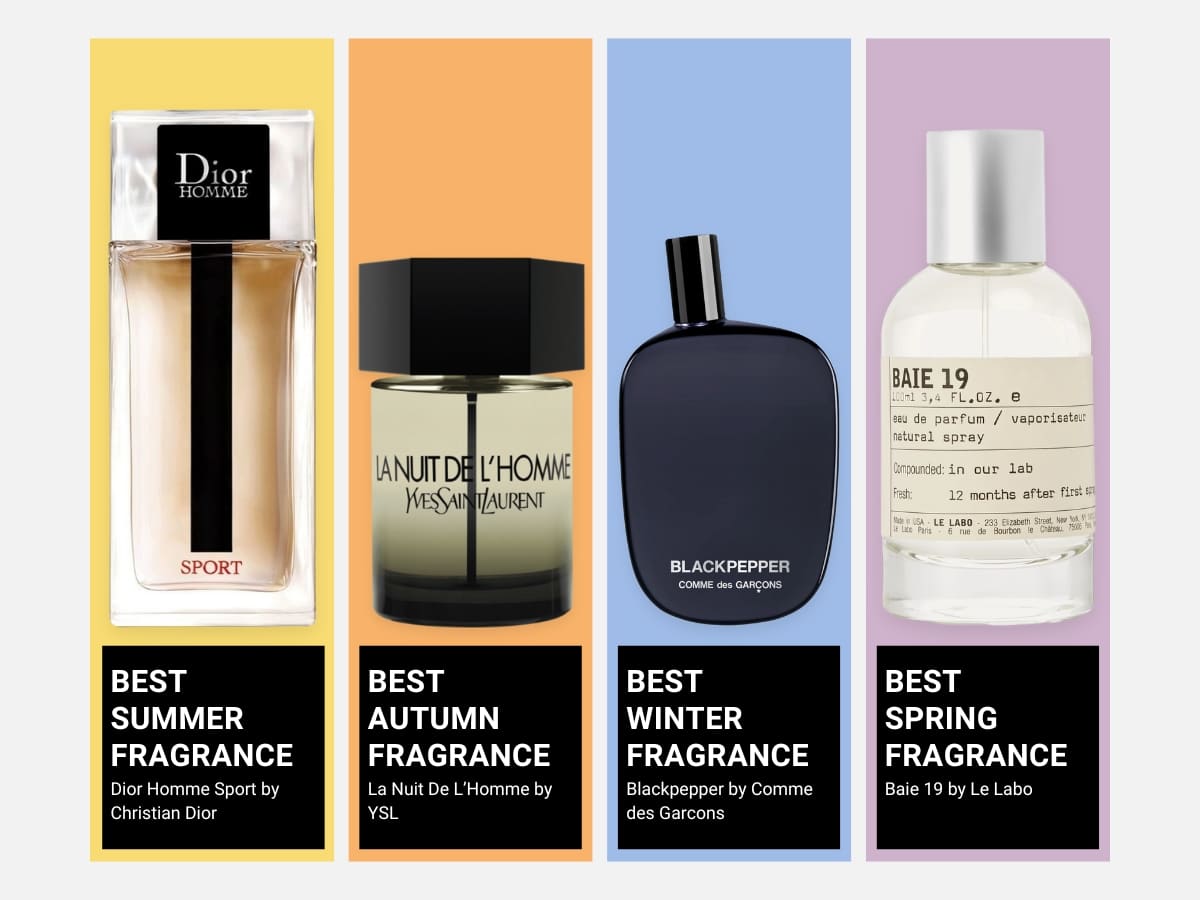 The Best Colognes for Men by Season
Whether you're buying for yourself or a significant other, every eau de parfum and eau de toilette listed here promises to leave a lasting impression with a strong focus on a complex base, heart, and top notes. If you need help choosing, check out our guide on finding your own signature scent. And once you've found a cologne that suits you, refer to our article on applying cologne correctly. Now, let's check out the list of our favourites by season.
5 Best Summer Fragrances for Men
Our guide to the best summer fragrances for men will help you find the perfect fragrance for those long hot summer days and nights. If you're looking to spend more time by the ocean and the pool, you'll want to put these colognes on your radar. These fragrances will match your lifestyle, boasting citrusy, fresh, and long-lasting notes that are ready to carry you from a pool party to a seafood restaurant for dinner.
5 Best Autumn and Fall Fragrances for Men
We might call it Autumn in Australia, but we're catering for our overseas friends in our guide to the best fall fragrances for men. During this season your scents will transition from the sweet, fruity, citrusy scents of summer into spicier and woodier options that are perfect for fall. Our list abides by these rules, with plenty of eau de parfums that are heavy on the palette with bergamot, cedars, and juniper for balance.
5 Best Winter Fragrances for Men
While autumn and fall were transitional times for your signature scents, winter goes all the way with spicy, woody, musky, and warm colognes of bourbon, whisky, rum, and chocolate. Our list of the best winter fragrances for men looks deep into these scent trends with long-lasting options full of vetiver and tonka bean that are as seductive as they're edgy.
5 Best Spring Fragrances for Men
Spring is the best time to change your scents and set yourself up for the year ahead. It's a great time for fresh citrusy scents, although there's also the opportunity for floral and spicy notes balanced by earthy hearts. Our list below has everything from Maison Francis Kurkdjian to the latest from Aesop, all of which promise to last an eternity and radiate masculinity.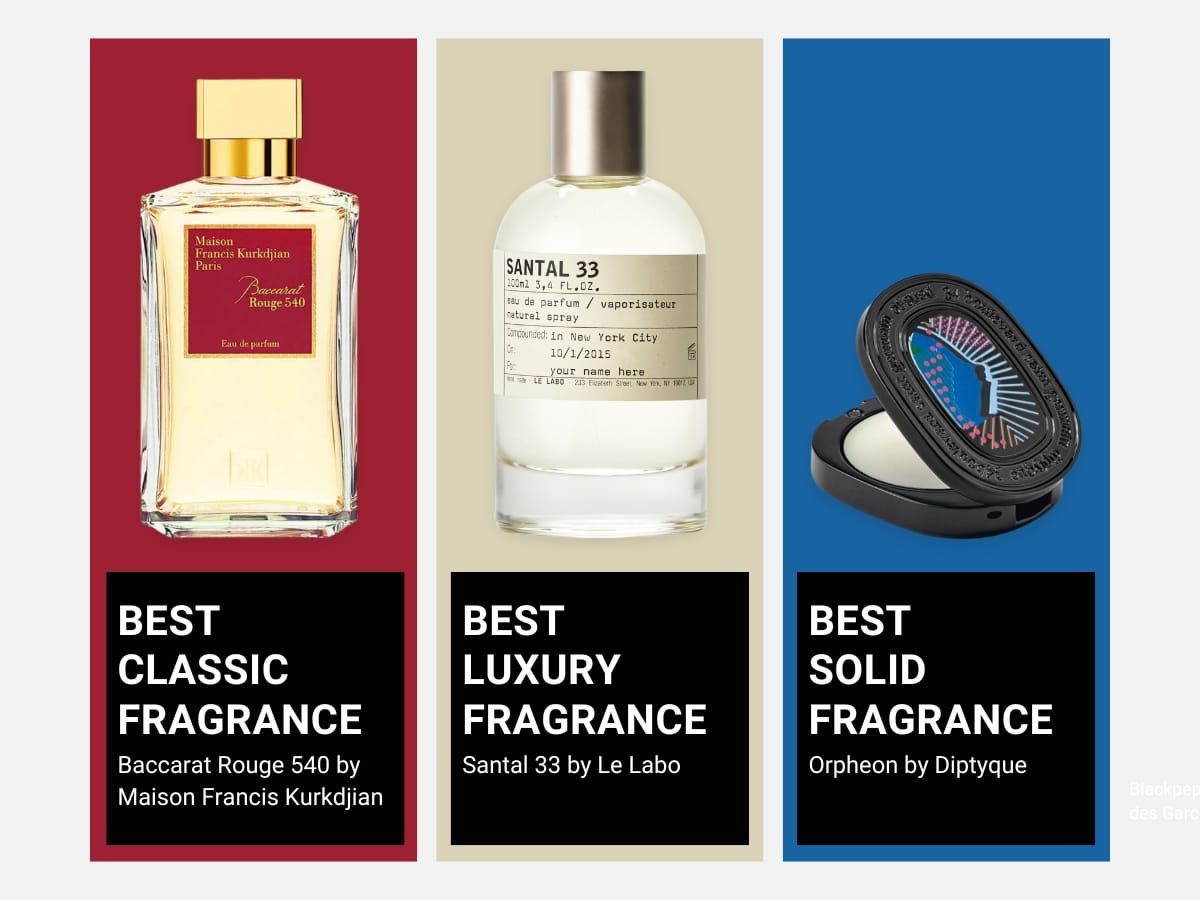 The Best Fragrances for Men by Type
5 Best Classic Colognes for Men
Finding a great old-school classic cologne will remind you of mornings when, as a younger person, you stumbled through your father's bathroom cabinet looking for something that made you smell mature and masculine. They say the classics never die, and never has that been more true than with these aromas that stay the course decade after decade. Our guide below has something for every budget, from Aramis to Creed and classic colognes like Baccarat Rouge 540 by Maison Francis Kurkdjian.
5 Best Luxury Fragrances for Men
Investing in a high-quality fragrance for men can be a daunting task. The most expensive fragrances in the world can often be the best on the planet, but sometimes, they leave a lot to be desired. Thankfully, our list of the best luxury fragrances below has been expertly curated by our cologne experts who've tested every product on the list for smell, longevity, and radiance. If you want to impress someone on your next date night, or you're looking to gift the ultimate scent, check out our guide below.
5 Best Solid Colognes for Men
Sometimes a spray just doesn't cut it. Our list of the best solid colognes for men includes wax alternatives that are alcohol-free, portable, leak-proof, and longer lasting than spray cologne if used correctly. You'll also notice that a number of the choices are wax variations of some of our favourite colognes for men, including Santal 33 by Le Labo. Rub a small amount into your finger, apply it to your pulse points, and get ready for people to ask you what you're wearing.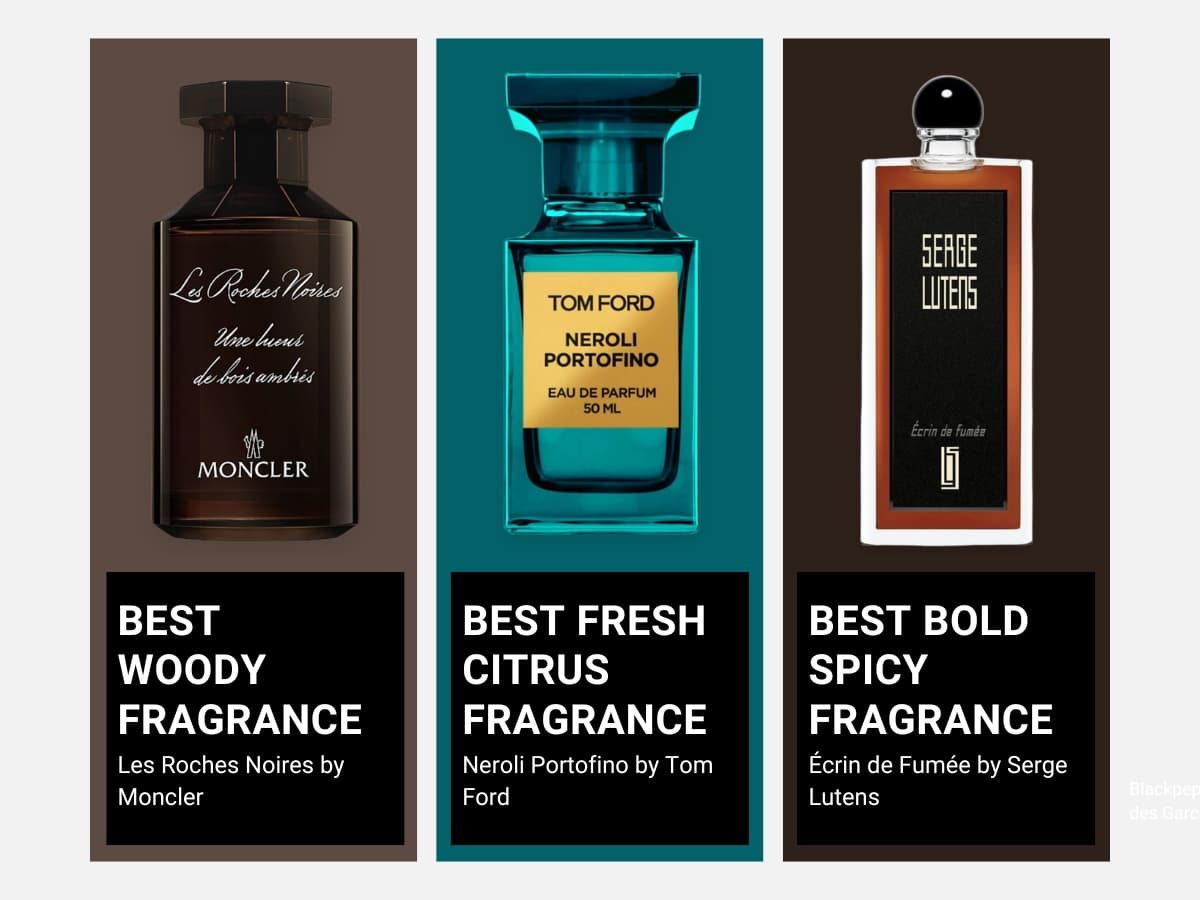 The Best Perfumes for Men by Note
5 Best Woody Fragrances for Men
Woody fragrances are often the most popular and masculine options for men. Our list of the best woody fragrances for men covers everything from the top budget options on the market to some of the most expensive and well-known names in the olfactory industry, e.g. Royal Oud by Creed. When it comes to choosing the best woody scent, it's all about layers. Try it on your skin before you judge any of these because more often than not, the bourbon, whisky, and chocolate notes develop over time throughout the day.
5 Best Fresh Citrus Colognes for Men
When done correctly, the best fresh citrus colognes for men can imbue a sense of fashion and style. And while we'd refrain from calling these a prototypical 'masculine fragrance' they have the ability to transcend genres with fresh, sweet notes, balanced by bold and spicy undertones. Our list of the best fresh citrus colognes for men below delves deep into the clear-skied, hot, sunny summer days that these are designed for. If you're looking for freshness, check out our list below.
5 Best Bold and Spicy Colognes for Men
Bold and spicy colognes for men combine the best of the woody and aromatic notes that you've no doubt come to love after checking out our guide to the best perfumes for men below. Best worn during the colder months of the year, you'll find that the majority of eau de parfum here utilise tonka beans, vetiver, and patchouli in creating their olfactory experiences. Think notes of bourbon, chocolate, and ginger, and you'll find yourself on the right track.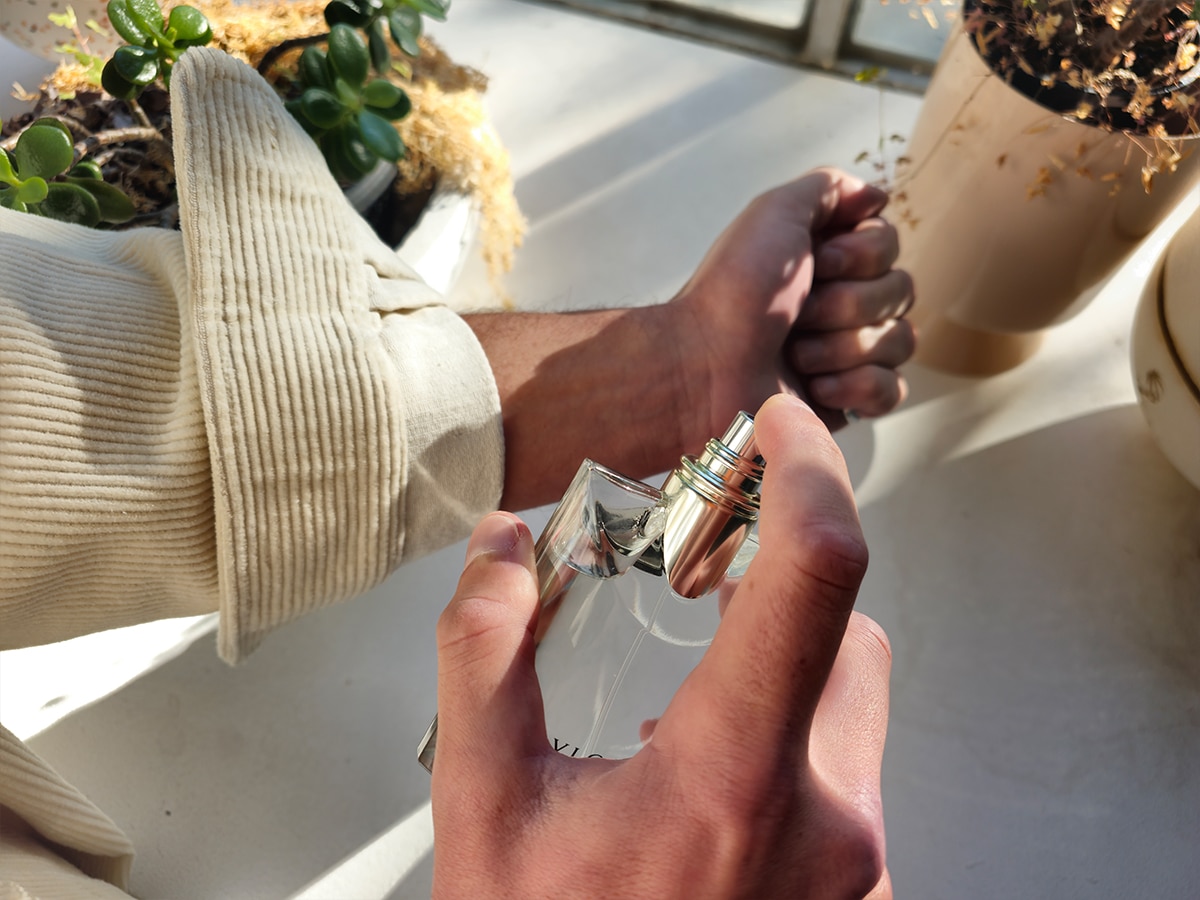 Cologne and perfume advice for men
How to Find Your Signature Scent
Finding a signature scent is like discovering your own personal trademark. It's a cologne that people recognise you for, appreciate, and lust over. One of the most important pieces to finding your own sense of style, choosing and then wearing your signature scent can be transformative. They reveal a lot about you, and our guide below is designed to help you choose wisely by outlining the 5 steps to finding your own signature scent.
5 Steps for Finding Your Signature Scent
These are the steps you'll want to follow when looking to find your signature scent.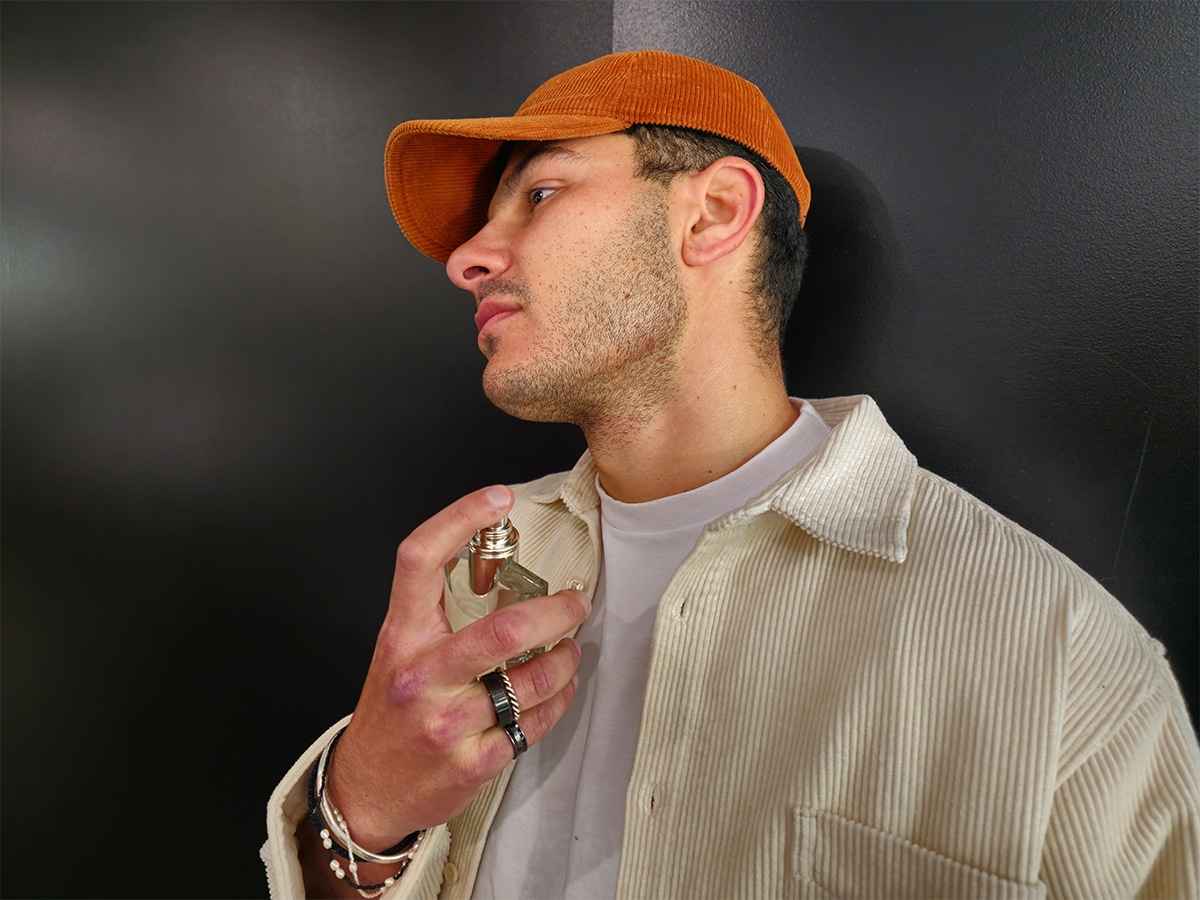 How to Apply Fragrances and Cologne
Once you've figured out how to choose your own signature scent, you'll need to know how to apply it. Our guide to applying cologne correctly below outlines the simple steps for maximising the radiance, olfactory experience, and longevity of your scent during the day. Investing in the best perfumes for men is only one part of the equation because applying them incorrectly can make or break the smell.
5 Steps to Apply Cologne Correctly
Here's a step-by-step guide on applying colognes correctly.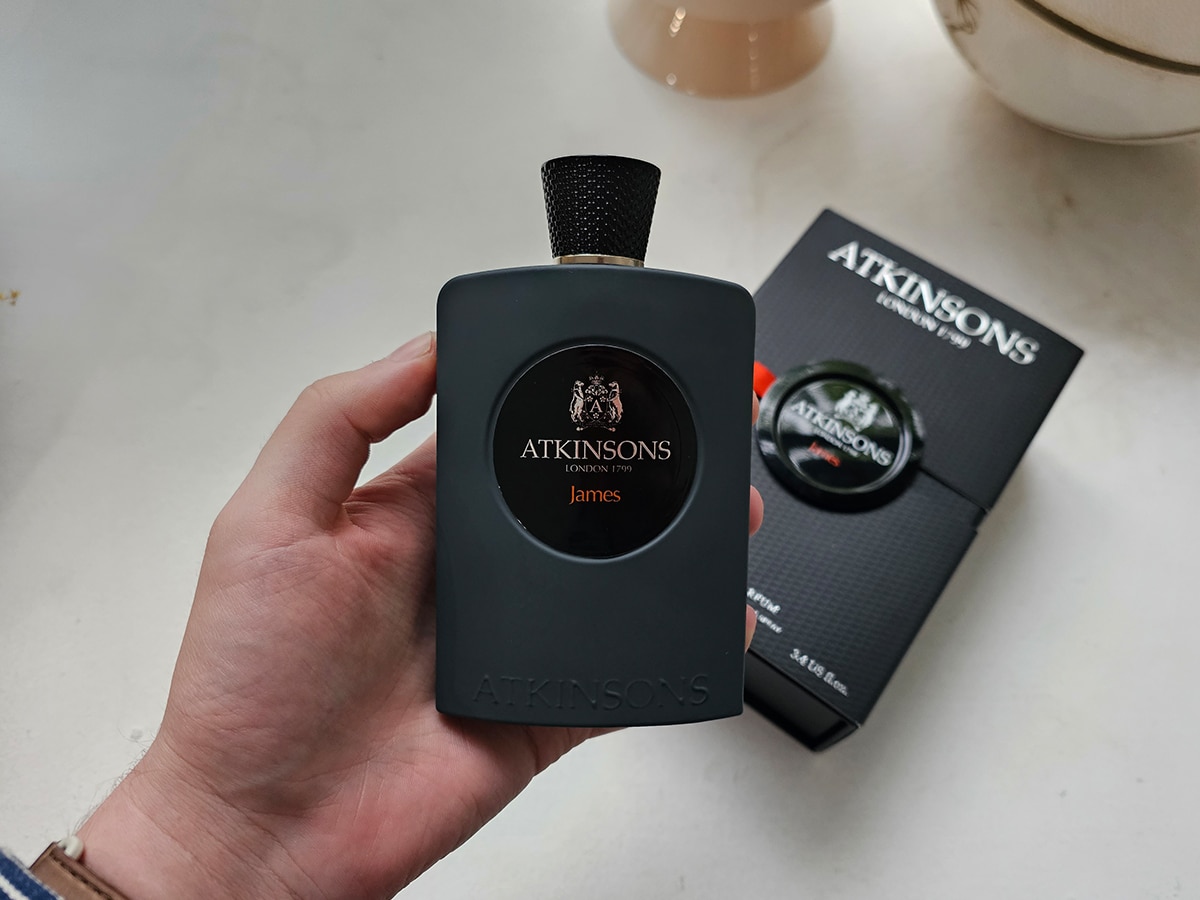 Fragrance and Perfume Reviews
Look through the list of our latest perfume and fragrance reviews for men below.
How Man of Many Chose the Best Colognes for Men
When it comes to our list of the best perfumes and colognes money can buy, it goes without saying, that expertise is key. While Man of Many has had the chance to test every fragrance on these lists (often thanks to our friends in the industry), they've also turned to the wider public for their overall ratings. Man of Many's lists takes into account three major perspectives to determine the overall rating. In addition to their own opinions, they take into account reviews via the perfume forum Fragrantica and the Australian retailers Myer and Chemist Warehouse. They then collate the information together and measure the best colognes via overall scent profile, reader ratings and commercial availability.
Fragrances for Men FAQs
What is the best cologne for men?
Pour Homme by Bottega Veneta, Sauvage by Dior, and Uomo by Valentino are some of the best colognes for men.
What is an affordable men's cologne?
Acqua Di Gio by Giorgio Armani, Versace Pour Homme by Versace and 1 Million by Paco Rabanne Cologne are some of the more affordable, luxury colognes for men on our list.
What is the best-smelling men's cologne?
Pour Homme by Bottega Veneta and Armani Code by Giorgio Armani are some of the best-smelling colognes for men.
You'll also like: