18 Best Running Shoes to Get You Up to Speed
Whether you're a casual jogger or an experienced marathon runner, the simple fact is this; we all need a pair of the best running shoes in our lives. Added support, structure, flexibility and comfort can drastically alter your performance on the road, track or otherwise. Hell, some of us will even snap up the best running shoes 2020 has to offer purely for picking up the mail. Whatever your flavour, whether it's Adidas running shoes or Nike running shoes for men, what is on your feet will inevitably play a big role in your fitness, physique and physical performance. It pays to get your hands on, and your feet into a pair of good runners this year.
RELATED: Our guide on the best sneakers for men will help you find your favourite style.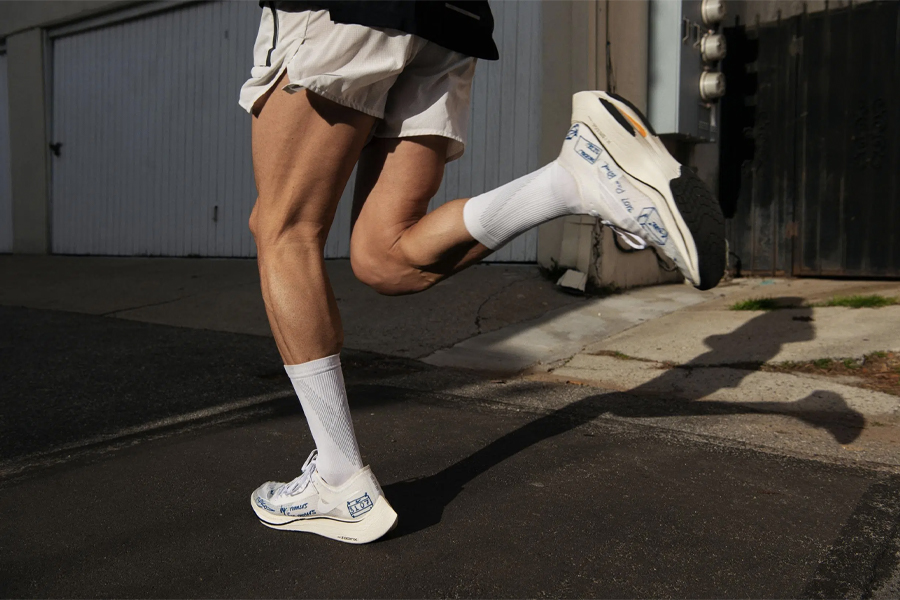 What to Look For in a Good Running Shoe
There are a number of factors to consider when it comes to the best running shoe for you. Depending on your style and the terrain on which you plan to run, certain aspects, such as material and weight should play a significant factor in your final purchasing decision. Here are the aspects you should consider when buying running shoes in 2020;
Weight – Some runners care about weight a lot, others; very little. The scientific research suggests that heavier shoes require more effort to run, thus expending more energy. In the same instance, lighter shoes generally have less cushioning, which can make them appear faster, however, less cushioning can be an issue if you plan on running long distances.
Cushioning – Cushioning provides impact absorption. When you run on hard ground, like asphalt or concrete, your running shoes' cushioning prevents the shock from travelling up your foot, adding pressure to your ankles and knees. As a result, the best running shoes are given a high cushioning score.
Support – Keeping your posture in check and your feet in the same direction is all down to your running shoes' support. Specifically, the best running shoes 2020 has produced generally have added emphasis on 'drop'. This is essentially the difference between the heel and the forefoot measurements, or how much your toes 'drop' below your heel. This information is important to know when you go to buy running shoes in 2020, as the drop will greatly impact your heel support. For instance, a higher drop can lead to more heel striking. Look for running shoes with a drop between 8-12mm. This is the most common drop zone for the best running shoes, however, some minimalist designs have zero drop, to better emulate a barefoot running style.
Intended Use – Probably the most important factor in deciding which running shoes to buy in 2020 is your intended use. Do you plan on doing hill-sprints? Maybe you'd like to tackle a half-marathon? Whatever your preference, take a look at how the terrain appears on your run and the length of time you aim to be performing for. Long-distance runners should go for heavily cushioned, heavier shoes, whereas for those looking to get back into the scene, a lighter, more flexible and versatile option would make for the best running shoes.
How to Choose Your Perfect Running Shoe
Once you've settled on the non-negotiables for your running shoes, you'll need to hit the stores, but there are a few things you should be aware of. Regardless of whether you're after some Adidas running shoes or Brooks running shoes, you need to make sure the fit is correct and you are going through the correct buying process. Here is what you need to do before buying a new pair of running shoes for men;
Get Gait Tested
Most stores now offer gait testing as part of the buying process. This generally involves putting on a neutral shoe and running on a treadmill for around 20-30 seconds. From here, the staff will be able to chart your landing patterns and any misalignments biomechanically within your knees or ankles. The gait test is usually free and while important, the results can vary as you age. You should conduct the test every year, or at least every time you go to pick up a new pair of running shoes.
The gait test is used to determine what support and structure you will need. Wearing the wrong running shoes can put a huge amount of strain of your joints and lower body. The great news is, most Adidas running shoes, ASICS running, Brooks running shoes and Nike running shoes for men will be able to cater to your needs.
Try Before You Buy
Like anything, don't just grab the first pair of Adidas running shoes you see and head to the counter. Make sure you put them on and walk around the store before you purchase. Similarly, some stores will offer a return policy, so make sure you know your rights and requirements before you leave the store. It's always a good idea to check with the staff first.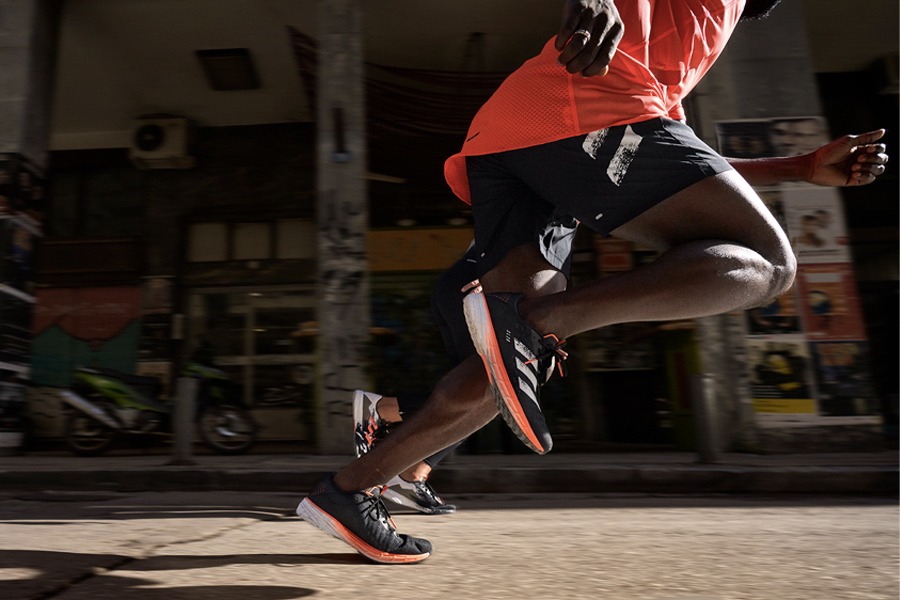 Running vs. Racing
While they may be obvious to some, the differences between off-road running shoes and road running shoes are significant. If you spy a pair of Adidas running shoes or Nike running shoes and aren't sure what they are for, check for these distinctive features;
---
Featured Video from Man of Many
---
Rock plates: Certain shoes include rigid inserts that protect your feet from certain dangers in the terrain, such as sharp rocks and stones. The shoe will inevitably become stiffer, but it pays to be protected.
Trail-specific outsoles: Another unique addition for running shoes, these outsoles generally have a layer of high-grip rubber that helps aid in stability.
Weather-resistant uppers: Some off-road running shoes for men will have water-resistant upper or higher collars to keep mud, water and small rocks out of your runners.
What are the Best Running Shoes 2020
With so many new releases hitting the market this year, your choices in the best running shoes for men category are endless. Rather than have you wade through the ever-increasing sea of shoes, we've put together this guide. All your favourites are there, from Adidas running shoes to the best Nike running shoes, along with a few brands you might not have heard of. Jump in and get moving.
Here is a list of the 18 best running shoes for men in 2020.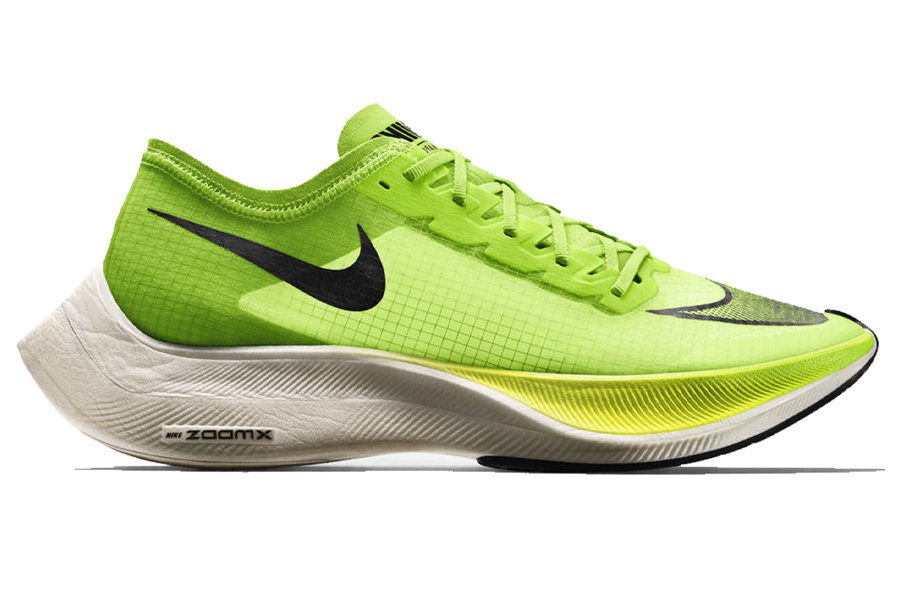 1. Nike ZoomX Vaporfly Next%
Combining Nike ZoomX foam and VaporWeave material, the Vaporfly NEXT% are just about the best Nike running shoe for men. According to the brand, this range is its fastest yet and features a full-length, carbon fibre plate underfoot to provide a propulsive sensation.
Midsole: Nike ZoomXFoam, carbon fibre plate
Upper: VaporWeave
Best for: 5kms to marathons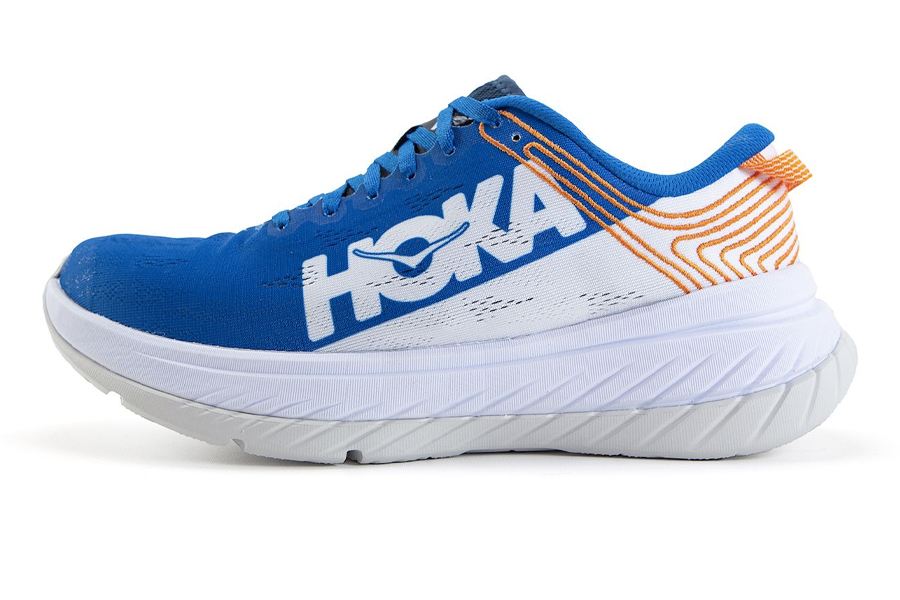 2. Hoka One One Carbon X
An absolute winner on all-fronts, the Hoka One One Carbon X is just about the best running shoes 2020 has to offer. The high-performance footwear features a specially-designed carbon fibre plate and the brand's PROFLY X technology. The soft, stable and response running shoes are lightweight and incredibly comfortable.
Weight: 246g (8.7oz)
Drop: 5mm
Stability: Neutral/Moderate
Cushion: Neutral/Moderate
Price: AUD$280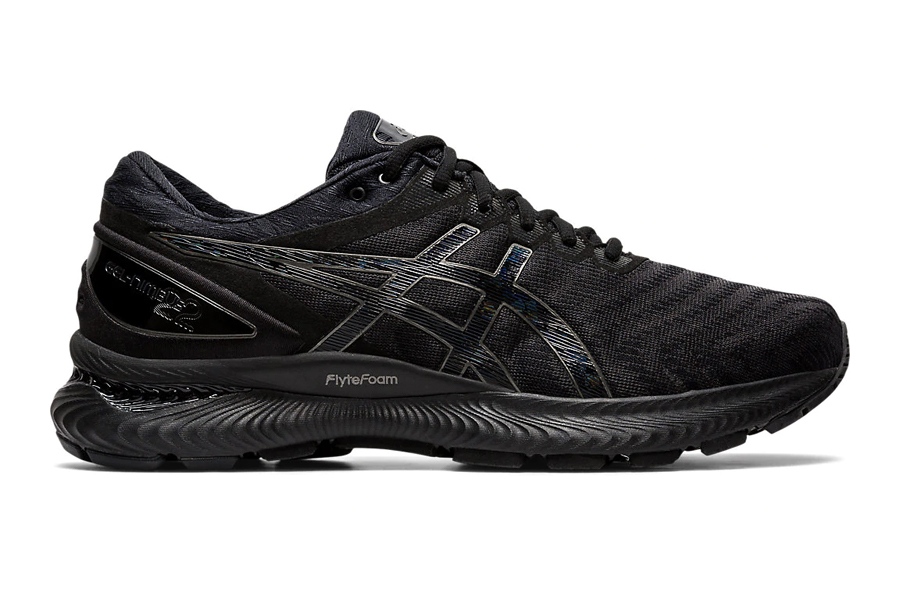 3. ASICS GEL-Nimbus 22
ASICS running shoes have come a long way in the last few years. The GEL-Nimbus 22s are the brand's leading best neutral performance footwear, thanks to their blend of cushioning and stride responsiveness. The softer GEL cushioning unit in the heel allows for excellent shock absorption, reducing the load on the feet and lower body joints.
Weight: 305g (10.7oz)
Upper: Engineered mesh
Cushion: Rearfoot and forefoot GEL technology
Price: AUD$240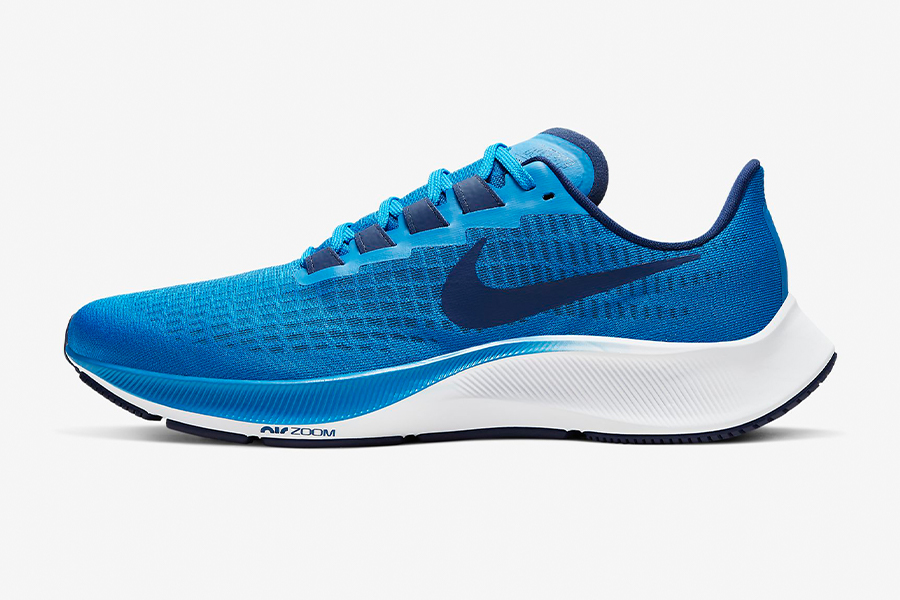 4. Nike Air Zoom Pegasus 37
First released way back in 1983, the Nike Pegasus has undergone massive development in recent years, culminating in this latest edition, the Air Zoom Pegasus 37. For this incarnation, Nike transitioned from a full-length Zoom Air bag to a forefoot Zoom Air bag that is twice as thick a the previous Pegasus 36 model. Additionally, Nike top-loaded the Air Zoom technology into React foam for the midsole. This makes for lighter weight and a more responsive and durable foam for your run.
Weight: 285g (10.7oz)
Drop: 10mm
Stability: Neutral/Moderate
Cushion: Neutral/Moderate
Price: AUD$180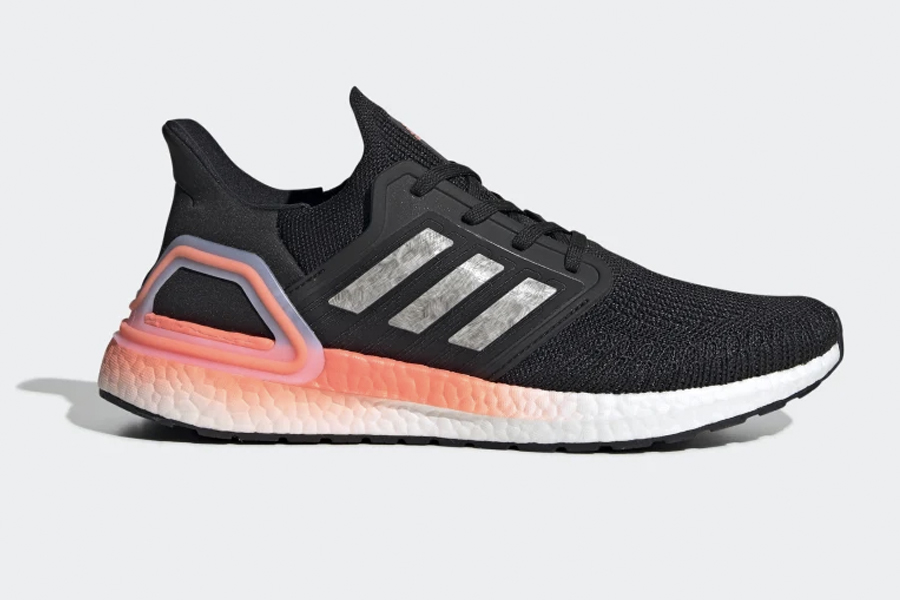 5. Adidas Ultraboost 20
A favourite with streetwear tragics, the Ultraboost 20s are also some of the best Adidas running shoes ever made. Featuring a foot-hugging knit upper, this high-performance footwear provides support in all the areas you need.
Weight: 310g (10.9oz)
Drop: 10mm
Heel: 22mm
Forefoot: 12mm
Outsole: Rubber
Price: AUD$260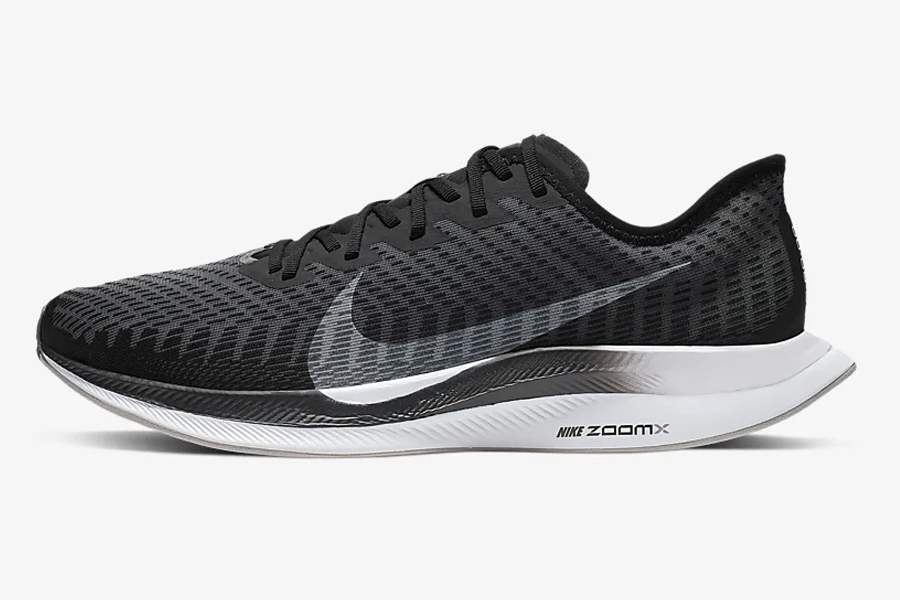 6. Nike Zoom Pegasus Turbo 2
If you are making a list of the best Nike running shoes for men, the Zoom Pegasus Turbo 2s have to be at the very top. The feather-light upper, combined with Nike's innovative foam technology makes this pair of running shoes 2020's must-haves.
Weight: 231g (8oz)
Drop: 8mm
Forefoot: 16mm
Heel: 24mm
Price: AUD$250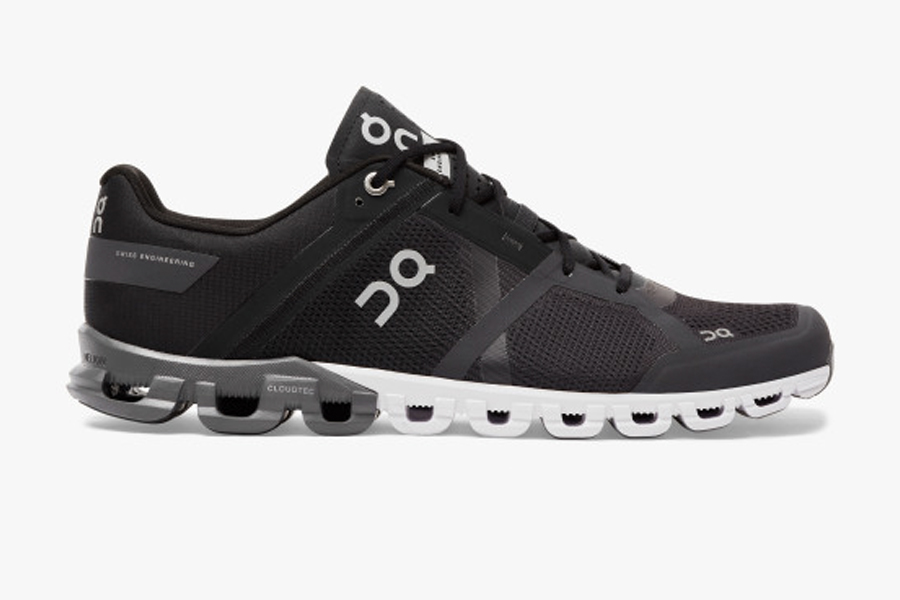 7. On Cloudflow
One of the more futuristic designs on this list, the On Cloudflow offers some ultra-lightweight, fully-cushioned support, ideal for long-distance running. The comfort has also been boosted by the enhanced Helion superfoam, ensuring a smooth run on any terrain.
Weight: 235g (8.29oz)
Drop: 6mm
Surface: Road
Best for: Fast training, long interval sessions
Price: AUD$250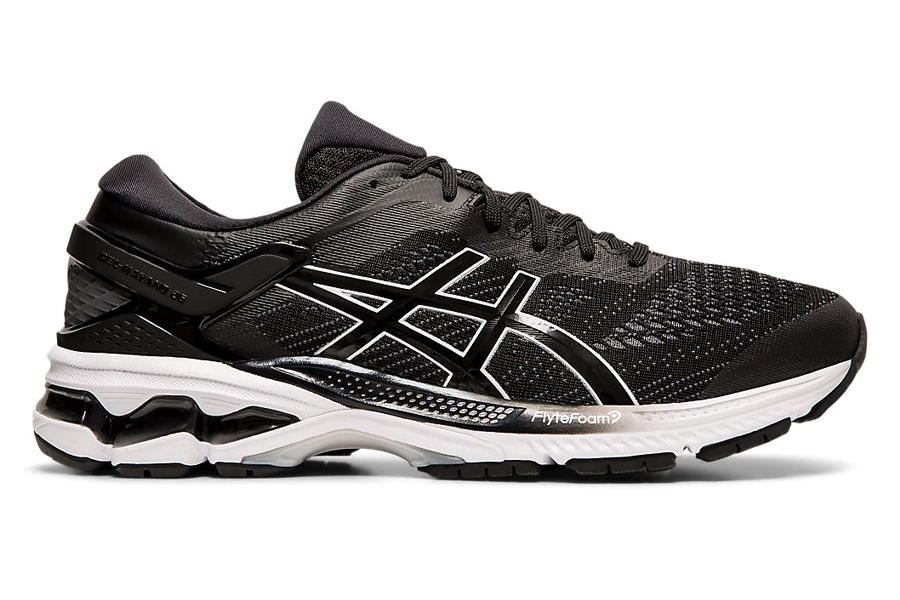 8. ASICS GEL-Kayano 26
Designed to improve the distance of your run, the ASICS GEL-Kayona 26 running shoes feature a wealth of support and stability additions. ASICS has added the Impact Guidance System, meaning that the shoe is crafted to enhance natural running style and gait. The ASICS GEL also makes an appearance, so you know these won't just be some of the best running shoes 2020 has seen, they'll also be some of the comfiest.
Best for: Long distance, marathons
Price: AUD$260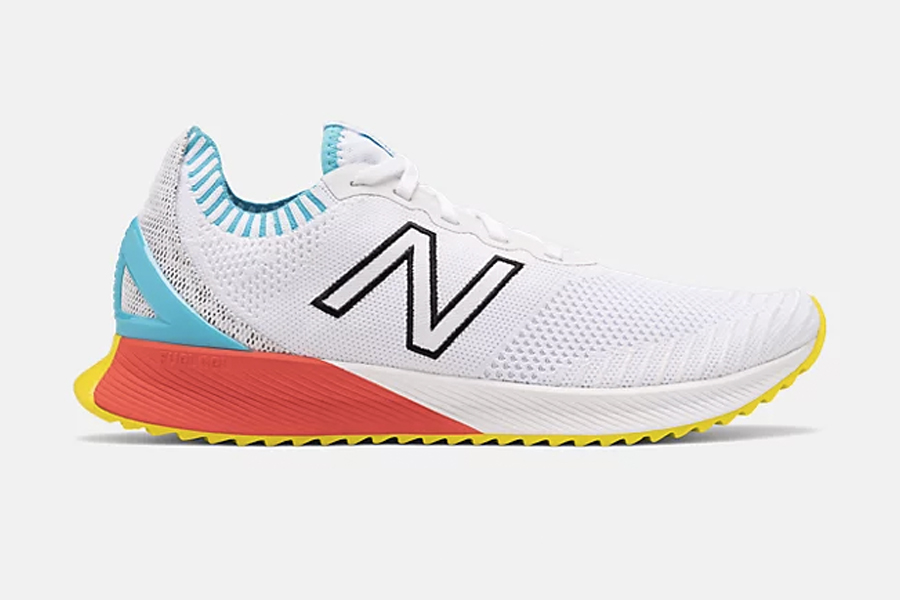 9. New Balance Fuel Cell Echo
As suited to the treadmill as they are to the road, the New Balance Fuel Cell Echos are some high-quality running shoes. They also won't be getting lost anytime soon. The high-performance footwear features a sull-length ripped rubber outsole designed specifically for resilient traction and grip.
Drop: 6mm
Midsole: Foam
Outsole: Rubber
Price: AUD$150
Why Moral Code Footwear Should Be Your Next Pair of Shoes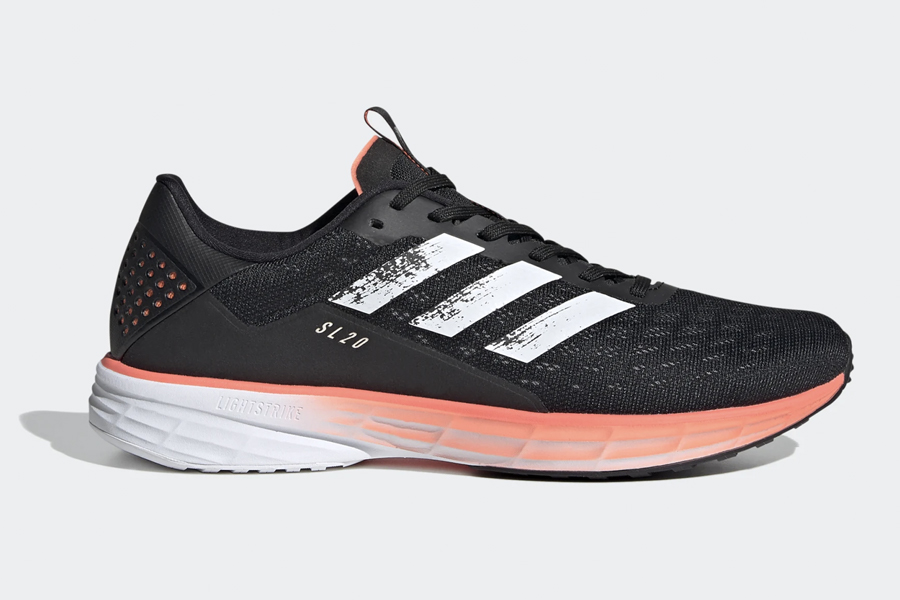 10. Adidas SL20
These ultra-lightweight running shoes are super comfortable and highly breathable. With ample cushioning in the midsole allowing you to hit the ground running, the Adidas SL20 running shoes are a sure-fire way to kick-start the jogging season this year.
Weight: 230g (8.11oz)
Drop: 10mm
Heel: 24mm
Forefoot: 14mm
Outsole: Rubber
Price: AUD$160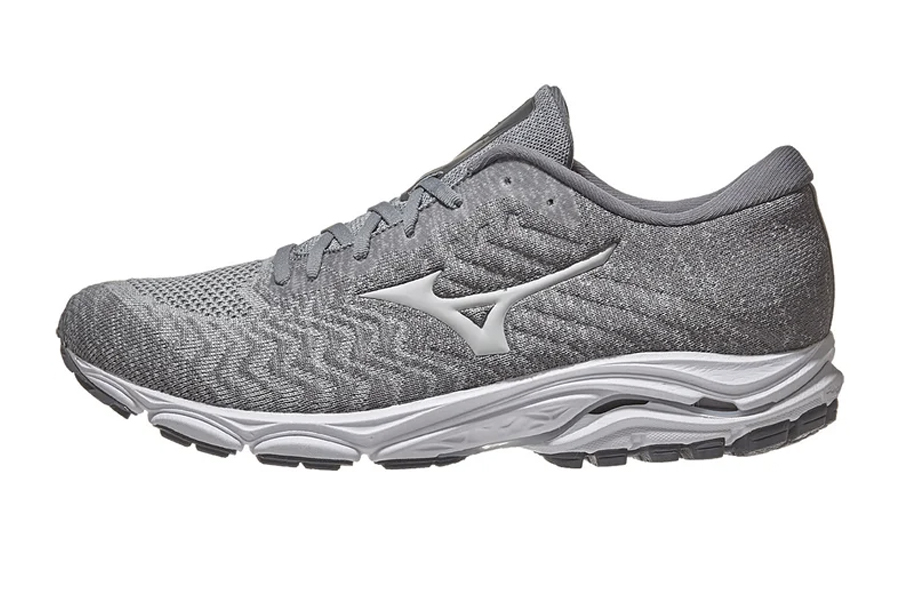 11. Mizuno Wave Inspire 16 Waveknit
The impact-absorbing midsole of the Mizuno Wave Inspire 16 Waveknits make them an obvious addition to the best running shoes 2020 list. The brand's SmoothRide support wave technology brings an ideal balance of cushion and lightness to every run, ensuring you are ticking off records each time you step out on the asphalt.
Weight: 285g (10oz)
Drop: 12mm
Price: AUD$240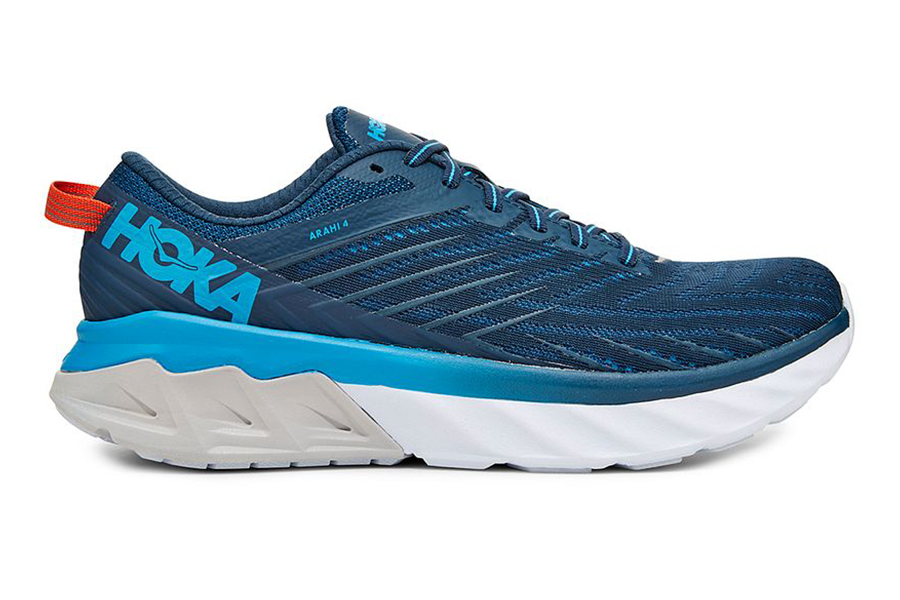 12. Hoka One One Arahi 4
The fourth edition of the Arahi from Hoka One One is probably the brand's best effort yet in terms of stability shoes. This pair features Hoka's patent-pending J-Frame stability technology, offering support and agility through the length of your run. Similarly, the lightweight shoe also houses zonal rubber placement for durability.
Weight: 273g (9.6oz)
Heel: 29mm
Forefoot: 24mm
Price: AUD$250
The Limited Edition Blundstone Boots Celebrates 150 Years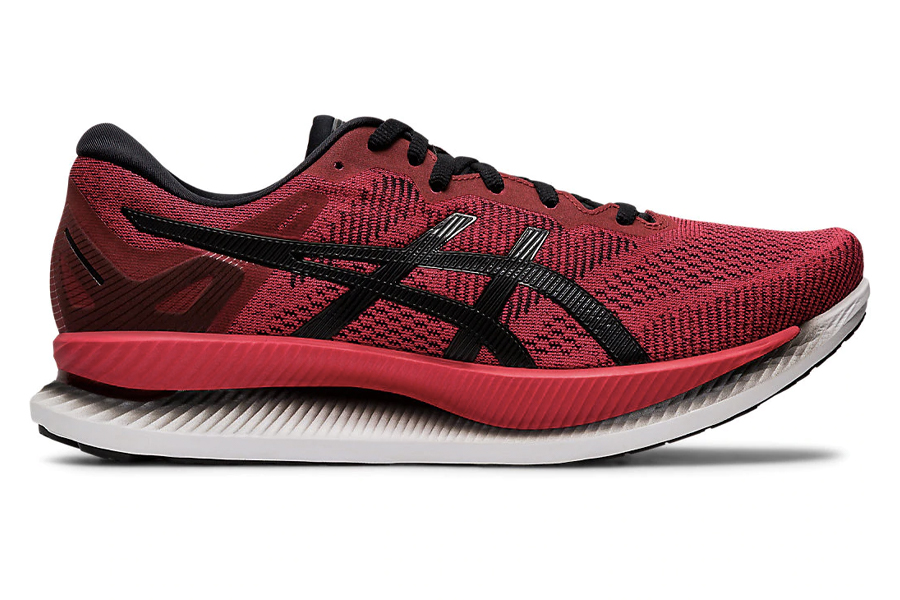 13. ASICS Glideride
ASICS' Glideride running shoes are some of the most well-loved on the market and for good reason The 2020 edition features improved cushioning to reduce muscle fatigue at the foot strike, along with a stiff forefoot and dynamically curved sole.
Weight: 322g (11.3oz)
Heel: 30mm
Forefoot: 25mm
Price: AUD$230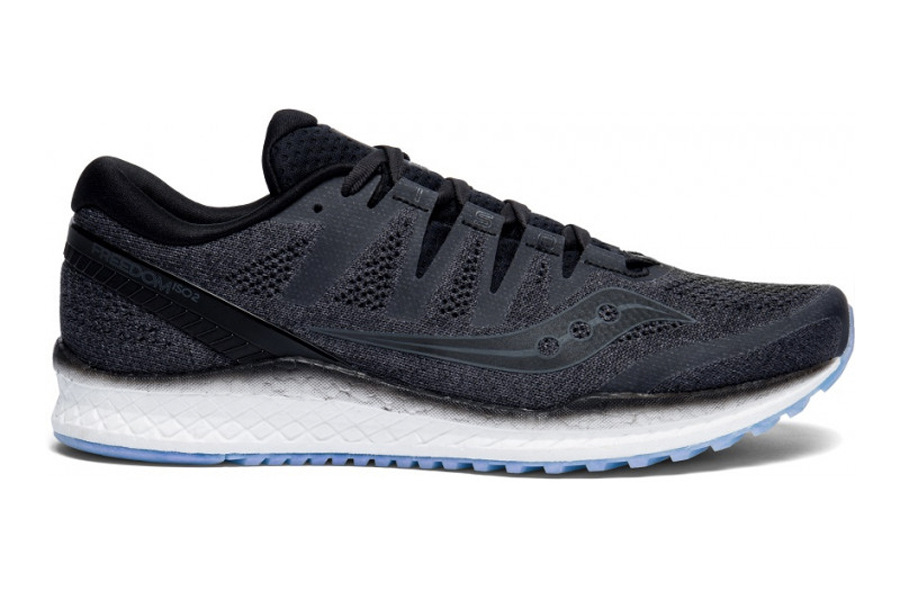 14. Saucony Freedom ISO 2
The Saucony Freedom ISO 2s are a big move for the performance footwear brand. The new running shoes for men marked the introduction of ISOKNIT to the Saucony framework, meaning better breathability, support and freedom of movement
Weight: 258g (9.1oz)
Drop: 4mm
Heel: 22mm
Forefoot: 18mm
Price: AUD$250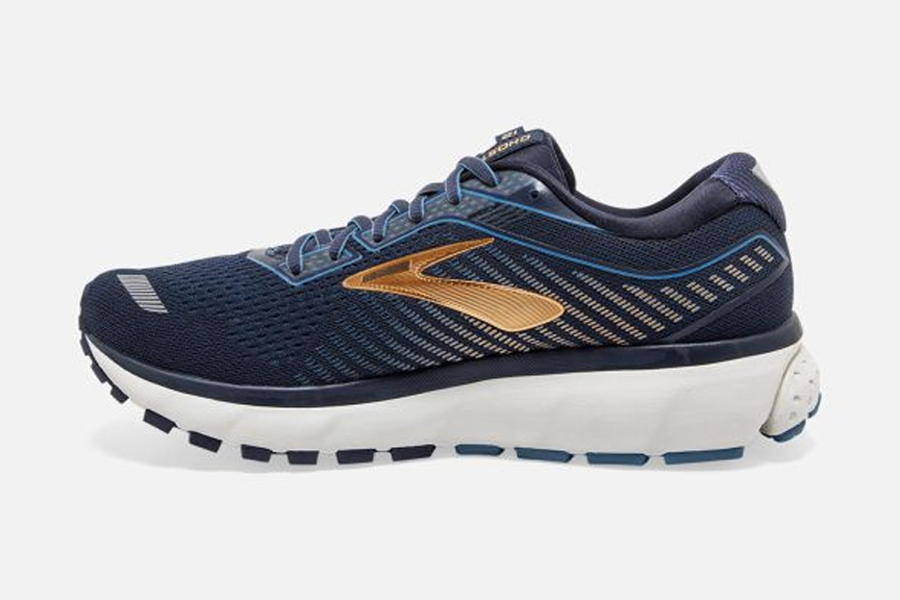 15. Brooks Ghost 12
If you are making a list of the best running shoes for men in 2020, you have to add a pair of Brooks running shoes. The Ghost 12s are a sleek embodiment of what makes the specialist footwear so unique. With extra cushioning and a secure fit, these shows are a go-to for those looking to get out of a long run without the foot ache.
Weight: 295g (10.4oz)
Drop: 12mm
Arch: High
Price: AUD$220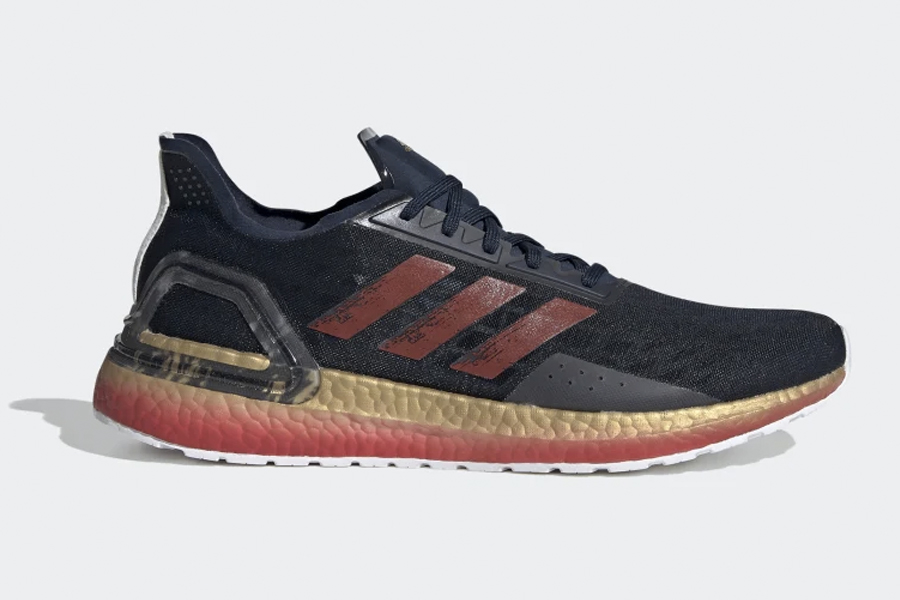 16. Adidas Ultraboost PB
The sleek silhouette and responsive comfort of the Ultraboost have made this variation one of the best Adidas running shoes for men. The Ultraboost PB offers an upper built with the brand's lightest mesh. Couple that with the internal support to lock down the fit and you've got some of the best runnings shoes 2020 has to offer.
Weight: 307g (10.8oz)
Drop: 10mm
Heel: 22mm
Forefoot: 12mm
Price: AUD$260
17. Under Armour HOVR Phantom RN
The latest release from Under Armour is a smart running shoe that tracks everything through a linked app. The HOVR Phantom RNs are an ultra-lightweight pair of runners that offer extensive support and cushioning. The brand added improved breathability and a sock-like fit with flex vents panels for better comfort on shorter, faster runs.
Weight: 286g (10.10oz)
Smart connectivity: Yes
Outsole: Rubber
Price: AUD$200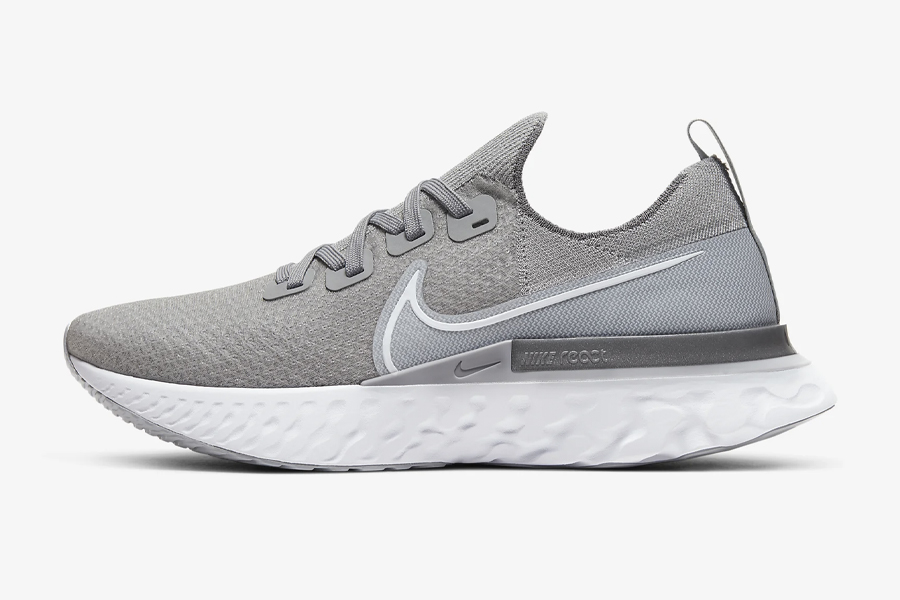 18. Nike React Infinity Run
Designed to reduce injury and keep your running dream alive, the Nike React Infinity Run Flyknits are some of the best running shoes 2020 has produced. More foam and improved upper details have upped the comfort and feel of these Nike running shoes for men. Plus, they aren't bad looking either.
Weight: 291g (10.27oz)
Drop: 9mm
Forefoot: 24mm
Heel: 33mm
Shown: Wolf Grey/Cool Grey/Metallic Silver/White
Price: AUD$230
Interested in more sneakers stories? Here are a few stories to get you started:
Alternatives to the Best Running Shoes
Best Sneakers of All Time
Best Sneaker Stores in Australia
How to Take Care of Your Sneakers
You'll also like:
General FAQ
What is the best running shoe on the market?
According to sales data, Nike and Adidas and Asics are the best running shoes by popularity. Nike's Zoom line is very popular among runners and athletes alike.
What is the best running shoe 2020?
There are a number of great running shoes on offer this year. The Nike React Infinity Runs are among the most popular, whereas the Hoka One One Carbon X shoes are extremely well reviewed.
What is the best running shoe for heavy runners?
Specialist shoe brand Brooks make some great running shoes for heavy runners. The brand's Beast 18 is a great example. So too are the ASICS GEL Nimbus 19s.
---
Featured Video from Man of Many