5 Affordable Watches for the Modern Collector
Some people thought the watch industry was going to wane with the increasing emergence of smartphones and other tech. Those people thought wrong. On the contrary, there have never been more watch brands, collections, limited-edition releases, and revivals than there are at this very moment. For the modern collector, this deluge of choice can be both a blessing and a curse. After all, most of us only have so much money to spend and so much time to spend it.
Affordable Watches
On that note, allow us to present 5 affordable watch brands from Time Concepts, a company run by watch veterans that have worked at and founded global watch brands.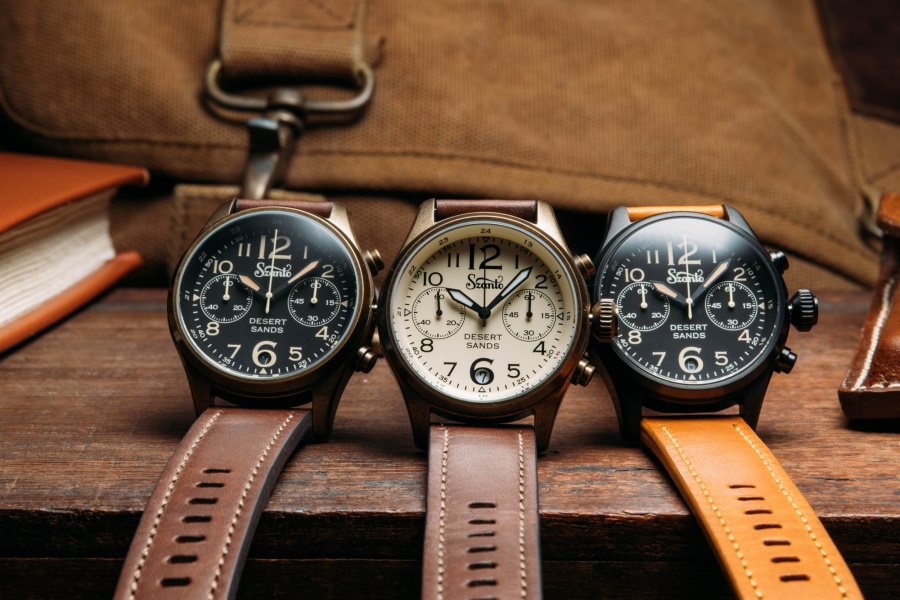 1. Szanto Desert Sands Chronograph 4550 Series
Szanto was founded on a love of vintage military watches and that has given way to some bold collections. This admiration for the nuances of vintage watch design is what spawned the advent of the Szanto brand, with an intent to offer modern interpretations of old designs, while employing the dependability of today's quartz and automatic movements, to arrive at quality timepieces at affordable prices.
One of their latest is the Desert Sands Chronograph Series, which exudes a pure heritage spirit. The series would feel right at home on British officers stationed in North Africa during the time from WWI up through WWII (i.e. Lawrence of Arabia). Amongst this modest family of quartz models, the 4553 might very well be our favourite. With its classic layout, creamy beige dial colour, supple calf leather strap, and 41mm stainless steel case with IP antique gold plating, the watch visually transports you to another time and place. Thanks to Swiss SuperLuminova Lume and Japanese Miyota 6S21 movement, however, it's not without the modern touch. This adventure-seeking model comes in at a great price of $295 and is currently available for pre-order on their website.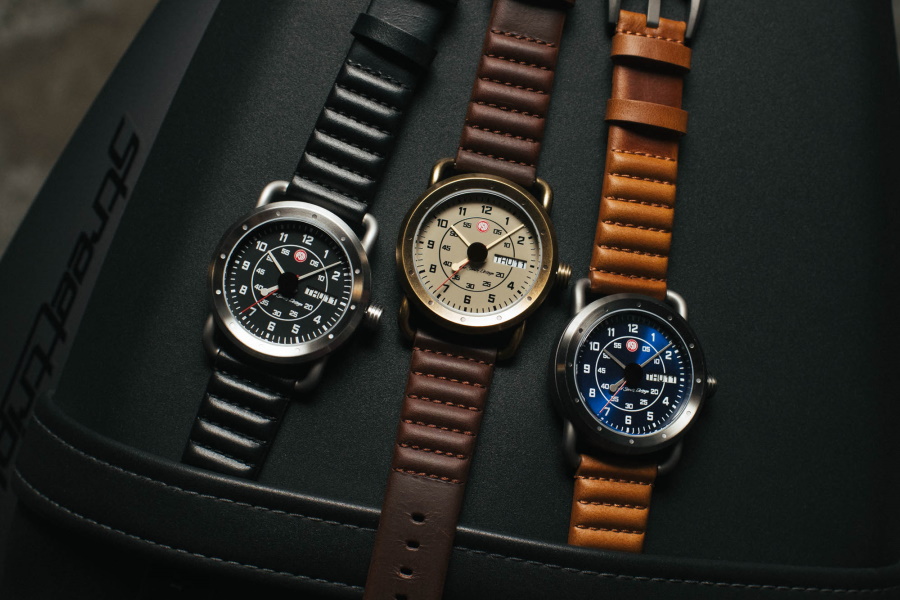 2. Szanto ICON Roland Sands Signature 2101 Series
True to form, Szanto's ICON Series pays tribute to famous masters of their respective crafts. That brings us to legendary motorcycle racer and custom bike builder Roland Sands, who helped create his namesake collection. Models like the 2101 crank up the adrenaline by way of a dashboard-like dial face, which features a Roland Sands logo and comes flanked by a fixed bezel.
The stainless steel case features wire lugs that extend from the case and attach to a genuine USA Horween leather strap with a stitch pattern reminiscent of Roland's jackets. The collection consists of four models in various colorways and each with a different Horween leather strap. The straps can be changed in seconds with easy on/off spring pins. You can score this bad boy for just US$225.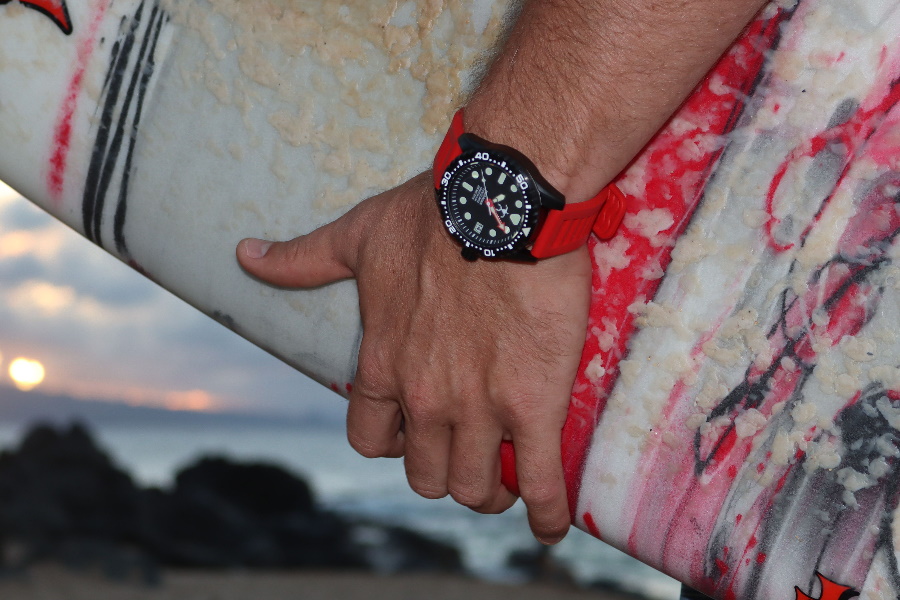 3. Hawaiian Lifeguard Association HLA5405
Lifeguarding is no joke in Hawaii and this official timepiece is here to prove it. Available in a number of different colourways, it bears the hallmarks of an archetypal diver's watch. Perched atop a 42mm case of 316L brushed stainless steel is a tight, 120-click unidirectional rotating bezel, and under its highly scratch-resistant K1 crystal, the dial has dense long-lasting Swiss Superluminova lume on the legible hour markers and bears the HLA signature logo just below 12 o'clock. Its screw case back and screw crown ensure water-resistance to a full 200 meters, so this watch is ready for anything—just as it is for the lifeguards that wear them. The HLA is credited with inventing modern lifeguard methods used worldwide today, including the use of jetskis to expedite lifesaving and the tow sled used to pull people from danger. US Special Forces including Navy SEALs are trained by the HLA in ocean rescue techniques regularly, indicating how highly regarded they are when it comes to ocean rescue. And don't forget: it's quite affordable at only $250, if you'd like to wear one.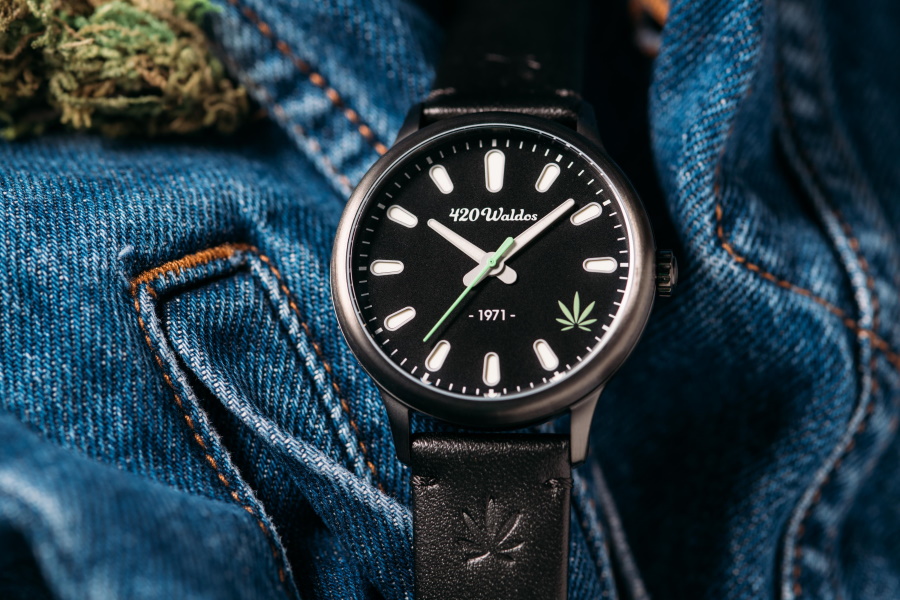 4. 420Waldos Bud W1000 Series
Five loyal stoners and their love of ganja have inspired a new watch brand and the results are fantastic. Adopting a subtle approach, the (mostly) colourful dials are graced with a solitary weed leaf at the 4-hour mark, so at 4 and at 20 after = 420. It injects the perfect visual touch into an otherwise classic aesthetic. The watch also employs Visible247 illumination technology on the dial, which generates 10 hours of glow out of 10 minutes of light exposure from any light source. Meanwhile, the brand donates up to 20% of all sales proceeds in support of cannabis legalization and reform for each watch sold. Even with a reasonable suggested retail of $150, they didn't skimp on the components, with rounded cases of 316L stainless steel, soft calfskin leather straps, and 50 meters water resistance. The collection consists of 29 models in a wide array of fun colours as well as some basics in more traditional colours and is offered both men's models (the Bud at 41mm case diameter) and ladies models (the Mary Jane in 34mm case diameter). We're getting all kinds of uplifting vibes on this one!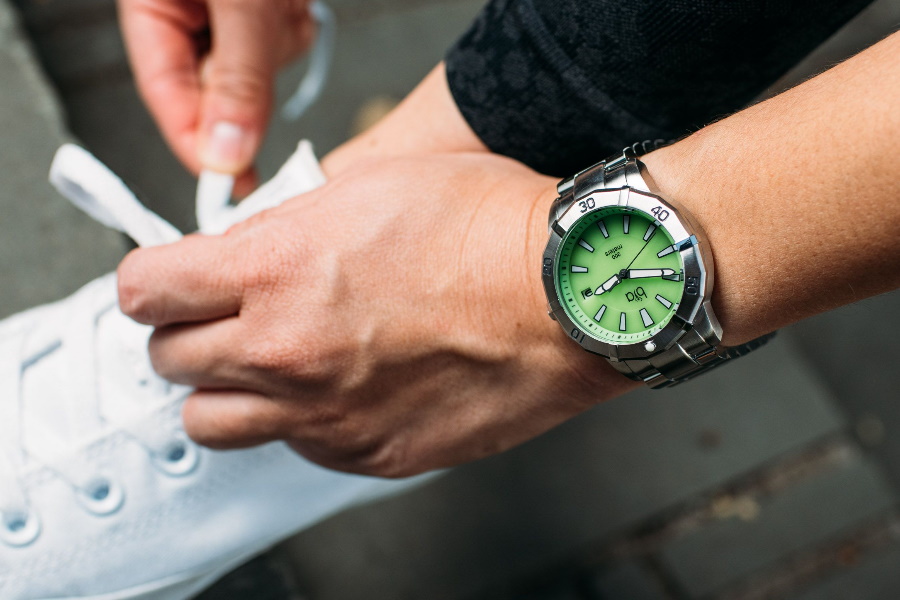 5. Bia 'Rosie' Dive Watch B2000 Series
Let's give it up for all the female collectors out there. While we're at it, let's just give it up for females, in general. Watch brand Bia certainly does, taking their name from the Greek goddess of power and energy. Check out the 'Rosie' Dive Watch and its deft combination of style and performance. It packs a tight 120-click unidirectional rotating bezel, Japanese Miyota 2317 movement, Visible247 lume dials that glow all night with just 10 minutes exposure to any light source, a highly scratch scratch-resistant K1 glass crystal on a 38mm stainless steel case with screw crown and case back, ensuring 200 meters of water resistance. The Rosie Dive collection features 14 models, some in bright fun colors and some that are more conservative. Get one for the lady in your life. Up to 20% of your purchase will go towards charitable organizations that directly support women's causes.