The TAG Heuer Connected Modular 45 Special Edition is the Watch that Maketh a Kingsman
Back in May, we brought news of Mr. Porter's exclusive menswear collection that's featured throughout the upcoming film Kingsman: The Golden Circle. Now Mr. Porter has just launched the newest addition to the Kingsman collection in the form of a special edition TAG Heuer Connected wristwatch.
The TAG Heuer Connected Modular 45 Kingsman Special Edition wristwatch reproduces the aesthetic adopted by the agents in the movie: pink gold lugs and an elegant leather strap with Kingsman print. The watch comes with a second strap in orange velvet, inspired by the iconic orange velvet smoking jacket worn in the film by Taron Egerton (Eggsy).
The key difference between the Kingsman Special Edition and the core TAG collection is in its dial functions. Available in either midnight blue or grey, the watch bears the Kingsman inscription and logo at 9 o'clock and 3 o'clock. At 10:10, the dial vibrates for 10 seconds and the K-shaped Kingsman logo appears. In a final nod to the film, the original Android Wear lighting function is replaced by the film's logo on the dial, in gold on a white background.
This TAG Heuer Connected watch was personally chosen by Kingsman director Matthew Vaughn to be the timepiece of choice for his Kingsman agents. The watches worn by the characters play a decisive role in Kingsman: The Golden Circle, pivotal to the success of the Kingsman agents' missions. "They needed watches that could withstand anything, be it underwater shots, fight scenes or stunts." "It's an all-terrain watch with an elegant, English-style Kingsman touch." – Kingsman Director Matthew Vaughn

Kingsman Special Edition is exclusively available via Mr. Porter for one month. Stay tuned for more MR. Porter/Kingsman menswear announcements soon.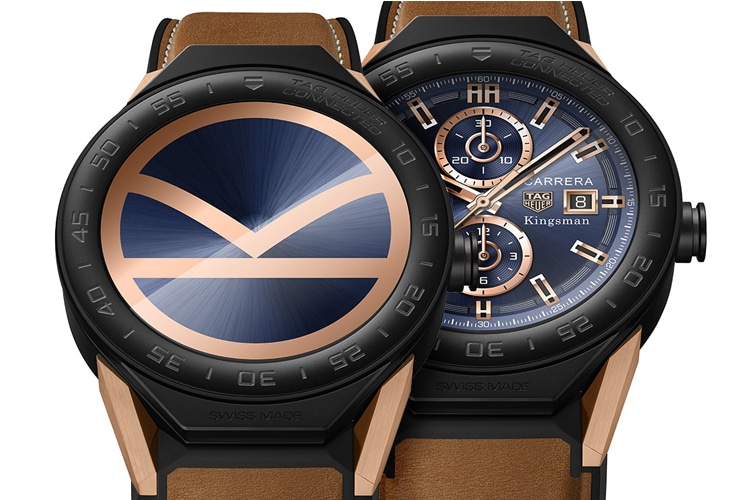 Have you subscribed to Man of Many? You can also follow us on Facebook, Twitter, Instagram, and YouTube.