The Wind Up – Watch News #61
We're in the middle of Autumn, but boy does it feel like we're right in the midst of a typical Australian Summer. We're still barbecuing at night, still enjoying a cold one after work, and best of all our weekends are still spent on the beach. But the weather doesn't dictate what we do or don't do here at Man of Many, and we have a job to do. What's that, you may ask. Well, it's to bring to you the very best of watchmaking in our regular horologically-focused series, The Wind Up! So as always gents, sit back, relax and enjoy!
You may also like:
The Wind Up – Watch News #60
The Wind Up – Watch News #59
The Wind Up – Watch News #58

HYT H0 x Eau Rouge
Creating a refreshing look for a long-standing product is no easy feat, but HYT seem to have found a winning formula, with the use of fluids to depict the passing time. But even that can sometimes get a bit repetitive, right? HYT thought so too, and with that said they've released the H0 x Eau Rouge, an amazing watch that brings together the notion of time's fluid nature and the beauty of the organic and the natural. The H0 x Eau Rouge exists as a testament to what can be achieved when one tries to marry the idea of form and function. It's a very impressive timepiece that really exemplifies the union between the mechanical and the natural worlds. There is a wonderful play of aesthetics here, too. The smooth look of the case is not dissimilar to that of that perfect pebble you stumble upon during an off-the-beaten-path trek, while the pops of red on the case and the strap screams passion and energy. The H0 x Eau Rouge brings together the best of both worlds without being too ostentatious. Love it!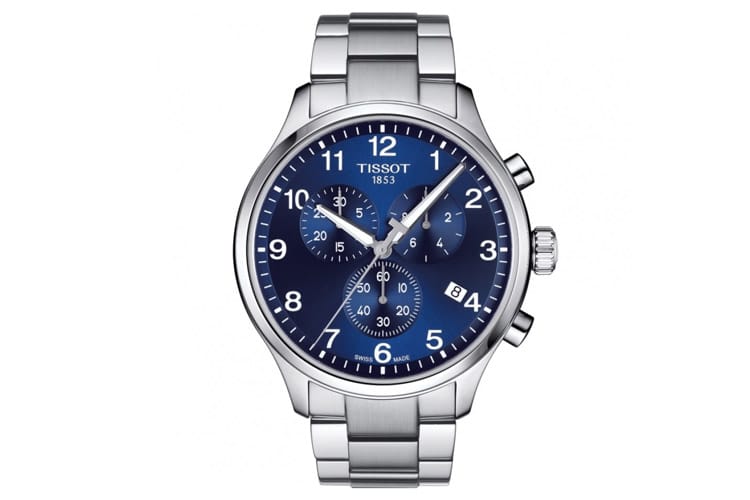 Tissot Chrono XL Classic
Tissot produce some amazing watches that are also wallet-friendly. They appeal to me greatly, and having owned one for quite some time now I have to say that their quality really is second to none. The Chrono XL Classic is a Quartz powered timepiece that has the look and feel of a watch that might cost many thousands of dollars. The 45mm stainless steel case is wonderfully put together, with a focus on ergonomics, wearability and durability. The dial, available in a variety of colour variations, is actually really quite beautiful, as is the typical chronograph layout of the sub-dials and their respective functions. The Chrono XL Classic is available with different strap variations, be it a different coloured leather strap or a full-blown stainless-steel bracelet. Whichever you choose, I can guarantee your delight and excitement every time you put it on your wrist. Great stuff from Tissot.
Raymond Weil Freelancer AC/DC Limited Edition
For all of you rock and roll fans out there, Raymond Weil have released a timepiece that will surely entice, intrigue and excite. Here is the Freelancer AC/DC Limited Edition, the latest collaboration in Raymond Weil's Music Icons series. The Freelancer AC/DC Limited Edition is, of course, made in tribute to the legendary Australian rock band, AC/DC. The piece carries with it a uniquely appealing aesthetic that hits just the right notes, pun intended. The twisted lugs, slim and super polished bezel, coupled with the exposed crown and hour indices really make for a timepiece that's got exceptional appeal. At the heart of it all is Raymond Weil's in-house calibre, the RW1212 mechanism, with its exposed balance wheel doing its thing at 6 o'clock. If you're interested in the Freelancer AC/DC Limited Edition you best act quick, as there are only 3,000 pieces being made of this commemorative timepiece. Have at it, guys!
Rebellion T2M
Avant-garde. Steampunk. Against the grain. Call it what you want, but the T2M from Rebellion is one damn fine timepiece. Built from a single block of titanium and with a power reserve of, wait for it, 1,400 hours (that's 2 months, by the way), the T2M does more than just excel from a "different" perspective. There's very little by way of comparison with the T2M. A bit of MB&F, some ultra high-end Hublot and perhaps a sprinkle of Vianney Halter, the T2M really is in a league of its own. The T2M is powered by a movement that took 3 years of research and development, is comprised of 420 individual components and displays the passing hours and minutes by two rollers. It's a limited-edition timepiece of only 10 pieces, each with the ability to be fully customised to the buyer's exact specifications. Very cool stuff.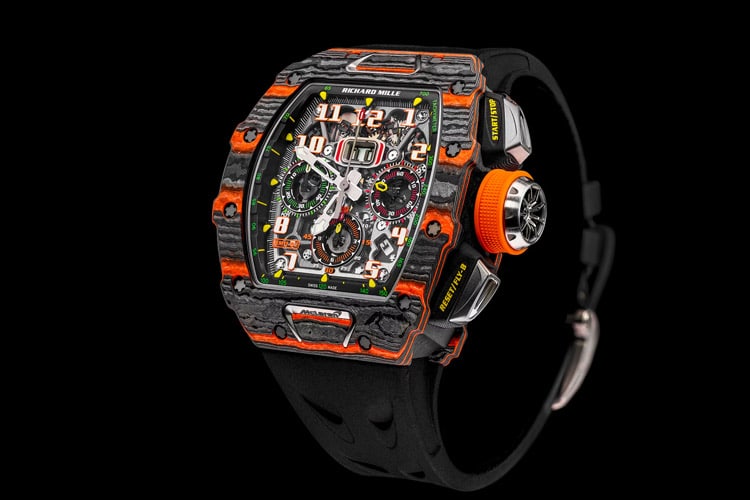 Richard Mille RM 11-03 McLaren
A watch solely available to McLaren Ultimate Series clients (initially, that is), the RM 11-03 McLaren is Richard Mille's latest baby. Its unique aesthetic is one that is of course reminiscent of the highly recognisable look of the McLaren 720S, sharing similar lines, colour schemes and an overall similar aesthetic. The piece is of course a fully functional Richard Mille timepiece, which basically means it will stomp all over everything you own. Technically flawless, super modern and the look and feel of a watch that costs 180,000CHF. Need I say more? The Richard Mille RM 11-03 McLaren is limited to only 500-pieces worldwide, with a very much solidified expectation on my behalf of them all being sold-out very soon (if not already). You want it? Move fast. McLaren fast.
If you enjoyed The Wind Up and would like to continue reading about watches, you can head on over to my blog, Haulogerie, where I delve a bit deeper into the wonderful world of watches.
Have you subscribed to Man of Many? You can also follow us on Facebook, Twitter, Instagram, and YouTube.
---
You may also like:
The Wind Up – Watch News #60
The Wind Up – Watch News #59
The Wind Up – Watch News #58
---