The Wind Up – Watch News #28
So it seems that the whole world is caught up with Trump vs. Hilary, but is it wrong that I really don't care? Call me ignorant, but I'm lacking any real "feels" for it. But anyway, onwards and upwards as they say, and for this instalment of The Wind Up we have some very cool This German Watch is the Perfect Fit for the Aussie Lifestyle that we're featuring. From Lange's latest triumph to a re-worked steampunk icon from SevenFriday and everything else in between, we've got it here for you. So as always, sit back, relax and enjoy!
You'll also like:
The Wind Up – Watch News #27

Oris Air Racing Edition VI
Oris are doing some very interesting things, and while some people may view their approach as a complete saturation of the market, I'm more so inclined to see it as presenting the consumer with far more options than before. The Oris Air Racing Edition VI is a wonderfully put together piece that incorporates distinct styling and vintage aesthetics from a bygone era. The contrast between the gunmetal grey and the yellow highlights is actually very cool and it does well to break up an otherwise monochromatic watch. At 45mm, the piece is quite hefty but as a true pilot's watch, it ticks all the right boxes. Powered by a modified SW 220-1 (named the Cal. 752) and limited to only 1,000 pieces, this piece retails in Australia for $2,700.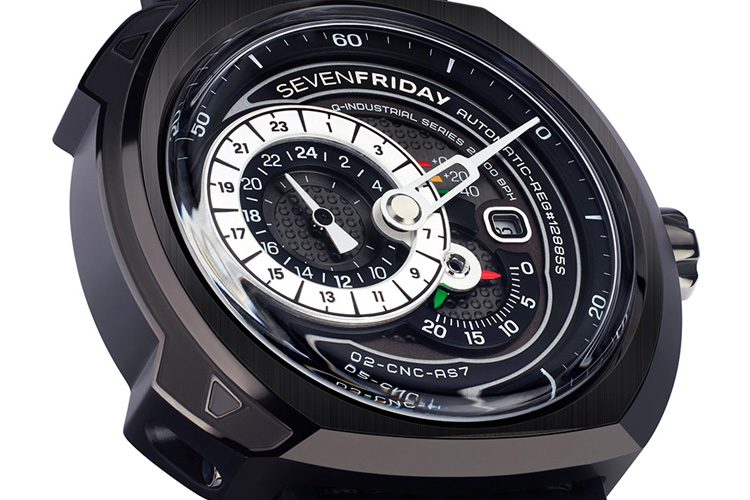 SevenFriday Q3-01
It seems as though SevenFriday cops quite a bit of flack from the established watch authorities, and I don't seem to know why. They don't claim to be artisans of high-end timepieces, nor do they claim that their movements are equally as high-end. What SevenFriday do is produce watches that look fantastic, that wear well with whatever you're wearing, and that won't break the bank. And for a budding enthusiast, that's exactly what you're going to be looking for. The Q3-01 is a brilliant little piece that is eye-catching and extremely awesome. You can use words like steampunk, avant-garde or against-the-grain to describe the Q3, all of which applies one way or another. The watch is unlike anything else out there. Its different and unique, and you're unlikely to see anything like it unless its another SevenFriday. The movement doesn't need to be spoken about too much, but for all you inquisitive folk here it is: it's a Miyota 2819 that's been slightly modified by SevenFriday to fit the aesthetic of the piece. I think its safe to say that despite what the "watch snobs" may think, SevenFriday are here to stay.

A. Lange & Söhne Richard Lange 'Pour le Mérite'
Ah, if I were only a millionaire. That's my thought every time I look at a Lange. Their pieces' scream elegance, class and quality that's unmatched even by the highest of Swiss watchmaking manufactuers. The Richard Lange 'Pour le Mérite' is a white gold 40.5mm piece of art with a deep black dial and subtle red dial hints. The small-seconds sub-dial is a thing of beauty and really adds another dimension to the main dial. Turn the piece over, and then you'll really get to see Lange's magic. You're confronted immediately by the super impressive calibre L044.1 with a fusée-and-chain mechanism (not something you're probably accustomed to, so I suggest you read up on it to fully appreciate its mechanics), as well as the standard hallmark finishings that Lange is renowned for. And if you have to know the price, then like me, you can't afford it (*sigh…*).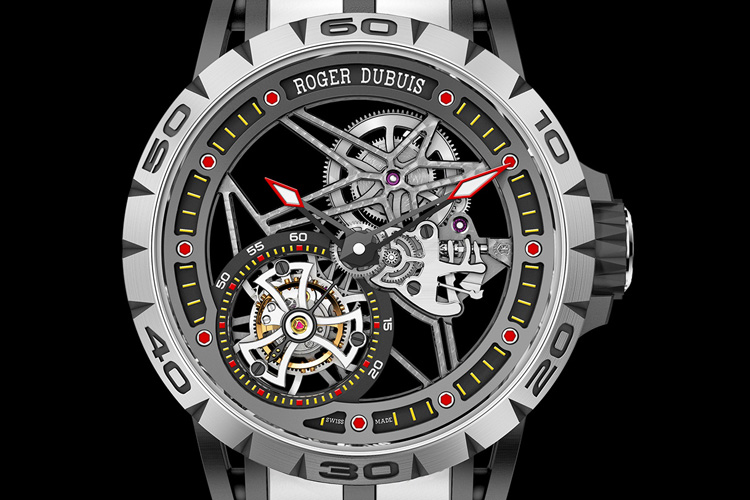 Roger Dubuis Excalibur Spider Americas Edition
Some people love Roger Dubuis, while others seem to not see eye to eye with the brand. I myself (maybe because of my youth) admire them as a forward-thinking watch manufacturer that can still go toe-to-toe with the more established brands. The Excalibur Spider Americas Edition is a behemoth at 45mm, but since its case is made of titanium it will wear extremely light. The inverted (or skeletonized) dial is wonderful and enables you to see the inner workings of the impressive hand-wound calibre RD505SQ. It certainly isn't for everyone, and I think it'd be quite difficult to dress up, but as a casual/sporty haute horlogerie piece I think Roger Dubuis really have hit the nail on the head with this one. Priced high with a super limited run of 20 pieces, you'd be lucky to ever even see one.

Dietrich O.Time Forged Carbon
It seems that the theme of this week's article is "different", and the Dietrich O.Time is another piece to contribute to that theme. I tend to categorize Dietrich with SevenFriday in that they're both similarly priced, they both seem to anger the old-guard, and they both enjoy doing things a little differently. The O.Time is available in a range of colours, all of which share the same fundamental aesthetic. A crazily-worked dial, interesting forged case and the ever-ready Miyota 82S7 calibre. I feel as though I really don't need to say much more about it. You either love it or your hate it, there's no real middle ground. I'm a fan, but I can see why people wouldn't really want to spend their money on it. Highly polarising, but awesomely cool.

Rado Ceramic Konstantin Grcic
For all you artistic industrial-design fanatics, have I got a piece for you. Brand new from Rado in collaboration with designer Konstantin Grcic, the Ceramic Konstantin Grcic has been reinvigorated. Available in a few different models (and also available is a woman's model), the Ceramic Konstantin Grcic is an all-show-no-go kind of a watch. But that's not a bad thing, and here's why. Rado have marketed this piece to a very specific niche of watch consumers. The kind that enjoys a solid timepiece, but that also craves a bit of artistic. The kind that doesn't really worry about the minutiae of mechanical movements, but still wants to wear something that is made from a credible and respected brand. This piece ticks all of those boxes. The Ref.16 (which is pictured above) has a very plain but very informative dial, with the time and date all being shown quite legibly despite the darkness. The bracelet integrates with the case, and the small crown doesn't protrude at all from the case and thus minimizes any deviation of aesthetic flow. Like I said before, it isn't going to appeal to everyone, but for the small market that Rado has targeted, they're going to be thrilled.
To keep in the know with all things horology, stay subscribed to The Wind Up, our regular watch news series on Man of Many. 
---
You'll also like:
The Wind Up – Watch News #27
The Wind Up – Watch News #26
The Wind Up – Watch News #25
---