12 Best Beer Bars in Sydney to Wet Your Whistle
If you're looking for the best beers bars Sydney has to offer, you're in the right place. Sydney is full of bars, walk down any street, any alleyway, turn any corner and you're bound to fine a bar or pub. But when you're looking for that special somewhere to call your own and make your local, the sheer amount of bars can become a bit daunting. That's why we're here to help, check out the 11 best beer bars Sydney has to offer.
You'll also like:
31 Best Bars in Sydney for a Fun Themed Night Out
20 Best Beer Gardens in Sydney
19 Best Steak Restaurants in Sydney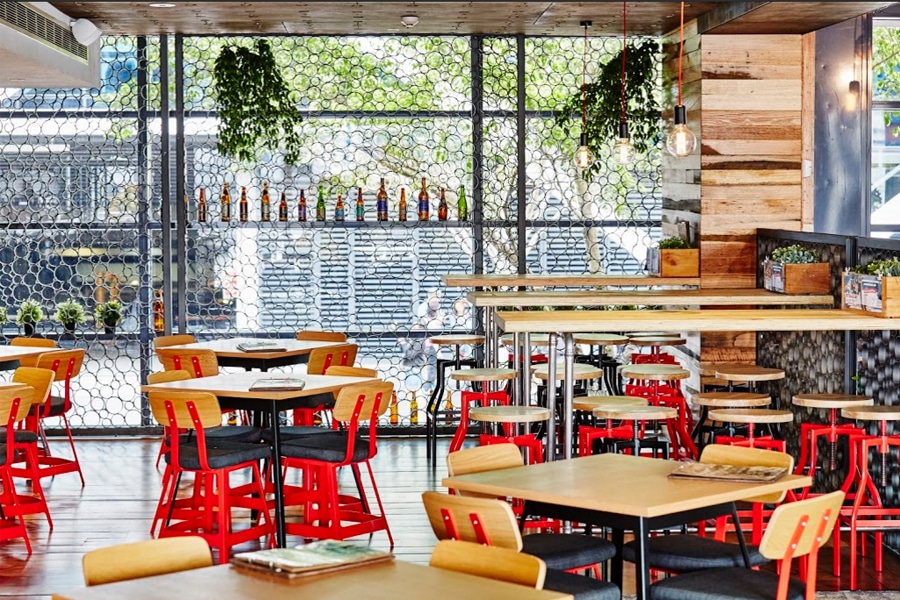 1. Beer DeLuxe
What's in a name? Beer DeLuxe does what it says on the tin, it's all about BEER. With 150 international craft beers, if you can't find a favourite here, you won't find one anywhere. The beer garden is the perfect place for a spot of people watching while you sample the tasty offerings Beer DeLuxe has in store. Feeling peckish? The two level restaurant will help you out with that.
Address: 9 Lime Street, Sydney NSW 2000
Phone: +61 2 8322 2020
Trading hours: Sun-Thu 12pm-10pm, Fri-Sat 12pm-1am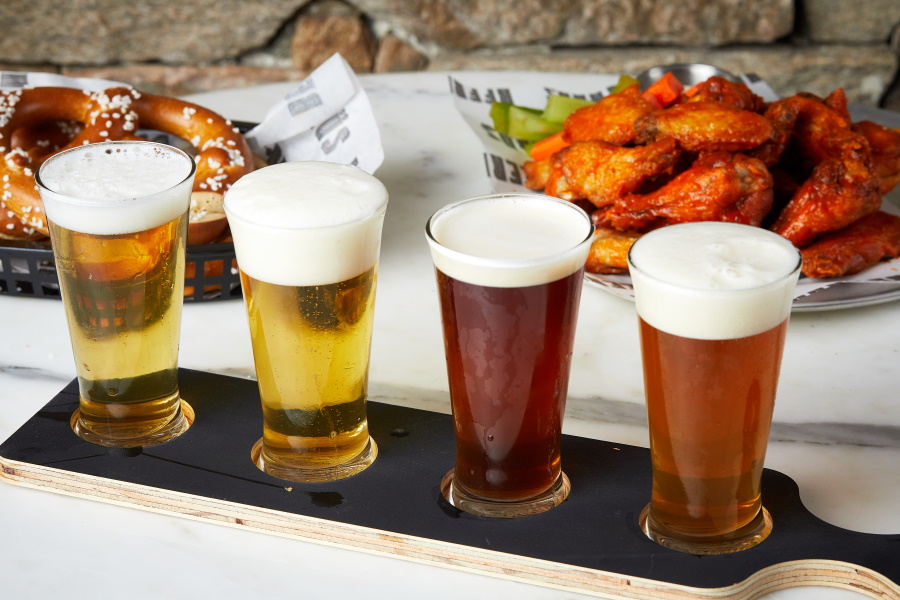 2. Beerhaüs at Barangaroo
Beerhaüs at Barangaroo is one of Sydney's newest and most exciting destination venues for all things beer and barbecue. With a fusion of US and Bavarian-inspired dishes comprising the menu, and a raft of delicious frothies on tap courtesy of the talented folks at Pirate Life, it's easily one of the best places to while away an afternoon sipping yummy brews and munching on all of the meats when you're in Sydney.
Address: Scotch Row, Harrington St, Barangaroo, Sydney NSW 2000
Phone: +61 2 8099 7085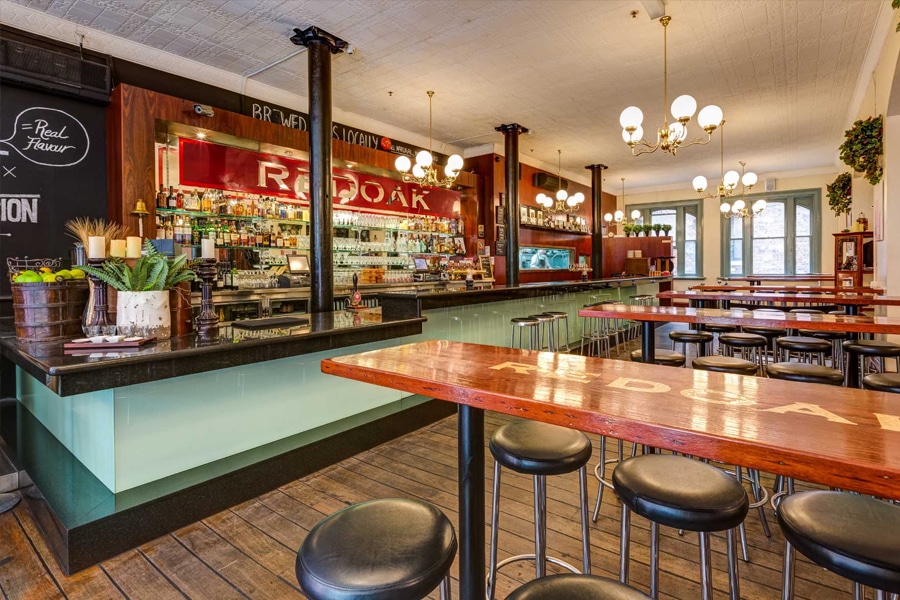 3. Redoak Boutique Beer Café
This local favourite is one of the best beer bars Sydney has to offer, plus it's one of the most awarded breweries in Australia. Redoak Boutique Beer Cafe is passionate about the beer and it shows in their dedicated beer menu and ability to match different brews with certain foods. Try the Tasting boards where your choice of meat or seafood is paired to perfection with delicious selections of beer.
Address: 201 Clarence St, Sydney NSW 2000
Phone: +61 2 9262 3303
Trading hours: Wed-Thu 12pm-9pm, Fri-Sat 12pm-10pm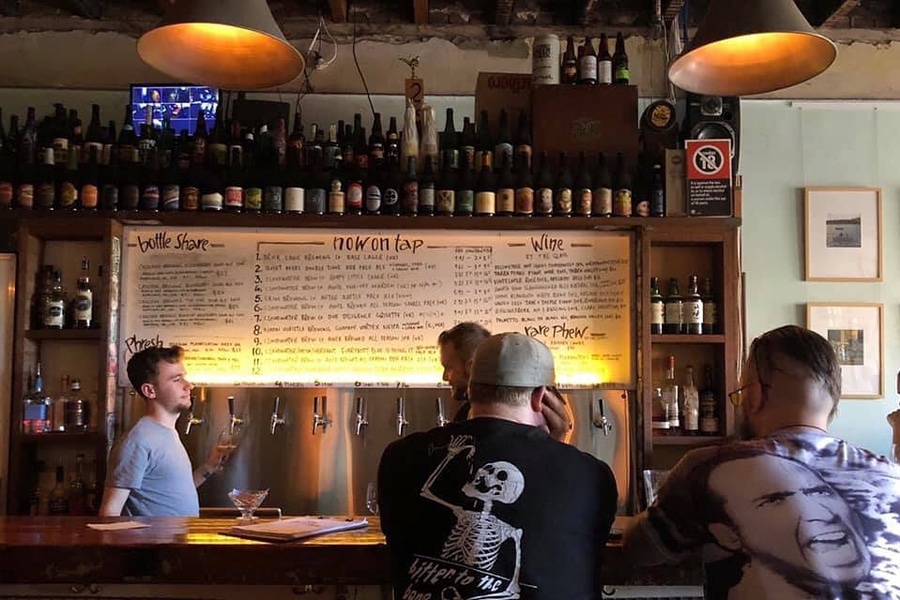 4. Bitter Phew
Feast your eyes on Bitter Phew's tap list. One of Sydney's best beer bars, is just a stairway above Oxford st and even includes a keg garden. 12 rotating taps means there is always something new to try on your revisits and features the finest local and international boutique brews.
Address: 1/137 Oxford St, Darlinghurst NSW 2010
Trading hours: Wed-Thu 3pm-12am, Fri-Sat 12pm-1:30am, Sun 12pm-10pm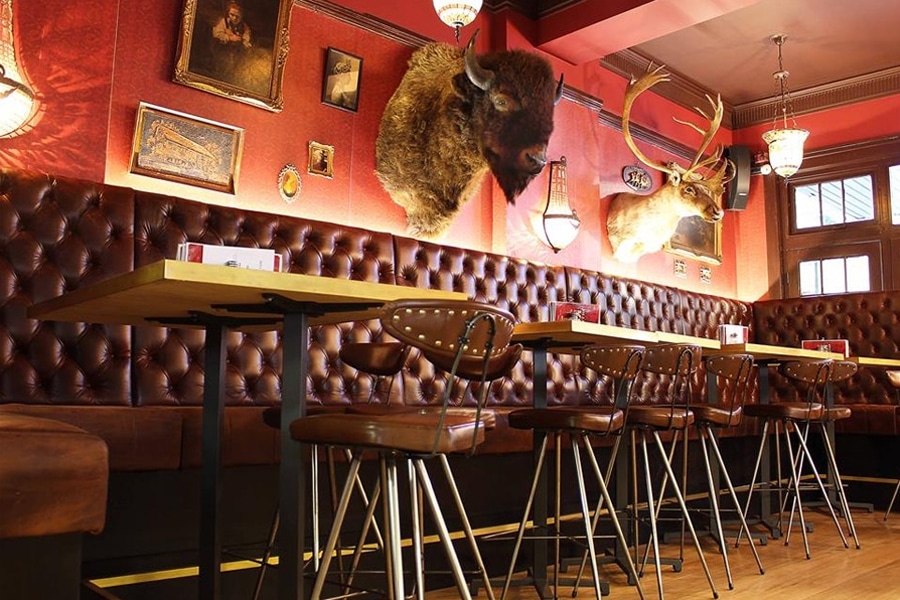 5. Keg and Brew
Keg & Brew is all about the love of good beer. Nominees of Time Out's 2016 Pub Awards for best beer list, cements its place on our list for best beer bars Sydney's got to offer. They've got traditional hand pumped ales on tap, plus locally sourced beer and ciders from local breweries and start-ups. Whatever you're looking for, Keg and Brew is bound to have it.
Address: 26 Foveaux Street, Surry Hills NSW 2010
Phone: +61 2 9212 1740
Trading hours: Mon-Thu 10am-12am, Fri-Sat 10am-3am, Sun 10am-11pm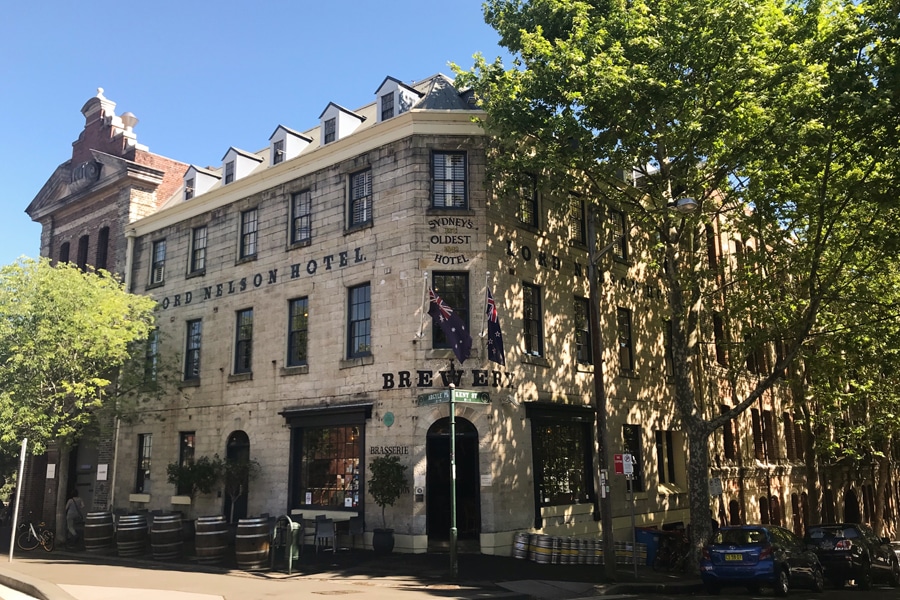 6. The Lord Nelson Brewery Hotel
It's one of the longest running pubs in Sydney located in the historic Rocks precinct. The Lord Nelson Brewery Hotel offers 100% natural award winning ales all brewed in house. Six regular brews are constantly on tap plus several seasonal beers. It's like going back in time to the old English pub, plus it has some pretty fantastic views of the harbour making it one of the best beer bars Sydney has to offer.
Address: 19 Kent Street, The Rocks Sydney NSW 2000
Phone: +61 2 9251 4044
Trading hours: Mon-Sat 11am-11pm, Sun noon-10pm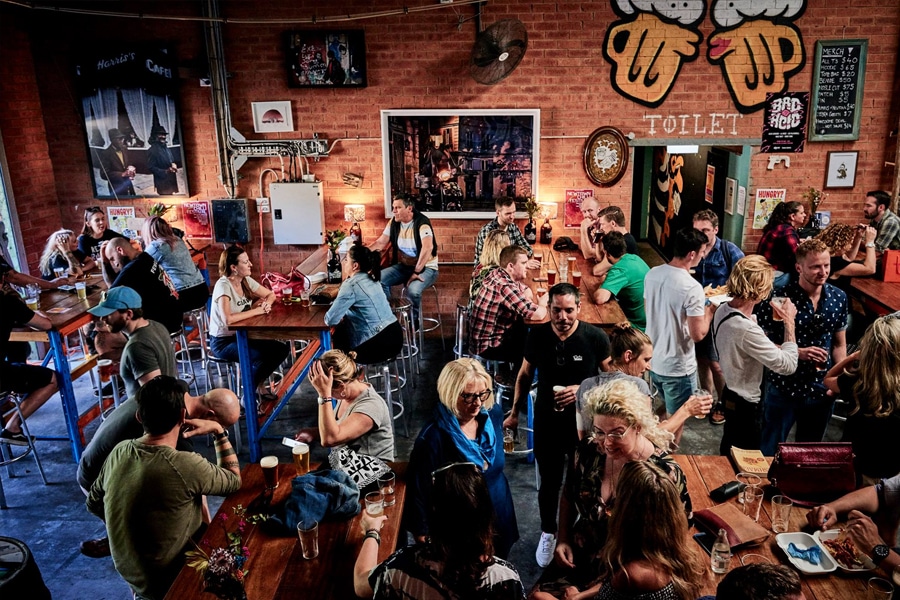 7. Young Henrys
For the best beer bars in Sydney, you can't go wrong with Young Henrys. Sit and sample one of the several offerings of Young Henry's beers while watching the brewing process take place right in the bar. Its theme is more rock'n'roll and always lively with locals and visitors, though it retains a relaxed and communal atmosphere. Brewery tours can also be taken with a reservation if you want to get up close and personal with the brewing process.
Address: 76 Wilford St, Newtown NSW 2042
Phone: +61 2 9519 0048
Trading hours: Mon-Sun 12pm-7pm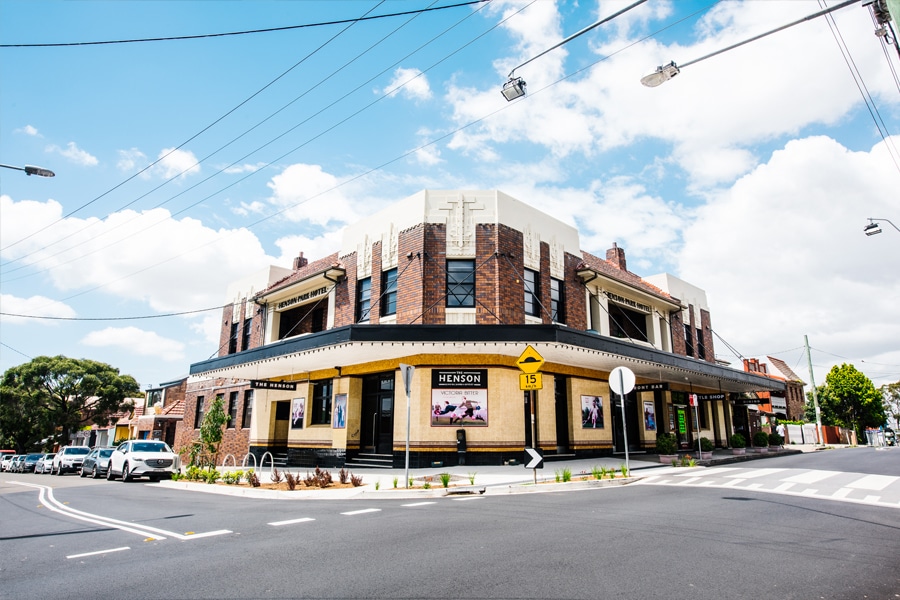 8. The Henson
This previously abandoned pub was left unloved for many years until its refurbishment and transformation into one of the best beer bars Sydney has got on offer. The Henson is a self-proclaimed working class bar, with a superb art deco dining area and leafy beer garden. On tap is an ever changing rotation of local craft beer and a seasonal wine menu.
Address: 91 Illawarra Rd, Marrickville NSW 2204
Phone: +61 2 9171 1864
Trading hours: Sun-Wed 11:30am-10pm, Thu 11:30am-11pm, Fri-Sat 11:30am-11:30pm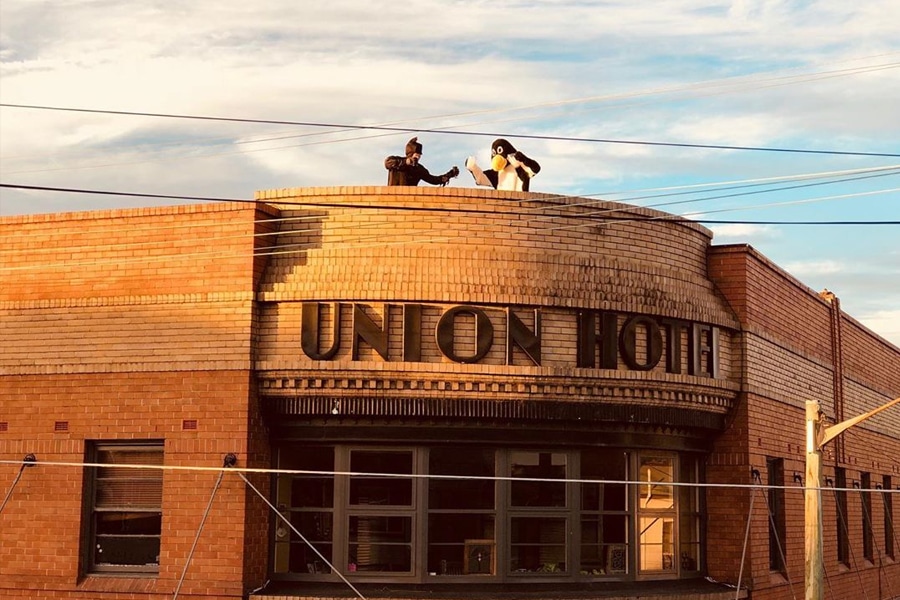 9. The Union Hotel
22 Taps, you heard right, that's 22 taps! The Union Hotel offers a rotating list of beers on the taps but also a long list of can and bottle beer from Australia and abroad. The Union often throws beer parties that include monthly tap takeovers that feature rare brews from all over the globe. Not only that, they've got pool, live music, and arcade games to pass the time while you sample the beers.
Address: 576 King Street, Newtown NSW 2042
Phone: (02) 9557 2989
Trading hours: Mon-Wed 10am-12am, Thu-Sat 10am-2am, Sun 10am-10pm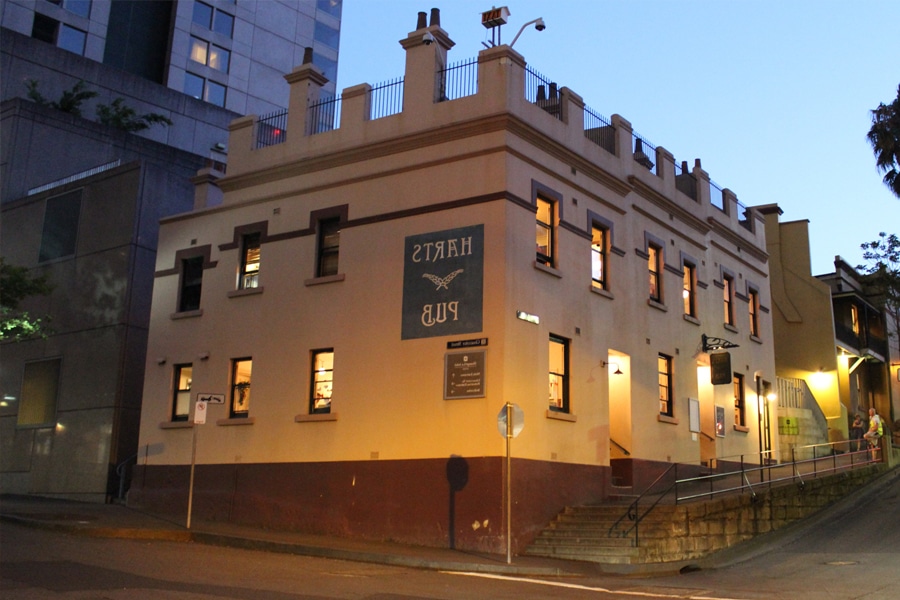 10. Harts Pub
Harts Pub is a local favourite located in the historic Rocks quarter in Sydney. It's got an impressive collection of local beers plus 12 rotating taps of different Australian craft beers. It's the perfect place to pull up a stool and drink a pint in this characterful historic former residence. Get down there Monday to Friday from 4.30 until 6.30 pm for Happy Hour.
Address: Essex St & Gloucester Street, The Rocks NSW 2000
Phone: +61 2 9251 6030
Trading hours: Mon-Wed 12pm-10pm, Thu-Sat 12pm-11pm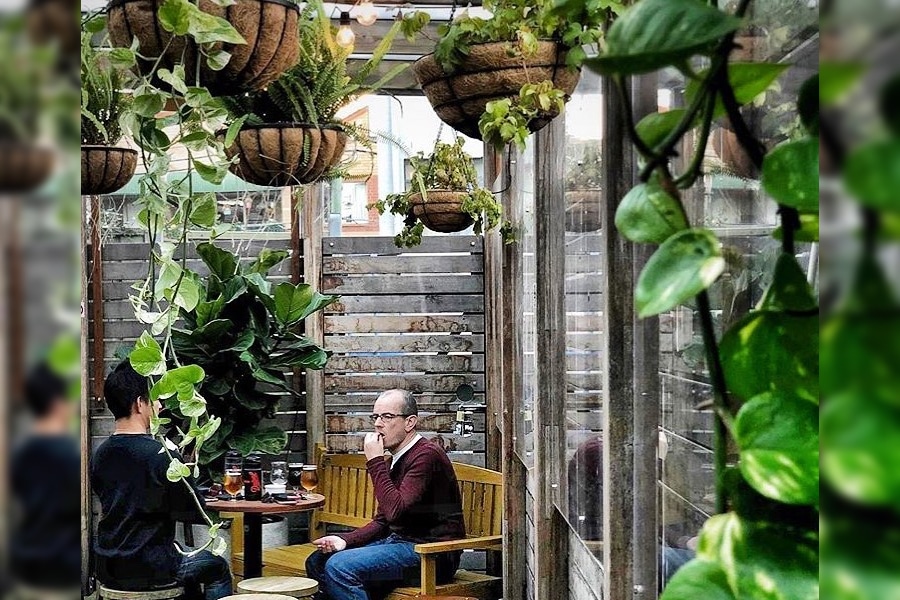 11. The Noble Hops
The Noble Hops serves up almost 100 rare beers and whiskeys and has become one of Sydney's most specialised beer bars. It's a quiet spot for people to enjoy a nice beer with good company without the constant ping of pokie machines and Tv's. The taps are always changing and once the keg is dry it's replaced with something new. They're also pet friendly.
Address: 125 Redfern Street, Redfern NSW 2016
Trading hours: Tue-Thu 4pm-11pm, Fri-Sat 1pm-12am, Sun 1pm-9pm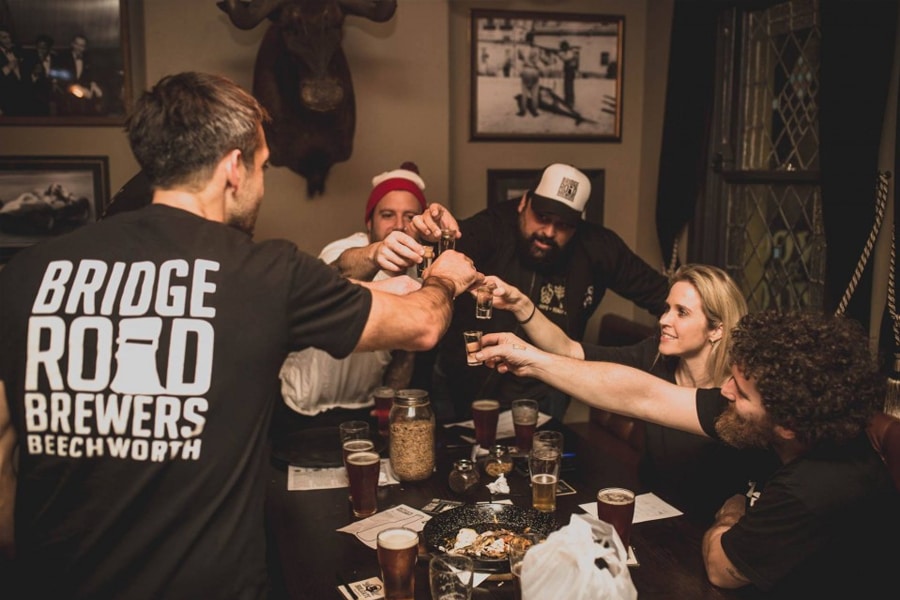 12. Dove & Olive
One of Sydney's best beer bars and voted for best pub food 2019 by Australian Good Food Guides, you can't really go wrong at Dove & Olive. Located in Surry Hills, Dove & Grill prides itself on it's huge range of Australian and international craft beers. Over 20 taps are at your disposal including offerings from favourites like Young Henrys, Willie the Boatman and Capital Brewing Co. Tell the bar staff what kind of beer you're after and they'll give you a handpicked selection to suit your taste.
Address: 156 Devonshire Street, Surry Hills NSW 2010
Phone: +61 2 9699 6001
Trading hours: Wed 4pm-11pm, Thu 2pm-11pm, Fri-Sat 12pm-12am, Sun 12pm-10pm

You'll also like:
Why Your Next Date Night in Sydney is at Alibi
19 Cool Restaurants in Sydney for a Fun Night Out
More of the Best Rooftop Bars in Sydney