We can think of few better ways to cap off this crazy year than to spoil yourself or someone close to you. From premium bourbon to stunning watches to high-end chess sets and so much more, we have you covered in the following Christmas gift guide. Don't procrastinate because most of these luxurious products are limited in supply and selling out fast. Oh, and if you happen to know one of our friends or loved ones, please kindly suggest that they get us something off this list as well. What, no takers?
More Christmas Gift Guides:
2020 Christmas Gift Guide – The Fitness Freak
2020 Christmas Gift Guide – The Foodie
2020 Christmas Gift Guide – For Your Pet(s)
View all of Man of Many's 2020 Christmas Gift Guides here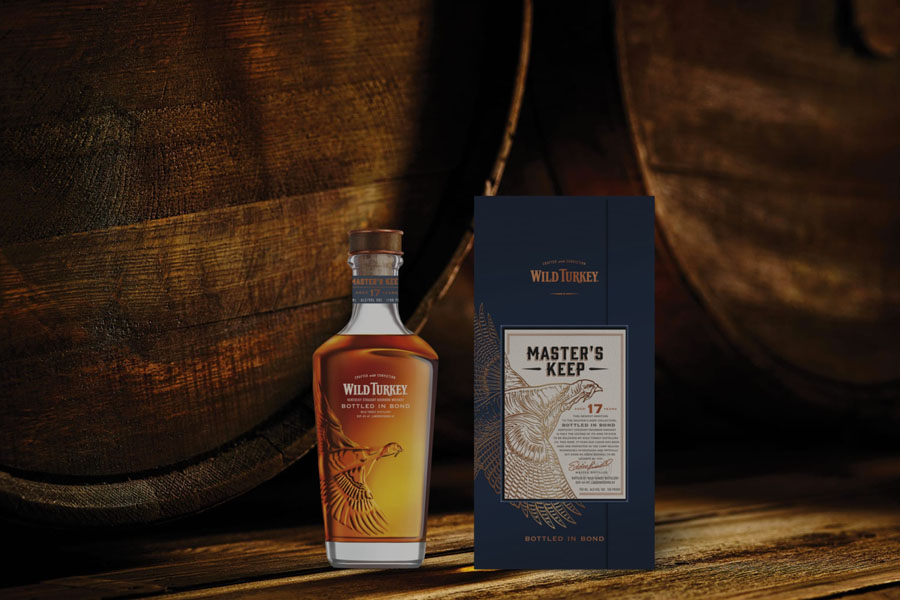 Wild Turkey 17 Year Masters Keep Bottled in Bond
In partnership with Wild Turkey
When a distillery like Wild Turkey uses the words "Masters Keep," you know you're in for something tasty. The latest release to join this award-winning range was aged for 17 long years and bottled in bond. As with the best whiskeys, this one unravels in rich waves of aroma and flavour. A nose of toasted oak, apple, and dark cherry gives way to pure confection on the palate, where vanilla, brown sugar, and toffee overlap in a dance of decadence. A deep finish carries mocha, smoke, and spice all the way down to your toes.
Just a reminder for all the savvy sippers out there: to carry the bottled-in-bond label, the bourbon must be the product of one single distilling season from one distillery, aged in a federally bonded warehouse, and bottled at 100 proof. With this certification comes the guarantee that the distillery has abided by the utmost tier of quality control.
Personally, we didn't need rigorous American certification to know that this whiskey was going to be some of the best stuff we've ever tried. After all, it comes from the same brand that gives us mindblowing statements like Russell's Reserve 10 Year and Rare Breed. If you have the cash to spare, pick up a bottle of Master's Keep 17 Year for the whiskey lover in your life. He (or she) will be thanking you for months. – AU$250/US$170
Buy it here (AUS) Buy it here (US)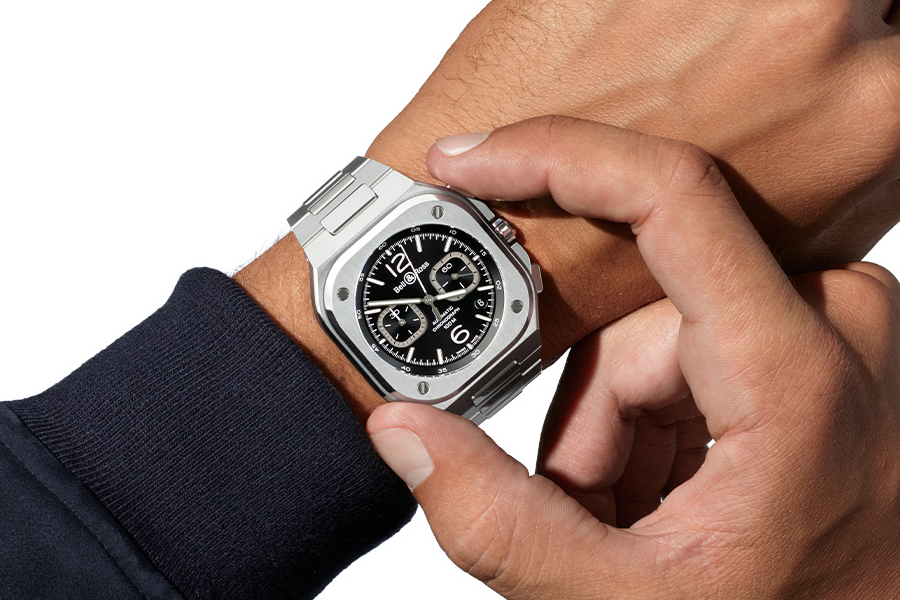 Bell & Ross BR-05 Chrono
In partnership with Bell & Ross
Between the unmistakable design language and robust functionality, Bell & Ross aviation watches are already the stuff of legend. Now, the brand has given their BR-05 collection a striking urban upgrade by way of a chrono function and 42mm case. Each model still bears the aesthetic hallmarks that only this brand can provide. That includes the signature case design, which combines round and square to dazzling effect.
Built for the skies perhaps, but the latest BR-05 functions just as well (and looks just as good) on the nearest city street. Peer beyond the iconic geometry and you may notice that the pushers, crown-guard, and crown form a single piece. That blends into the overall case to inject a palpable sense of fluidity. Indeed, the very lines of this brilliant watch are like a work of art unto themselves.
Come darkness, SuperLuminova brings the minimalist markers and skeletonised hands of the streamlined dial face to life. It's all protected by high-grade sapphire crystal and powered by in-house calibre BR-CAL.301. Choose between a black sunray or blue sunray dial and either a rubber strap or satin-finished steel bracelet. It's yet another bold masterpiece from one of the world's best watchmakers. – AU$9,600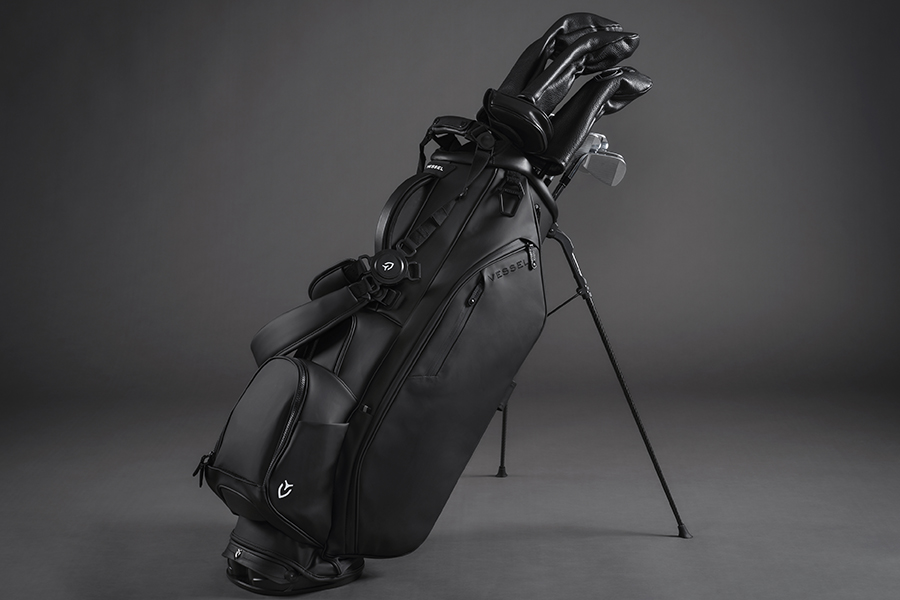 Vessel Player III Golf Stand Bag
In partnership with Vessel
One great thing about knowing a golfer? They can never have too much golf-related gear. If you really want to putt a smile on their face, get them something from Vessel. Since launching in 2011, the brand has become one of the most innovative and popular names in the entire industry. At the heart of their massive success are luxury products and superior golf bags, used by players at every level of the game.
That brings us to the mighty Player III Golf Stand Bag, which improves upon its formidable predecessor in various ways. Designed in direct response to professional demand, it now features a larger top, more organised divider layout, magnetic water bottle pockets, and a compression moulded back panel for added comfort. Thanks to a Patented Rotator Base and EQ2 strap, it's also more stable and balanced than ever before.
Then we have luxe components like a valuables pocket with antimicrobial lining, magnetic rangerfinder pocket, pen slot, garment space, and interior lock pocket. The list of specs goes on and on…kind of like a golf game, in fact. Sealing the deal is tour-grade synthetic leather construction with genuine leather accents and micro-fiber lined dividers. As far as gifts go, it's a hole in one. – US$375
Buy it here (AUS) Buy it here (US)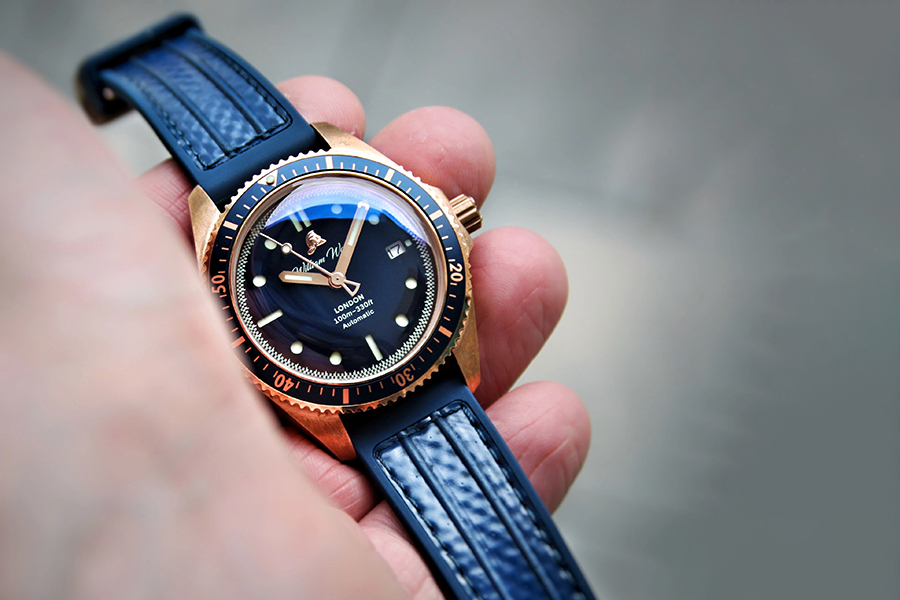 William Wood Bronze Special Edition
In partnership with William Wood
A British luxury watch brand like no other, William Wood incorporates vintage firefighting materials and details into every collection. Thankfully, they do so without resorting to loud or gimmicky gestures. It results in brilliant timepieces like the Bronze Special Edition, which strikes a prime balance between classical design, robust construction, precise mechanics, and subtle detail. A presentation box with red travel roll is included with purchase and the watch is limited to just 200 pieces. Your "perfect gift" alarm should be going off right about now.
Bronze has come roaring back into fashion and this 41mm case puts it to expert use. Not just stronger than stainless steel, the ancient material also develops a rich patina over time. From a purely visual perspective, it blends beautifully with the watch's blue dial face, SuperLuminova markers, and antique rose gold-plated hands, bezel, and bottom ring. Powering the operation is Japanese Seiko NH35 Automatic Movement with 24 jewels. Already, we're looking at a legendary timepiece.
Then we have the brand's signature flourishes, each of which comes lifted from the annals of British firefighting history. The two-striped 12 o'clock marker pays direct tribute to turn-of-the-century rank markings. The chequered pattern encircling the dial perimeter is an exact match to the markings found on the side of British firefighting engines. Inside the crown is an inset made from a 1920s British brass firefighter's helmet. The brand's own helmet logo graces both the crown and dial face. Sealing the deal is an upcycled firehose strap, which comes available in four different colours (each colour representing a different source).
William Wood's limited edition timepiece puts history and horology on a bold collision course without ever losing sight of its sophisticated design language. For that, we love it. The watch enthusiast (or history buff) in your life will love it too. – US$1,049
Buy it here (AUS) Buy it here (US)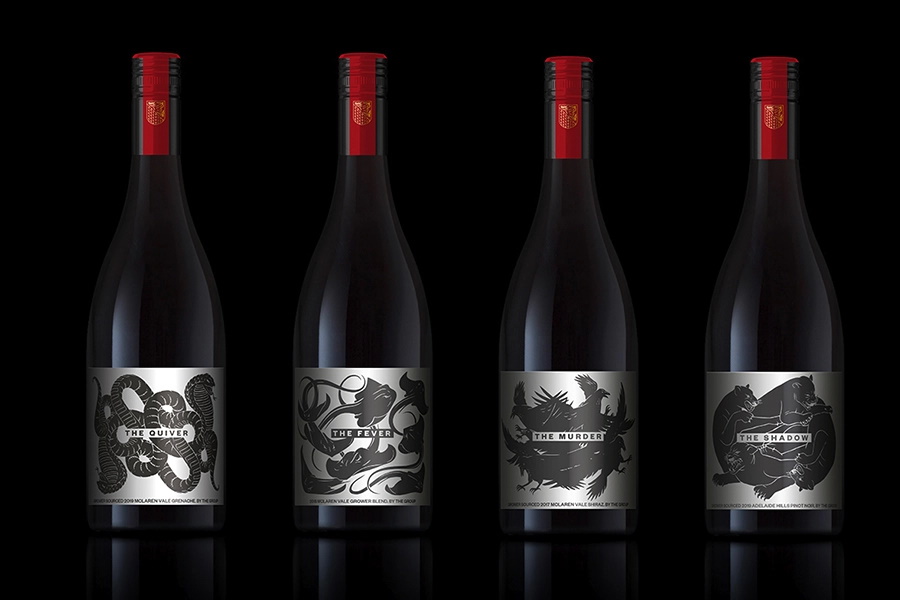 The Group Wine Range
In Partnership with The Group
There's nothing more luxurious than reflecting on a year well-spent with a fine glass of red and a few friends. Thanks to The Group wine range, you can now indulge yourself in the best of both worlds. Collaborating with a Grower-Owned Collective, The Group has unveiled five inaugural releases, showcasing the very best of Australia's pioneering wine culture. With the backing of the nation's premier grape growers and farmers spearheading the collection of Shiraz, Pinot Noir and Grenache, you can rest assured, these drops won't leave you low. Among the new wines you'll find;
The Murder 2017 McLaren Vale Shiraz 750ml – RRP $34.00
The Shadow 2019 Adelaide Hills Pinot Noir 750ml- RRP $34.00
The Quiver 2019 McLaren Vale Grenache 750ml – RRP $34.00
The Fever 2018 McLaren Vale Grower Blend – RRP $34.00
The Siege 2019 McLaren Vale Shiraz (Limited Edition) 750ml – $70.00
Better yet, in a subtle reference to The Group's 'Collectively Better' mantra, each bottle makes use of a collective noun. From a shadow of jaguars to a fever of stingrays, The Group wine range is all about getting the team back together. Doesn't that just sound like Christmas?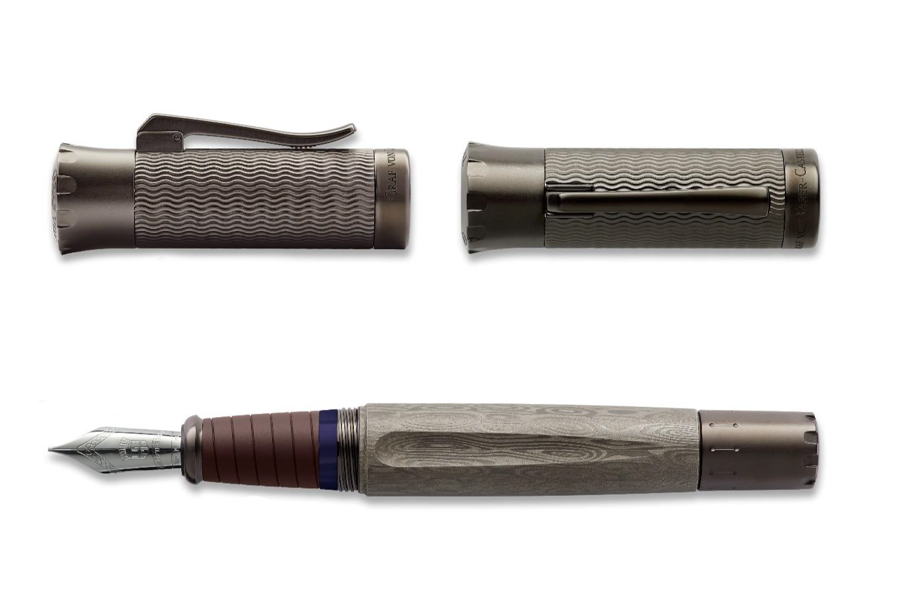 Graf von Faber-Castell – Knights
They say the pen is mightier than the sword, but this year Graf von Faber-Castell isn't taking any chances. The iconic writing instrument designer has unveiled its Pen of the Year 2021 and it's an unmistakable ode to the heroes of the Middle Ages. Entitled Knights, the limited-edition luxury pen echoes the noble sentiments of old, highlighted by the characteristic Faber-Castell motif with two fighting knights wielding pencils instead of lances.
Masters of discipline and distinction, Medieval knights knew how to use symbolism. The cross moline, which was considered a sign of hope in the Middle Ages, decorated coats of arms and shields can be seen atop the cap on the Pen of the Year. Further, Knights' end piece also receives a faceted garnet with a sunray, in reference to the deep red gemstone's symbolism of truth and light.
The ruthenium-coated 18-carat gold nib of the Pen of the Year 2021 is available in nib widths M, F, B and BB. Limited to 375 fountain pens and 125 rollerball pens, the Knights Pen of the Year is stored in a highly polished black wooden box, complete with a certificate bearing the signature of Count Charles von Faber-Castell. – AU$7,900/AU$7,400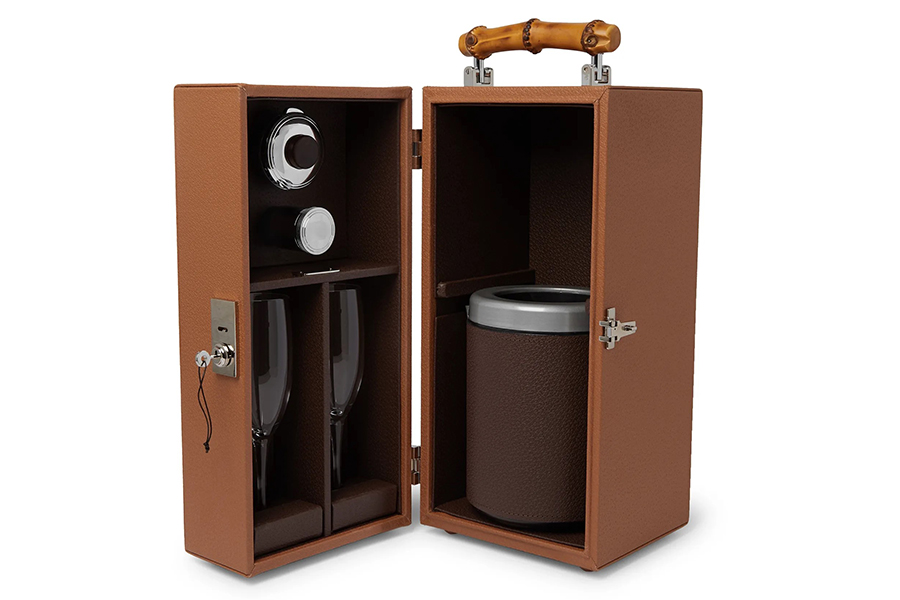 Lorenzi Milano Travel Champagne Cabinet
Crafted in Italy from full-grain leather, this travel Champagne cabinet is exactly as swanky as it sounds. Take it pretty much anywhere and don't forget to snap a few pics for Insta. Two champagne flutes, cap opener pliers, and a cooling bucket are included with purchase and waiting just beyond the fastened door. – AU$4,545/US$4,055
Buy it here (AUS) Buy it here (US)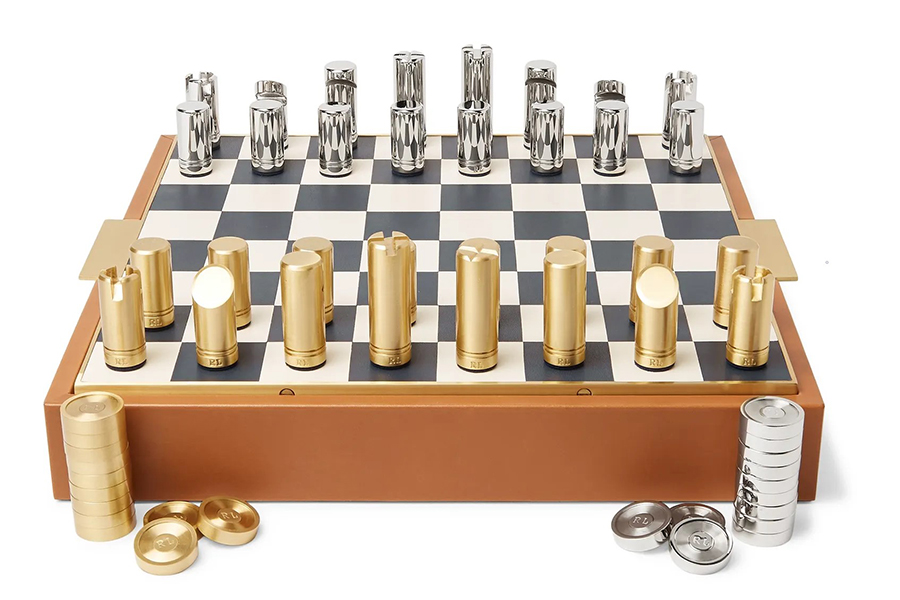 Ralph Lauren Home Fowler Leather Chess Set
You don't even need to play chess to appreciate this handmade set from Ralph Lauren, which doubles as a decorative piece. Distinguished on sight, it places leather tiles and polished nickel and gold-plated brass pieces atop a polysuede-lined board. Checkmate. – US$1,995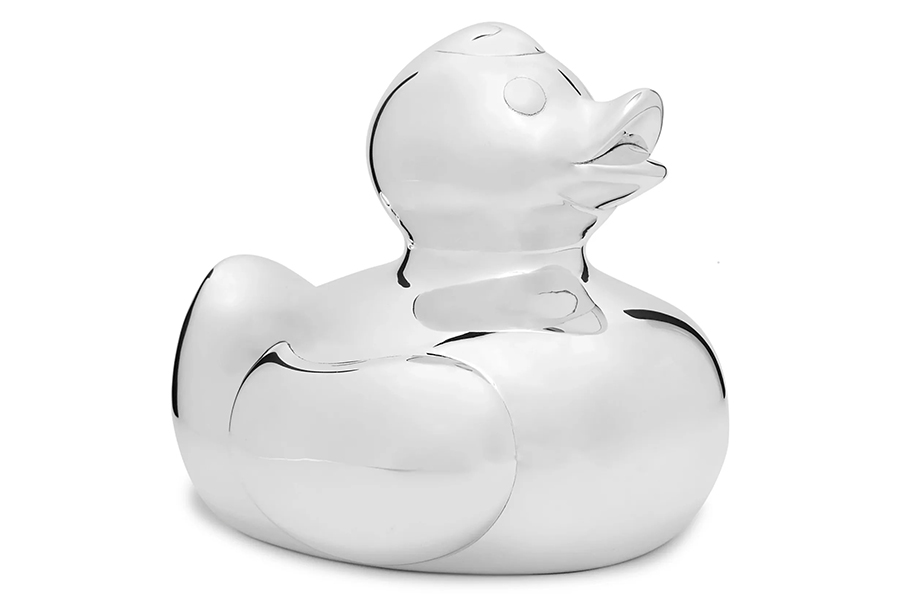 Asprey Sterling Silver Money Bank
Playfulness meets prestige with Asprey's money back of hefty sterling silver. It's shaped like a rubber duck toy but arguably worth more than the entire planet's supply of rubber duckies. If you've ever asked yourself what to get for the man who has everything, here's your answer. – AU$4,493/US$3,250
Buy it here (AUS) Buy it here (US)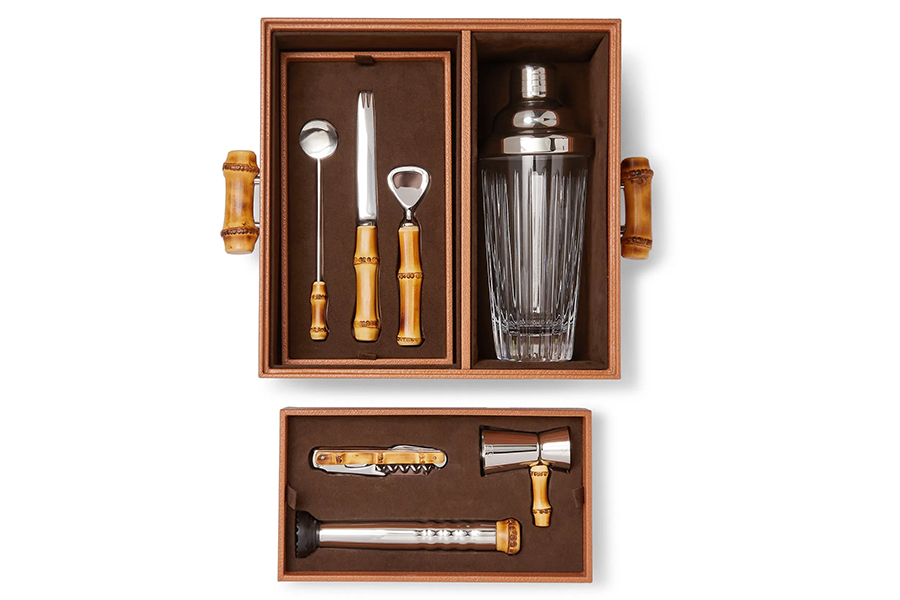 Lorenzi Milano Cocktail Set
Like an impeccable craft cocktail, this Italian-made set combines various elements with masterful precision. Featured inside a leather-bound box is a full spread of mixology essentials, most of which have been handcrafted from stainless steel and bamboo. Distinction, be thy name! – AU$3,193/US$2,850
Buy it here (AUS) Buy it here (US)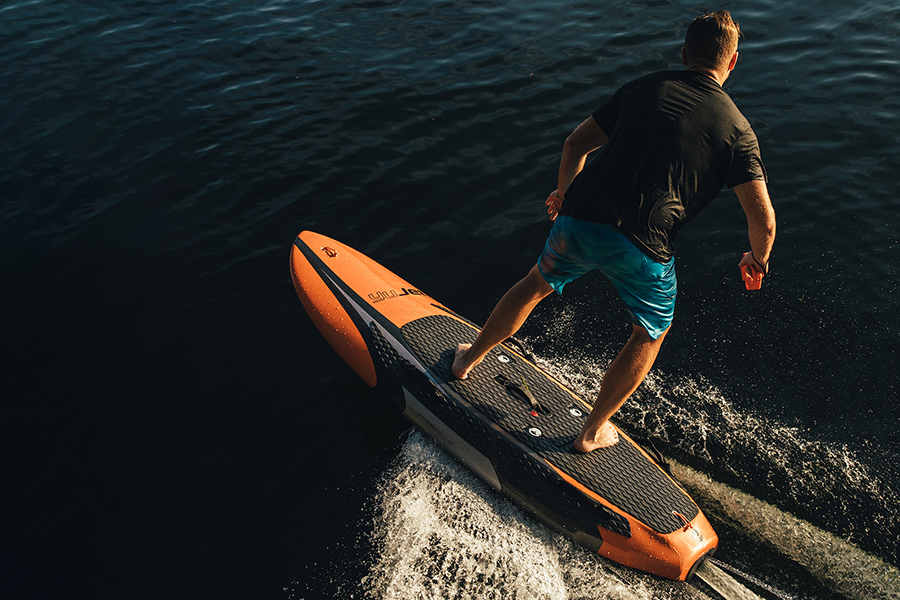 YuJet Electric Surfboard
Even surfboards are going electric and the results are predictably awesome. This particular variant comes to us from YuJet and offers a 16-mile range and impressive max speed of 24 mph. Ride it for up to 40 minutes at a time, using a wireless remote to adjust the speed as you go. – US$9,999
Buy it here (AUS) Buy it here (US)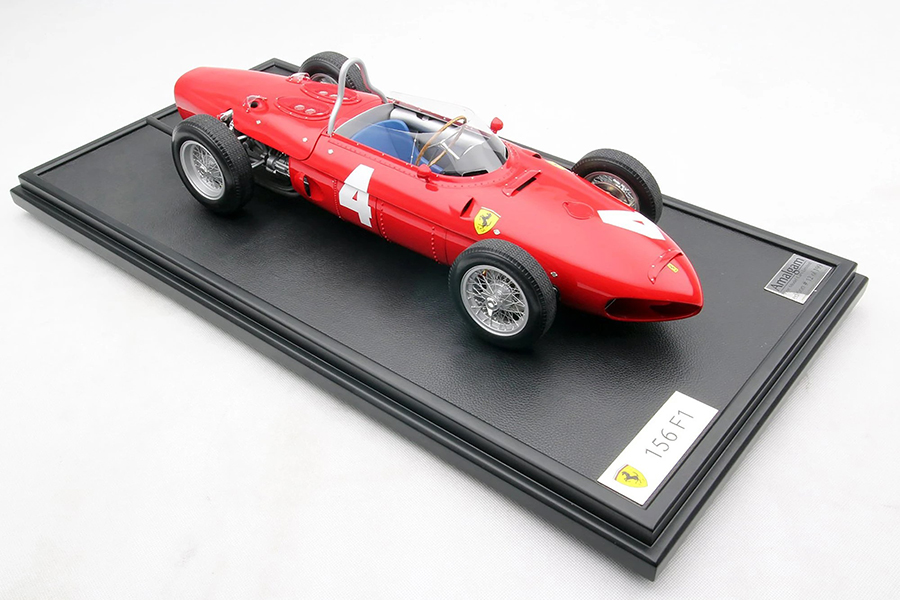 Amalgam Collection Ferrari F156 F1 Sharknose 1:8 Model Car
If you can afford to buy your best mate or loved one a classic vintage racecar, we suggest you do so. Otherwise, this miniature version of the 'Ferrari 156 F1 Sharknose' will suffice. Replicated with total accuracy, it features all the iconic details of its life-sized predecessor. Even at 1/8 the scale, this championship winner is a breathtaking sight to behold. – AU$13,356/US$9,495
Buy it here (AUS) Buy it here (US)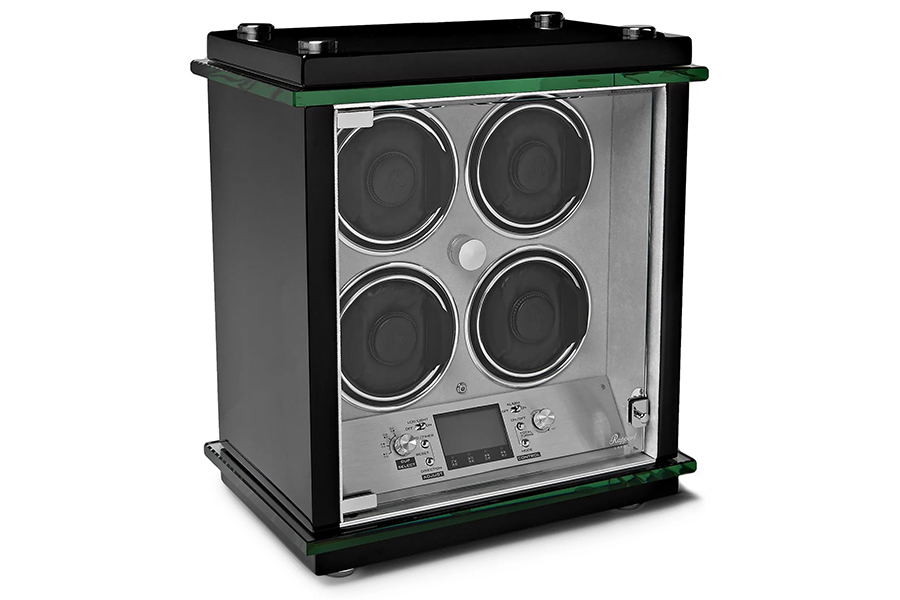 Rapport London Commander Quad Lacquered Ebony and Glass Watch Winder
For the premium watch collector, we present this distinguished storage unit with three different winding options. Combining black-lacquered ebony wood with a glass door, it features an LCD control panel, timed modes, and internal lighting. You took one look at this thing and your jaw dropped a little; imagine how your favourite collector will feel about it. – AU$5,060/US$3,200
Buy it here (AUS) Buy it here (US)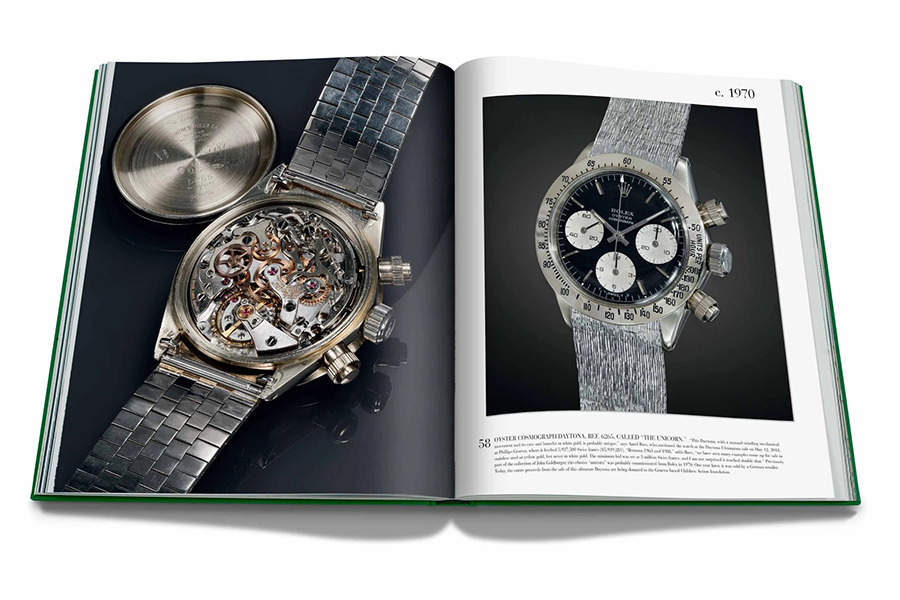 Rolex: The Impossible Collection Book
When it comes to luxury watch brands, Rolex has truly stood the test of time (pun intended). This handcrafted book takes a deep dive into the Swiss watchmaker's history, indulging the reader with expert writing and a bounty of photos. From the brand's first-ever wristwatch to Paul Newman's record-shattering Daytona and beyond, it's all here and it's all fantastic. – US$895
Buy it here (AUS) Buy it here (US)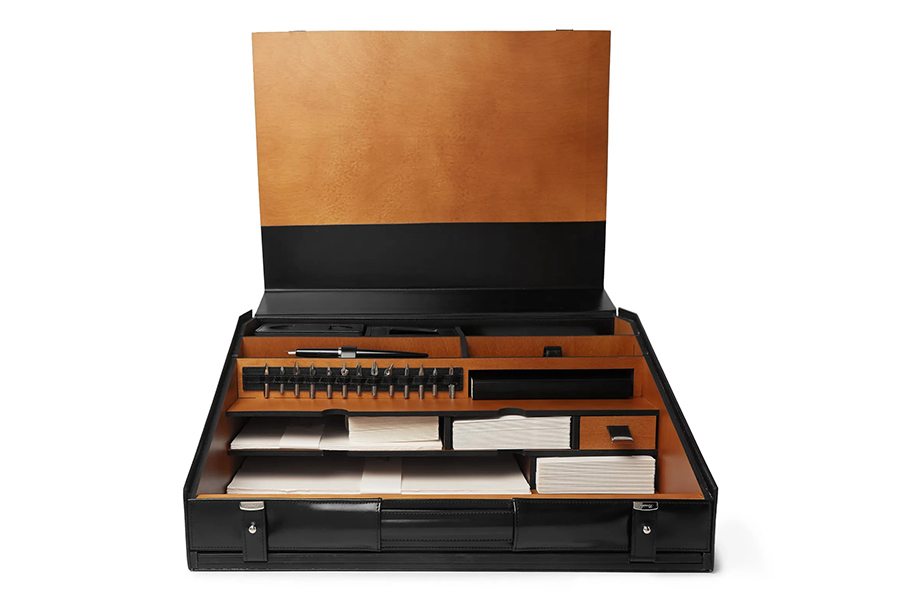 Pineider 1949 Leather Travel Writing Desk Set
Pineider's '1949' travel desk set brings a bygone era back to life in all its artisanal splendour. Handcrafted from cherrywood and topped with supple leather, it opens to reveal essential writing tools and various compartments. If it was good enough for Ms. Agatha Christie (and according to legend, it was), surely it's good enough for you. – AU$5,879/US$5,246
Buy it here (AUS) Buy it here (US)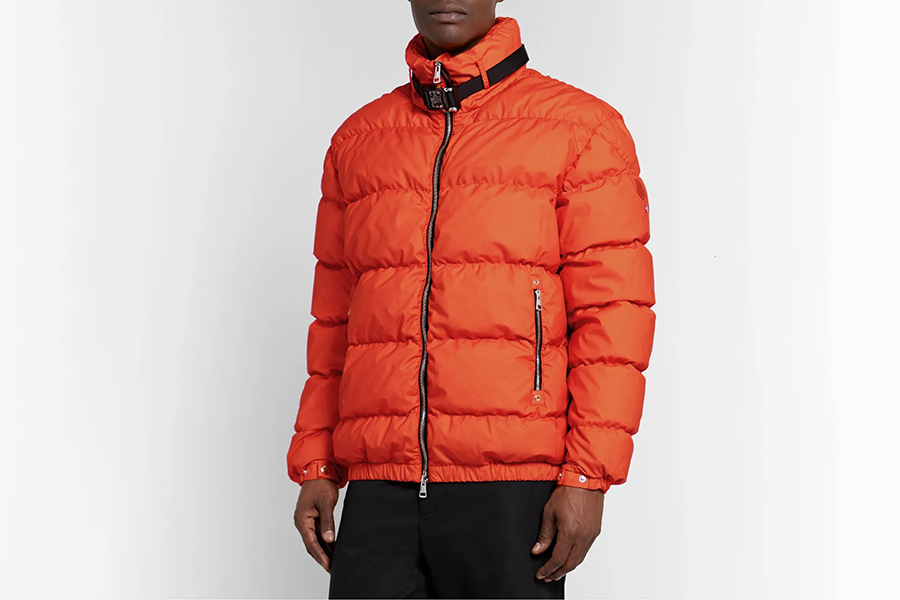 6 Moncler 1017 ALYX 9SM Quilted Coated-Cotton Down Jacket
Outdoor apparel can often make for a risky gift, but not when it's something as sweet as this glorious jacket from Moncler Genius. Part of their coveted 1017 ALYX 9SM collection, it pairs coated-cotton construction with lightweight insulation down. The quilted-style design and orange colour inject a signature touch, as does the rollercoaster-inspired throat buckle. – AU$2,937
Buy it here (AUS) Buy it here (US)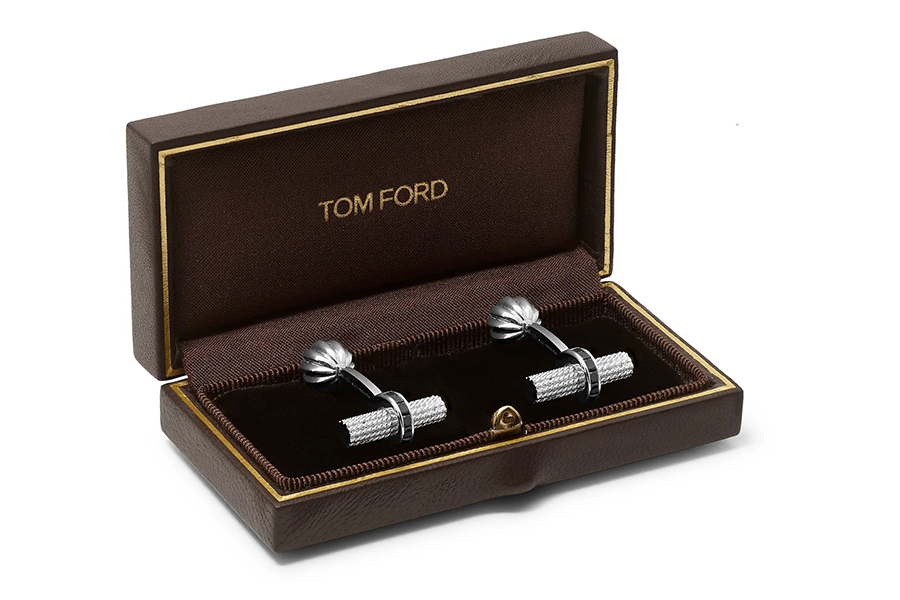 Tom Ford 18-Karat White Gold Diamond Cufflinks
Emanating with elegance, Tom Ford's 18KT White Gold Diamond Cufflinks are worth every penny of their lofty price point. Crafted in Italy, they'll bolster your black tie ensemble and your assets portfolio in one fell swoop. – AU$19,174/US$12,990
Buy it here (AUS) Buy it here (US)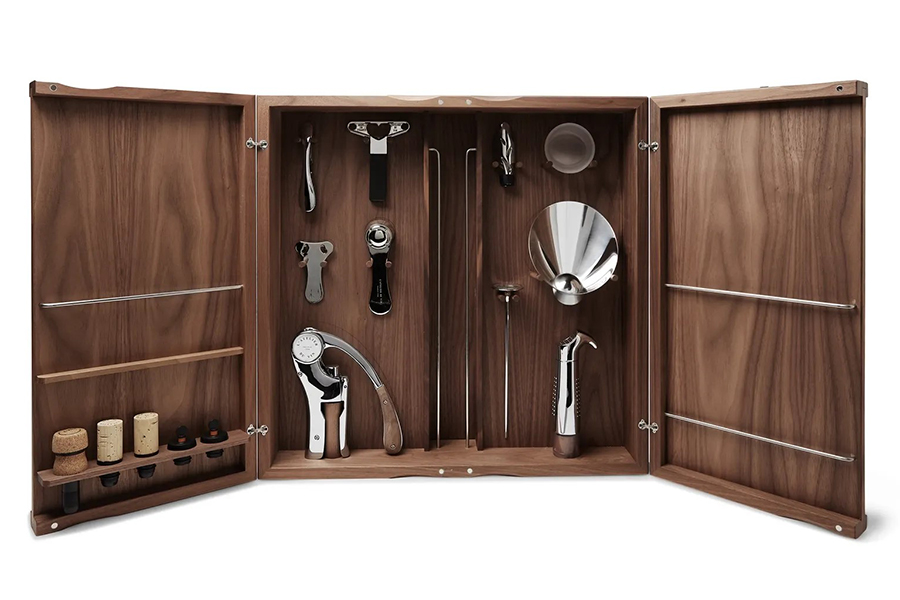 L'Atelier du Vin Wine-Lover's Curiosities Cabinet
This 'Cabinet of Curiosities' is handmade in France from solid walnut and overflowing with choice wine accessories. Your favourire oenophile will adore it and waste no time in putting it to use. Here's hoping they crack open that rare bottle they've been sitting on and then bring you along for the ride. – AU$2,547/US$1,460
Buy it here (AUS) Buy it here (US)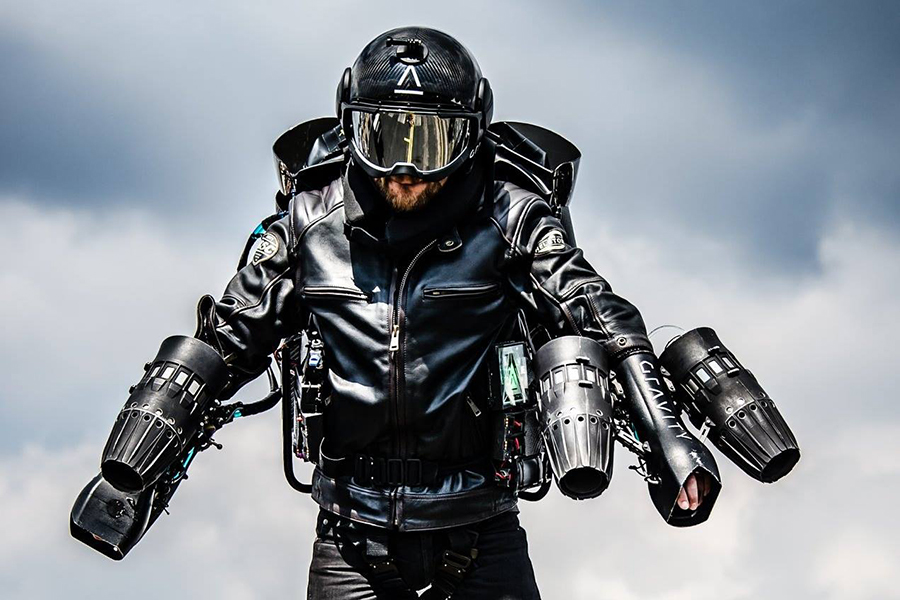 Gravity Industries Jetpack Suit
Jetpacks are real and they're here, except you can't buy one for personal use…yet. What you can do is partake in the jetpack experience through a supervised program. We'll take it and so too will the thrill-seeker in your life.
Buy it here (AUS) Buy it here (US)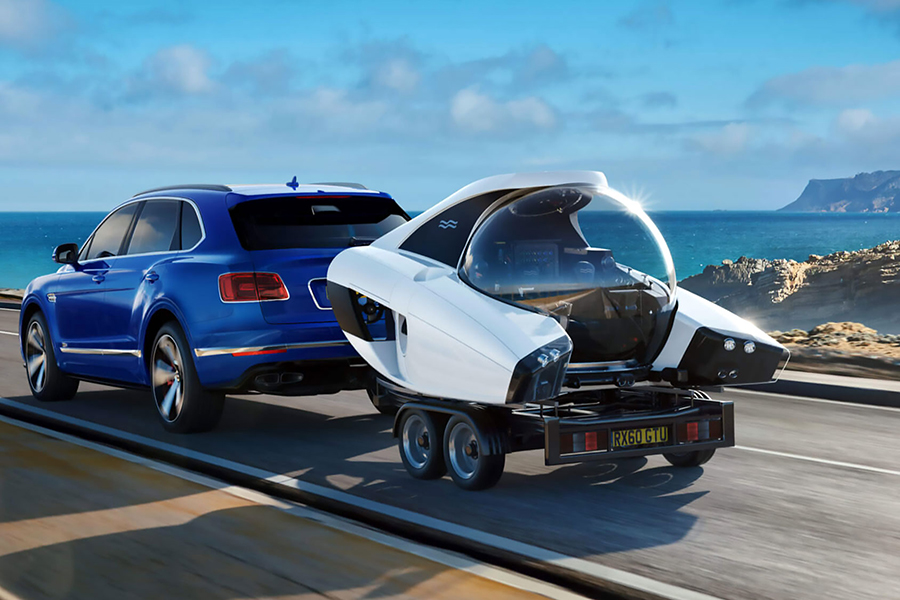 Nemo Submarine
Speaking of futuristic adventures, the Nemo 2-Person Submarine is compact, lightweight, versatile, custom-built, and available for purchase. Now, who has about €975,000 to spare?! Anyone? Hello?
Buy it here (AUS) Buy it here (US)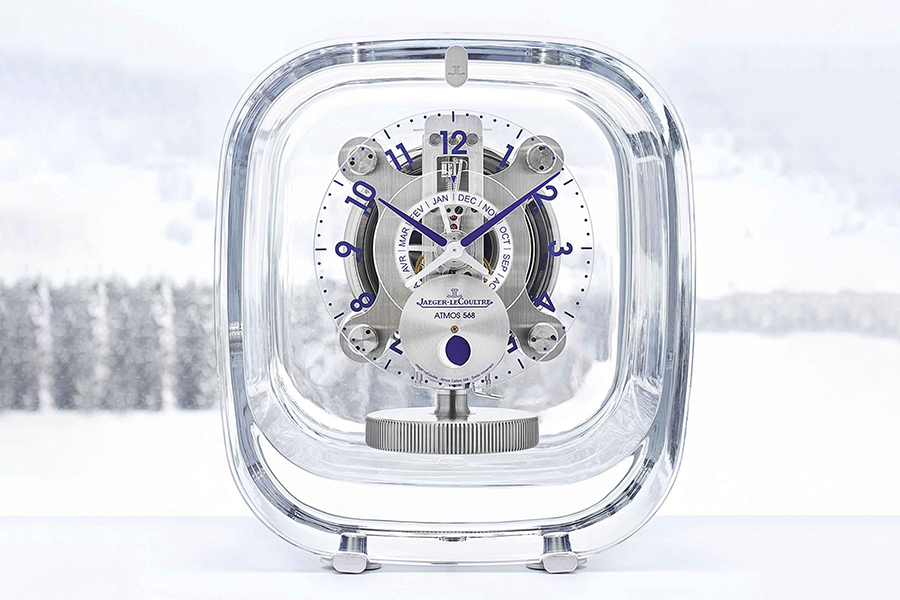 Jaeger-LeCoultre + Marc Newson Atmos 568 Clock
Swiss watchmaker Jaeger-LeCoultre teamed up with acclaimed Aussie designer Marc Newsom to create the ultimate luxury clock. Untethered from cords or batteries, it "lives off the air" inside a transparent case of baccarat crystal. Minor temperature variations cause a mixture of gases to expand or contract, thereby fueling the self-winding movement and its 211 components. We're merely skirting the surface of what this epic contraption has in store. – AU$39,952/US$26,600
Buy it here (AUS) Buy it here (US)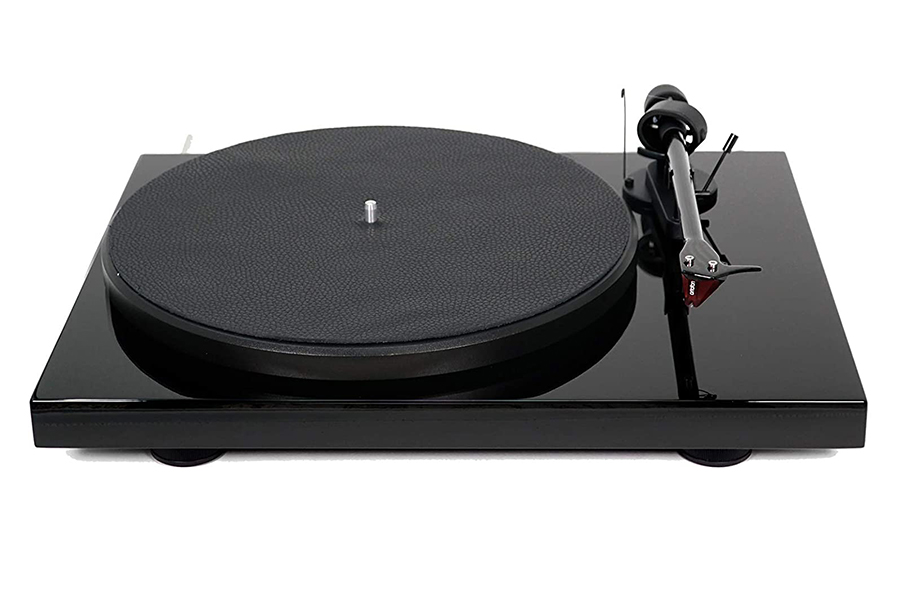 Hudson Hi-Fi Leather Turntable Mat
Complement your turntable with this Swiss leather mat from Hudson Hi-Fi. Not just luxurious to the touch, it also dampens resonance and reduces noise while cultivating unique sound characteristics. The warm sound of vinyl just got a little warmer. – AU$61/US$32
Buy it here (AUS) Buy it here (US)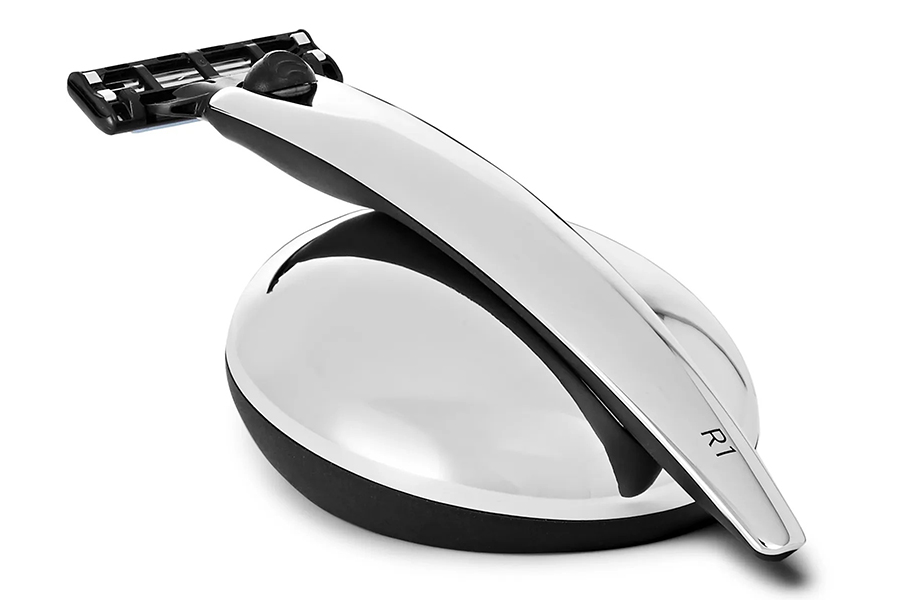 Bolin Webb R1 Mach3 Cartridge Razor and Stand Shaving Set
Inspired by the silhouette of a 1960 AC Cobra, Bolin Webb's R1 Mach3 Shaving Set offers stunning curvature and an eye-grabbing, chrome-based aesthetic. Guaranteed to spruce up its surroundings, it also happens to deliver a superior shave. – AU$399/US$280
Buy it here (AUS) Buy it here (US)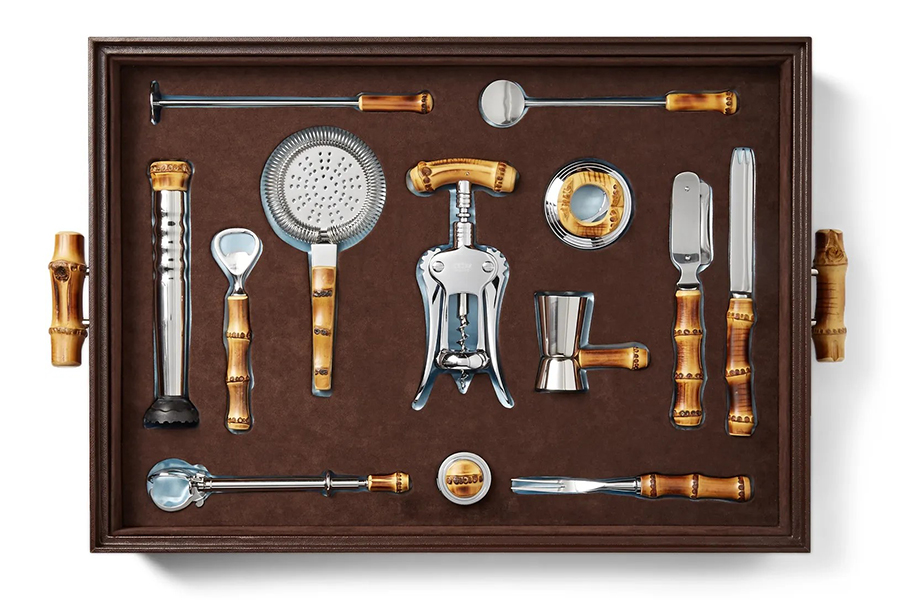 Lorenzi Milano Bamboo and Stainless Steel Bar Set
No one respects high-grade stainless steel and brown bamboo quite like Italy's Lorenzi Milano. They put both materials to expert use on this elegant bar set, which organises various cocktail essentials within a leather storage case with Alcantara lining. – AU$4,711/US$3,290
Buy it here (AUS) Buy it here (US)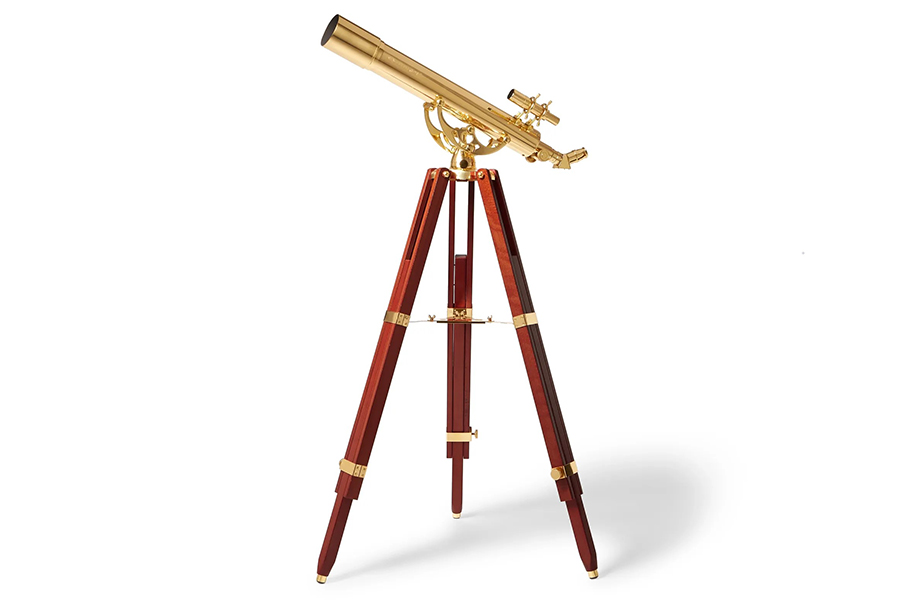 Celestron Ambassador 80mm Brass and Mahogany Telescope
Taking design cues from classic vintage telescopes, this one places a gold-tone brass case atop an altazimuth mount and adjustable mahogany tripod. Peer through the refracting lens and gaze upon the universe and its wondrous creations at up to 189x zoom magnification. Now, take a step back and gaze upon the wondrous creation sitting right before you, which also happens to make for an ideal gift. – AU$1,662/US$1,580
Buy it here (AUS) Buy it here (US)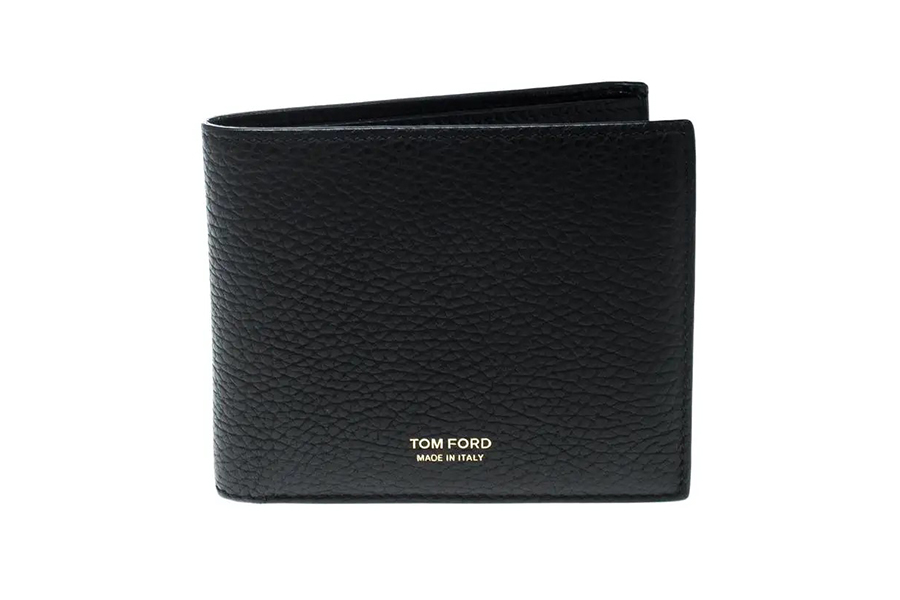 Tom Ford Full-Grain Leather Billfold Wallet
Putting standard EDC to shame, Tom Ford's billfold wallet was crafted in Italy from premium full-grain leather. Slim and organised, it offers a supple texture with gold brand embossing. Rarely does something so simple render as massive an impression as it does here. – AU$367/US$350
Buy it here (AUS) Buy it here (US)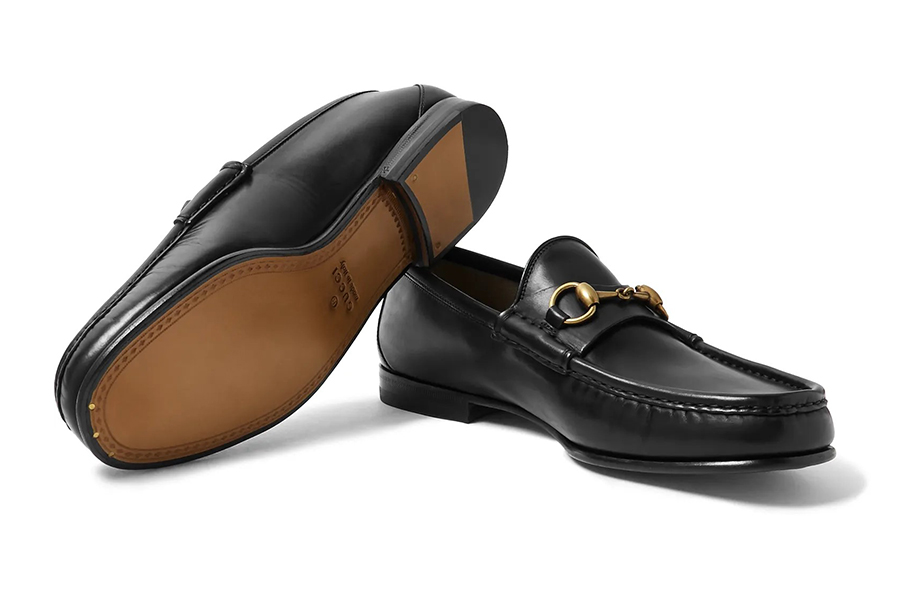 Gucci Roos Horsebit Leather Loafers
Gucci's glossy leather loafers are as stunning now as they were when they debuted back in 1953. It only goes to show that some things never go out of style. Pair them with a semi-formal ensemble and expect knowing nods of approval as people look you over from head to toe. – AU$934/US$690
Buy it here (AUS) Buy it here (US)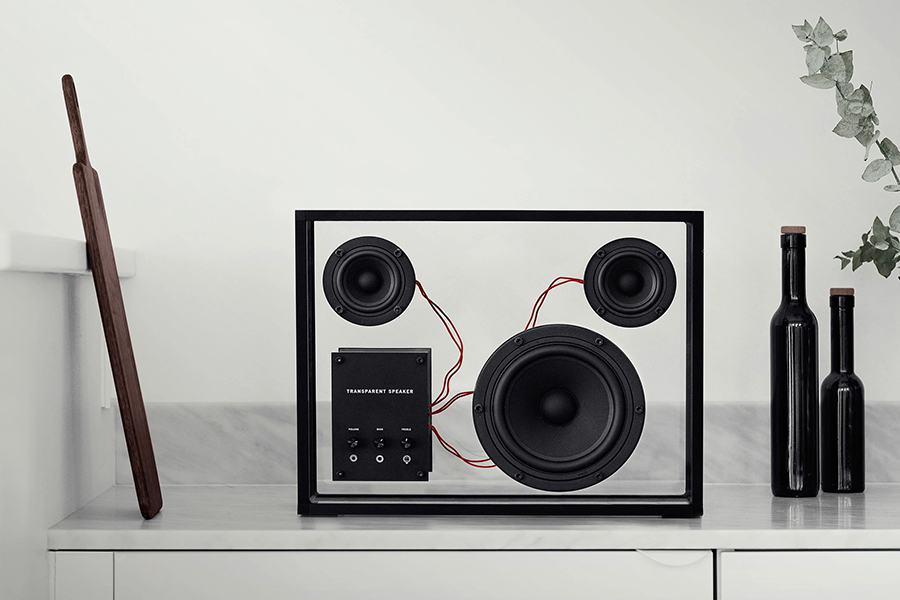 Transparent Speaker
Unlike any other speaker you can find, this one is transparent in both sight and sound alike. Forged from aluminium and tempered glass, it delivers deep bass and impeccable sonic detail. Features include adjustable front controls, Bluetooth compatibility, and WiFi connectivity. Plus, it just looks awesome. – AU$2,216/US$1,100
Buy it here (AUS) Buy it here (US)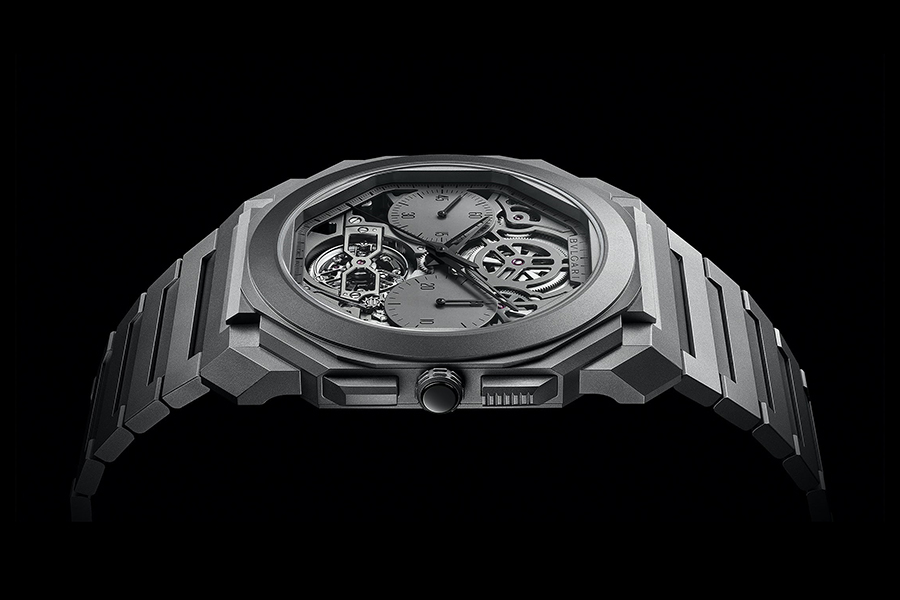 Bulgari Octo Finissimo
With its open-worked dial, Swiss-made origins, and Italian underpinnings, Bulgari's Octo Finissimo is like a high-end mic drop in horological form. Behold its unique octagonal design—inspired by ancient Roman architecture—and the dazzling complexity of its ultra-thin mechanical movement. This thing is a beast! – AU$33,000
Buy it here (AUS) Buy it here (US)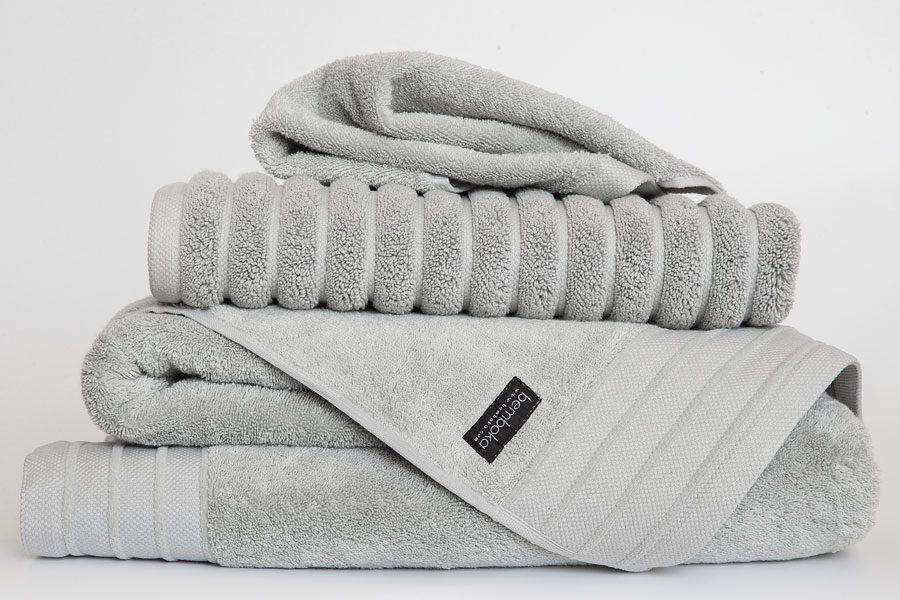 Bemboka Luxury Jacquard Bath Sheets
Equal parts plush and practical, Bemboka's luxurious bath sheets offer high absorbency and unique texture. They can be found in some of the world's finest resorts and hotels and now in your own bathroom, should you pull the trigger. But be forewarned: once you go with 100% Cotton Turkish Bath Sheets, you never go back. – US$99
Buy it here (AUS) Buy it here (US)
More Christmas Gift Guides:
2020 Christmas Gift Guide – The Fitness Freak
2020 Christmas Gift Guide – The Foodie
2020 Christmas Gift Guide – For Your Pet(s)