8 Apps to Stop Procrastinating in 2019
We touched on 32 tools to help you achieve your goals yesterday but what about all the things working against you on your way to success. There's that Tinder message you've got to reply to, the boys WhatsApp thread taunting you or the Facebook notification reminding you to respond to your mates birthday celebrations this weekend. Everywhere you look, the opportunities for procrastination are endless.
But it doesn't have to be that way. Trying to teach yourself how to stay better focused and concentrate can only go so far. To block out all opportunities for distraction (when warranted of course) and eliminate all the options you have to cheat yourself and find a way out of doing that work. The internet is the main culprit when it comes to distraction so we're going to focus our attention on the browser & desktop, followed by the smartphone.
Remember Gentlemen Procrastination is a bit like Masturbation, It feels good but at the end of the day, you're just f*cking yourself.
You'll also like: 
12 Mind Hacks for Productivity
10 Daily Habits of Highly Successful People
This Tasmanian Vodka Brand is Searching for the Island's Mythic Tiger
Tools for the Browser & Desktop
Editors Note: Most of these extensions will only work with the Chrome Browser. If you're using another, we suggest you make the switch to Chrome for the reasons below. Oh, and we realise how sucky we are with our temptation so before you we even delve in, go delete Internet Explorer or Safari or any other platforms that might allow you the opportunity to get around the blocks we introduce below.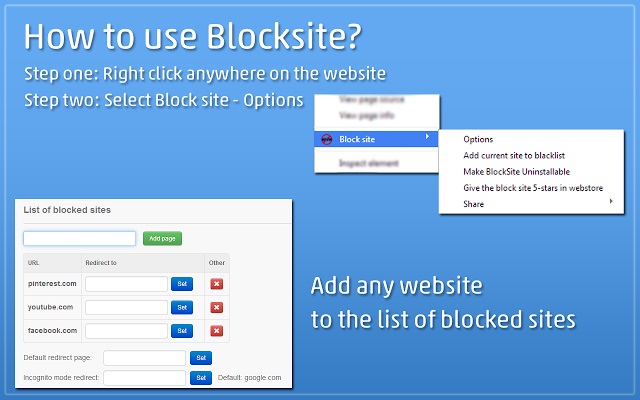 1. Block Site
Block Site is by far my favourite Chrome Extension for avoiding distraction during work hours. Simply add a website you'd like to block during certain pre-defined hours and if you try to access it during the allotted time, you'll be redirected to a chosen website. We've set ours to our Google Tasks list. You can also right-click on any web page to block it or set keywords for Chrome to detect before blocking a page.
Now here's where it really gets powerful. With most of these extensions, the temptation will be to simply disable them when you want to go back to check that news page. Not with Block Site. Not only does it work in incognito mode but with both password protection and uninstall protection you can completely rid yourself of the opportunity to cheat. What we suggest is using a service like LastPass to generate with a ridiculously long password (of 50 characters) and hand-write this in a notebook before setting it as your password.
That means if you do decide you have to disable the app you'll have to go through the long and arduous process of typing out the ever complicated 50 characters. And don't go saving this on your computer so you can simply copy and paste it. This hassle will make you question whether it's even worth it or if you should just get back to the work you were supposed to be doing.
Features: Focus Mode (Pomodoro technique timer); Scheduling feature; Customised Blocked Page
Category: Productivity
Developer: https://blocksite.co/
Users: 1,000,000+ users
Average Rating: 4.5 / 5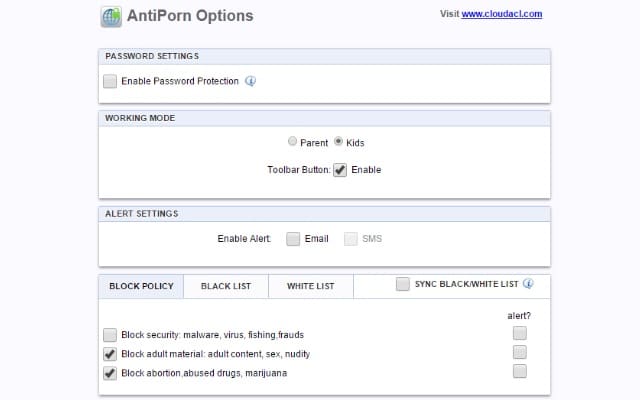 2. Anti-Porn Pro
Porn and excessive masturbation is a problem for many lads. There's the 'Death Grip' syndrome or even the ability to lose interest in normal sex from watching too much porn (If you want more info watch this TED video or check out the Your Brain on Porn website). So it's only sensible that you'd want to block out the distractions that porn can often cause.
Anti-Porn Pro is one of the best cloud-based web filtering application protecting you from the temptation of, ahem, procrastination by browsing by monitoring millions of websites. Try access PornHub or YouPorn and it'll simply block you from seeing the page. It's by no means perfect but it'll be a nice reminder to get back to work!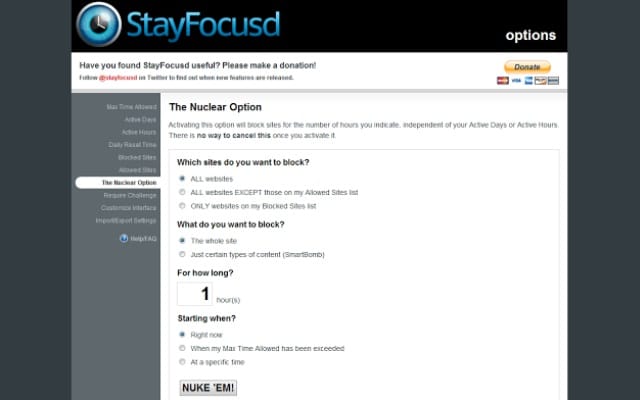 3. StayFocusd
While not as strict as the Block Site extension, StayFocusd increases your productivity by limiting the amount of time that you can spend on time-wasting websites. Once you've used up your limit for the day, it'll block access to certain websites for the rest of the day. It's highly configurable and also allows for you to require an annoying typing challenge you have to complete to disable it.
Features: highly configurable
Category: Productivity
Developer: Transfusion Media
Users: 600,000+ users
Average Rating: 4.5 / 5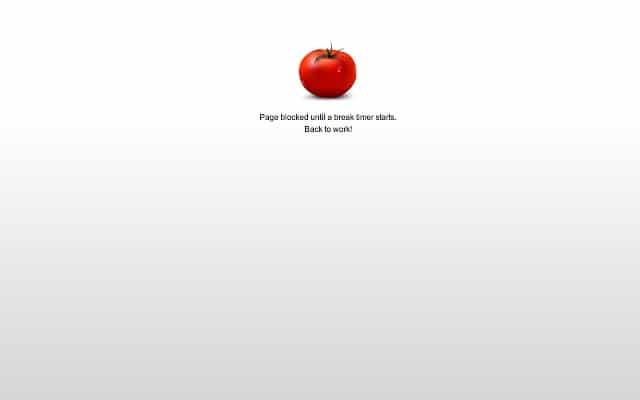 4. Strict Workflow
This extension enforces 25 minutes on (of working), 5 minutes break the cycle or what's commonly known as the Pomodoro technique. It's pre-configured to block popular distracting websites and very easy to personalise.
Features: easy to use; blacklist or whitelist; may be personalised
Category: Productivity
Developer: Matchu
Users: 100,000+ users
Average Rating: 4.2 / 5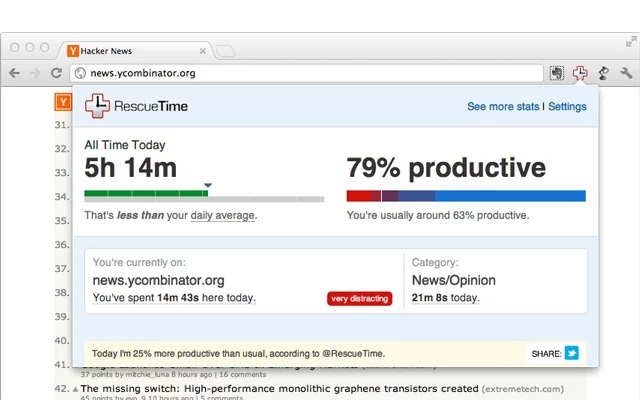 5. RescueTime
RescueTime allows you to keep a track of the time you spend in Chrome and online to get a clearer picture of what you were doing all day. We know one of the keys of succeeding at your goals is to track your progress and RescueTime does just that. If you're being distracted or procrastinating online, you'll soon know.
Features: auto-categorises sites; scores from a Very Productive to Very Distracting scale
Category: Productivity
Developer: rescuetime.com
Users: 100,000+ users
Average Rating: 4.3 / 5

6. Freedom
A tool similar to Block Site except it also works on applications on your desktop. Something which is strongly recommended by Tim Ferriss and Neil Strauss. It also works across your smartphone as well.
Features: block websites; block apps; sync across devices; blocklists; advanced scheduling
Price: free trial; $2.50/month
Tools for the Smartphone
No, your phone is a little more tricky to block distractions, as through the notification system that's built into IOS and Android, it's an interruption and distraction monster! Before we delve into the apps below, we suggest looking to see if you can set up a 'Work' profile to automatically set your phone to silent. Better yet, disable all notifications from apps that you know distract you. There's really no need to see that Facebook status update in your notification bar immediately so why not disable it. Don't worry you'll still see all your messages when you open the app itself but it'll be a lot less intimating or stressful having an empty notification bar.
7. FocusON (Android)
Focus Out Distractions is similar to Block Site for your smartphone in that it will help you detox from smartphone distractions by blocking out apps & websites that waste your time. Select any app & websites to lock out and select time (set or schedule timer or recurring) and start the lock. This can be disabled by having to type out an ironic phrase reminding you that you're not being productive so it's still very effective.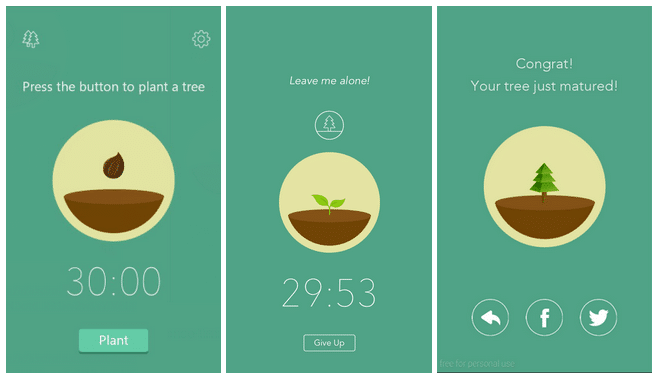 8. Forest (iTunes & Android)
Forest allows you to stay focused and be present in the moment. Simply plant a tree in the app and over the next 30 minutes, it will grow into a flourishing pine. But beware, the tree will be killed if you leave the app. Your goal is to grow a flourishing forest over time.
Category: Productivity
Developer: Seekrtech
Average Rating: 4.8 / 5 (App Store)
Price: $1.99; in-app purchases
You'll also like: 
12 Mind Hacks for Productivity
10 Daily Habits of Highly Successful People
Australia's Most Bogan Baby Names for 2020 Revealed