15 Best Sports Bars in Melbourne
If you're looking for a quick list of the best sports bars and pubs in Melbourne you'll want to head to The Imperial, the Richmond Club Hotel or The London Tavern Hotel. However, this Aussie capital is famous for two things, good coffee and a jam-packed year of sporting events. Our team of professional editors and sports experts have tasted and tested the best beer, parmas and sports bars in Melbourne so you and your mates can head to the right place to catch all of the action.
Best Sports Bars in Melbourne at a Glance
Whether it be an AFL showdown between Collingwood and Essendon on Anzac Day, the Formula One Grand Prix, or the Australian Open, we're well aware of the ever-present conundrum of where to cheer on your favourite team on away games or those unfortunate times you didn't nab tickets (or flights) to the big sporting event.
Now we've had a look at our favourites, let's check out the complete list.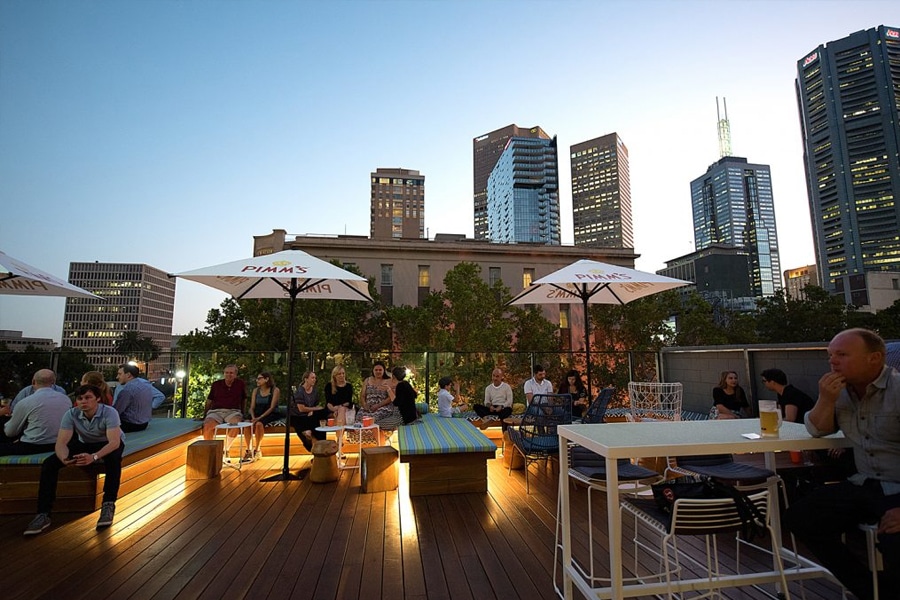 1. Imperial Hotel
The Imperial first opened its doors in 1858, making it one of the oldest sports bars in Melbourne's CBD. The incredible rooftop bar has a scrumptious English food menu filled with bar snacks and an impressive beer and wine list. You'll find a comprehensive display of live sports from around the globe making the Imperial your old-school sports bar in the city. Be sure to try the whole parma, the half parma or the eggplant parma.
Address: 2-8 Bourke St, Melbourne VIC 3000
Hours: Mon-Wed & Sun 12-11pm, Thur-Sat 12pm-1am
Phone: (03) 9810 0062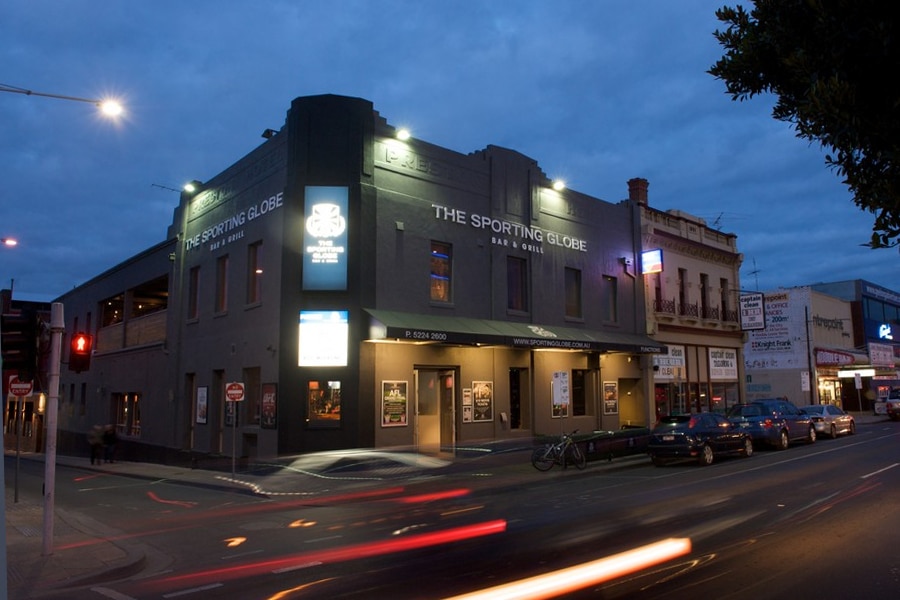 2. The Sporting Globe Bar & Grill Richmond
With multiple locations across Melbourne and beyond, the Sporting Globe in Richmond is perfect for a box-office UFC event. Even if another sport is on during a UFC extravaganza, there are plenty of screens showing the NRL, AFL, Bledisloe Cup and any other sporting event you might desire. The Richmond location is a sports bar combining top-shelf technology, a loud atmosphere and old-school pub food to make for one of the most authentic public sports viewings in Melbourne. We would recommend the Sporting Globe in Richmond for a cracking UFC event, and if Alex Volkanovski is fighting, you're in for a treat, as everyone loves our Australian champion.
Address: 288 Bridge Rd, Richmond VIC 3121
Hours: Mon-Wed & Sun 11:30am-9:30pm, Thur 11:30am-10:30pm, Fri-Sat 11:30am-11:30pm
Phone: (03) 7002 2998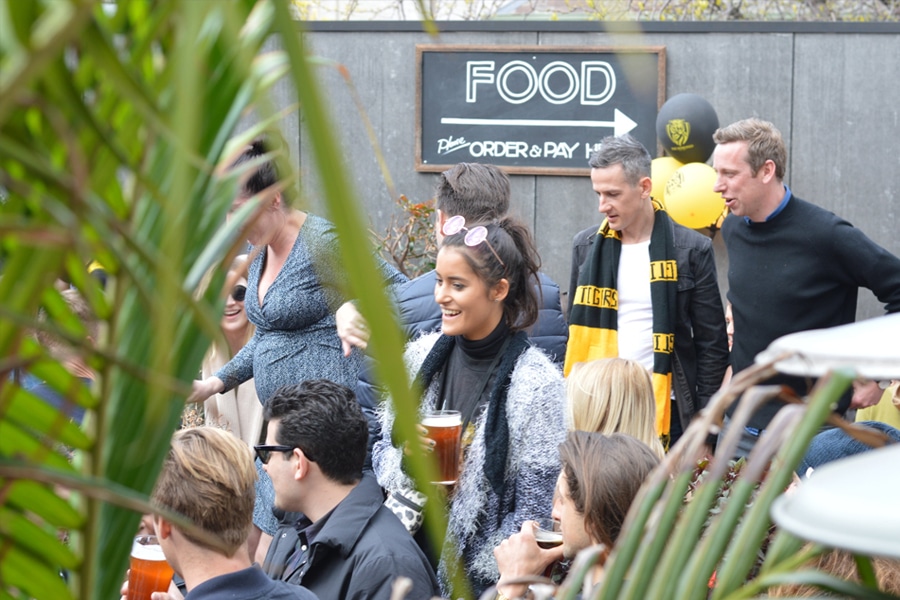 3. Great Northern Hotel
The Great Northern show NRL, cricket, A-league, EPL and NFL. Plus, if you'd like to watch a particular sporting match, they'll ensure one of its many televisions, or one of two massive projector screens is showing the big game. If it's a middle-of-the-night overseas match, this sports bar in Melbourne will open its doors early for you and your mates so you can feel like you're in the front row at the game. Be welcomed with an unparalleled selection of beers, leafy beer garden and delicious pub grub.
---
Featured Video from Man of Many
---
Address: 644 Rathdowne St, Carlton North VIC 3054
Hours: Mon-Wed 11am-12am, Thur-Sat 11am-1am, Sun 11am-11pm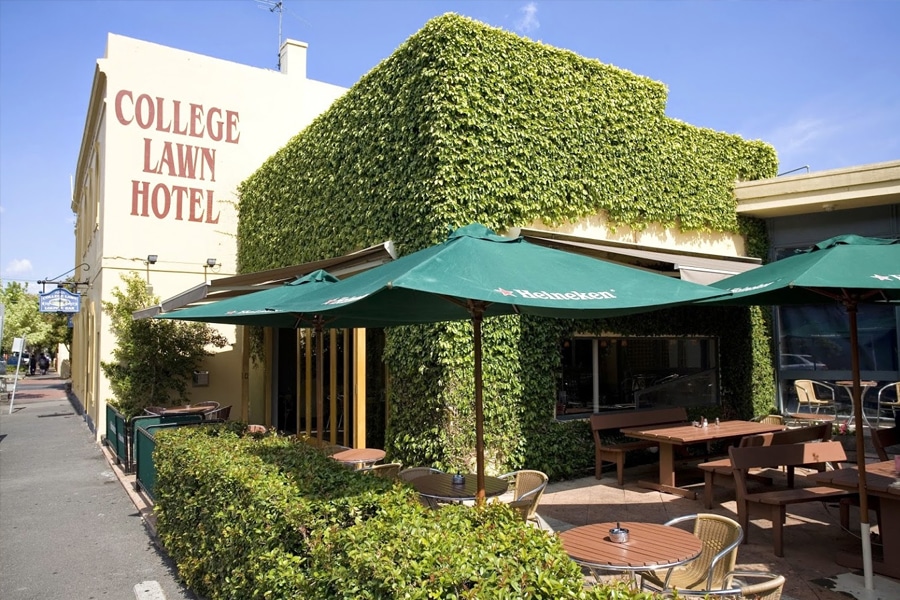 4. College Lawn Hotel
Spend your Saturday afternoon at the College Lawn Hotel and catch all the biggest live sporting games on its big-screen TVs. With a main bar, restaurant, live music and a beer garden—this sports bar in Melbourne makes for a fantastic summer viewing experience. We recommend catching a few Australian Open games here, or the AFL and NRL on a nice Saturday afternoon or a Sunday blockbuster.
Address: 36 Greville St, Prahran VIC 3181
Hours: Mon-Wed 12-10pm, Thur 12-11pm, Sat-Sun 12pm-12am
Phone: (03) 9810 0074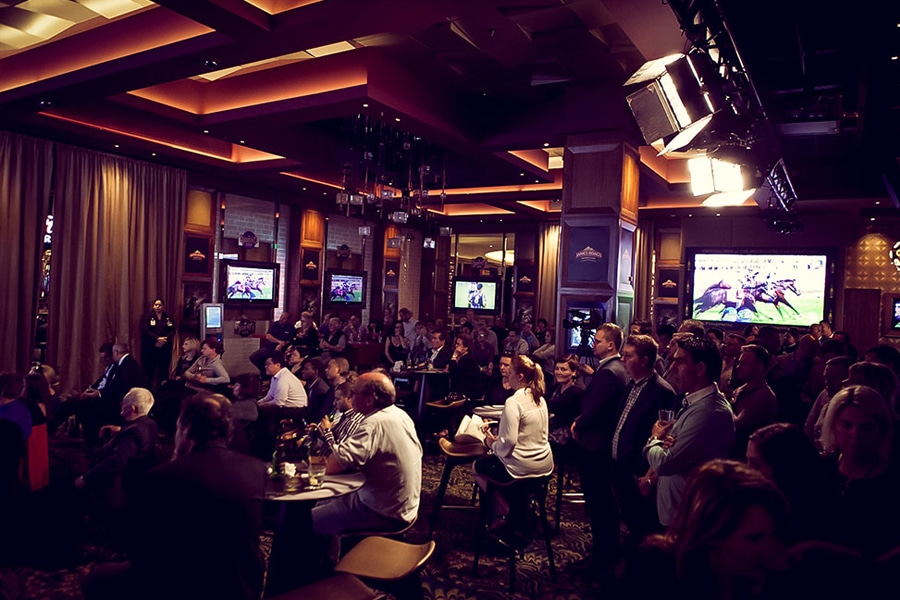 5. Crown Sports Bar
A dedicated Sports bar and pub, the Crown is easily one of the most action-packed sports bars in Melbourne for a major International sporting event. Crown attracts every nationality in Melbourne, and it creates a boiling-point type of atmosphere when the Fifa World Cup is on. It's also perfect for soccer fans looking for a Premier League match, just be mindful of the passionate Liverpool supporters. The Crown's Sports Bar has plenty of screens plus TAB facilities. We love the giant screens, bar snacks and one mega screen to ensure you don't miss a second of any action.
Address: Level 1 Casino, Crown Melbourne, 8 Whiteman St, Southbank VIC 3006
Hours: Mon-Thur 10am-12am, Fri-Sun 10am-3am
Phone: (03) 9292 8888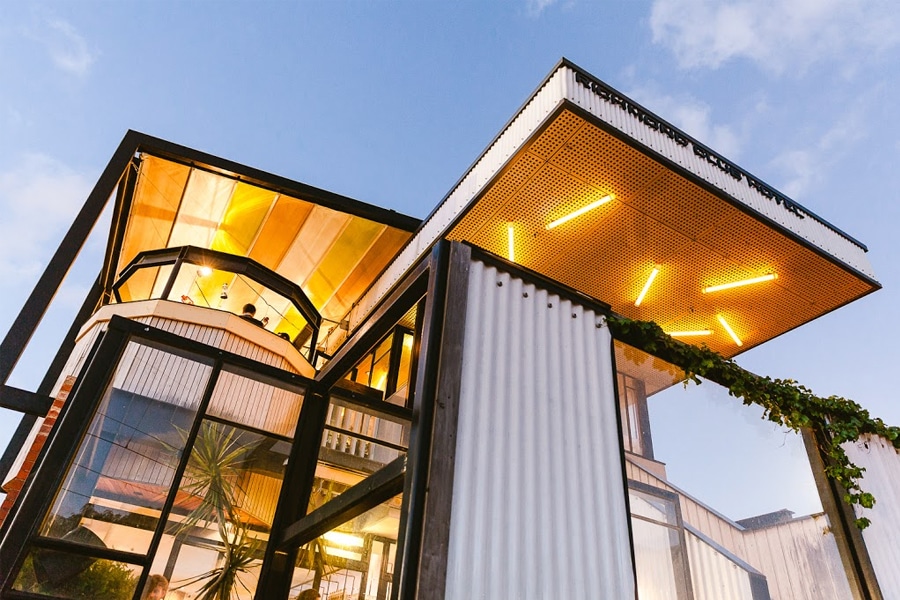 6. Richmond Club Hotel
The Richmond Club Hotel is one of the top rugby union sports bars in Melbourne, as well as just about any other sport. It's got spectacular city views and an ideal laid-back atmosphere for cheering on your favourite team. It's perfect for a pre-game drink before heading to the big game at the MCG, as it's a ten-minute walk from the pub to the ground. Likewise, depending on your mood after a match, you'll take to the streets to celebrate a win or mourn the loss.
Address: 100 Swan St, Richmond VIC 3121
Hours: Mon-Thur & Sun 12-11pm, Fri-Sat 12pm-1am
Phone: (03) 9428 6722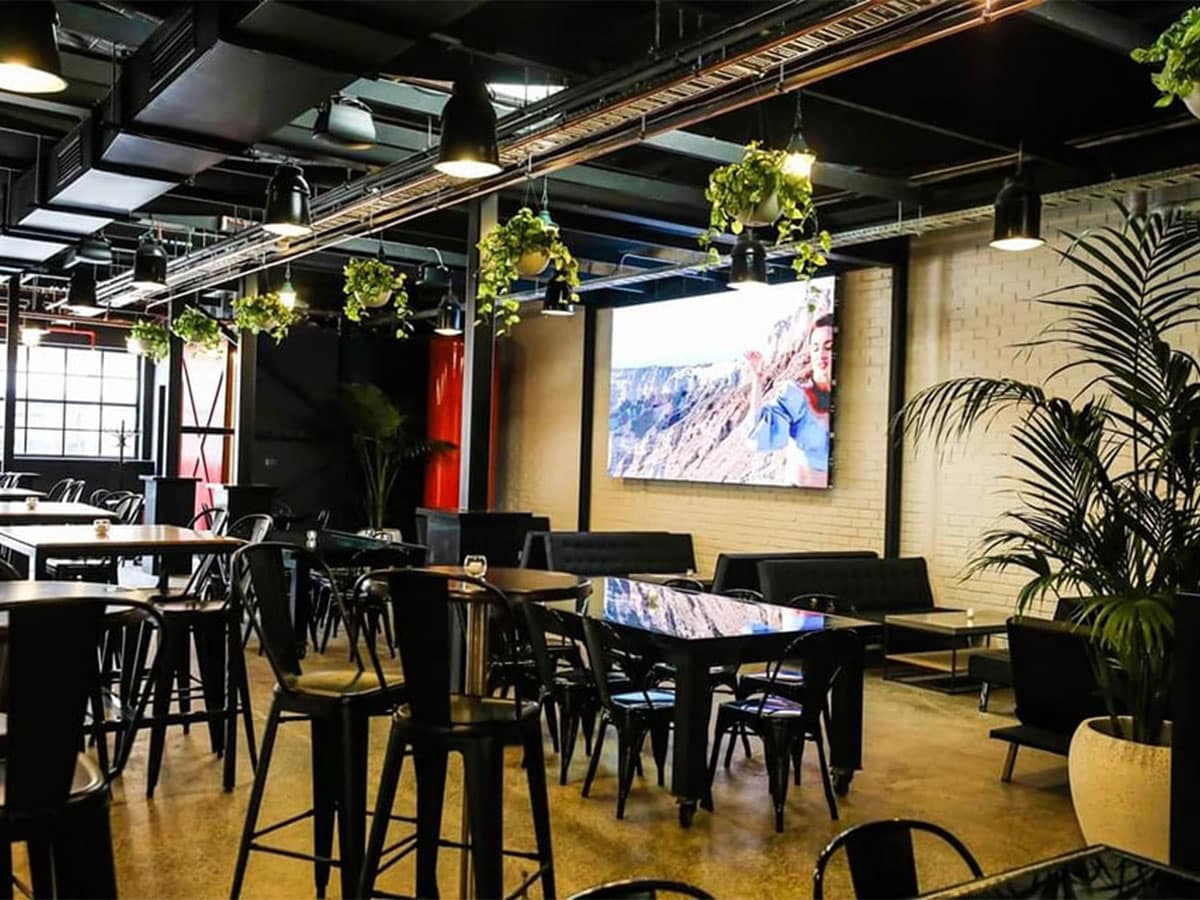 7. Governor's Hall
If you're hunting for an NBA watering hole in Melbourne's South East, this is it. Tucked away in Hawthorn East, this eclectic recently-opened sports bar is filled with the largest LED screen we've ever seen in a pub. You'll see a woodfire pizza oven serving traditional pizzas like pepperoni and Capricciosa. If you aren't sure what you're feeling like and you want a diverse selection of dishes, there's the trio of dips to vegetarian spring rolls, parmas and fish and chips. You'll find the NBA streaming on the big screen and a generous outside courtyard for a drink with mates.
Address: 27 Hall St, Hawthorn East VIC 3123
Hours: Mon-Wed 11:30am-9pm, Thur-Fri 11:30am-12am, Sat 4pm-12am
Phone: (03) 7064 5591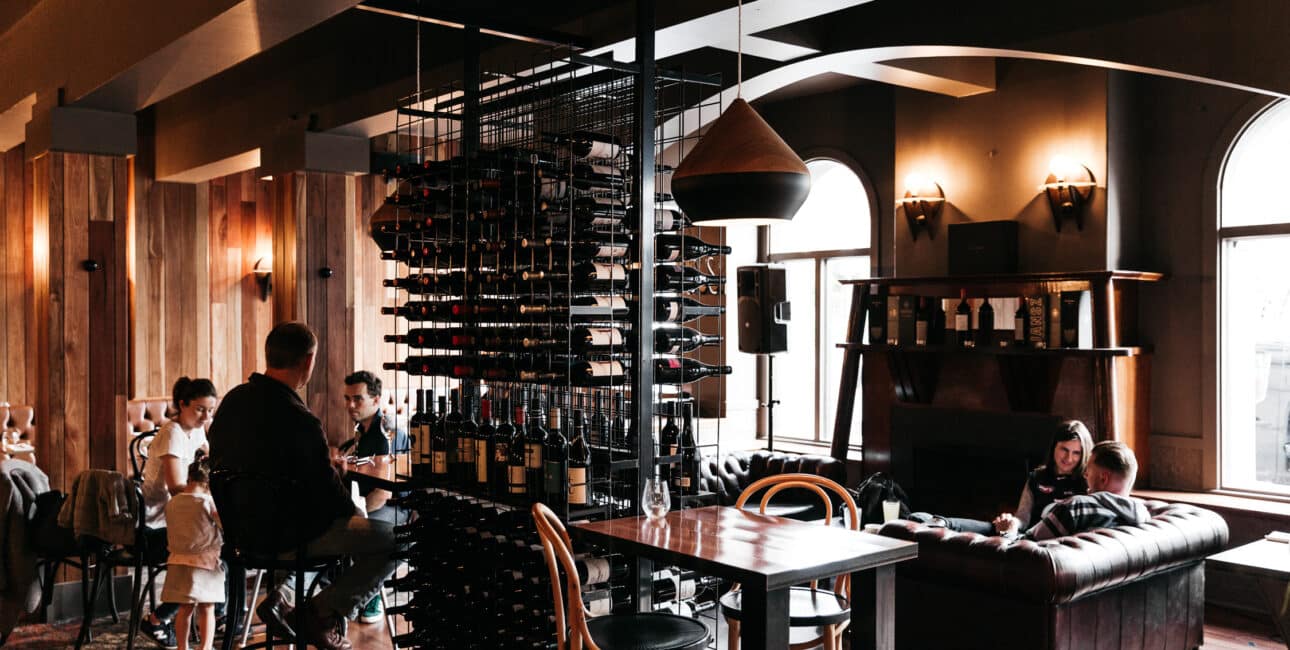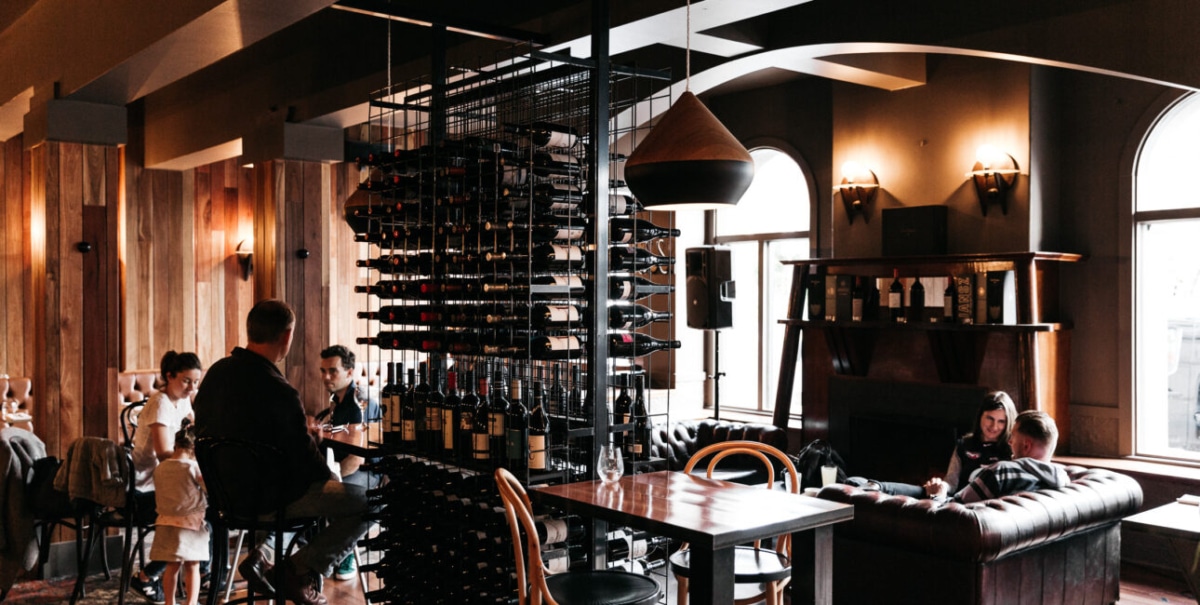 8. Auburn Hotel
The Auburn Hotel is the AFL sports bar of the East; it's covered from wall to wall in Hawthorn AFL Newspaper posters but still has a warm and welcoming setting. There's an extensive food menu and beverage list and unbelievable parmas, with a dedicated night (Wednesday night, parma night) offering traditional and vegan options too. It's a local favourite and is perfect for your standard home and away AFL season. Come finals, you'll need to sneak in early to claim a spot at the front bar where the projector is located.
Address: 85 Auburn Rd, Hawthorn East VIC 3122
Hours: Mon-Thur & Sun 12-10pm, Fri-Sat 12pm-12am
Phone: (03) 9810 0032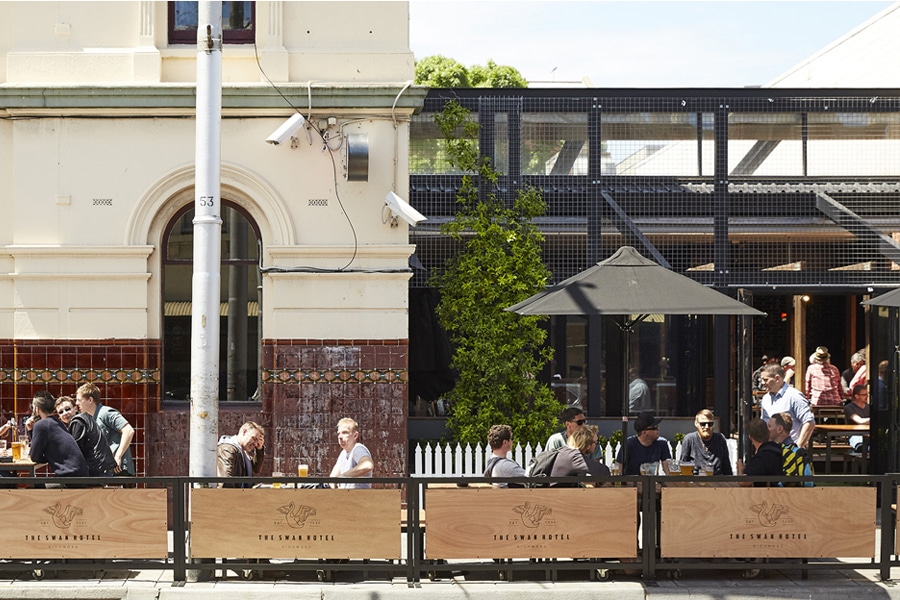 9. Swan Hotel
The Swan is a staple sports bar and hangout for Melburnians during summer because of its position. It's a five-minute walk to Chapel Street and is located in central Richmond. You'll find live music from local bands, pool tables and flowing beers creates a unique atmosphere in the heart of Melbourne. It's a great sports bar for many sporting events, the NRL, AFL and even the Australian Open are all on rotation during the year.
Address: 425 Church St, Richmond VIC 3121
Hours: Wed-Thur & Sun 12-11pm, Fri-Sat 12pm-3am
Phone: (03) 9428 2112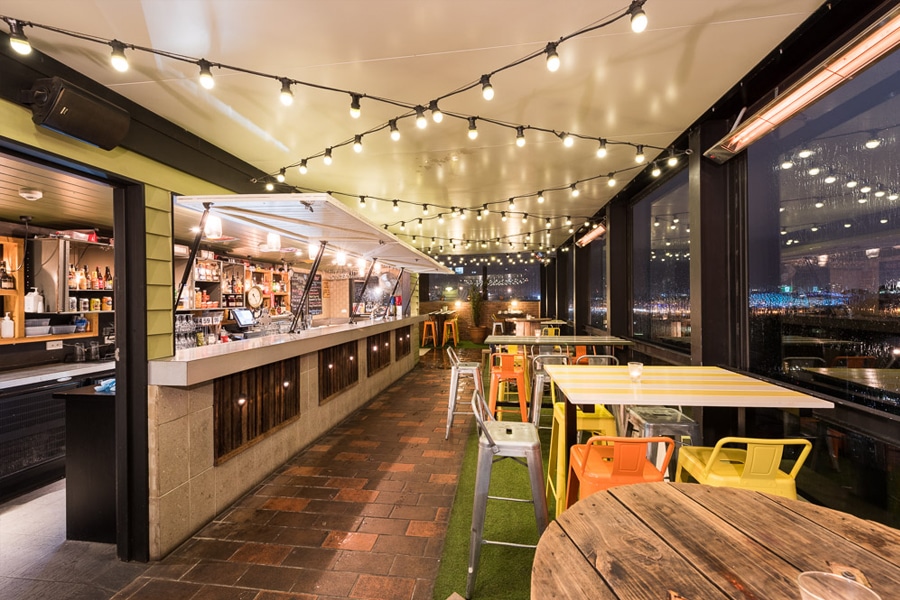 10. Mt View Hotel
You may have discovered the award-winning rooftop bar and crafty cocktails at Mt View Hotel, but have you also experienced what was recently voted the best sports bar in Melbourne? Combine everyone's favourite bar classics with this iconic Richmond drinking venue.
Address: 68/70 Bridge Rd, Richmond VIC 3121
Hours: Mon-Thur & Sun 12-11pm, Fri-Sat 12pm-1am
Phone: (03) 9428 3973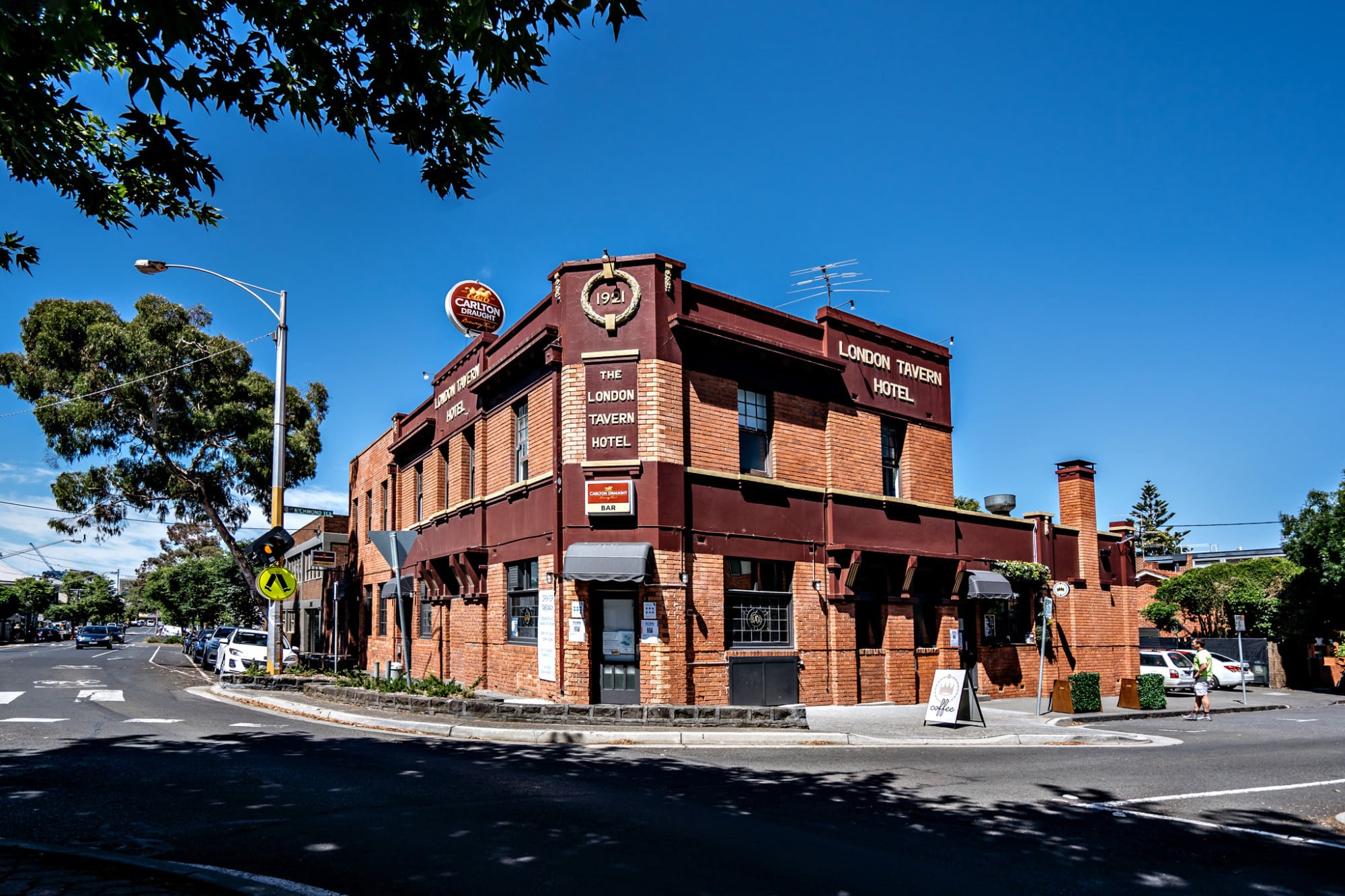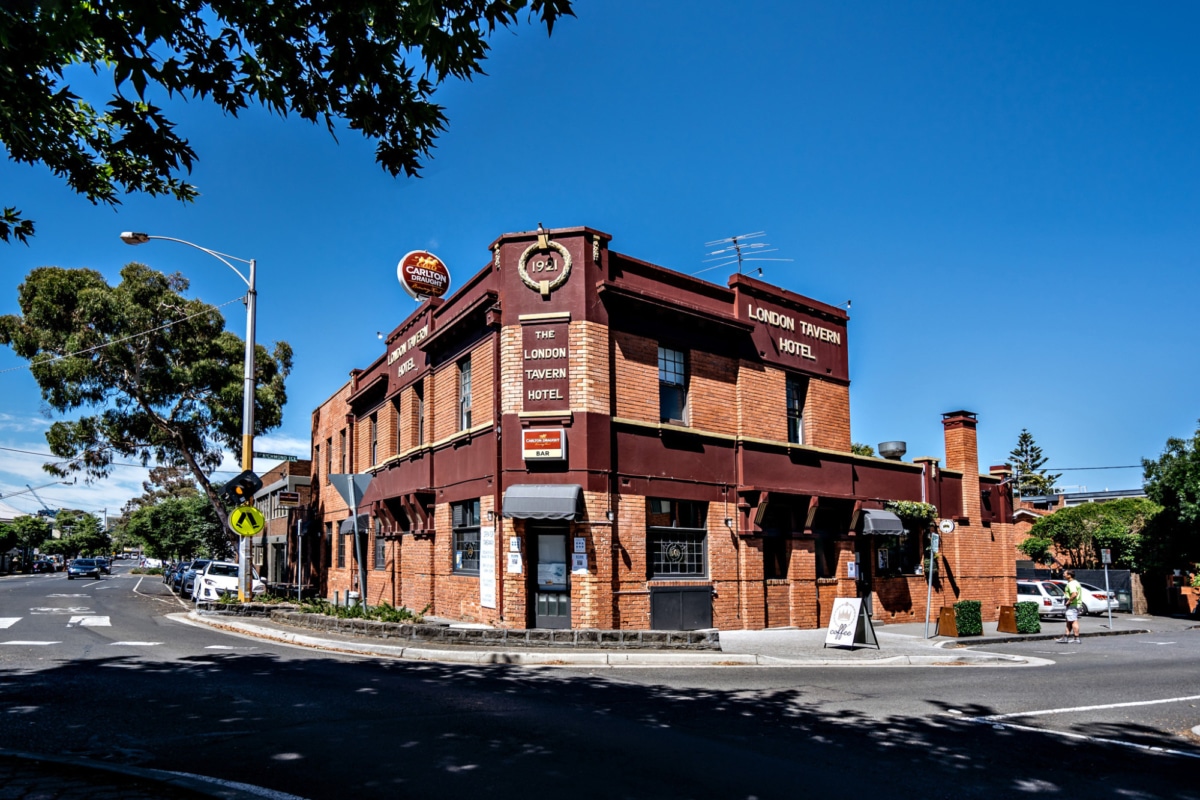 11. London Tavern Hotel
As far as old-style English pubs go, it doesn't get more original than the London Tavern Hotel in Richmond. This is the venue known to host the famous AFL Grand Final Day and finals series. This is Melbourne's premiere sports bar, you go here for the culture, atmosphere, smell of parmas and taste of beer. You'll walk through the bustling pub and bathe in a sea of scarves, and you'll hear graphic descriptions of supporters disagreeing with an umpire's decision. This is our favourite sports bar for big games and atmosphere, and the massive projector amongst the beer garden helps when you want to watch the game.
Address: 238 Lennox St, Richmond VIC 3121
Hours: Mon-Sun 12pm-12am
Phone: (03) 9428 6058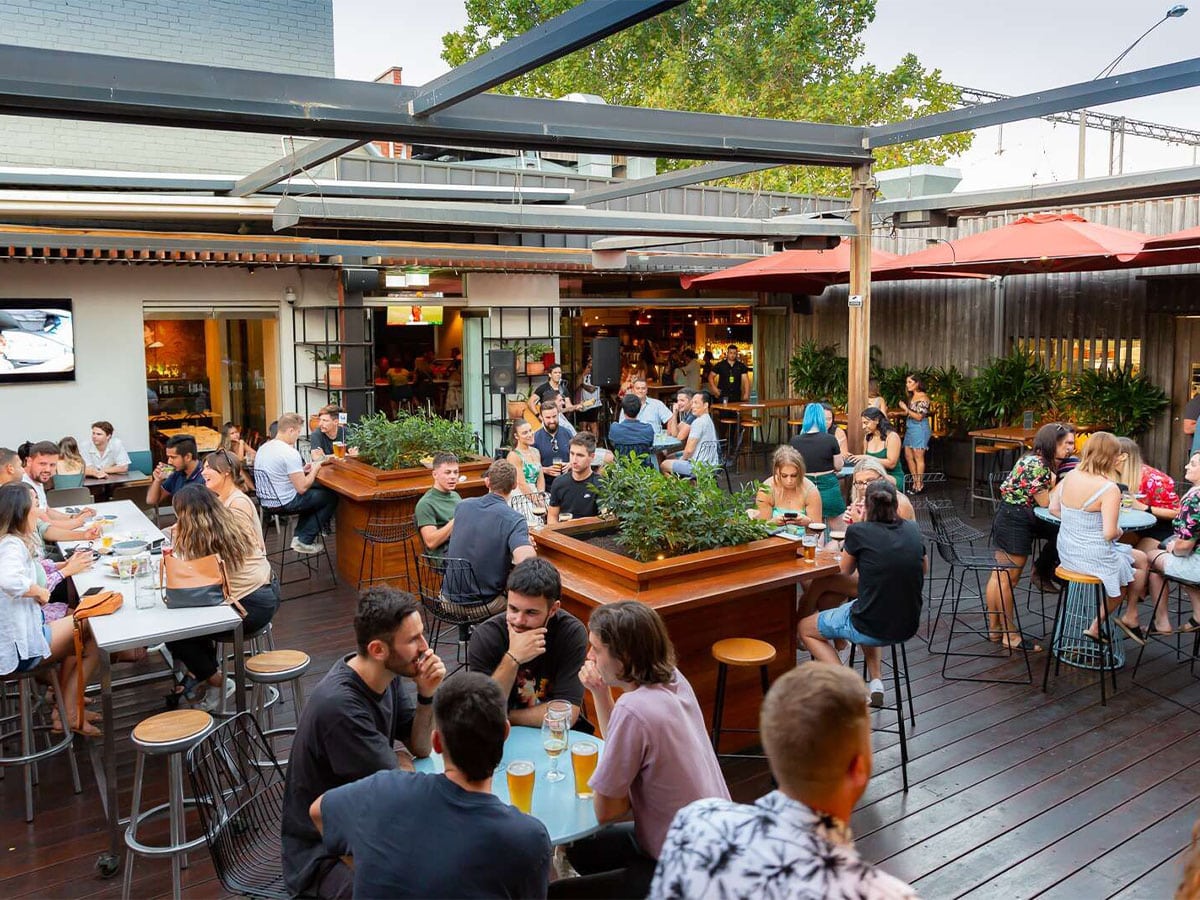 12. The Precinct Hotel
Across the road from sporting and entertainment areas, Richmond's historic Precinct Hotel has all the hustle and bustle of a vast courtyard showing World Cup games and giving Aussie sports enthusiasts precisely what they want, shorter bar lines and incredible pub meals like parmas and steaks. It's easily one of the best sports bars to watch major sporting games because of its size and different bar sections.
Address: 60 Swan St, Cremorne VIC 3121
Hours: Wed & Sun 12pm-12am, Thur-Fri 12pm-1am, Sat 12pm-3am
Phone: (03) 9429 1633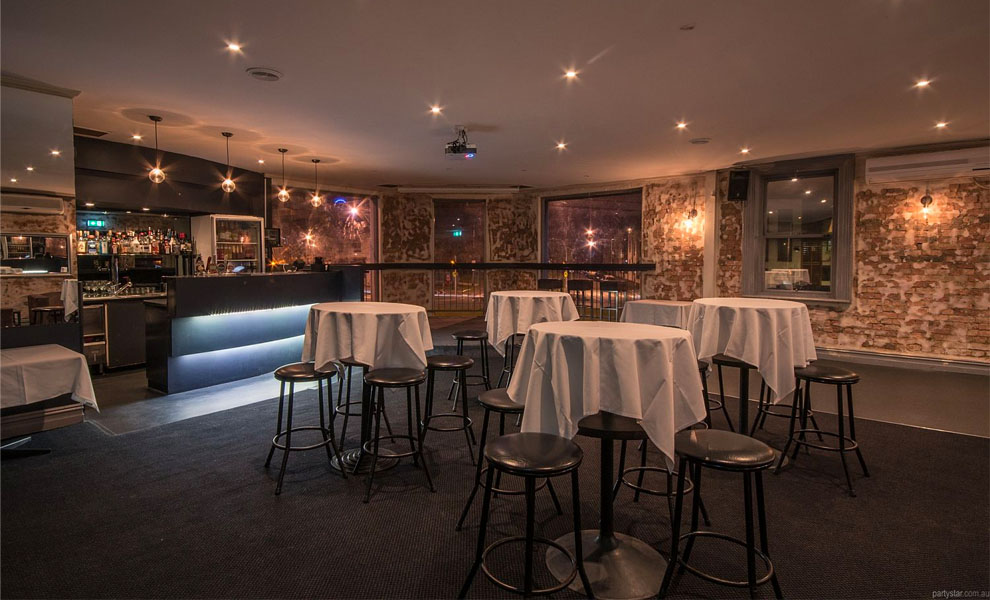 13. The Castle Hotel
This Belgian beer bar in North Melbourne is one of the liveliest and few rugby union pubs in Melbourne. If its wide selection of Belgian beer doesn't get you drooling, its comprehensive menu of share plates, classic pub meals like the Castle beef burger and contemporary gourmet dishes like spicy jalapeno poppers certainly will. And if that weren't enough, The Castle Hotel sports bar just underwent refurbishments to make it the most action-packed venue to support your team.
Address: 56 Courtney St, North Melbourne VIC 3051
Hours: Mon-Thur & Sun 11:30am-11:30pm, Fri-Sat 12pm-1am
Phone: (03) 9348 9692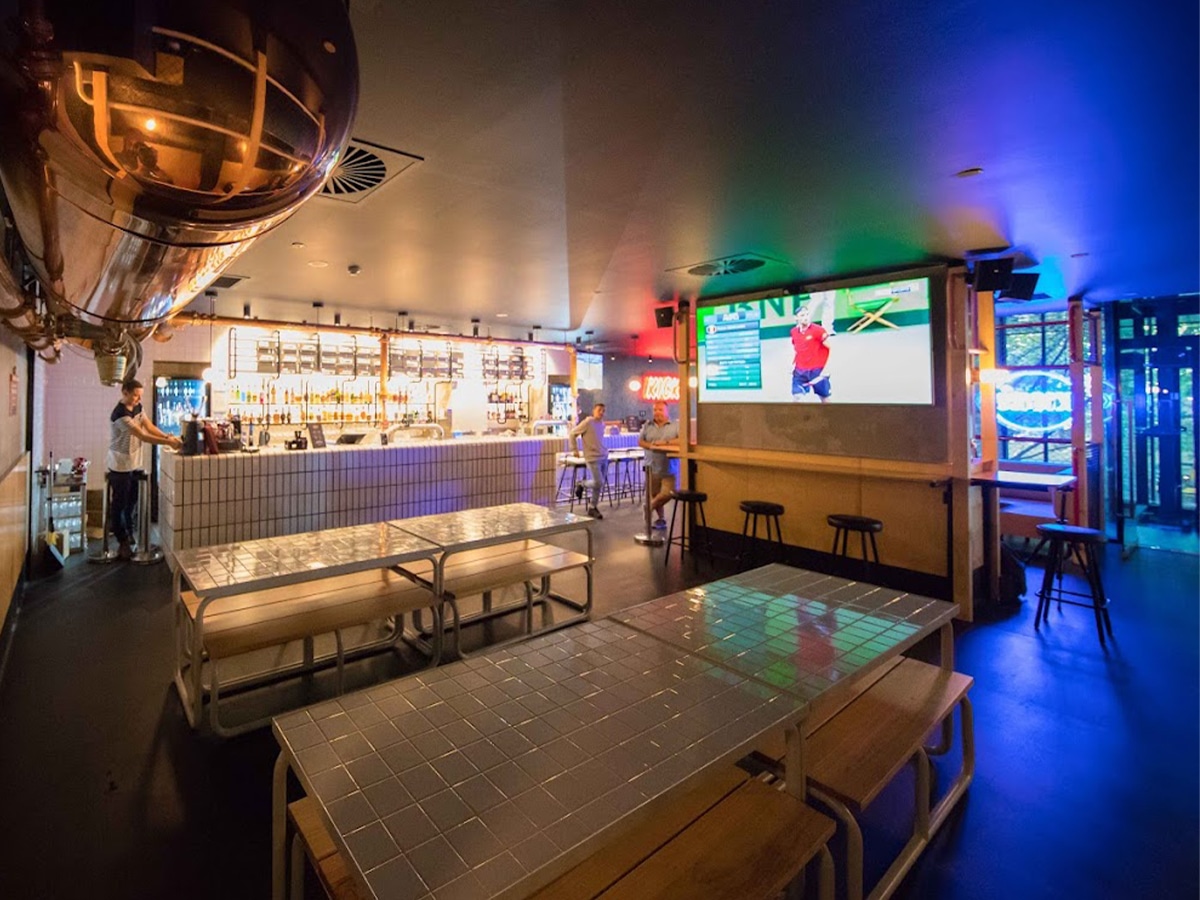 14. Kicks
With seating indoors and out, there's plenty of space for larger groups to take in the action at Kicks in Melbourne. Food is traditional pub grub with pizza, parmas, chips, and steaks that lean on the three pillars of fast, quick, and simple. TVs are found in every corner and you might as well stick around for the cold beers and atmosphere that rivals any pub in the CBD. Just don't expect to find any NRL on the big screens, this is Melbourne after all.
Address: Level 1/450 Elizabeth St, Melbourne VIC 30001
Hours: Mon-Sat 12pm-3am, Sun 10am-3am
Phone: 1300 651 446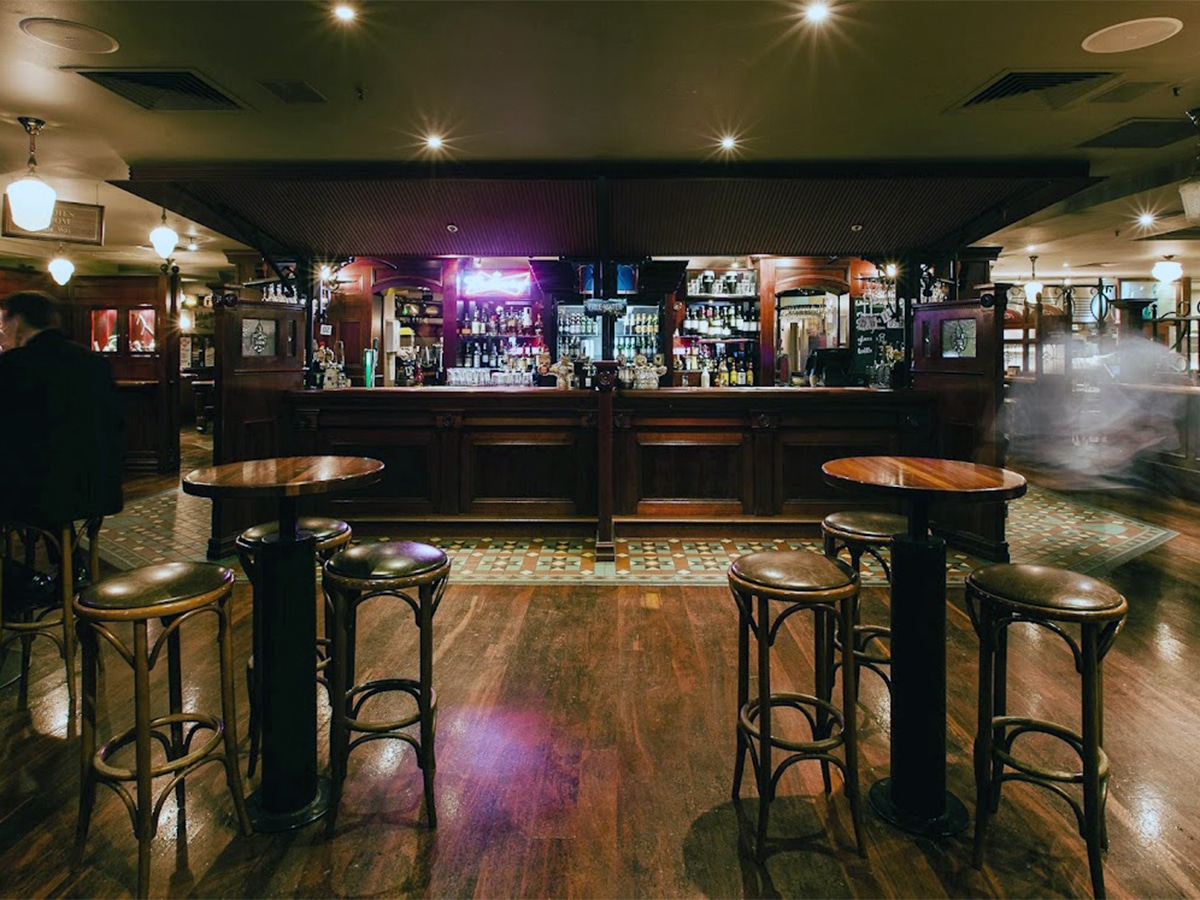 15. Turf Sports Bar Melbourne
If you're looking for a rowdy place to watch the AFL then Turf Sports Bar in Melbourne is the place you'll want to head first. With a great selection of food that includes pub favourites like fish and chips, steaks, and parmas to go with a beer list longer than your arm, you won't get hungry or thirsty. We recommend booking in advance if you're hanging out on one of the grand final days.
Address: 131 Queen St, Melbourne VIC 3000
Hours: Mon-Wed 12-10pm, Thur 12-11pm, Fri 12pm-12am, Sat 10am-11:30pm, Sun 4-10:30pm
Phone: (03) 9670 1271
Key Things to Consider for Best Sports Bars In Melbourne
The key factors to keep in mind when deciding where to go:
Location – How far are you willing to travel?
Value – Is it value for money?
Venue – A great atmosphere is essential.
Food & Drink – A strong pub menu and assortment of beers make a sports bar.
How Man of Many Chose This List
With an editorial team full of sports enthusiasts, Man Of Many has had the unique opportunity to directly sample and experience sports bars from the best venues in Melbourne. As expert journalists who guide people between competing products and services, we have provided our independent opinion in formulating Man of Many's selections. Our editors have taken into account location, food and drink and atmosphere while also making a concerted effort to highlight a few venues outside of the CBD. You can review our editorial policy here surrounding how we maintain our independence in our editorial reviews.
Alternatives to Sports Bars In Melbourne
If you're looking for other things to do in and around Melbourne, we've got you covered with some of the options listed below. You can also check out our list of the best Brazilian BBQ in Melbourne or, if you don't feel like heading out for food in Melbourne you can look to go fishing or find 100 other fun ideas in Melbourne.
You'll also like
---
Featured Video from Man of Many