Like kids counting down to Christmas, the Man of Many office is abuzz with excitement about Sydney Whisky Week (SWW), which is returning for its third year from May 10th to May 20th, 2023. Yes, you read that right; we're talking an 11-day week of celebration because there are just too many outstanding whiskies out there to fit into a standard 7-day week.
If this is the first you've heard of Sydney Whisky Week (where have you been?), it turns Sydney into a whisky lover's paradise, bringing together some of the city's best bars in collaboration with the world's finest distilleries for a range of one-time-only whisky and food experiences. Hosted by Man of Many in partnership with The Whisky List, this is an event you don't want to miss.
Below is your official guide to Sydney Whisky Week 2023!
The Sydney Whisky Week App
Those looking to make the most of the 10 days, can download The Whisky List app and take a self-guided walking tour of some of Sydney's best whisky hotspots, including Grain Bar, Doss House, Alfy's Bar, and The Roosevelt. Each participating bar will offer visitors a free pour of an expression from one of our partner whisky makers – Glen Moray, Glenmorangie, Waterford and Manly Spirits Co. – with every purchase of a featured Sydney Whisky Week cocktail.
How to Download the App & Score Free Whisky:
To get your free sample of whisky from participating Sydney Week Bars:
Download The Whisky List app by visiting wsky.me/app (or search "Whisky List" in Google Play/App Stores)
Tap Sydney Whisky Week and tap on Bars
Show the bar staff and 'check in' for that bar
You will be given 1 free sample of whisky at each participating venue when purchasing any featured Sydney Whisky Week cocktail or whisky
Note: one free whisky per person, per participating bar, can be redeemed during Sydney Whisky Week
Download the IOS App  Download the Android App
Offering far more than just free pours at participating bars, each sponsor brand will also be hosting exclusive ticketed tasting events throughout Sydney Whisky Week. Whether you're a seasoned whisky lover or exploring this world for the first time, these are events not to be missed. Read on to discover more or check out our comprehensive whisky guide for everything you need to know.
Coastal Stone Whisky | 10th of May
In Partnership with Manly Spirits Co.
Since 2017, Manly Spirits Co. has been leading the charge of Australian spirits, producing a range of outstanding expressions that harness the carefree essence of life by the beach and bottle it for all of us to enjoy. Now, with the recent release of its outstanding Coastal Stone Italian Luxe Trio – three Australian single malt whiskies that have been matured in ex-Italian wine varietal barrels from Australian Winery Mino & Co. – the true blue distillery is bringing its unique offering to Sydney Whisky Week.
With the Coastal Stone Italian Luxe Trio, Manly Spirits Co. has brought the worlds of whisky and wine together in beautiful harmony. In order to celebrate, the team behind this remarkable release has partnered with iconic Potts Point venue The Roosevelt for a week of cocktails and whisky specials, as well as a special ticketed event on May 10 that will demonstrate the way food can be used to unlock whisky's versatility.
Guests to the event will be expertly guided through the evening's tasting by Manly Spirits Co-Founder, David Whittaker as well as national brand ambassador Maurizio Furiani. Starting with cocktails on arrival that showcase the deliciousness of the Coastal Stone Nor'easter whisky, the evening will then proceed with five courses, each paired with a different dram as follows:
Antipasti – Coastal Stone Nor'easter
Main – Coastal Stone Aglianico Cask
Secondi – Coastal Stone Montepulciano Cask
Dessert – Coastal Stone Sangiovese Cask
To Finish – Coastal Stone Port Cask
Event Details for Four Courses with Aussie Whisky, featuring Coastal Stone's Italian Luxe Trio:
Venue: The Roosevelt
Address: 32 Orwell St, Potts Point NSW 2011
Date: Wednesday 10th May
Start time: 7 pm
Ticket price: $85
Buy Coastal Stone Event Tickets
Glenmorangie Delicious & Wonderful | 16 May
In Partnership with Glenmorangie
Having now notched up 180 years in the Scotch whisky game, Glenmorangie has understandably learned a thing or two about crafting a dram to die for. As the iconic whisky maker says, Glenmorangie whiskies are "kind of delicious and wonderful" and we couldn't have put it better ourselves. Luckily, with Sydney Whisky Week almost upon us, local whisky lovers will have the opportunity to discover precisely how delicious and wonderful Glenmorangie's offering really is.
For those wanting to take part, all you need to do is get yourself to Sydney's Grain Bar on George St from May 10th to 20th during which time Glenmorangie will be hosting a takeover to coincide with Sydney Whisky Week (with a couple of extra days of spirit-slinging for good measure). During this time, master mixologists will be serving up a range of delicious Glenmorangie-based cocktails, but we're sure they'll serve it to you neat as well if you ask nicely.
If that sounds appealing – as it most certainly should – there's more, as whisky aficionados will have the opportunity to explore some of Glenmorangie's very best expressions at a ticketed tasting event in the same venue on May 16. Hosted by Glenmorangie's brand ambassador Kurtis Bosley, the event will take a range of the distillery's finest single malts and pair each with a perfect dessert bite created by Grain Bar's talented team. Also served on the night will be delicious canapes alongside Glenmorangie highballs on arrival.
On the night, attendees will enjoy the following:
Glenmorangie The Original 10 Years Old
Glenmorangie Tale Of Winter
Glenmorangie Lasanta 12 Years Old
Glenmorangie 18 Years Old
Glenmorangie Signet
Event Details: Glenmorangie's Delicious & Wonderful, Whisky & Desserts
Venue: Grain Bar
Address: 199 George St, Sydney NSW 2000
Date: Tuesday 16th May
Start Time: 6:30 pm
Price: $95
Buy Glenmorangie Event Tickets
Glen Moray Cask Explorer | 17 May
In Partnership with Glen Moray
With over 125 years spent producing exquisite single-malt Scotch whisky, Speyside's Glen Moray has undeniably perfected the art of the dram. However, while that might be enough of an achievement for some, that doesn't mean Glen Moray's dedicated whisky makers are happy to rest on their laurels. Far from it. Instead, their dedication to producing fascinating new whisky experiences through innovative cask exploration means there's always something exciting and new to discover, whether you're savouring a limited edition release or diving deeper into the distillery's core range.
Two perfect examples of this are a pair of whiskies yet to make it to these shores that will happily make their Australian debut during Sydney Whisky Week. The first of these is the Glen Moray "Elgin Edition" 10YO Chardonnay Finish, which follows the distillery's traditional American oak cask maturation with finishing in Chardonnay white wine casks. This results in layers of tropical fruit and warm spice atop Glen Moray's signature classic vanilla notes. The second is Glen Moray's Warehouse 1 Oloroso Cask expression, which boasts aromas of oak and malt, sweet liquorice on the palate, followed by notes of autumn leaves and tannin before revealing a delicious dried fruit finish.
These are just a couple of the outstanding single malts Glen Moray will have on offer during Sydney Whisky Week, and for those who really want to dive deep into the range, don't miss the Scotch Whisky Masterclass with Glen Moray's Global brand ambassador, Iain Allan. With help from award-winning bartender Millie Tang, Iain will guide attendees through six expressions of Glen Moray single malt Scotch whisky along with three different cocktail creations, offering up the full Speyside experience. These delicious whiskies will also be served with a selection of delicious food pairings.
At the event, you'll taste:
Glen Moray The Elgin 12yr Single Malt
Glen Moray Port Cask Single Malt
Glen Moray Speyside Peated Single Malt
Glen Moray 18yr Single Malt
Glen Moray 10YO Chardonnay Finish "Elgin Edition" (not yet available in AUS)
Glen Moray Warehouse 1 Oloroso Cask (not yet available in AUS)
Also available in Australia:
Glen Moray Classic Single Malt
Glen Moray Sherry Cask Single Malt
Glen Moray 15yr Single Malt
Glen Moray 21yr Single Malt
Event Details: Scotch Whisky Masterclass with Glen Moray's Iain Allan
Venue: Alfy's Bar
Address: Level 9, 488 Kent St Sydney
Date: Wednesday 17th May
Start Time: 7 pm
Ticket price: $65
Waterford Farm to Table Irish Whiskey Masterclass | 18 May
The Waterford Distillery's mission is to create Irish single malt whiskey that serves up only the most natural flavours and does so through sustainable farming practices that revere the barley from which these astounding flavours are extracted. Taking inspiration from the intellectual drive, methodology, and rigour associated with the world's finest winemakers and applying that same mindset to barley, the Waterford way is synonymous with terroir, traceability, and transparency. Now the young but formidable distillery is bringing that philosophy to Sydney Whisky Week.
There's so much concern about where food comes from these days, so why is the same scrutiny not applied to whiskey? Happily, each and every Waterford bottle can be traced back to the farm where the barley was grown, the family who grew it, the source of water it drank from and the way it was made into whiskey. To give us further insights into this, Waterford's own James Cowan will be hosting masterclasses on May 18 at the heritage underground whisky bar The Doss House, during which he'll share his revered "Farm to Table" process. Naturally, attendees will get to enjoy some choice examples of the aforementioned whiskey as well.
Three intimate 1-hour masterclass sessions will be held throughout the night, each of which will see guests enjoy three hand-selected whiskies, alongside some mouth-watering bites from The Doss House. Waterford cocktail and whiskey specials will then be made available after each tasting and continue for the whole of Sydney Whisky Week.
On the night guests will enjoy:
Waterford The Cuvee
Waterford Gaia Organic
Waterford Biodynamic
Waterford Fenniscourt
Waterford Hunter
Event Details: Farm to Table Irish Whiskey Masterclass with Waterford's James Cowan
Venue: The Doss House
Address: 77/79 George St, The Rocks NSW 2000
Date: Thursday 18th May
Start Time: Hourly sessions from 6 pm
Ticket price: $55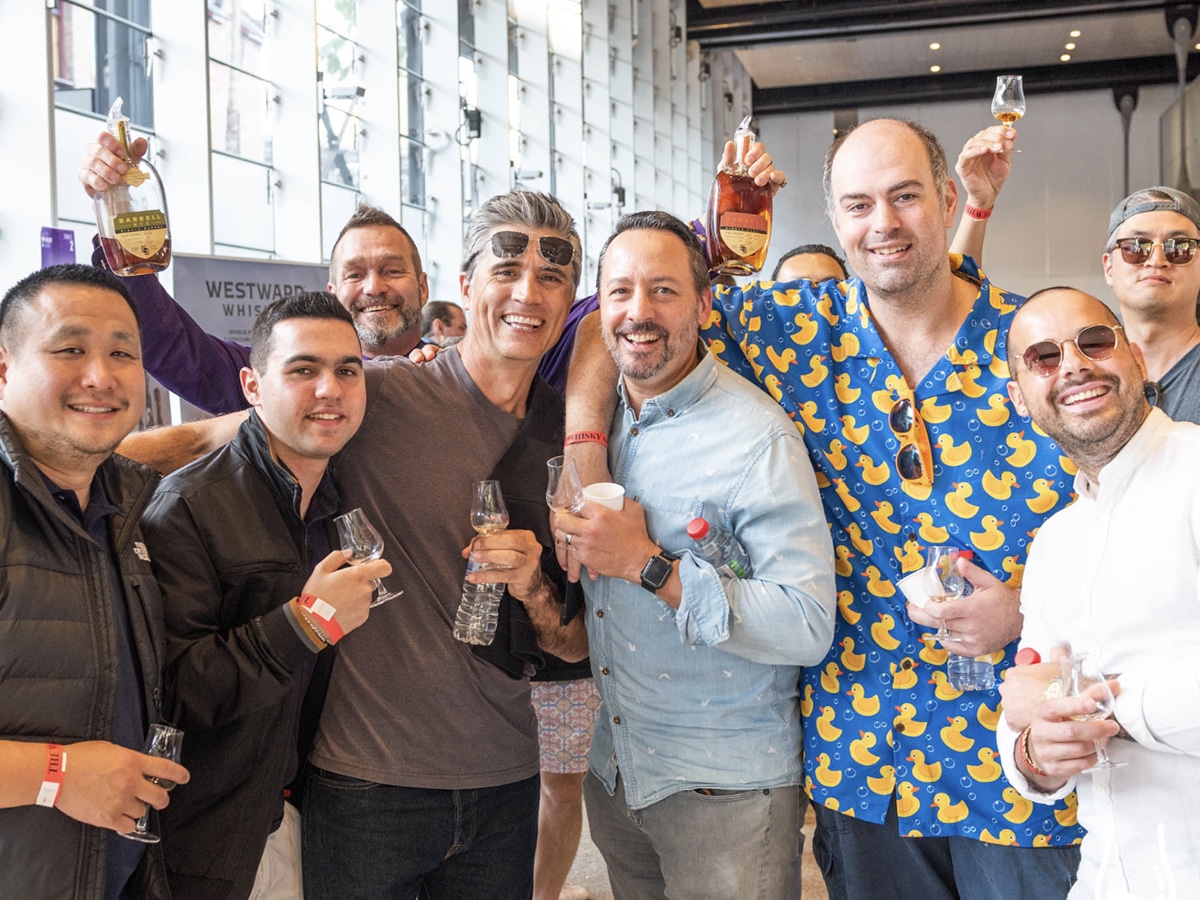 The Whisky Show
As if all of that wasn't enough, Sydney Whisky Week will reach its unforgettable conclusion with The Whisky Show on May 20; hosted overlooking the Opera House and Sydney Harbour at the Overseas Passenger Terminal in The Rocks.
As Australia's premium whisky-tasting festival, it should come as little surprise that the Sydney event has already sold out (don't worry it will be back next year). However, for those around Australia keen to try some exciting new expressions there are still tickets available for the Adelaide (May 6), Canberra (June 24), Melbourne (August 5), and Brisbane (September 2) events.
With that, we wish everyone a very happy Sydney Whisky Week. The Man of Many team will certainly be getting involved, so come along, say hello, and let's all enjoy some of the world's best whisky over 11 incredible days. Cheers!