Feel-Good Friday: September 2 – Spring into Action
Chuck on some Rebecca Black because "it's Friday, Friday gotta get down on Friday." Seriously though, she makes a great point in the iconic song's following line: "Everybody's looking forward to the weekend, weekend". Haters mocked that track in 2011, but anyone with taste knows it's a certified banger with lyrics that hold up over a decade later. 170 million views on Youtube, just saying…  Speaking of bangers, this week's Feel-Good Friday is packed with positivity so strap in and check out all that's on offer.
You'll also love:
Feel-Good Friday: August 26 – Feast Mode
Feel-Good Friday: August 19 – High Vibration
Feel-Good Friday: August 12 – Mixed Bag of Goodies
Say Arrivederci to Winter with a Free Aperol Spritz
Aperol is kicking off the spring season with a bang by shouting up to 100,000 Aperol Spritz across the nation. Starting yesterday, Aussies can order an Aperol Spritz from any bar, venue or restaurant, and Aperol will cover the cost. Grab your friends, family, colleagues and acquaintances, because everyone can now enjoy refreshing moments on Aperol, with the initiative running until the end of November 2022.
To enjoy one of the 100,000 free Aperol Spritz, Aussies simply need to:
● Download the MYY App from the App Store or Google Play
● Purchase an Aperol Spritz cocktail at any venue
● Upload a valid receipt within MYY APP clearly showing your purchase of an Aperol Spritz cocktail
● Receive the price of your Aperol Spritz back via a digital cashcard (max. value of $20) once receipt has been validated (on the spot validation so you'll received your cashcard within just a few minutes).
● Add cashcard to your digital wallet to spend on another Aperol Spritz. For more information including terms and conditions, please visit the Aperol website.
Aussies Lace Up to Fight Mental Health Crisis
According to the Australian Bureau of Statistics, one in eight men will experience depression and one in five men will experience anxiety at some stage of their lives. Even more staggering, men make up an average of seven out of every nine suicides in Australia every single day. Prominent athletes Australian boxer Jeff Horn and ex-Brisbane Broncos player Darius Boyd are tackling this issue head-on, throwing their weight behind the worthy cause as ambassadors for Mental Awareness Foundation's Walk for Awareness. 
Held on Sunday, 9th October, Walk for Awareness marks the beginning of Queensland Mental Health Week (8-16 October 2022) as the first major event, where participants can attend the physical walk or register to "walk anywhere", attending virtually from their own neighbourhood. To find out how you can participate, head to the Walk for Awareness website.
L'Oréal Stands Up to Street Harrassment
Multiple ARIA Award-winning artist, songwriter and actor, Jessica Mauboy, swimmer and musician, Cody Simpson, former Miss Universe, presenter, and advocate, Maria Thattil, and writer, academic and activist, Tarang Chawla, join L'Oréal to launch the nationwide Stand Up Against Street Harassment campaign and intervention program. Launched on 29 August, Australia joins a global movement across 40 countries supporting people to Stand Up safely to street harassment.
The Stand Up Against Street Harassment campaign and intervention program, an initiative by L'Oréal in partnership with girls' rights charity Plan International Australia, is focused on raising awareness about street harassment, and providing training in the 5Ds – Distract, Delegate, Document, Direct, and Delay – to support bystanders to safely stand up to street harassment when they see it. To Stand Up against street harassment, and take the 5D's training, please visit the Stand Up Australia website. Or, to learn more about the initiative: visit the L'Oréal website.
Havaianas Unveil Koala Saving Collaboration
Havaianas has linked up with iconic Aussie artist, Luke Mathew John Arnold, to raise funds and awareness for Koala Hospital Port Macquarie. Launching exclusively on the Havainas Australia website, the 2-piece collection merges LJMA's visual illustrations from his own backyard to create two bold and colourful pairs of Havaianas iconic flip-flops.
After seeing the devastation from the 2019 bushfires up close, Luke has been passionate about building awareness to support our critically endangered koalas. 7% of proceeds from the collection is going directly to the Port Macquarie Koala Hospital, a licensed wildlife rehabilitation hospital, who rescue, rehabilitate, and release up to 200 koalas every year. The collection is available for purchase now on the Havaianas website.
The Lobster & Co Pop-Up is Back
It's time to treat yourself. After wowing the public back in April, Lobster and Co are setting up shop at Sydney's Entertainment Quarter from September 3-4.  Offering casual dining at its finest, fans can get stuck into their moreish lobster rolls with a side of truffle parmesan cheese and wash it all down with a glass of Pommery champagne. So rally some friends together, make an event out of it and delight in the decadence of lobster and champagne.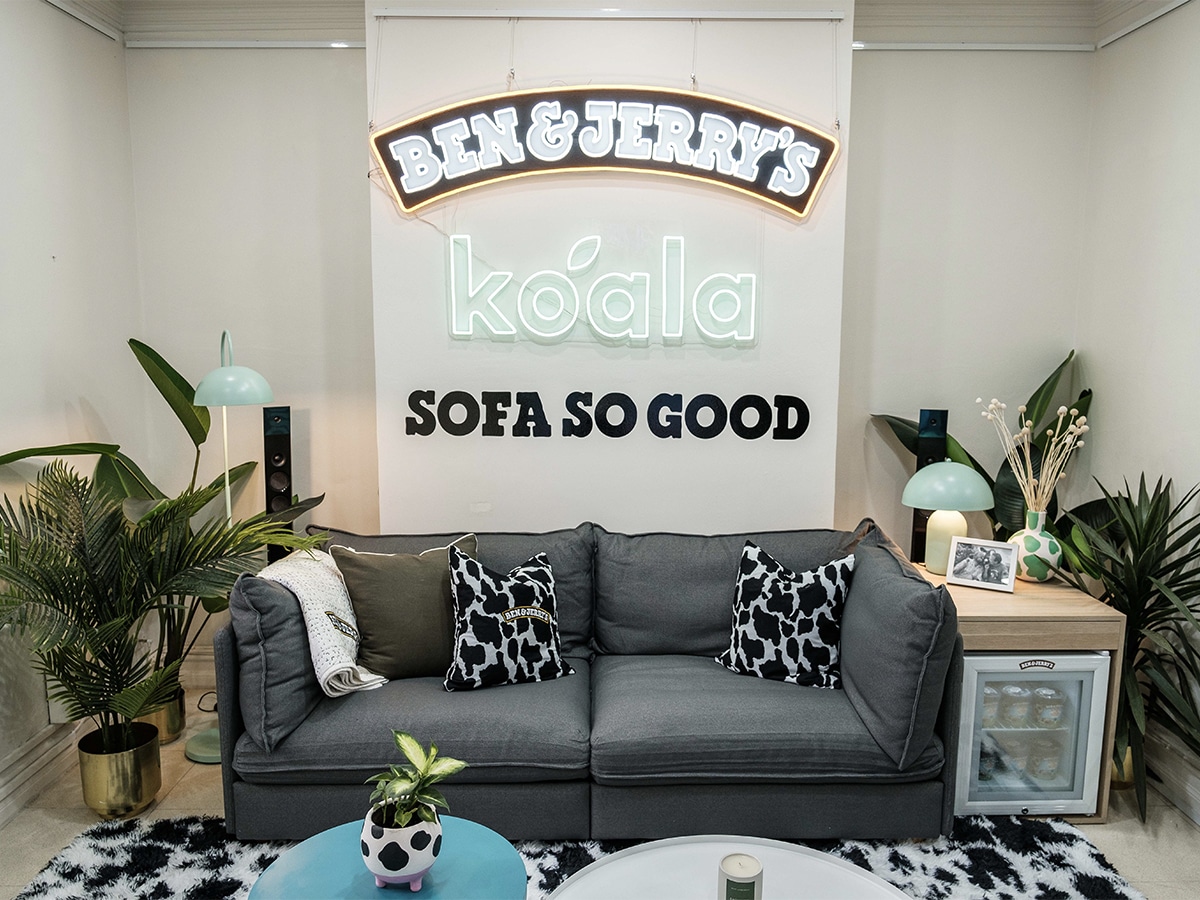 Koala x Ben & Jerry's Sofa Sessions: 3,000 FREE Ice-Cream Scoops
Ah, the joy of canceling plans and spending the night on a comfy sofa instead, or as some like to call it, JOMO (Joy Of Missing Out). To celebrate nights in and canceled plans, Australia's favourite mattress brand, Koala, (that now also makes exceptionally comfy couches) has teamed up with Ben & Jerry's to give away 3,000 FREE scoops of ice cream for what they're calling "Sofa Sessions".  From the 2nd – 4th of September, Sydneysiders can get free scoops of Ben & Jerry's while chilling on Koala's Getaway Sofa in a very Insta-worthy setting. You'll also get to take home merch, and as if that's not good enough already, simply by showing up, you'll go into the draw to win one of two Koala Getaway Sofas valued at $1,890 each.
When: 2 – 4 September (Friday: 1pm – 6pm, Saturday: 11am – 7pm, Sunday: 10am – 4pm)
Where: Sketch Collective, 420 Crown Street, Surry Hills
Booking: Book in your free session here
You'll also love:
Feel-Good Friday: August 26 – Feast Mode
Feel-Good Friday: August 19 – High Vibration
Feel-Good Friday: August 12 – Mixed Bag of Goodies