Rafael Nadal's Tennis Diet & Workout Plan
When you're a tennis legend like Rafael Nadal, training and nutrition are completely fundamental to your overall success. Between that and his natural talent, the Spanish "King of Clay" has racked up 19 Grand Slam singles titles, putting him one victory away from tying Roger Federer's world record. And have you seen his gorgeous wife? It's all the name of the game for Rafa, who accordingly maintains a diverse diet and rigorous training program.
Despite his commitment to proper nutrition and consistent training, Rafael Nadal recently experienced a notable surge of setbacks and injuries. However, it wasn't enough to prevent him from winning both the US Open and French Open in 2019. Next up is the Rolex Paris Masters, followed by the Nitto ATP Finals in London. Should he remain in top shape, he'll go on to compete in the Davis Cup Finals.
Suffice it to say, the man bounces back in good time and keeps busy in the process. Whether that means shopping for seafood or working out with weights, Rafael Nadal stays active all year round. Put it all together and you get one of the best tennis players of all time, with an endless slew of accolades to show for it.
Today, we're taking you behind the scenes for a glimpse of Rafael Nadal's diet and workout plan. Put this nutrition and training program to use and you might one day be breaking records yourself. Just be prepared to eat lots of seafood and spend hours working on both your technique and physique. Anything short of that and you'll just be a guy with a decent swing.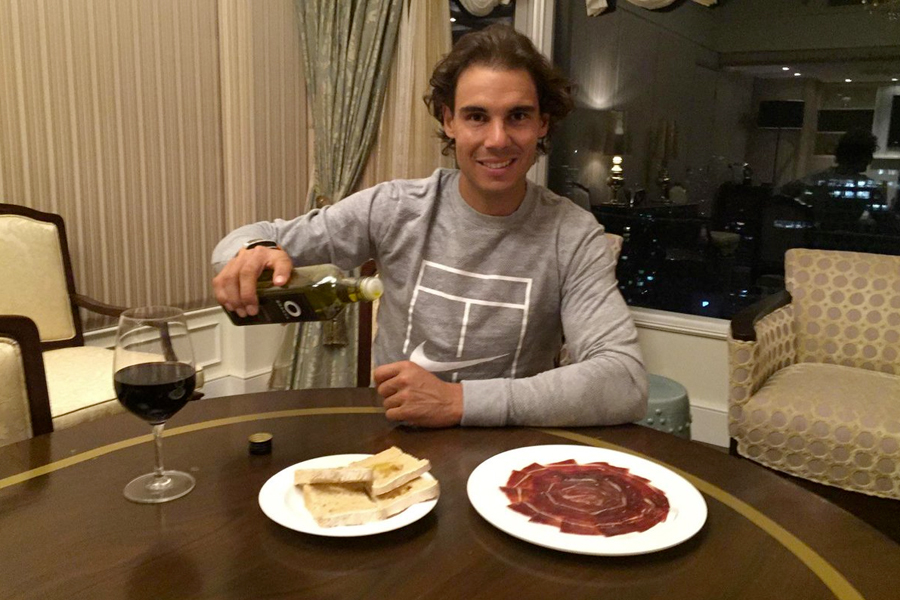 Rafael Nadal's Diet Plan
Because tennis players expel so much energy on the court, it's absolutely essential that they consume lots of calories and maintain a proper nutrition plan. Rafael Nadal is no exception, though don't take that to mean he doesn't like to indulge. On the contrary, he counts rich foods like paella and chocolate as two personal favourites. Acknowledging that these types of dishes aren't exactly healthy, he once claimed, "You eat paella every day, you cannot play tennis."
If there's one consistent theme running throughout Rafael Nadal's diet, it boils down to a single word: seafood. Put simply, the man loves seafood and eats it pretty much every day. "Always seafood," he was once quoted as saying when asked about his diet. As such, he fuels up on everything from steamed fish to shrimp dumplings. Meanwhile, he eats meat when he feels like it, actively dislikes cheese, and presumably loads up on fruits and veggies when given the chance. He's also a huge fan of olives.
During gameplay, Rafa stays hydrated by drinking lots of water, as well as hypotonic beverages like Recuperat-ion Sport. After a brutal match, the Rafael Nadal recovery drink of choice is filtered seawater, according to his doctor. Reportedly, it's a good way to get important minerals back into the body.
Protein shakes are another Rafael Nadal recovery drink, as they assist with muscle regeneration. The jury's still out as to whether Rafa consumes energy drinks, but we do know he gets down with alcoholic beverages on occasion. He was a Bacardi brand ambassador, after all.
---
Featured Video from Man of Many
---
When not talking about his diet in a public forum, Rafa will sometimes post a meal or two to Instagram. As a result, it's not all that hard to conjure an idea of his regular eating habits. Here's a general overview of the tennis star's diet.
Breakfast
Fresh bread – When free of harmful preservatives, fresh-baked bread can be fairly healthy. Plus, tennis players can always use carbohydrates, which store energy for extended periods of time.
Olive oil – Rich in antioxidants and monosaturated (i.e. "good") fat, olive oil is also quite tasty.
Iberian ham – Ham is so ubiquitous in Spain that there might as well be a pig on the national flag.
Orange juice – Why take a pill when you can get a day's worth of Vitamin C from a delicious glass of fresh-squeezed OJ?
Lunch
Fish – Rafa's love of seafood knows no boundaries.
Meat – When he feels like mixing things up for lunch, he opts for meat in lieu of fish. There's always dinner, after all.
Olives – To quote Rafa directly: "I love eating olives. They're healthy, but maybe not if you eat as much as me."
Fresh veggies – After winning a match, the tennis star once hit up the grocery store and posted the pics to Instagram. In his hands were two containers of leafy greens.
Cannoli – During the same grocery store trip, Rafa eyed up some fresh cannolis. Given his outspoken hate of cheese, we wonder if he's aware that ricotta is one of the ingredients.
During Match Play
Sports beverages – Electrolytes, anyone?
Water – Well, duh.
Post Match
Protein shake – After a match, Rafa chugs down a protein shake to aid with muscle recovery.
Filtered seawater – Supposedly, this helps the body recover essential nutrients. Given how much sweat is involved in an average tennis match, it's also safe to assume that Rafa could use the salt.
Dinner
Paella – When he feels like indulging, Rafa chows down on seafood paella, especially when it's his mother's version.
Shrimp dumplings – A fan of Chinese food, he once told the Australian press that he loves shrimp dumplings, in particular.
Chocolate – Next to seafood, chocolate is one of his favorite foods. We'll just assume he eats it in moderation.
Cocktail – As a former Bacardi brand ambassador, Rafa is no stranger to cocktails. That said, he probably saves them for the off-season.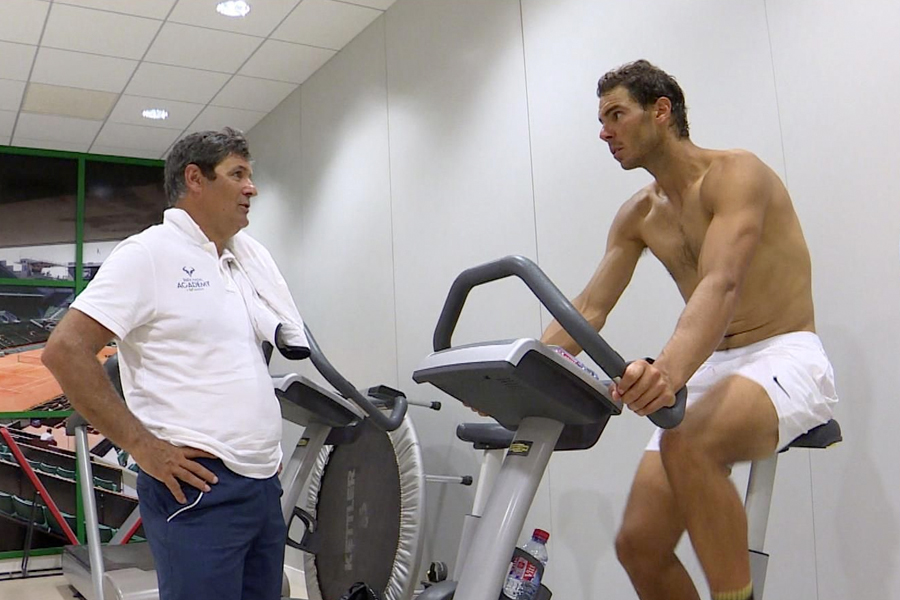 Rafael Nadal's Workout Plan
When it comes to training, Rafael Nadal reportedly sticks to a tried-and-true fitness regimen. That means getting busy with the weights during the off-season and then focusing on tennis-related exercises once the regular season starts up. Naturally, there's plenty of stretching involved no matter what the time of year or type of workout.
While the exact details of Rafael Nadal's gym workout or training program remain under wraps, enough has leaked out to get a firm idea of how he stays in shape. Given his recent injuries, some exercises might have changed this year, but odds are he takes a relatively consistent approach from one season to the next.
It's also worth noting that Rafa's been genetically gifted with plenty of natural strength, talent, flexibility, stamina, and speed. Pair that with his training regimen and there's not much of a secret to his ongoing success. Collectively, it's allowed him to become an absolute master of the clay court, who's also no slouch on the grass or asphalt.
From Rafael Nadal's warm-up routine to his exercise ball workouts, here's an overview of his training program.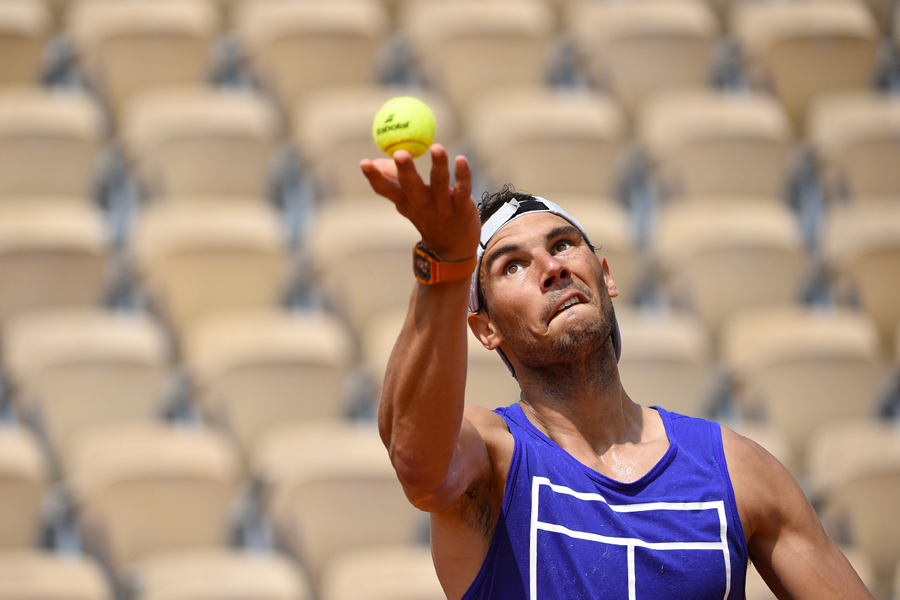 Practice
Tennis players like Rafa spend up to four hours practicing per day during the season, hitting the court after breakfast and not leaving until early afternoon. During practice, he's performing various tennis-related exercises, including short sprints, footwork drills, racket swings, and ball drills.
Gym Workout
As if four hours of tennis practice weren't enough, Rafa heads to the gym for more exercise. During the pre-season, he gets busy with the weights. During the regular season, he works on strengthening his core by way of various resources and routines. That includes the following:
Power plate – As a recurring warm-up routine, Rafael Nadal uses the power plate. A vibrating platform that contracts the muscles at very high speeds, it reportedly improves with blood circulation, muscle strength, and range of motion, all while reducing pain and aiding with recovery. He adopts various poses in order to cover the whole body and frequently returns to the machine throughout his workout.
Resistance bands – More than almost any other sport, tennis relies on sporadic bursts of movement and energy. To achieve maximum spryness, Rafa and numerous others employ a variety of resistance band exercises. By applying weight and pressure to the muscles and joints during training, these types of exercises enable strength and mobility during gameplay.
Core body workout – Along similar lines, a solid core remains utterly fundamental to a tennis player's overall success. If nothing else, it improves balance, stability, and stamina. To work his core, Rafa performs standing sit-ups (with resistance bands), push-ups, pull-ups, and medicine ball exercises. He also employs a variety of balancing acts and ab workouts atop the exercise ball.
Stretching – If you want to be a tennis star of Rafa's calibre, expect to stretch before pretty much any and all physical activity. If he's anything like Roger Federer, he stretches for up to an hour every morning. Then he stretches again both before and after practice, and before and after his gym workout. It's the only way to keep those muscles spry and ready for anything.
General FAQ
Here are some questions (and their answers) that people commonly ask about Rafael Nadar as well as other tennis players.
What is Rafael Nadal's favourite food?
Rafael Nadal's two favourite foods are chocolate and his mother's homemade seafood paella. In general, he loves seafood more than any other type of food.
Does tennis tone your body?
Tennis is a full-body workout that engages legs, shoulders, arms, back and core. The explosive movements required to play tennis help to tone muscle and the extended gameplay also provides particpants with a great cardio workout.
You'll also like:
Odell Beckham Jr.'s NFL Diet & Workout Plan
Steve Smith's Cricket Diet & Workout Plan
Conor McGregor's UFC Diet & Workout Plan
---
Featured Video from Man of Many