14 Best Mexican Restaurants in Sydney
From burritos to enchiladas, everybody loves Mexican food right? It's one of the world's most regionally diverse cuisines with bright, bold flavours to get the mouth-watering and tummy grumbling and for some of the best Mexican, Sydney is a no brainer. You have authentic spots that are traditional and true to Mexican cooking and some that put a twist on the usual Mexican favourites.
From independent eateries to fast food chains, you've got a lot of options. Whatever you're looking for you're sure to find something to satisfy your belly so check out the 14 best Mexican restaurants Sydney has to offer.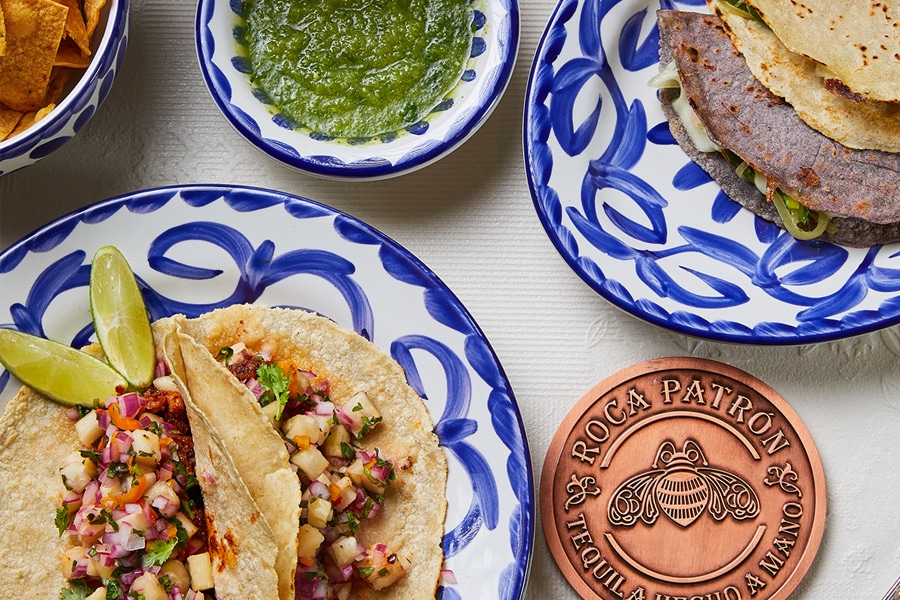 1. Bar Patrón
Bar Patron located in Circular Quay is one of the best Mexican restaurants Sydney has to offer. Bar Patron, owned Rockpool Dining Group, offers up some sophisticated grub for a cuisine that is usually seen as street food. Fresh produce is the real winner here, perfectly blended with the authentic and aromatic flavours of Mexico.
Address: 2 Phillip Street, Circular Quay NSW 2000
Phone: +61 2 9259 5624
Hours: Sun-Thu 12pm-10pm, Fri-Sat 12pm-11pm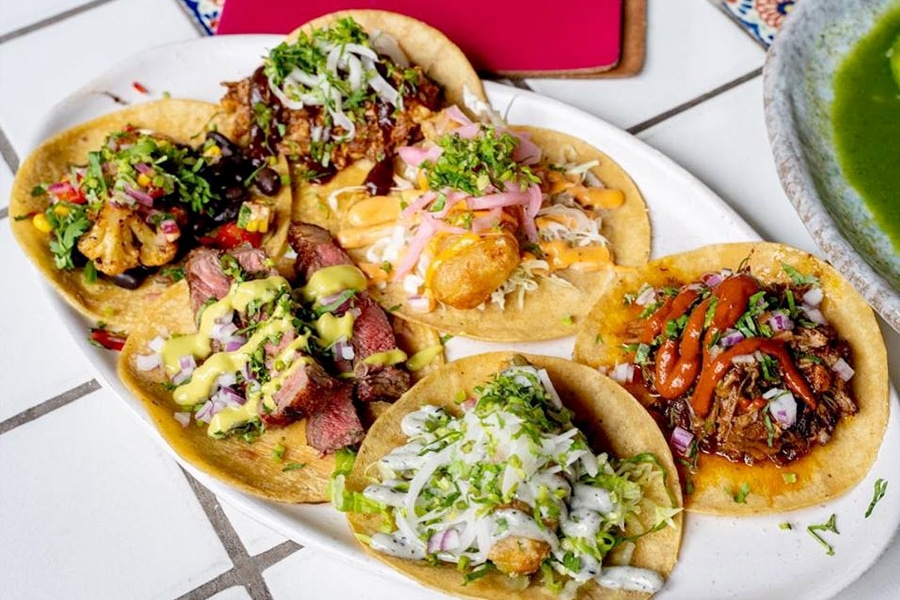 2. Chula
Potts Points' Chula offers a delicious range of Mexican dishes and beverages in a modern and contemporary way. Think Charcoal-grilled beef, zingy ceviche, fresh zesty salads, Mexican truffle quesadillas and more. And don't forget the most popular Mexican dessert, Churros are also on the menu. For the drinks, try the Mexican cocktails or Michelada.
Address: Shop 7, 33 Bayswater Road, Potts Point NSW 2011
Phone: +61 2 9331 0126
Hours: Tue-Thu 5pm-11pm, Fri 5pm-1am, Sat 12pm-12am, Sun 5pm-11pm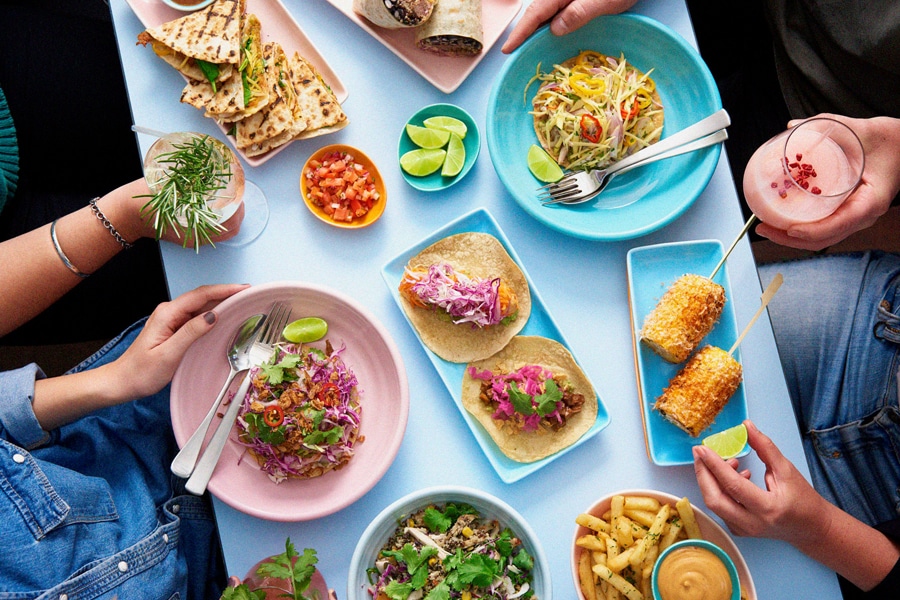 3. Fonda Bondi Beach
With several restaurants throughout Melbourne, Fonda is now gracing the golden sands of Bondi beach, producing fresh and simple Mexican food made with love. 'Fonda' meaning a home that is open to the community as a restaurant is exactly what founders Tim McDonald and Dave Youl had in mind. Think crispy prawn tacos, fresh bright salads, tostadas and shared taco boards.
Address: 85 Hall Street, Bondi Beach NSW 2026
Phone: +61 2 8583 6767
Hours: Sun-Wed 12pm-9pm, Thu 12pm-9:30pm, Fri-Sat 12pm-10pm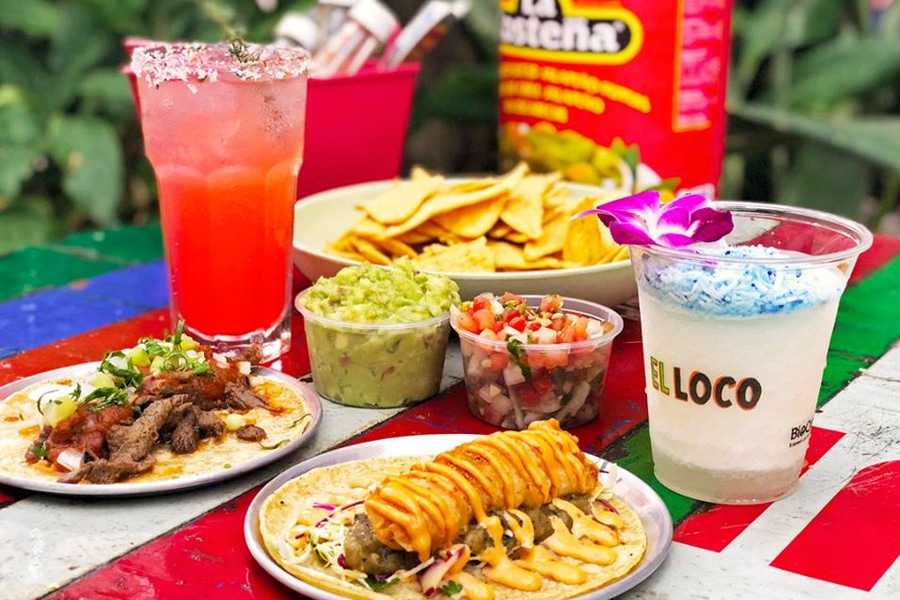 4. El Loco @ Excelsior
Check out El Loco at Excelsior for a bounty of Mexican food in Sydney's trendy Surry Hills. Make sure you get in early because this is one of the best Mexican restaurants Sydney has to offer and is packed on most nights. It's no wonder since the food does the talking. The menu is simple, like all the best things in life, flavourful and fresh. Check in for Happy Hour 7 days a weeks from six till eight with $6.50 tap beer, house wine and spirits.
Address: 64 Foveaux Street, Surry Hills NSW 2010
Phone: +61 2 9114 7339
Hours: Mon-Thu 11am-1am, Fri 11am-3am, Sat 12pm-3am, Sun 12pm-10pm


5. El Loco @ Slip Inn
Another El Loco popped up at Slip Inn after its successful takeover at Excelsior and offers the same delicious quality Mexican food Sydney has come to expect from its sister restaurant. Try one of the Mexican inspired burgers or snack and share some Jalapeno mayo chicken wings, salt and pepper squid or one of the many delicious tacos. The cocktail list is just as tasty with Margaritas galore, and a hefty wine list.
Address: 111 Sussex Street, Sydney NSW 2000
Phone: +61 2 9114 7327
Hours: Mon-Thu 11am-12am, Fri 11am-3am, Sat 2pm-3am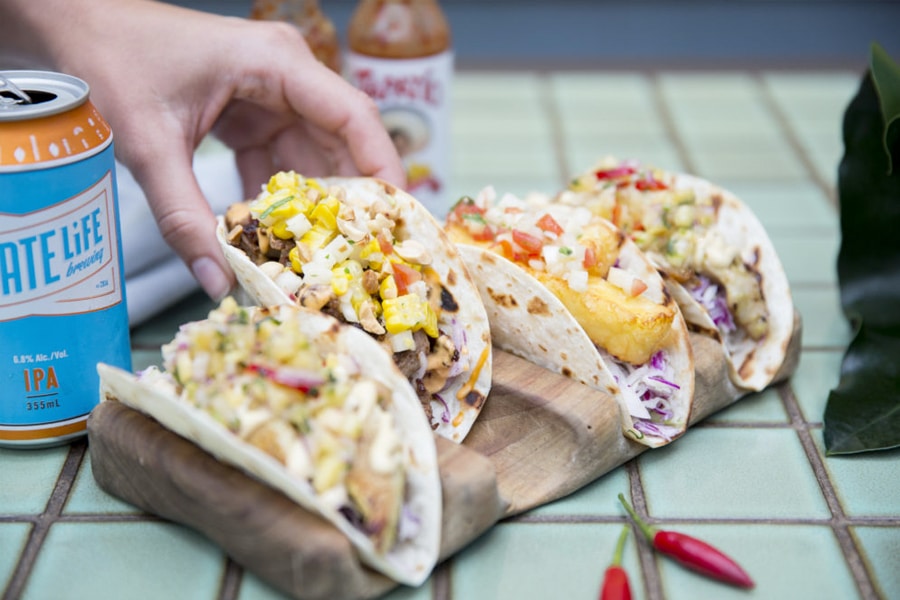 6. SoCal Neutral Bay
Perhaps a little less Mexican and a little more Cali, SoCal in beautiful Neutral Bay is the perfect spot for a bit of Golden State ambiance. It's packed with modern Southern Californian share-style street food with a heavy dose of Latin American spices. Tasty dishes like the seared tuna tostadas, ocean trout ceviche or the Baja fish tacos will have you coming back for more.
Address: 1 Young Street, Neutral Bay NSW 2089
Phone: +61 2 9904 5691
Hours: Mon-Tue 5pm-11pm, Wed 12pm-11pm, Thu & Sun 12pm-12am, Fri-Sat 12pm-2am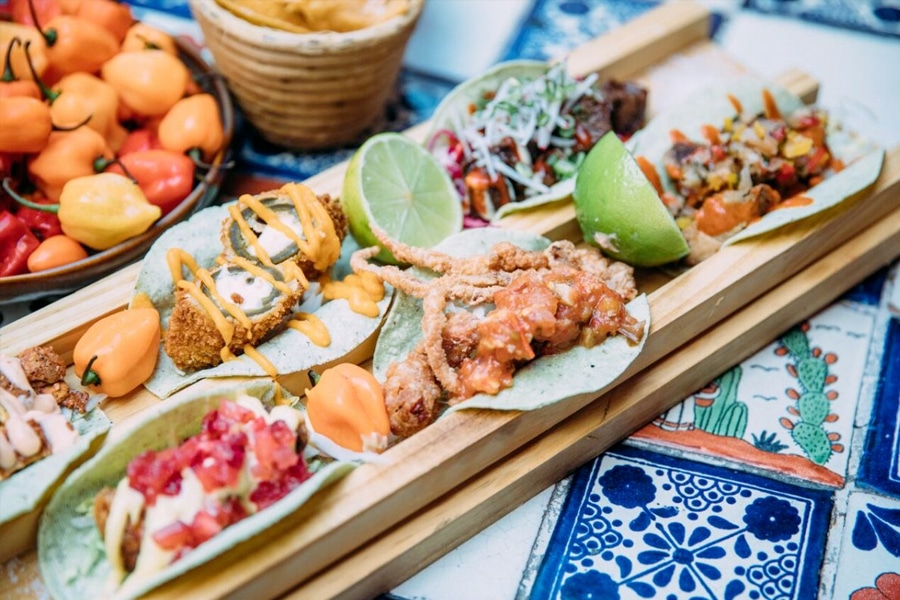 7. El Topo
This much loved Mexican Restaurant in Sydney's Bondi Junction offers authentic Mexican Cuisine inspired by the Oaxaca region in southwest Mexico. El Topo provides set menus at different prices including tacos, kingfish tostadas, Pico de Gallo, churros and much more. For something a bit different, try the Chapulines, roast cricket with chili garlic and lime.
Address: 500 Oxford Street, Bondi Junction NSW 2022
Phone: +61 2 8383 5959
Hours: Tue-Thu 4pm-10pm, Fri-Sat 12pm-12am, Sun 12pm-10pm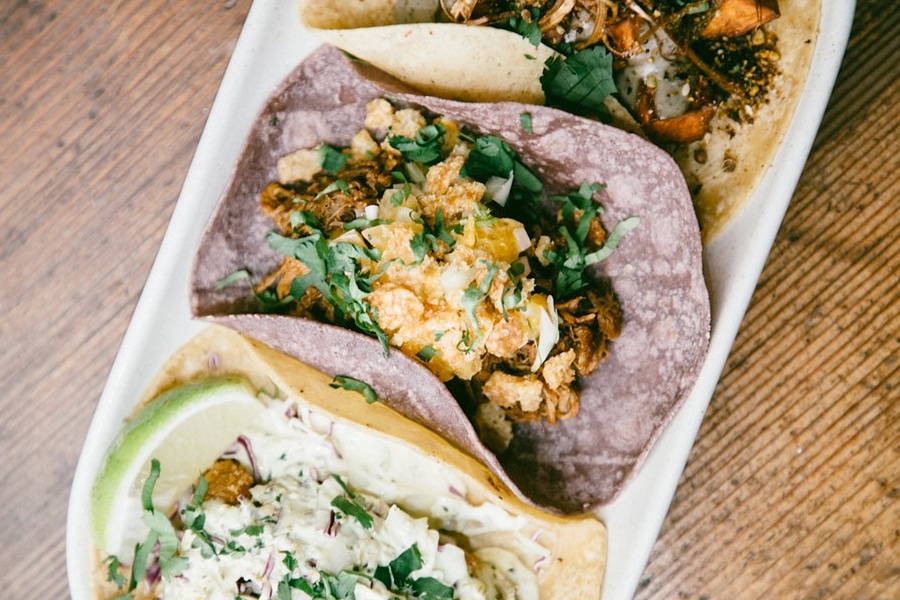 8. Chica Bonita Manly
Chica Bonita has got piles of personality and Mexican fare for the hungry crowds. Its stools are often packed to the brim but well worth the wait. Start off with some of the tasty snack foods like the kingfish ceviche or guacamole and chips. Then get stuck into the tacos and tostadas like the cheeseburger taco or the brisket tostada.
Address: 9 The Corso, Manly NSW 2095
Phone: +61 2 9976 5255
Hours: Tue-Fri 11:30am-3pm & 6pm-10pm, Sat-Sun 11:30am-3:30pm & 5:30pm-10pm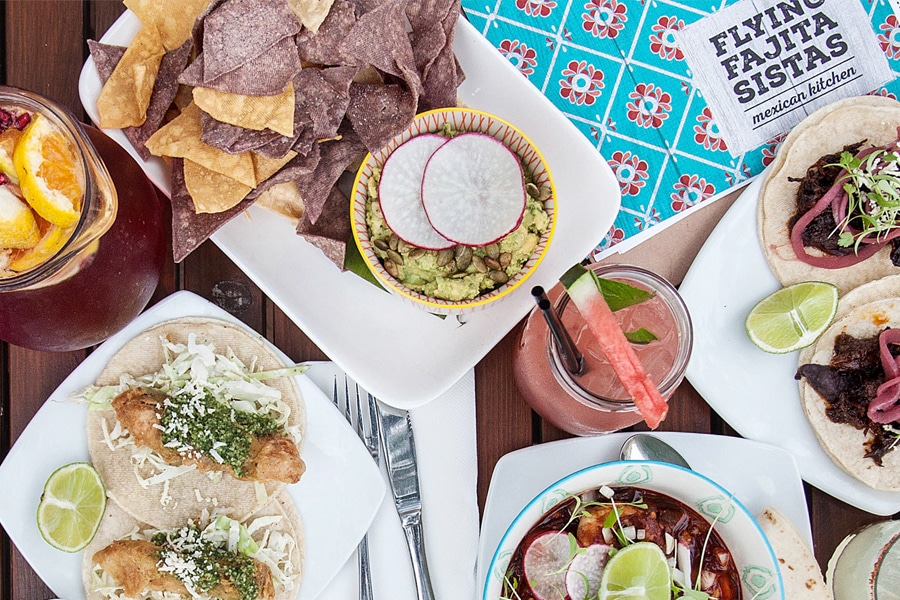 9. Flying Fajita Sistas Glebe
Flying Fajita Sistas in Glebe is all about fresh, seasonally available produce combined with authentic spices and flavours of Mexico. So if you're on the hunt for good Mexican in Sydney, this one is hard to walk by. The menu features all your favourite Mexican dishes like tamales, enchiladas, tacos and as the name suggests, a whole bunch of fajitas with every type of filling like, king prawns, mango and cheese, sweet chipotle chicken and more.
Address: 65 Glebe Point Road, Glebe NSW 2037
Phone: +61 2 9552 6522
Hours: Mon 5pm-8:45pm, Tue-Thu & Sun 5pm-9:30pm, Fri 5pm-10:30pm, Sat 4pm-10:30pm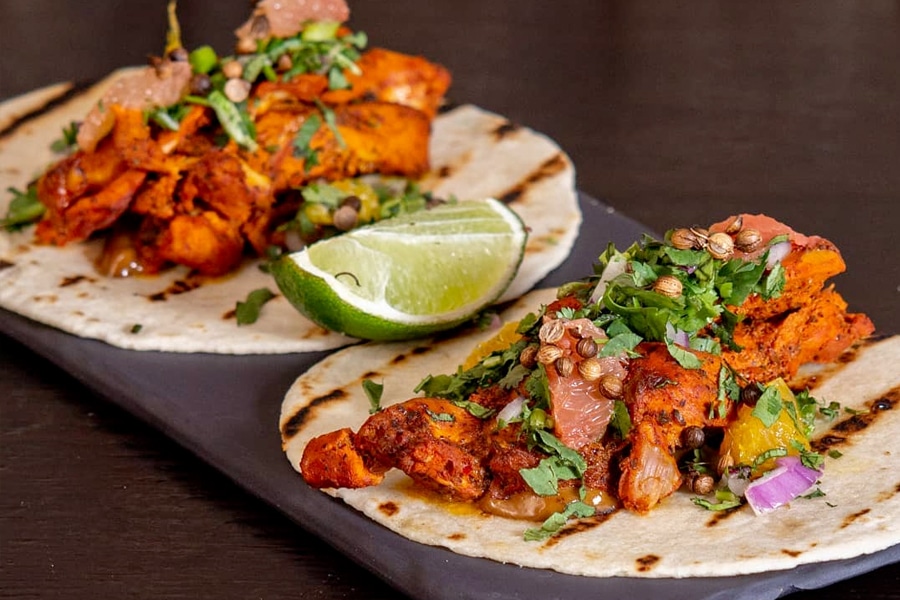 10. Mejico
This Mexican restaurant is right at the heart of Sydney's CBD and has the largest selection of tequila in the city, need we say more? Not only that Mejico pumps out all the Mexican classics with a modern twist, like the Chipotle beer glazed pork ribs or the baked king trout taco with thyme and fennel mayo. For dessert, there's margarita cheesecake bites and crunchy fried banana.
Address: 105 Pitt Street, Sydney NSW 2000
Phone: +61 2 9230 0119
Hours: Mon 11:30am-10:30pm, Tue-Fri 11:30am-10:30pm, Sat 12pm-10:30pm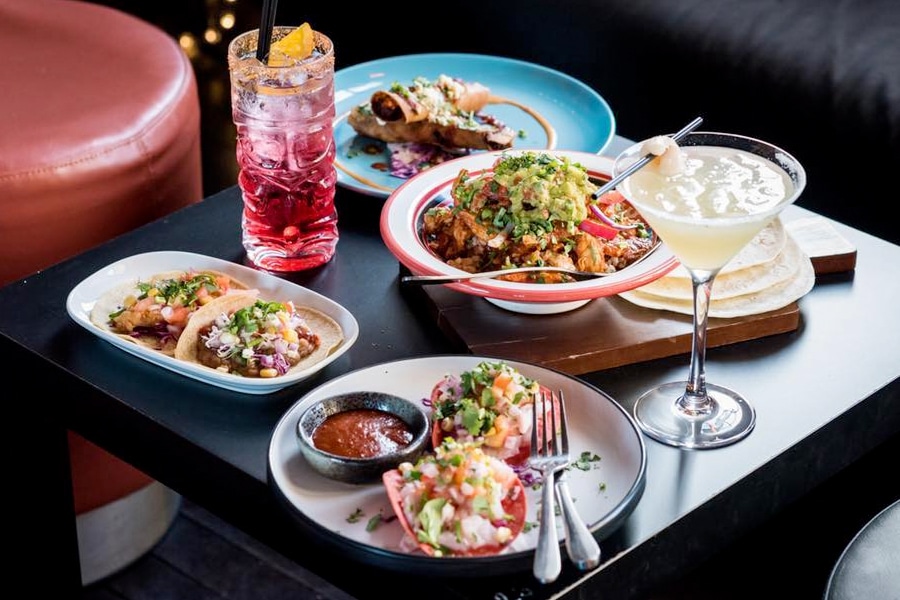 11. Calaveras Mexican
Ascend the stairs at Calaveras, past the twinkling fairy lights and art-filled walls, the atmosphere is set for a great Mexican dining experience. Tasty tacos filled with toppings and quesadillas stuffed with cheese…and then there are the drinks. With an impressive Tequila and Mezcal collection, you'll probably find it a bit daunting on which to choose, but the knowledgeable staff are happy to give you recommendations.
Address: 324 King Street, Newtown NSW
Phone: +61 451 541 712
Hours: Tue-Wed 6pm-10pm, Thu 5pm-11pm, Fri-Sat 5pm-12am, Sun 5:30pm-10pm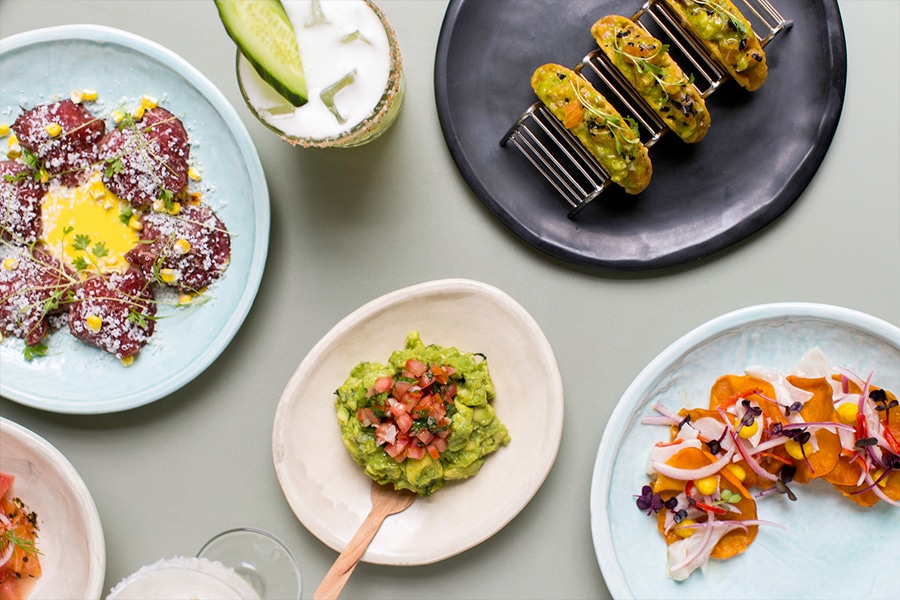 12. Tequila Mockingbird
Take a trip down to Paddington's Five Ways for some of the best Mexican Sydney has on offer. Tequila Mockingbird's cosy dining space and culinary prowess will have you wishing you'd found this place sooner. Combining the tastes of Latin America with the modern Australian kitchen provides a flavourful and inventive dining experience. Try the ceviche taco or the Wagyu Picanha with garlic jalapeno butter.
Address: 6 Heeley Street, Paddington NSW 2021
Phone: +61 406 398 738
Hours: Tue-Wed 5pm-10:30pm, Thu 5pm-11:30pm, Fri-Sat 12pm-12am, Sun 12pm-10pm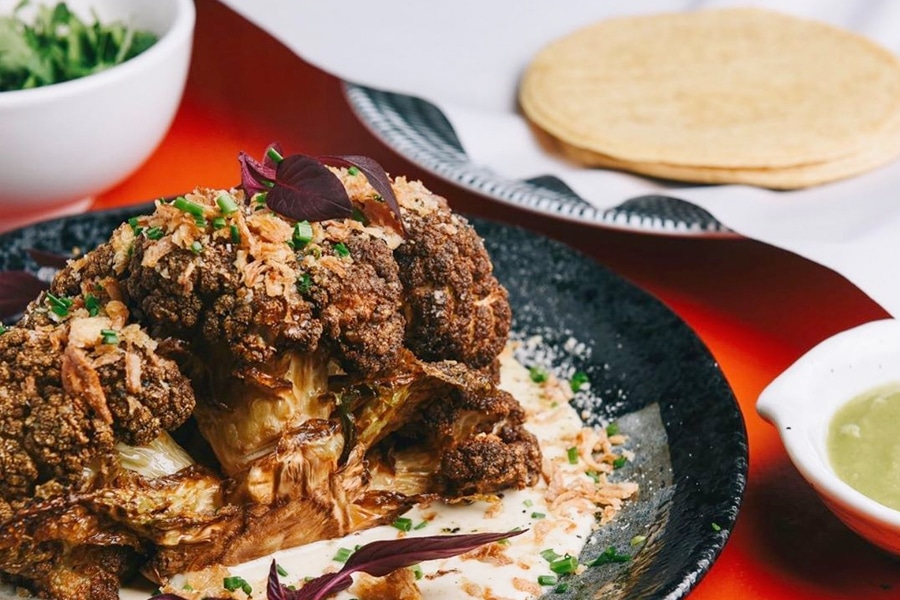 13. Bad Hombres
There's Good Food at Bad Hombres, not only good but 100 percent vegan. There are small plates to share like the king mushroom Peruvian ceviche or the Nachos with cheddar "cheese" and Pico de Gallo. Or for something more substantial the mains include the Shiitake and sunflower seed chilli, Lomo Saltado (Peruvian style stir fry) or the veggie bowl with seasonal vegetables. Great for vegans but also those who want to try some of the different types of Mexican restaurants Sydney has to offer.
Address: 40 Reservoir Street, Surry Hills NSW 2010
Phone: +61 410 191 441
Hours: Tue-Sat 5:30pm-9:30pm

14. Mexicano
Quality produce, sourced locally is what Mexicano does best. They've got tacos for days with every protein you can think of, share plates like the prawn ceviche, jalapeno croquettes or beef chimichangas. Try one of the banquet options for a little taste of everything and for dessert, you can't go wrong with the salted caramel ancho chilli truffles.
Address: 2/209-211 Ocean Street, Narrabeen NSW 2011
Phone: +61 2 9970 8975
Hours: Tue-Thu 5:30pm-10pm, Fri-Sat 5:30pm-11pm, Sun 12pm-3pm & 5:30pm-9pm
You'll also like:
14 Best Ramen Joints in Sydney
Is Your Ubereats Driver Eating Your Food?
14 Best Fish and Chip Shops in Sydney to Dine in or Takeaway
General FAQ
What are Sydney's best Mexican restaurants?
Some of the best Mexican restaurants in Sydney are Bar Patron, Chula, Mejico, Tequila Mockingbird, Bad Hombres, and El Topo, to name a few.
What's the best Mexican restaurant in the Sydney CBD?
Not only is Mejico located in the heart of the CBD, but it has the city's widest tequila selection.
Where can you find the best tequila selection in Sydney?
Restaurants such as Mejico, Calaveras Mexican, and Barrio Cellar offer some of the best tequila and mezcal selections in Sydney.