16 Most Romantic Restaurants in Sydney
What do the best romantic restaurants in Sydney have to offer? Well, whether it be a date or an anniversary, love is worth celebrating, and we're lucky that Sydney has so many brilliant and world-class restaurants at our fingertips. So to help you make Valentines Day extra special, we've put together our list of the best romantic restaurants in Sydney to experience.
RELATED: Check out our Vivid Sydney guide to see all the best events during the festival of light.
Most Romantic Restaurants in Sydney
1. Bennelong
Bennelong is housed in the Sydney Opera House, one of Australia's most iconic buildings. This resultant is known for its use of quality Australian produce to create amazing flavours and a diverse à la carte menu as well as its fantastic wine menu. Apart from the amazing food and wine menu, another calling point is Bennelong's multi-level layout, each presenting a different dining experience and a different view perfect for any anniversary.
Located in: Sydney Opera House
Address: Bennelong Point, Sydney NSW 2000
Hours: Wed-Fri 5:30-8:45pm, Sat 12-3:30pm & 5:30-8:45pm, Sun 12-3:30pm
Phone: (02) 9240 8000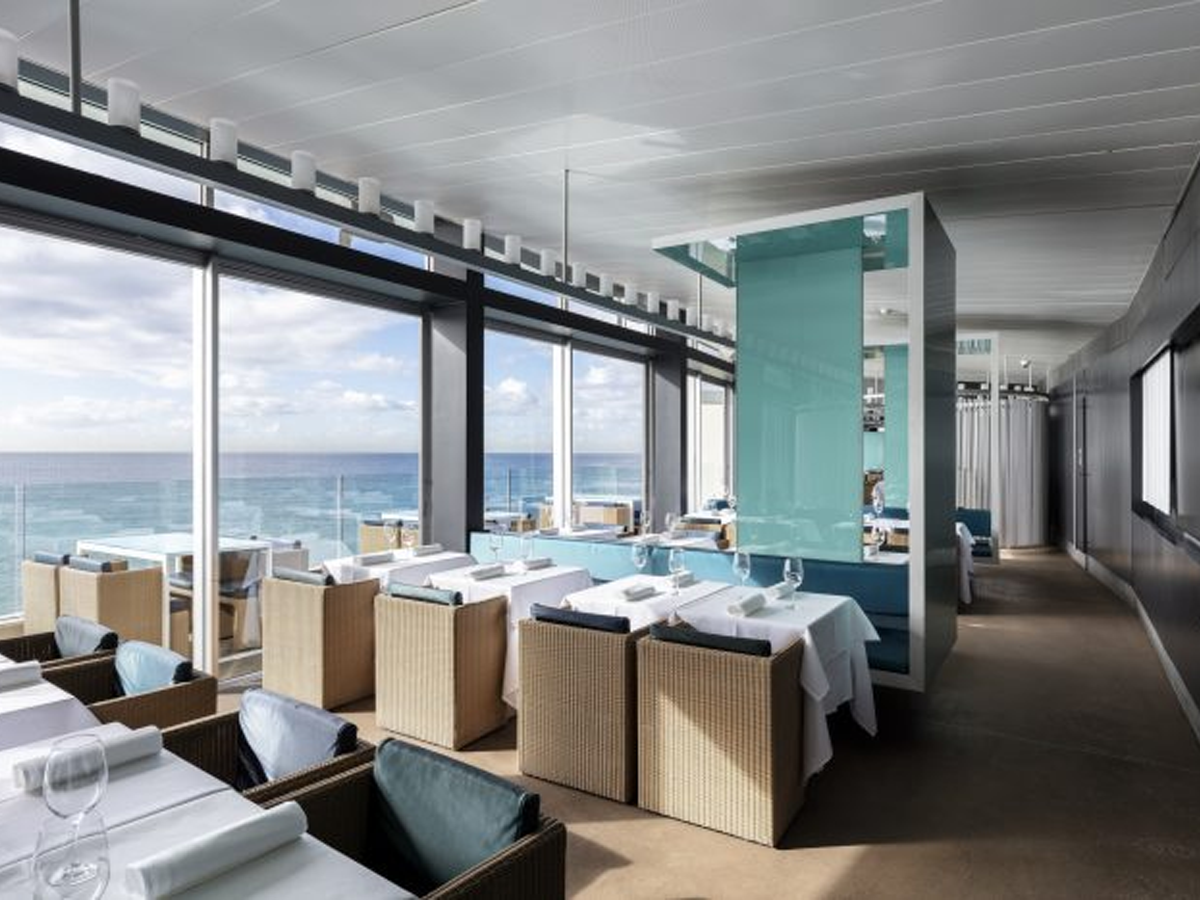 2. Icebergs Dining Room and Bar
Icebergs Bar & Dining is an iconic restaurant in Bondi. The menu here is full of Italian classics with a modern twist, with dishes such as pork belly with radicchio jam and beetroot, you can also try the fusilli with broccoli, anchovy and seaweed and many more tasty dishes. But that's not all end your date with some amazing Tiramisù for two or taste some coffee sorbet.
Address: 1 Notts Ave, Bondi Beach NSW 2026
Hours: Wed-Thur 12-11pm, Fri-Sat 12pm-12am, Sun 12-10pm
Phone: (02) 9365 9000
---
Featured Video from Man of Many
---
3. Alberto's Lounge
Alberto's Lounge is well known for its perfect mix of Italian cuisine with Australian influence amongst a 70s-inspired backdrop. The menu here includes dishes such as house-made ricotta with Sardinian flatbread, pasta e Fagioli, tonnarelli with blue swimmer crab and rigatoni with braised beef cheek. But that's not all the dessert list is full of amazing dishes to share with your partner or dates like a milky dome of macadamia panna cotta and Sicilian-style cannoli pumped with fresh whipped ricotta and candied peel, why not also try the house-made gelato.
Address: 17-19 Alberta St, Sydney NSW 2000
Hours: Mon-Wed 5-11pm, Thur-Sun 12pm-12am
Reservation: swillhouse.com
4. Sokyo
Headed by Chase Kojima, Sokyo is one of the best Japanese restaurants in Sydney and a great way to spend Valentines Day or any other romantic occasion. We were lucky enough to explore the Chef's Tasting Menu ($150) towards the end of 2021, and we were blown away by dishes including the Sokyo Style Sashimi, Mushroom Tempura, Dengakuman, Short Rib, Caramel Macchiato (dessert). If you're looking for a restaurant to spend date night, this is easily our top Japanese option in Sydney. The valentines day special menu includes a bincho grilled pacific oyster served with ginger, lime dressing and wakame alongside fresh sashimi, grilled Wagyu or miso-glazed toothfish. And for dessert, choose the heavenly tiramisu with Valrhona raspberry chocolate, espresso and kinako ice cream.
Read our full Sokyo review here.
Located in: The Star Sydney
Address: Level G, The Darling The Star, 80 Pyrmont St, Pyrmont NSW 2009
Hours: Mon-Thur 7 – 10am, 5 – 10pm, Fri-Sat 7 – 10am, 12 – 3pm, 5 – 11pm, Sun 7–10am, 11am–3pm, 5–10pm
Phone: 1800 700 700
5. L'Heritage
Bring a bit of French class to your anniversary or date night at L'Heritage. The menu is filled with traditional french dishes like entrecote frite (steak and chips) and classic duck a l'orange to bouillabaisse and Gnocchi ricotta aux petits legumes (ricotta gnocchi served with vegetables) created by French-born Julien Audibert-Lebon. Sweeten the night with many desserts to choose from like Mousse au chocolat and a selection of imported French cheese. But that's not all, the wine list here is a mix of French and Australian wines.
Address: 7b Chowder Bay Rd, Mosman NSW 2088
Hours: Wed-Sun 10:00 am – 10:00 pm
Phone: (02) 9968 1658
6. Aria Restaurant Sydney
Aria is known for its use of the best seasonal Australian produce and world-class wine match. Matt Moran's two-hatted eatery not only boasts amazing harbour views but also showcases a modern take on an Australian paddock-to-plate menu. Think WA snow crab with hearts of palm, sunflower & corn or try David Blackmore wagyu short rib with witlof, onion & white fungi and if that doesn't sound amazing why not give the slow-roasted carrot, kombu, wood ear & rye ago. To end the night share a black currant souffle with lavender, hazelnut & baked cheese or share a selection of Australian and international cheeses.
Valentines Day: $149pp w/ shared menu of signature dishes, a cocktail on arrival and surprise Valentine's Day treat.
Address: 1 Macquarie St, Sydney NSW 2000
Hours: Wed-Thur & Sun 5:30-9:30pm, Fri 12-3pm, 5:30-9:30pm, Sat 5:30-9:30pm
Phone: (02) 9240 2255
7. Quay Restaurant
When one thinks of fine romantic dining, Quay instantly comes to mind. It could be the many awards that it has received or the fact that chef Peter Gilmore makes some of the best food in Sydney. The menu here features fantastic foods as Maremma duck served with preserved blueberries, black garlic, Kampot pepper and ice plant. While enjoying the spectacular 270-degree views of the harbour why not share the famous White Coral Dessert, its the perfect way to end a spectacular evening.
Located in: Sydney Cove Overseas Passenger Terminal
Address: Upper-Level Overseas Passenger Terminal, The Rocks NSW 2000
Hours: Thu-Fri 6-8:45pm, Sat-Sun 12-1:30pm & 6-8:45pm,
Phone: (02) 9251 5600
8. BLACK Bar & Grill
While steak might not be the first thing that comes to mind for a romantic dinner, Black Bar & Grill is here to change that. Contemporary in nature, we were lucky enough to visit halfway through last year and were blown away by the location, wine list, and quality steak on offer – check out our full review below. The Valentines Day menu features an array of fresh seafood such as oysters, prawns and lobster to Wagyu with chimichurri, grilled flat bean and herb salad and chocolate delice, hazelnut and wild strawberry sorbet, certainly not a dining experience to miss – $225pp.
Check out our full Black Bar & Grill review article right here.
Located in: The Star Sydney
Address: Harbourside, The Star, Level G/80 Pyrmont St, Pyrmont NSW 2009
Hours: Wed-Thur 5-10pm, Fri-Sat 5-11pm, Sun 12-3pm & 5-10pm
Phone: 1800 700 700
9. Empire Lounge
Empire Lounge is more than a seaplane departure lounge, here you can get some amazing views and fantastic fresh seafood all while watching seaplanes take off and land. The menu here is swimming with tasty seafood like oysters sourced from the NSW coastline, fresh sashimi, kingfish Crudo, tiger prawns and barramundi curry. If you're in the mood to share with your date try a whole lobster on the menu, smothered in black garlic butter and spritzed with finger lime or dig into a bowl of tagliatelle pasta, dressed with a tomatoey spicy sauce.
Address: Lyne Park, Rose Bay NSW 2029
Hours: Thur-Fri 12-10pm, Sat 8:30am-10pm, Sun 8:30am-9pm
Phone: (02) 9388 3884
10. Flower Child Cafe
When dining here you really do feel like a flower child, maybe because of the abundance of hanging plants and flowers or maybe the indoor greenhouse aesthetic. Flower Child has an all-day menu for breakfast, lunch and brunch featuring tasty and fantastic colourful food to share like the French Toast with banana mascarpone, dark-chocolate crumb, fresh berries and salted toffee or bite into Burgers, sandwiches and tasty acai bowls.
Address: Shop 391/1 Anderson St, Chatswood NSW 2067
Hours: Mon-Sun 8:00 am – 4:00 pm
11. The Grounds of Alexandria
The Grounds of Alexandria is one of the most unique and popular dining options in Sydney. From speciality coffee roasters to an exquisite onsite bakery to the wholesome indoor and outdoor café with an enormous courtyard and organic garden, there is so much to do and see here. The menu here encompasses home-style cooking and is perfect for sharing, like a slow-roasted pulled-pork sandwich with slaw and handmade pappardelle or try the bakery's loaves of bread and sweet pastries and signature potato and onion flatbread
Address: 7a/2 Huntley St, Alexandria NSW 2015
Hours: Mon-Thur 7am-9pm, Fri 7am-9:30pm, Sat 7:30am-9:30pm, Sun 7:30am-9pm
Phone: (02) 9699 2225
12. Mjølner
Mjølner (pronounced "m-yol-near") is the name of Norse god Thor's hammer. Being named after his hammer you'd expect an electric atmosphere. From the ancient Viking replica weapons and armour pieces to the little glass horn cups to drink from, this Viking-themed whisky bar and whole-animal carvery deliver. The carvery has a daily rotation of four mains: a bird, a fish, meat and veg all of which are done whole on a rotisserie. For an electrifying date or anniversary give Mjølner a go, you won't be disappointed.
Address: 267 Cleveland St, Redfern NSW 2016
Hours: Wed-Sat 5pm-12am, Sun 5-10pm
Phone: (02) 8646 4930
13. Altitude
Sitting high above Sydney Harbour on the 36th floor of the Shangri-La Hotel, Altitude Restaurant delivers a fantastic romantic dinner with a side of incredible views. The menu here ranges from breakfast to dinner and everything in between. For dinner, you can expect a menu of Modern Australian dishes with a twist. Like smoked duck breast with slow-cooked 63oC egg and serrano Parmentier or try the gold band snapper sashimi with red onion, wasabi and citrus ponzu.
Address: 176 Cumberland St, Sydney NSW 2000
Hours: Mon 7-10:30am, Tue-Thur 7-10:30am, 12-2pm, 6-10pm, Fri 7–10:30am, 12–2pm, 3:30–5pm, 6–10pm, Sat 7–10:30am, 11:30am–1:30pm, 3:30–5pm, 6–10pm, Sun 7–11am, 11:30am–2:30pm, 3:30–5pm.
Phone: (02) 9250 6000
Altitude Restaurant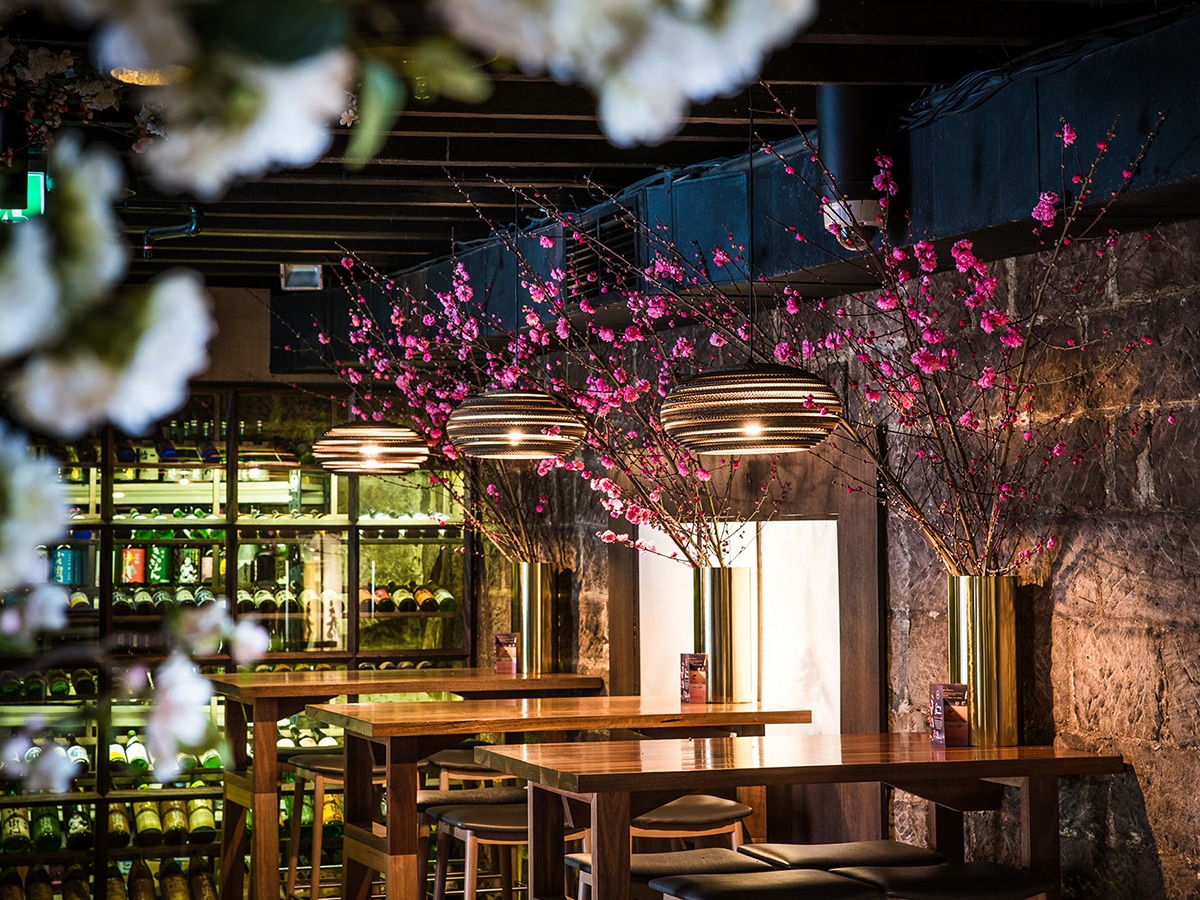 14. Saké Restaurant
The fusion of traditional Japanese cuisine with modern twists and innovative flavours is showcased here at Saké. There is a range of dining options to choose from here, from a full a la carte menu to "chef's selection" banquets this will be one date night you won't forget. Dive into popcorn shrimp and hiramasa kingfish which are perfect for sharing or try the Glacier 51 Toothfish, drenched in miso butter and wrapped in a banana leaf.
Address: 12 Argyle St, The Rocks NSW 2000
Hours: Monday Closed, Tue – Wed 6:00 pm – 9:00 pm, Thu 12:00 pm – 3:00 pm, 6:00 pm – 9:00 pm, Fri 12:00 pm – 3:00 pm, 5:30 pm – 10:00 pm, Sat 12:00 pm – 3:00 pm, 5:30 pm – 11:00 pm, Sun 12:00 pm – 3:00 pm, 6:00 pm – 9:00 pm
Phone: (02) 9259 5656
15. Restaurant Hubert
Hurbert's old-world feel and sheer opulence and amazing dishes have made it considered to be one of Sydney's most romantic restaurants. The classic French-ish style bistro dishes are made to share with a special someone. They can also be paired with a selection of French wines and classic cocktails.
Address: 15 Bligh St, Sydney NSW 2000
Hours: Mon-Tue 5-12pm, Wed-Thur 12pm-12am, Fri-Sat 12pm-12:30am
Phone: (02) 9232 0881
16. A Tavola Darlinghurst
Italians make food with love and at A Tavola this is no exception. A Tavola means "to the table", this is emphasised here as the marble communal table dominates the dining room. The menu is filled with authentic regional Italian dishes, housemade pasta and fresh bread that are made to share with the one you love.
Address: 348 Victoria St, Darlinghurst NSW 2010
Hours: Lunch Fri – Sun: 12pm – 3pm, Dinner Wed-Sun: 6pm – late
Phone: (02) 9331 7871
Interested in more places to visit in Sydney? Check out some of our favourite articles below:
Alternatives to the Most Romantic Restaurants in Sydney
Best Places For a Bite to Eat in Sydney
Best Bars in Sydney For Your Favourite Tipple
Best Activities to Do in Sydney
Best Places For Great Desserts
You'll also like:
General FAQs
Where can I celebrate my anniversary in Sydney?
There are numerous places to celebrate, but Bennelong and Aria are some top contenders. Each of which server amazing foods and experiences to match.
What Sydney restaurant has the best view?
Sydney is known for its views, both Altitude Restaurant and Empire Lounge capture these views and pair them with fantastic foods.
What is a romantic restaurant in Circular Quay?
There are many romantic restaurants in Circular Quay. However, Quay stands out not only for the view it offers but also the food that it offers.
---
Featured Video from Man of Many