Man of Many's Most Wanted – July 2022
As we are now officially past the halfway mark of 2022 (yes, we can't believe it either,) what better what to celebrate than with our famed round-up of all the products we frothed over in July. From the latest releases in the car world to jetskis and everything in between, get ready to drool over some seriously enviable products and put away that credit card, because we're telling you now, most of them ain't cheap. These are the top products that made us tick in July – let's go.
Related: Check out all of Man of Many's Most Wanted here.
1. LELO Tiani Duo
In partnership with LELO
This bad boy goes by the name of Tiani Duo and comes equipped with two vibrating motors, which work in tandem to provide a dual sensation – inside and out – to both sexual partners at the same time. Soft and flexible, Tiani Duo bends to comfortably suit all body shapes. A SenseMotion wireless remote is also part of the package and it interacts with the vibrator through the mere flick of a wrist. Bring in the powerful motors, various intensity levels, and long-lasting battery, and you end up with body-rocking, synchronised orgasms between couples. From this mutual experience comes increased levels of both physical and emotional intimacy, the kind that lingers long after the session is over. Who doesn't want that for themselves or their loved ones?!
2. Cadillac Celestiq Concept Car
No ordinary car, the Cadillac Celestiq Show Car is an exciting marker of future car design. The sleek, electric concept sedan boasts five display screens, a variable-light glass roof and privacy technology that uses a type of digital window blind which prevents the driver from seeing the far right display, allowing the passenger to watch videos without fear of driver distraction. The best bit – it's all going into the production model, and the release isn't far behind.
Chosen by: Scott Purcell
3. IWC Big Pilot's Watch Top Gun Edition "Mojave Desert"
If you've been well acquainted with our most wanted over the past few months, then you'd know that we love our watches, and this one is one of our all-time favourites. IWC have released a top gun edition pilot's watch, yes that's right – now you can be like Viper himself. It has a ceramic case, a dark brown dial with luminescence and a beige rubber strap with textile inlay. If this isn't enough to make you swoon, then perhaps its features will – a soft-iron inner case for protection against magnetic fields, 7 days power reserve and pellaton automatic winding, to name a few.
Chosen by: Richie Hall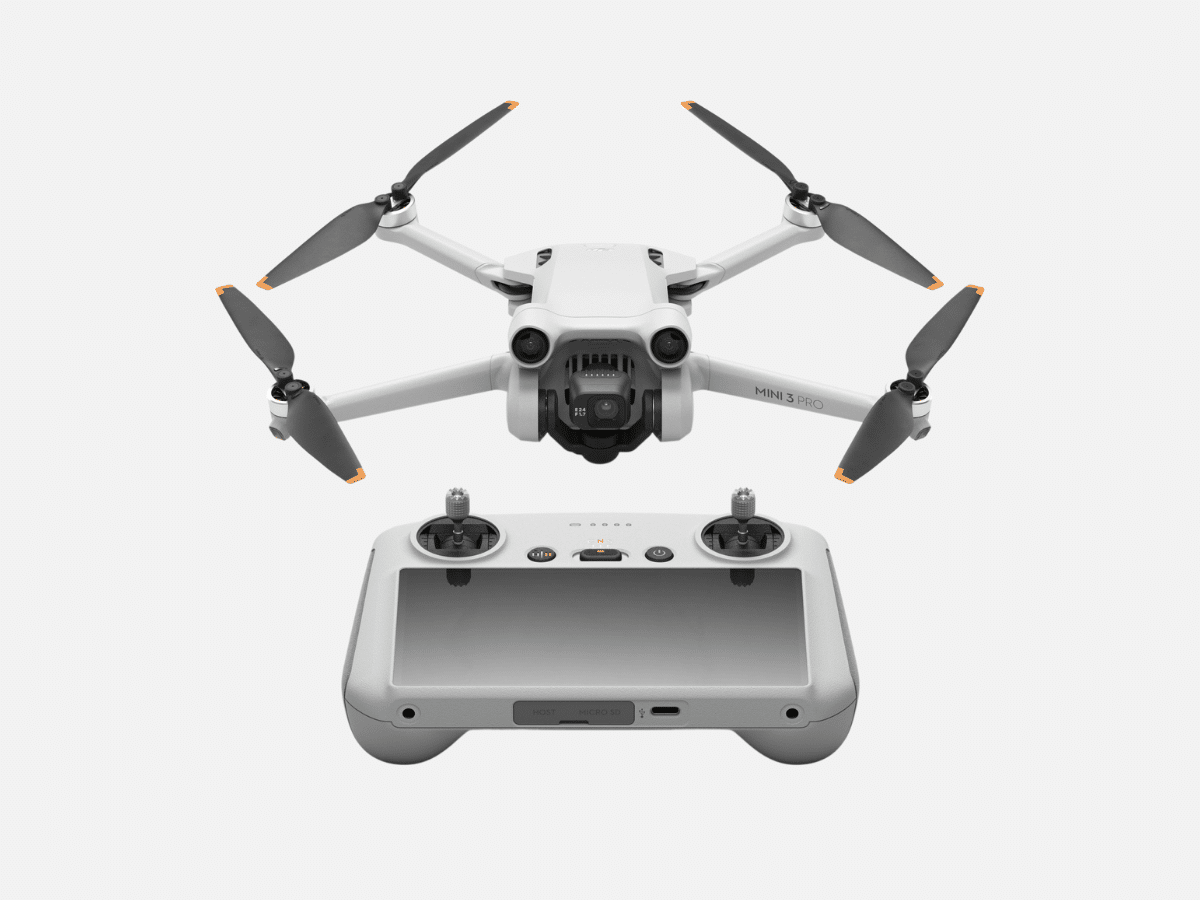 4. DJI Mini 3 Pro
If you're a keen videographer looking for your next toy, then look no further than the DJ Mini 3 Pro. A step above the traditional drone, the mini-sized gamechanger is powerful, portable, regulation-friendly and safe. You're guaranteed to get the best shots with this little gimbal, which offers a wider rotation range for low-angle shots and true vertical shooting, allowing endless creativity.
Chosen by: Ben McKimm
5. Hasselblad 90th Anniversary Edition Kit
Another toy we're loving in the world of cameras is this kit from Hasselblad, a long-time legend in the art of camera design. Drawing on 80 years of experience, they have created an innovative camera that exemplifies quality craftsmanship with 800 limited-edition 907X Anniversary Edition Kits. This kit draws inspiration from the iconic SWC camera and features an anodized Lunar Grey trim and lens and a black leatherette cover.
Chosen by: Richie Hall
6. Prodrive x Callum Racing Simulator
If you've always dreamed of being a racing car driver, but never had the chance, well, now you can live the life you've always wanted with this racing simulator. The sleek design is enhanced by some seriously insane features, like a sweeping canopy, an extra-wide screen, a sports seat and Bowers & Wilkins headphones, all encased in a piano black gloss finish. Everything is set up for you upon delivery, so all you need to do is start racing, from the comfort of your living room.
Chosen by: Sam Mangioni
7. Nothing Phone (1)
The biggest launch of the year in the smartphone space, the Nothing Phone (1) is a genius reimagination of mobile technology. The design is premised on a shift toward fewer distractions and greater human connection, achieved through unique light patterns that indicate whose calling by pairing individual contacts to unique glyph patterns. You can also choose different glyph patterns for notifications to easily filter messages and emails from calls. Along with an advanced, sustainable design, we think this may be exactly what the world needs right now.
Chosen by: Richie Hall
8. Duffy London Kronos Dining Table
This is one for all the furniture fiends among us – a unique, unforgettable dining table that's bound to make a statement in any space. The table is an irregular, geometric rock-like configuration that splits apart to form the base which is complemented by a curved table-top, made with marble, powder-coated mild steel, or mirror-polished stainless steel, gold or rose gold.  Designed By Christopher Duffy for Duffy London and so that no two tables are ever created the same, there are only twenty designs up for grabs so you gotta get in quick!
Chosen by: Frank Arthur
9. Rimowa Never Still Flap Backpack
If you've got some extra cash and feel like splashing out on a designer backpack, we can't go past this one by RIMOWA. Made in Italy, this sexy bag is made from durable canvas and full-grain leather and features two sides zipped pockets, adjustable shoulder straps and a padded back so you can rest assured you will be comfy, without having to compromise on style.
Chosen by: Denise Barnes
10. Evojet
If you haven't heard of Evojet, the US-based jet ski company is making waves (literally) in the world of water toys. The new kids on the block have a range of epic jet skis available for you to play with, and all for pretty affordable price points. You can also rent, or jump on for a demo ride, they're all about ensuring you get the right jet ski for you.
Chosen by: Frank Arthur
11. Girard Perregaux Laureato 42mm Pink Gold and Onyx
This July, Girard Perregaux released one of their most impressive watches yet, the Laureato 42mm. The watch is as effortlessly classy as it is luxurious, with an 18-carat pink gold case contrasting beautifully with deep black onyx accents, with classically Laureato satin-finished surfaces throughout. Expert craftsmanship means that the thin dials from onyx require no fewer than 15 different operations. Any watch collection would benefit from this addition.
Chosen by: Frank Arthur
12. Prada Regular Fit High Bridge Sunnies
Sometimes, the key to looking fashionable is just one killer accessory to transcend an otherwise ordinary look, and these Prada sunnies are just that. The brand is synonymous with high fashion and class, these Prada sunnies are no exception – with a classic black, geometrical design that screams cool.
Chosen by: Denise Barnes
13. TAG Heuer's Connected Calibre E4 Golf
Any golfer out there would die to get their hands on this little tool, and we can see why. This watch is revolutionising the way we play golf and track performance – link to the app for data-driven insights, plus, it offers unique features such as 2D and 3D mapping, accurate distances and hazards, scorekeeping, club recommendations, and precise shot metrics and real-time stats. We need.
Chosen by: Geena Valos
14. Aman's 14-Day Private Jet Tour
For a cool $160,000 per person, you can now hop on board a luxury private jet for fourteen relaxing, boujee days. Forget airlines, this sounds way better – Aman collaborating with Remote Lands to offer a new private jet experience for all of us regular folk (with some extra cash to splash.) Expect to be taken around the world, from New York to Turks and Caicos, plus the Dominican Republic, Utah, and Wyoming.
Chosen by: Nick Hall
15. Hoka Bondi 8
Another pair of shoes is always a welcome addition to any man's wardrobe, and HOKA's Bondi 8 is a sneaker so sexy we just can't resist. The Bondi has been reworked with softer, lighter foams and a brand-new extended heel geometry. The end result – a shoe that is not only good to look at, but is functional and effortlessly cool.
Chosen by: Sam Mangioni
16. Rolex DateJust 36
The DateJust 36 is one of our ultimate watches for July 2022 and by just looking at it, you can see why. In addition to its luxurious silver and gold detailing, the light reflections on the case sides and lugs only highlight the elegant profile of the 36 mm Oyster case, making the Datejust a classic, enduring and undoubtedly one of the most recognisable watches for generations to come.
Chosen by: Clelia Niyikiza
17. Dehen Classic Cardigan
For a timeless, cosy winter staple to add to your wardrobe this winter, we can't go past this cardigan. The Dehen Classic Cardigan is just like it sounds – a classic, 1950s buttoned cardigan in a traditional grey shade. It's functional, with a sturdy make and welt front pockets and it's made from 100% worsted wool, so you can be sure you will be warm and snug during the colder months, whilst still looking the part, of course.
Chosen by: Nick Hall
18. Worx Landroid M Robot Lawn Mower
It's about time lawn mowers entered the realm of the robotic, with everything else becoming so high-tech we don't have to move a muscle, why not get a lawn mower that can do all the hard work for you? This fully automated lawn mower cuts lawns up to ¼ acre all by itself – controlled via an app, all you have to do is set the charging base, lay down the boundary wire, measure your lawn with the app, and let it mow. It even has a rain sensor. Sign us up.
Chosen by: Sam Mangioni
You'll also like:
Man of Many's Most Wanted – June 2022
Man of Many's Most Wanted – May 2022
Man of Many's Most Wanted – April 2022