Vibing Up With Tenuto 2, the World's First and Only Smart Wearable Male Vibrator
In Partnership with MysteryVibe
We're in a bold new era of smart sex toys and wellness companies like MysteryVibe are here to prove it. Embracing people of all desires, types, shapes, and sizes, these folks are on a mission to improve sexual health around the world and leave no potential user behind. They previously reimagined and redefined the cock ring concept with the introduction of Tenuto, which we reviewed back in 2020. Now the brand has returned with a sequel that picks up where its predecessor left off, honing the design to offer better wearability and performance. We took this sleek vibrator for a spin and still feel turbo-charged from the experience. Check out the following review and then take 25% off Tenuto 2 during MysteryVibe's Singles Day Sale from November 10-16.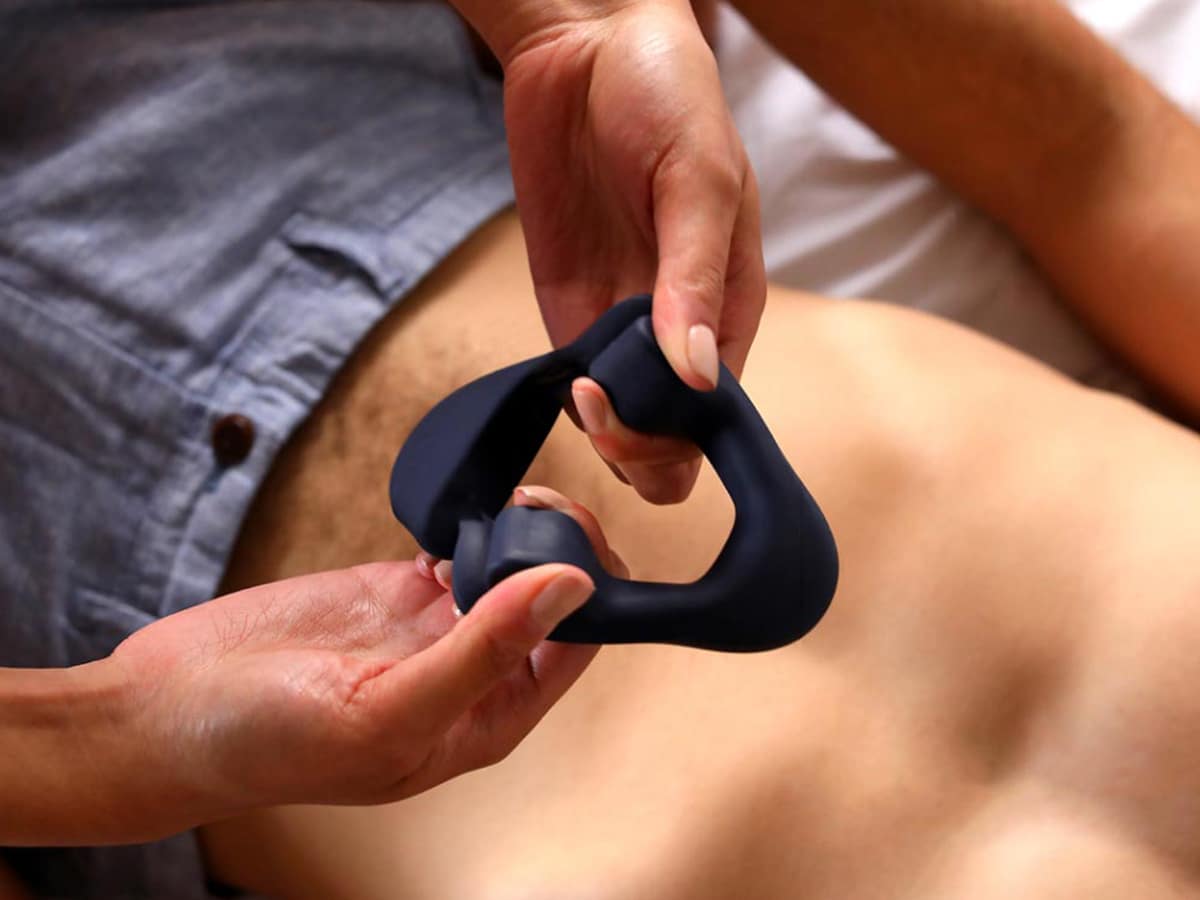 What is Tenuto 2?
To gaze upon this one-of-a-kind sex toy might still have you wondering how it works. Allow us to explain. The world's first and only smart wearable vibrator, Tenuto 2 features a flexible entry space with adjustable "wings" and a solid base. To use, apply generous amounts of water-based lube to both the product and your penis, then open the wings outward and slip your penis through. Your scrotum should sit comfortably in the open section beneath the wings whilst the solid base goes under your perineum (i.e. your taint).
At the base of Tenuto 2 are four control buttons, which can be used to turn it on and then alternate between vibration patterns and intensity levels (something you can also do through an adjoining app). Under the silicone exterior, four turbocharged motors (3 in front, 1 at the perineum) deliver precise vibrations and increased circulation to your key erogenous zones and your partner's too, should you use the product during intercourse.
Meanwhile, the sturdy but flexible wings double as a cock ring, restricting blood flow to generate stronger and longer erections. Between the improved erections and powerful vibrations, rest assured you'll experience one heck of a terrific orgasm.
Packaging
We remain genuinely impressed by the stylish approach MysteryVibe takes toward packaging and presentation. As we stated in our previous review, receiving one of the brand's advanced sex toys feels almost like getting a new iPhone. Everything from the thin outer slipcase to the clean box to the interior layout seems designed to enhance the user experience before you've even tried the vibrator on for size. Not only do you know you're in good hands from the very first moment onward, but you're constantly reminded that this is a 21st-century product. Whereas sex toys are often presented in somewhat crude packaging, this looks like a box you can leave out on the shelf for others to see.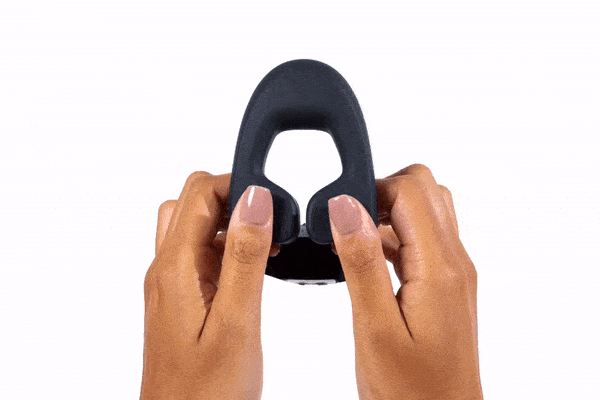 Design
If the packaging renders a modern impression, the vibrator itself definitely follows suit. Forged from body-safe silicone, it's soft to the touch and sculpture-like in essence. It also seems even sleeker and more user-friendly than the previous iteration, which felt a bit clunkier by comparison (if our memory serves correctly). The wings open with greater ease and it seems as though the brand was able to squeeze their powerful motors into a thinner framework. There's also more space than before for the "boys" to hang out. End result? A product that looks greater than ever and offers improved flexibility, amongst other things.
Performance
If there's one thing to remember before you try Tenuto 2 on for size, it's that using water-based lube (and plenty of it) is a must. As with most modern sex toys, this one requires something of an adjustment period, during which you adapt to its particular layout. However, with the application of lube there comes a relatively seamless process of fitting your penis through the wings and sliding the base panel under your perineum. And if you don't get into the product's unique rhythm on the first try, you will before long.
We suppose you can power up Tenuto 2 before wearing it, but we slipped it on first and then hit the buttons next. Now vibrating with life, it sent pleasurable sensations through both the penis and the perineum during solo play. The wings performed exactly as intended, sitting tight at the base of the penis and constricting blood flow to induce a stronger erection. Without going into too much detail, we can say that the orgasm that followed was the kind that goes all the way down to your toes and then back to your brain before trailing out one neuron at a time.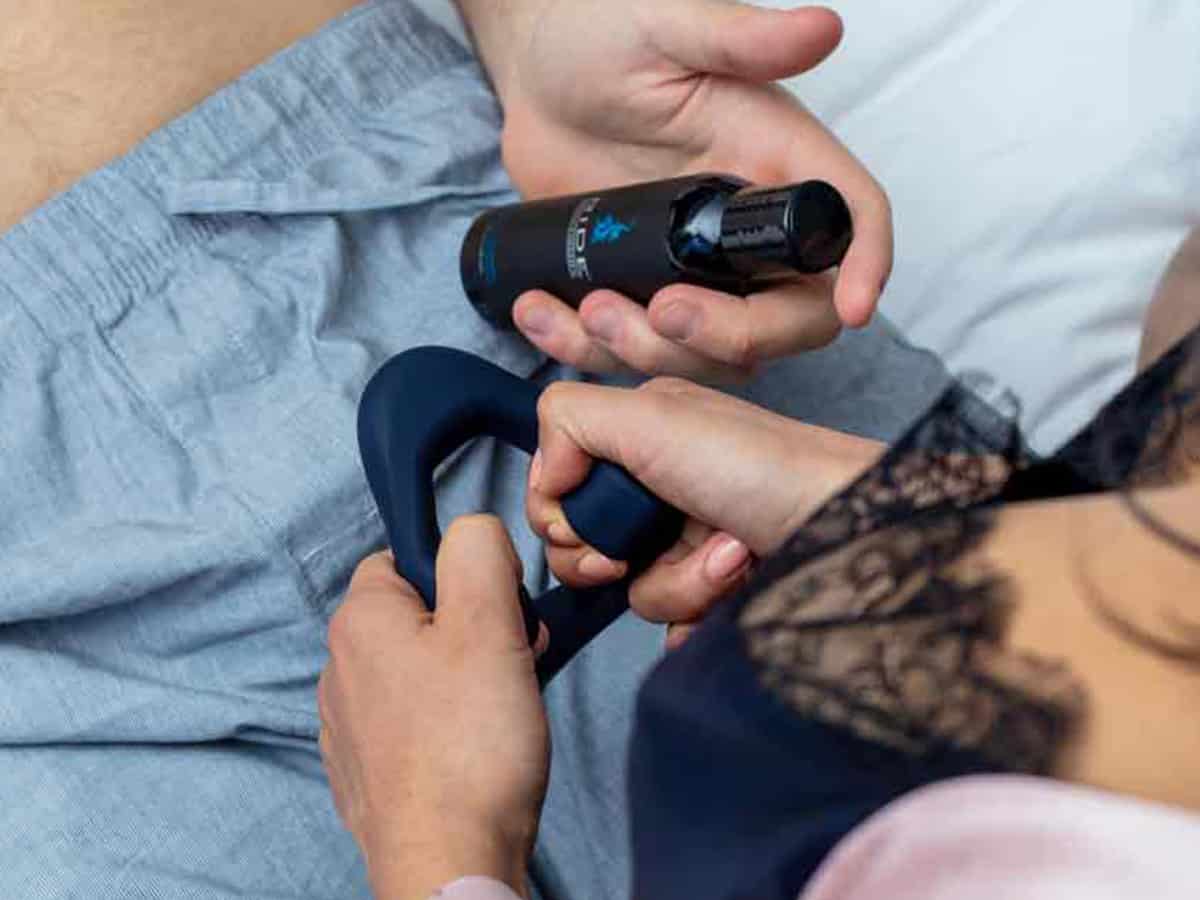 Use With a Partner
Thanks to its distinctive design, Tenuto 2 can deliver simultaneous vibrations to your partner's key erogenous zones during intercourse. That said, we only recommend bringing a partner (and a trustworthy one at that) in on the action after you've become a master of this product's particular domain. Whilst flexible, the vibrator is also larger in size than the standard cock ring and so its presence is rather conspicuous, even during solo play. Hence, there might be some further adjusting required when you use it with a bedmate.
In our experience, the best sex position to practice whilst using Tenuto 2 is cowgirl or reverse cowgirl. Not only does it give your partner more physical control, but it sends the most consistent amount of vibrations to her clitoris and vulva. And again, make sure you try this out with someone you can trust. After all, finding a rhythm is essential to rewarding sex and that's before you bring external products into the equation.
Of course, once you get that rhythm going, you may very well uncover some of the best sex of your life. With the extra vibrations comes a shell of pleasure that you can both share as you build toward a mind-blowing mutual orgasm. You might not be able to move around as much or always nail the timing, but the experience itself can deliver more pleasure and intimacy than standard sex.
App Control
In addition to the built-in buttons, Tenuto 2 can be controlled by way of a free MysteryVibe app. Through this platform, one can alternate between intensity levels and even custom-create their own vibration patterns. The app can also be used to remote control the product from up to 30 feet away, opening the door to all kinds of fun experimentation. Our experience with the app was free of hiccups, though for some reason we still prefer to use the buttons (call us old-fashioned).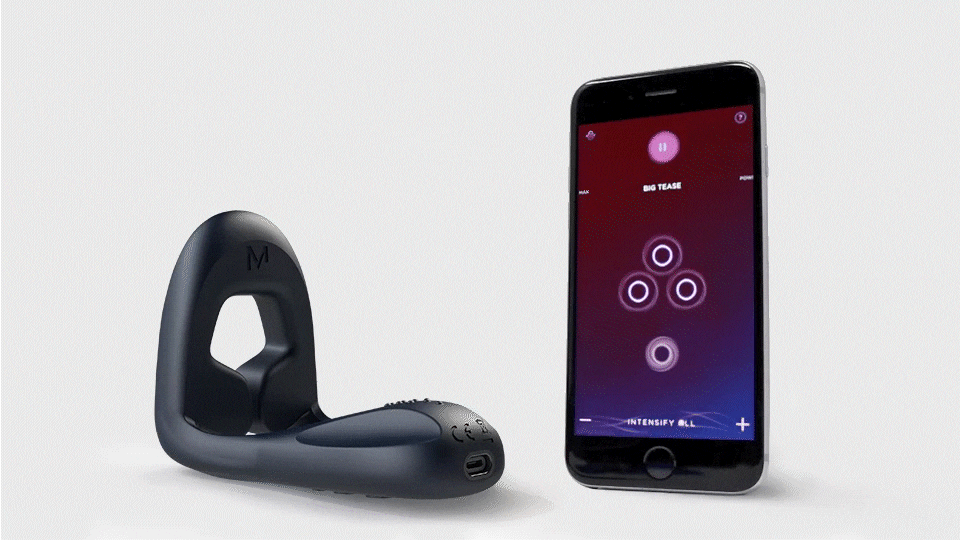 Overview of Features
We keep driving home the pleasure factor of Tenuto 2 but let's not forget that this is a wellness product. Not only does it help with conditions like Erectile Dysfunction, but using it with a partner can improve intimacy levels. It's also worth noting that orgasms—either alone or shared—can be quite an effective stress reliever.
Here's a quick rundown of Tenuto 2's key features:
4 strategically-placed motors vibrate all over your penis, from tip to perineum, and her clitoris and vulva
Achieve the performance of an athlete between the sheets with a solid pump from 360-degree stimulation
Made of premium, water-resistant silicone
Delivering unprecedented flexibility for an electronic vibrator, Tenuto 2's adaptable design fits most penis sizes, soft or hard, comfortably without fear of breaking
16 vibration settings give you the ultimate control of your bedroom escapades
Rock-solid erections, rock-star performance, and explosive orgasms make Tenuto 2 the ultimate sex toy to add to your love life
20+ International Design Awards
Eco-friendly, rechargeable, and sustainable with a sealed USB port
Smartphone compatible to control remotely up to 10 meters/30 feet
Free MysteryVibe app to create and save personalized vibration patterns
Doctor-endorsed for erectile dysfunction, premature ejaculation, and a safe alternative to oral medications like Viagra
Are you ready for long-lasting erections and body-rocking orgasms, the kind of which come backed by doctor endorsements and a clinical study? Or maybe you just like the feeling of powerful vibrations as you engage in either solo play or intercourse. Whatever your needs or desires, Tenuto 2 abides. Score one for 25% off as part of MysteryVibe's Singles Day Sale, which runs from November 10-16. You'll be glad you did.