48 Hours in Byron Bay: The Ultimate Weekend Guide
With the usual Australian winter pilgrimage to Europe cancelled, 2020 is the perfect opportunity to look closer to home for your next getaway. Pack your bags, give the dog to the in-laws and throw the surfboards in the car. Just a day's drive north from Sydney, you'll find yourself at Australia's worst kept secret.
Byron Bay. No longer a retreat for hippies and hikers, the small town on the easternmost peninsula of Australia is now a paradisical luxury holiday destination perfect for couples, young families and solo travellers alike. But, Byron isn't limited to surfing and sunbaking. If you drag yourself from the beaches you may be surprised to find out that the quaint coastal getaway is home to some of Australia's best food, drinks and a myriad of unsullied bushland ready to be explored. As the sun sets, grab a Stone & Wood or an Aperol, sit back and soak it all in. Portofino eat your heart out.
More often then not, you'll only be checking into Byron for a weekend. With that in mind, we've put together a list of the top places to eat, drink and relax when you only have 48 hours in Byron Bay. Rest assured, after these two days. You'll be begging to stay longer.
What To Do
Surf – The Pass, Wategoes, Tallows
It's no mystery why Byron is the unofficial surf culture capital of Australia. There's no shortage of beaches and breaks for you to jump on a board and get a coupla couplas while visiting. If you're a beginner, you might want to head down and join the crowd at Wategoes or The Pass. Here you'll find some of Australia's best rolling waves perfect for when you're finding your feet. Make sure you keep your eyes out, it can get pretty damn crowded out there and no one looks kindly on newbies who can't control their board.
If you fancy yourself as a bit of a charger, Tallows can really turn it on. You're also likely to get a little more space in the lineup. A blessing for those coming from Sydney looking to escape the crowd a find a bit of solitude in the waves.
Chill – Nimbus Co
Some holidays can leave you more exhausted and depleted then your regular day-to-day. That's why it's so important to take some time to yourself and recharge the batteries whilst on your getaway. There's really no better way to do this than by treating yourself to an Infrared Sauna at Nimbus Co, Byron Bay.
The state-of-the-art private infrared saunas are not only a tranquil space to recharge and relax, but also boast a plethora of benefits for a variety of chronic health conditions or mild health concerns. Just a single session in an infrared sauna is proven to boost your immunity, improve skin health and detoxify the body.
The gorgeous space is instantly calming and the staff at Nimbus Co are trained holistic health practitioners that specialise in treatments from acupuncture to naturopathy. Next time you're at the end of your tether, drop the kids off at the beach and check yourself in for some much desereved you-time.
Walk – Byron Hinterland, The Lighthouse, Waterfalls
Before European settlement, the area surrounding Byron Bay was home to the largest expanse of lowland subtropical rainforest in all of Australia. You'll still find remanents of this rainforest fringing the beaches and in the hinterland a short drive up the hill. Yeah, the Lighthouse Walk is iconic and a must-do if it's your first time in Byron Bay. If you're visiting in late Autumn or early spring you might be able to catch a glimpse from the lighthouse of the whales migrating up the coast.
For those who are a little more adventurous, take a little drive into the Byron Hinterland and go for a look for some of the elusive swimming holes or waterfalls. Killan Falls, Tyagarah Lake. Minyon Falls and Bexhill Quarry and easy enough to find and well worth the trip.
What To Eat
Breakfast – Bayleaf Cafe
Boasting good coffee and an even better feed, Bayleaf is the local's favourite in Byron. The menu's got eggs every which way and, of course, more vegan and vego options then you can poke a stick at. Park up out the front, order some dukkah poached eggs or granola and catch your breath before the day really starts.
If you're in a rush or would just rather enjoy your meal by the beach, grab something to go from the takeaway shop. It's the same great salads, sandwiches, and sweets you'll find inside just packed and ready to go.
Lunch – Harvest Newrybar
Located a little outside of Byron is Harvest Newrybar is known for their simple dishes that champion a selection of exquisite ingredients all sourced from locally. It's the kind of place that menu's change sporadically based on what's in season or what ingredients are at their prime, ensuring you're always going to have a delicious meal.
For lunch, sit outside amongst their edible garden and check out their award-winning wine list that explores small, conscientious wine-makers and lesser-known Australian varietals
Dinner – Beach Byron Bay
Nestled in the dunes between Clarkes Beach and The Pass is Beach Byron Bay. World-class fine dining on the shores of one of the most beautiful beaches in the world; it truly is a recipe for success. In May this year, celebrated Aussie chef Simon Palmer took the helm at Beach and has refined the menu to focus on organic produce from both neighbouring farmlands and the ocean that can be seen through the dining room windows.
"It is truly a pleasure to be at Beach every day," Simon Palmer told Man of Many. "The setting of the restaurant, overlooking Clarkes Beach, is incredible. It's been a pleasure to create a menu that compliments this setting and pays homage to the location and its talented producers."
Whilst Byron boasts a slew of great places to grub up, there is really nothing that compares to Beach Byron Bay. Fine dining at its best, Simon and his team lets local produce speak for itself in their delicately balanced menu. Decorated with a smattering of awards including a Good Food Hat in 2018, you're in safe hands whether you're celebrating a special occasion or just looking for a sophisticated lunch with a view.
Open for Lunch and Dinner (plus a kiosk for those feeling a bit peckish in the mornings), Beach Byron Bay offers modern Australian cuisine that holds its own against even Sydney and Melbourne's highest echelon of restaurants. It goes without saying but bookings are essential.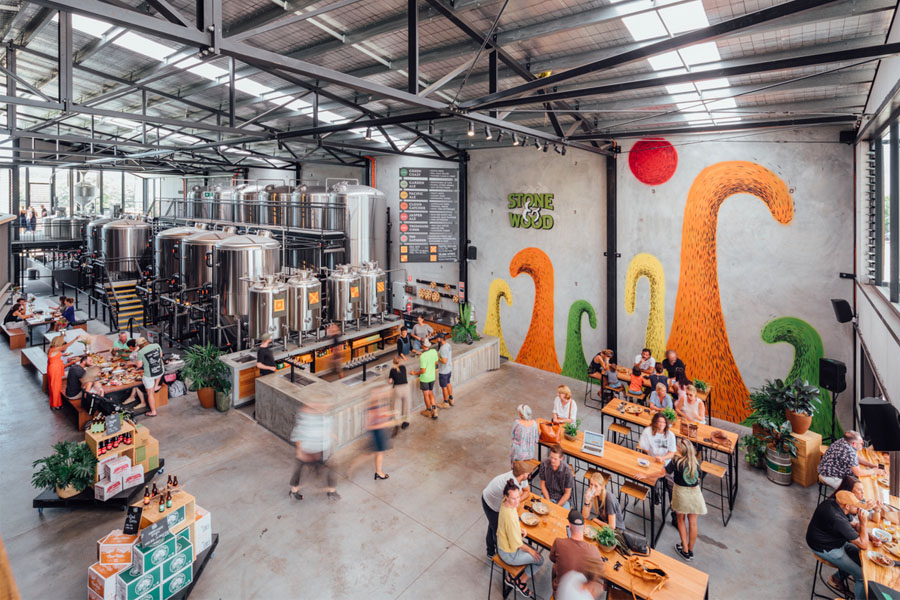 What To Drink
Coffee – Sparrow
No matter how clean your chakras are, you're still going to want a good coffee while in Byron Bay. If you're a bit of a coffee snob, you can't go past Sparrow in the town centre. The small, quaint, hole-in-the-wall cafe lets tick your caffeine box without all the frills. They're running on freshly roasted Allpress coffee and have all the right brands of milk no matter your persuasion. There's no real food menu or anything – if you're looking for a decent breaky head up the hill to Top Shop, highly recommend – but Sparrow is the perfect place to grab a quick caffeine fix on the way to the beach in the morning.
Beers – Stone & Wood Brewery
Stone & Wood has been Byron's beer of choice for a couple of years now and it's clear why. Born and bred in locally, Stone & Wood draws from their surroundings when looking for inspiration for a new brew. Each beer is super sessionable and perfect for the warmer climate on the northern NSW coast. You'll find their OG Pacific Ale on tap in every pub in Byron and if you're a fan of that then definitely head over to the Brewery just outside of town to try their full range of brews.
Any beer tasting is a laugh and great in a small group. Get a couple of friends together, each buy a sharing jug of your favourite drop and drink up. If you're like us and get a little peckish whenever you're on the beers, hook into one of the delish Beef Brisket Burgers or a Staff Salad available from the inhouse the canteen. How good.
Gin Tasting – Cape Byron Distillery
Few will realise that the Byron Bay region was once home to the largest low lying sub-tropical rainforest in the world. Called the Big Scrub, the Cape Byron Distillery has found their home nestled in the unique terrain picking their botanicals from native bushes that grow abundantly in the nutrient-rich soil. If you've ever indulged in a Brookies G&T you'll know why the gin is so famous. Its iconic flavouring is uniquely Australian and is distilled with native botanicals foraged from the heart of the rainforest.
A short drive up into the Byron Hinterland you'll find the home of the Cape Byron Distillery. A welcome escape from the hustle and bustle, treat yourself to a G&T while you wander through the rainforest learning about the unique botanicals such as Byron Sunrise Finger Limes, Aniseed Myrtle, Cinnamon Myrtle, Macadamia, Native River Mint, Native Raspberry & many more…
Cocktails – Raes Celler Bar
There are few places in Australia quite as iconic as Raes. Prime position on the shores of Wategoes beach the gorgeous boutique hotel offers luxury accomodation that's tough to beat. Due to its popularity, it might not always be possible to book a room so, in lieu, drop by for a cheeky aperitif at Raes Celler Bar to watch the sun go down. The facade is that of a mediterannian villa and it got the menu to match. With a big emphasis on local seafood, Raes Cellar Bar is a great place to whet your palette before heading back into town for dinner.