Dyson Demo Store is Now Open in Sydney
Multi-national technology company Dyson are expanding upon their presence here in Australia with the nation's first-ever Dyson Demo store. Now open on George Street in the heart of Sydney, it offers an immersive space for guests to discover and explore a wide host of new technologies. Demonstration zones, interactive displays, and massive video screens are just three amongst the numerous features lying in wait. They'll show how the brand tackles real-world problems through a variety of premium appliances and hair products, all of which stand at the forefront of their respective industries.
You'll also like:
23 Best Men's Skincare Brands in Australia
Guide to the Best Men's Skincare Routine
How to Get Rid of a Monobrow / Unibrow
To enter this newly launched domain is to flank yourself in a world of expert design and stark innovation. This is the ultimate in "try-before-you-buy" retail and it answers every question before you can even think to ask it. A wall of debris falls to the floor, only to be quickly sucked up by Dyson's legendary vacuum cleaner. An air quality demonstration exhibits live AQ data, delivering insight as to the effect of pollution on personal health and how certain products can help. Over at the Beauty Lab, visitors will have their hair health analysed and even styled by Dyson Hair Care Technologies. We could go on.
The new Dyson Demo store also continues the brand's commitment toward the restoration of iconic buildings. This time around, they've restored and regenerated a heritage building, which now features a modern glass box and the largest digital screens inside any of their stores around the world. Each screen provides visual engagement in the form of high production content, showing how Dyson technologies are used to solve all kinds of problems, ranging from global pollution to personal hair damage.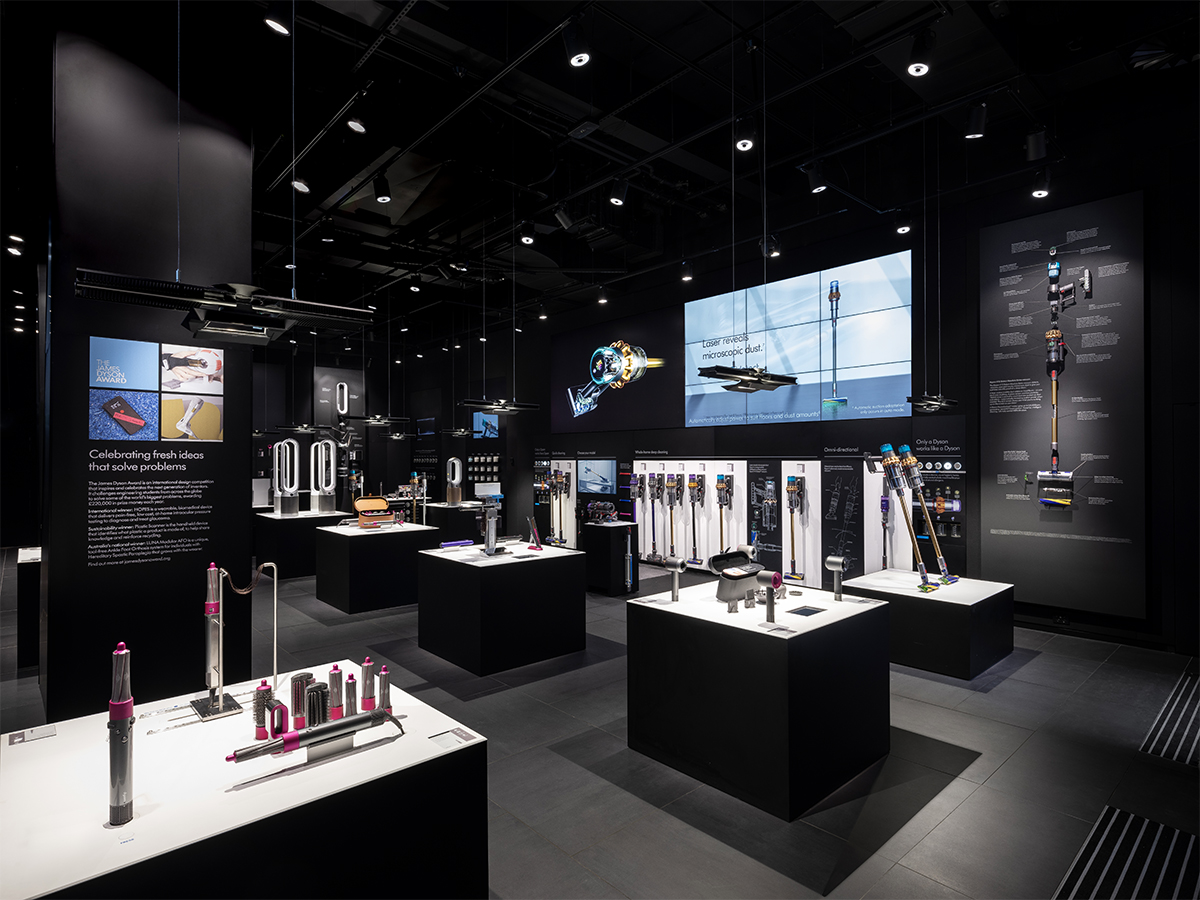 "Dyson operates more than 300 Dyson stores worldwide and our first ever Dyson Demo in Australia will add to our ambitious growth plans for the future. Together with Dyson's direct online store, the new space in Sydney forms a part of our growing ambitions in direct-to-consumer retail, providing consumers with opportunities to discover the Dyson technology through both the virtual and physical world," said Roland Krueger, Dyson CEO.
Taking all precautions to ensure visitor safety, the Dyson Demo store is now open daily from 10am to 6pm, except Thursdays where it will be open from 10am to 9pm, and Sundays from 10am to 5pm. Prepare to get hands-on with game-changing products such as the Dyson Corrale straightener with flexing plates and intelligent sensors, the Dyson V15 Detect cord-free vacuum cleaner, the Dyson Purifier Hot+Cool Formaldehyde air purifier, and more. If you like what you sample, bring it home for yourself to relish the kind of superior performance that only this brand can provide. We'll see you there!
You'll also like:
23 Best Men's Skincare Brands in Australia
Guide to the Best Men's Skincare Routine
How to Get Rid of a Monobrow / Unibrow