14 Best Beaches Near and Outside Melbourne for Surfing and Swimming
Despite not having the sunny reputation of some other Aussie cities, Melbourne's best beaches still deliver the age-old combo of sun, sand and surf. Whether you prefer to stay close to the city or fancy a drive down some beautiful coastlines, we have scoured far and wide for the best beaches in Melbourne to get your seaside fix. From surfing and jet skiing to sightseeing tours and coastal hikes, there's something here for everyone.
RELATED: These are the best fish and chip shops in Melbourne.
Best beaches near Melbourne CBD
So slap on some sunscreen and dig out your best boardies – Melbourne's best beaches are not to be overlooked. Here is a list of the best beaches near Melbourne.

1. St Kilda Beach
Until you've spent a day by the sea at St Kilda Beach, you haven't really visited Melbourne. Don't have a car? No worries.. the beach is just a short tram ride from the CBD. There are plenty of activities here, including kiteboarding, skydiving, jet skiing and beach volleyball. Like your beach days a bit more relaxed? Take a stroll down the iconic pier (if you're lucky you may see the resident little penguins in the rocks!) or relax in one of the bars and restaurants in the St Kilda Baths. There's a day out here for everyone.
Address: St Kilda Foreshore, St Kilda, Victoria, 3182
Location: 7.5km from Melbourne CBD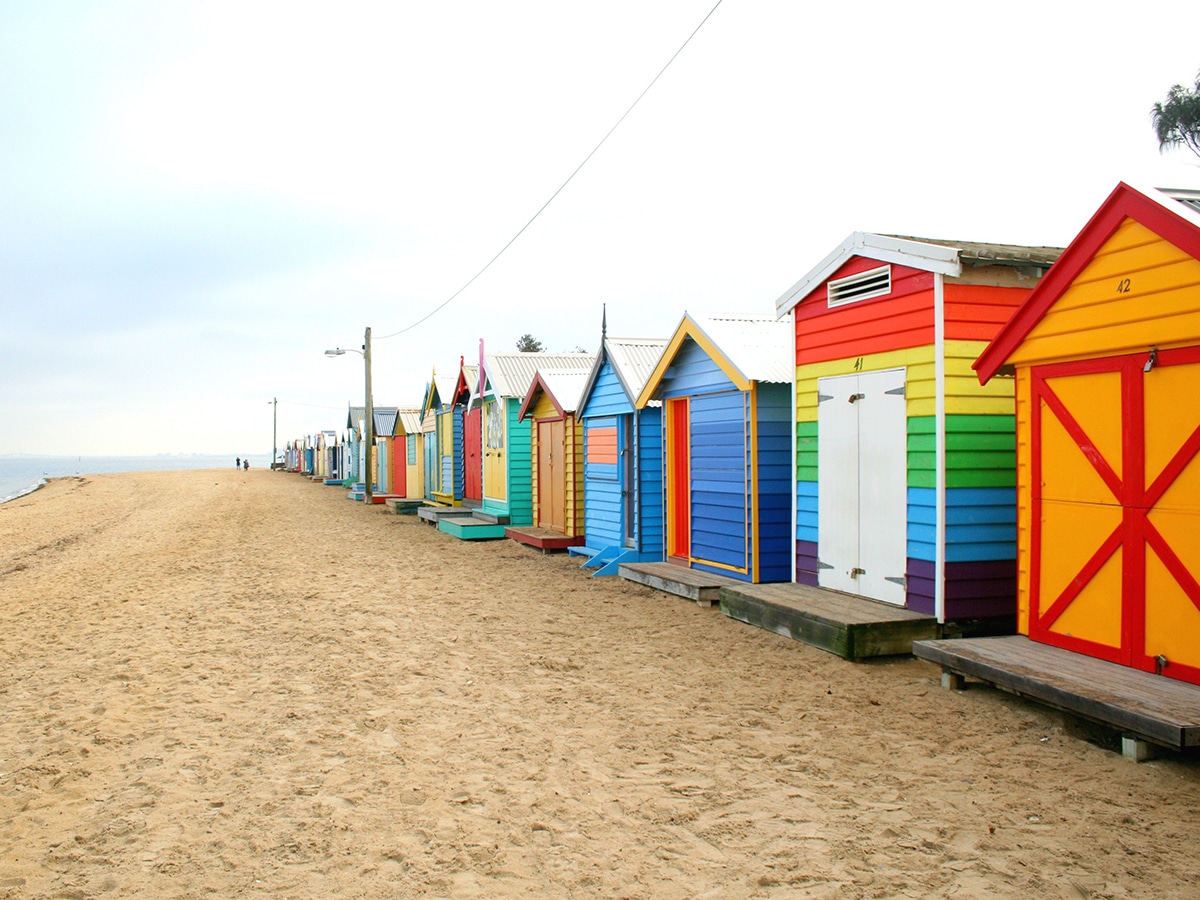 2. Brighton Beach
Probably Melbourne's most iconic beach, Brighton Beach is famous for its rainbow-coloured beach huts that adorn the foreshore. The huts were once used as changing sheds in Victorian times. Most have retained their original architecture, and now are decorated in bright colours and bold artwork, perfect for those Insta holiday snaps! For a full day out, visit the historic Brighton Baths, offering swimming lanes, a steam room and group fitness classes. And, if you take a stroll out to the shoreline at the end of the beach you'll get a spectacular view of the city skyline!
Address: Dendy Street Beach, Dendy Street and the Esplanade, Brighton, Victoria, 3186
Location: 13km from Melbourne CBD
---
Featured Video from Man of Many
---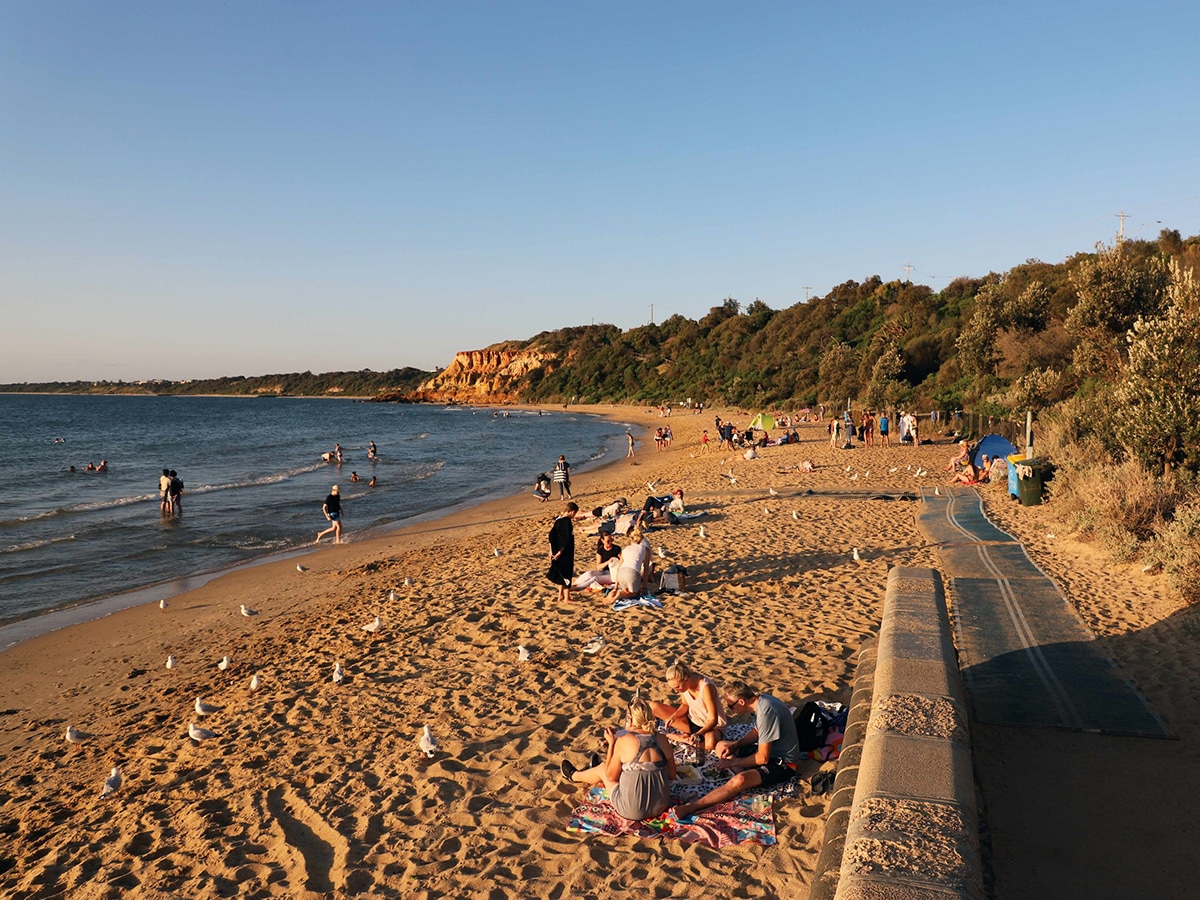 3. Half Moon Bay Beach
Half Moon Bay gets its name from its crescent-shaped cove and is best known for its golden sandy beach. The long 350m bay faces north so the beach is nicely protected from the elements and safe for swimming. The pier is very popular with fishermen, making it one of the best places to grab local fish and chips and watch the sunset over the bay. Want to add some history into your day at the beach, if you look out over the bay, there's a visible historic shipwreck from the 1920s.
Address: Half Moon Bay, Black Rock, Victoria, 3193
Location: 20km from Melbourne CBD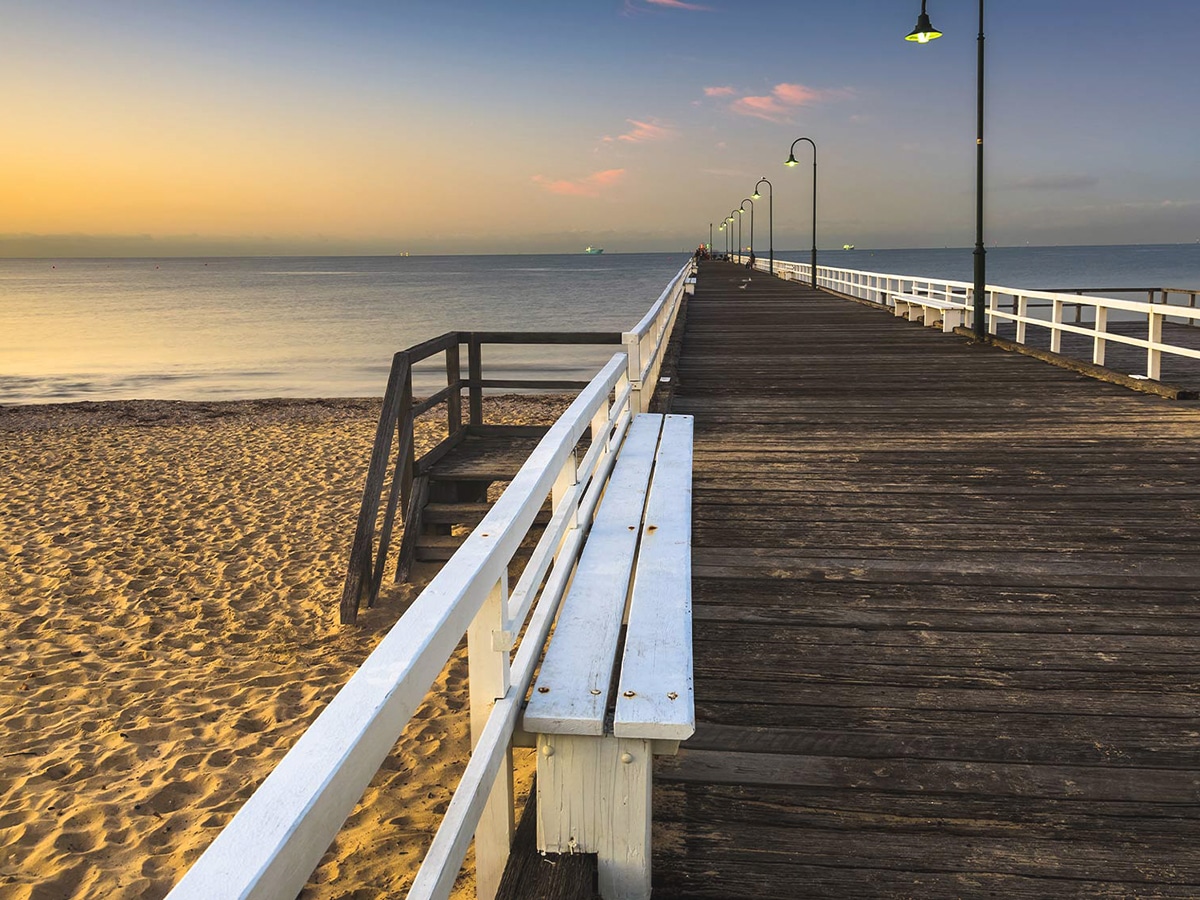 4. Kerferd Road Pier Beach
Kerford Road Pier Beach is one of Melbourne's best-loved beaches and just a short drive from the CBD, it's accessible to all. Soak up the sun and read a book overlooking the lapping waves, or go fishing off the famous Kerferd Road Pier. There are even some beachside nets, for a spot of beach volleyball and a fantastic playground for the kids.
Address: Kerford Road Pier, Albert Park VIC 3206
Location: 4.8 km from Melbourne CBD
5. Williamstown Beach
Melbourne's first seaport, Williamstown is now a hipster seaside suburb, popular with locals as there are plenty of cafes and restaurants nearby for a bite to eat or a cheeky latte. The beach has a full range of amenities and is within walking distance of Williamstown Botanic Gardens and the nearby Life-Saving Club swimming pool. There are plenty of picnic spots in the local parks and reserves too. Check out Fearon Reserve and Hatt Reserve for luscious green grass and foliage just minutes from the beach.
Address: Esplanade, Williamstown, Victoria 3016
Location: 14km from Melbourne CBD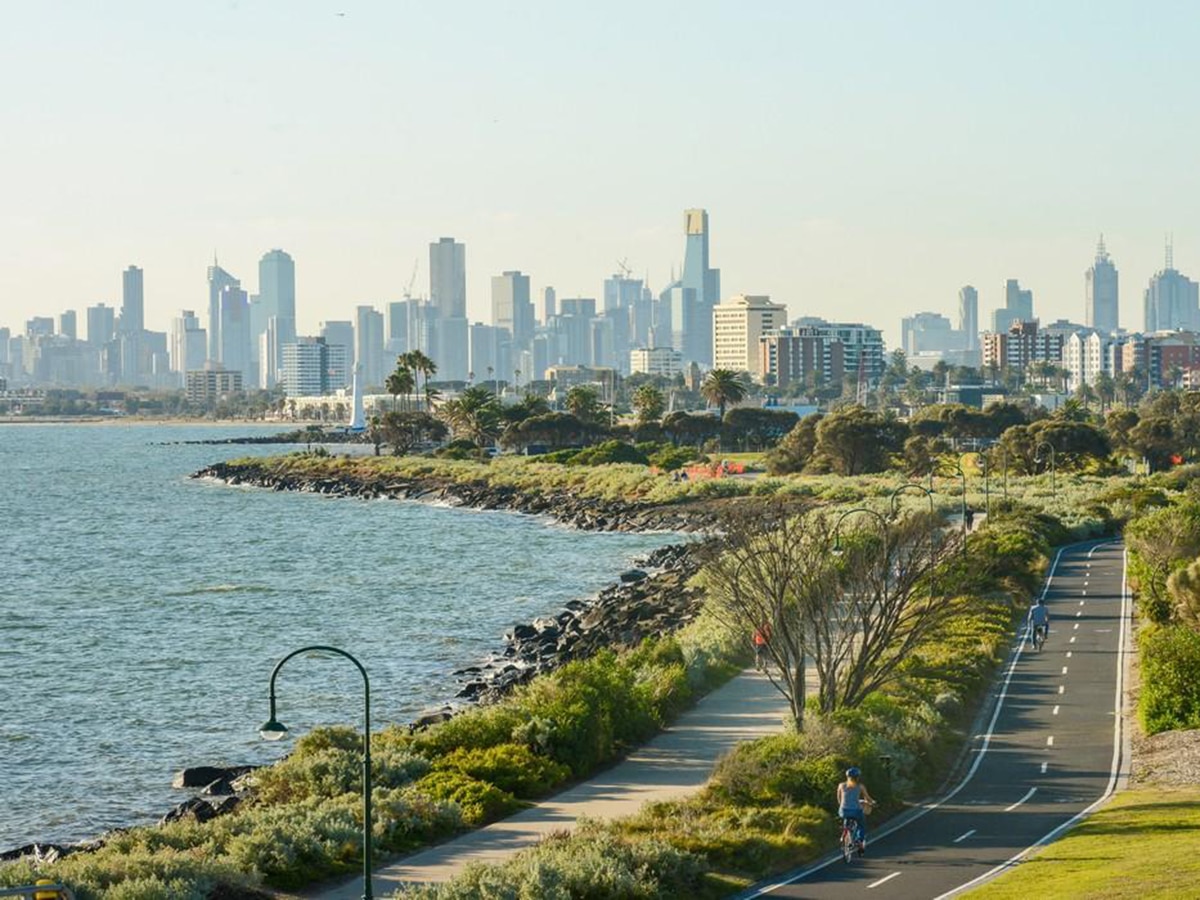 6. Elwood Beach
Just around the corner from St Kilda, you'll find Elwood, a vibrant beachside suburb, buzzing with families and couples relaxing by the beach. Had enough of the sand? Take a bike ride along the scenic coastal paths or climb up to Point Ormond for one of the best panoramic views in Melbourne; with the impressive city skyline to the north and the glistening sands of Elwood Beach to the south. There's also a superb takeaway fish and chip shop, for that authentic beachside experience. Elwood beach really is the total package.
Address: Ormond Esplanade, Elwood, Victoria 3184
Location: 9km from Melbourne CBD
Best beaches outside Melbourne CBD
If you aren't located close to the Melbourne CBD, or you don't mind a drive, there are a number of hidden gems to explore. Here is a list of the best beaches outside the Melbourne CBD.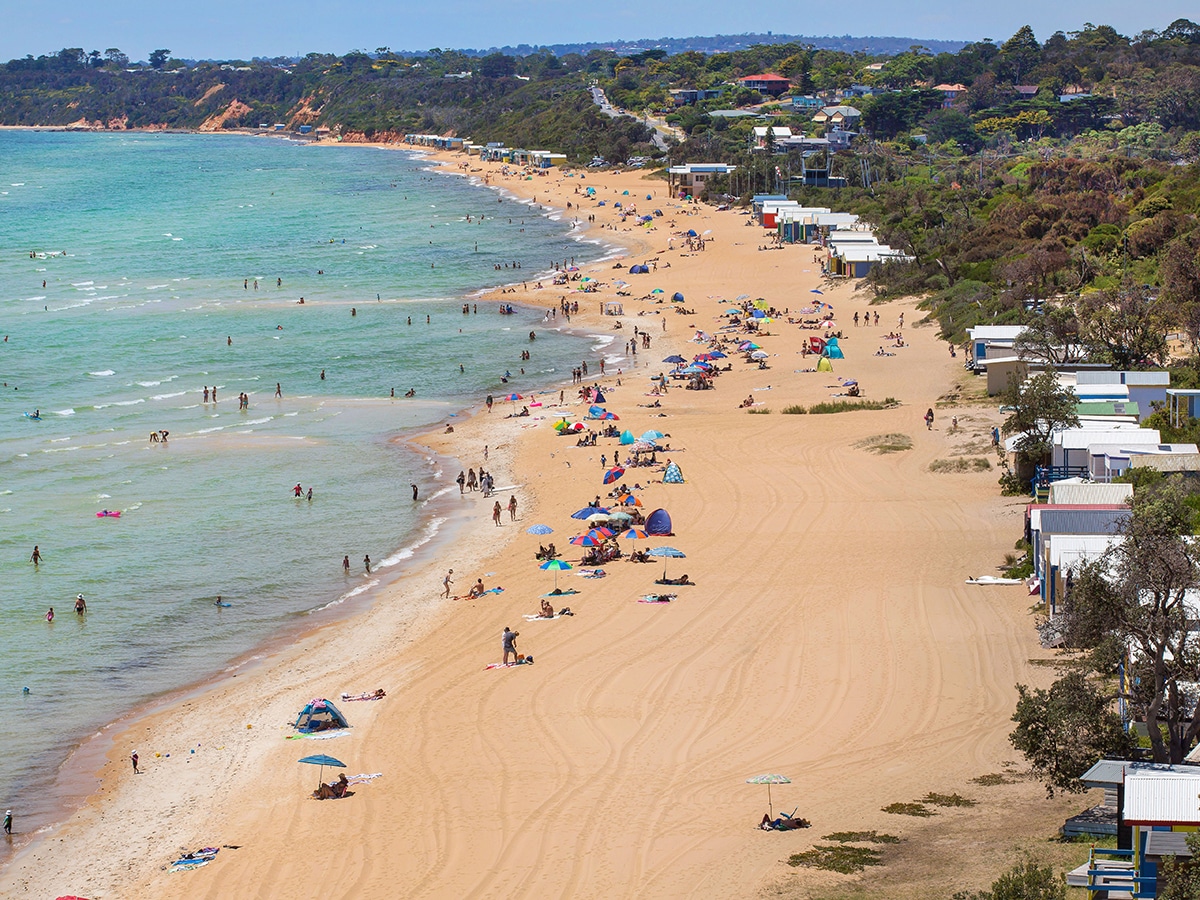 7. Mount Martha Beach South
If you are missing your European holidays, Mount Martha Beach is the place to visit. Reminiscent of Europe's Mediterranean beaches, this 2km beach is perfect for a dip in the ocean or basking in the summer sun on the golden sands. It is also home to Mornington Peninsula's most famous colourful bathing boxes. Grab your friends and take a picnic basket to the top of the big sandstone cliffs. You can even dive off into the ocean if you're feeling brave!
Address: 466 Esplanade, Mount Martha, Victoria, 3934
Location: 74km from Melbourne CBD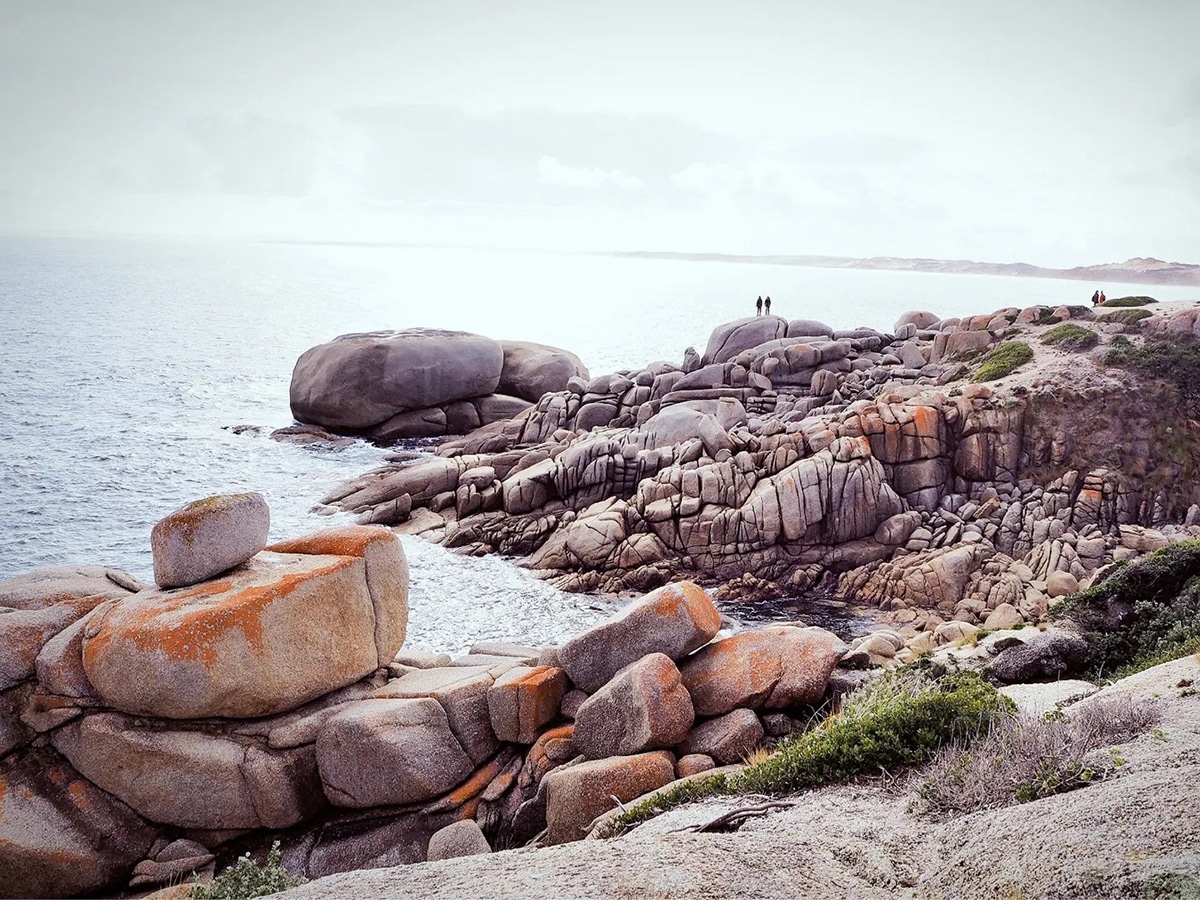 8. Fairy Cove
A secluded beach in Wilsons Promontory Nation Park, Fairy Cove is only accessible by foot, along the winding cliffs of the Tongue Point Track. The walk will take about 45 minutes.. but it is well worth the trip! When the water is calm it's great for swimming, or if there are some rips, take a boogie board for the ultimate beach experience. With its crystal clear waters and impressive native wildlife, this beach has often been referred to by travellers as Australia's best-kept secret… so when you reach it, be prepared to be amazed… but sssh, don't tell your friends!
Address: Tongue Point-Darby River Walk, Wilsons Promontory VIC 3960
Location: 216km from Melbourne CBD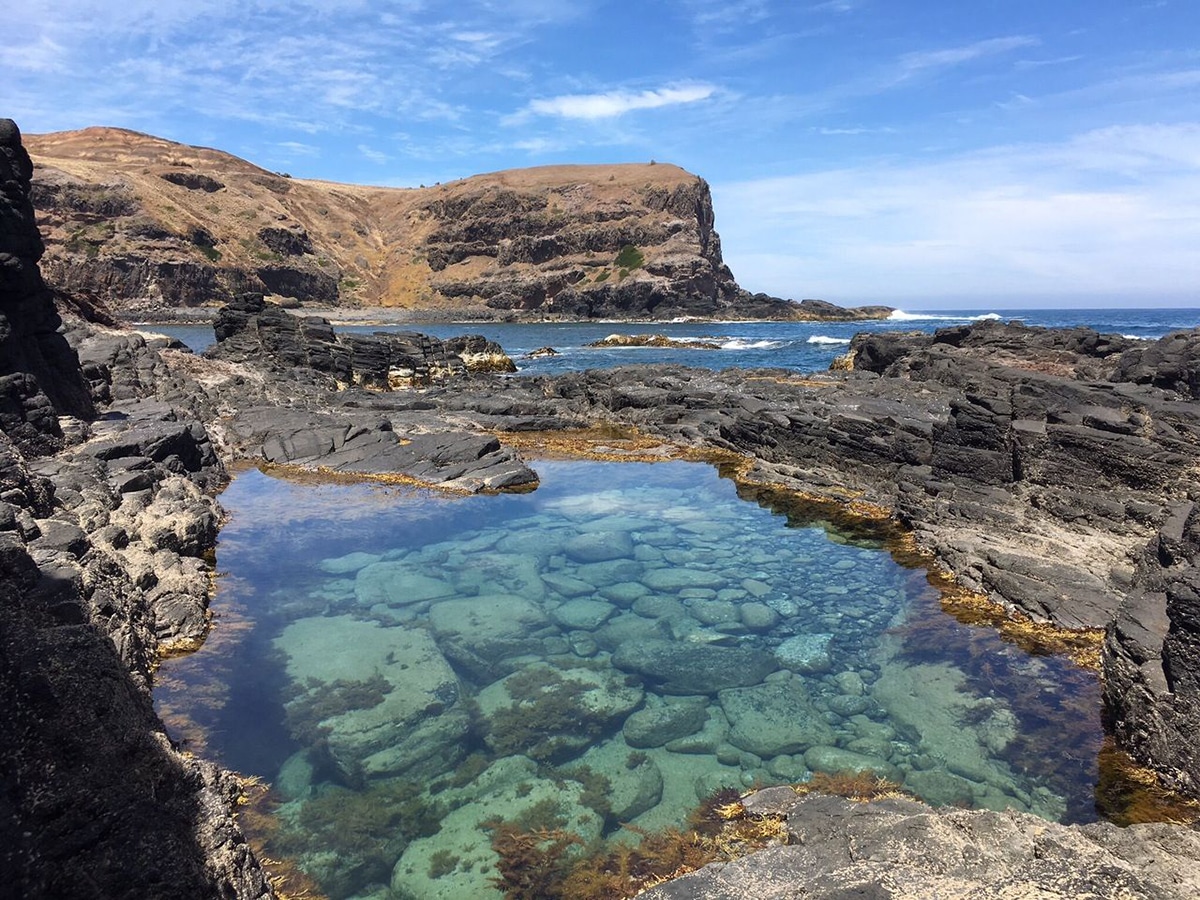 9. Bushrangers Bay
Surrounded by huge basalt cliffs and jagged rocks, Bushrangers Bay is one of Melbourne's most picturesque beaches. The cliffs are covered in rock pools and the bay has crystal clear waters, great for diving and snorkelling. The beach is famous for being the location of the film Where The Wild Things Are – perfect for some snaps to impress the folks at home!
Address: Boneo Rd, Cape Schanck VIC 3939
Location: 105km from Melbourne CBD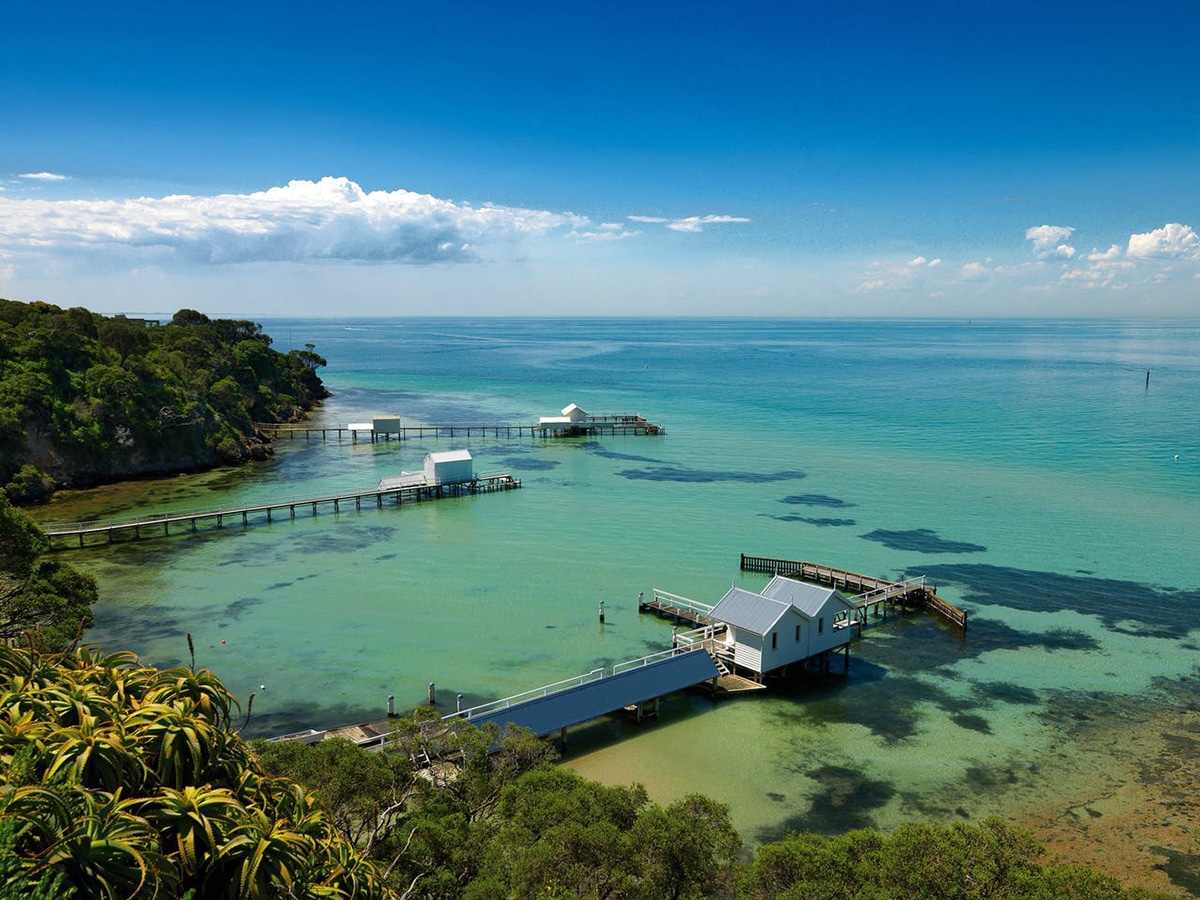 10. Sorrento Beach
An assortment of different-sized rockpools and stunning crystal clear waters are just two of the reasons Sorrento is one of Melbourne's best beaches. Another is that it is the home of the Queenscliff-Sorrento ferry, should you want to venture across the bay. The beach also has a long green lawn laden with top-notch BBQ facilities, which is perfect for family days out or a catch-up with friends by the sea.
Address: 359BPoint Nepean Road, Sorrento, Victoria, 3943
Location: 100km from Melbourne CBD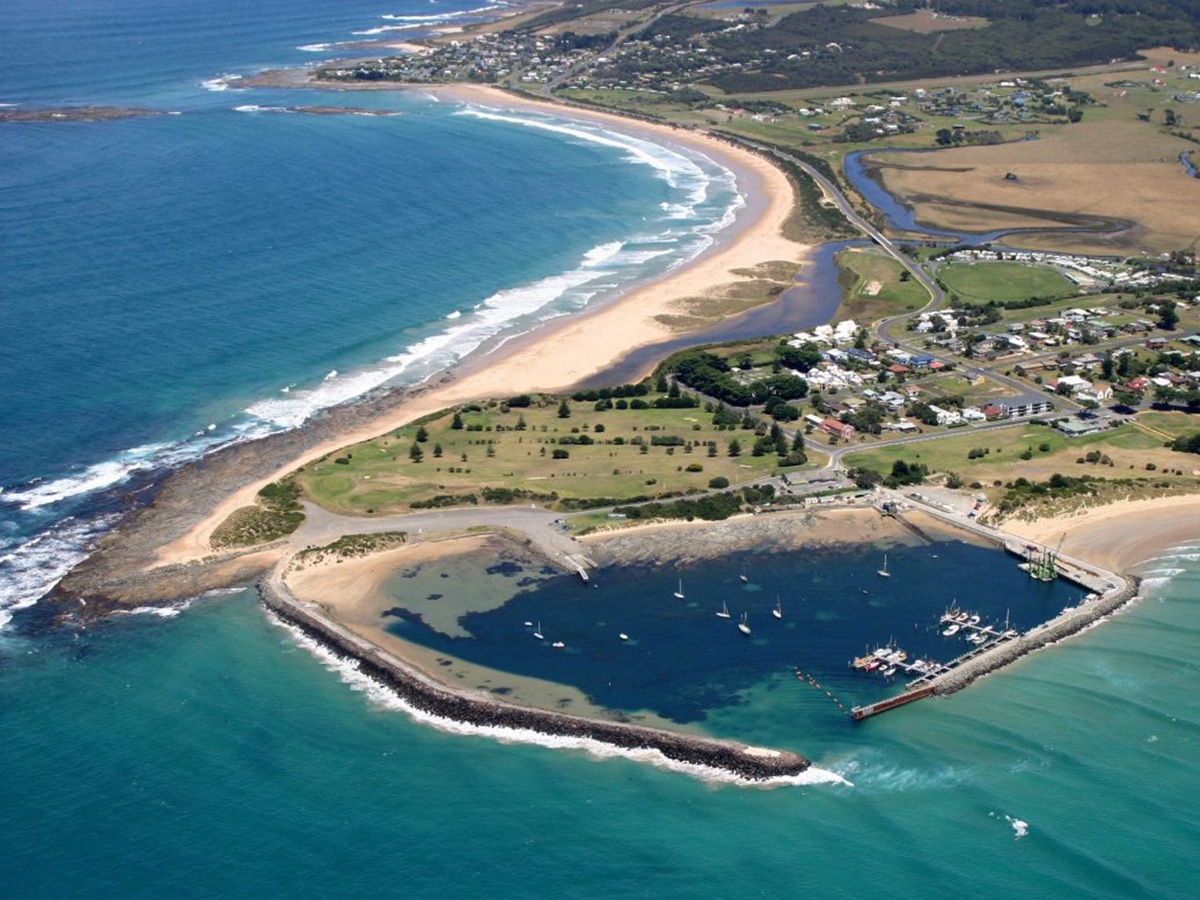 11. Apollo Bay
Known best for its surfing, fishing and pretty much any water sport you can think of, this popular spot on the Great Ocean Road is highly regarded as one of Melbourne's best beaches. The nearby Otway Ranges have some great scenic walking trails if you prefer your action to be on dry land. The vibrant local restaurant scene is popular with locals and tourists alike, and if you'd like to stay the night there are plenty of accommodation options. So why not make a weekend of it?
Address: Apollo Bay, VIC 3233
Location: 195km from Melbourne CBD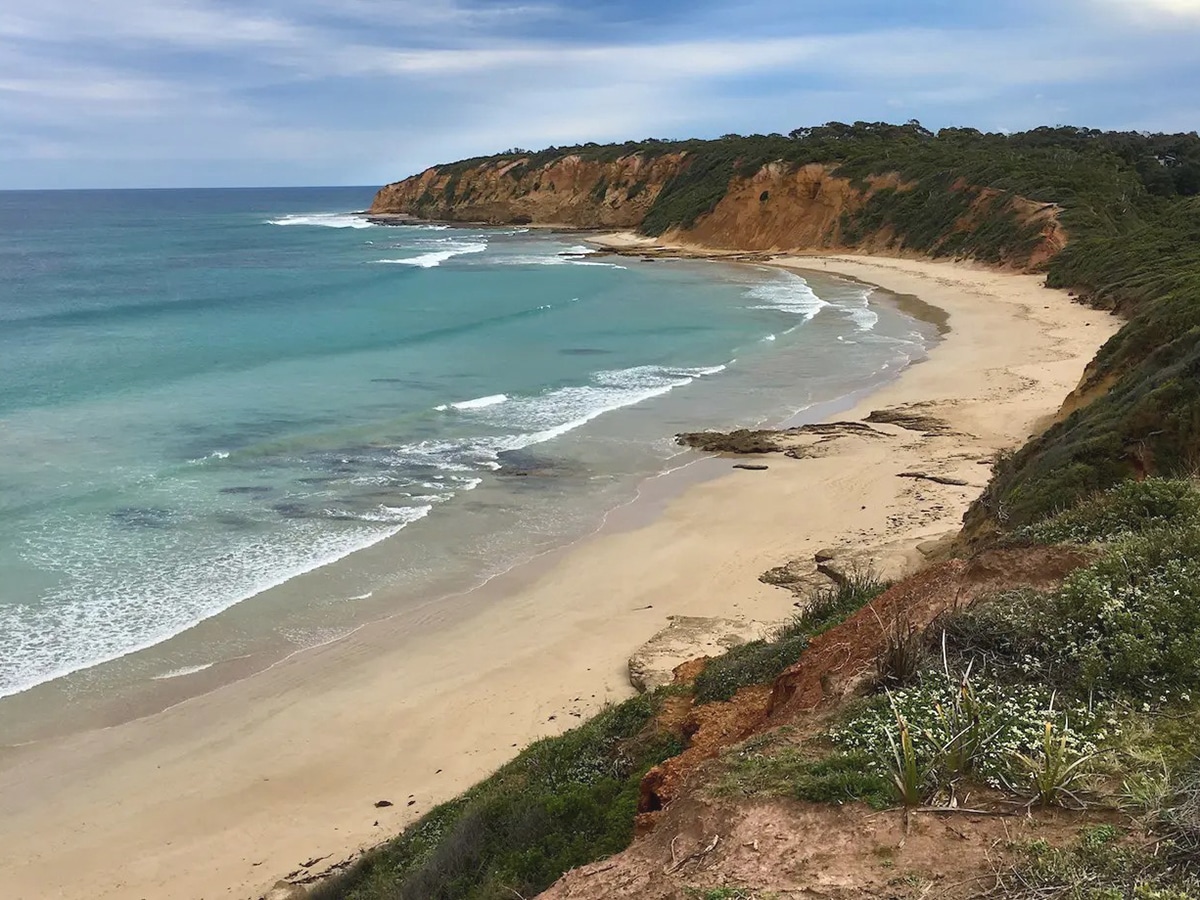 12. Sunnymead Beach
Another Ocean road gem, but this time, on a road less travelled, just near Airey's Inlet you'll stumble across the beautiful Sunnymead Beach. This dog-friendly beach offers spectacular views of the ocean and its surrounding cliffs and jagged rock features.. perfect for romantic picnics, walking the pup and watching the sunset, away from the hustle and bustle of the more touristy beaches in the area.
Address: 10 Boundary Rd, Aireys Inlet VIC 3231, Australia
Location: 120km from Melbourne CBD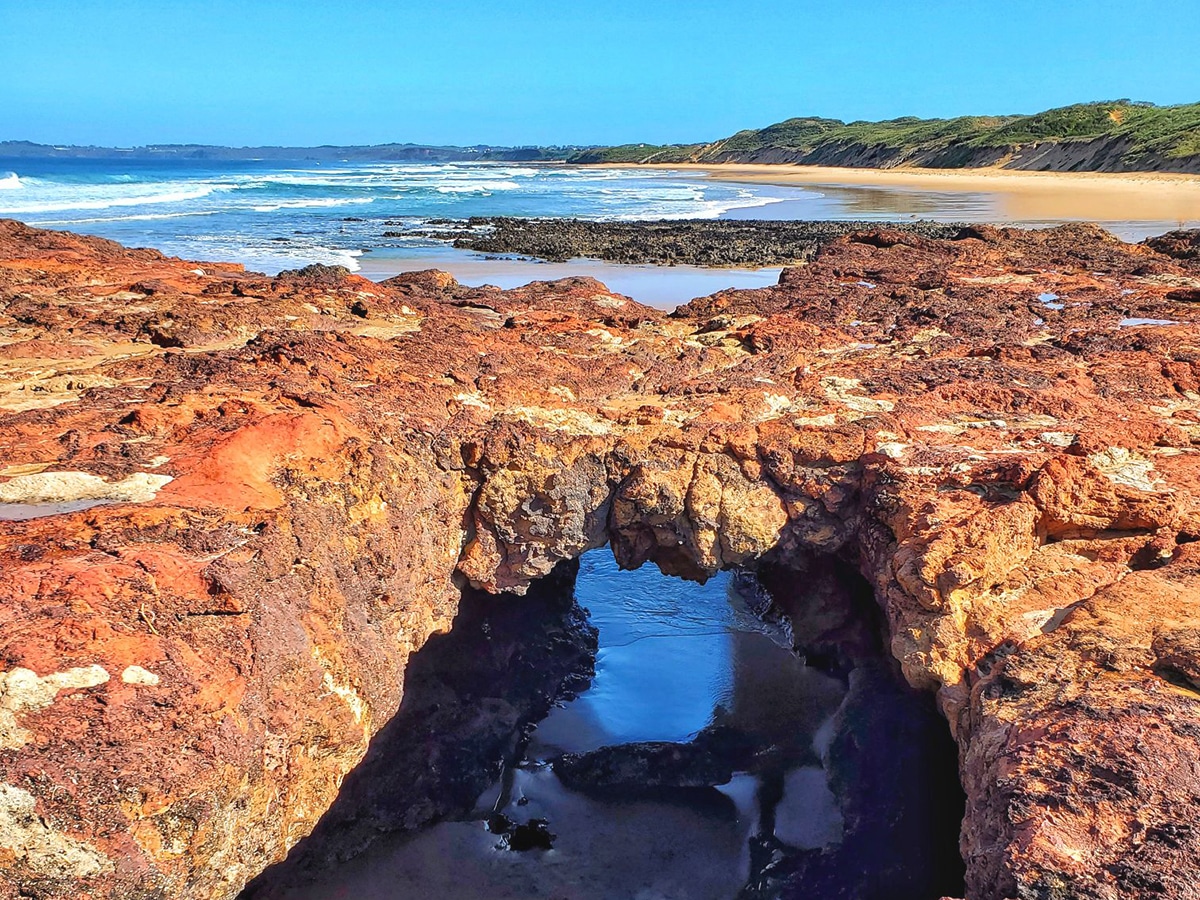 13. Forrest Caves
Forrest Caves on Port Phillip Island's southeast shore has sand as far as the eye can see. Famous for its rugged rock platforms and stunning namesake caves, (only accessible at low tide – so make sure to keep your eye on the tides!) this renowned surfing beach is also popular for bushwalking and fishing. It's easy to drive to and has ample parking and toilets available. It's a one-stop shop for everything beachy.
Address: Bass Strait, Phillip Island Rd, Newhaven VIC 3922
Location: 132km from Melbourne CBD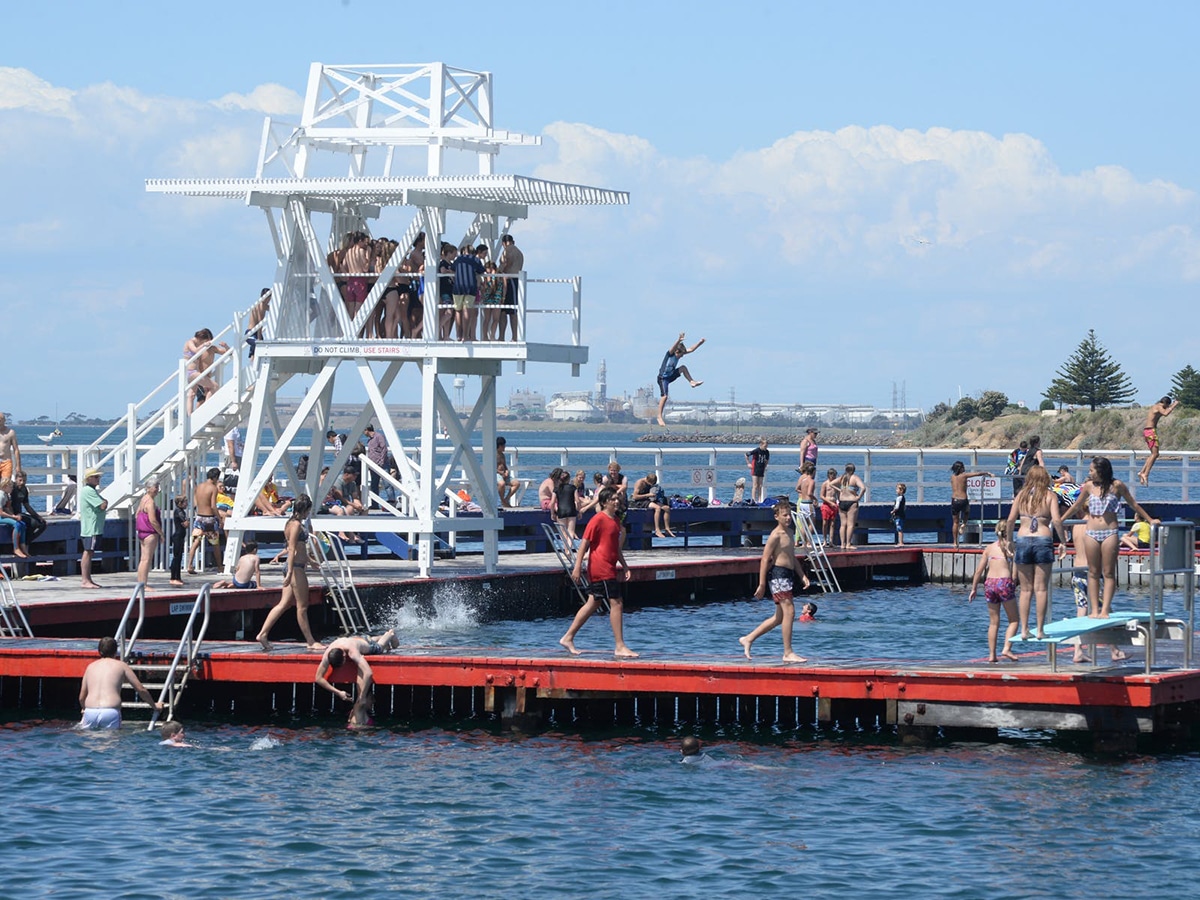 14. Eastern Beach
If you fancy yourself as a beach lover but are low-key scared of all things "ocean" (we're talking sharks, seaweed and those infamous rips that catch you unawares!) Eastern Beach is the beach for you. This Geelong gem has an enclosed ocean pool to keep out those nasties and it's lined by beautiful palm trees and picturesque views of the local promenade. Prefer your beaches more sandy…there's a long stretch of open sandy beach too if you're feeling fearless.
Address: 95 Eastern Beach Road, Geelong, Victoria, 3220
Location: 72km from Melbourne CBD
General FAQS
Where is the best beach near Melbourne CBD?
Brighton is probably Melbourne's most iconic seaside town, thanks to it's golden beach adorned with colourful beach huts and views of the city skyline. Nearby St Kilda Beach, with its marina and pier is also well worth a visit while you're in the area! Both within 13km of the CBD!
Which beaches near Melbourne are dog friendly?
Sunnymead beach is a lesser known beach just off The Great Ocean Road, perfect for dog walking and great views at sunset.
Which Melbourne Beach is best for surfing?
Bells Beach, near Torquay, is home to the Rip curl pro championships, and is one of the most famous surf beaches, not just in Melbourne, but across the world.
You'll also like:
---
Featured Video from Man of Many