2023 Maserati MC20 Cielo Convertible Unveiled
We'll openly admit that we've been sleeping on the Maserati MC20. When we first laid eyes on the original concept we thought "oh, there's a great alternative to the Porsche 911," but in reality, you're looking at a completely different league with this car in both performance and price. While the price of the standard Maserati MC20 in Australia starts from $438,000 AUD, that's before you even open the front cover of the options list and as it goes without saying that at this end of the price scale – the 20% rule still applies. That is, you'll end up spending at least 20% of the car's initial value on options – before you even think about tax.
MC20 owners on average will spend $550,000 AUD on their car by ticking the box for a few essential items such as cross-traffic alert and blind-spot monitoring (that are shockingly still options) alongside a choice of colours and various trimmings. It only makes sense then that a convertible had to be in the pipeline and it wasn't long before the Maserati MC20 Cielo (meaning sky) arrived. Let's check it out.
Related: Check out the $28 Million Rolls-Royce Boat Tail commission.
We've long professed that top-down driving is simply better – we asked the question if you even need a roof with the latest Ferrari 296 GTS – and the MC20 Cielo isn't doing much to argue our point. The new model features the has to be seen to be believed 'monochromatic' glass roof that can transition from clear to tinted at the touch of a button between temperatures of -30 and 85 degrees. You can also just sling it into the rear with the touch of a button, and storage remains solid with 100 litres in the rear, and 50 litres in the frunk.
The performance statistics stay relatively the same as the coupe. We find the same 3.0-litre twin-turbocharged V6 engine sitting under a titanium trident decal for the engine cover. Power squeezed a little (because why not) and the MC20 Cielo now puts out 463kW and 730Nm through the rear wheels via an eight-speed dual-clutch automatic transmission. Maserati claims a 0-100km/h in around 3.0 seconds – a tenth or two quicker than the coupe – and 0-200km/h time of 9.2-seconds. The top speed is in excess of 320km/h.
Opening the butterfly doors and taking a seat in the ice-coloured leather and Alcantara seats with aquamarine stitching and you're welcomed by a familiar dashboard layout with some slight tweaks. New is the drive mode selector in the centre console that's now touch-controlled and resembles that of the Ferrari's Maranello system with five modes: Wet, GT (default), Sport, Corsa, and ESC Off. Familiar is the 10.25-inch digital instrument cluster, 10.25-inch infotainment touchscreen, wireless phone charger, and optional 12-speaker Sonus Faber sound system. Other odds and ends like the indicator stalk, headlight controls, engine start button (now blue), and power-adjustable steering column (seriously) are also new.
It's quite remarkable to say on a vehicle that is destined to cost more than $500,000 AUD, but safety equipment such as Active Emergency Brakes, traffic sign recognition, and a 360-degree camera will debut on the platform adding to the aforementioned (and optional) rear parking sensors, reversing camera and blind-spot monitoring.
Pricing for the Maserati MC20 Ceilo hasn't been confirmed for the Australian market at the time of writing, however, expect to pay more than $500,000 AUD and not drive out the dealership before dropping $600,000 AUD. The vehicle has been confirmed for the Australian market with vehicles expected to land in showrooms by mid-2023.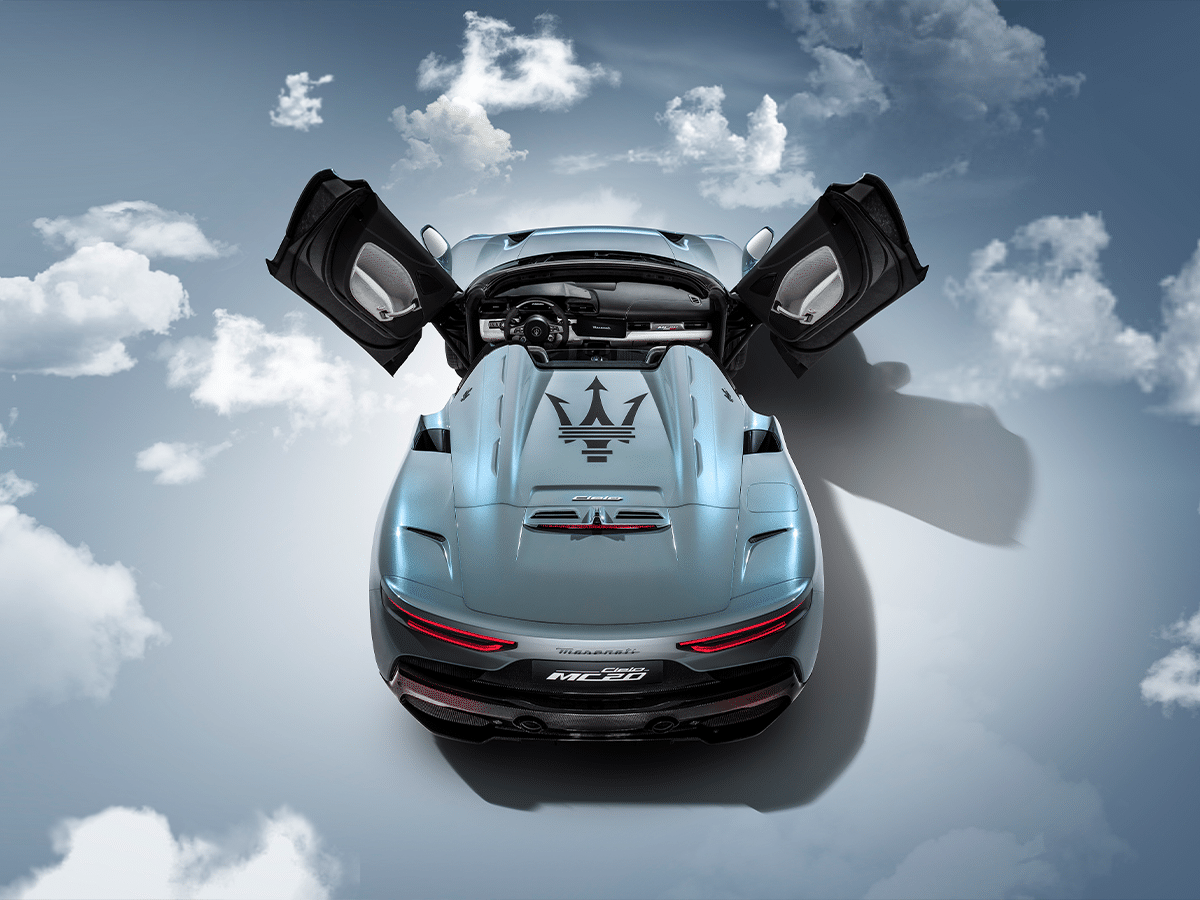 You'll also like:
A Bonkers New Maserati GranTurismo Folgore EV with 1200bhp is Coming
2023 Maserati Grecale SUV Takes Aim at Porsche Macan and BMW X3 M
2022 Maserati Levante Hybrid Electrifies the Luxury SUV