16 Best Men's Backpacks for Work
When it comes to seeking out the best backpacks for work, there's a fine line between looking like a grown man and a 4th grader. That's why we've compiled a list for you to take the guesswork out of selecting your next daypack. Whether you work in an office, in hospitality, retail or any number of professions, there's bound to be a bag or two to meet your needs and price range. Also, in case you were wondering, every backpack on the list can carry a laptop. Though it's certainly not one size fits all.
You'll also like:
15 Best Japanese Denim Brands
51 Best Minimalist Watches for Men
50 Best Small Men's Wallets 
Here's our list of the best men's backpacks for work: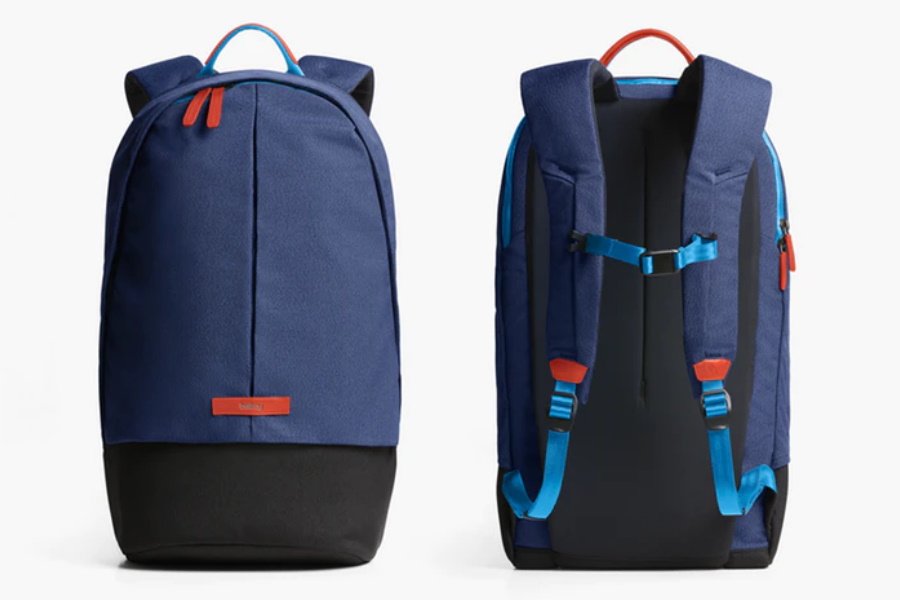 1. Bellroy Classic Backpack Plus
It's the most popular Bellroy bag for a reason. Backpack Plus is a streamlined pack perfect for city workers who like a classic look and crave plenty of features. Dual compartments cater for work and play. A padded section with waterproof zip access is at the rear. It can hold a 15-inch laptop, notebook, pens, tablet and whatever else you may need for 9-5. The vertical front pocket is great for one-handed essentials, plus the key loop is a handy safety bonus. There are 7 colours to choose from, and a sustainable option of a Backpack Plus made using recycled ripstop.
Dimensions: 530mm x 380mm x 230mm
Weight: 1kg
Volume: 22 litres
Price: $199 AUD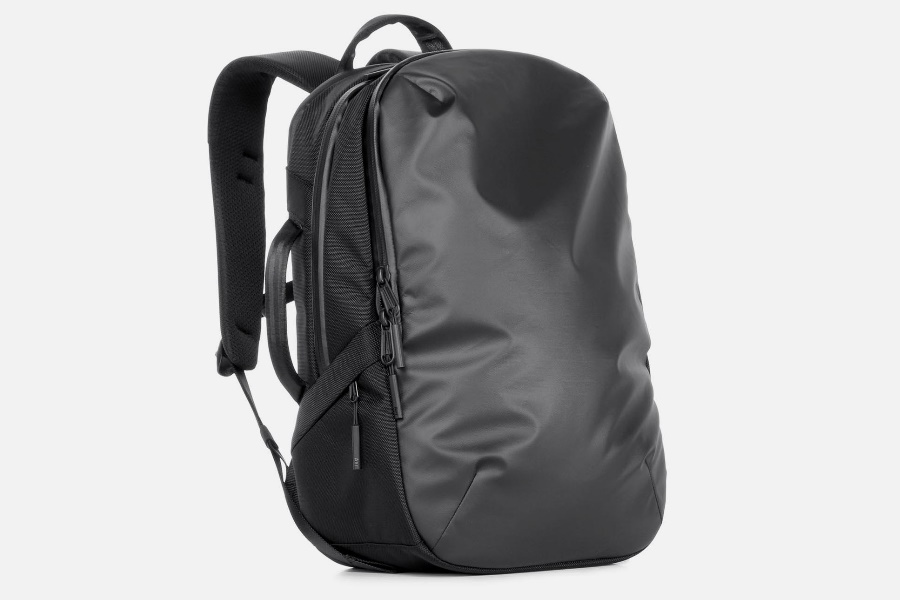 2. Aer Tech Pack
The Tech Pack is designed to organise and protect all your technology essentials. It features multiple compartments and a structured body that remains upright when you set it down. The Tech Pack can hold laptops up to 15.6-inches, has a quick-access top pocket for essentials and an exterior water bottle pocket. This Aer bag features a water-resistant front, ballistic nylon sides and a padded mesh back panel for enhanced comfort and breathability.
Dimensions: 480mm x 320mm x 180mm
Weight: 1.49kg
Volume: 18.5 litres
Price: $200 USD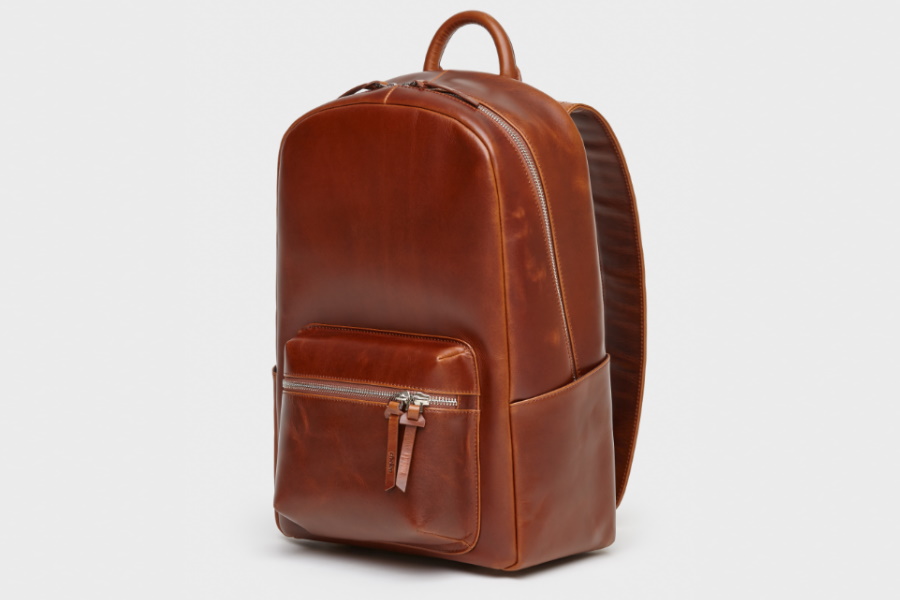 3. Chelon Everyday Leather Backpack
This stylish, minimalist leather bag amounts to love at first sight for any modern professional. It features an interior sleeve that supports up to 13-inch laptops, an easy-access interior zipper pocket, two side water bottle pockets, and an exterior zipper pocket for quick access to essentials. The full-grain pull-up leather will develop a rich and unique patina over time. Available in brown and black, Chelon currently ships exclusively within the United States.
Dimensions: 393mm x 266mm x 139mm
Weight: 1.58kg
Volume: 14 litres
Price: $328 USD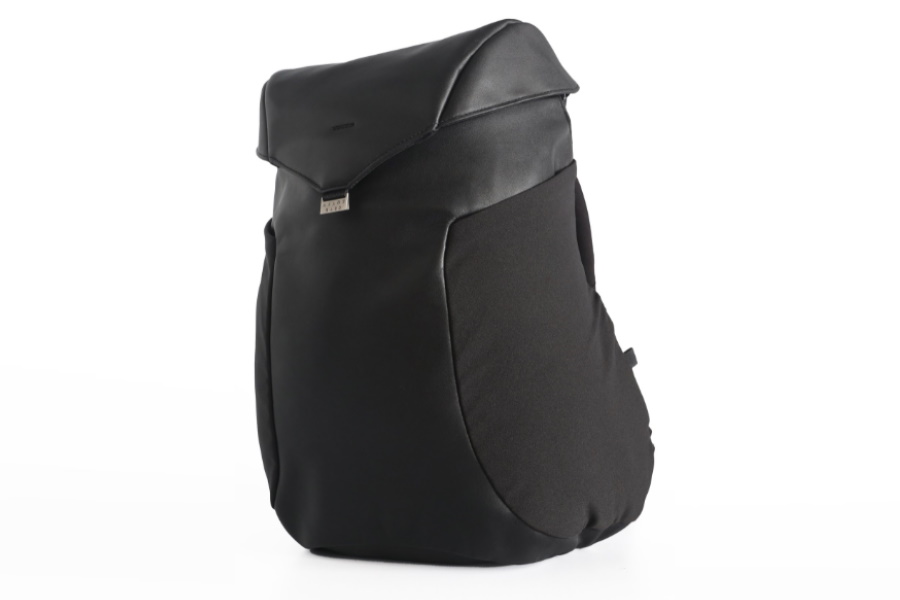 4. Koala Gear JAY Backpack
This daypack offers unparalleled back support and intuitive accessibility managed by a sophisticated design. Whether commuting to work, class or travelling for a couple of days, JAY can handle your goods. It includes a padded compartment for 15-inch laptops, multiple zippered side pockets, a hidden passport pocket and full internal organiser complete with tech pockets, zippered mesh pockets, pen holders, and a tablet compartment. The JAY is available in black leather and black Kodra.
Dimensions: 450mm x 300mm x 220mm
Weight: 1.25kg
Volume: 18 litres
Price: $179 – $239 USD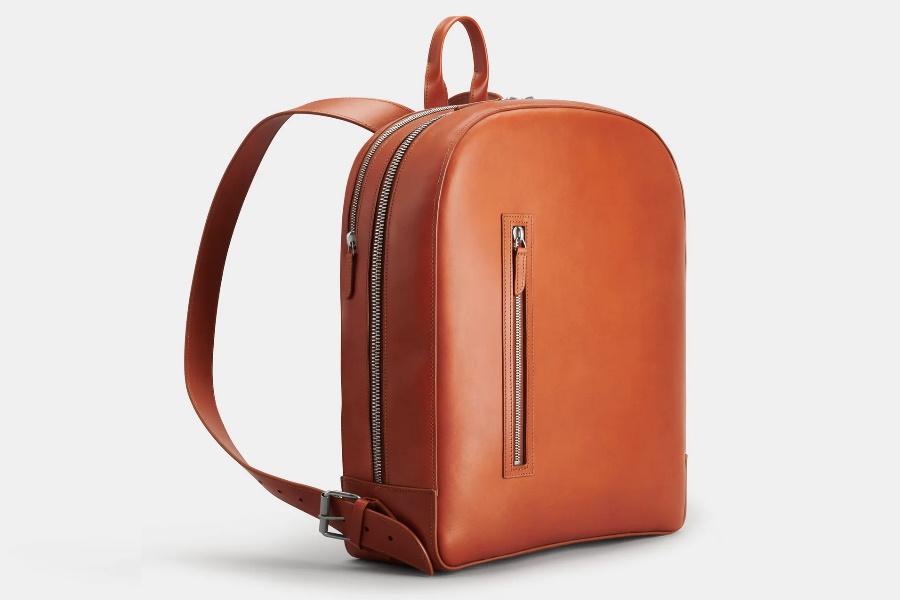 5. Carl Friedrick Bowen Backpack
This minimal pack made from Italian Vanchetta leather is perfect for any gent looking to make a statement. It features two main compartments with a wide zipper for accessing the main section and a separate padded laptop compartment for easy access. Every tooth of the Raccagni zippers has been individually brushed and polished before assembly. The leather front features a vertical zip pocket for frequently accessed items. Inside, the backpack contains a zip pocket, two fabric pockets and two penholders. It's a comfortable pack with adjustable full-leather straps.
Dimensions: 390mm x 320mm x 150mm
Weight: 1.5kg
Price: $820 AUD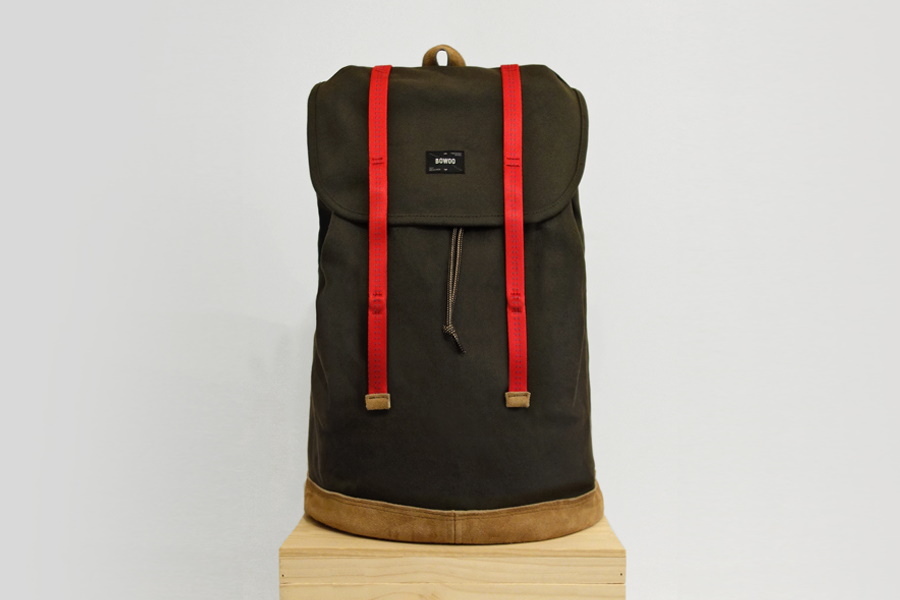 6. Bowoo Urban Hiker
A classic backpack perfect for those who want a bag that transitions from the city streets to the worksite. It's made from water repellent heavy-duty duck canvas, genuine suede leather, and gold-finished hardware. A built-in padded sleeve holds laptops up to 15-inches, and the red straps can hold bedrolls and other goods for that possible camping trip. Urban Hiker is available in three colourways.
Dimensions: 444mm x 304mm x 165mm
Price: $188 USD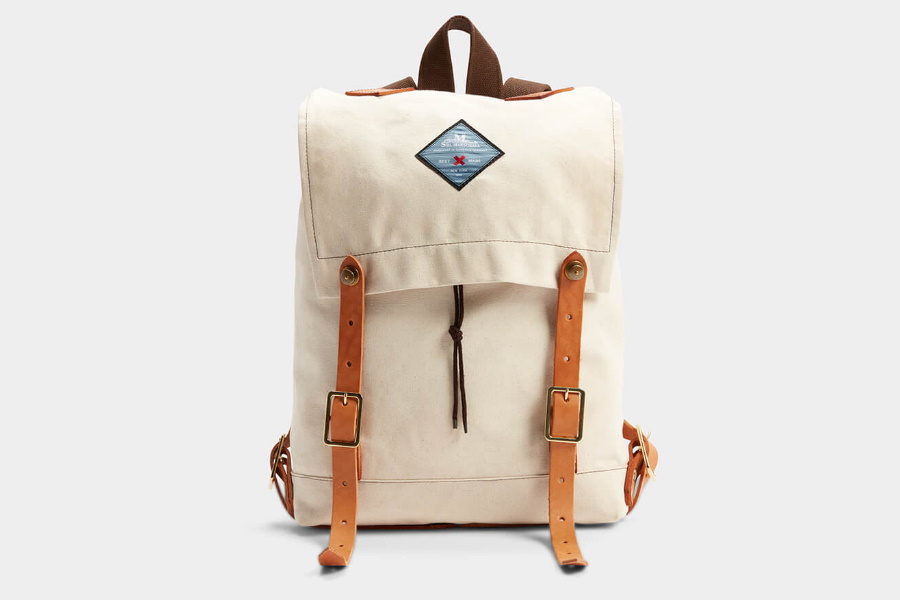 7. Seil Marschall Canoe Pack
Far from your traditional work bag, this pack is a timeless accessory that's built to perform, thanks to its sturdy cotton canvas fabric, saddle leather straps, and robust brass hardware. Tough, durable, and functional, this bag is a testament to Seil Marschall's enduring designs and quality craftsmanship. It will work hard for a lifetime.
Dimensions: 431mm x 317mm x 101mm
Price: $228 USD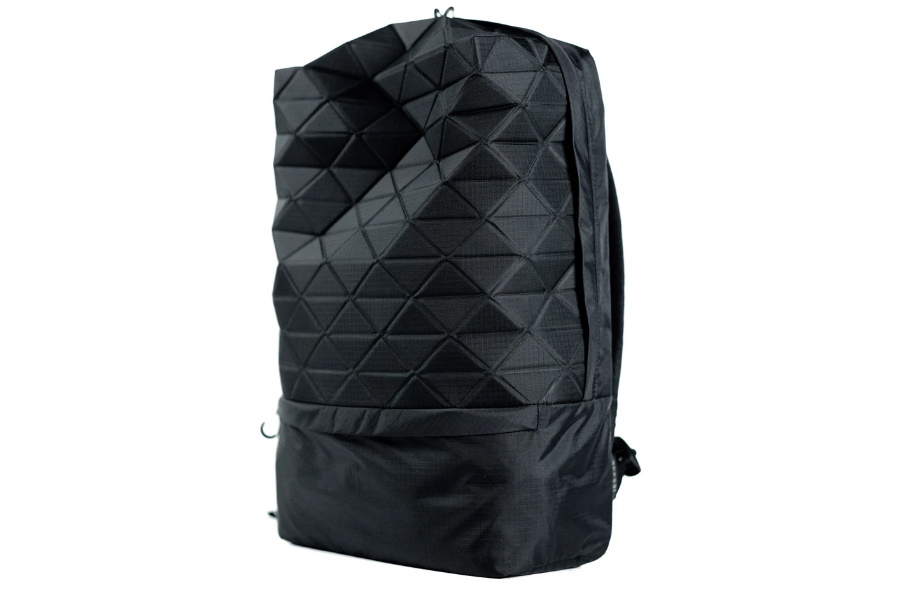 8. Tessel Supply Jet Pack 3.0
This sleek backpack takes design cues from stealth fighter jets, combining a unique aesthetic with practical features to carry and protect your everyday essentials. The 15-inch laptop sleeve is padded with faux fur, while the proprietary tessellated panel provides lightweight protection. Coated fabrics and covered zippers help keep your essentials dry.
Dimensions: 445mm x 265mm x 152mm
Price: $160 USD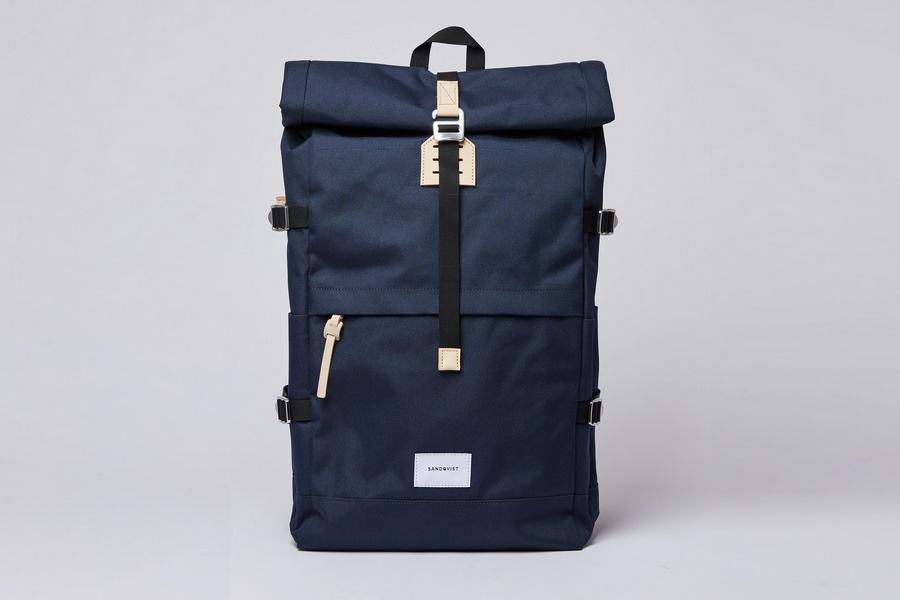 9. Sandqvist Bernt Backpack
This water-resistant urban backpack is constructed from eco-friendly polyester and features leather details. It's a versatile and practical bag that jumps from the office to the weekend hike with ease. The laptop compartment can fit up to 13-inch models, plus there's the main compartment, another outer pocket for quick-access, two water bottle pockets and two inner mesh pockets for valuables. Berner is available in 5 colourways.
Dimensions: 450mm x 280mm x 160mm
Volume: 20 litres
Price: 149 EUR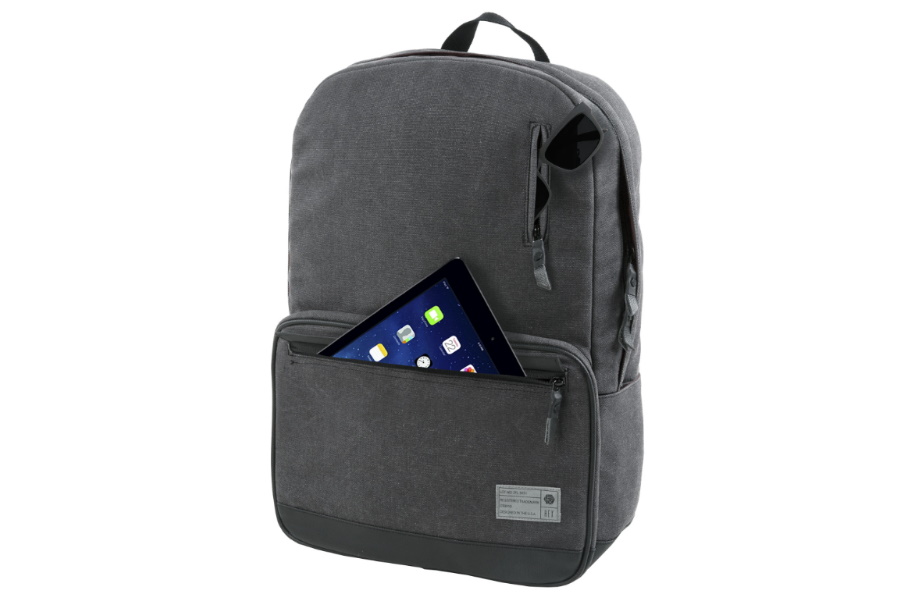 10. Hex Supply Signal Backpack
Hex has a great range of bags with most suitable for work, yet the Supply Signal pack stands tall thanks to its timeless design. It incorporates padded and faux fur lined storage compartments for a 13-15-inch laptop with a zippered tablet pocket on the front of the bag. The main internal storage compartment is spacious and includes an organiser for pens and cards. Supply Signal is made from canvas with genuine leather details.
Dimensions: 457mm x 330mm x 114mm
Volume: 17.25 litres
Price: $90 USD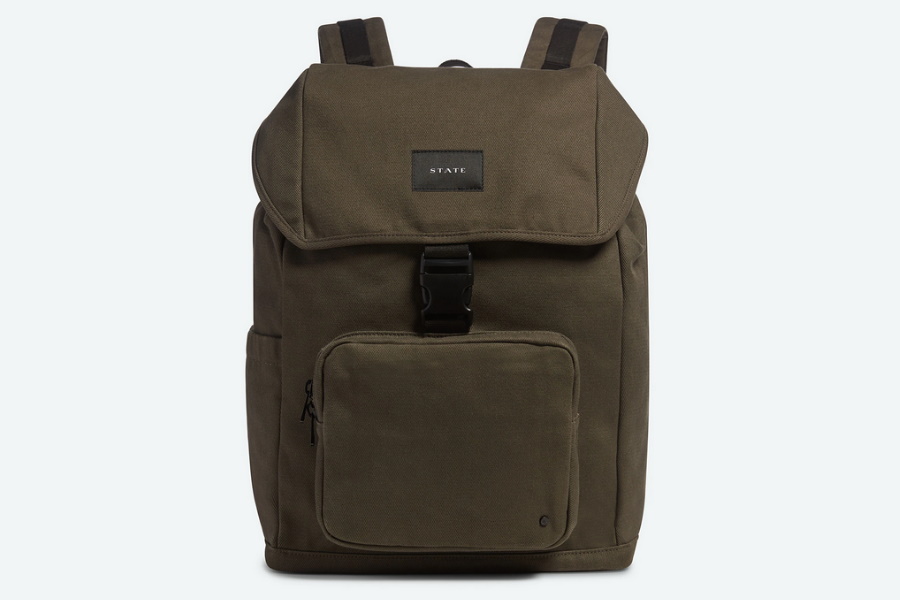 11. State Bennett XL
This robust utilitarian backpack has it all. The laptop sleeve fits models up to 17-inches. The extra roomy main compartment has space for all your everyday gear, plus sneakers and a change of clothes if heading to the gym straight after work. One side pocket fits a water bottle while the front pocket is ideal for quick access to essentials. The Bennett XL is available in cotton twill or coated canvas.
Dimensions: 480mm x 335mm x 180mm
Weight: 1.19kg
Price: $195 USD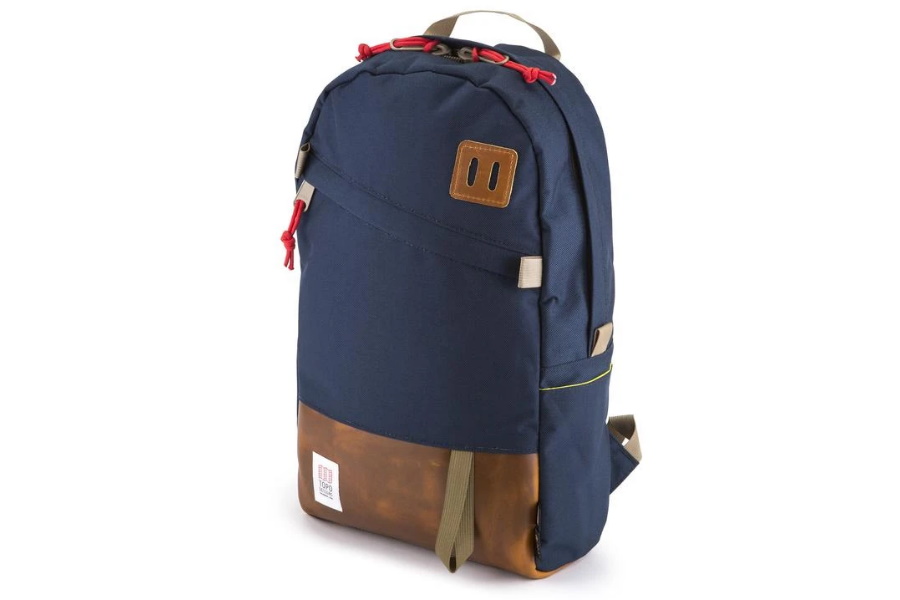 12. Topo Designs Daypack
This stylish silhouette is the ideal travel companion, schoolmate or pack mule whether you're commuting through town, across campus or hitting the trail. The internal sleeve fits most 15-inch laptops with internal organisation panels, side water bottle pockets, an exterior pocket for quick-access items and a padded back panel for additional comfort. The 1000D Cordura exterior is durable and resilient, and the natural leather lash tabs are perfect for securing extra gear or attaching a bike light. There's a wide range of colours to choose from.
Dimensions: 482mm x 279mm x 127mm
Volume: 21.6 Litres
Price: $169 USD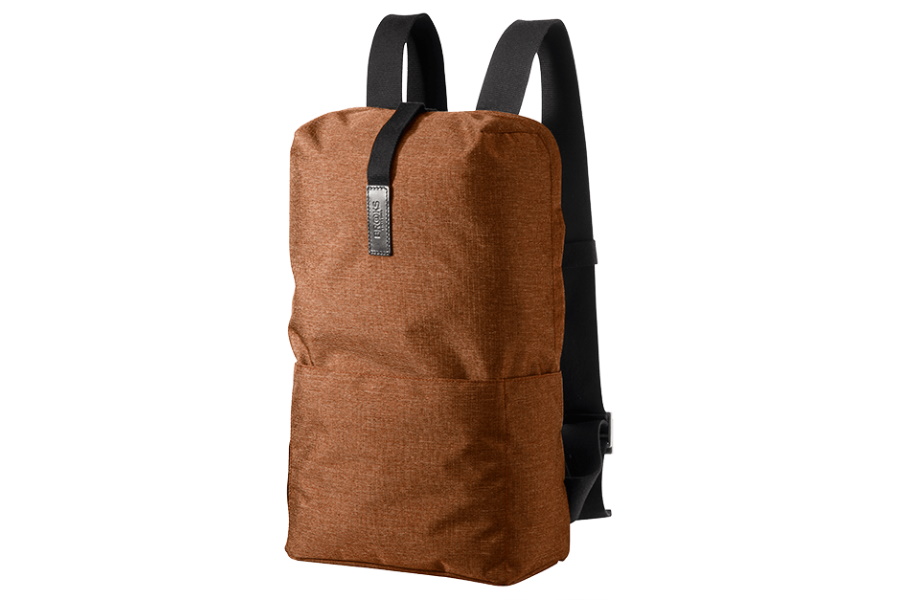 13. Brooks Dalston Tex
A light backpack for those who cycle to work, it's made from a ripstop fabric woven using a special pattern that creates a highly reinforced material able to withstand rips and tears. It's also waterproof and exhibits a remarkable strength-to-weight ratio. Internally, this back fits a 15-inch laptop with organisation for small items as well as two outer pockets with two-way stretch material. Vegetable-tanned leather details and custom alloy hardware complete the look.
Dimensions: 460mm x 300mm x 145mm
Weight: 464g
Volume: 20 litres
Price: €130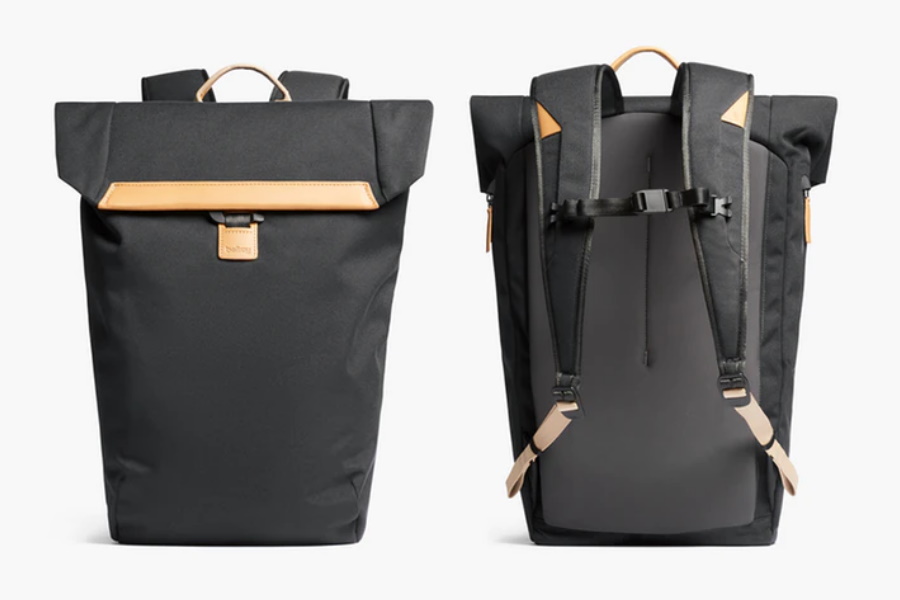 14. Bellroy Shift Backpack
Equipped for the open road, dressed for the job. This bag has the performance you need while shifting through life's environments. The slide hook provides a secure closure, and the multi-level system lets you adjust your capacity. A quick-entry zip lets you grab things on the go, while another side pocket tucks away last-minute items. Internal storage supports laptops up to 15-inches and Shift is available in 4 colourways and optional recycled woven polyester.
Dimensions: 510mm x 300mm x 230mm
Weight: 1.25kg
Volume: 22 litres
Price: $270 AUD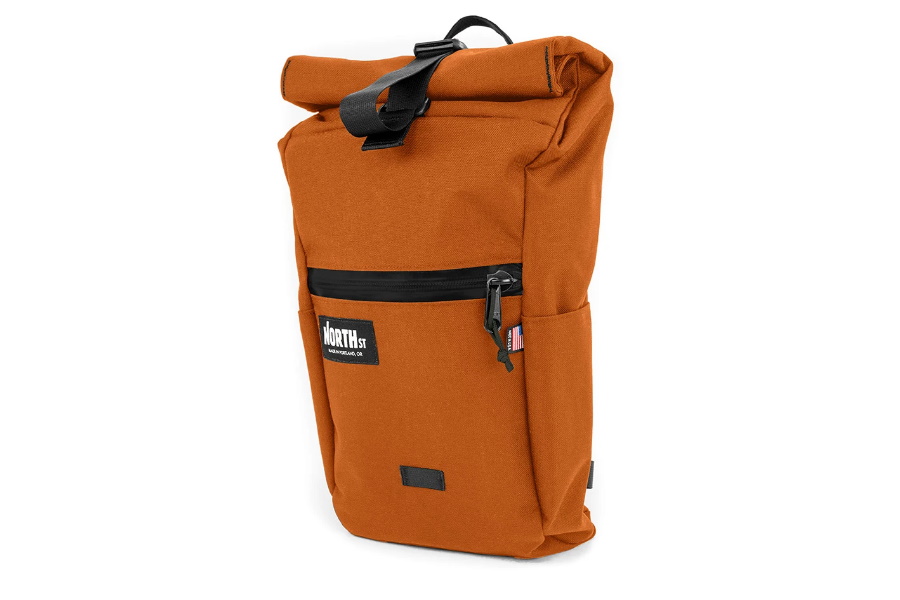 15. North St Davis Daypack
Built with a rainproof construction and attention to detail, this daypack displays a special slim and lightweight hourglass design. There's space for most 11-13-inch laptops and everything else you need for a day at work or play. What sets North St designs apart are the upgrade options. Both front and rear internal soft Velcro rows allow for numerous accessories including organiser and laptop sleeves. The Davis Daypack is available in a wide range of colours, both standard and limited edition.
Dimensions: 600mm x 457mm x 254mm
Weight: 540g
Volume: 20 litres
Price: $115 USD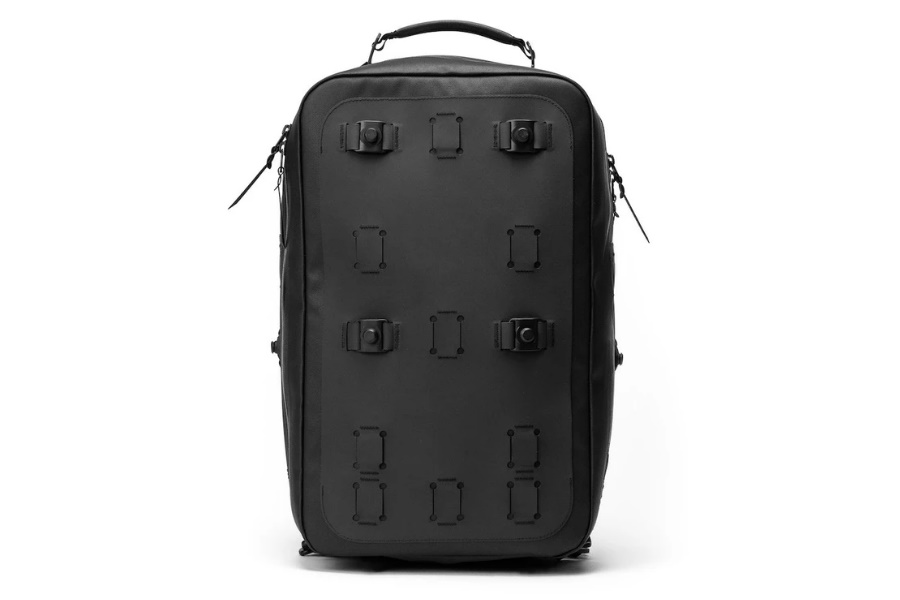 16. Black Ember Citadel R2
When you have lots to carry and need to keep it all separated, opt for Black Ember's modular backpacks. Citadel R2 is complimented by a range of modular accessories called MODs that instantly add pockets to the bag via secure magnetic hardware. With four unique MODs available and a range of straps, you can spec out your backpack anyway you see fit. Up to 15-inch laptops are supported.
Dimensions: 495mm x 317mm x 165mm
Volume: 25 litres
Price: $255 USD
General FAQ
What are the best backpacks for work?
The best backpacks for work include the Classic Backpack Plus from Bellroy and the Tech Pack from Aer. These two options are vastly different but offer enough in the way of storage, function and design to get you and gear around in a practical, stylish manner.
Can I bring a backpack to the office?
While a leather portfolio may look the part, many of us would rather the practicality of a backpack. Backpacks are accepted in most offices but don't necessarily scream success. Unless you carry a Montblanc or Louis Vuitton, an ordinary backpack may not impress a client or boss who favours bespoke suits.