14 Best Weekender Bags for Your Next Getaway
Whether you're working hard or playing hard, at some point you'll need a top weekender bag to make life a little easier. From a regular jet-setter to a casual day-tripper, select the best weekender bag that fits your style and let it do the talking for you.
All of the best weekender bags on our list are made from the finest materials, whether they be leather or canvas. They are also provided by some of the most trusted and well-known brands in the industry. If you need any ideas, here's a look at some of the best men's weekender bags currently on the market.
You'll also like:
Meet the Perfect Weekender Bag for the Modern Man
17 Best Duffel Bags for All Purposes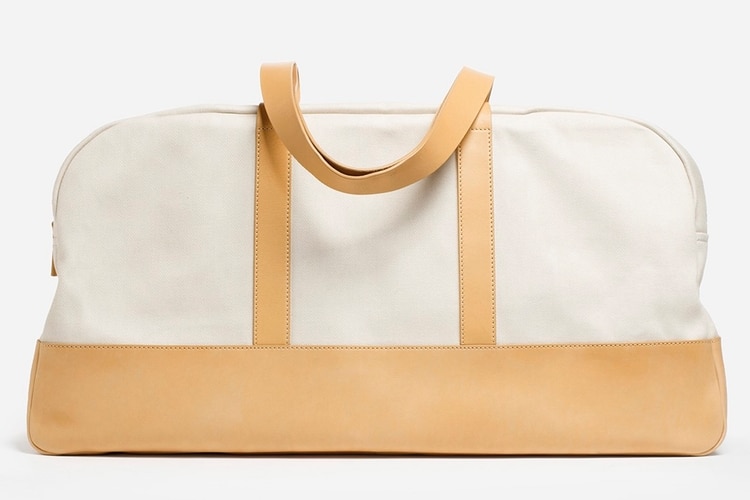 1. The Premium Leather-Base Weekender from Everlane
If a clean, high-quality aesthetic is your proverbial bag, then Everlane's Premium Leather-Base Weekender is your literal bag. Made of water-resistant cotton twill and vegetable-tanned leather that will develop a patina over time, the Premium Leather-Base Weekender is the quintessence of crisp, unfettered style.
Material: leather-base
Price: $130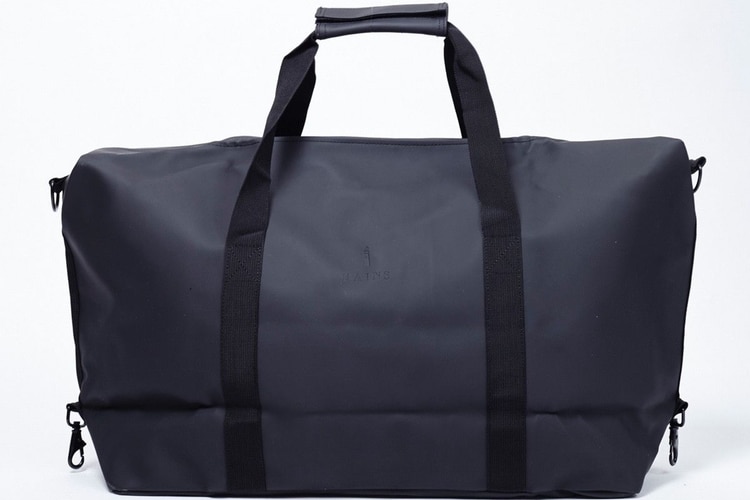 2. Rain's Duffel Bag
Made of polyester and smooth vinyl, this one-size-fits-all weekender bag from Rain's is as fun to touch as it is functional to use. Meanwhile, the bag is resilient, dynamic, fashionable, and just all-around classic, making it one of the best weekender bags you can own.
Colour options: green
Capacity: 44 liters
Price: $130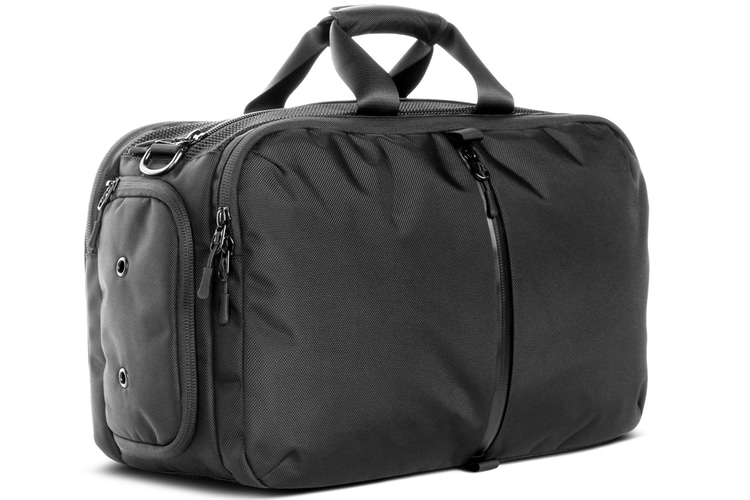 3. AER Gym Duffel Bag
The AER Gym Duffel was designed to accommodate both your sporty lifestyle and the sweaty socks that go along with that lifestyle. In addition to a slew of handy zippers and pockets, the AER Gym Duffel features a roomy, ventilated mesh compartment to help air out the stink of your workout clothes.
Colour options: black, gray
Material: mesh panel, ballistic nylon exterior
Capacity: 32 liters
Price: $165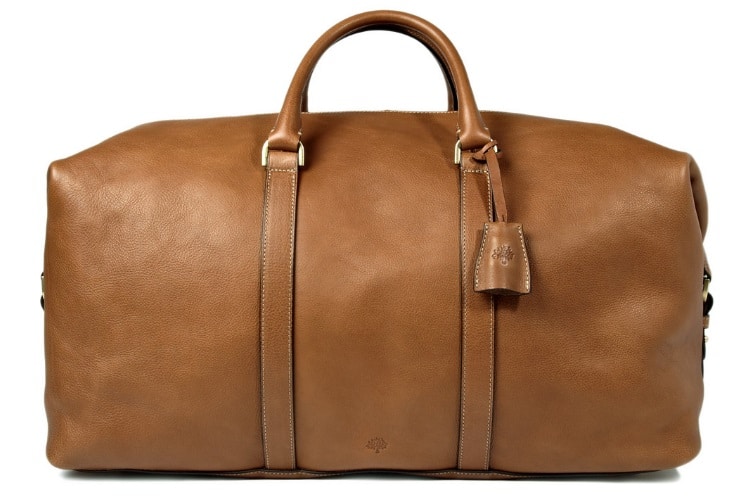 4. Mulberry Clipper Leather Holdall
Travel in style with this luxurious tan brown leather holdall from Mulberry. Crafted from fine leather and lined exclusively in suede to ensure it breaks in beautifully. This adds the capital G in Gentleman.
Colour options: brown
Material: tan leather
Capacity: 34.5 liters
Price: €1,750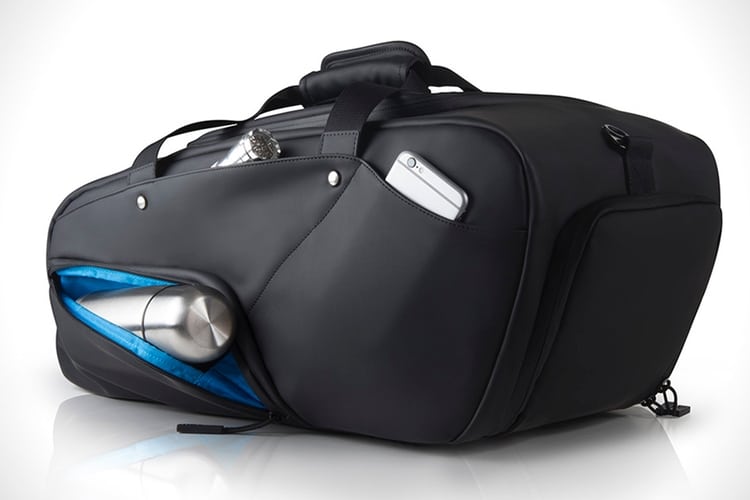 5. KP Duffel Bag
The KP Duffel takes the weekender aesthetic and cranks the dial-up in every department. It's a formidable, fashionable, functional stunner that combines premium, scratch-resistant PU leather on the outside with polyester on the inside, and includes tons of nifty pocket space and a ventilated shoe compartment to ensure freshness. This is a weekender bag that will have every eyeball turning in its direction no matter where you take it.
Colour options: jet black, predawn gray, army green, cobalt blue
Material: PU leather
Capacity: 24 liters
Price: $229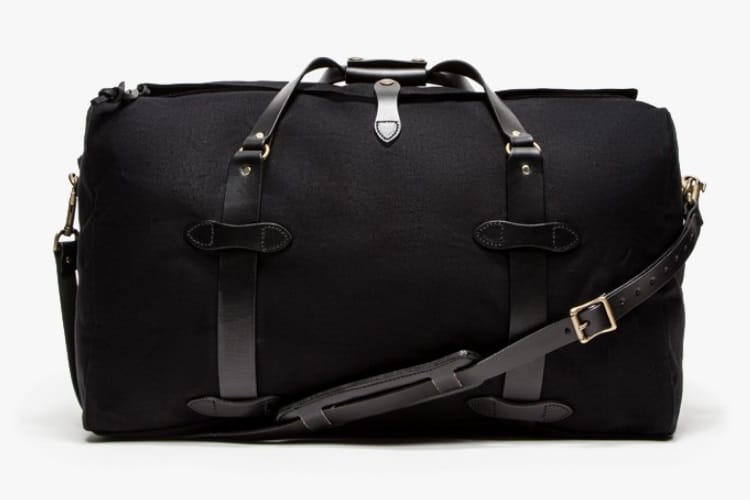 6. Filson Duffle Bag
Elegant and sophisticated, the heavy-duty medium duffle bag from Filson is water-repellent and designed to carry plenty of cargo. It features an inside pocket at each end and a one-way brass zipper. Leather pulls, leather grip with two-snap closure, adjustable and removable leather shoulder strap with leather pad adds the finishing touches to a well-made bag.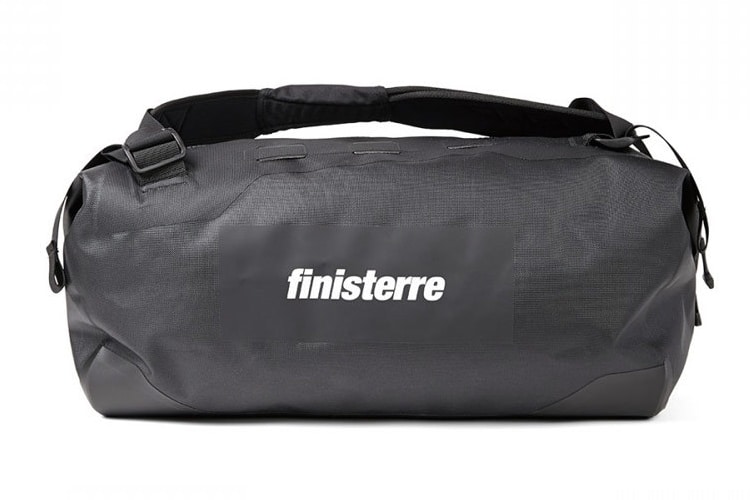 7. Finisterre Waterproof Duffel Bag
Sporting a slew of features and a fully waterproof, abrasion-resistant nylon exterior, the Waterproof Duffel Bag from Finisterre is built for whatever adventure awaits you. This weekender bag is a masterpiece of zippers, pockets, replaceable parts and sturdy materials.
Colour options: black
Material: PU coated outer, 100% nylon
Capacity: 40 liters
Price: $202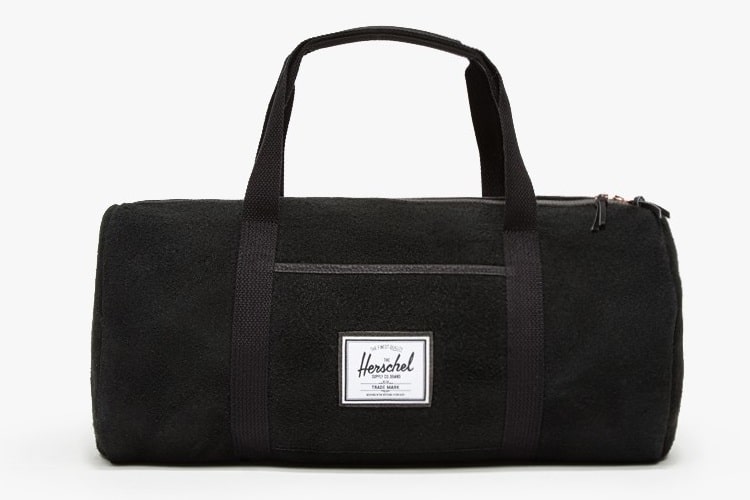 8. Herschel Supply Co. Sutton Duffle Bag
This classic style duffle bag is made from a suede exterior and a corduroy interior with nylon straps. This bag is machine washable and features an exterior side pocket.
Colour options: black
Material: suede, corduroy
Capacity: 28 liters
Price: from $60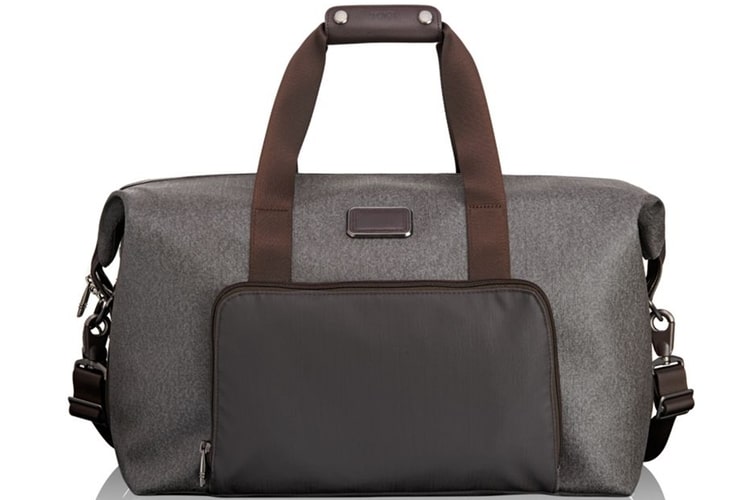 9. Tumi Alpha 2 Double Expansion Travel Satchel
Made of ballistic nylon and touting an absolutely brilliant colourway, the Tumi Alpha 2 is the weekender bag for those who like to travel with bold distinction at their side. Thanks to details like woven top handles and a textured polycarbonate base, everything about the Alpha 2 exudes craftsmanship, optimisation, and prestige.
Colour options: earl grey
Material: ballistic nylon
Price: $395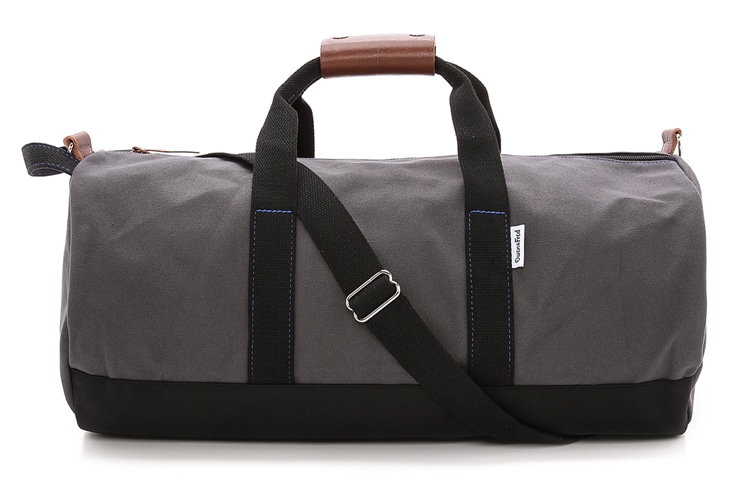 10. Owen & Fred "Work Hard, Play Hard" Duffel Bag
A weekender bag with a soul without being a soldier. Made from 18 ounces of Duck Canvas, 1000 Denier nylon on the exterior and 420 Denier nylon for the interior and you have one durable, water-repellent quality bag that looks as good as it protects. It features on large zipper pocket for bigger personal items and two small non-zipper pockets for smaller things like a phone or wallet.
Colour options: grey, brown
Material: canvas
Capacity: 30.4 liters
Price: $115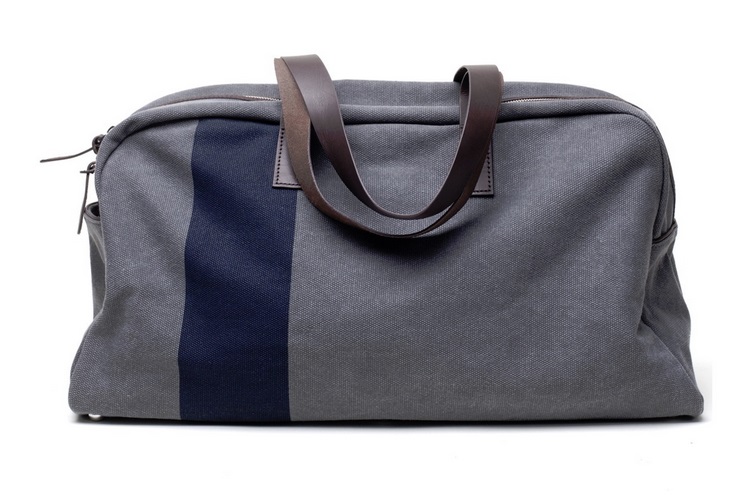 11. Everlane Canvas Weekender
This elegant two-tone bag features a grey canvas with a navy stripe and leather detailing. The interior is lined with waterproof nylon to keep your gear dry. The leather straps are one length but long enough to throw over your shoulder or to carry it by hand. The size can fit any overhead compartment.
Colour options: grey/navy
Material: canvas
Price: $98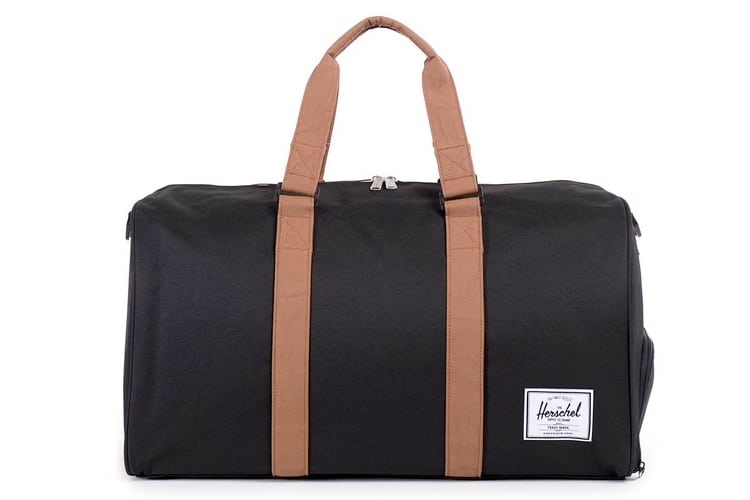 12. Herschel Supply Co. Novel Duffel Bag
One of Herschel Supply Company's most popular silhouettes, the Novel Duffel features a signature shoe compartment and their classic styling. The interior is lined with their signature coated cotton-poly fabric and features an internal mesh pocket and a waterproof zip. Take it to the office, on the plane, to the gym and everywhere in between.
Colour options: black
Material: ballistic weave
Price: $85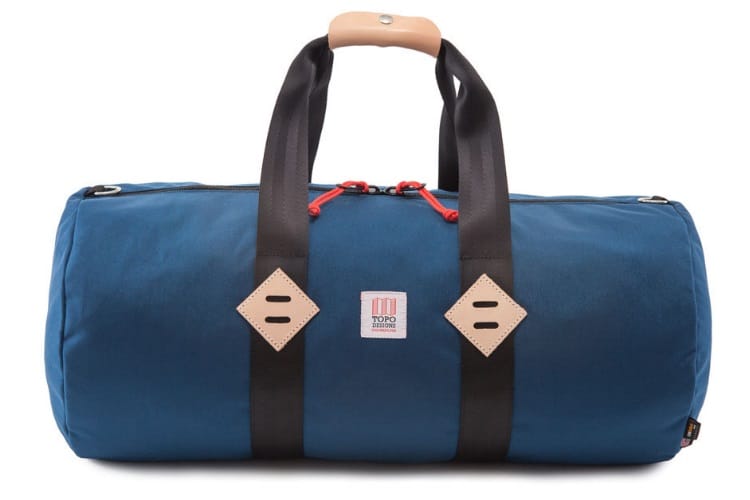 13. Topo Designs Classic Duffel Bag
This is a big bag and made from 1000d Cordura with a coated nylon pack cloth liner. It will stand up to the abuse of airport baggage handlers or whatever you can throw at it. It comes with a detachable shoulder strap and a durable leather handle on the hand straps. Inside zipper pockets keep all the smaller stuff in one place.
Colour options: black, olive, charcoal, navy
Material: ultra-durable 1000D Cordura® outer
Capacity: 44.5 liters
Price: $129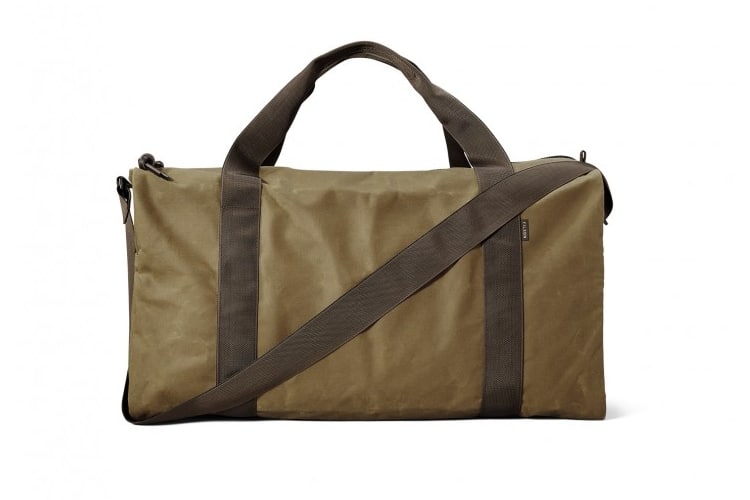 14. Filson Medium Field Duffel Bag
Rounding out our list of best weekender bags is the dependable and elegantly rugged Medium Field Duffel from Filson. Hosting waxed canvas on the outside and a nylon-lined interior, this beautifully tan stunner is pretty much ready for anything and everything. Buy it and prepare to fall in love.
Colour options: dark tan/brown
Material: waxed canvas
Price: $195
You'll also like:
Meet the Perfect Weekender Bag for the Modern Man
17 Best Duffel Bags for All Purposes
General FAQ
Which weekender bags have a shoe compartment?
The KP Duffel Bag and the Herschel Supply Co. Novel Duffel Bag are both great weekender bags with shoe compartments.
Whats the best weekender bag for men?
Some of the best weekender bags for men are the Mulberry Clipper Leather Holdall, the Filson Duffle Bag, and the Filson Medium Field Duffel Bag.