Style Guide: How to Dress like Jason Momoa
Jason Momoa is not a style icon. The Aquaman actor's style is not timeless nor is it on-trend, it's just wildly ridiculous – or 'eccentric', if we're being generous. Jason Momoa's acting career began two decades ago with Baywatch Hawaii, however, he received mainstream recognition playing Khal Drogo on HBO's Game of Thrones, and is perhaps now best known for his role as Aquaman in DC's Justice League and his solo film Aquaman.
The Jason Momoa clothing style seems to consist of just throwing on any and all sartorial items that take your fancy and being jacked enough to somehow pull it off. Jason Momoa style clothes range from bowler hats and floral patterned board shorts to hiking boots and leather pants.
We wouldn't recommend trying this at home (or in public), but here's how to dress like Jason Momoa.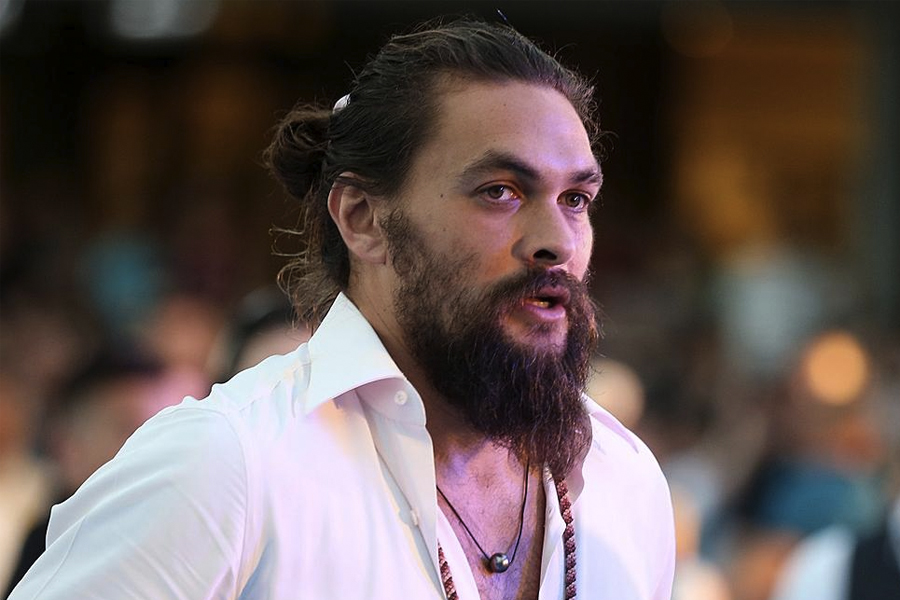 Try the Jason Momoa Beard Style
Jason Momoa is known for his signature full, scraggly beard. While this beard style can seem easy to maintain, there's actually some grooming involved to make it look intentional and steer clear of homeless man territory. Momoa's beard is naturally patchy on the sides; he works with this by trimming his beard shorter in this area and wearing a weighted full goatee-style beard in the middle which meets at a slight point. The Aquaman actor keeps his moustache trimmed above his lip and his neckline neatly trimmed to avoid an awkward neckbeard.
To care for a Jason Momoa style scraggly beard, use a daily cleanser or beard wash and beard oil.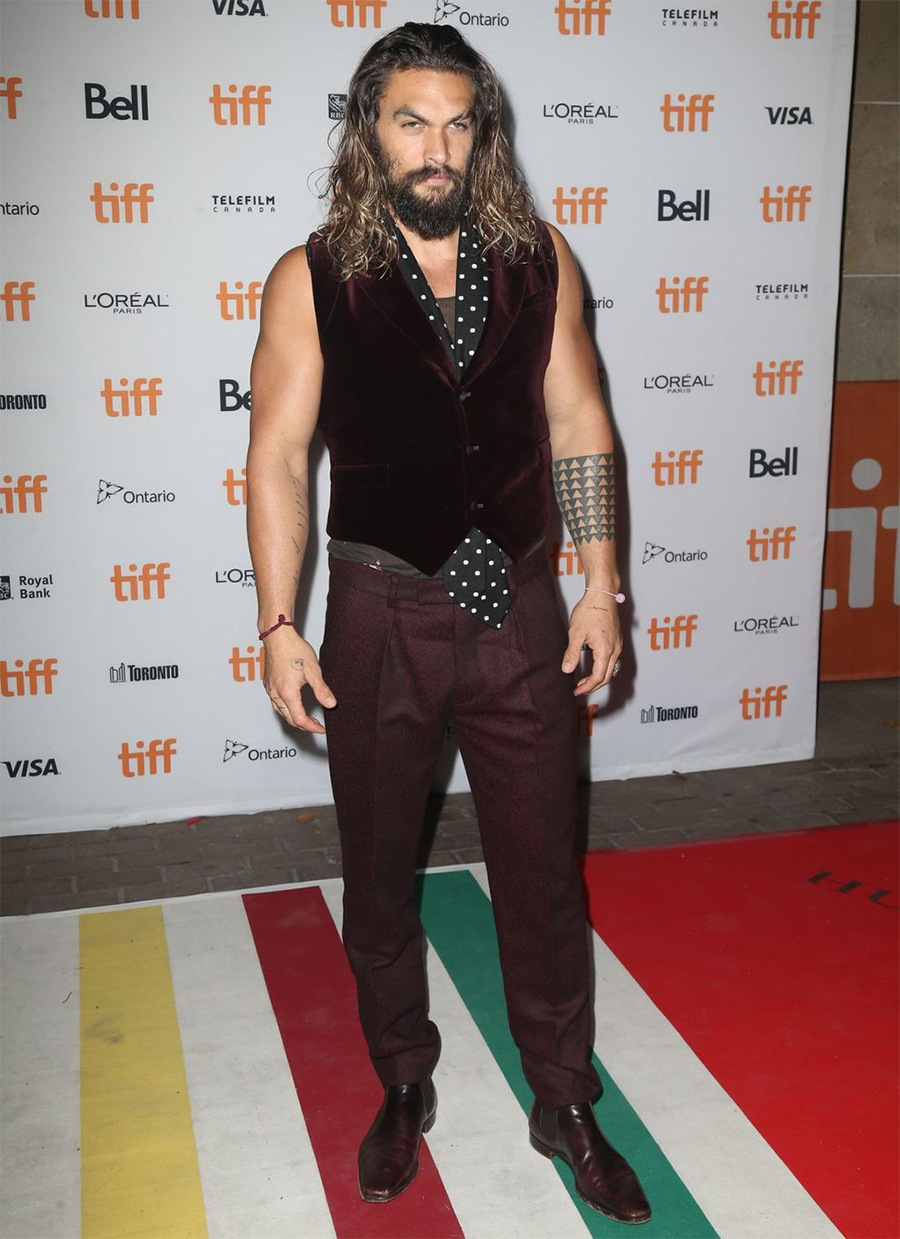 Exercise the Right to Bare Arms
There's a lot to unpack here; the tie says mid-2000s pre-pubescent Avril Lavigne fan, the velvet burgundy vest says 80s homecoming, and the pants are half of what could potentially be a semi-decent high street version of an on-trend suit.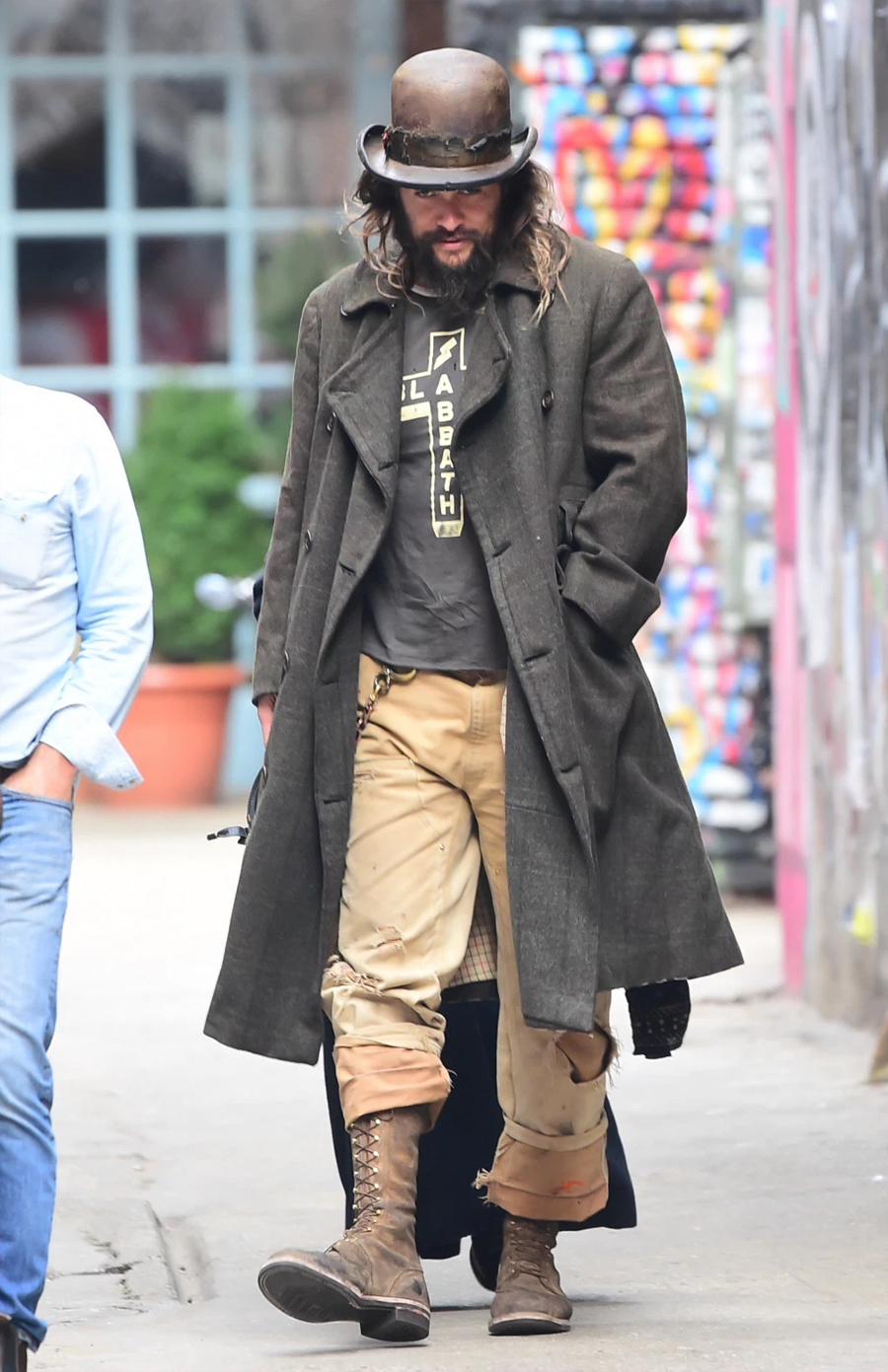 Just Don't Give a Fuck
Momoa's biggest style asset is that he simply doesn't care what anyone thinks – he wears what he wants on his own terms. Case in point; this half cowboy, half homeless man ensemble of brown leather mountain boots, what seems to be two pairs of pants, a Black Sabbath t-shirt, and a long charcoal double-breasted coat. Oh, and a bowler hat; the Game of Thrones actor loves a good hat.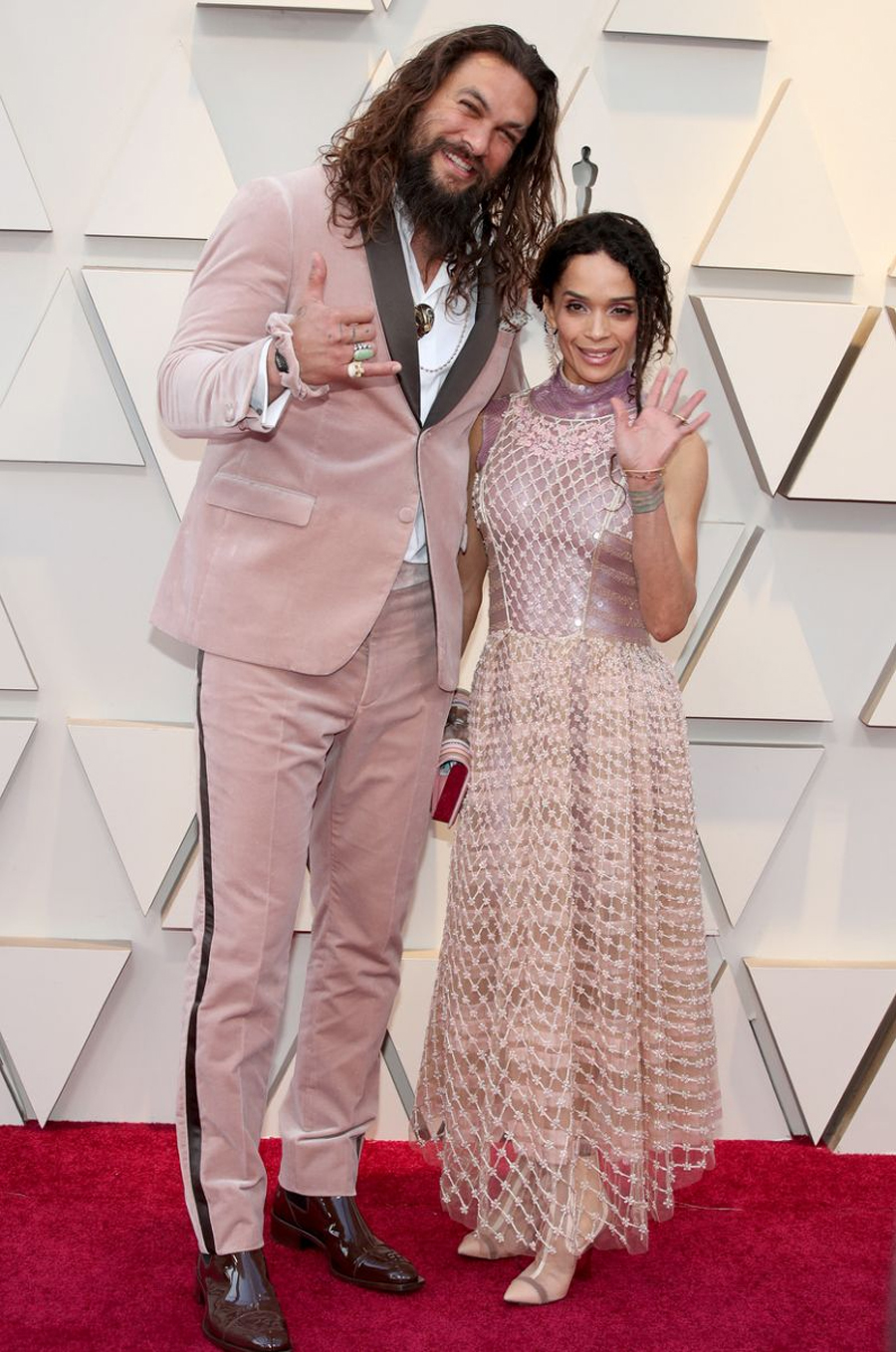 Think Pink
Ok, this one's actually pretty good. Jason Momoa wore a velvet baby pink Fendi tuxedo with a matching scrunchie to attend the 2019 Oscars with his wife Lisa Bonet (also wearing Fendi). The slim-cut of the tux is flattering, the chocolate brown silk lapel and pant-stripe add interest and breaks up the pink, the toe-cap patent leather boots are smart and allow the suiting to take centre stage, while the rings and stacked necklaces are on-brand for Momoa. All in all, one of the best looks of the night.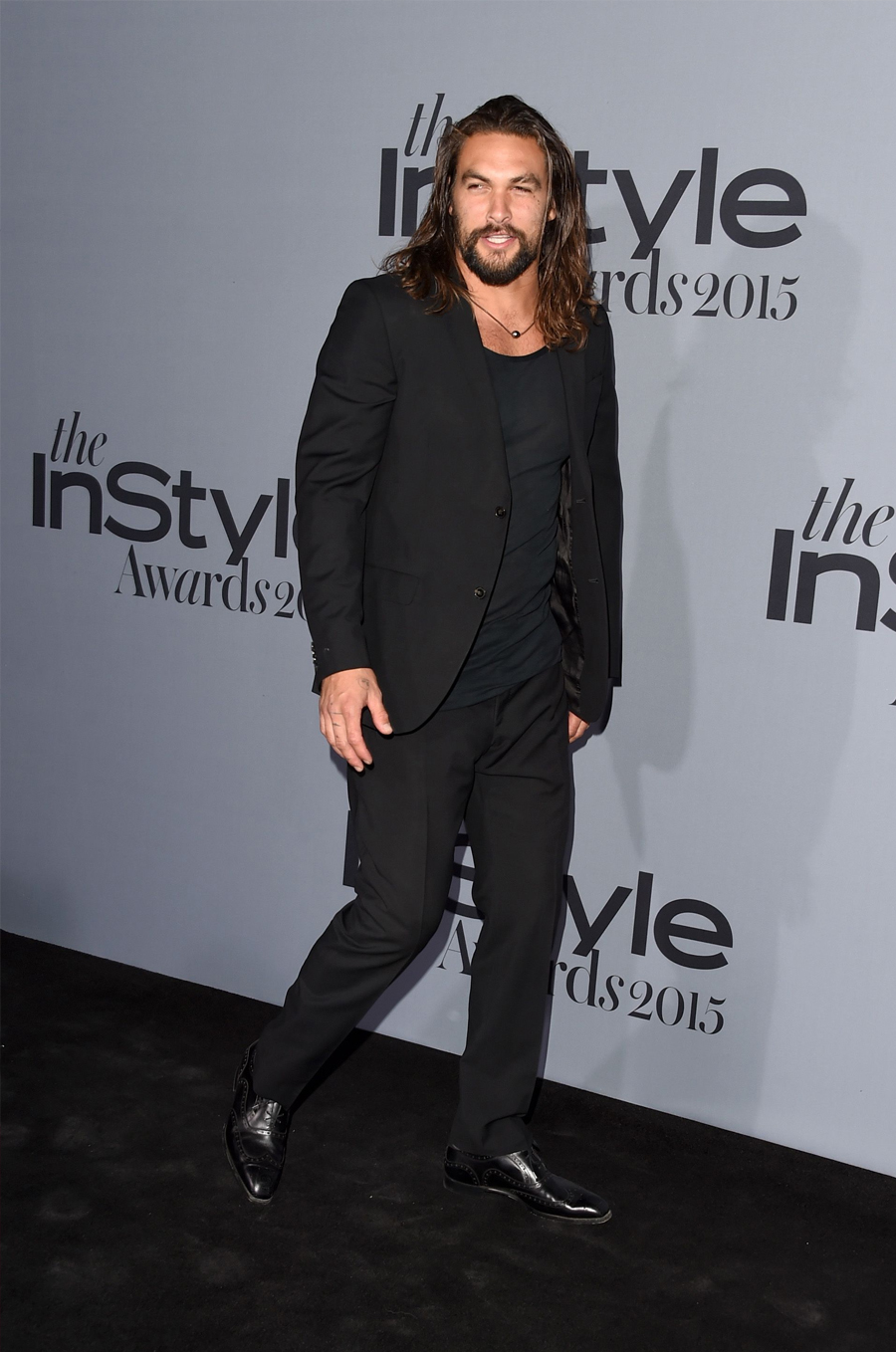 All Black Everything
Taking a leaf out of fellow GoT alumni Kit Harington's book, Momoa proves that all black remains a foolproof sartorial solution. Opting for a black t-shirt in place of a traditional white shirt creates a slimming effect, while Momoa's footwear choice of black leather brogues is subtle and understated.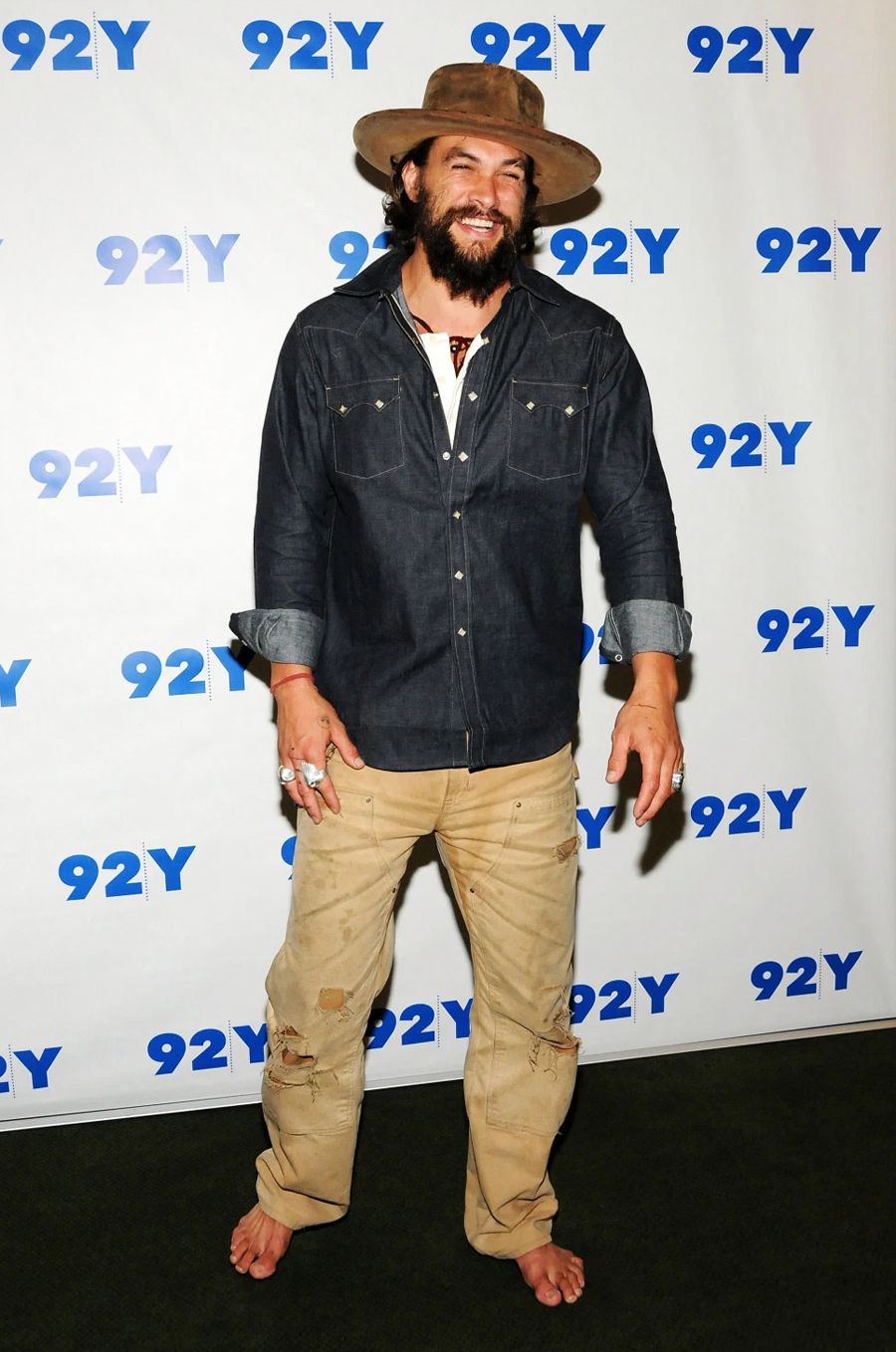 Lose the Shoes
Not sure how to navigate the world of loafers, Oxfords, derbies, monk straps, and Chelsea boots? Save yourself the sartorial stress and go barefoot like Jason Momoa. The Justice League actor arrived at a film screening sans shoes, wearing a (very) battered and stained pair of beige trousers, a button-down denim shirt, and a brown leather gaucho hat.
You'll Also Like
Style Guide: How to Dress Like Bradley Cooper
Style Guide: How to Dress Like Kit Harington
Style Guide: How to Dress Like Idris Elba
Style Guide: How to Dress Like Every BTS Band Member
General FAQ
Does Jason Momoa have a clothing line?
Jason Momoa has partnered with Noth Shore surf brand to launch a clothing line to support ocean conservation.
How do I dress like Jason Momoa?
Jason Moma's style seems to consist of throwing on any sartotial item and being jacked enough to pull it off. His style rtanges from bowler hats and floral boar shorts to hiking boots and leather pants.