7 Best Sneaker Stores in Brisbane
Our list of the 7 best sneaker stores in Brisbane will guide you to the top sneaker shops dedicated to getting you into your new favourite kicks. Whether you're after the latest limited edition collab, something unique and quirky from some of the more exclusive brands out there, or you're just in need of a fresh pair of your favourite go-to sneakers, this list of Brisbane sneaker shops will point you in the right direction.
Few cities around Australia have done more cultural moving and shaking in recent years than Queensland's capital, and a hop around the hottest sneaker shops Brisbane has got on offer proves that the high-end streetwear side of things is no exception. Worn through your favourite adidas or Nike sneakers and need replacements? Willing to camp out for the next Yeezys? Read on to find out where to get them.
You'll also like:
12 Best Sneaker Blogs
12 Best Sneaker Stores in Sydney
Top 10 Sneakers You Can Wear to Work 

1. Apartment 
One of the original high-end sneaker stores Brisbane has to offer, Apartment has been cultivating a loyal community of appreciators of exclusive streetwear and unique sneakers since 2006. These guys pride themselves on attention to detail, craftsmanship and quality of construction and this philosophy is reflected by what occupies their shelves. Here you'll find sneaker brands ranging from premium Japanese labels like Wtaps and Visvim, leviathans of the sneaker game such as Common Project, as well as classics like Converse.
Address: 1/105 Albert St, Brisbane City QLD 4000
Phone: +61 7 3210 2003
Trading hours: Mon-Thu 12pm-6pm, Fri 12pm-6pm, Sat 12pm-5pm

2. Ubermen
Ubermen opened the doors of their flagship store in 2014 and have been a central figure in Brisbane's status as a growing fashion city ever since. The focus here is classic urban style cut from the highest-quality material, and innovative design that draws from global trends yet remains characteristically Australian. Ubermen's footwear selection runs in the same vein. Although the choices here tends toward oxfords and desert boots over sneakers, those leaning toward the smarter end of smart-casual will enjoy the carefully curated offerings.
Address: Unit 5, 15 Corporate Place, Hillcrest QLD 4118
Phone: +61 7 3423 8949

3. Laced
The boys behind Laced have been blazing the trail for the Brisbane sneaker scene for over a decade. If there's a limited-run collab on the horizon, you can bet these guys are all over it. They're no strangers to building the hype either – people have literally camped out front of this Brisbane sneaker store for exclusive launches in the past. Alongside their mind-boggling sneaker range, Laced stocks a unique selection of apparel and accessories and a sleek website with competitive shipping rates where you can order all the things.
Address: Level 1, 35 Adelaide St, Brisbane City QLD 4000
Phone: +61 7 3012 7888
Trading hours: Mon-Thu 10am-6pm, Fri 10am-9pm, Sat 10am-5pm, Sun 11am-5pm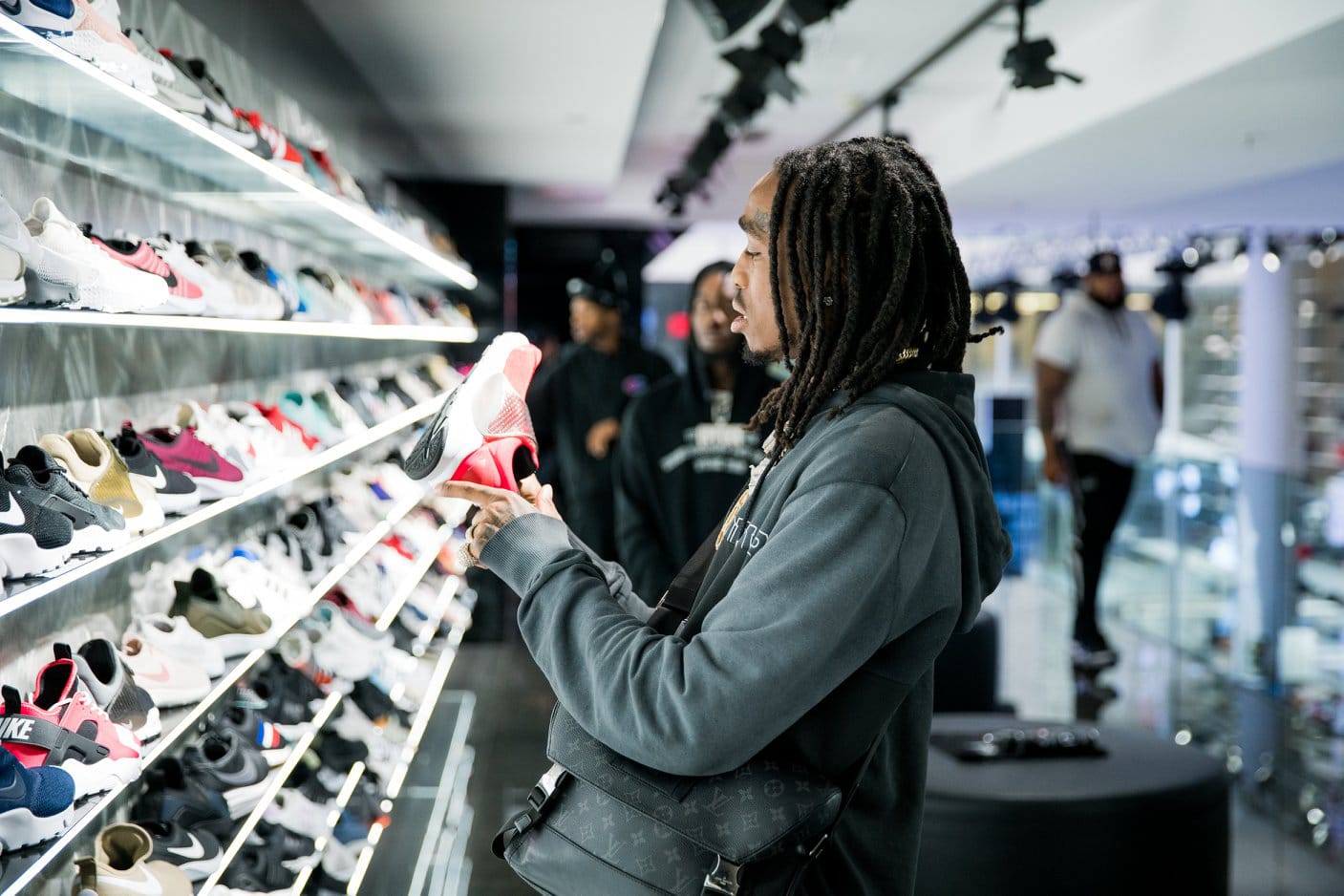 4. Culture Kings
Icons of the retail experience, Culture Kings Brisbane will transform your expectations of shopping for streetwear over three levels of retail mecca. They boast one the most extensive selections of any sneaker stores Brisbane has to offer, stocking over 600 styles from brands from around the globe. A visit to the on-site barber and a little boogie with the resident DJ will make for a memorable retail experience and surely have you walking out with much more than a fresh pair of kicks.
Address: 181 Elizabeth St, Brisbane City QLD 4000
Phone: +61 7 3211 4838
Trading hours: Mon-Fri & Sun 11am-5pm, Sat 10am-5:30pm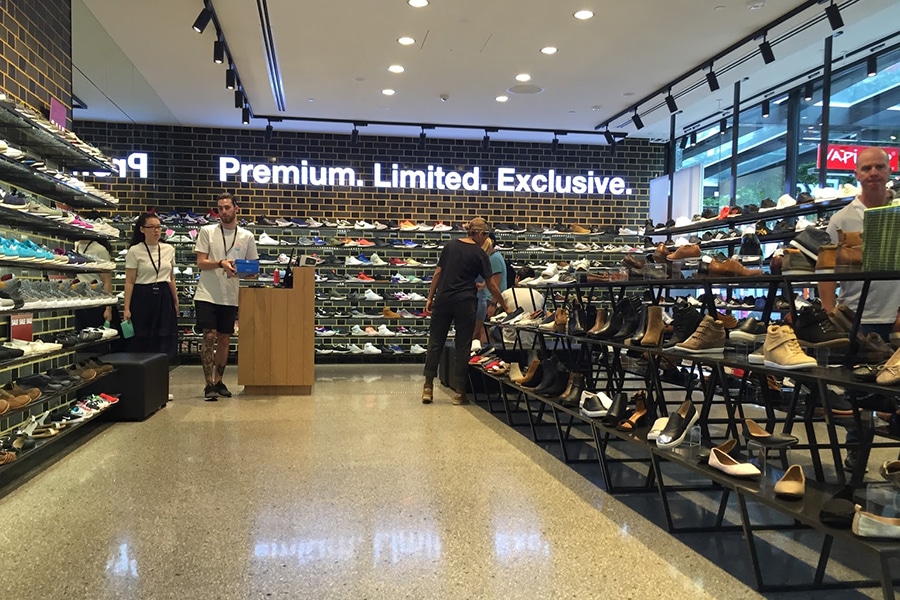 5. Hype DC
Quantity has a quality of its own and in this Brisbane sneaker store, you will find an emphasis on both. There's something for everyone at Hype DC but if you find the range a little overwhelming, be sure to utilise the experience of the dedicated staff to guide you to your new kicks. Five locations throughout greater Brisbane make finding your favourite sneaker from all the mainstream brands a breeze, and even if that's too much they also have a killer website and free shipping on orders over $50
Address: 187-189 Albert Street, Brisbane, QLD 4000
Phone: +61 7 3211 0666
Trading hours: Mon-Thu 8:30am-6pm, Fri 8:30am-8pm, Sat 9am-6pm, Sun 11am-5pm

6. Platypus
With an extensive range of iconic sneakers at a volume that rivals the top sneaker shops in  Brisbane, Platypus is a one-stop-shop on your hunt for a new sole-mate. Whether you're after a tried and true classic or wanting to freshen up your style a little, knowledgeable and friendly staff will help guide your tootsies into your new favourite sneakers.
Address: 86 Queen St, Brisbane, QLD, 4000
Phone: 1800 820 851

7. Shays Shoes
Shays Shoes has been Shays Shoes for as long as Australia has been Australia, just let that sink in for a minute. Four generations of the Shay family have been providing Brisbanians with happy feet since 1901, making this Brisbane sneaker store three years' shy of their 120th birthday. Comfort is king at Shays; they focus on reputable, high-quality brands, fit by their experienced and friendly team members. Whether you're out to get your hands on the latest Dr Martens style, after some summer Birkenstocks or some Keen's for work, you'll find them at Shays Shoes.
Address: 126 Boundary St, West End QLD 4101
Phone: +61 7 3844 5005
Trading hours: Mon-Fri 10am-4pm, Sat 9am-2pm

Have you subscribed to Man of Many? You can also follow us on Facebook, Twitter, Instagram, and YouTube.
You'll also like:
Nike Air Max 270 Lifts Sneakers to New Heights, Literally
14 Best Sneaker Stores in Melbourne
One Size Does Not Fit All – Definitive Guide to Sneaker Sizing