Lando Norris' $75K Richard Mille Watch Swiped After Euro 2020
For McLaren Formula One driver Lando Norris, the EUFA Euro final will be a night to forget. Not only did his English side lose in a penalty shootout against Italy, but he was also mugged, having his £40,000 (AUD$75,000) Richard Mille watch ripped off his wrist.
You'll also love:
Astronic's Premium Watches are Inspired by Stealth Air Fighters
13 Best Watches of Only Watch 2021
20 Best Green Dial Watches Money Can (Sometimes) Buy
McLaren released a statement confirming the incident: "Lando Norris was involved in an incident, after the Euro 2020 final match at Wembley, during which the watch he was wearing was taken. Thankfully, Lando was unharmed but he is understandably shaken. The team is supporting Lando and we are sure that racing fans will join us in wishing him all the best for the British Grand Prix this weekend."
According to The Sun, ticketless fans who had ambushed the stadium saw Norris getting into his McLaren GT supercar and decided to attack him. One assailant held him down while he was behind the wheel, whilst the other snatched the watch from his arm.
While no details of the watch have been released, many have speculated it was probably the custom Richard Mille RM 67-02 Norris was sighted wearing at the Austrian Grand Prix. Norris posted a photo to Instagram after the Euro match where you spot the blue band of a Richard Mille watch.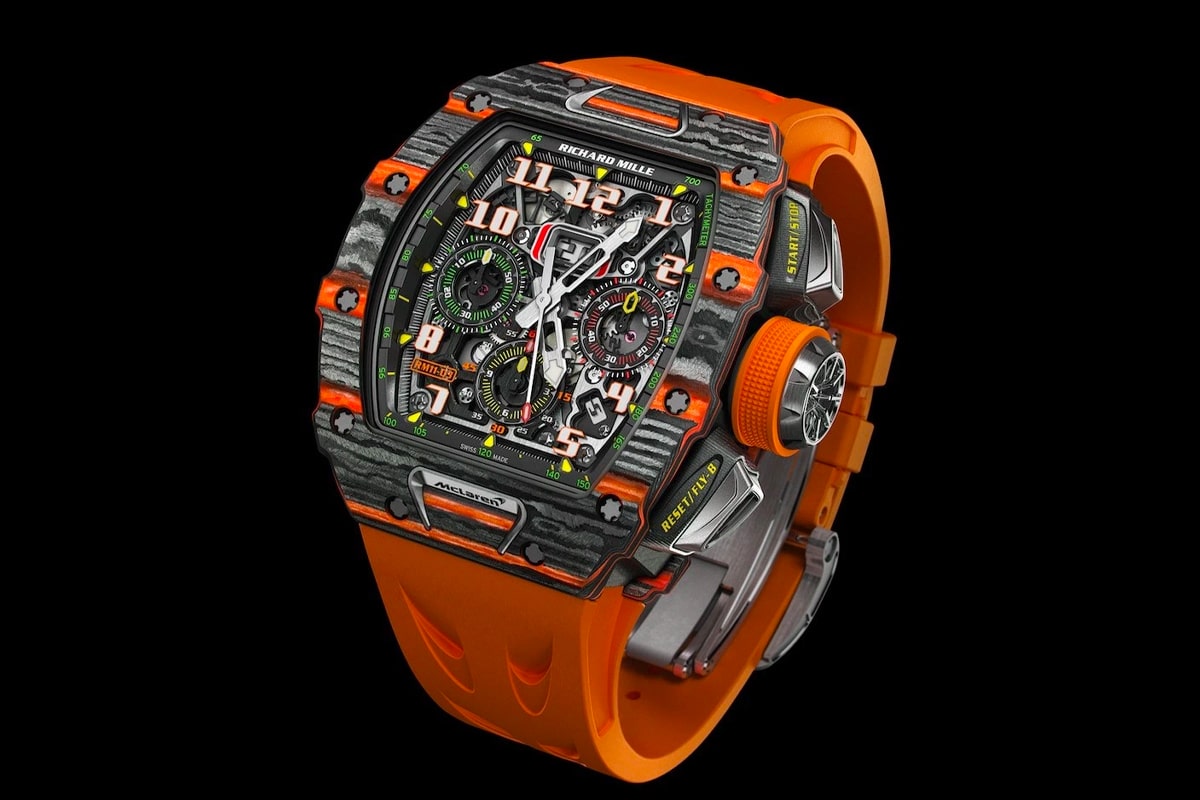 The RM 67-02 is one of the lightest and thinnest timepieces from the Swiss watchmaker, and is a favourite among professional athletes. Both Kimi Raikkonen and Fernando Alonso have their own signature colourway, as well as track and field sprinter Wayde van Niekerk and Olympic alpine ski racer Alexis Pinturault. Norris' seems to be an unreleased colourway or could have even been personally made for the driver. Regardless, the price of the watch could easily be over AUD$100,000, and that's being conservative.
Richard Mille sponsors the McLaren F1 team and even makes a McLaren signature model, the RM 50-03. Let's hope Richard and his team can whip up a new ticker for Lando in time for the upcoming British Grand Prix this weekend.
You'll also love:
Astronic's Premium Watches are Inspired by Stealth Air Fighters
13 Best Watches of Only Watch 2021
20 Best Green Dial Watches Money Can (Sometimes) Buy