9 Best Co-Working Spaces in Brisbane
If you're looking for free spaces to work or hot desk in an office, we've rounded up the 9 Best Co-Working Spaces in Brisbane offering some of the best places to work in the city. You'll find more than just fast Wi-Fi and access to coffee; it's an overwhelming sense of collaboration and community. Brisbane's flourishing creative and tech communities benefit from some of the most innovative co-working spaces in the country. Whether you're one out looking for a hot desk to get some serious work done, or a small company searching for freedom from ever-rising rent and rigid long-term leases, there's a Brisbane co-working space for you.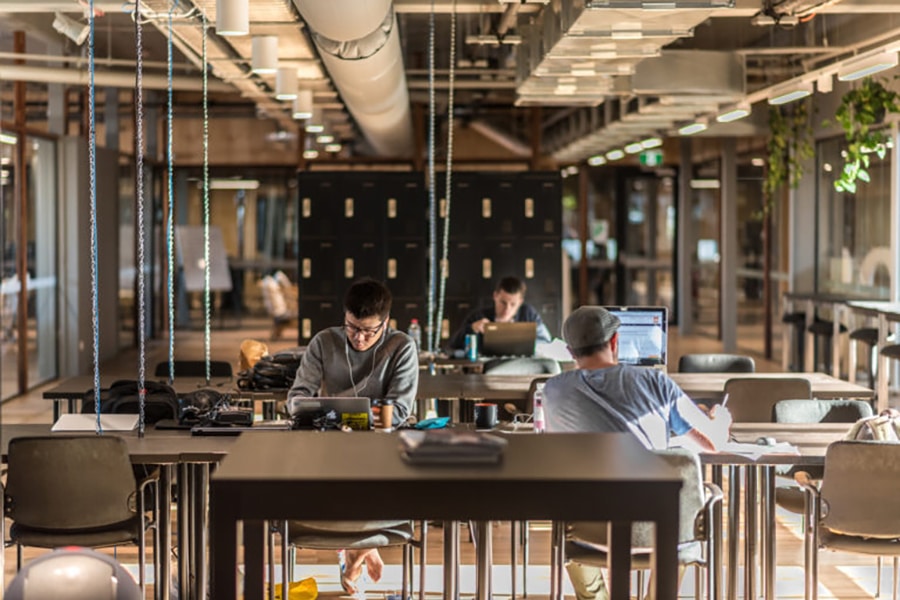 1. River City Labs
Since opening in 2012, River City Labs have operated on a simple philosophy: to provide a cutting-edge space for entrepreneurs to collaborate and connect. The emphasis here is tech start-ups, the goal being to provide the ultimate incubator where ideas become reality. No matter if you're a one-man-show in need of a hot desk to hunker down and get shit done, a collaborative dream team looking to throw some ideas around a boardroom, or an innovator pitching ideas to a lecture hall – RCL has the space for it.
Price: Drop-in day passes for a hot dest start at $33/day
Address: 315 Brunswick St, Fortitude Valley QLD 4000
Phone: +61 455 414 179
Trading hours: Mon-Fri 8:30am-5:30pm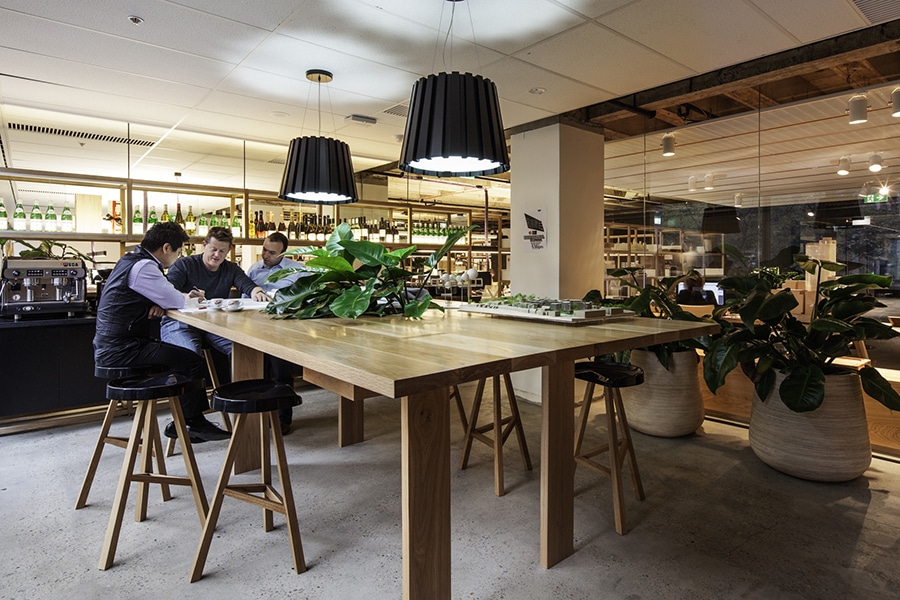 2. Little Tokyo Two
With five locations across Brisbane and the Gold Coast, Little Tokyo Two is one of the fastest growing co-working spaces Brisbane has to offer. The membership-based community provides everything from day passes, to dedicated desks, to long-term office space and boasts an impressive success rate – these collaborative workspaces helped launch over 600 business. If you're thinking of planting more permanent roots, LT2 offers some kick-ass benefits including discounted tax and legal services, staff dedicated to connecting you to specialists who will help grow your business and the brain-power of a vast network of like-minded people.
Price: Two hot desk options priced according to time and desk location, dedicated desk from $165, office space from $450.
Address: Level 4/155 Queen St, Brisbane City QLD 4000
Phone: +61 1300 209 844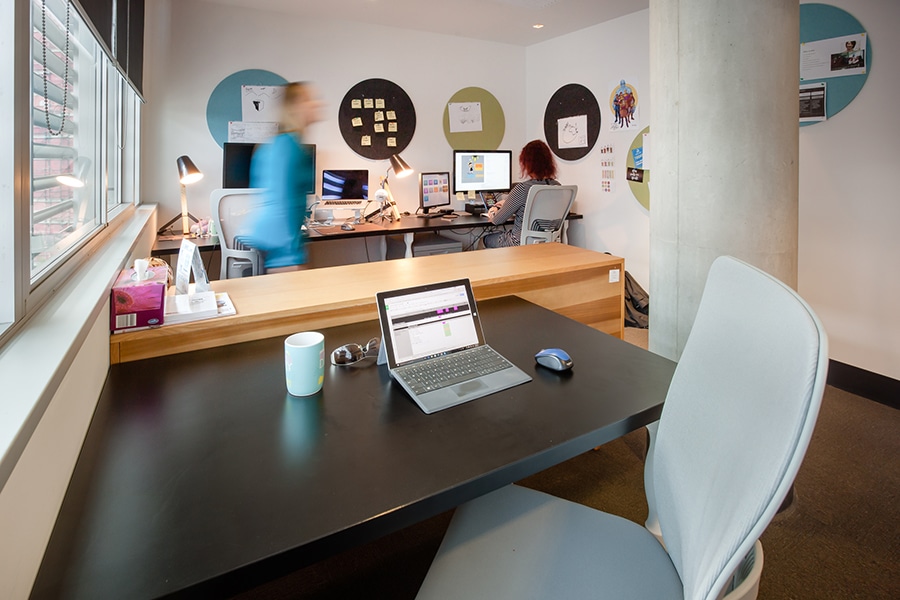 3. The Coterie
The Coterie is the co-working space provided by QUT's Creative Enterprise initiative where creative professionals can collaborate and those rolling solo can plug into a more private corner to get some serious work done. Current members include individuals and companies working in the screen, music, media, design and fashion industries, as well as students and other creative freelancers. Located on the university campus and a stone's throw away from Roma St station, The Coterie offers flexible membership options that suit a range of needs.
---
Featured Video from Man of Many
---
Price: Membership packages from $110/month.
Address: 34 Parer Place, Kelvin Grove, QLD, 4059
Phone: +61 7 3337 7801
Trading hours: Mon-Fri 9am-5pm
You'll also like:
9 Best Barber Shops in Brisbane
18 Best Co-Working Spaces in Melbourne
18 Best Co-Working Spaces in Sydney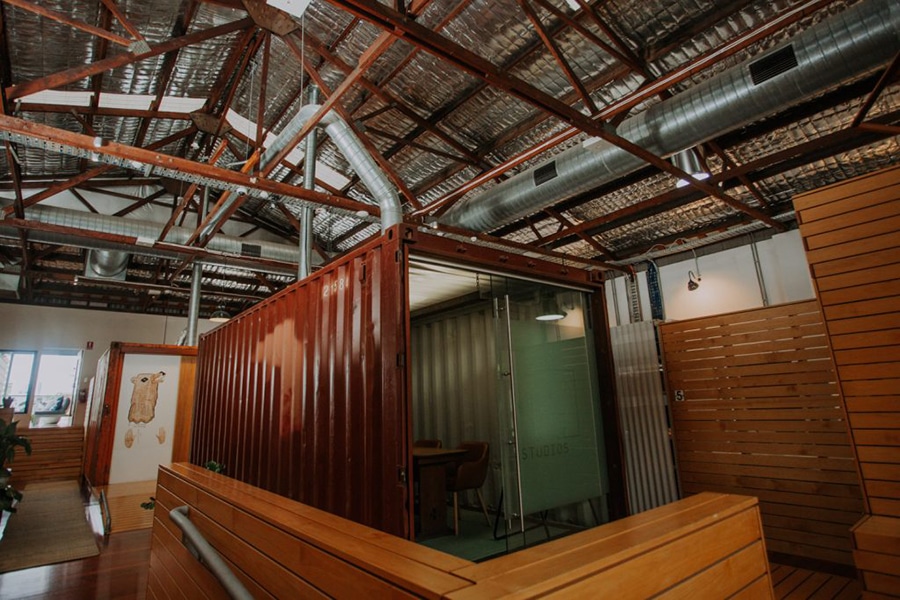 4. Lightspace
If the office-in-a-warehouse trend has you nonplussed, a tour through Lightspace in Brisbane's Fortitude Valley may convince you of its merits. The co-working space occupies the second level of a former printer's warehouse – a somewhat ironic sign of changing times; once printing newspapers, now a stronghold of digital ingenuity – while a dedicated event space resides on the ground floor. Unlike some of the other more casual co-working spaces Brisbane has to offer, the options at Lightspace suit towards long-term endeavours; you can sign up for a desk or a studio on a month-by-month basis.
Price: Desks for $525 + GST/month, studios from $950 + GST/month.
Address: 2 Scanlan St, Fortitude Valley QLD 4006, Australia
Phone: +61 499 999 400
Trading hours: Mon-Fri 9am-5pm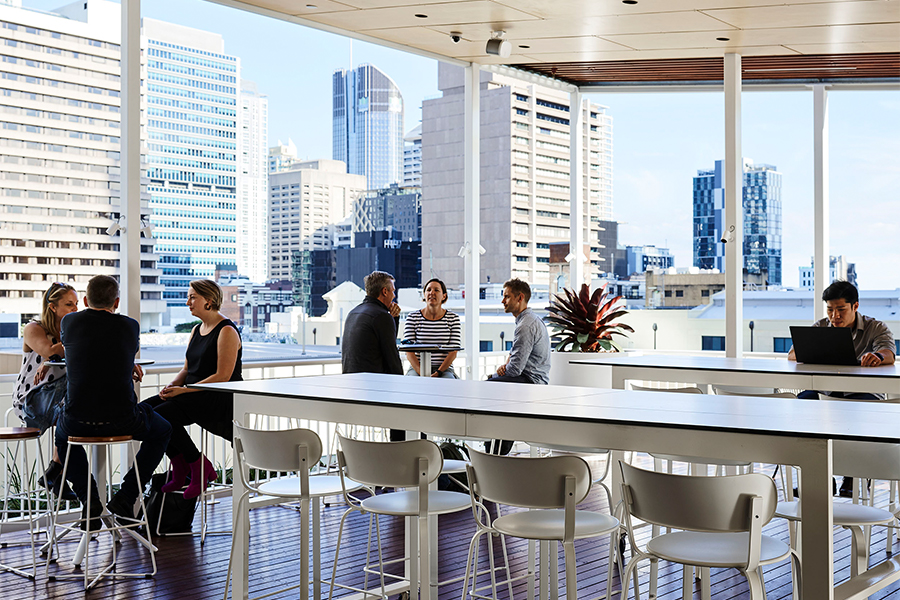 5. HUB Australia
Hub Anzac Square is a premium co-working space for Brisbane corporates looking to enjoy the finer things. The first-class hospitality and amenities come complete with café and rooftop event spaces, exercise studio, serviced meeting rooms, showers, towel service and lockers. Members also get access to a media studio with podcasting and photography equipment to upskill and grow their business.
Located in: Anzac Square Arcade Building
Address: 200 Adelaide St, Brisbane City QLD 4000
Phone: 1300 482 611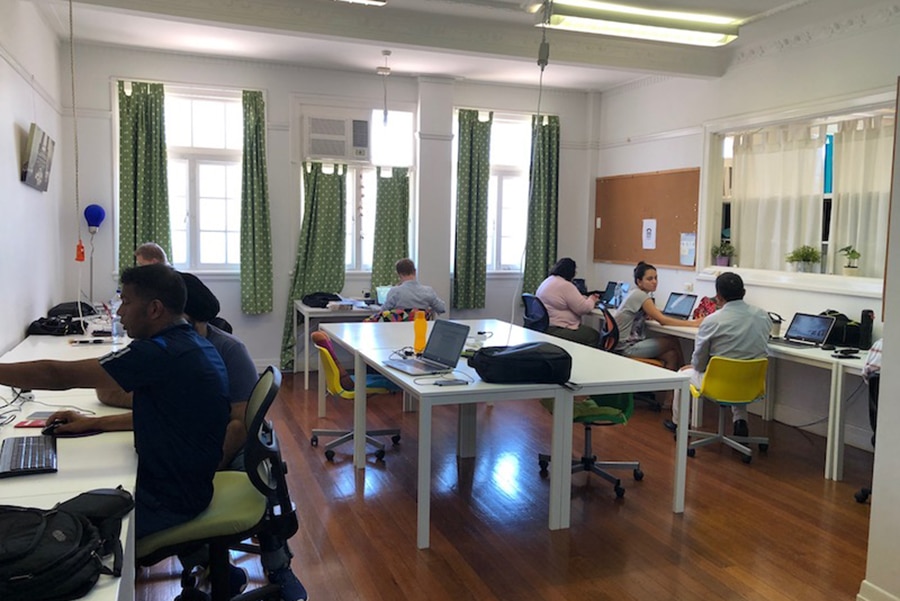 6. Salt Space
"Since opening in 2011, Salt Space have welcomed new and established businesses, freelancers, remote workers and creatives from all disciplines into their co-working space in the heart of New Farm. This family owned and managed business offers a friendly and comfortable place to create and work. They offer desks by the day, week or month with 24/7 access available to members, with no lease required. Private studios are also available with a six month lease. This Brisbane co-working space has plenty of quiet corners to get some work done, yet it's open enough to network with the diverse range of professionals who co-work and collaborate there."
Price: Hot desk from $20/day, unlimited from $150/month.
Address: 1/888 Brunswick St, New Farm QLD 4005
Phone: +61 7 3040 4441
Trading hours: Mon-Thu 9am-5pm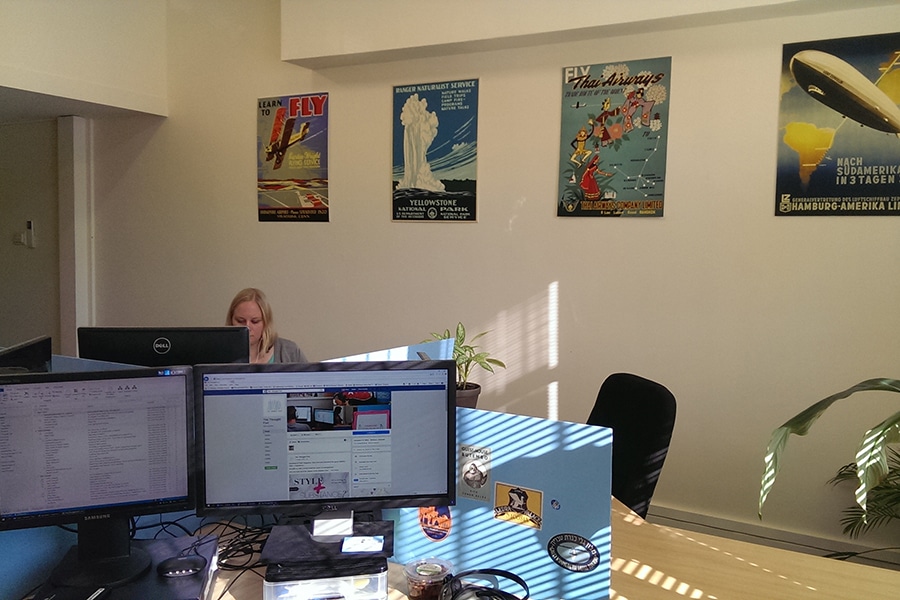 7. Thought Fort
One of Brisbane's original co-working spaces, Though Fort has fostered the growth of a dynamic and diverse community of thinkers, artists and entrepreneurs. There's much more to this Brisbane co-working space than the air conditioning and the whip-fast Wi-Fi – collaboration is encouraged, and the friendly and synergetic vibe creates an excellent environment in which to bounce some ideas around. Night owls take note: Thought Fort is accessible 24/7 for weekly and monthly co-workers.
Price: $50/day, $150/week or $395/month
Address: 72A Wickham Street, Fortitude Valley QLD 4006
Phone: +61 438 148 739
Trading hours: Mon-Sun 12am-11:30pm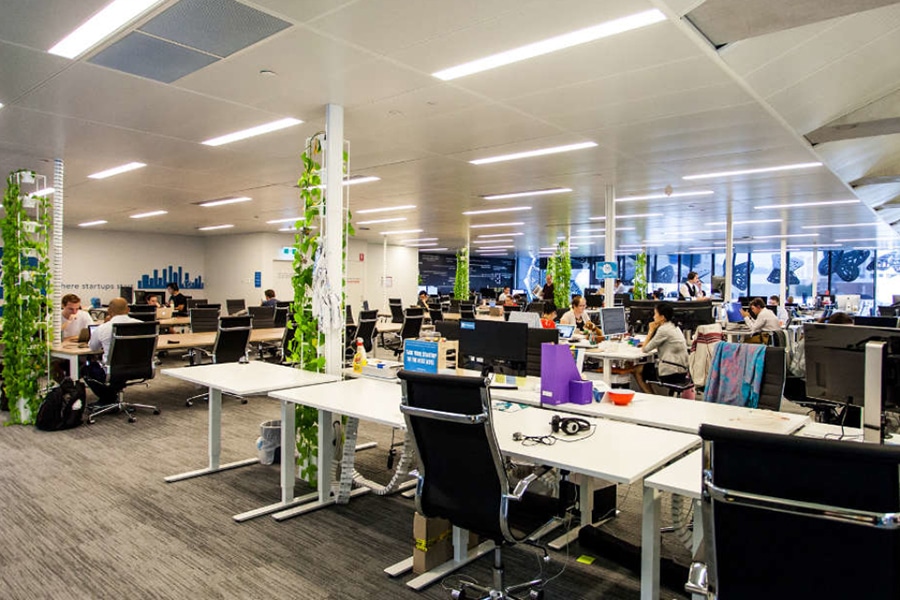 8. Fishburners
This Brisbane co-working space is one of three iterations of Fishburners (you can also find them in Sydney and Shanghai), a space dedicated to building the tech startups of the future. Competition for desk space is tight at Fishburners; the community is exclusive to scalable, high-impact tech startups. However, once you're in, you'll be surrounded and supported by a highly-collaborative collective of industry leaders and innovators dedicated to building companies that change the game.
Price: Membership from $350/month
Address: 155 Queen St, Brisbane City QLD 4000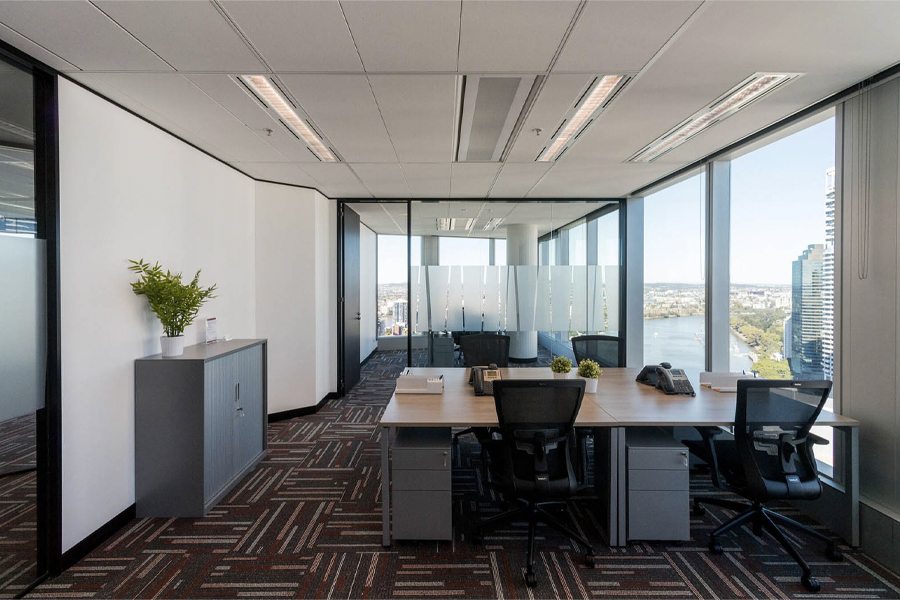 9. Regus
With a rapidly expanding global network, Regus is one of the largest providers of flexible workspaces in the world and throws in a little globalisation to the Brisbane co-working space melting pot. They have nine co-working locations throughout the city, and their offerings vary from a first come first serve hot desk by the hour to a permanent spot to set up shop. Corporate types will benefit from all the trimmings of traditional office spaces.
Price: Highly dependant on location and duration, starts from $12.20/day
Address: 22/F Northbank Plaza, 69 Ann Street, Brisbane, Queensland, QLD 4000 (one of nine locations in Brisbane)
Phone: +61 7 3031 3600
Trading hours: open 24 hours
You'll also like:
15 Best Tailors and Bespoke Suit Shops in Brisbane
7 Best Whisky Bars in Brisbane
11 Best Rooftop Bars in Brisbane
A Brief History of WeWork's Rocky Beginning
General FAQ
Where can I find a co-working space in Brisbane?
Some coworking spaces in Brisbane are Salt Space, Thought Fort, Fishburners, and Lightspace.
How do shared office spaces work?
Shared office spaces provide employees and companies, who don't have their own office, a place to work in a shared environment.
---
Featured Video from Man of Many