40 Best Pubs in Melbourne
Considering the huge pool of candidates, finding the best pubs Melbourne or a good pub feed in Melbourne CBD is no easy task. Luckily we've done the leg work for you. Now all you've got to do is simply reap the benefits and soak up the ambience and liquid refreshments at these fine establishments.
From Richmond's pubs to Fitzroy's food, many know Melbourne as the unofficial cultural capital in Australia. Melbourne's pubs, with their relaxed atmosphere, great selection of beer, delicious pub grub and range of seating options, are the epitome of the Melbournian way of life. We've documented Melbourne's best hidden bars and steak restaurants, but finally we've put together a comprehensive list of Pubs that combines all of your favourites in the one.
You can find a pub on every street corner in Melbourne and it'll likely have cold beer on tap and a decent schnitty. But for a particularly memorable experience, we've collated the best pubs Melbourne has to offer in one long list. From live music venues to classic historic public houses and everything in between – this list has your weeknight and weekend shenanigans covered for at least the next four seasons. Here's our list of the 40 best pubs Melbourne has to offer:
You'll also like:
34 Best Rooftop Bars in Melbourne
49 Best Bars in Melbourne For a Good Night Out
15 Best Whisky Bars in Melbourne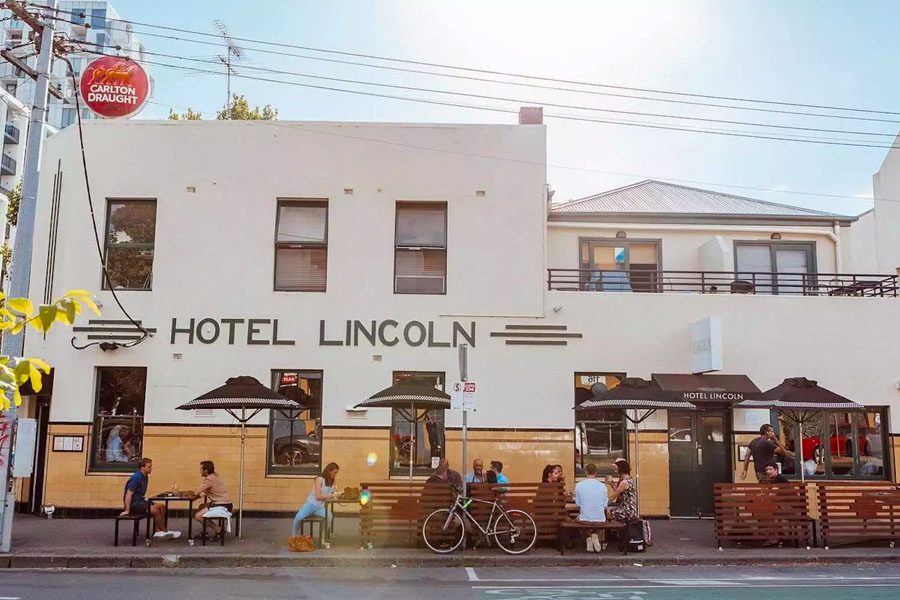 1. The Lincoln
One of the best pubs in Melbourne since 1854, The Lincoln has transcended generations. Their award-winning, art deco bar has 12 rotating taps, a curated wine list and a seasonal menu with sustainably-sourced food made in house. After a recent reno, the Lincoln is looking fresh while still holding its authentic vibe. Best for: chilled days or nights out with good friends who enjoy a cheeky ale or two.
Address: 91 Cardigan Street, Carlton VIC 3053
Phone: +61 3 9347 4666
Hours: Mon-Sat 12pm-late, Sun 12pm-6pm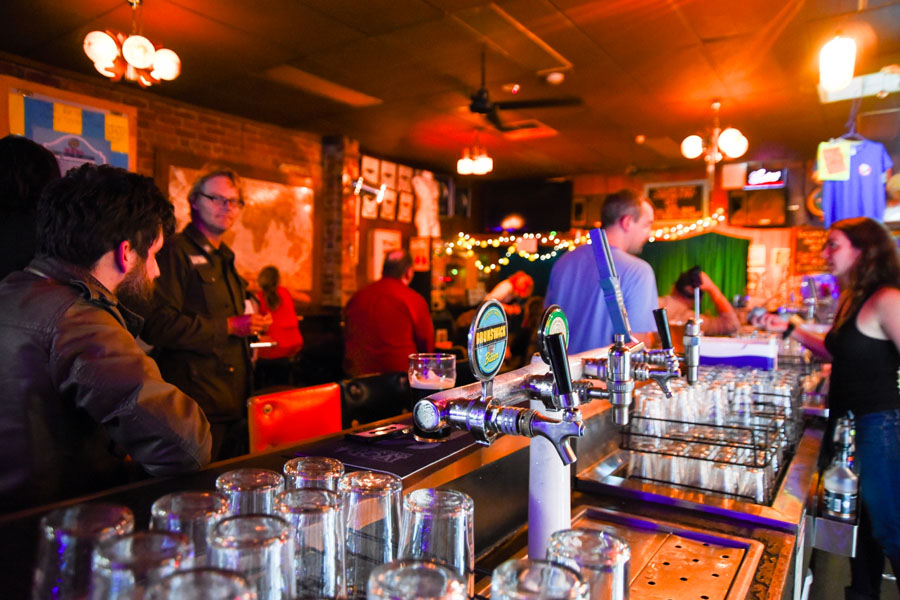 2. Retreat Hotel
Brunswick's home of live music, Retreat Hotel hosts an incredible offering of music to dance, revel and sing along to. After a show, catch your breath out the back in the eclectic and vibrant beer garden. These days The Retreat is known around Melbourne to always having a great crowd and an even better pub lunch. Head down on a Thursday night or for a Saturday boozer.
Address: 280 Sydney Road, Brunswick VIC 3056
Phone: +61 3 9380 4090
Hours: Sun-Thu 12pm-1am, Fri-Sat 12pm-3am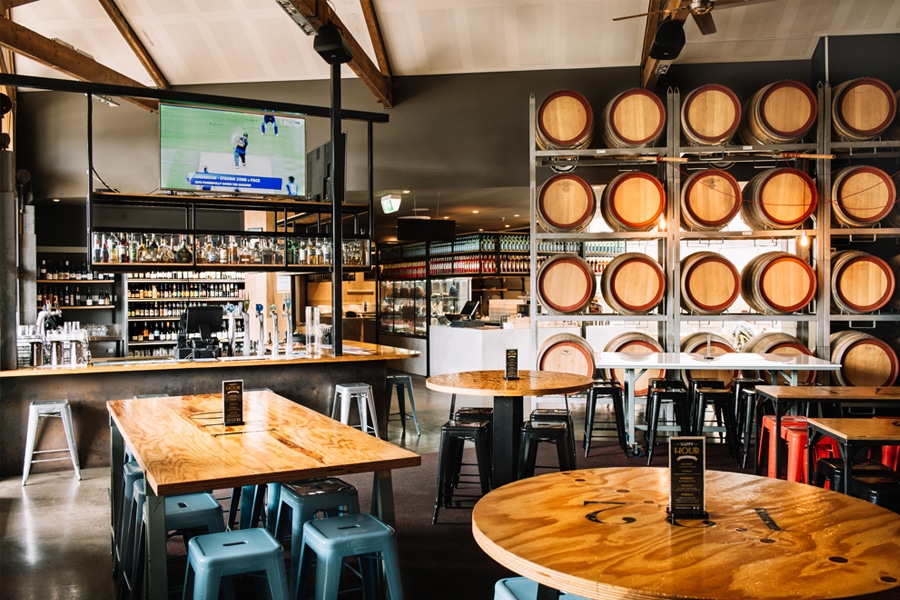 3. Grosvenor Hotel
This iconic and historic Bayside local has been welcoming customers since the 1800s. The hotel is in a league of its own, with its incredible craft beer selections and a unique industrial and rustic interior design. The Grosvenor Hotel is well known for its dining too – offering premium cuts of the best grass-fed steak in Melbourne and Sundays roasts, with huge Yorkshire puddings and lashings of gravy!
Address: 10 Brighton Road, St Kilda East VIC 3183
Phone: 03 9531 1542
Hours: Sun-Thu 12pm-11pm, Fri 12pm-1am, Sat 12pm-1am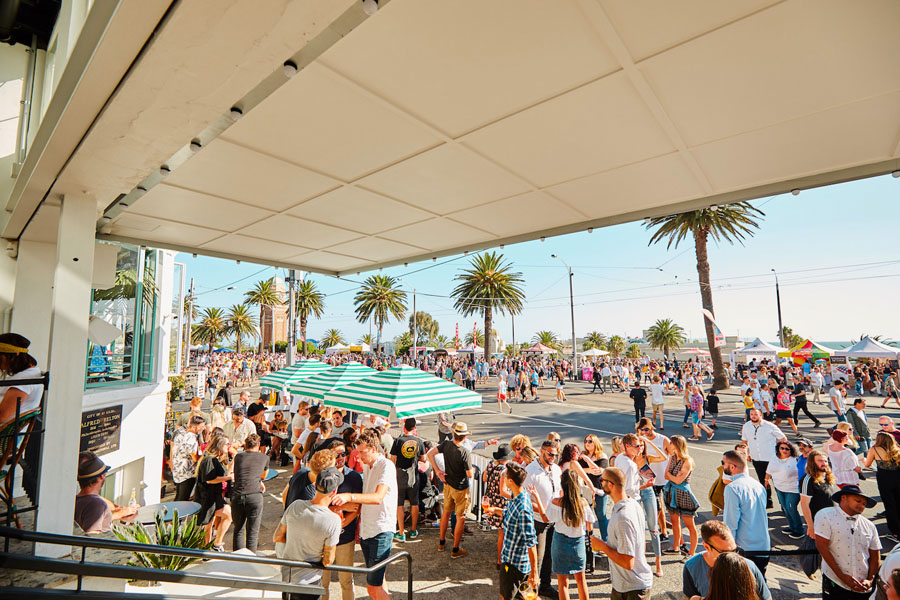 4. The Esplanade
St Kilda's iconic Esplanade Hotel had a short hiatus and returned in 2019 in the same venue but with a shiny new facelift. The impressive space now boasts 3 live music stages, 12 bars and 2 restaurants. Old vintage furniture and '80s gig posters keep it nostalgic inside, while the airy garden terrace gives it that ocean-front exclusive feel. Every visit here allows you to explore something different. Mya Tiger is an impressive Cantonese restaurant on level 1, with wonderful bayside views to impress your friends and an even more impressive cocktail list. Bustle your way to the front of the main bar for a pint and a pub lunch for a more classic St Kilda experience or for something more exclusive, ask staff for the key to see the Ghost of Alfred Felton, a super-exclusive VIP prohibition-style bar on the 5th floor!
Address: 11 The Esplanade, St Kilda VIC 3182
Phone: + 61 (03) 9534 0211
Hours: Mon-Weds 3-11pm, Thurs-Sun 12-11pm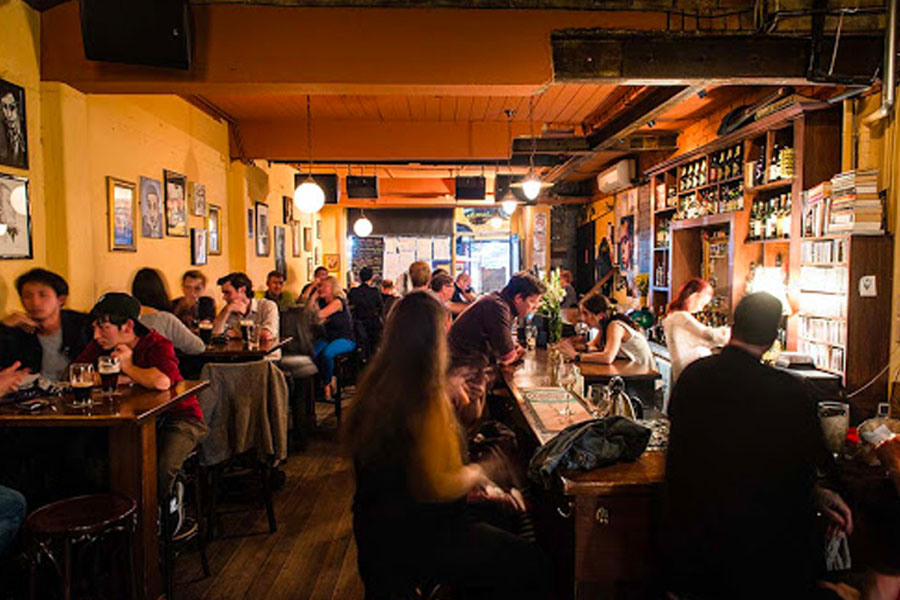 5. The Drunken Poet
Voted one of the 10 best Irish pubs in the world (outside Ireland) by the Irish Times, The Drunken Poet is a cozy, friendly local-style pub. It is full of charm and with one of the finest selections of Irish whiskey in Australia. It goes without saying that you're destined for a good yarn with the locals and a well-poured Guinness straight from the tap. The small venue is always bustling and an interesting night out.
Address: 65 Peel Street, West Melbourne VIC 3003
Phone: (03) 9348 9797
Hours: Tue-Sat 12pm-1am, Sun 12pm-11pm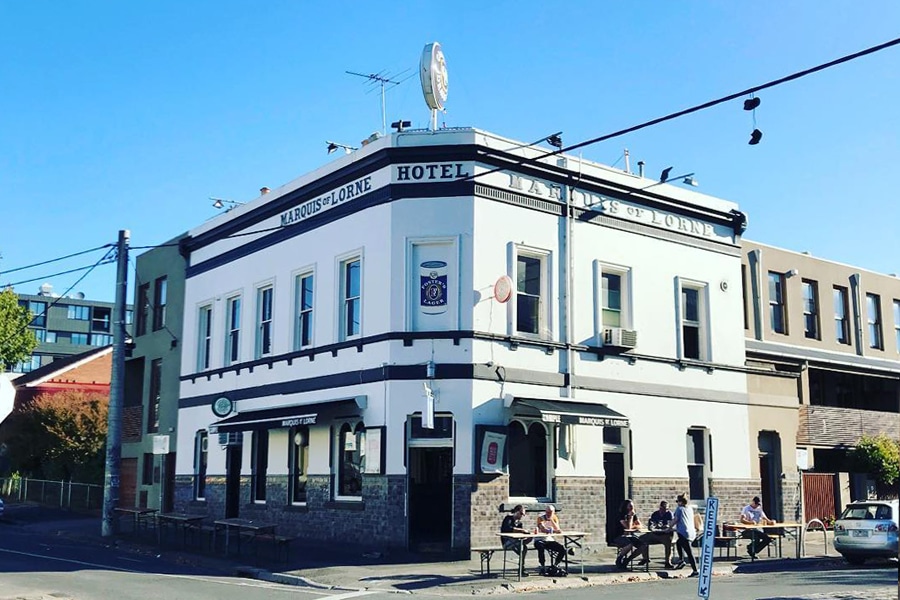 6. Marquis of Lorne
Marquis could refer to a hereditary title of nobility, a town in Grenada or village in Saskatchewan, or a 1989 film – but in this case, the Marquis of Lorne refers to a killer public bar and dining room, slightly off the beaten track on Fitzroy's George Street, famous for some of the best pub meals in Melbourne. Don't forget to head up to the rooftop bar to soak up the sun on summer evenings, it's definitely worth the walk up all those stairs!
Address: 411 George Street, Fitzroy VIC 3065
Phone: +61 3 9417 5001
Hours: Mon-Wed 4pm-11pm, Thu-Sun 12pm-1am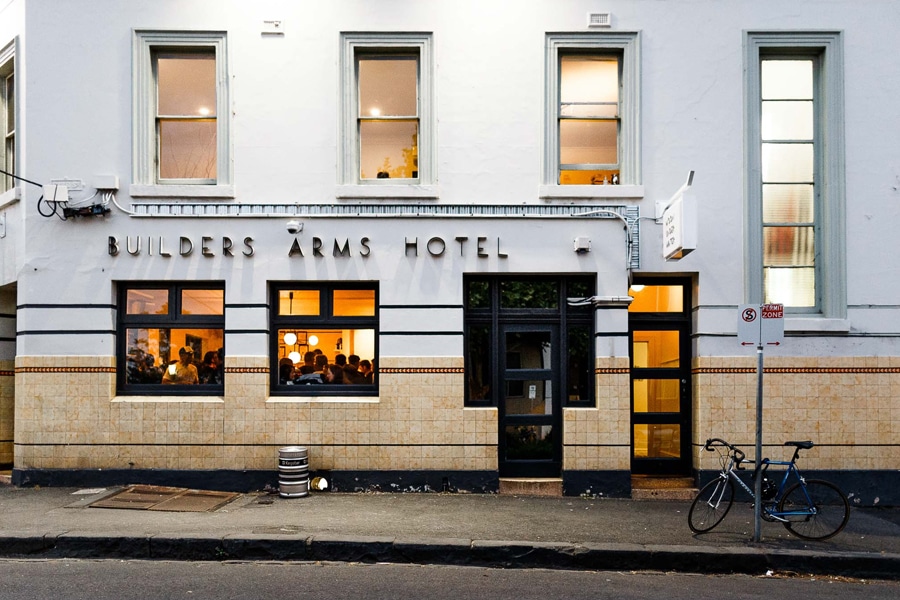 7. Builders Arms Hotel
The Builders Arms Hotel is an ambient landmark pub with a lively front bar, bistro, private dining room, and courtyard. Home to probably the best trivia night in Melbourne, and the best rotisserie meat in the land, the popular front bar is lively and loud and a perfect spot for a few drinks with friends. Fancy some food? Head to the Bistro, where famous restauranteur Andrew McConnell has created an amazing menu for his venue, a must-try is the whipped cod roe dip (which is in itself a reason to visit here) and the incredibly hearty fish pot pie.
Address: 211 Gertrude Street, Fitzroy VIC 3065
Phone: +61 3 9419 0818
Hours: Mon-Sun 12pm-11pm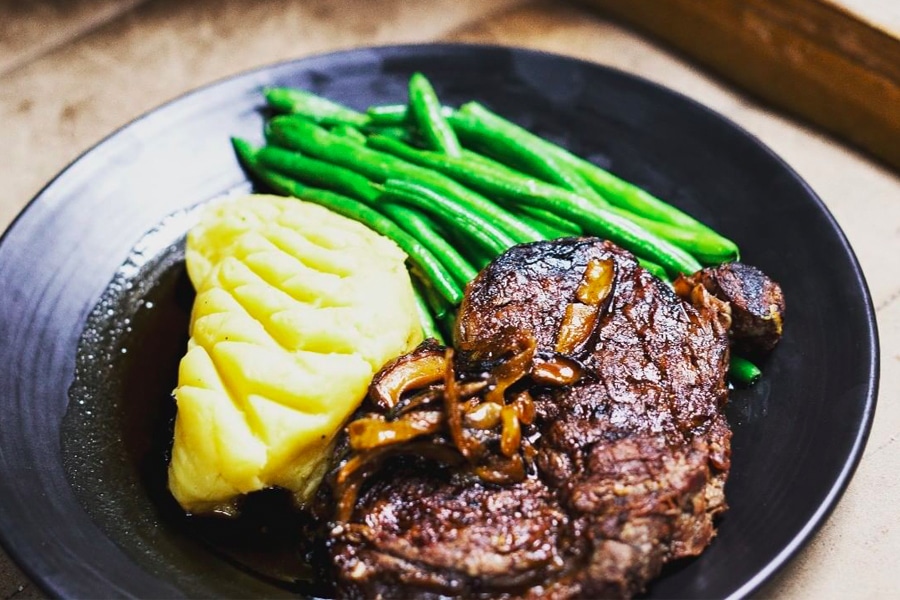 8. Woodlands Hotel
The Woodlands Hotel is a hidden wonderland, built within the walls of the oldest pub in the Moreland. It's a little rabbit warren of surprises, from its leafy outdoor atrium to its plush dining room upstairs. The Hotel is a true local gem, championing local produce, both in the kitchen and behind the bar. With beers on tap, from local breweries Two Birds and Moondog, and a menu consisting of a multitude of flavour combinations from local growers and producers. This place has to be seen to be believed!
Address: 84-88 Sydney Road, Coburg VIC 3058
Phone: +61 3 9384 1122
Hours: Mon-Thu 4pm-12am, Fri-Sat 12pm-1am, Sun 12pm-11pm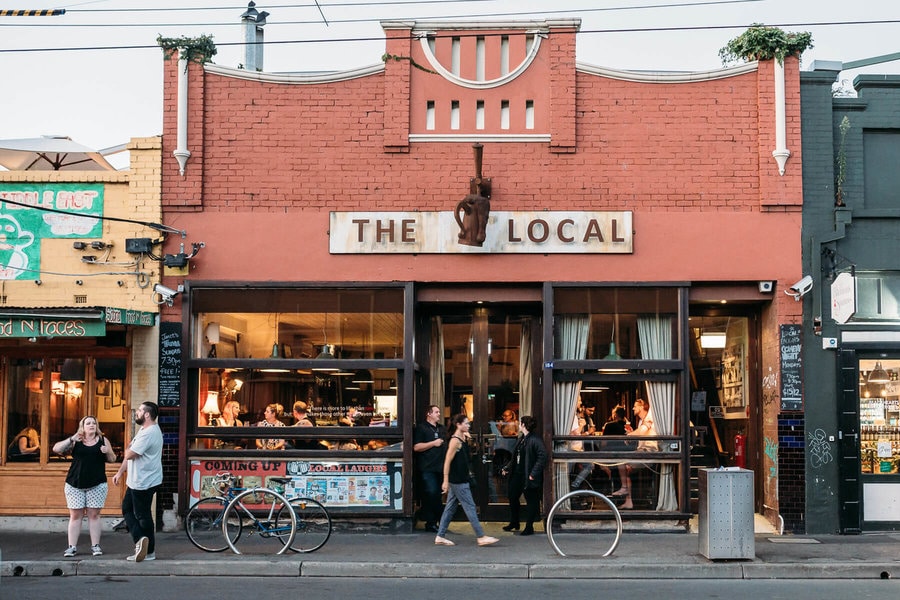 9. The Local Taphouse
This multi-award-winning tavern is one of the best pubs in Melbourne on account of its mouthwatering menu, European-inspired decor, and an incredible range of craft beers. The Local Taphouse taps more than 400 different beers every year, meaning you can sample a different drop on every visit! Find out which current beers they have on tap right now, by heading to their website. Or, alternatively, pop your head in and ask the friendly staff for a schooey.
Address: 184 Carlisle Street, East St Kilda VIC 3183
Phone: +61 3 9537 2633
Hours: Sun-Thu 12pm-10pm, Fri-Sat 12pm-1am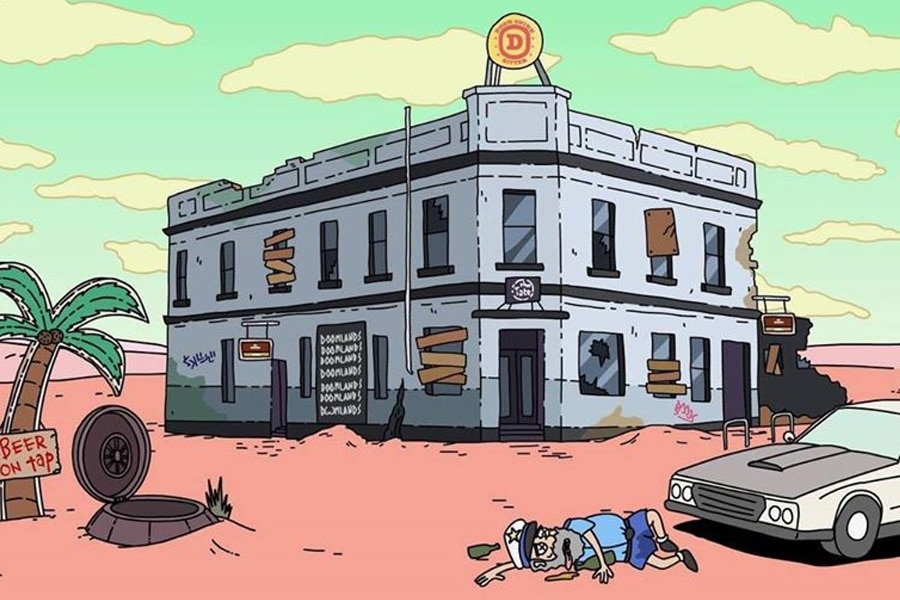 10. The Tote
The Tote Hotel is a Melbourne institution, and it's lovingly nicknamed by locals as the 'Home of Rock'. Here you'll find an absolutely KILLER jukebox, alongside incredible live music gigs by some outrageously talented raw and edgy bands. But it's not just 'all about the music. The Tote also offers mouthwatering $10 burgers (not just during happy hour) and they have recently brought out their own lager, which washes it down a treat!
Address: 71 Johnston Street, Collingwood VIC 3066
Phone: +61 3 9419 5320
Hours: Tue-Wed 5pm-1am, Thu 5pm-3am, Fri-Sat 4pm-3am, Sun 4pm-11pm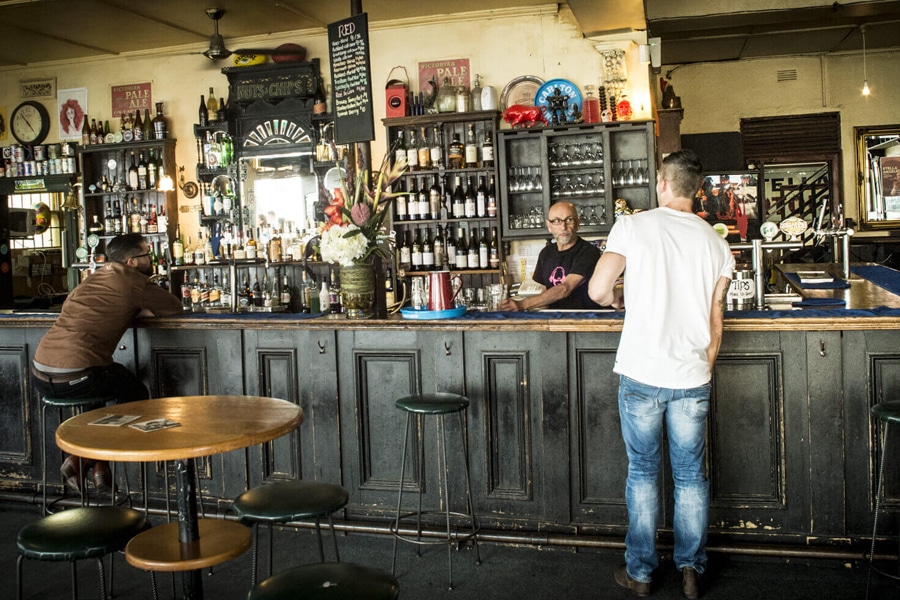 11. Labour in Vain
Perfectly situated in the heart of Fitzroy, Labour in Vain is the perfect place to start (or finish) a local pub crawl down the bustling hub of Brunswick Street. It boasts a sunny rooftop beer deck, pop up BBQs and regular free live music. And there's a pool table thrown in, for good measure. Nothing too flash, Labour in Vain does exactly what it says on the box. Beer food and a perfect place to hang out with friends.
Address: 197a Brunswick Street, Fitzroy VIC 3065
Phone: +61 3 9417 5955
Hours: Mon-Wed 3pm-1am, Thu-Sat 2pm-1am, Sun 2pm-11pm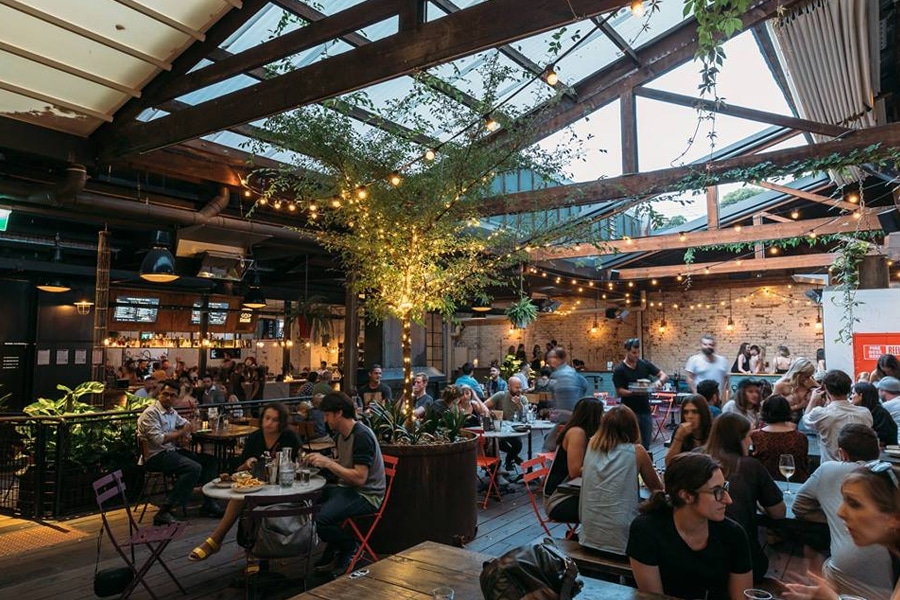 12. Stomping Ground
Expect this European-inspired brewery and beer hall to be exactly as the name suggests – your new stomping ground and pick for the best pub in Melbourne. Stomping Ground pays homage to Collingwood's history as the epicentre of Australian brewing. They provide the very best local indie beer, a giant 30 tap bar, cubby house and an unparalleled community feel.
Address: 100 Gipps Street, Collingwood VIC 3066
Phone: +61 3 9415 1944
Hours: Sun-Mon & Wed-Thu 11:30am-12am, Tue 11:30am-3am, Fri-Sat 11:30am-1am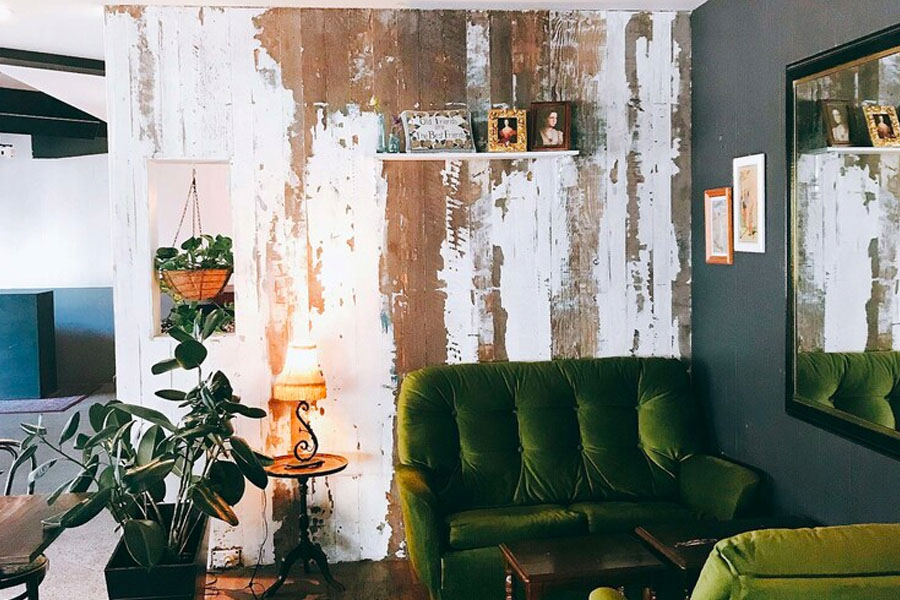 13. Harper Bar
Harper Bar's motto is "Happy hour, Every hour" so that kind of gives you some idea what you are in for when you arrive at this cute little Prahran haunt. The crowd is young, but don't let that put you off as it's one of Melbourne's best bars for chilled vibes, great tunes, and surprisingly cheap drinks for the popular High Street location.
Address: 201-209 High St, Prahran VIC 3181
Phone: +61 (03) 9005 2326
Hours: Mon-Sun 5 pm -late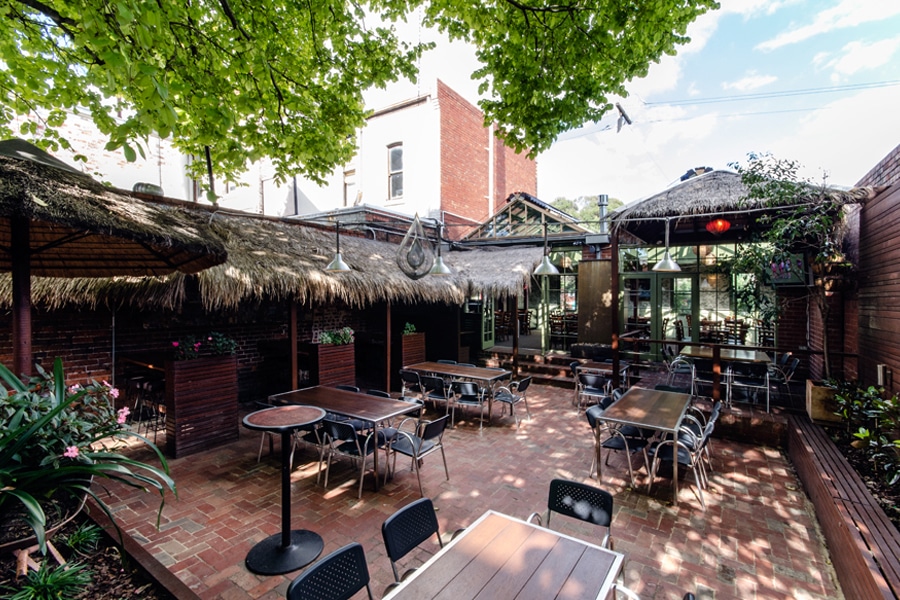 14. The Railway Hotel, South Melbourne
For one of the liveliest and best pubs in Melbourne CBD, you can't look past the Railway Hotel in South Melbourne. The Monday trivia, $14 parma Tuesday, Wednesday steak, Thursday pie night, Friday happy hours and Sunday roast are a great incentive to visit the bustling pub – and Saturdays are obviously great too. Start with a day drink in the beer garden and order a cocktail when happy hour kicks in. Thank us later.
Address: 280 Ferrars St, South Melbourne VIC 3205
Phone: +61 3 9690 5092
Hours: Mon 4pm-10:30pm, Tue 12pm-10:30pm, Wed-Thu 12pm-11pm, Fri 12pm-1am, Sat 12pm-1am, Sun 12pm-11pm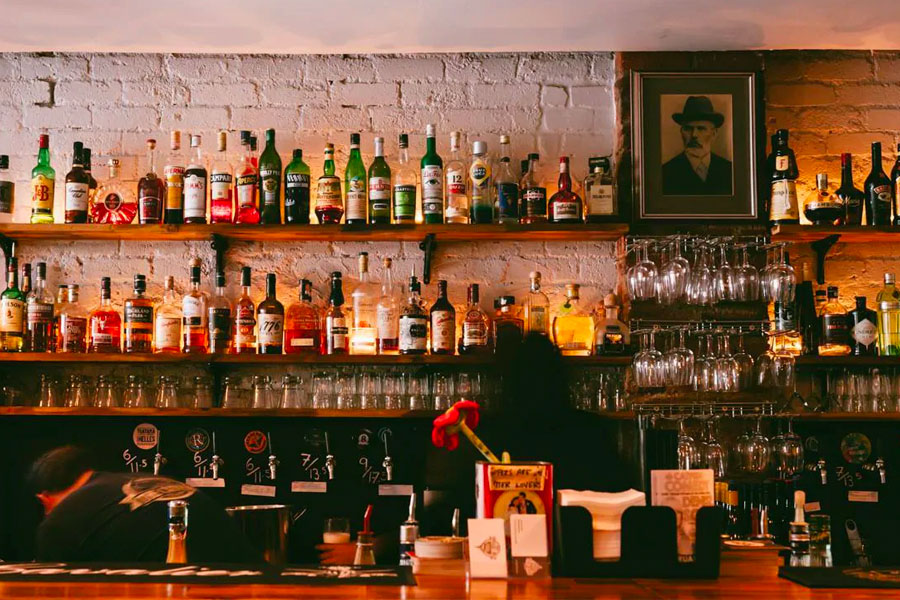 15. The Catfish
The Catfish is a renowned live music venue and, a bloody good local watering hole with top-notch booze to boot. With weekly comedy nights and the famous Wednesday night 'Blues Roulette' (Blues music nights in the front bar with a rotation of new musicians each show), there's something for everyone. And, if that doesn't sell you, the best pub steak in Melbourne, Sparrows Philly Cheesesteaks certainly will.
Address: 30 Gertrude Street, Fitzroy VIC 3065
Phone: +61 3 9417 6420
Hours: Mon-Sat 12pm-1am, Sun 12pm-10pm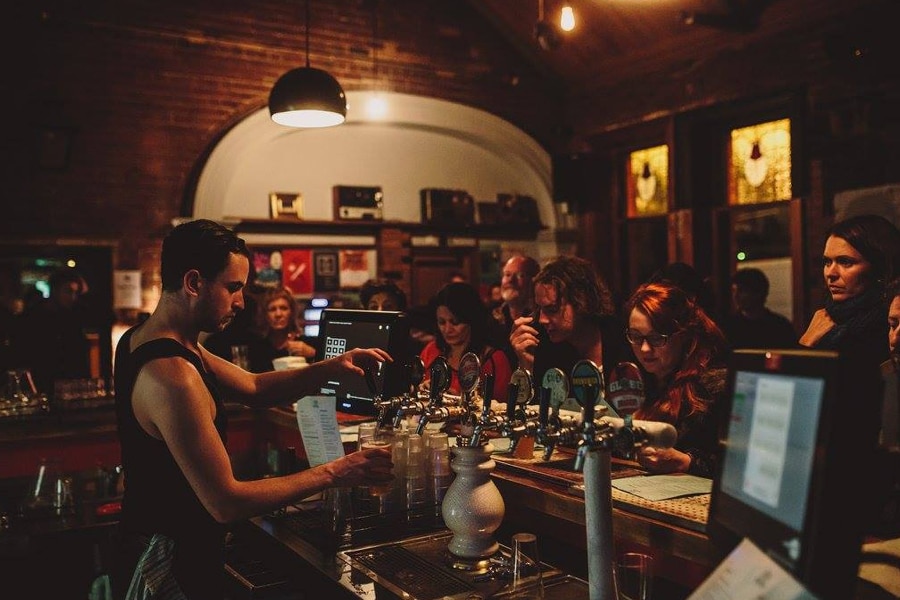 16. Gasometer Hotel
The Gasometer Hotel band room features not only regular rumbustious local bands but also a retractable roof, mezzanine seating, separate bar and a Nexo sound system throughout. And that doesn't even cover the Gaso's front bar and menu that qualifies it as some of Melbourne's best pub food. A must-visit on the Melbourne pub scene if you like your pubs loud, divey and full of character.
Address: 484 Smith Street, Collingwood VIC 3066
Phone: +61 3 9416 3335
Hours: Tue-Wed 4pm-12am, Thu 4pm-2am, Fri 3pm-3am, Sat 1pm-3am, Sun 1pm-11pm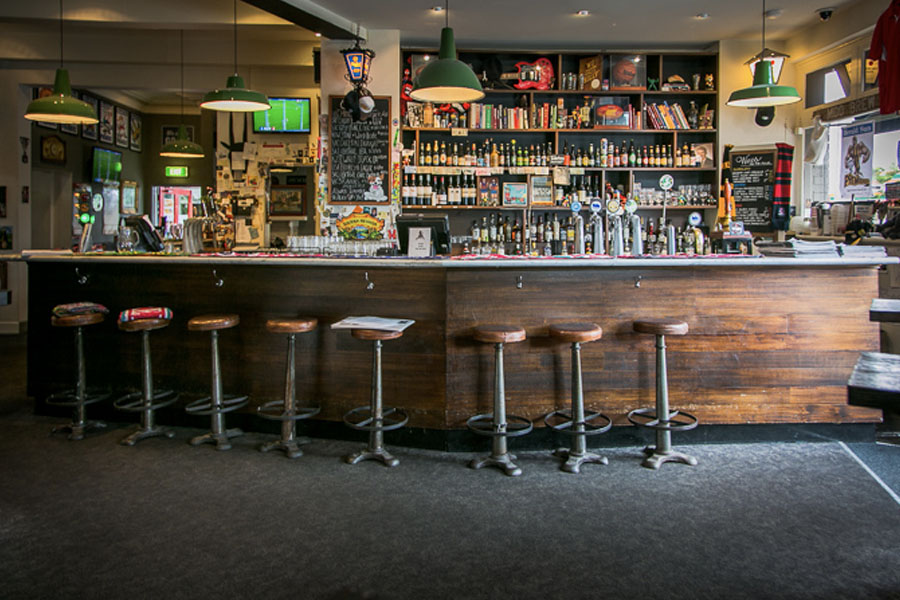 17. The Palace Hotel
The Palace Hotel is all about offering local beers for locals. So if you're around South Melbourne be sure to head in for daily specials of the best pub meals in Melbourne, a huge range of craft beers and a wide selection of sports, depending on the season. You'll always find some company looking for a friendly yarn and a passionate discussion on how the Swans shoulda never been stolen by Sydney.
Address: 505 City Road, South Melbourne VIC 3205
Phone: +61 3 9682 3177
Hours: Sun-Thu 12pm-11pm, Fri-Sat 12pm-1am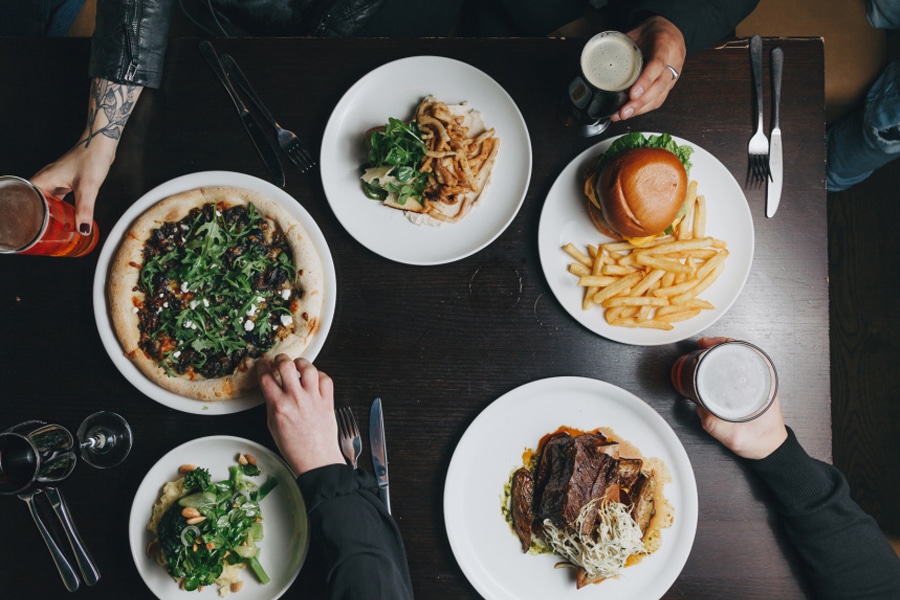 18. Foresters Pub and Dining
Foresters Pub and Dining offer a fantastic selection of beers and wines and have a traditional pub grub menu, but they are probably best known for their late-night parties. Want to continue your weekend shenanigans after other local pubs have closed? Then this is the place to be. With a 4am license and DJ's every Friday and Saturday night, you'll be guaranteed a great time (and probably a hangover the next morning)!
Address: 64 Smith Street, Collingwood VIC 3066
Phone: +61 3 8415 1104
Hours: Mon-Thu 4pm-11pm, Fri 4pm-4am, Sat 1am-4am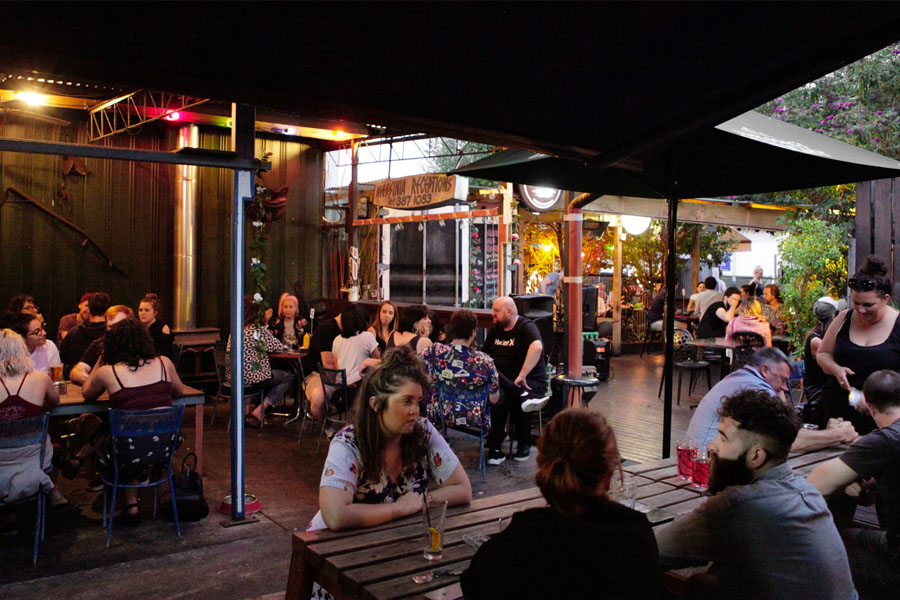 19. Edinburgh Castle Hotel
This old school Brunswick pub is perfect for social gatherings, a nice beer garden out back, a pool table in an adjacent room, trivia nights with the best trivia host this side of the Pacific Ocean. The list goes on. And with the bustling hub of other bars on the vibrant Sydney Road just a stone's throw away, the Edinburgh Castle Hotel is the perfect place to start a night out…a night that if pub-crawled south down Sydney road correctly, will no doubt, end up at The Retreat (see above!) You can't go wrong.
Address: 681 Sydney Rd, Brunswick VIC 3056
Phone: +61 (03) 9386 7580
Hours: Mon-Sun 12-10pm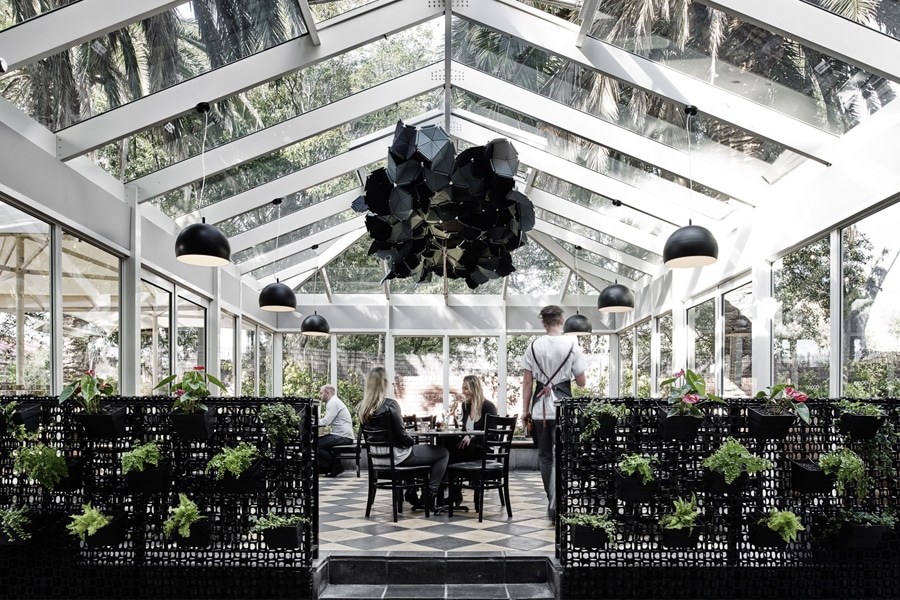 20. Flying Duck Hotel
The Flying Duck Hotel has so many different areas, you'll be hard-pressed to choose just one! The indoor dining area offers a nice cosy pub feel or head outside to The Glasshouse for a totally new experience. The sophisticated indoor/outdoor area is bright and airy and perfect for those wanting to explore somewhere a little bit different, for that afternoon drink with friends or relaxing after work bevvy.
Address: 67 Bendigo Street, Prahran VIC 3181
Phone: +61 3 9510 8081
Hours: Tue 4pm-11pm, Wed & Sun 12pm-11pm, Thu-Sat 12pm-12am

21. The Boat Builders Yard
Located on the Yarra's edge, The Boatbuilders Yard is one of the best pubs in Melbourne for waterside views. Good beers on tap, nicely spaced outdoor areas, and fun but chilled relaxed vibes make this pub one of the best along the river. They even have deck chairs out the front! Top tip: they also open early on weekends, so its a great spot for a brekkie and bloody mary to soak up the booze from the night before.
Address: 23 S Wharf Promenade, South Wharf VIC 3006
Phone: +61 (03) 9686 5088
Hours: Thurs 10am-8pm, Fri-Sun 9am-10pm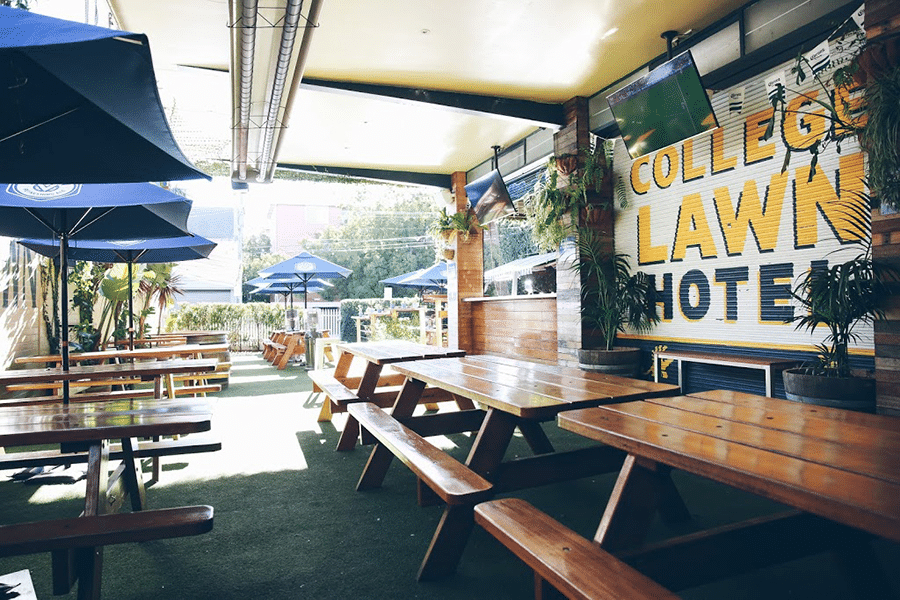 22. College Lawn Hotel
Nestled in the back streets of Prahran, College Lawn Hotel is famous for its Sunday sessions, complete with live music and a lively atmosphere. The venue is predominantly outdoors which is great for the summer days and they even offer a 'paws on the lawn' area for doggos and their owners. No need to get up from your table with an innovative QR code printed on the menus, that allows you to scan on your phone and order food from the comfort of your own seat, and it's brought to you once ready, leaving you to sit back and relax in the great atmosphere.
Address: 36 Greville St, Prahran VIC 3181
Phone: +61 (03) 9810 0074
Hours: Sun-Thurs 12-10pm, Fri-Sat 12pm-12am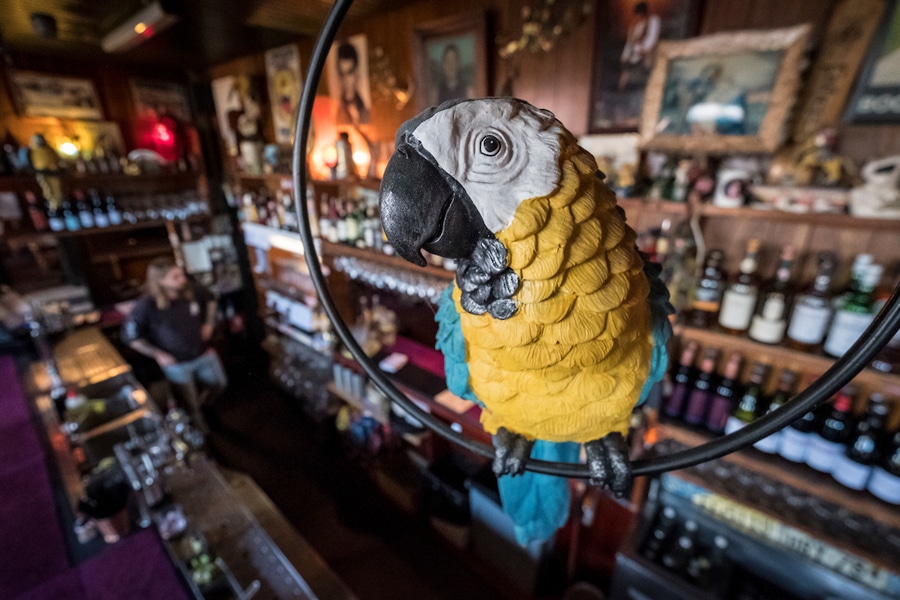 23. The Standard
The Standard serves their beer cold, their pub food hot and their live music loud. They also promise quality conversation, drunken poetry, and a chameleon-like courtyard that stays cosy in the Winter, festive in the Summer and offers the best pub food in Melbourne all year round. We've never been there ourselves but the talk around town is down right legendary.
Address: 293 Fitzroy Street, Fitzroy VIC 3065
Phone: +61 3 9419 4793
Hours: Sun-Mon 12pm-10pm, Tue-Sat 12pm-11pm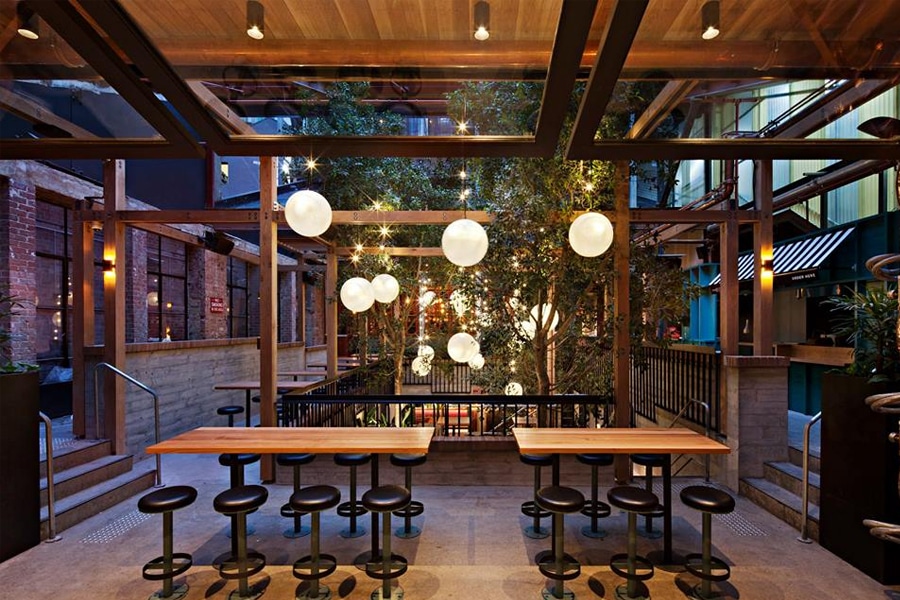 24. Garden State Hotel
Looking for the best pub in Melbourne? Look no further. The Garden State Hotel is a purpose-built, four-story venue, which has been designed to preserve the distinctive exterior of its former life as a textile mill in the Victorian times. The result is an indoor-outdoor beer-lovers heaven centred around a huge multi-level beer garden, a couple of food vans, and multiple dining areas. A startling oasis in the heart of Melbourne's CBD.
Address: 101 Flinders Lane, Melbourne VIC 3000
Phone: +61 3 8396 5777
Hours: Sun-Mon & Wed 12pm-11pm, Tue 12pm-3am, Thu 12pm-12am, Fri-Sat 11:30am-3am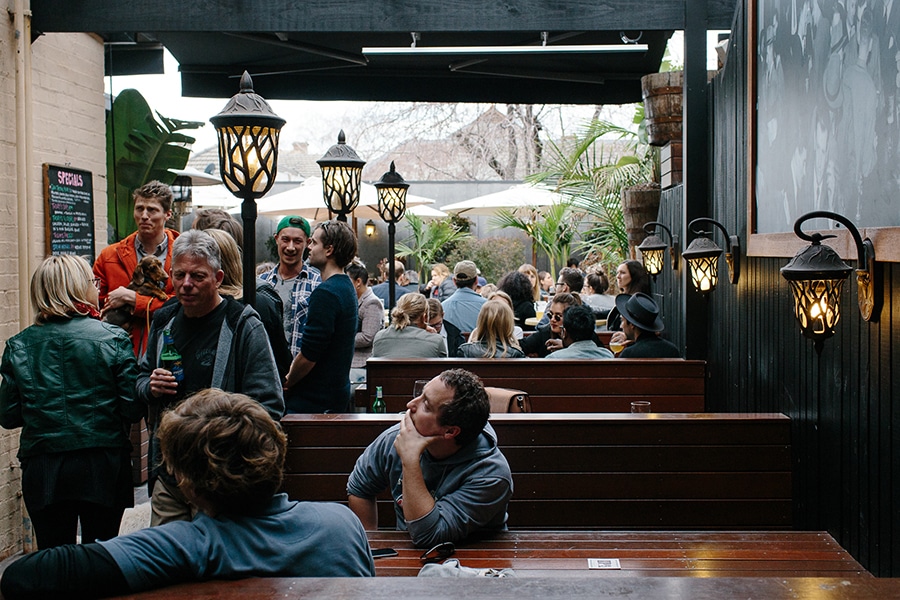 25. The Great Northern
A great local pub, The Great Northern is best known for its impressive turnout of punters watching live sports from across the world. With huge screens both indoors and around their huge courtyard, this is the go-to place for big sporting events such as the world cup or the NFL. Pints are decent prices and the service is relaxed and friendly. Even if you travel from elsewhere, the vibe here is that you're in your local pub so you can wear your team's colours with pride. Doggos are encouraged to attend, so much that they even make housemade dog biscuits made from peanut butter and pumpkin to keep your furry friends happy while you enjoy your pints!
Address: 644 Rathdowne St, Carlton North VIC 3054
Phone: +61 (03) 9380 9569
Hours: Mon-Sun 11am-11pm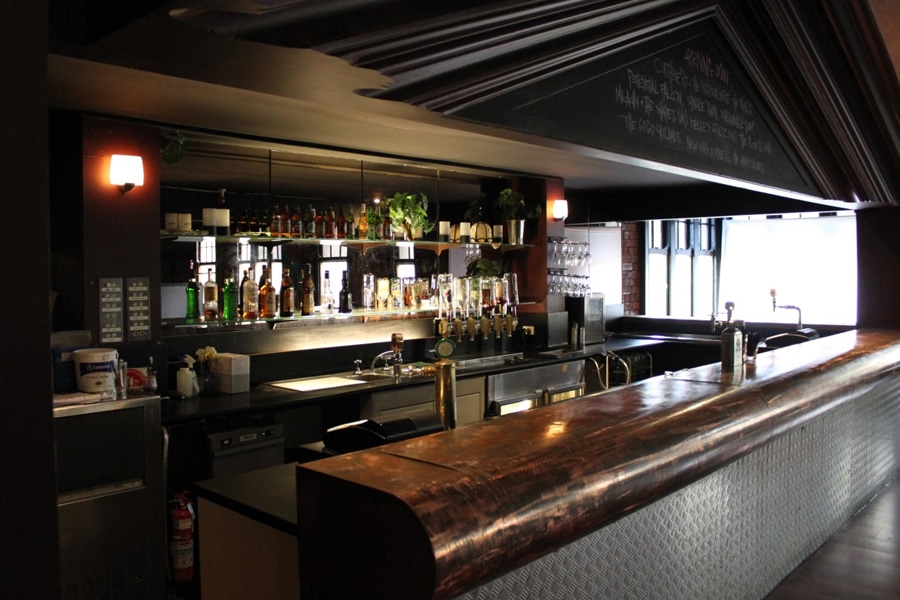 26. The Curtin
The title of best pub in Melbourne for live music goes to The John Curtin Hotel in Carlton. Best known for its "Beers, Bites and Bands"; here you can pair your top local gigs with their famous 24hr brined Sonny's fried chicken and wash it all down with a local tap brew. This pub is a fan favourite, with its quirky bathroom wallpaper and fun and friendly bar team, this is one night out you certainly won't forget!
Address: 29 Lygon Street, Carlton VIC 3053
Phone: (03) 9663 6350
Hours: Mon-Thu 12pm-late, Fri-Sat 12pm-3am, Sun 12pm-11pm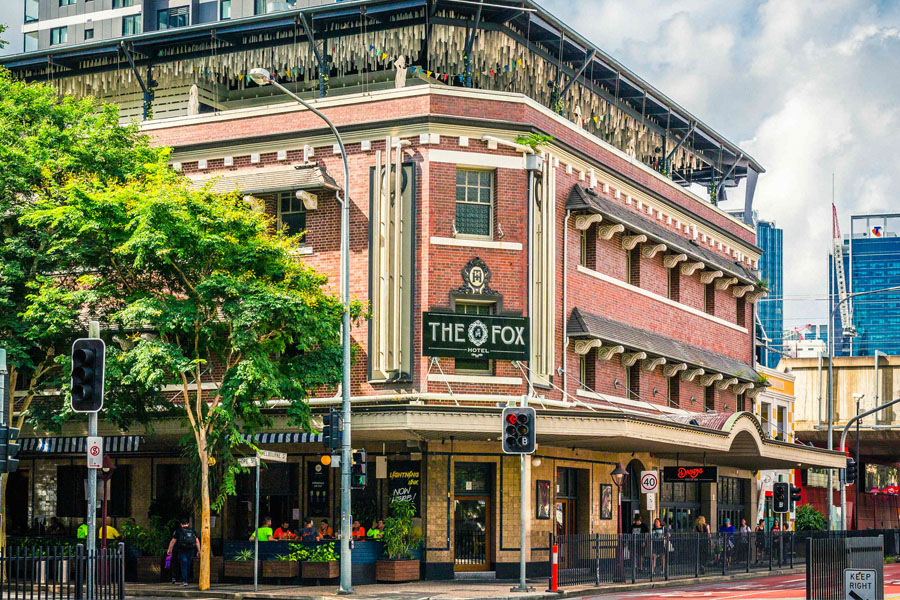 27. The Fox
With old school charm and an amazing contemporary menu, The Fox Hotel provides an unparalleled experience for both avid diners and drinkers alike. They have a fantastic outdoor area for summer days and the clientele are always friendly. Over 100 varieties of beer are on offer, 7 days a week (including the ever-sought after Guinness!) and with $6 pints between 4-6pm on weekdays, it's hard to see why you wouldn't sneak off work early and take a cheeky little visit to the Fox on your way home!
Address: 351 Wellington Street, Collingwood VIC 3066
Phone: +61 3 9416 4957
Hours: Mon-Thu 3pm-late, Fri-Sun 12pm-late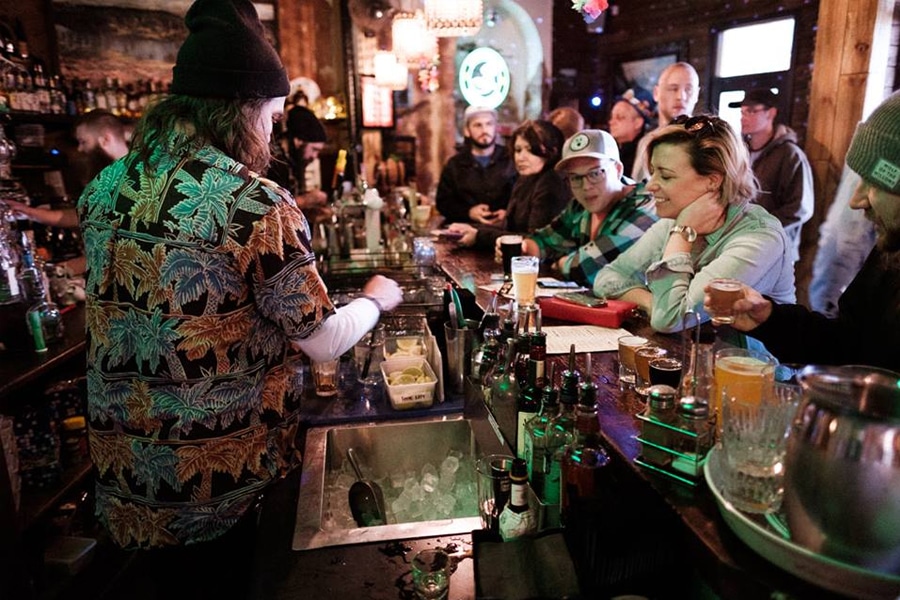 28. Leonard's House of Love
Walk into this unassuming building on the backstreets of South Yarra, and you will be delighted by what's inside. Reminiscent of an apres-ski bar, with wood-panelled walls and kitsch decorations Leonard's House of Love is the funkiest place to be south of the river. This place must be seen to be believed and with $12 house lager jugs, sessions here can last all day. I can promise that once you discover this place, you won't be leaving any time soon.
Address: 3 Wilson Street, South Yarra VIC 3141
Phone: +61 428 066 778
Hours: Mon-Thu 12pm-12am, Fri-Sun 12pm-3am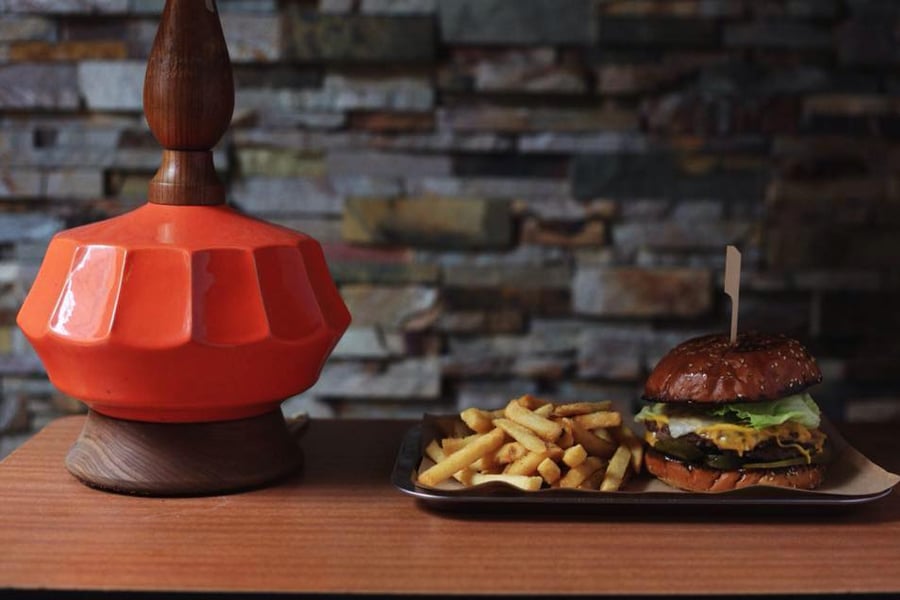 29. The Royston
Part pub, part underground bar, part restaurant, this is the place to come with all your mates for good old knees up and a bloody good time. Epic burgers and a good selection of tap beers, The Royston is a seriously good pub oozing with vibes. Found in the heart of Richmond, locals love it and it's well worth the trip if you haven't been before.
Address: 12 River Street, Richmond VIC 3121
Phone: +61 3 9421 5000
Hours: Mon-Tue from 4pm, Wed-Sun from 12pm
30. The Palace Hotel
The dog-friendly beer garden is one of the main attractions here. The Palace Hotel is a good-old-fashioned proper pub: non-pretentious, good grub, and beer keg stools. The kitchen is always busy here, the bangers and mash, with homemade gravy, are a particular highlight, or if sausages aren't your thing pair the mash and gravy with a good handmade pie instead and there's even a menu for the little ones so it's perfect for a weekend trip out with the whole family.
Address: 505-507 City Rd, South Melbourne VIC 3205
Phone: +61 (03) 9682 3177
Hours:  Weds-Sun, 12-10pm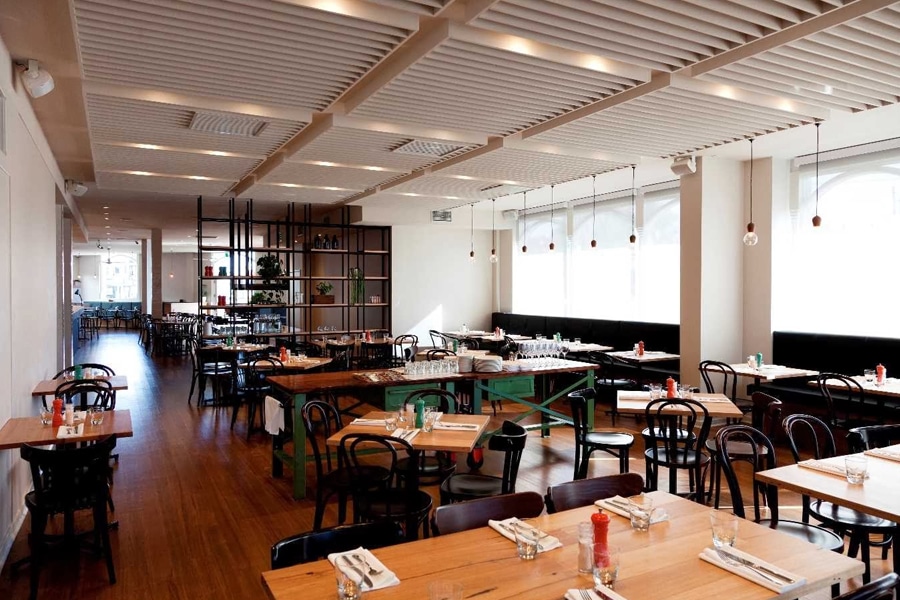 31. Plough Hotel
The Plough Hotel is a fresh, modern-looking pub with amazing high ceilings, exposed light bulbs, and bare wooden tables. It's urban but not too polished, so you can bring your best mate here, or even your sister or your nan! It offers a selection of the most original wines and beers from around the world, so great if you're looking for something a bit different than the usual night out on the cans. And, if Footscray seems a bit far to travel, or you've had one too many and can't drive home, stay the night in their incredible boutique accommodation.
Address: 333 Barkly Street, Footscray VIC 3011
Phone: +61 3 9404 2611
Hours: Mon-Sun 8am-4am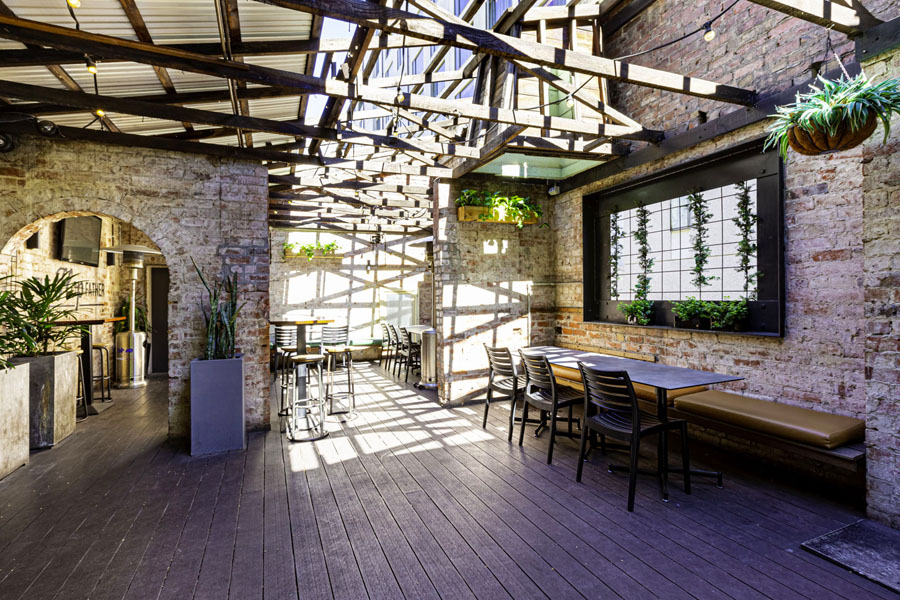 32. The Crafty Squire
Proudly the only working microbrewery and one of the best pubs for sports in Melbourne CBD, the James Squire Brewhouse – The Crafty Squire is perfect for beer lovers. You can get lost in here, there's so many areas, both in and outdoor, making it great for larger groups. Beer is the overarching theme here, and I'd highly recommend trying the tasting paddles; a handpicked selection of 4 of their delicious beers for only $18. And if you haven't had enough beer after all of that, you can even tour the brewery!
Address: 127 Russell Street, Melbourne VIC 3000
Phone: +61 3 9810 0064
Hours: Sun-Wed 11am-2am, Thu 11am-3am, Fri-Sat 11am-5am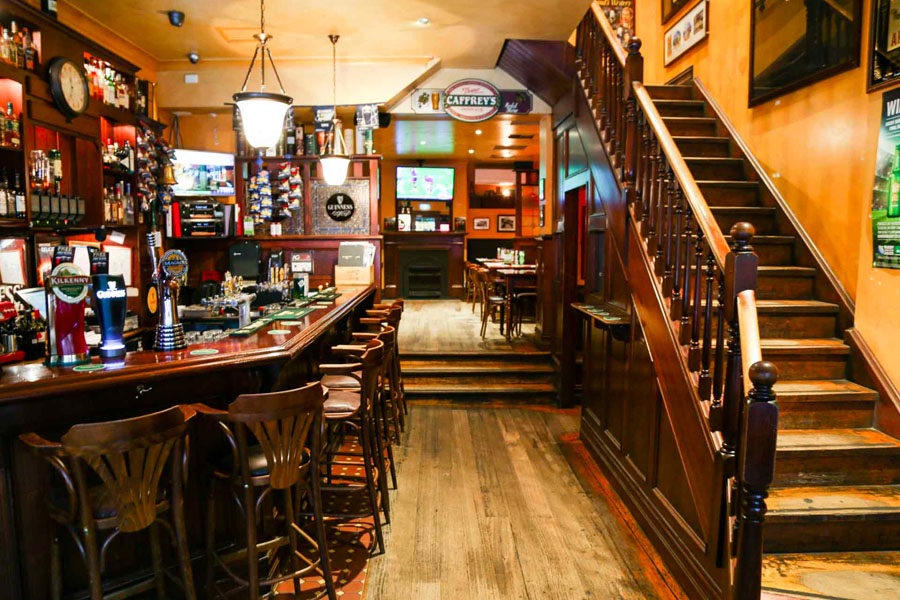 33. The Irish Times Pub
We all know the Irish know how to drink. And hand in hand is their ability to establish homely, high-spirited pubs that guarantee a great evening out. The Irish Times Pub loves things live and loud, and there's always sports on the big screens. Traditional Irish pub grub is the flavour of the day here, expect big and hearty dishes such as Beef and Guinness pies and chips and curry sauce. So grab the boys, and head down after work for a pint o' Guinness and a 't'riffic' pub feed.
Address: 427 Little Collins Street, Melbourne VIC 3000
Phone: +61 3 9642 1699
Hours: Mon-Thu 12pm-1am, Fri-Sat 12pm-3am, Sun 12pm-11pm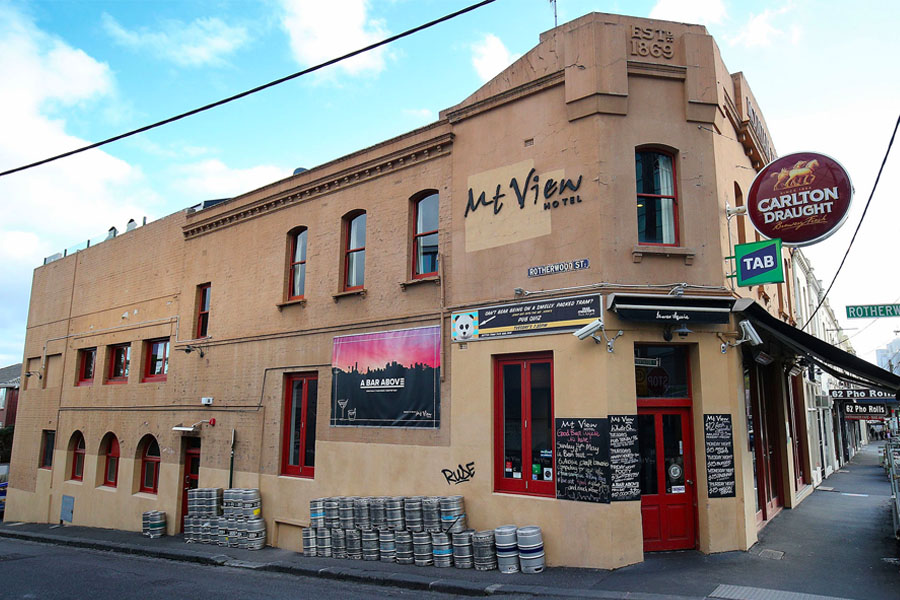 34. Mt. View Hotel
Best known for its rooftop with unparalleled 360 degree views of our amazing Melbourne skyline, this award-winning Richmond pub seamlessly combines a classic sports bar vibe with some fancy cocktail offerings, making it one of the best pubs in Melbourne, no matter what your crowd. Right around the corner from the iconic MCG, this is a great place to have a tipple before the (downhill – phew!) walk to the stadium to watch one of Melbourne's epic sporting events.
Address: 68-70 Bridge Road, Richmond VIC 3121
Phone: +61 3 9428 3973
Hours: Sun-Thu 12pm-11pm, Fri-Sat 12pm-1am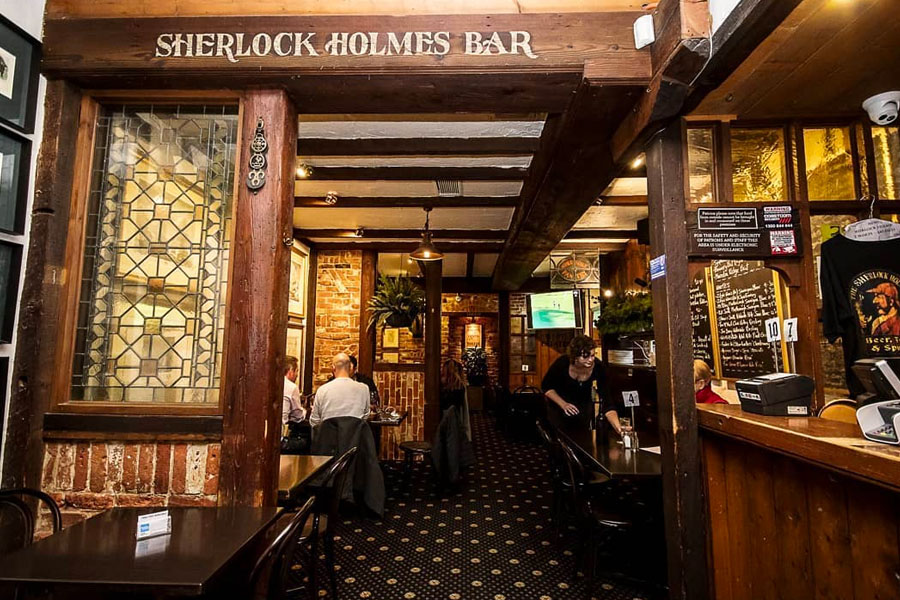 35. The Sherlock Holmes Inn
A hidden gem in the heart of Melbourne's busy CBD, The Sherlock Holmes has over 30 years of rich history. Full of character, complete with low ceilings and hearty pub grub, this pub transports you from Melbourne to London in the blink of an eye. A must-visit for anyone who likes old-English style pubs, cozy nooks, and a bloody good old time. A good night out is guaranteed. It's elementary, my dear Watson.
Address: Basement 415 Collins Street, Melbourne VIC 3000
Phone: +61 3 9629 1146
Hours: Mon-Fri 11:30am-12am, Sat 12pm-12am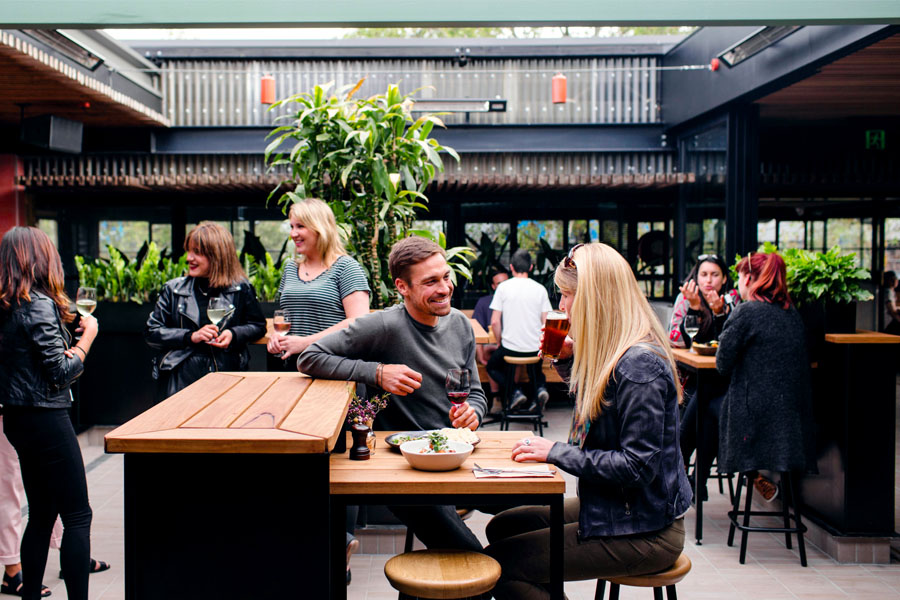 36. The Corner Hotel
Best known for its gigs from international and local acts, The Corner Hotel hosts an 800 capacity band room. Smack bang next to Richmond train station, it has always been a popular watering hole for locals, the beer list features heavily lots of local Richmond breweries (also a short walk away if beer is your thing!) But perhaps the most impressive on the drinks menu is the mad, scientist-level cocktails. Go for the 'Popular'; dark rum, bitters, and popcorn syrup. This is the only stop you'll ever need for a great night out.
Address: 57 Swan St, Richmond VIC 3121
Phone: +61 (03) 9427 7300
Hours: Weds-Thurs 5pm-1am, Fri-Sat 12pm-3am, Sun 12pm-1am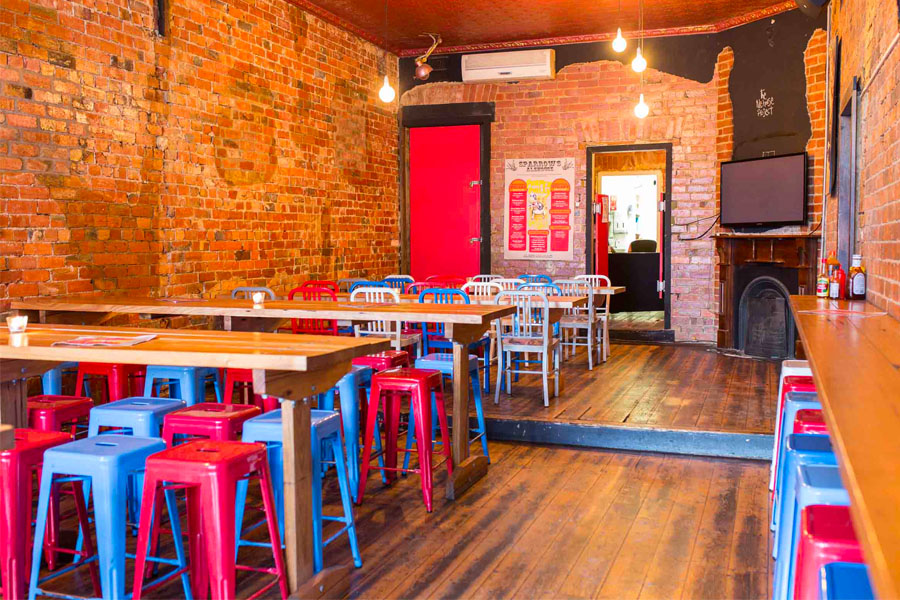 37. The Alehouse Project
Affectionately referred to by locals as the Beer Geekery, The Alehouse Project showcases all that is great about craft beers. With 12 continuously rotating taps of microbrewery beers and ciders, as well as boutique spirits and wines and delicious burgers and share plates – this is the perfect place for those brewery aficionados who want to mull things over some sort of fruity grapefruit fusion lager.
Address: 98-100 Lygon Street, Brunswick East VIC 3057
Phone: +61 3 9387 1218
Hours: Mon-Thu 3pm-11pm, Fri 3pm-1am, Sat 12pm-1am, Sun 12pm-10pm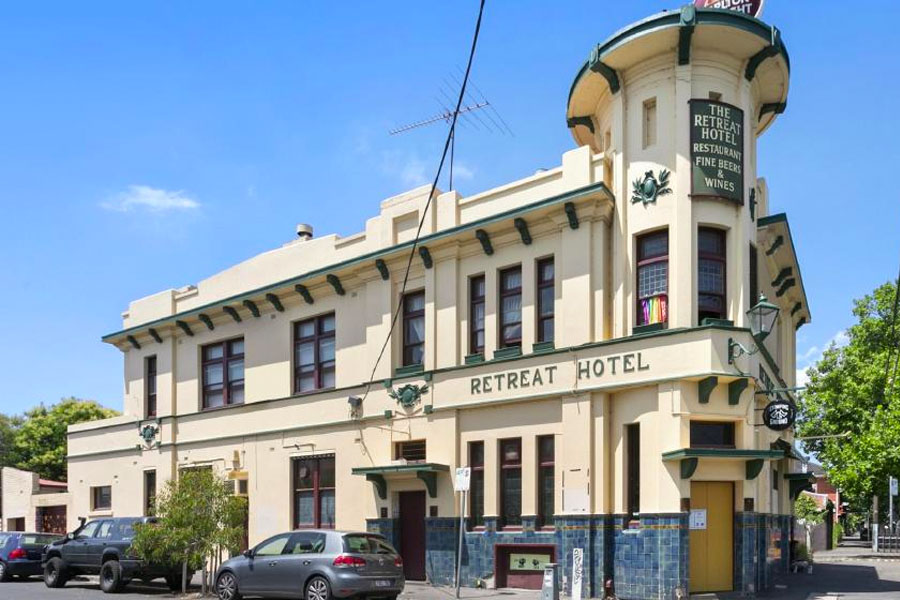 38. Retreat Hotel, Abbotsford
Tucked away in leafy Abbotsford, The Retreat boasts an incredibly unique Victorian-style pub design, and you will marvel at the impressive original chandeliers and stained glass doors. This is the northside sister hotel to The Palace Hotel in South Melbourne so expect quality food and booze, without the pretence. Fun for all ages with 80s style memorabilia lining the walls, a full-size pool table, and even an old school pinball machine to boot!
Address: 226 Nicholson St, Abbotsford VIC 3067
Phone: +61 (03) 9417 0110
Hours: Weds-Thurs 5-10pm, Fri-Sun 12-10pm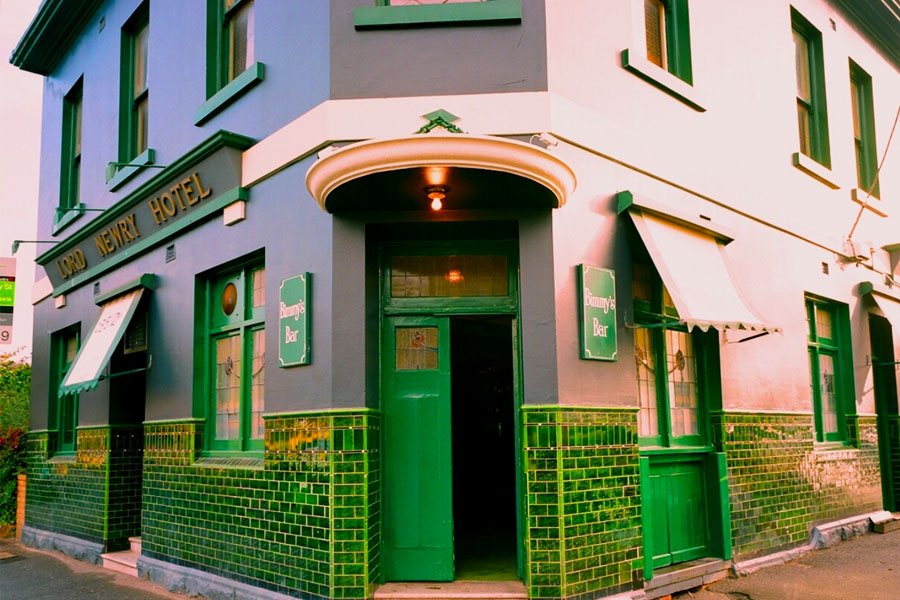 39. The Lord Newry Hotel
A little bit off the beaten track, but the best place to go after a game of barefoot bowls at Fitzroy Bowls club, The Lord Newry, is a popular local gem. With a pool table and mini arcade game tables, in a separate room to the main bar, this is a cool, kooky pub for an after-work pint or an evening sesh. And with the outdoor seating area, hitting the sun in the mid-afternoon, what better excuse for a pint on a sunny Melbourne day,
Address: 543 Brunswick St, Fitzroy North VIC 3068
Phone: +61 (03) 9481 3931
Hours: Mon-Thurs 3-11pm, Fri-Sat 12pm-1am, Sun 12-11pm
You'll also like:
34 Best Rooftop Bars in Melbourne
49 Best Bars in Melbourne For a Good Night Out
15 Best Whisky Bars in Melbourne
General FAQ
How many bars are in Melbourne?
According to the most recent tally, there are 2,840 bars currently operating in Melbourne.
What is the oldest pub in Melbourne?
Technically, The Duke is the oldest pub in Melbourne, as it was built in 1850. However, both The Duke and the Captain Melville have been serving beer since 1853. Then there's the Mitre Tavern, which operates out of a building that was constructed in 1837, though it didn't start serving beer until 1868.
Which Melbourne pub has the best food?
Some of the best pub food in Melbourne can be found at the Woodlands Hotel, Foresters Pub and Dining, the Builders Arms Hotel, The Standard, the Garden State Hotel, the Gasometer Hotel, Green Man's Arms, and The Lincoln.