When is Father's Day in Australia? – Time & Date
If you hail from the Great Down Under, you may very well have logged into social media earlier this year and seen your favourite celebrities celebrating Father's Day. While that probably led to a near-heart attack and the immediate fear you'd let the old boy down, you would have quickly remembered that Father's Day in Australia is actually on a different date. In fact, Father's Day is celebrated on the first Sunday in September in Australia (5 September 2021 this year).. So, with the big day fast approaching and the gift-giving season nearly upon us, it's time to answer the age-old question, why is it completely different?
Father's Day is celebrated on the first Sunday in September in Australia (5 September 2021 this year).
You'll also like:
Father's Day Gift Guide 2020 – The Luxury Lover
Father's Day Gift Guide 2020 – Grooming
Father's Day Gift Guide 2020 – The Fitness Freak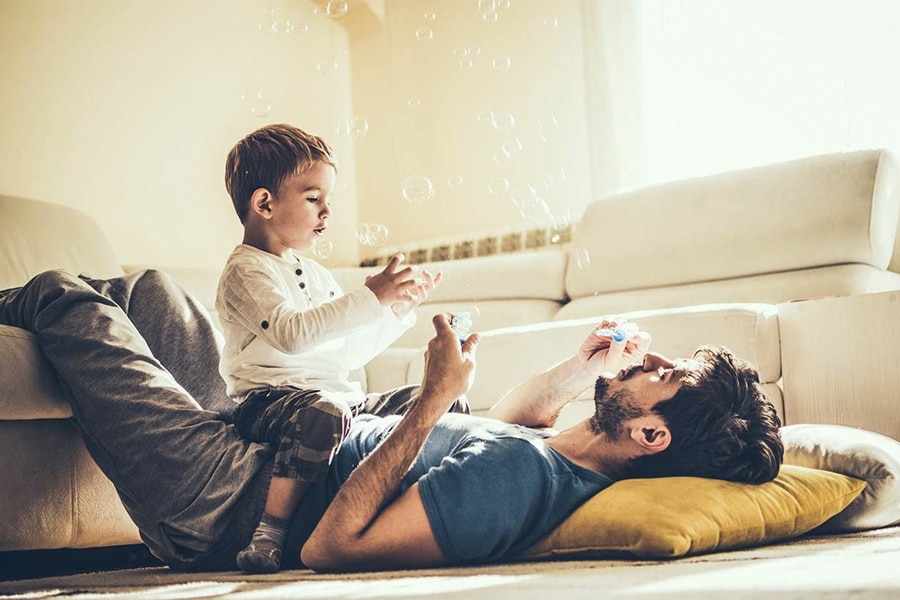 When is Father's Day in Australia?
According to tradition, Father's Day in Australia is celebrated on the first Sunday of September, coincidently, just before the footy finals take place and the nation collectively dusts the cobwebs off the barbeque. This year, the Father's Day Australia edition takes place on September 5, a solid 10 weeks after our US and UK friends.
Fathers Day Dates in Australia 2021-2025
2021 – Sunday, 5th September
2022 – Sunday, 4th September
2023 – Sunday, 3rd September
2024 – Sunday, 1st September
2025 – Sunday, 7th September
That's not always a bad thing though. If you've got a dad in Australia and an in-law overseas, there's a healthy chunk of time there to recoup some funds before you have to splash out again. Even better, once you're past the Australian Father's Day fork out, you can get yourself all geared up for the Christmas shenanigans. But before we dive into the end of year festivities, it pays to know why Father's Day in Australia is different from overseas regions.
Why is Father's Day Different in Australia?
Despite the US taking up the mantle, the Father's Day Australia recognises didn't come until much later. The first recorded appearance of Father's Day in Australia was in 1936 when a newspaper article from The Newcastle Sun labelled it a "new day".
"A new day for the Calendar is "Father's Day," September 6. Mothers' Day has become very popular, and maybe "Father's Day" will also become so, too!" the article read. "The coloured flower for father is poppy-red. A special "Father's Day" meeting for Newcastle has been arranged and will be held Sunday, September 6, in the Newcastle Baptist Tabernacle at 4.30 p.m. The meeting will be open to men of all denominations, and all fathers are requested to invite their sons."
The introduction of the event in September was a stark contrast to the more established US version and a confusing one at that. Just why Father's Day is different in Australia remains somewhat of a mystery. The commonly-held theory is that Newcastle residents heard reports about Father's Day from the US and made the bold decision to adopt the event. However, instead of waiting a full 10 months until June rolled around, the town opted to hold it on the following Sunday, which in turn presented a similar season.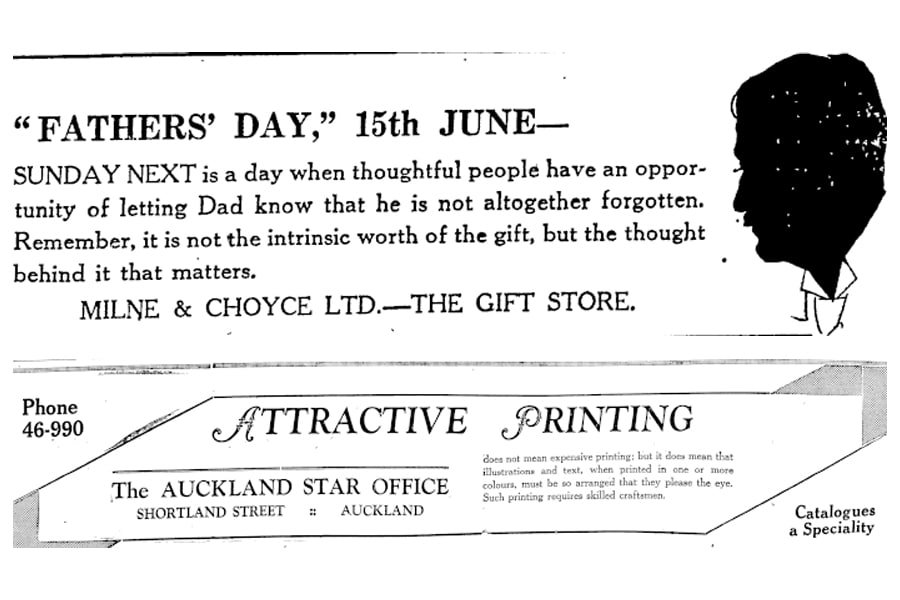 Interestingly enough, the real cause may have been our neighbours to the east. New Zealand has been celebrating Father's Day since 1929, albeit not in September. According to the National Library of New Zealand, Fathers' Day was first observed at St Matthew's Church in Auckland on 14 July 1929, a completely different month altogether. The event then appeared in commercial advertising the following year. By 1931, other churches had adopted the day and in 1935, following Australia's lead, New Zealand moved the day to the beginning of September.
Another contributor factor may have been the follow-up of Mothers' Day. While Australia lines up with the majority of countries by celebrating it on the second Sunday in May, Father's Day differs in that it occurs at the start of Spring. Conveniently, this is also the perfect time to start marketing sporting, camping and fishing items in the lead-up to warmer weather and end of year getaways. Further to that point, the event falls smack-bang in the third quarter of the year, a traditionally treacherous time for retailers. Where the second quarter has Mother's Day, ANZAC Day, Easter and Queen's Birthday, the July, August and September months are fairly scant of sales. While it's unlikely this was a major factor in the original Father's Day Australia date selection, you have to acknowledge it's turned out well for the nation's retail businesses.
History of Father's Day
First and foremost, we need to point out that Australia isn't alone in it's September Father's Day celebrations. In fact, we are one of four countries where the event is observed on the first Sunday in September. The others include Fiji, Papua New Guinea and of course, our unofficial seventh state, New Zealand. Most commonly, Father's Day is commemorated on the third Sunday of June, a tradition that started in the US and now envelopes over 70 countries worldwide.
According to reports, Father's Day is a tradition that dates back to the Middle Ages, as early as 1508. In the Catholic countries of Europe, worshippers gathered to honour fatherhood and paternal bonds, whilst also acknowledging the influence of fathers on society each year. This event was observed as Saint Joseph's Day on March 19 every year, however, it wasn't until 1910 that we started to celebrate Father's Day USA style.
Sonora Smart Dodd, daughter of American Civil War veteran William Jackson Smart suggested an annual event that honoured the work of fathers across the country. Dodd allegedly heard a church sermon about the newly recognised Mother's Day at Central Methodist Episcopal Church, and felt strongly that fatherhood needed recognition. Approaching the Spokane Ministerial Alliance, Dodd suggested her own father's birthday, June 5, as the day of honour. The Alliance wasn't too keen on that idea, however, and chose the third Sunday in June instead, which is close to the June solstice.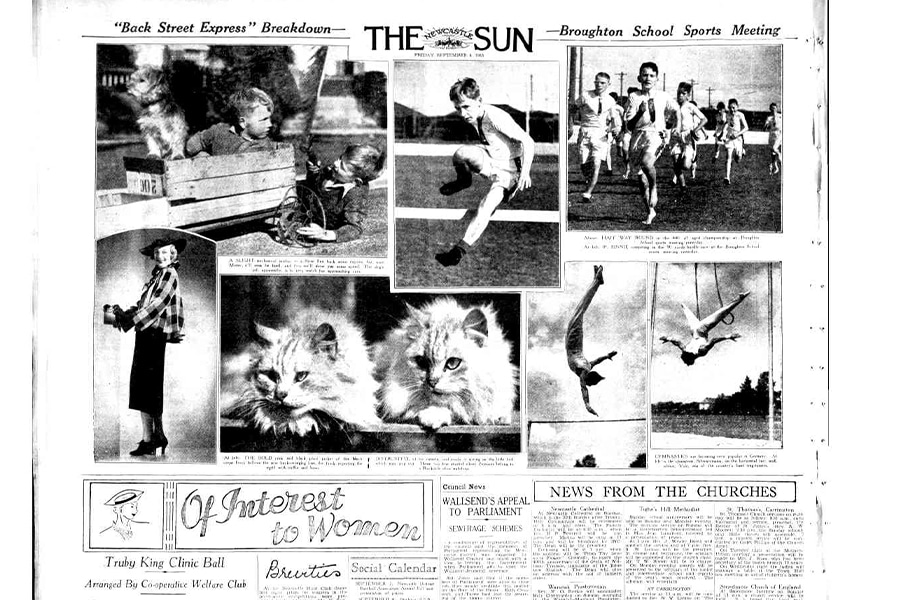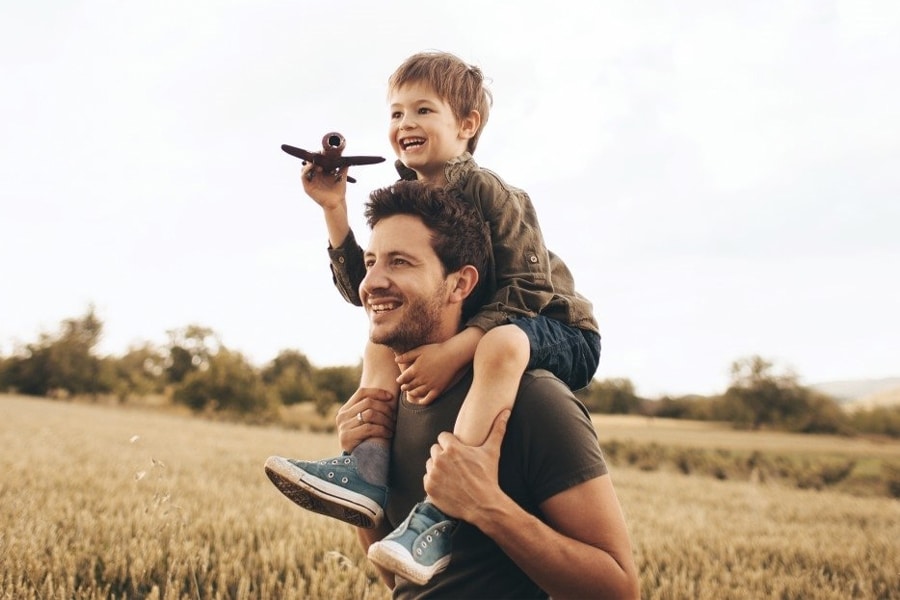 Australian Father's Day Traditions
Since those early Newcastle days, Father's Day in Australia has come a long way. While we don't necessarily have the same established traditions that other countries do, there some things we regularly observe as Father's Day traditions in Australia. These include;
Handcrafted gifts –  In schools, children are often encouraged to create presents for their fathers.
Socks & jocks – Consumer goods companies have established Father's Day as the ideal time to plug small apparel such as socks, underpants, ties and cufflinks.
Gift-giving – Most families present fathers with gifts and cards, and share a meal to show appreciation, much like Mother's Day.
Outdoor activities – A day out in the park, at the movies, at a zoo, or another place of interest.
Father's Day charity activities – Fun runs or purchasing special gifts, to raise money for causes.
Churches – Some families opt to visit places of worship together, like churches, synagogues or mosques.
Barbeques – Like all good Australian events, no Father's Day is complete without a family barbeque.
More rigidly, the YMCA Victoria honours the role fathers and father figures play in parenting through the annual awarding of Local Community Father of the Year in 32 municipalities in Victoria. Additionally, the Father's Day Council of Victoria annually recognises fathers in the Father of the Year Award.
Celebrating Father's Day in Australia isn't exactly the biggest event of the year, however, it does play an important role in the yearly calendar. If you really want to support the good work Australia's fathers do, take some time out to honour the men in your life, just make sure you get the date right. Hopefully, you'll never have to ask 'when is father's day in Australia?' ever again.
You'll also like:
Father's Day Gift Guide 2020 – The Luxury Lover
Father's Day Gift Guide 2020 – Grooming
Father's Day Gift Guide 2020 – The Fitness Freak
General FAQs
When is Father's Day in Australia?
Father's Day in Australia is celebrated on the first Sunday of September. This differs from the US and UK versions of the date. In 2021, Father's Day in Australia occurs on September 5.
Is Father's Day a public holiday?
No, Father's Day is not a public holiday as it occurs on a Sunday. Regular trade continues throughout the day.
Why do Australia and NZ have different dates for Father's Day to the US and UK?
There's no succinct and confirmed reason as to why Father's Day in Australia is different from the US and UL, however, the common theory is that when the Australians decided to adopt it, they chose not to wait a year to celebrate. Instead, the day was simply inserted in later in the calendar, and in a similar season.
What should I get my dad for Father's Day?
The old socks, jocks and chocolates is a sure-fire answer to the 'what to give dad for Father's Day' dilemma, but there are more options than that. A nice bottle of wine, a new watch, outfit or experience could be a worthwhile addition. Think about what he actually wants and what his interests are.