21 Cool Restaurants in Melbourne
When it comes to fun restaurants Melbourne has you got you covered. If you're looking for cool restaurants Melbourne is essentially a cluster of trendy establishments catering to every eye and palate. You've got your high tea hotspots and your steak sensations, but sometimes you just want an outright cool venue at which to enjoy a delicious meal and refreshing beverage while soaking up the eclectic atmosphere. From novel, daily-changing menus to Aussie-themed degustations to exquisite Japanese meals with a knife show, there is an incredible array of fun restaurants in Melbourne to add some pizzazz to date night or catch ups with the boys.
If you're the type of person who seeks out unique restaurants Melbourne has got your back. Reinvigorate your love of Melbourne's dining scene with this list of 21 cool restaurants in Melbourne.
You'll also like:
15 Best Japanese Restaurants in Melbourne
12 Best Watch Stores in Melbourne
10 Best Whisky Bars in Melbourne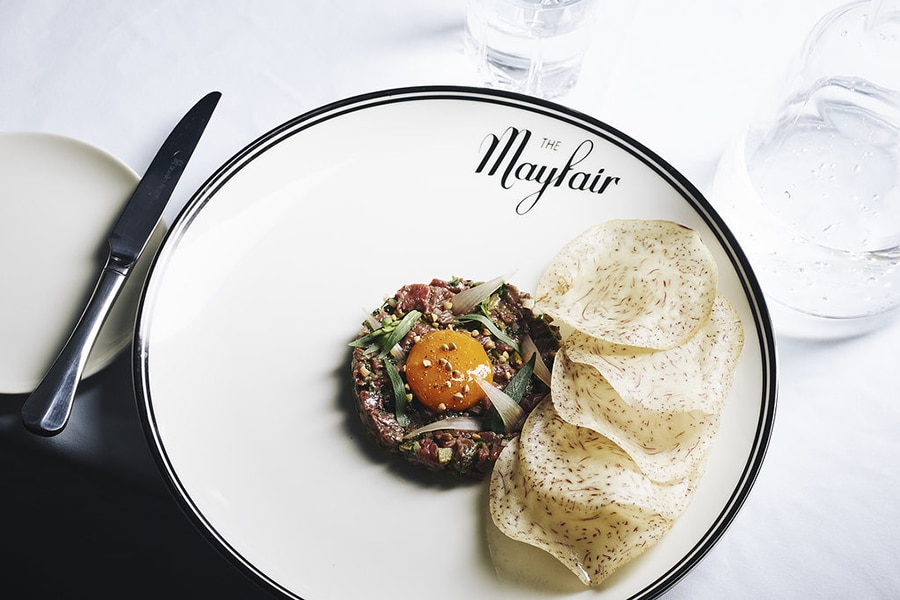 1. The Mayfair
Take a trip back in time to leather booths, glass decanters and authentic champagne with one of the best restaurants in Melbourne – the opulent brasserie, The Mayfair.  This charming dining room and cocktail bar has a French-leaning menu filled with caviar, steak tartare, smoked egg yolk and a whole suite of other decadent yet affordable delicacies.
Sofitel Forecourt, 45 Collins Street, Melbourne VIC 3000
2. Attica
For an adventurous Aussie degustation ticking all the boxes, you simply can't go past Attica. The twenty-course tasting menu at this trendy Melbourne restaurant features vegemite pie, a wallaby blood pikelet, giant emu eggs and of course kangaroo. Attica frequently appears in lists of the world's 50 best restaurants, so you know you'll get world class cuisine and service with the top locally sourced and appreciated fodder.
74 Glen Eira Road, Ripponlea VIC 3185
3. Captain Moonlite
With a Mediterranean-influenced menu, stunning seaside location and relaxed beach atmosphere, Captain Moonlite can do no wrong. Located just outside of Melbourne, the grilled saganaki and figs, range of local Victorian beverages and expansive views of Anglesea beach are undoubtedly worth the short drive. For Melbourne's coolest restaurants, you can't look past Captain Moonlite.
100 Great Ocean Road, Anglesea VIC 3230
4. Kisumé
Kisumé isn't just a trendy restaurant in Melbourne, it's an experience. Situated on Flinders Lane, discover three levels of art, design and dining. Take advantage of a bespoke menu, phenomenal sushi and Japanese specialities, while marvelling at the work of famed photographers Nobuyoshi Araki and Polly Borland.
175 Flinders Lane, Melbourne VIC 3000
5. Longsong
Longsong seamlessly combines historic ambience with modern features and cuisine. Inside the spacious 118 year old warehouse you will find kegs of locally distilled spirits (currently vermouth, gin, vodka and moonshine) as well as just one piece of cooking equipment – a woodfire grill. The constantly evolving menu at this cool Melbourne restaurant features meats and seafood on skewers and other fresh pan-asian dishes.
40-44 little Bourke Street, Melbourne VIC 3000
6. Embla
What may appear from the outside as a simple inner-city wine bar is actually a rare and rustic establishment filled with mouth-watering dishes, a buzzing atmosphere and unparalleled wine list. Embla describes their wine as 'slightly weird' as they focus more on what the wine tastes like and where it's from rather than the name. Let their knowledgable staff guide you on an evening of exciting experimentation at one of the most awesome places to eat in Melbourne.
122 Russell Street, Melbourne VIC 3000
7. Tonka
If the combination of Tandoor ovens and Tandoor-trained experts from one of Melbourne's coolest restaurants doesn't get your tastebuds tingling in anticipation, perhaps a few of Tonka's menu highlights will: lamb curry with roasted coconut, vindaloo steak tartare, spicy Kashmiri pork tikka. Add in a comprehensive wine and cocktail list celebrating the world of Indian spice and your salivary glands don't stand a chance.
20 Duckboard Place, Melbourne VIC 3000
8. Juliet
This moody underground vino basement is the ideal spot for a few adventurous drinks and delicious nibbles, easily making it one of the best restaurants in Melbourne. Juliet opens just four whites and reds each night and take a twist on your standard cocktails with a Tequila old fashioned and a cider sangria. Expect many more hidden surprises such as spiced mince stuffed into the olives and regular raclette and jazz nights to give you a full sensory overload.
37-41 Little Bourke Street, Melbourne VIC 3000
9. Atlas Dining
In 2017, Atlas Dining appeared in many a list of the top new trendy restaurants in Melbourne. In 2018 it's already a bona fide Melbourne establishment. Owner and head chef, Charlie Carrington, has vowed to explore the cuisine of a different country he has visited every four months, adding locally sourced ingredients and touching them with fire to create one of the closest things to magic you can experience on a night out in Melbourne.
133 Commercial Road, South Yarra VIC 3141
10. Mamasita
If the sound of the name on your tongue is anything to go by, Mamasita promises to be one of the most fun restaurants in Melbourne. Mamasita claim partial responsibility for the Mexican craze sweeping the nation, and with regular hour-long waits for seats at this innovative and authentic Mexican restaurant, they may have a point. The space is quaint and quirky, the spirits are artisan and refreshing and the food is mouth-watering and constantly evolving.
Level 1/11 Collins Street, Melbourne VIC 3000
11. Cutler & Co
Located in an old metal works factory in Fitzroy, Cutler & Co exudes elegance and minimalism. Whether you want to sit at the stand-alone bar for a drink and snack or take the whole evening for a degustation style menu that changes daily, Andrew McConnell's venue easily makes the list of cool places to eat in Melbourne.
55-57 Gertrude Street, Fitzroy VIC 3065
12. Etta
Etta define their menu as Australian with influence from Greek, Italian, Middle Eastern and Asian cuisine. Suffice to know that it's varied and delectable. It's a small neighbourhood bistro in East Brunswick with a homely atmosphere and friendly staff that want to give you the most memorable dining experience at one of the top cool restaurants in Melbourne.
60 Lygon Street, Brunswick East VIC 3057
13. Osteria Ilaria
Succulent seafood, mouth-watering gnocchi, perfectly grilled zucchini and smoked beetroot is just the start of what you will be treated with at Melbourne restaurant Osteria Ilaria. If narrowing down options on this Italian menu and international wine list is not your strong point, simply opt for the chef's selection to get the best of the crop.
367 Little Bourke Street, Melbourne VIC 3000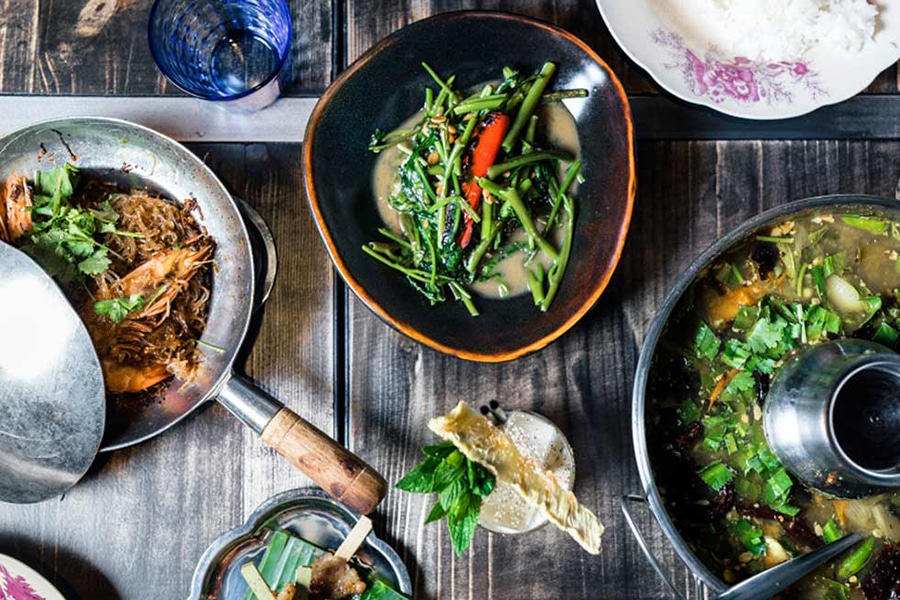 14. Long Chim
If one of Melbourne's coolest restaurants were to embody Melbourne's famed graffiti laneways, Long Chim would be the result. Long Chim is a thai word meaning 'to come and taste' which is a very fitting recommendation. If you think you've already experienced every thai dish, flavour or cocktail, think again.
8 Whiteman Street, Southbank VIC 3006
15. Cookie
Cookie's reputation as one of the best restaurants in Melbourne's is not an easy identifier to claim. The blend of Australian and Thai flavours, fantastic signature cocktails and buzzing Melbourne vibe in the restaurant and beer hall create an irresistible night out of spirited indulgence.
Level 1, Curtin House, 252 Swanston Street VIC 3000
16. Ramblr
Can't decide what sort of food you're craving or which of the fun restaurants in Melbourne will sate said cravings? Ramblr has a comprehensive range of scrumptious treats ranging from a salt and pepper bug sandwich to Chinese bolognese to 28 day dry aged Tomahawk with chilli Sichuan escargot. Enjoy these delicacies in a chic, buzzing interior and pair it with some interesting drops.
363 Chapel Street, South Yarra VIC 3141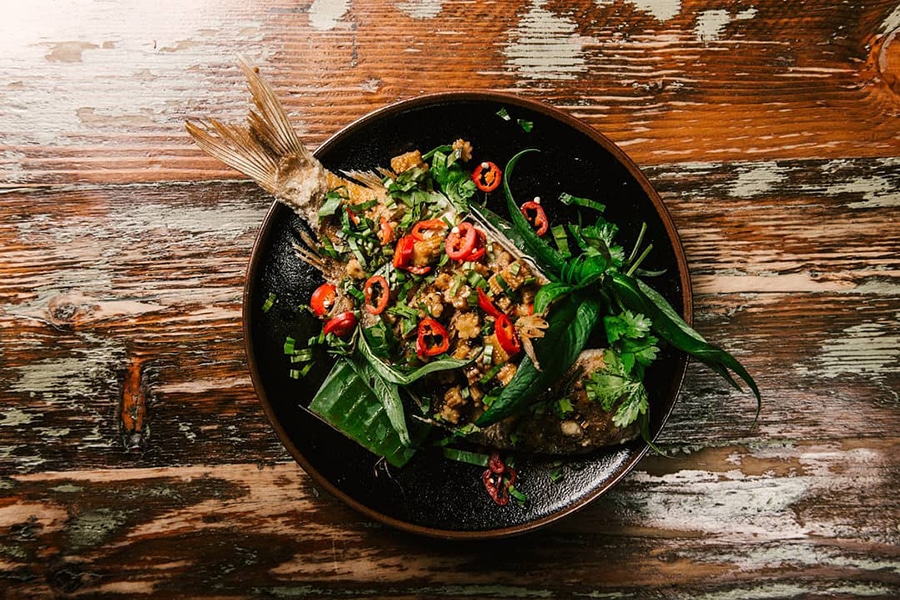 17. Rice Paper Scissors
The great thing about having two locations is that you are more likely to nab a spot at this bustling hawker style eatery. At Rice Paper Scissors share not only exquisite South-East Asian chow with your loved ones, but also a guaranteed evening of fun and frivolity.
19 Liverpool Street, Melbourne VIC 3000
307 Brunswick Street, Fitzroy VIC 3065
18. Minamishima
Omakase is an increasingly rare culinary art form that will dazzle the eyes and gratify the stomach. Sushi master Koichi Minamishima has 25 years of experience in this mesmerising display of knife skills meaning that at Minamishima you will be treated to dinner and a show. As far Melbourne's coolest restaurants go, it doesn't get much more novel than that.
4 lord Street, Richmond VIC 3121
19. Ides
When a pop up restaurant becomes a permanent institution, you know it must be doing something right. And we think chef Peter Gunn's restaurant is much more than just alright – in fact, one of the best restaurants in Melbourne. The mere photos of their cucumber boat, salmon caviar and mandarin, honeycomb and clove black box get the salivary glands working overtime. Don't just treat your eyes, test out this superb nosh for yourself.
92 Smith Street, Collingwood VIC 3066
20. Ricky and Pinky
No list of cool restaurants in Melbourne would be complete without the Chinese restaurant hidden within the iconic Builders Arms Hotel, Ricky and Pinky. Owner/head chef Andrew McConnell lived in Hong Kong and Shanghai for five years, so you know he has the subtleties of Sichuan and Cantonese cooking down pat. Feel the feng shui of this glistening 1970s style grubbery for yourself.
211 Gertrude Street, Fitzroy VIC 3065
21. Grossi Florentino
Grossi Florentino has the perfect formula for a exceptional evening (or daytime) of dining: genuine hospitality, top-quality raw produce and lesser known Italian wine varieties. No list of cool places to eat in Melbourne would be complete without it. The cellar bar, grill and Florentino have graced Melbournians with it's luxurious style and authentic Italian cooking for nearly a century, meaning it is rooted in tradition but also committed to contemporary, sustainable practices.
80 Bourke Street, Melbourne VIC 3000
General FAQ
What's a must-eat in Melbourne?
The cucumber boat, salmon caviar and mandarin, honeycomb and clove black box at Ides restaurant.
Have you subscribed to Man of Many? You can also follow us on Facebook, Twitter, and Instagram.
You'll also like:
15 Best Japanese Restaurants in Melbourne
12 Best Watch Stores in Melbourne
10 Best Whisky Bars in Melbourne