18 Best Fish & Chip Shops in Sydney
Originating from England, the iconic fish and chip shop—often affectionately known as the "chippy"—has become a staple in Sydney neighbourhoods. Its classic pairing is as harmonious as bread and butter, consistently delivering a culinary experience greater than the sum of its individual components. Sydney offers a diverse range of options for fish and chip enthusiasts, from upscale establishments to vegan-friendly menus and local gems that have earned their spot on our curated best-of list. Rather than settling for a quick Google search of "best fish and chips near me," elevate your dining experience by exploring our comprehensive guide to Sydney's top fish and chip shops. Whether you prefer your fish fried or crumbed, accompanied by tartar or tomato sauce, or if you're just here for the chips, our list features options for both dine-in and takeaway. So, without further ado, let's dive into our handpicked selection of the best fish and chip shops in Sydney.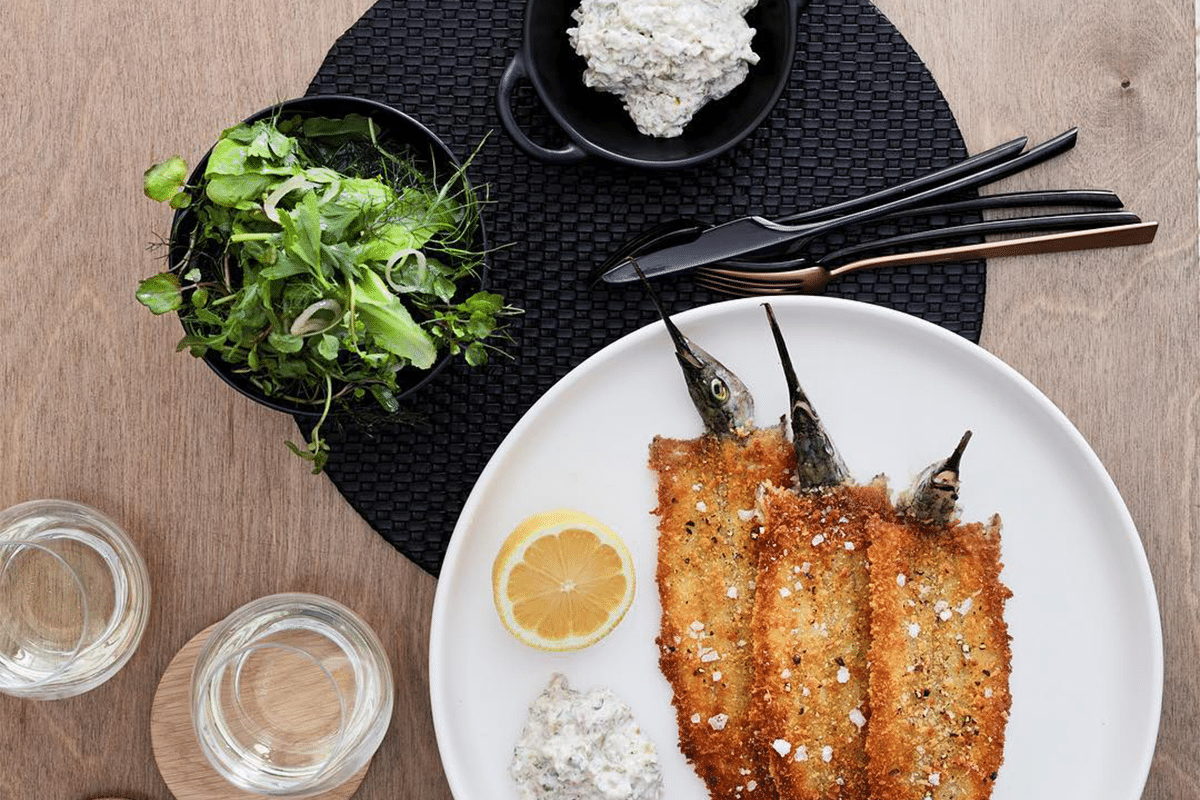 1. Saint Peter
There is no doubt or coincidence that this sustainable Sydney fish restaurant has named itself after the Christian patron saint of Fishermen. More evidently, patrons can expect heavenly meals from Saint Peter, an upscale restaurant that offers a wider selection than just fish and chips. A winner of countless awards including, GQ Chef of the year and 2 hats from Good Food, this is no ordinary fish and chip shop. However, you can still get a classic chippy meal here from a menu that changes depending on what is the best available every day.
Address: 362 Oxford Street, Paddington NSW 2021
Hours: Wed 6-9pm, Thur-Sat 12-2pm & 6-9pm
Phone: (02) 8937 2530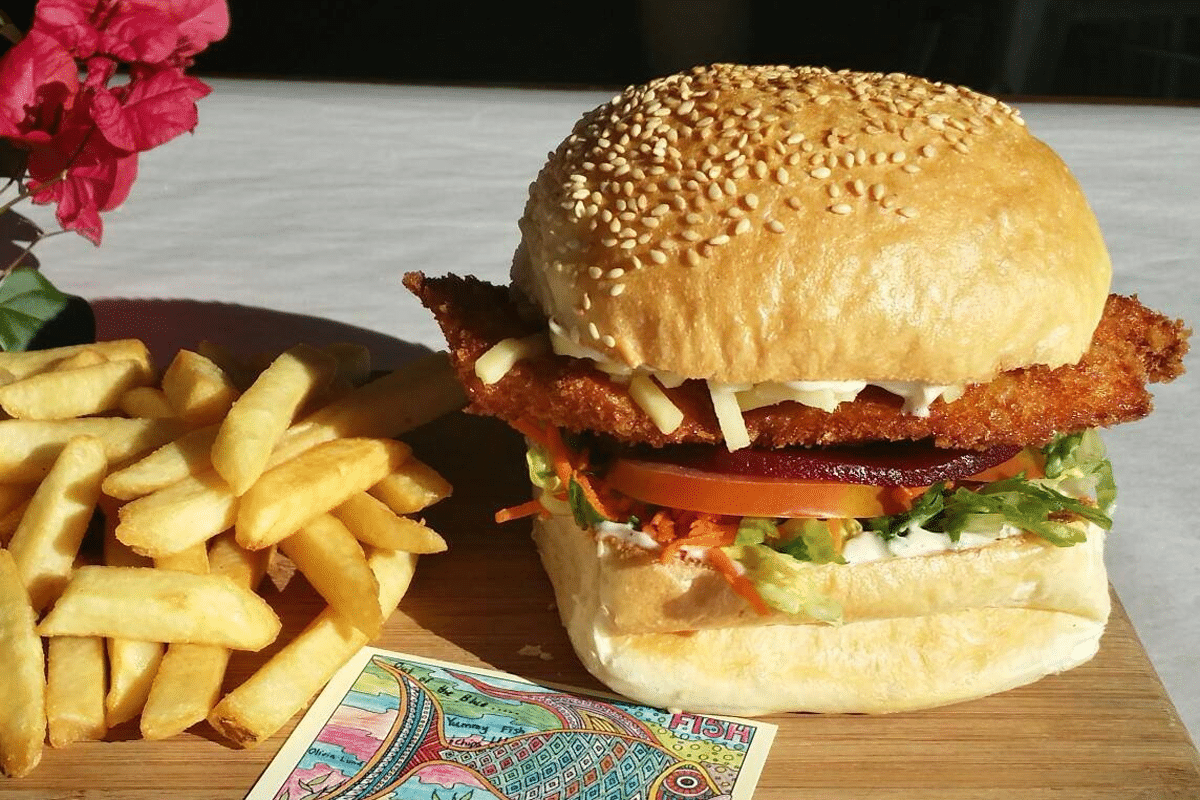 2. Out Of The Blue Clovelly
OTB is a family business founded by Jean Marc and Sophie Gubian. From day one, they've had the support of the locals and over the years their popularity has grown as each summer more and more people seem to discover the delicious burgers. Fresh daily baked bread and quality sourced ingredients mean amazing burgers are not far away.
Address: 2/272 Clovelly Rd, Coogee NSW 2034
Hours: Wed-Sun 11:30am-8pm
Phone: (02) 9315 8380
You'll also like:
19 Cool Restaurants in Sydney for a Fun Night Out
31 Best Bars in Sydney for a Fun Themed Night Out
16 Best Ribs in Sydney
---
Featured Video from Man of Many
---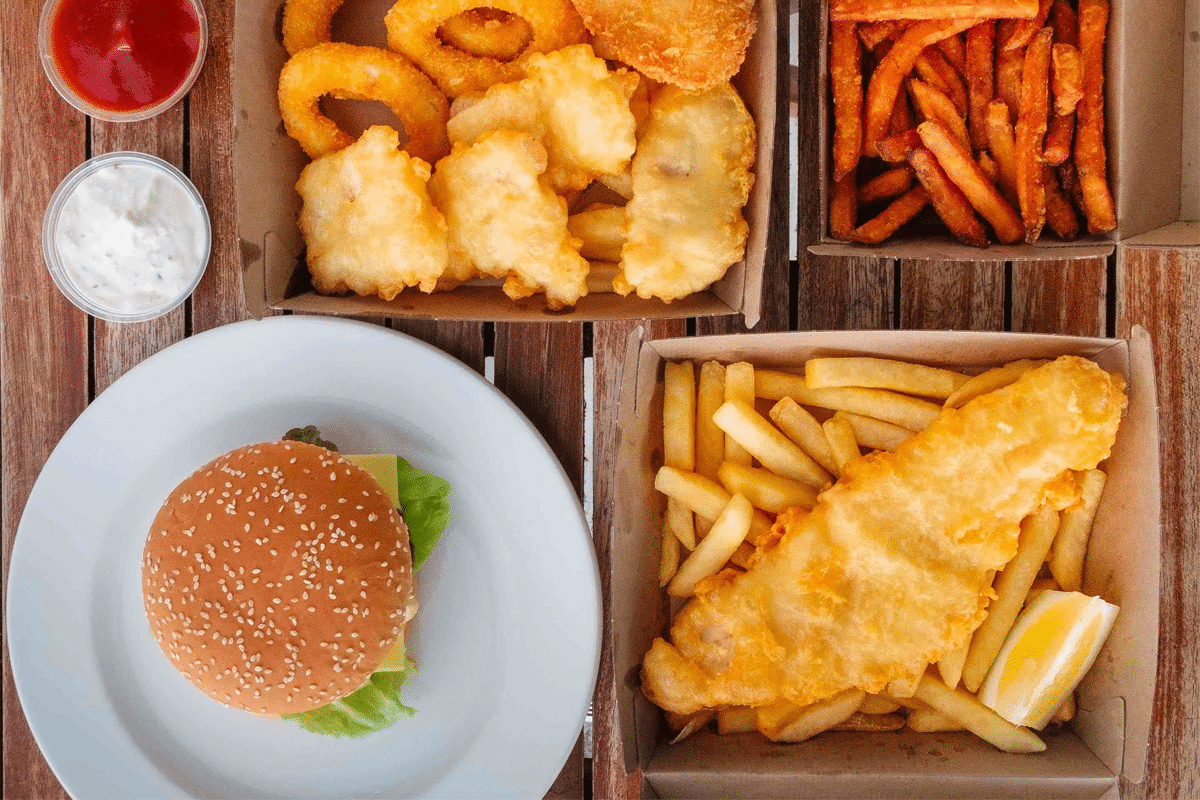 3. Kiwi Fish Shop Rosebery
Starting our list off with a Sydney-wide favourite, Kiwi Style Fish and Chips blends both premium ingredients with experienced chefs. Every order is cooked to perfection from scratch ensuring that you receive a sublime culinary fusion that has earned this institution legendary status every time. Our recommendations are for either the Seafood Parcel, Grilled Fish, or Kumara Chips. We are certain once you've eaten here you will be saying "CHUR bro" before you know it.
Address: 895 Botany Rd, Mascot NSW 2020
Phone: (02) 9667 2499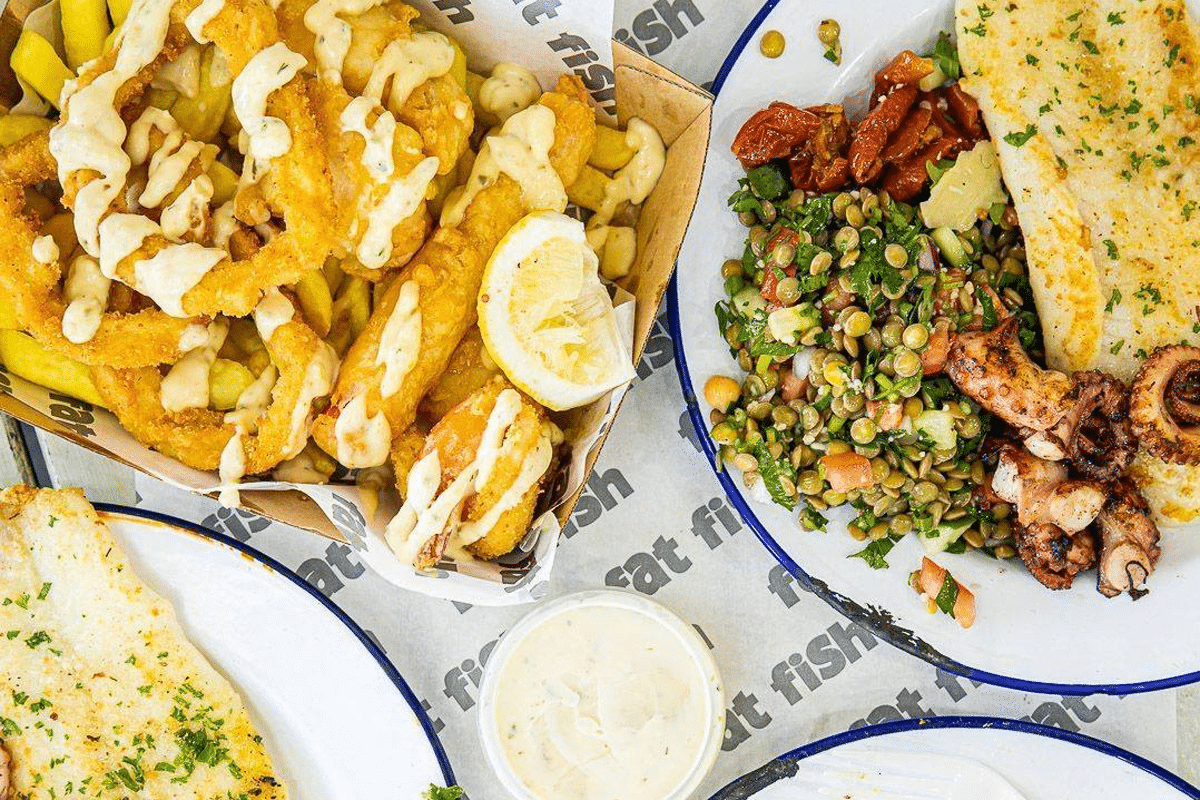 4. Fat Fish
Brothers Manny and Jon Notaras are the faces behind Fat Fish, a Sydney fish-and-chip shop dynasty stretching back 100 years. With such experience and love, you end up with one of the best fried and crispy seafood combos in Sydney. And then you start visiting on a weekly basis. And then on the daily. And before you know it, you're a friend of Fat Fish for life!
Address: 109 Johnston St, Annandale NSW 2038
Hours: Tues-Sun 8:30am-8:30pm
Phone: (02) 9660 3474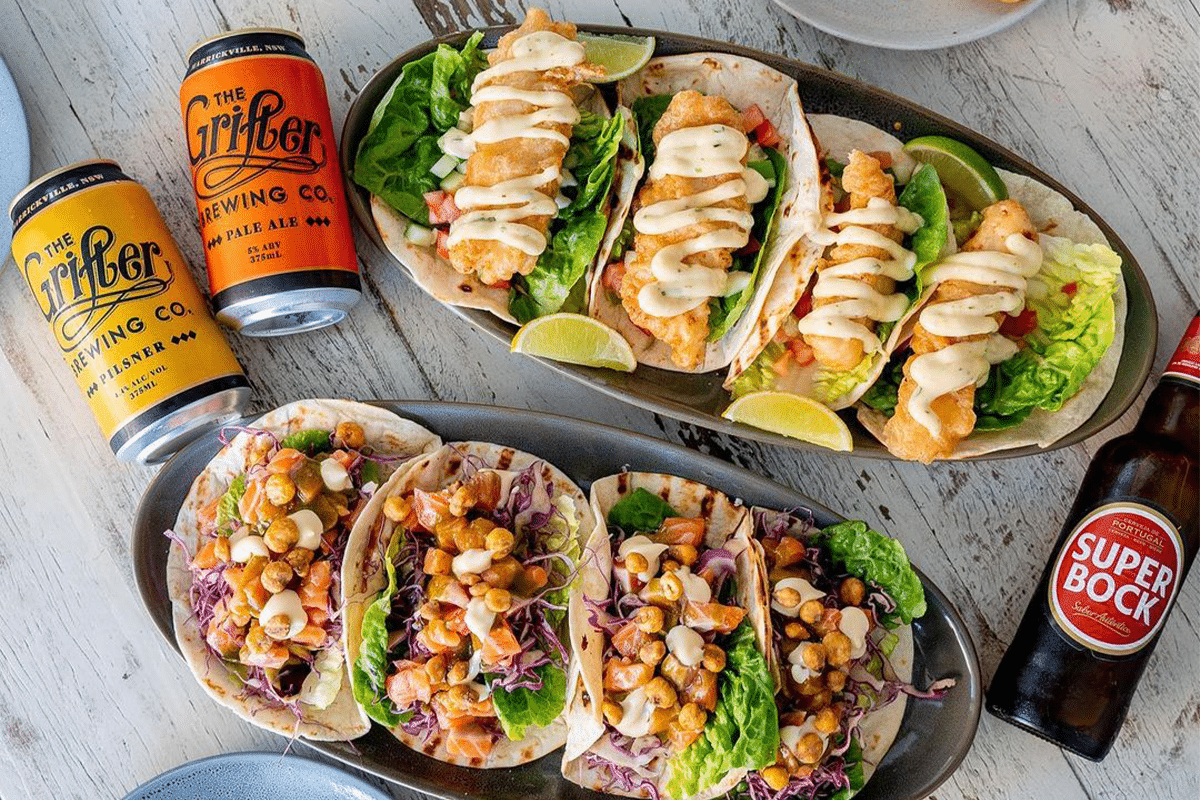 5. Fich At Petersham
Fich is your neighbourhood seafood restaurant, proudly serving thoughtfully sourced seafood to be taken home or enjoyed in our beautiful dining room in the heart of Petersham. For a long time, you simply couldn't get quality alternatives to the traditional battered and fried fish. That is until Fich came along. The brainchild of two ex-Bennelong chefs there's everything from kingfish, coconut, cucumber and pomelo schnitzels to crumbed bacalhau burger (dried and salted cod).
Address: 3/98-106 Audley St, Petersham NSW 2049
Hours: Mon-Sun 11:30am-9pm
Phone: (02) 9572 7887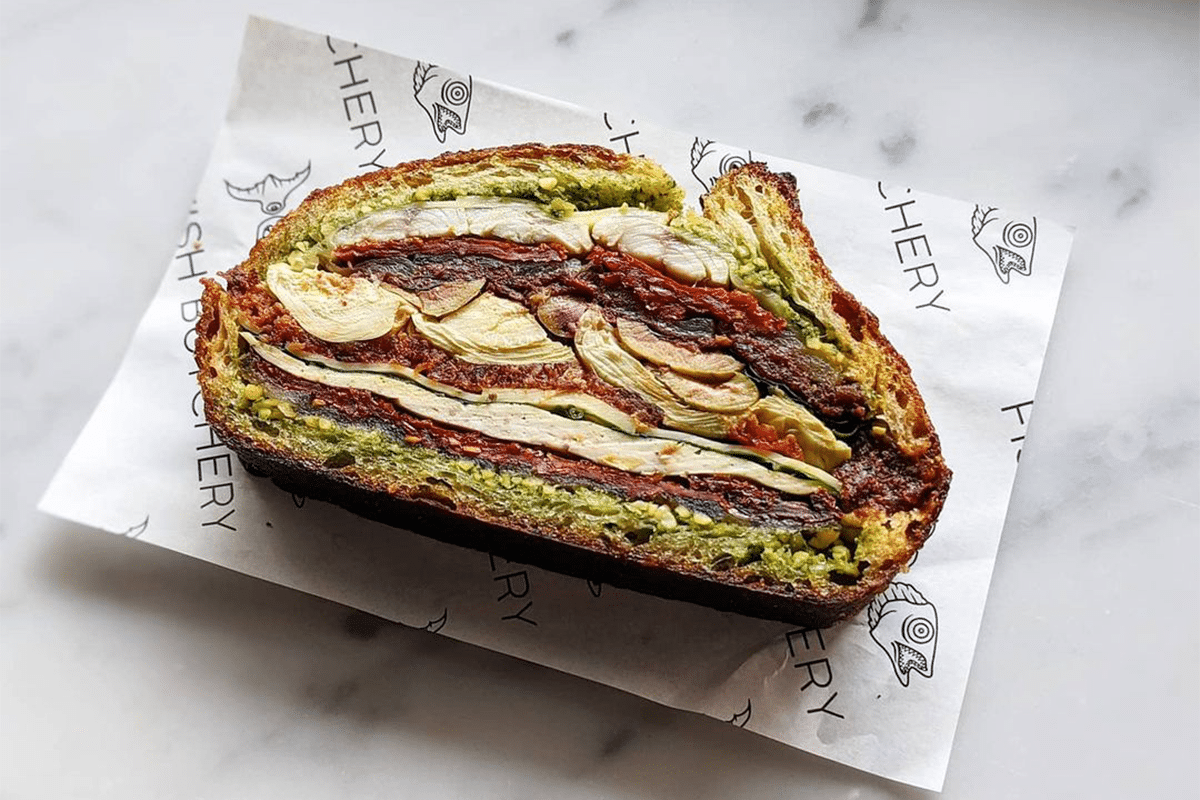 6. Fish Butchery
The Fish Butchery is just that, a fish shop that doubles as a butcher. They offer a number of services alongside their takeaway menu. From storage, scaling, gutting and general quality control, they also curate a takeaway menu that includes only the highest quality items. Working directly with local fisherman. Must-try include the charcoal grilled Shoalhaven red gurnard and the salt and vinegar onion rings.
Address: 388 Oxford St, Paddington NSW 2021
Hours: Tues & Sun 10am-6pm, Wed-Sat 10am-7pm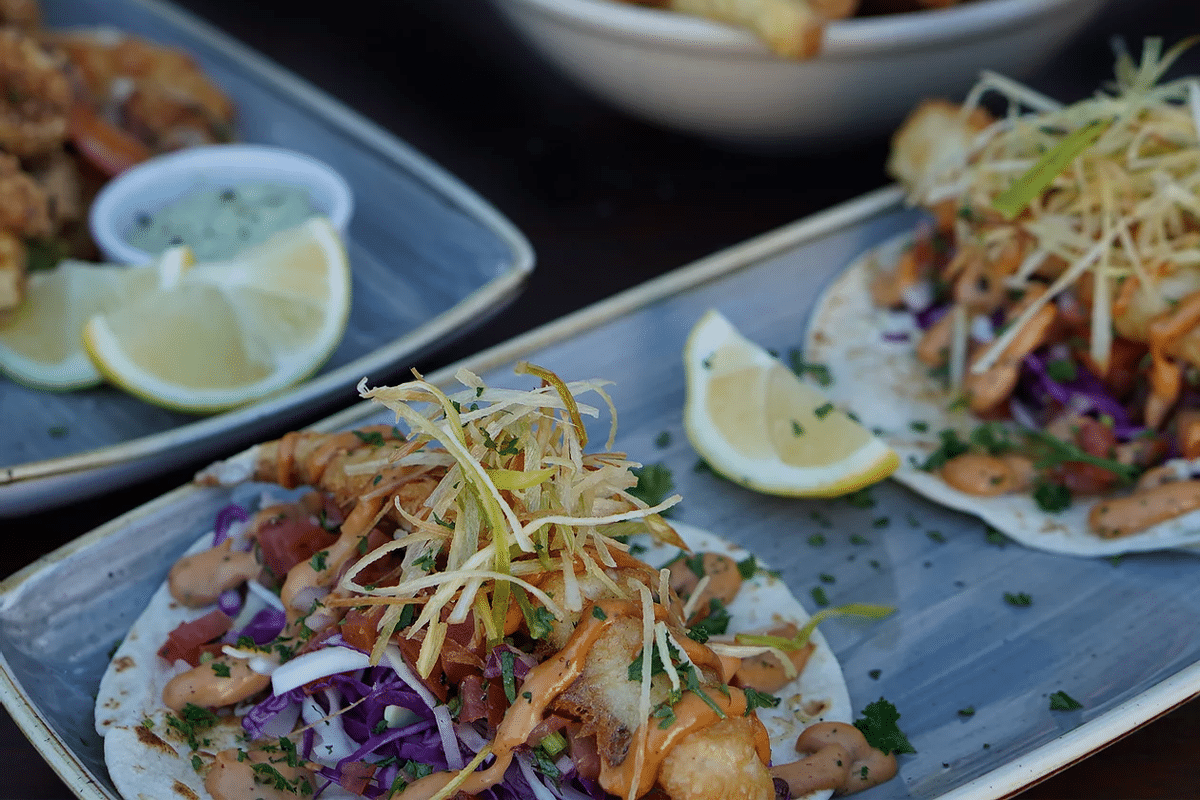 7. Fishmongers Bondi
The Fishmongers of Bondi Beach is a place that is bound to surprise you. Tucked away in a little café-like shopfront, the meals outputted by the restaurant are plentiful and delicious, to say the least. Its cooking staff prides itself on their signature deep-fried kumera (sweet potato) and tempura batter; one that would impress the best Japanese chefs. Also, their in-house crumbed calamari is another must-try for anyone visiting Bondi.
Address: Shop 4, 11-27 Wentworth Street, Manly NSW 2095
Hours: Mon-Sun 12pm-9pm
Phone: (02) 9977 1777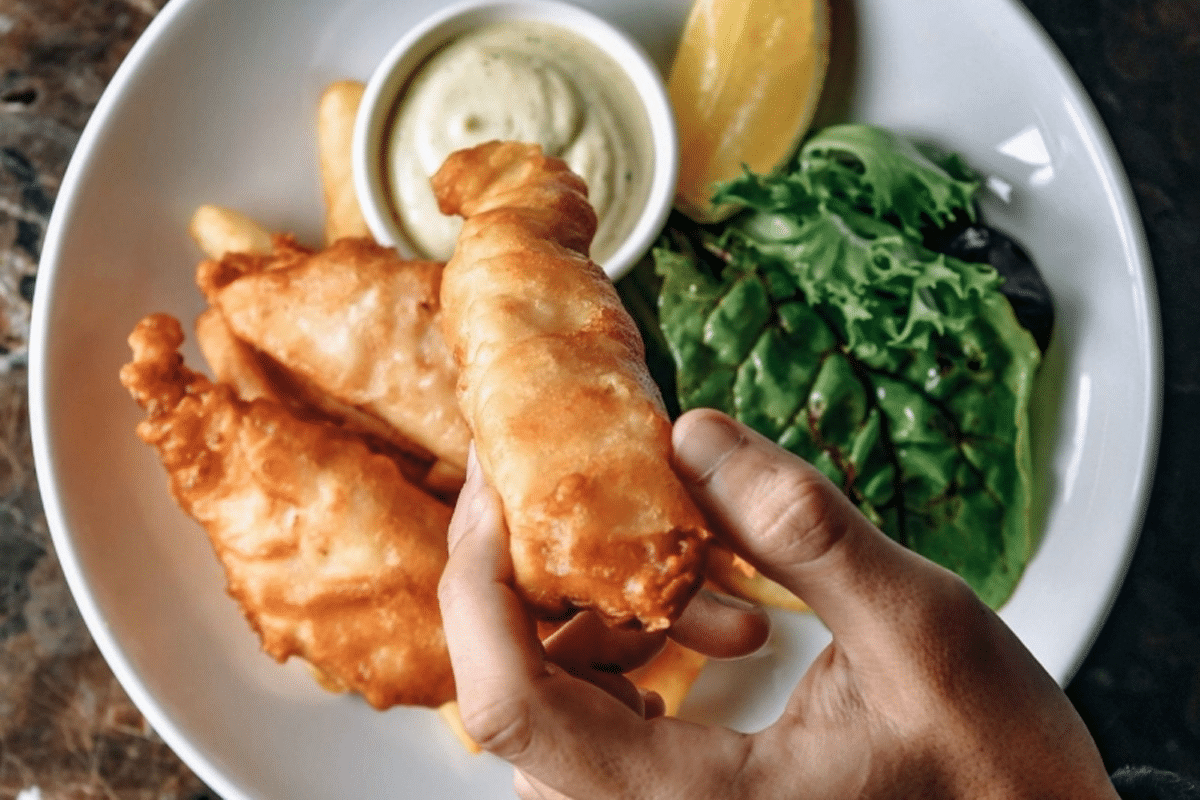 8. The Rocks Café
The Rocks Café is located, well, in The Rocks in downtown Sydney. Here you have the opportunity to dine in a restaurant that will leave you both visually stimulated as well as gastronomically fulfilled. The café has combined modern Australian architecture with a classic bohemian feel that complements its genuine warmth. The fish and chips are some of the best in Sydney with carefully selected and curated options for customers, prepared by artisanal chefs.
Address: 99 George Street, The Rocks NSW 2000
Hours: Mon-Sun 7:30am-10pm
Phone: (02) 9247 3089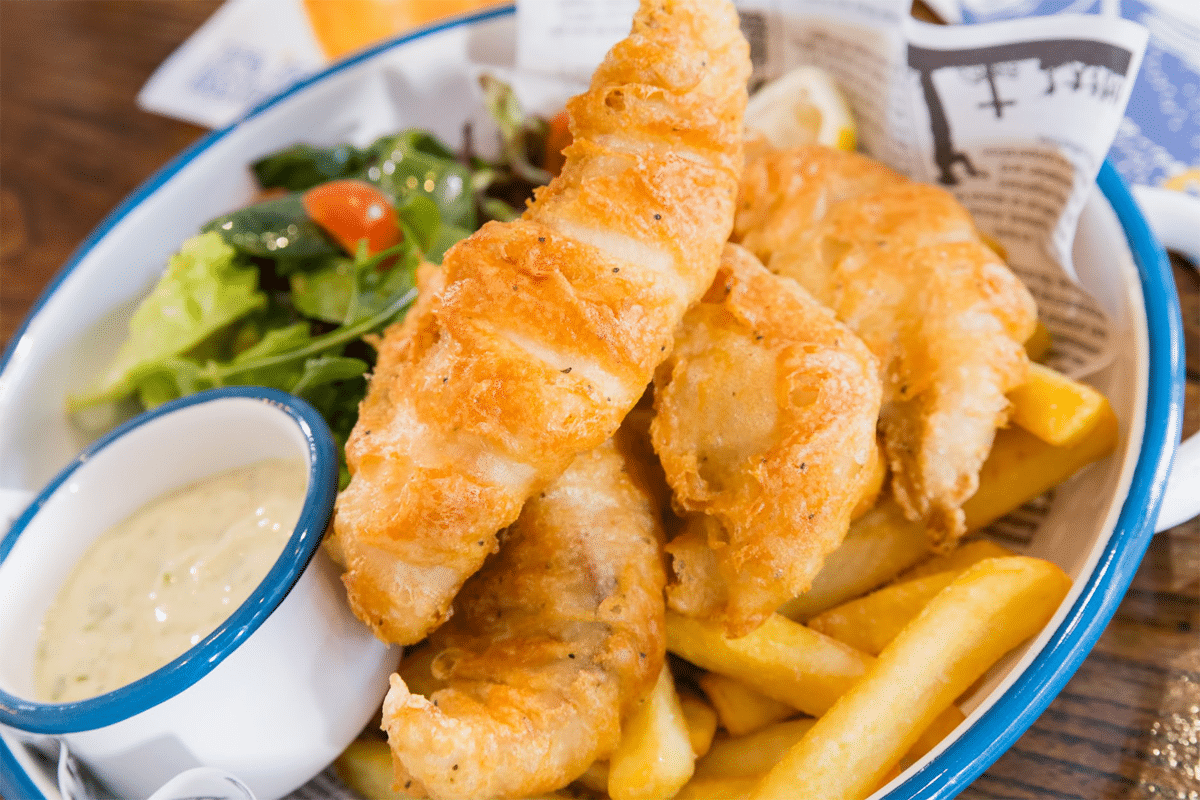 9. Mohr Fish
What separates Monday Munchies: September 20 from its competitors is the intimacy of its Surry Hills restaurant. This inner-city Sydney Fish and Chip Shop are reminiscent of a cosy meal at home. Food aside, the restaurant brands itself as an unpretentious eatery that has a décor similar to an old-school milk bar or English sea-side fish and chip shop. Back to the meals, the product is of the highest quality, with an emphasis being placed on having a home-cooked style meal for customers who don't feel like cooking. With several options to choose from, we're sure you will not be disappointed.
Address: 202 Devonshire Street, Surry Hills NSW 2010
Hours: Mon-Sun 11:30am-3pm, 5pm-10pm
Phone: (02) 9318 1326
10. Costi's Fish & Chips
An iconic establishment with multiple locations in Sydney. Here, you have somewhere that has been doing traditional fish and chips a little differently. Instead of frying up the fish, Costi's Fish & Chips advocate grilling its catch. This provides visitors with a healthy alternative. They also provide substitutes for chips such as salad and brown rice. Moreover, the meals here are reasonably priced. Another impressive drawcard is the fact that all of its produce is bought, cut and cooked on the same day. For those looking for a fix of battered or crumbed seafood, don't worry you are catered for too.
Located in: International Towers
Address: 200 Barangaroo Ave, Barangaroo NSW 2000
Hours: Mon-Fri 10am-3pm
Phone: (02) 9290 2769
11. The Boathouse Palm Beach
The Boathouse in Palm Beach remains a place like no other in Sydney. Nestled on Pittwater, on the magnificent, idyllic Northern Beaches of Sydney, this cafe doubles as a wedding or events venue. If you are looking for some of the freshest and tastiest fish and chips Sydney has to offer, make sure you check it out. Once you have finished eating, why not check out The Boathouse Home, the cafés accompanying homewares store full of quality items.
Address: Governor Phillip Park, Palm Beach NSW 2108
Hours: Mon-Sun 7am-3pm
Phone: (02) 9974 5440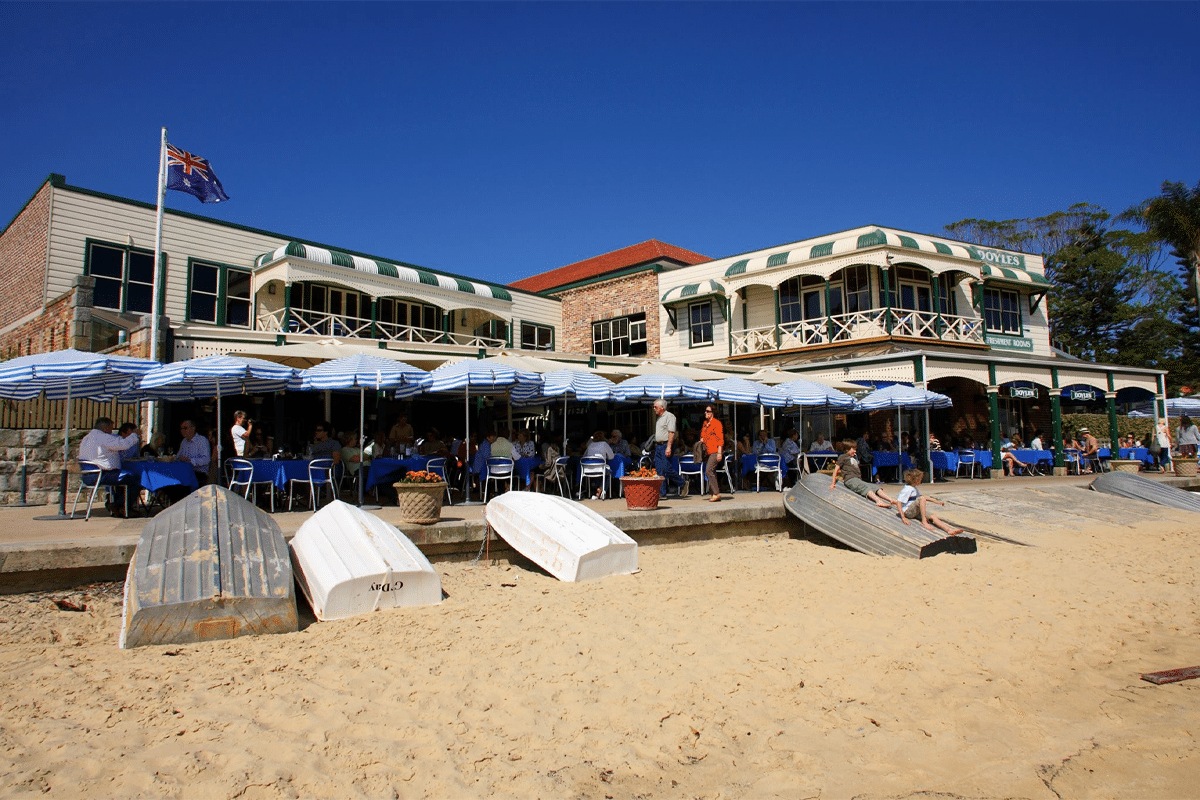 12. Doyles on the Beach Restaurant
The Doyle Family have been serving fresh local seafood for over five generations and built their name on the produce of local fishermen. Still using old fashioned methods their fish are caught mostly by hand line and iced on the boat. If you're looking for fresh and delicious fish and chips, you know where to find them.
Address: 11 Marine Parade, Watsons Bay NSW 2030
Hours: Mon-Fri 12-3pm & 5:30-9pm, Sat-Sun 11:45am-4pm & 5:30-9
Phone: (02) 9337 2007
Doyles on the Beach Restaurant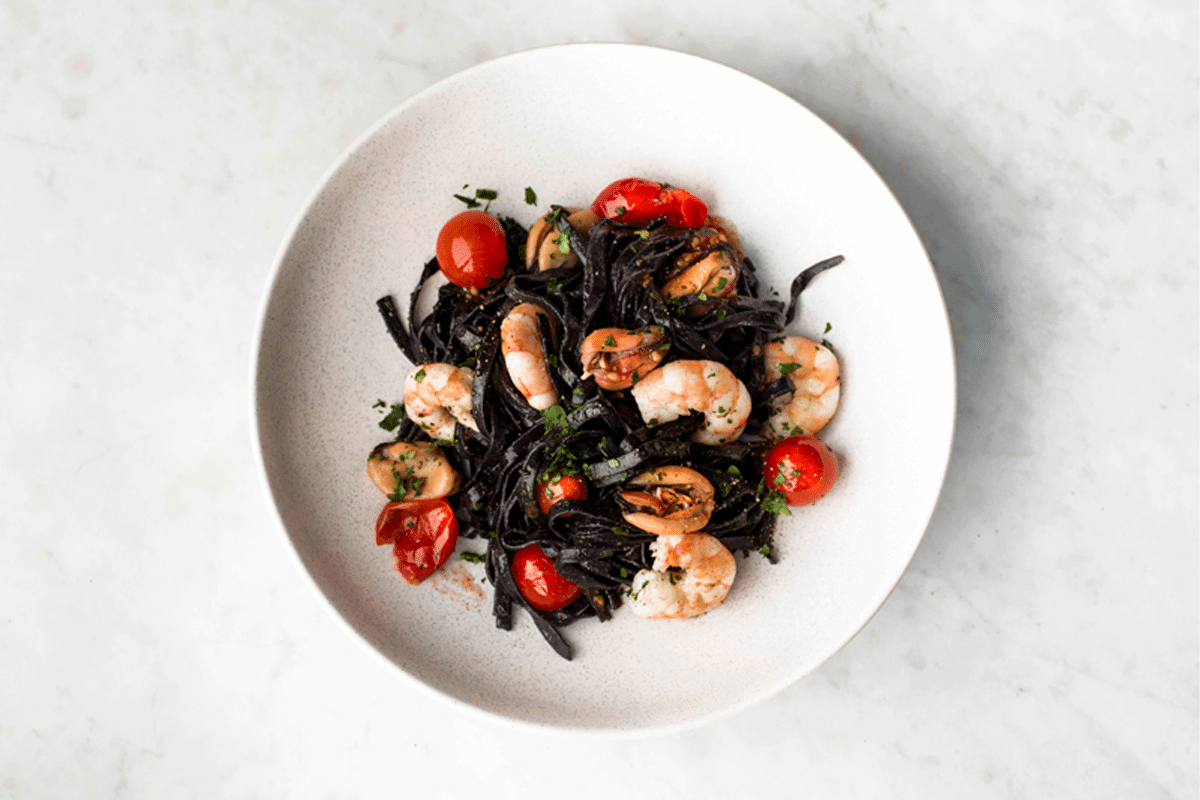 13. love.fish
After opening back in 2010, love.fish of Barangaroo aims to celebrate Australian seafood and make it simple and accessible to all. This Sydney seafood restaurant's ethos is about serving fresh, quality Australian seafood in a casual atmosphere at an affordable price. All of this as well as focussing heavily on the provision that all of the produce sold at their restaurants is sustainably sourced from Australian fisheries. If fish and chips aren't enough, we suggest you go for the Oysters, they're out of this world.
Address: 7/23 Barangaroo Ave, Barangaroo NSW 2000
Hours: Tue 12-3pm, Wed-Thur 12-3pm & 5-9pm, Fri 12-3pm & 5-9:30pm, Sat 12-4pm & 5-9:30pm, Sun 12-4pm
Phone: (02) 8077 3700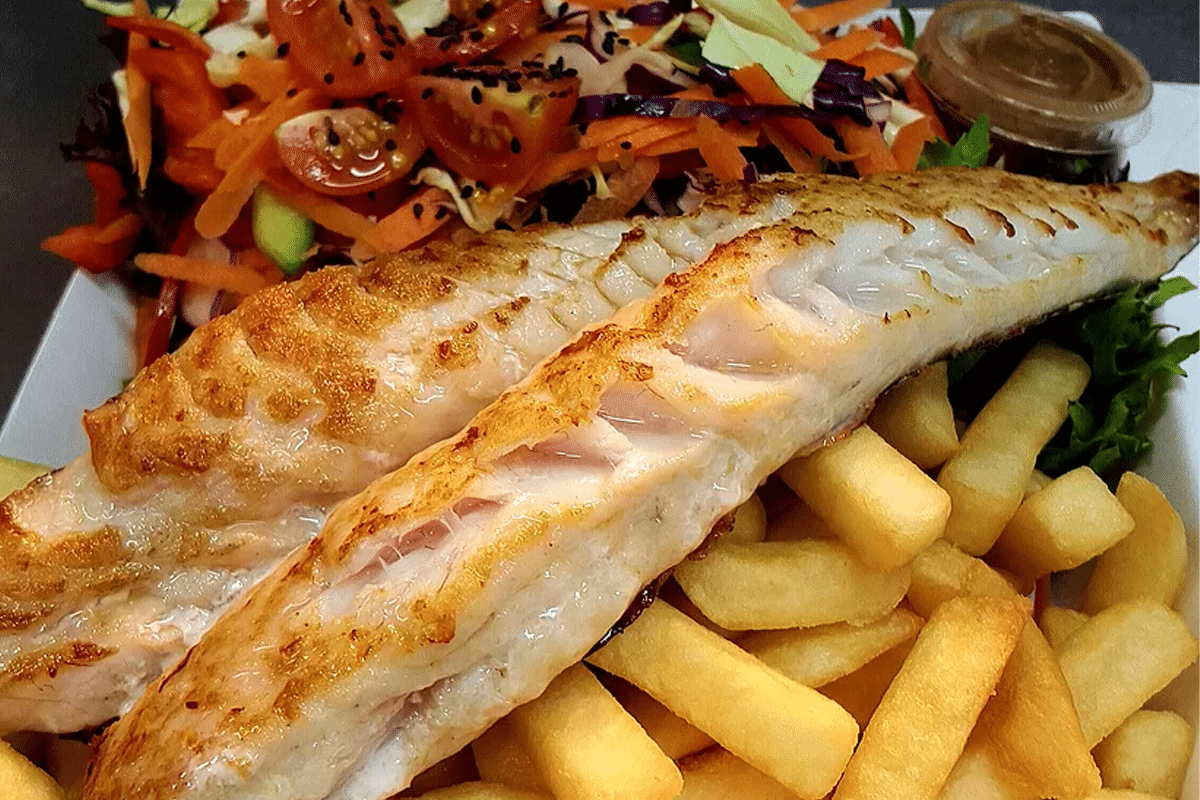 14. Bottom of the Harbour
This Balmoral Beach mainstay has developed a reputation over time for being a no-fuss yet high-flavoured fish and chip joint in Sydney. The idyllic location aside, Bottom of the Harbour is committed to sustainability. All of their seafood is sourced from sustainable catchers who have been MSC certified, international recognition for responsibly sourced seafood. Our recommendation is to try the potato scallops, they are sensational.
Address: 21 The Esplanade, Balmoral Beach NSW 2088
Hours: Mon-Sun 9am-8pm
Phone: (02) 9969 7911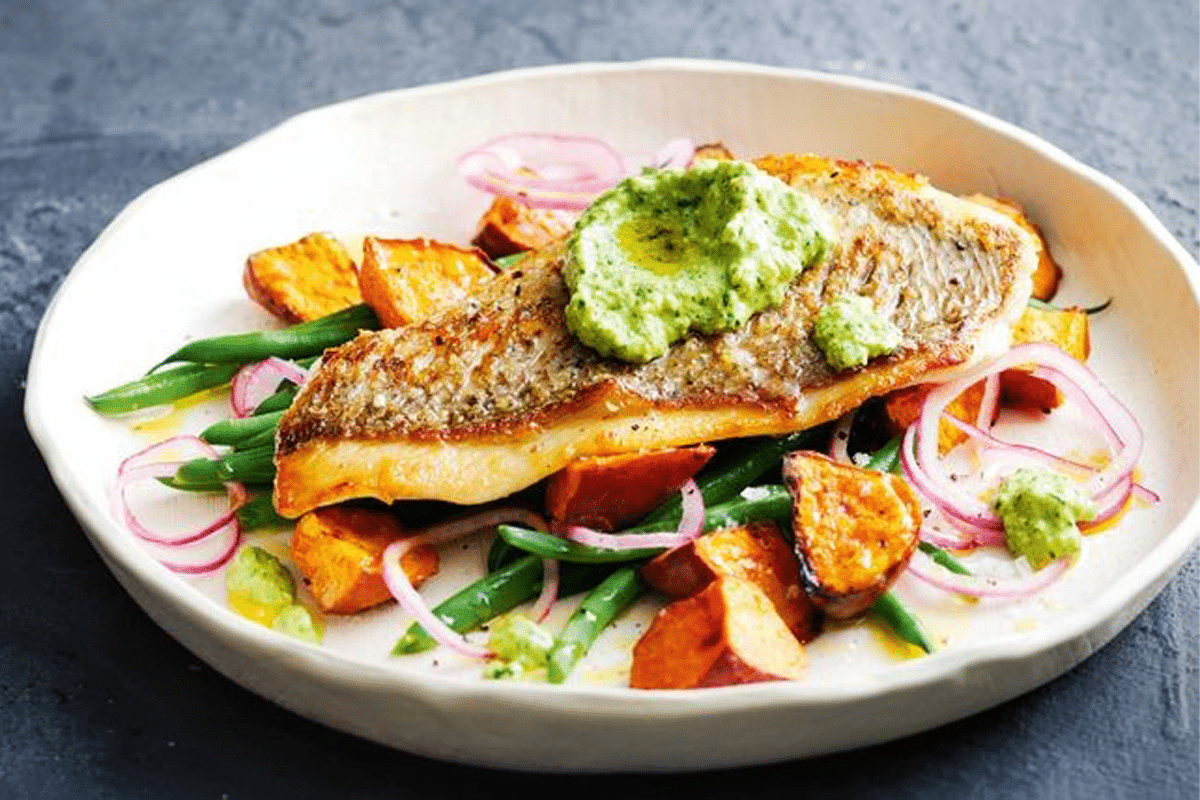 15. Ocean Foods
The folks at Ocean Foods have an impressive feather in their cap. For over 100 years the Nittis family, spanning 3 generations, have served Fish and Chips to generations of adoring customers. The family first opened in 1915 on Oxford St, Sydney. Nowadays, The Ocean Foods Fish and Chip shop located in Drummoyne has been serving up the goods since 1984 and continuing on their proud traditions in unparalleled style. The Fish and Chips are a must-try but keep a watchful eye on the calamari rings they are something to behold, that much is certain.
Address: 154 Lyons Road, Drummoyne NSW 2047
Hours: Sun-Thu 9am-9pm, Fri-Sat 9am-9:30pm
Phone: (02) 9181 4336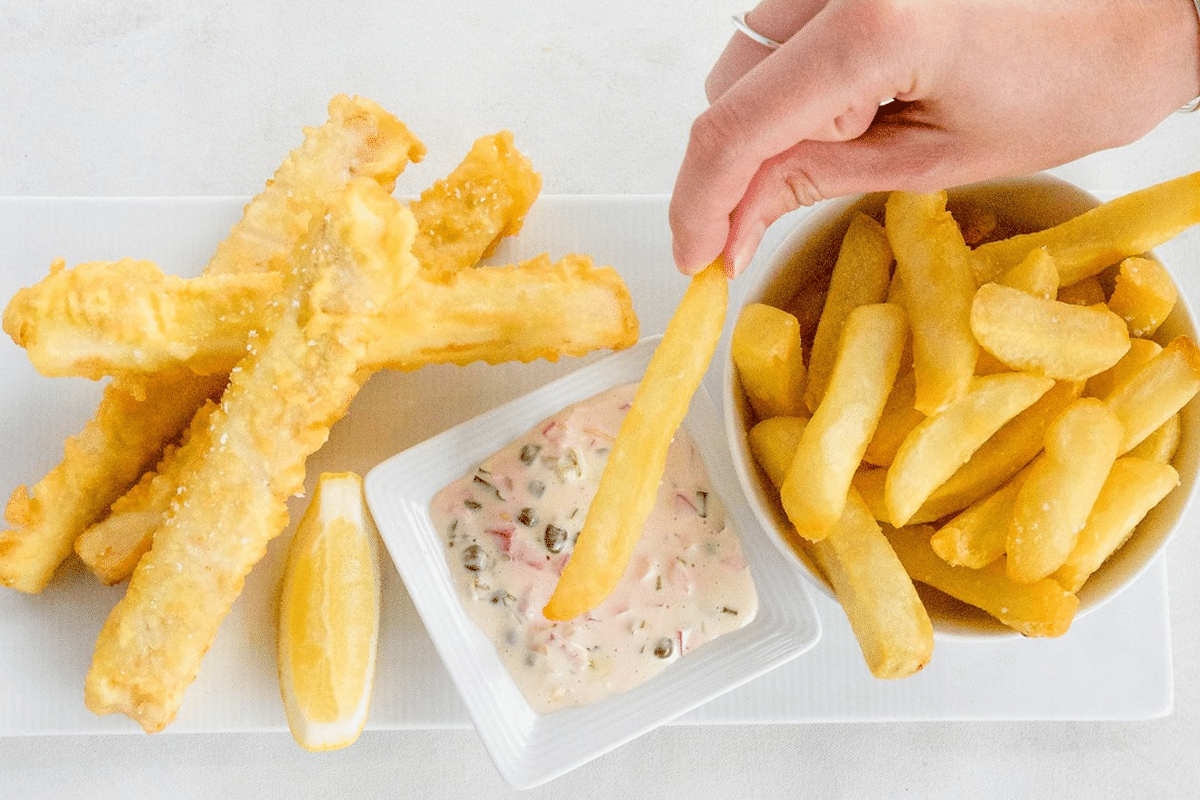 16. Bondi's Best Seafood
Bondi's Best Seafood is simply as the name suggests, the best fish and chips in Bondi – Sydney's most famous beach. For those of you who are conscientious eaters, this is another fish and chip shop that is dedicated to sustainability. Furthermore, you can be certain that all of the meals are prepared by a crack team of chefs who convey their passion for cooking into every seafood dish. As they say on their website "Seafood done right is one of life's great joys", we couldn't agree more.
Address: 39-53 Campbell Parade, North Bondi NSW 2026
Hours: Mon-Sun 12pm-9pm
Phone: (02) 9300 9886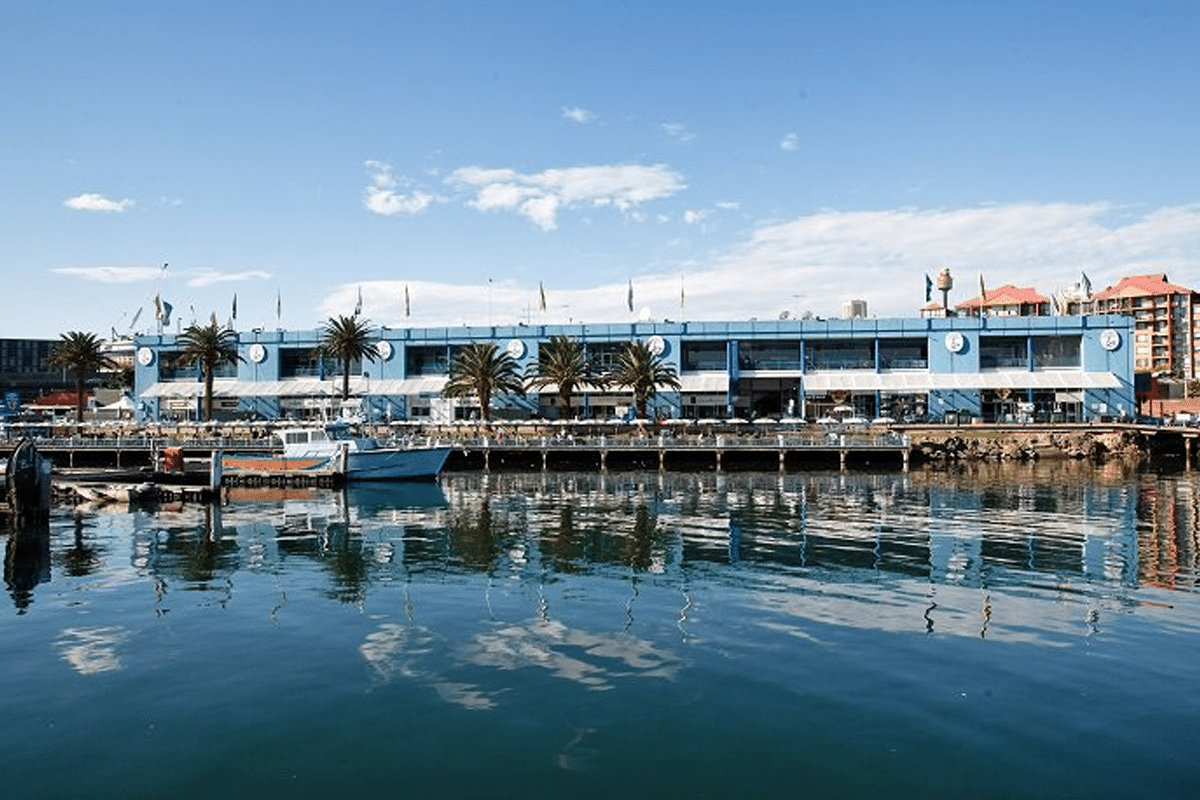 17. Sydney Fish Market
The epicentre of the seafood industry and fittingly, where you go if you want the freshest seafood in Sydney. Quantity and Quality is the name of the game when it comes to the 16 Most Romantic Restaurants in Sydney. There are many eateries to choose from at this location and you can be assured that all of their products are sustainably sourced. If inclined, why not check out the Seafood School. This institution has been established in 1989, offering visitors the opportunity for hands-on cooking experiences. Here you can learn how to prepare quality seafood dishes at home.
Address: Pyrmont Bridge Road, Sydney NSW 2009
Hours: Mon-Sun 7am-4pm
Phone: (02) 9004 1100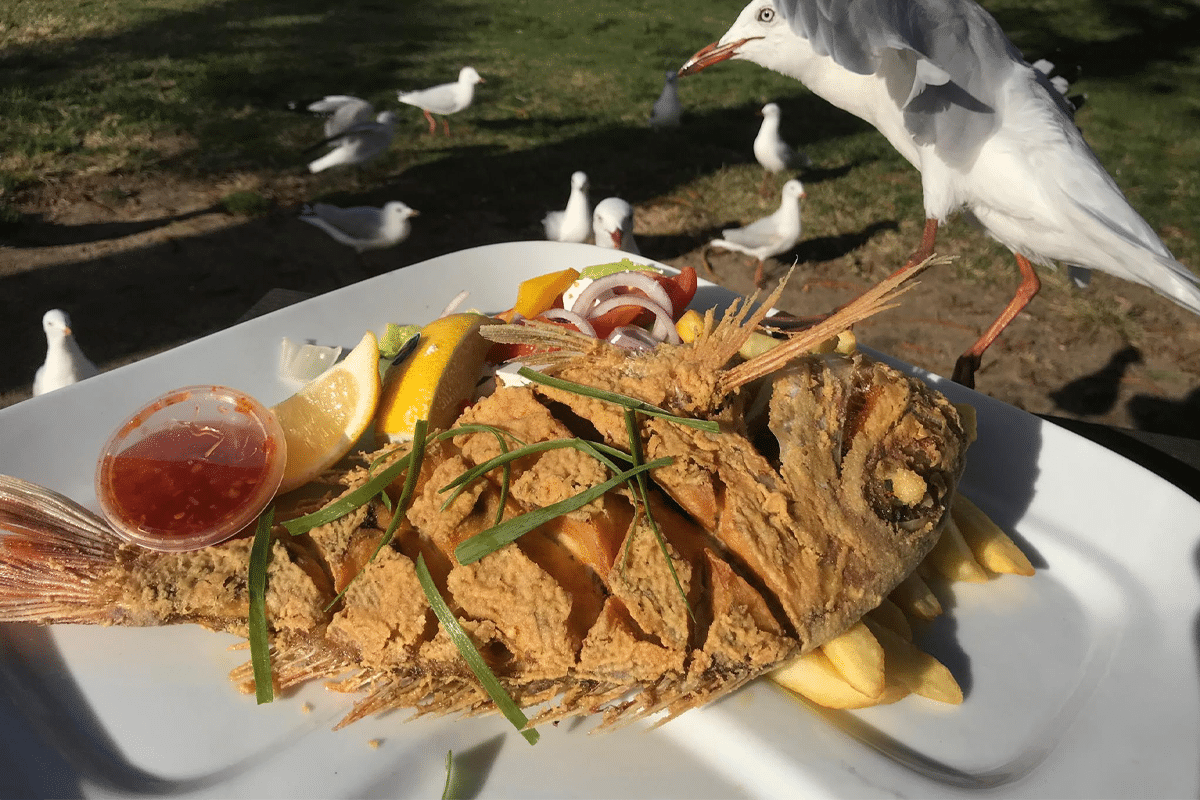 18. Seafood At The Beach
Everyone knows that fish and chips in Sydney are best enjoyed at the beach. So, if you want to discover one of the best fish and chips shops in Sydney and maximise the enjoyment of the experience, why not check out Seafood at the Beach. Head on over to Dee Why Beach where you can get quality fish and chips Northern Beaches residents are crazy about. They may not have a website, but who cares when your fish and chips are this good. The seafood salad comes highly recommended, as well as the renowned fish n chips of course.
Address: 12 The Strand, Dee Why NSW 2099
Hours: Mon-Fri 9am-8:30pm, Sat-Sun 8:30am-8:30pm
Phone: (02) 9971 9666
General FAQ
What is the best fish for fish and chips in Sydney?
The best fish to use for fish and chips is basa, which is a species of catfish.
What fish is used in fish and chips in Sydney?
The most common fish used for fish and chips in places like Sydney are as follows: flake, whiting, snapper, flathead, barramundi, cod, and basa, amongst others.
How much does fish and chips cost in Sydney?
The cost of your fish and chips can vary depending on factors like the type of fish and shop location. Typically, you can expect to pay around $6-$8 for the fish and $3 and up for the chips.
Where are the best fish and chips in Sydney?
Some of the best spots for fish and chips in Sydney are Kiwi Style, Bottom of the Harbour, Ocean Foods, Bondi's Best, Mohr Fish, Sydney Fish Market, and others.
You'll also like:
19 Cool Restaurants in Sydney for a Fun Night Out
31 Best Bars in Sydney for a Fun Themed Night Out
16 Best Ribs in Sydney
---
Featured Video from Man of Many