14 Spots for the Best High Tea in Brisbane
Sick of your regular cafe catch-ups and looking for something new, exciting, and extra-classy? A Brisbane high tea is calling your name! Who can say no to cucumber sandwiches, scones and tiny cakes accompanied by any tea you could imagine, or champagne, of course? Next time you're in Brisbane and want to dine like a King or Queen, here are the best high teas in Brisbane.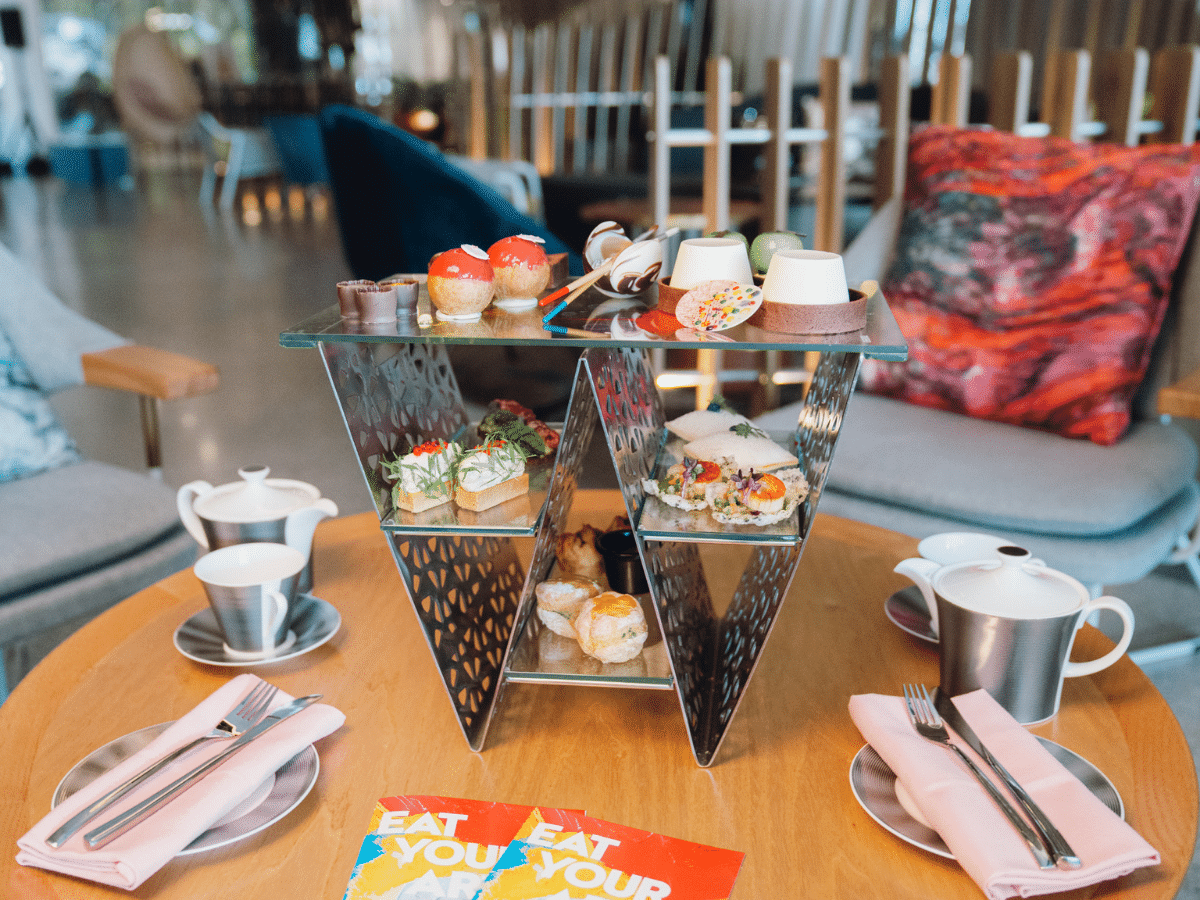 1. W Brisbane
W Brisbane has it all when it comes to fine dining and is paving the way with their newest addition, Eat Your Art Out High Tea. Available on weekends, the high tea is unlike any other, combining art and indulgence as guests paint their own Panna cottas while they dine. If you thought it couldn't get any better, they also serve up a delicious array of themed cocktails to help the sweet treats and savoury delights go down.
Address: 81 N Quay, Brisbane City
Contact: (07) 3556 8888
Hours: Friday – Sunday 10 am – 4 pm
2. Patina at Customs House
With unparalleled views of the stunning Story Bridge, Patina is already ahead of the game when it comes to making you feel like royalty. Located in the heritage-listed Customs House, the high tea has a strong french influence, complete with endless champagne and petit fours as well as your classic ribbon sandwiches.
Address: Customs House, 399 Queen St, Brisbane City
Contact: (07) 3365 8921
Hours: Wednesday – Sunday 11.30 am – 3 pm
3. Darling & Co
Darling & Co has some of the best high tea in Brisbane with a whimsical, romantic setting to match. Offering a decadent selection of sweet and savoury bites paired with your choice of tea, Veuve champagne, or a cheeky afternoon cocktail, you'll be wanting to come back daily! The stunning interior, adorned with draped fringing and boutique tables, will transport you to a new world that you deserve to bask in for the day. It's $45 for the traditional high tea for $45 per person, or indulge in bottomless bubbles from our Prosecco fountain for $80 per person.
Address: 157 Given Terrace, Paddington
Contact: (07) 3707 5400
Hours: Monday – Thursday 11 am – 10 pm, Friday 11 am – 12 am, Saturday 8 am – 12 am, Sunday 8 am – 9 pm
4. Covent Garden
Whilst not quite the Covent Garden you'll find nestled in the streets of London, this West End version is the next best thing! Hoping to emanate that true British vibe, it's no different when it comes to their high tea, with a welcomed modern twist on the side. Dining all your high tea favourites like sweet and savoury canapes, they also offer a gin and tea cocktail- need we say more?
Address: 142 Boundary St, West End
Contact: (07) 3844 0142
Hours: Wednesday – Thursday 12 pm – 10 pm, Friday – Saturday 12 pm – 12 am, Sunday 11 am – 10 pm
5. The Lab
Treat yourself to a traditional high tea at The Lab. Elegance epitomised, this is the perfect spot to take nanna, or just when you're feeling a little bit posh, set in a sublime heritage setting and beautiful gardens. The menu is just as indulgent, including bottomless pots of hand-crafted tea, Chandon sparkling wines, delicate cakes and bites of savoury goodness. We recommend dining here for special occasions; whether it be a baby shower or the beginning of a hens do, you won't be disappointed!
Address: 130 William St, Brisbane City
Contact: 1800 506 889
Hours: Saturday – Sunday 1 pm – 4 pm
6. Spicers Balfour Hotel
For the best high tea in Brisbane, if sweet treats are your thing, head to Spicers Balfour Hotel. Located in New Farm, Spicers menu features an endless range of sweet and savoury treats plus a selection of champagnes and speciality teas. With the option to dine in the chic, stylish restaurant, the wrap-around verandah or under the blossoming Frangipani trees in the courtyard, there's something for everyone, all you have to do is book it in and put on your nicest shoes!
Address: 37 Balfour St, New Farm
Contact: 1300 597 540
Hours: Once a month from 11.30 am
7. Mt Cotton Retreat
Mt Cotton Retreat serves up a delicious high tea nestled amongst the treetops in a fairytale setting. Choose from their deluxe high tea for just $50 per person, which includes a non-alcoholic spritzer, a selection of five homemade sweet treats and four savoury delights, plus a bottomless plunger coffee and leaf tea. If you're feeling naughty, pay an extra $10 to add a glass of beautiful sparkling French Cuvee. They also offer children's high teas in school holidays, so your little ones don't have to miss out!
Address: 355 W Mount Cotton Rd, Mount Cotton
Contact: 0418 745 167
Hours: Contact for bookings
8. The Matriarch
If you're looking for something boozy, The Matriarch is the best high tea in Brisbane for all things cocktails and champagne. This romantic cocktail garden offers all your high tea essentials as well as some of the most delicious cocktails in Brisbane- what pairs better than a warm scone with fluffy cream and rich jam other than a fruity gin cocktail? Nothing!
Address: 1/22 Masters St, Newstead
Contact: (07) 3061 4703
Hours: Thursday – Sunday 11 am – 4 pm
9. Devon Pixies Tea House
Devon Pixies Tea House is a fuss-free high tea destination for those looking for delicious treats and scrumptious tea without any extra bits. If you want something simple, the petit high tea is just $25 per person, and the regular high tea is just $35. For something more indulgent, pay an extra $15 for the deluxe high tea and enjoy a fruit mocktail on arrival as well as the standard hot savoury bites, dainty triangle sandwiches and two petit scones with organic strawberry jam- delish!
Address: 270 Jacaranda Avenue, Kingston, 4114
Contact: 0449 285 277
Hours: Tuesday – Friday 8.30 am – 2.30 pm, Saturday 10 am – 3.30 pm, Sunday 10 am – 3 pm
10. Dandelion & Driftwood
If you've run out of date ideas, this is the best high tea in Brisbane to take your special someone. Dandelion & Driftwood is a romantic spot with the fluffiest scones you could ever dream of and the most decadent cupcakes in the world of decadent cupcakes. To help it go down, they also offer every tea under the sun, champagne or rose.
Address: 20 Doncaster St, Hendra
Contact: (07) 3667 8388
Hours: Sunday – Thursday 8 am – 3 pm, Friday – Saturday 8 am – 4 pm
11. Belle Époque
No list would be complete without an entry from Brisbane's vibrant South Bank, and this time, Belle Epoque is holding the flag for its incredible high tea. Inspired by Parisian elegance and flavours, you will feel yourself turn on the poshness as soon as you walk in. Not only is the vibe to die for, but their high tea is just as good, with vegan, vegetarian, nut-free and gluten-free menus as well as the best macrons in the southern hemisphere.
Address: Emporium Hotel South Bank, Ground Floor, 267 Grey St, South Brisbane
Contact: (07) 3556 3333
Hours: Monday – Sunday 11.30 am – 3 pm
12. Passiontree Velvet
Passiontree Velvet is a dessert cafe that serves up some of the best high tea in Brisbane that has a more relaxed feel. Conveniently located in two of the main shopping centres in Brisbane, it's the perfect pick-me-up after a day of shopping when the sugar cravings hit. Known for their cakes, these are probably the best part of the menu, but don't let that underestimate their selection of teas and other goodies! It's also great for when you want high tea at any hour, any day.
Address: K202/1151 Creek Rd, Carindale
Contact: (07) 3395 2947
Hours: Monday – Saturday 9 am – 5 pm, Sunday 9 am – 3 pm
13. Keri Craig Emporium Cafe
The Keri Craig Emporium Fashion Café has been around for over 20 years, and while the decor is more or less the same, the iconic cafe is showing no signs of slowing down. Their menu is brimming with delectable treats, including sand crab or king prawn sandwiches, warm pastries and fluffy scones with cream and jam. Bon appetit.
Address: Brisbane Arcade, Shop 6&7 Lower Level, Queen St, Brisbane City
Contact: (07) 3211 2797
Hours: Monday – Saturday 9.30 am – 4.30 pm
14. Tea & Niceties
Tea & Niceties is just that- everything nice and dainty, in one elegant and romantic high tea room. Sit back and relax while you indulge in their tiers of delicate petit fours, freshly baked scones, hot and cold savouries, and z range of signature collection loose leaf teas.
Address: 32 Eagle Heights Rd, Tamborine Mountain
Contact: (07) 5545 3645
Hours: Wednesday – Sunday 10 am – 4 pm
General FAQs
Where is the best high tea near Brisbane City?
The best high tea near Brisbane City is W Brisbane.
You'll also like:
28 Best Cafes in Brisbane
21 Best Brisbane Markets: A Complete Guide
7 Spots for the Best Teppanyaki in Brisbane