17 Best High Teas in Melbourne
Isn't it funny how high tea was once considered a fussy and old-fashioned pastime? Today, high tea or afternoon tea is a much sought-after and popular activity the world over. Especially for those seeking to leave the mayhem of modernity behind for an hour or so.
The decadent display of pastries, preserves, and well, tea served in dainty china at these spots will likely a) send your mind straight to the Victorian era; b) make you feel like a right gentleman; c) trigger a growl in your tummy; d) remind you of a visit to grandma's, or e) all of the above.
Whether you're looking for the best locations for a spot of tea, some jam and cream scones, cakes, sandwiches or even a glass of bubbles, we've rounded up the 17 best high tea in Melbourne.
You'll also like:
21 Best Japanese Restaurants in Melbourne
16 Spots For The Best Yum Cha in Melbourne
15 Best Whisky Bars in Melbourne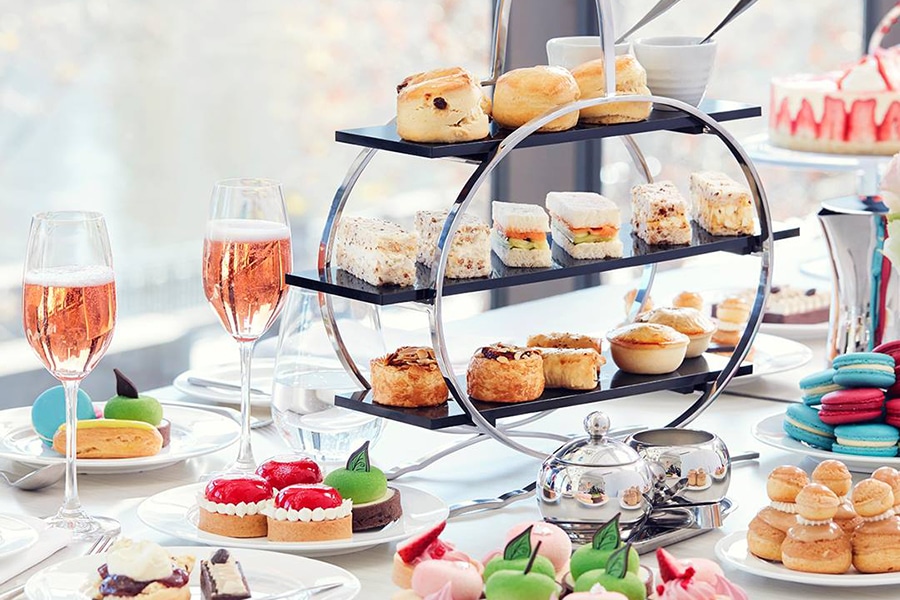 1. Conservatory, Crown Melbourne
Can't go to Paris? The Conservatory Crown Melbourne brings Paris straight to you in the form of a classic Parisian hotel tea room. If you're looking to impress, you can't go wrong with a booking at this opulent location. Situated in the heart of Melbourne's Southbank, its stunning Yarra views, marble floors, lavish décor, hand-crafted chocolate desserts, and indulgent buffet spread will surely delight the senses. In fact, foodies have even dubbed Conservatory Crown Melbourne as one of the best buffet experiences in Melbourne.
Located in: Crown Melbourne
Address: 8, Level 1 Crown Towers, Whiteman St, Southbank VIC 3006
Phone: (03) 9292 5777
Hours: Sat 3-5pm, Sun 3.30-5.30pm
Price: $70 (afternoon tea), $85 (glass of Moet and Chandon), $115 (flowing Moet and Chandon)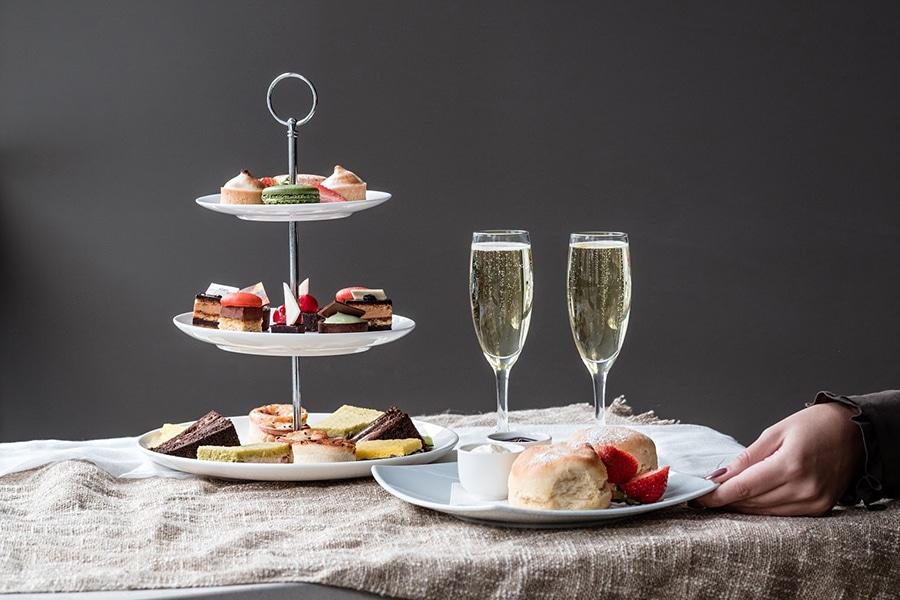 2. Essence on Exhibition, Regency Towers
Whether it's a relaxed afternoon with family or a special occasion, afternoon tea at Essence-on-Exhibition is one of the best high teas Melbourne has for petite scones, macaroons, and mini sandwiches piled three plates high. Available all week from $49 to $75 (with champers) per person, Marriot provides a wallet-friendly option to the uber-appealing pastime.
Located in: Regency Towers
Address: Corner Exhibition &, Lonsdale St, Melbourne VIC 3000
Phone: (03) 9660 1183
Hours:
Price: $49pp, $69pp (including a glass of champagne)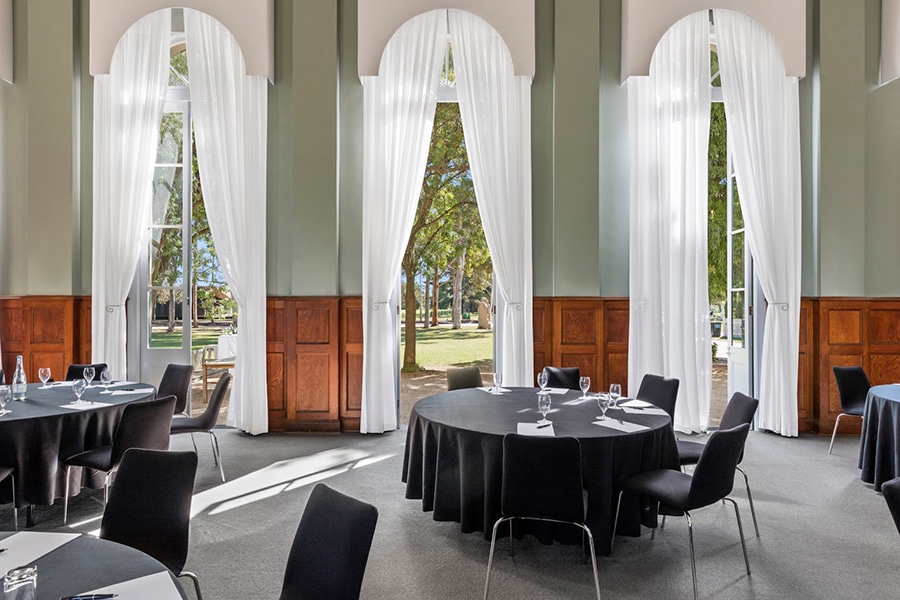 3. Lancemore Mansion Hotel Werribee Park
A lavish spread of sweet and savoury delicacies welcomes you every Sunday afternoon at the Mansion Hotel & Spa. Presented by T2 and Mansion Hotel, High SocieTEA (as the weekly event is called) is held in the sublime hotel lobby, the historic Library during winter, or the majestic balcony during warmer months.
Located in: Lancemore Mansion Hotel Werribee Park
Address: Gate 2, K Rd, Werribee VIC 3030
Phone: (03) 9731 4000
Hours: Sun 12:30 pm
Price: $85pp (Glass of champagne included)
Lancemore Mansion Hotel Werribee Park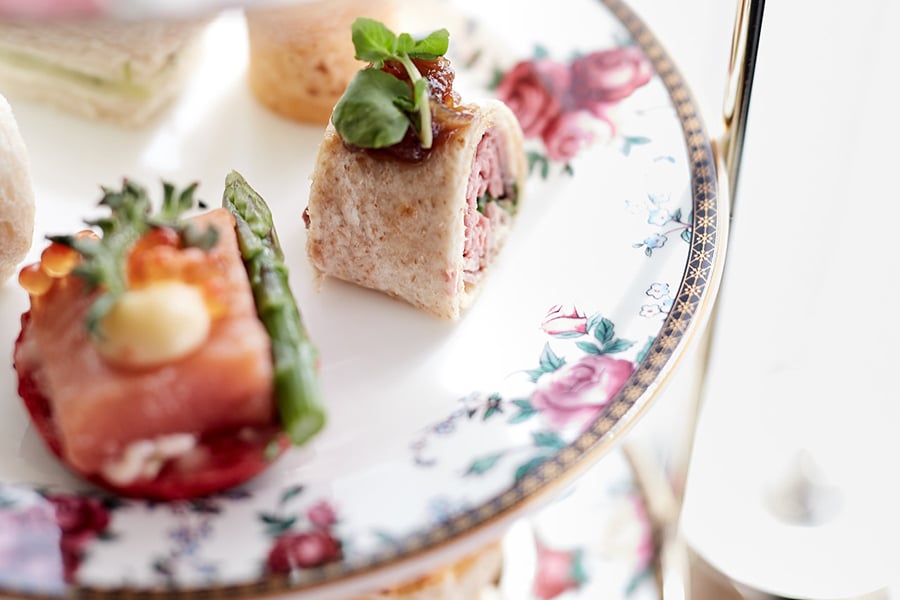 4. The Melba Restaurant, The Langham Hotel
The Melba Restaurant is home to The Langham High Tea which offers a variety of high tea options. Examples include Afternoon Tea With Wedgwood, Twilight Tea With Wedgwood, The Greatest Mother's Day High Tea, and Spa And Afternoon Tea just to name a few. The Langham High Tea Afternoon Tea with Wedgwood, in particular, is a bespoke tea experience that teams a special menu created by the hotels' pastry chefs with Wedgwood speciality teas served in tailor-made "Langham Rose" Wedgwood teaware.
Located in: The Langham, Melbourne
Address: 8 Whiteman St, Southbank VIC 3006
Phone: (03) 9292 8888
Hours: Aria Bar & Lounge will re-open in early Spring with a limited capacity.
Price: $70-120 (Depending on the choice of champagne)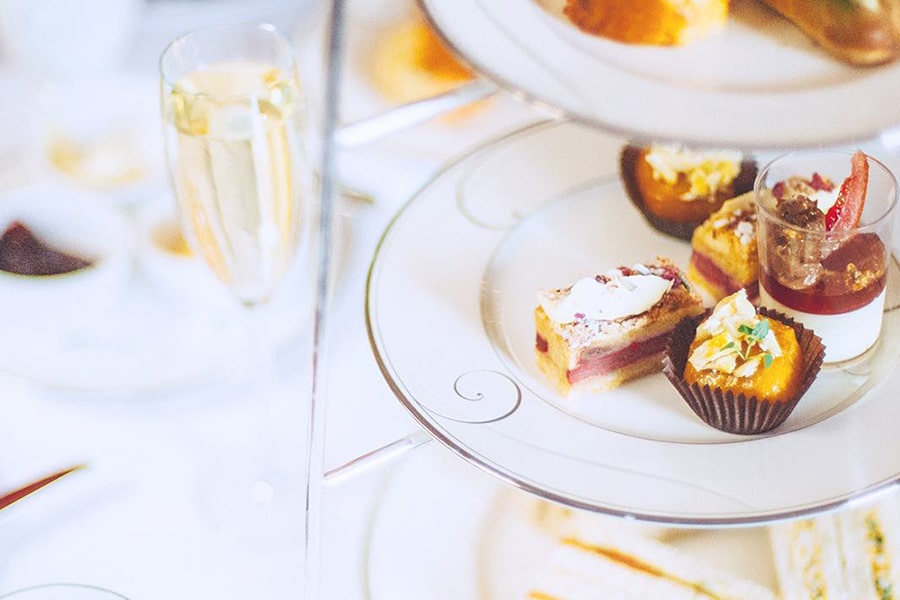 5. The Hotel Windsor
For authentic high tea food (Melbourne style), head on over to The Hotel Windsor which has been serving over two million guests since its inception in 1883! In celebration of its 130 years of afternoon tea, the hotel came up with a guide that highlights tea etiquette and the history of high tea. Some enticing treats on the menu include cauliflower and cheese pie, caramel log, mandarin mousse, and The Hotel Windsor's Famous Scones. If you could only pick one of the best high teas in Melbourne CBD to try, you can't go wrong with The Hotel Windsor.
Address: 111 Spring St, Melbourne VIC 3000
Phone: (03) 9633 6000
Hours: Thurs-Sun 12.30-2.30pm
Price: Thurs-Fri $79 (Glass of French sparkling wine), Sat-Sun $89 (Glass of French sparkling wine)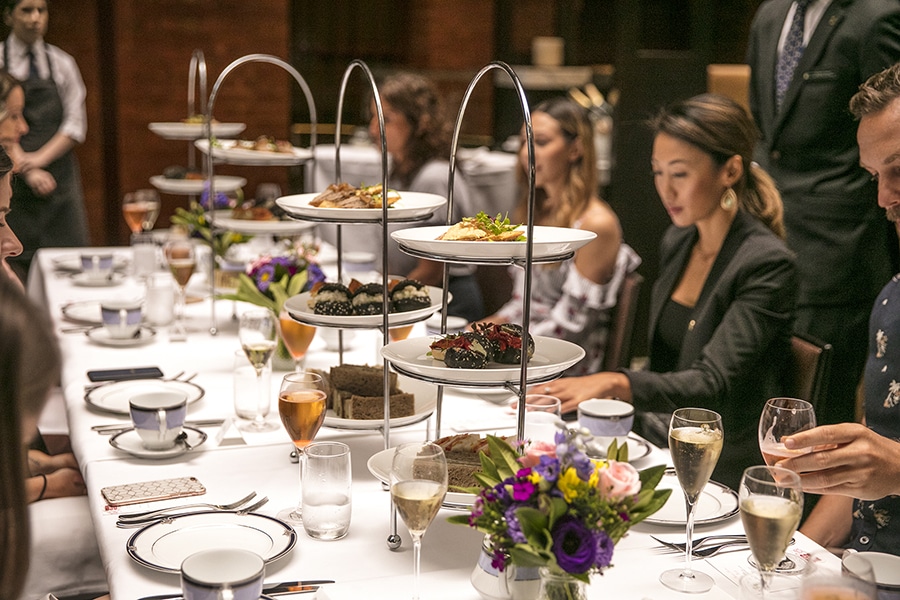 6. InterContinental Melbourne The Rialto
The Clarke Sisters' High Tea is a degustation-style experience not to be missed. The Clarke Sisters were renowned for spending lavish afternoons having tea. They were also both (at different points in life) married to the same man who commissioned the original Rialto building. Here at the InterContinental Melbourne The Rialto you will find heavenly treats from Vue de Monde, Le Petit Gateau, and Merchant along with traditional sandwiches, scones, and a choice of main course served on Noritake China.
Address: 495 Collins St, Melbourne VIC 3000
Phone: (03) 8627 1400
Hours: Saturday and Sunday (Five sittings available)
Price: $99 (a glass of champagne), $149 (2 hours of free-flowing champagne)

Intercontinental Melbourne The Rialto
7. The Art of Afternoon Tea, Park Hyatt Melbourne
The Art of Afternoon Tea hosted by the famous Park Hyatt Melbourne is a five-star high tea experience like no other. With world-class chefs and sommeliers utilising locally sourced ingredients, you are guaranteed a truly Melburnian culinary adventure. High tea here is served at the Tea Lounge overlooking the picturesque Trilogy Gardens. Highlights include finely cut sandwiches together with freshly baked scones served with a selection of jams and double cream, followed by a delectable selection of afternoon pastries.
Located in: Park Hyatt Melbourne
Address: 1 Parliament Square Off, Parliament Pl, Melbourne VIC 3002
Phone: (03) 9224 1234
Hours: Mon-Sun 2:30-5:00 p.m.
Price: from $88 (Unlimited Victorian sparkling wine, coffee, tea)

8. Collins Kitchen, Grand Hyatt Melbourne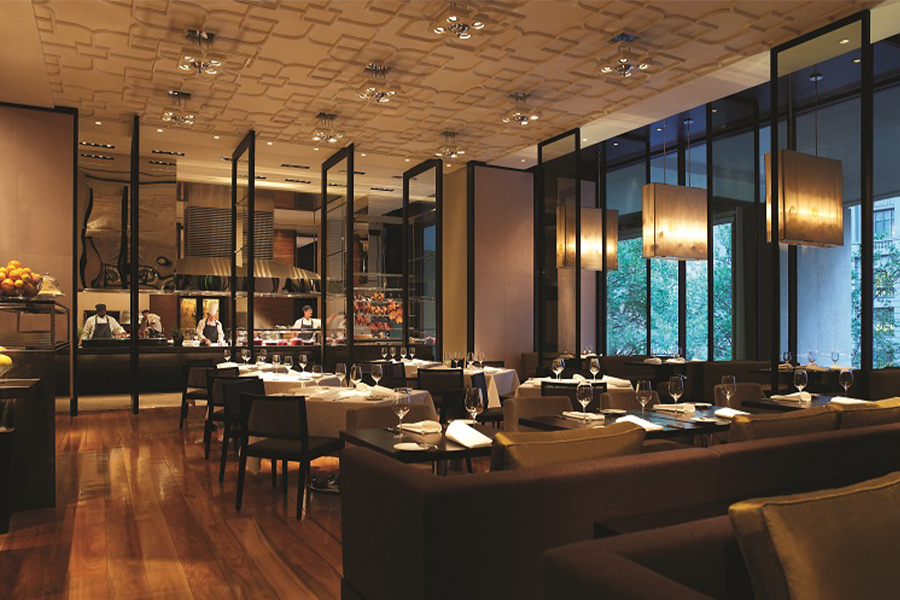 One of Melbournes best restaurants is also host to one of the best high teas in Melbourne. Collins Kitchen is an extravagant experience that offers lasting memories and exquisite tastes. Named after the Hotels prestigious location on Collins St, the menu offers many french inspired options such as pastel cupcakes, macarons and handmade petit-fours. The melt in your mouth menu is served on 24-carat gold-rimmed Cristina Re china with beautiful arrays of colours and patterns. Collins kitchen has a focus on local ingredients with much of the menu capturing local offerings of seasonal produce, only the finest ingredients of course.
Located in: Grand Hyatt Melbourne
Address: 123 Collins St, Melbourne VIC 3000
Phone: (03) 9653 4831
Hours: Sat 12:30-5:30pm, Sun 3:30 – 5:30pm
Price: $79pp, $99pp (free-flowing champagne)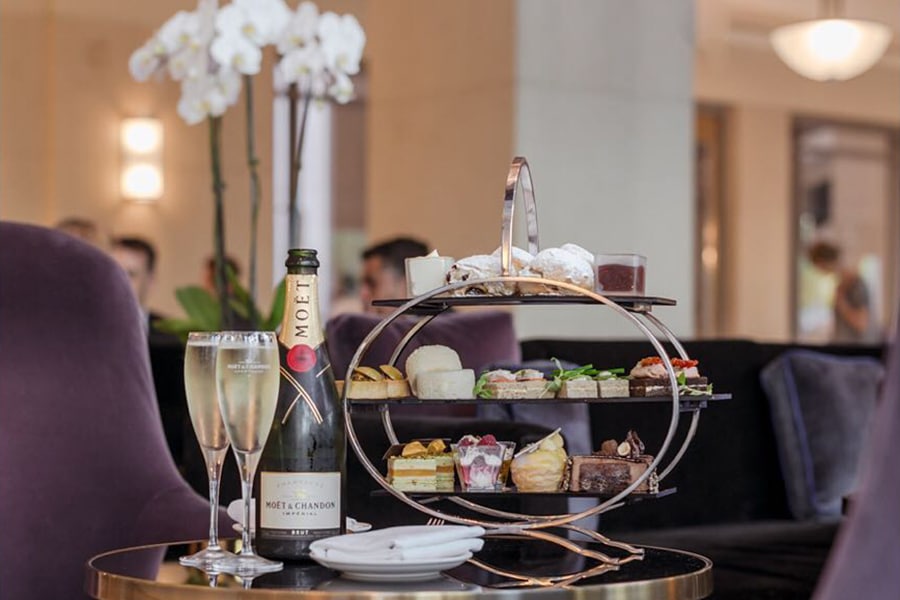 9. The Westin
What sets high tea at The Westin apart from other venues is the fact that it has partnered up with Maker & Monger to present a high tea and high cheese at-home experience that is unrivalled.  The exceptional package is perfect for parties of one or two, with a choice of high cheese or traditional high tea. The Westin offers a seasonal menu of delicate bites including scones, finger sandwiches and delectable desserts. Assembled on specially designed takeaway high tea stands, this high tea at home is the real deal. Whether it's for date night or an afternoon tea treat, this drool-worthy menu has it all.
Address: 205 Collins St, Melbourne VIC 3000
Phone: (03) 9635 2222
Price: $72.50 -$145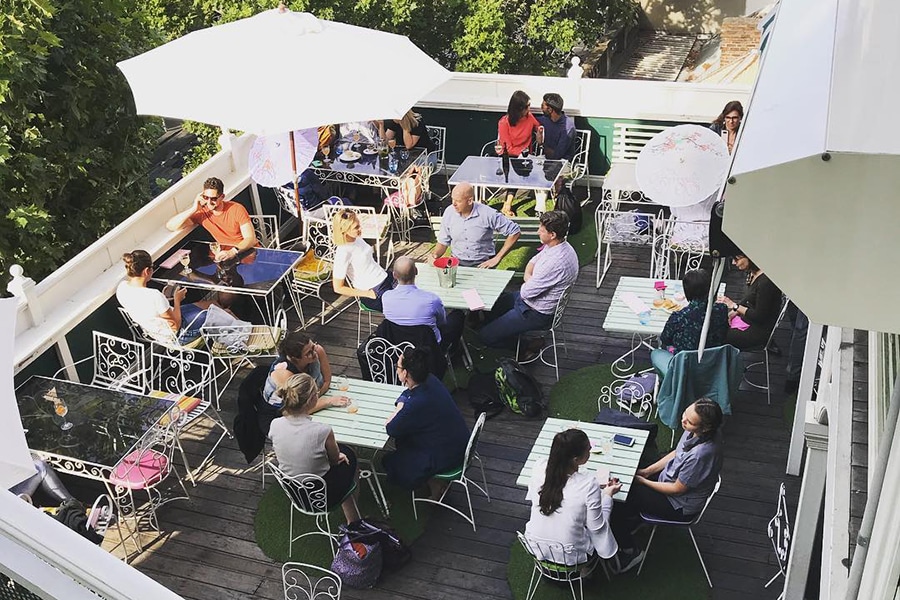 10. Madame Brussels
This place will likely give the Madhatter a run for his money. Not a high tea venue per se but more of an all-year garden soiree is what Madame Brussels will be able to offer you and your tribe. For $55 per head, you'll get an array of sweets and savouries, pots of tea, and French plunged coffee. Enough to send any man into a food-induced coma.
Address: 3/59 Bourke St, Melbourne VIC 3000
Phone: (03) 9662 2775
Hours: Mon-Sun 12pm-1am
Price: $55+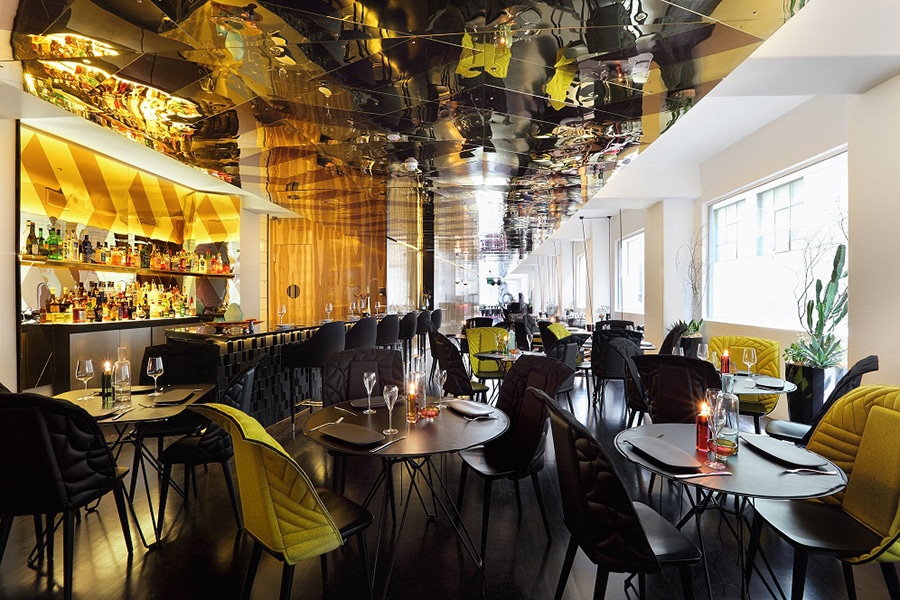 11. Om Nom, Adelphi Hotel
There's really no better place to treat your tastebuds than at the world's first dessert-themed hotel. The hotel's colours and textures are based on desserts. And it also features jars of lollies and sticky toffee apples that welcome you at the lobby and reception area. Other mouthwatering features include free sweets in the bar fridges of every room, a turn-down service that comes with homemade macaroons, and of course the 40-seat dessert resto-bar, Om Nom that spins out sweet treats which look like pieces of art. No wonder it made the list of the best high tea Melbourne has on offer!
Located in: Adelphi Hotel
Address: 187 Flinders Ln, Melbourne VIC 3000
Phone: (03) 8080 8827
Hours: Sat-Sun 12PM & 2.30PM
Price: $75-95pp (including a glass of sparkling)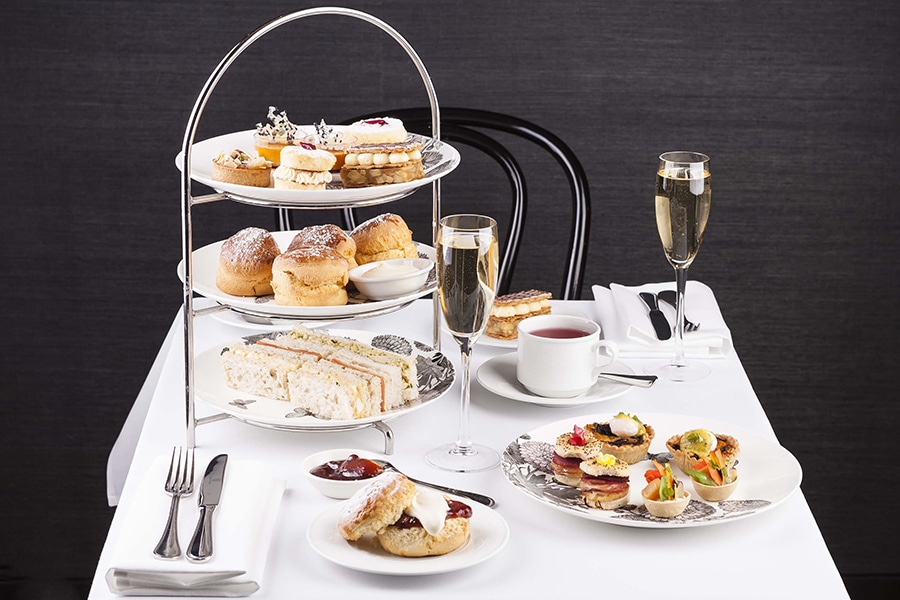 12. Tea Room, National Gallery of Victoria
A team of talented pastry chefs are the masterminds behind the handcrafted maracons, éclairs, and other tantalising cakes and savouries found at the NGV Tea Room. High tea here comes with a modern twist i.e. it incorporates tradition with current trends. One fun example is that green tea and chai come served in pots with modern patterns. The best part is, thanks to the inclusive nature of the gallery, you needn't come for the art to gain access to one of the best high tea Melbourne CBD has to date.
Located in: National Gallery of Victoria 
Address: 180 St Kilda Rd, Southbank VIC 3006
Phone: (03) 8620 2431
Hours: Session times for NGV Australia will be available to book online from Monday 16 November.
Price: $150 for two people (approx.)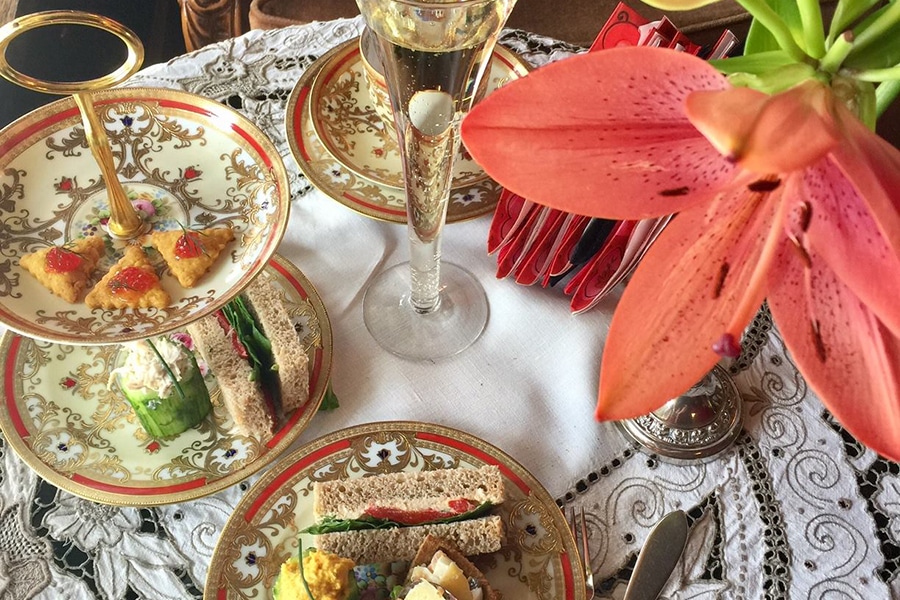 13. Mámor Chocolates & High Tea Szalón
Plush velvet furniture and fine antique china and silverware make Mámor a lavish location for your next high tea Melbourne hangout. Other than heavenly morsels of food made from the best produce in town, it's also extremely familiar with helping to plan events. Mámor will be able to suggest a host of entertainment options such as tarot card reading, tea leaf reading, life drawing, burlesque, professional photography, topless waiters, and bonbonniere.
Address: 153 Johnston St, Collingwood VIC 3066
Phone: (03) 9419 3869
Hours: Wed-Sun 11am-5pm
Price: $50-120

Mámor Chocolates & High Tea Szalón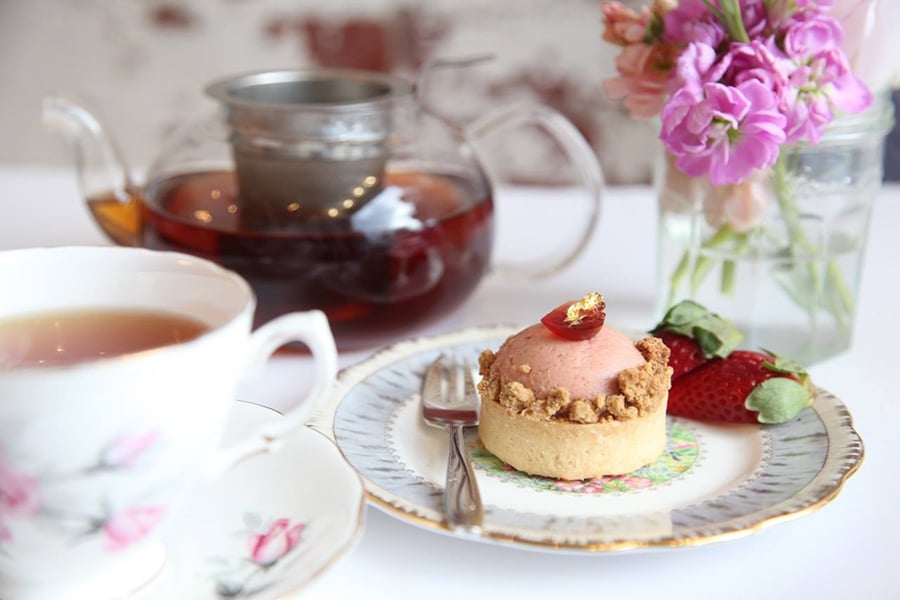 14. Mary Eats Cake
In the heart of Brunswick lies Mary Eats Cake, a two-storey industrial glam' tea house that's dedicated to spoiling you with their version of fresh savoury items, sweet treats, and artisan teas served in fine bone china. In addition, add-ons such as French sparkling on arrival, tea blending workshop, wine pairing package, coffee, calligraphy workshop, blossoming tea, and cheese & fruit board are also available during bookings.
Address: 558 Sydney Rd, Brunswick VIC 3056
Phone: (03) 8394 5661
Hours: Wed-Sun 10am-4pm
Price: $52+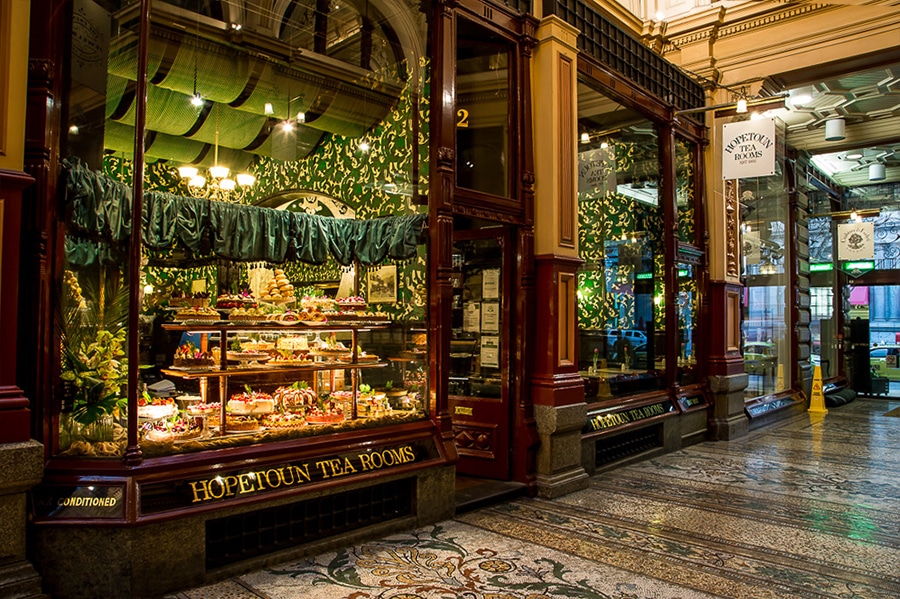 15. Hopetoun Tea Rooms
This charming spot was originally a bulk grain store which was sold in 1837 but unfortunately burnt down in 1889. It was then erected by The City Property Company in 1893. Soon after it became one of the best high tea Melbourne CBD has today. Since then, Hopetoun Tea Rooms has continued the tradition of dishing out fine foods and beverages made with the utmost quality. Treats such as quiches, pinwheels, petit fours, and seasonal fruits generally decorate the three-tiered serving platter.
Located in: The Block Arcade
Address: 282 Collins Street – shop 1 and, 2 Collins St, Melbourne VIC 3000
Phone: (03) 9650 2777
Hours: Tues-Sat 8am-5pm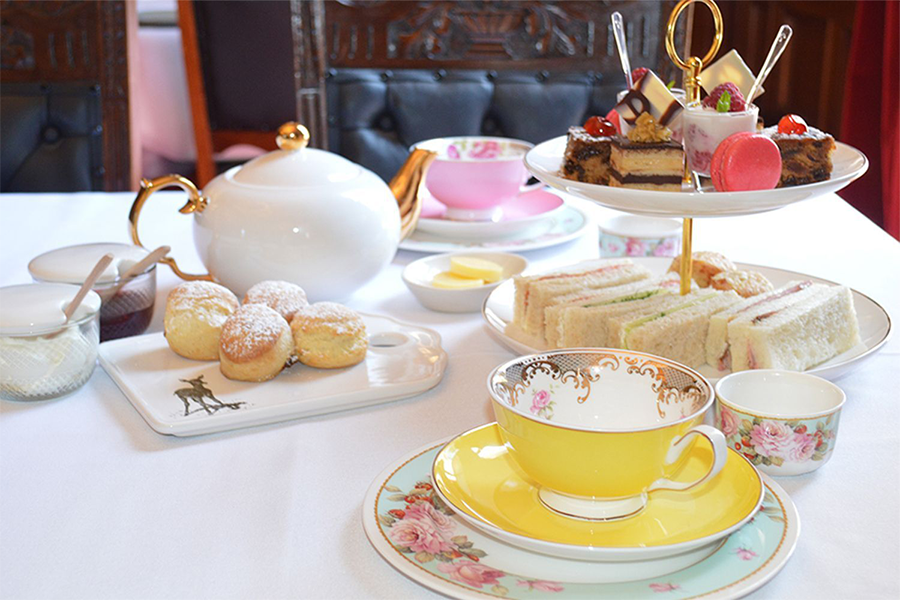 16. Strangers Corridor, Parliament House
Where better to have a glass of sparkling than inside the Parliament House of Victoria? Strangers Corridor has been serving traditional afternoon teas since the 1920s. The venue is one of the more traditional high teas venues in Melbourne, including freshly baked scones served with jam and cream, pastries and finger sandwiches. When you arrive you'll be offered a glass of sparkling wine, and the booking includes unlimited brewed tea and coffee at your table. A guided tour is offered to help you make the most of your time at this Australian landmark.
Located in: Parliament House 
Address: 1 Spring St, Melbourne VIC 3000
Phone: (03) 9651 8944
Hours: Mon-Fri 9am-5pm
Price: $50pp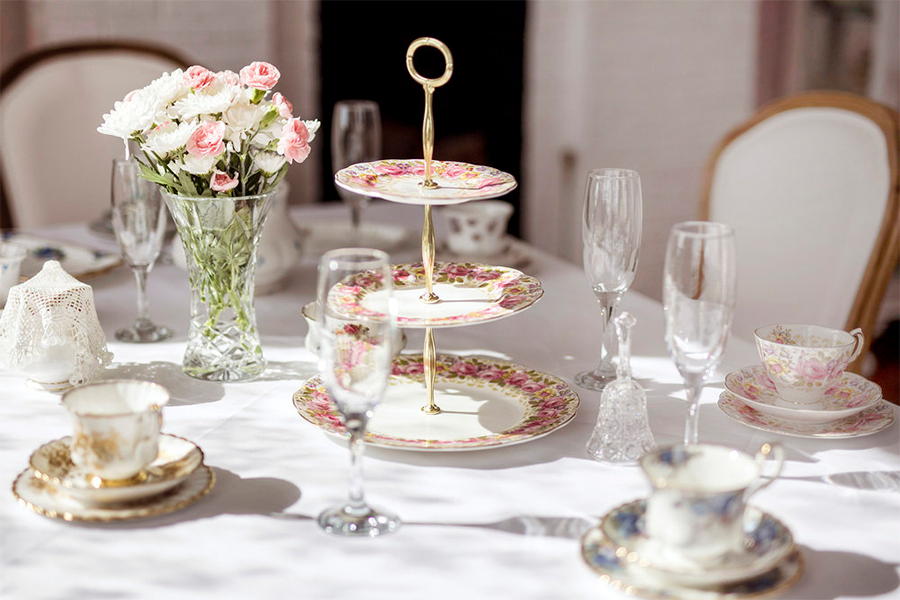 17. Miss Violets Team Rooms, Old Man Drew
Step back in time and enjoy a traditional high tea at one of Melbourne's best cafes. Picture high tea and you instantly think of Royal Albert China, crystal chandeliers, white starched table cloths and fresh flowers. That is exactly what you are greeted with when you visit Miss Violets Tea Rooms in the Old Man Drew cafe. Sometimes it's nice to be treated to a traditional menu with no surprises, and that's exactly what this venue offers. The menu offers well-established options, such as scones, ribbon sandwiches, and cold savoury options. Reminisce the bygone era with Miss Violets Tea Room.
Located in: Old Man Drew Cafe
Address: 359-361 Mt Alexander Rd, Ascot Vale VIC 3032
Phone: (03) 9375 4024
Hours: Sat-Sun 2-4pm
Price: $85pp
You'll also like:
21 Best Japanese Restaurants in Melbourne
16 Spots For The Best Yum Cha in Melbourne
15 Best Whisky Bars in Melbourne
General FAQ
What food do you have at a high tea?
There are many traditional options that are served at a high tea, these include, Scones, Asparagus Rolls, Crumpets, and Sandwiches. More contemporary options include Casseroles, Potatoes, Onion Cakes, and Pickled Salmon.
What do you wear to a high tea?
Most venues for high tea have a set dress code, typically smart-casual. This can include jeans, closed-toe shoes (no sneakers), and a collared shirt.
What tea is served at high tea?
Traditional black teas such as Earl Grey, Assam, and Lady Grey are traditionally served at high tea afternoons. Herbal options such as chamomile, ginger and honey, and peppermint are usually served as well.