Take a Peek Inside Drake's Toronto Mansion
We all know Drake has a bit of money ($170 million by last estimates), but we now know how he likes to spend it. Apparently, it's on ridiculously opulent, custom-designed mansions. Who would have thought? The Canadian-rapper and current Billboard number-one holder has unveiled his new 50,000 square-foot Toronto pad, located in the prestigious Biddle Path neighbourhood.
You'll also like:
How to Get Drake's Haircut
What is Drake's Net Worth?
100 Thieves eSports Gaming Compound and Training Facility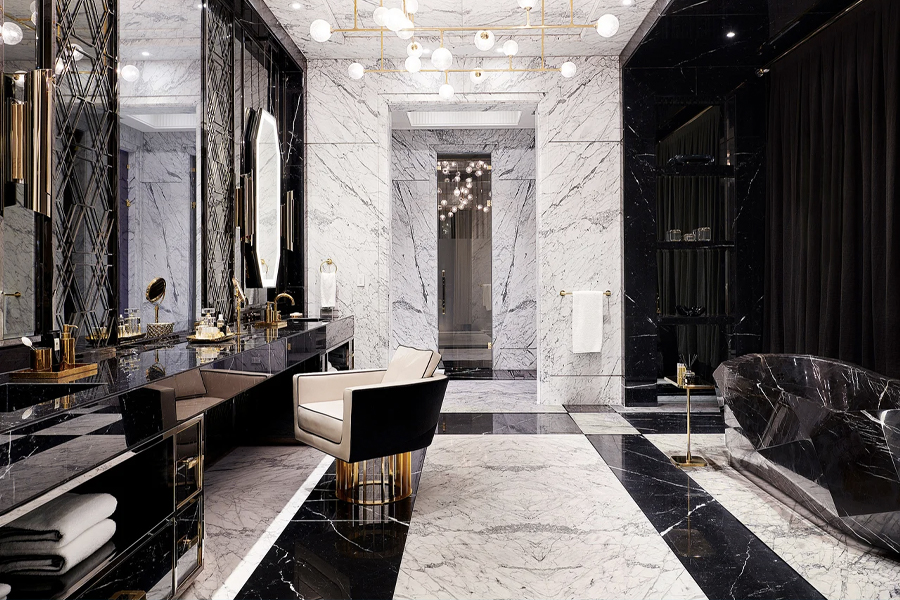 In a shoot with Architectural Digest, Drake peeled back the curtain on the incredible structure. Envisioned by Canadian architectural and interior designer Ferris Rafauli, Drake's house is something to behold. Purchased back in 2015 for a measly $6.7 million, there's no doubting the house is worth infinitely more now. A marvel of old-world craftsmanship, exquisite limestone, bronze and wood features, the Toronto house looks more like a Bond villain's lair or county club. It's little wonder Drake's house has been dubbed 'The Embassy'.
"In form, materials, and execution, the structure is a proper 19th-century limestone mansion. But the exterior profiles are more minimal and the lines are a bit cleaner," Rafauli told Architectural Digest. "This isn't stucco, paint, and fake gold. That's not what Drake wanted, and that's not what I do."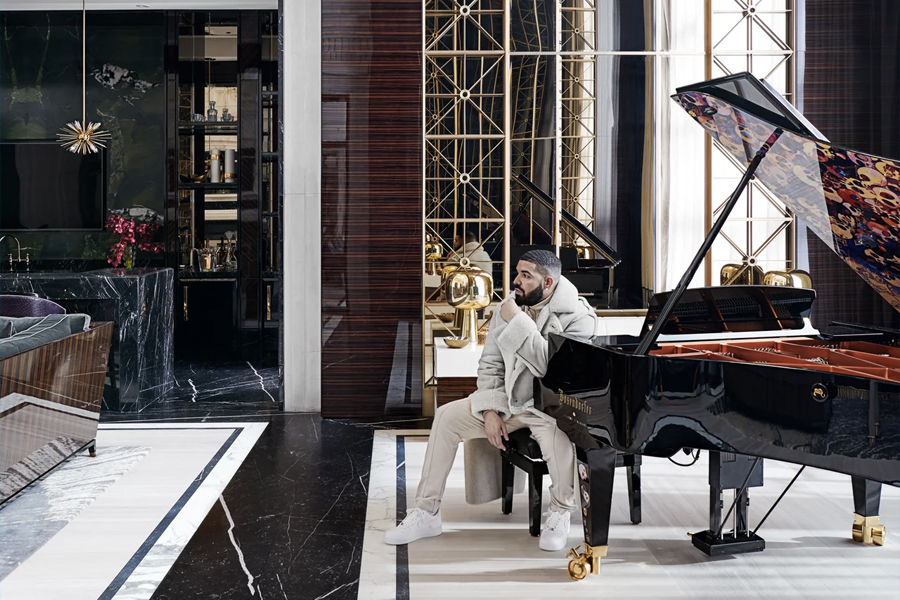 A play on modern art-deco, the rapper's mansion references a number of historical styles, while tweaking them for a contemporary finish. What you end up with, Drake says, is overwhelming high luxury. "That message is delivered through the size of the rooms and the materials and details of the floors and the ceilings. I wanted to make sure people can see the work I've put in over the years reflected from every vantage point."
Inside the structure, you'll find all the elements you'd expect from a big-baller, but with a decidedly refined and elegant approach. The vast entry hall is clad in solid limestone with bevelled inserts of Nero Marquina marble, which sits beneath a faceted ceiling of antique mirrors framed in bronze. From there, you enter the epic great room, which soars to 44 feet high. At one end, a bespoke concert grand piano by Austrian piano maker Bösendorfer designed in collaboration with Japanese artist Takashi Murakami and Rafauli. On the other, a version of Lobmeyr's Metropolitan chandelier, which was originally designed by Hans Harald Rath to decorate the Metropolitan Opera in New York City in 1963. According to Architectural Digest, more than 20,000 pieces of hand-cut Swarovski crystals were used to create the dazzling structure.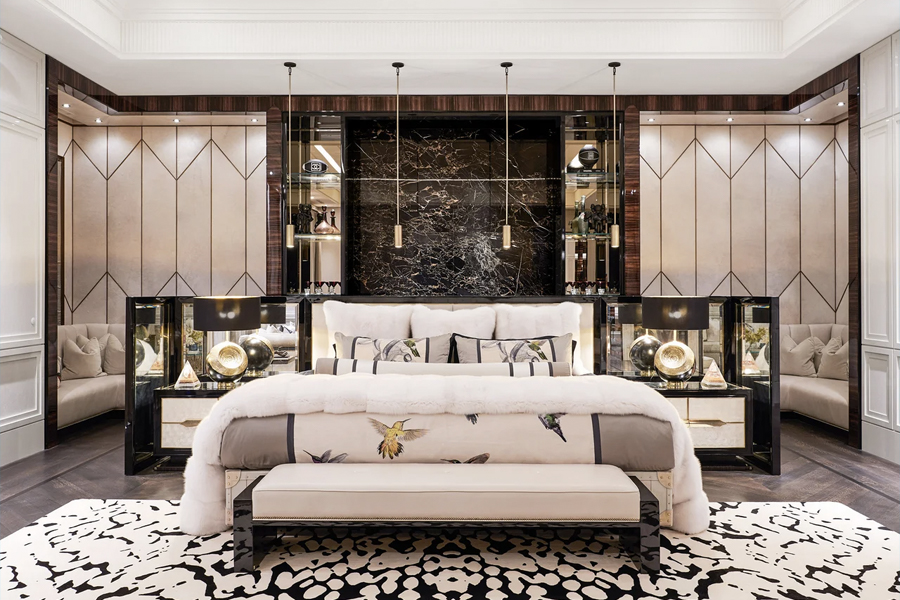 As every single person who ever appeared on MTV Cribs will tell you, the magic happens in the bedroom. Drake's house is no exception. The 3,200-square-foot master bedroom suite is as opulent as humanly possible. A custom bed and bed base, an antique mirror, a whisky and champagne bar all make an appearance in this suite, fit for a king. Drake's house is understandably over the top. But despite its enormous size and intricate craftsmanship, it doesn't feel contrived; merely an expression of fine art played out in functional form.
Oh, and there's also a full-sized basketball court because, well, it's Drake.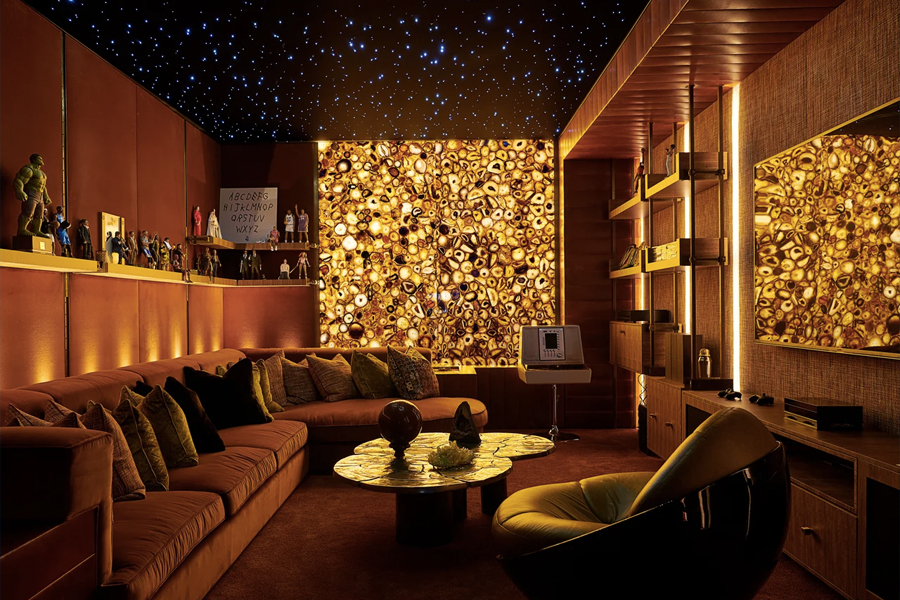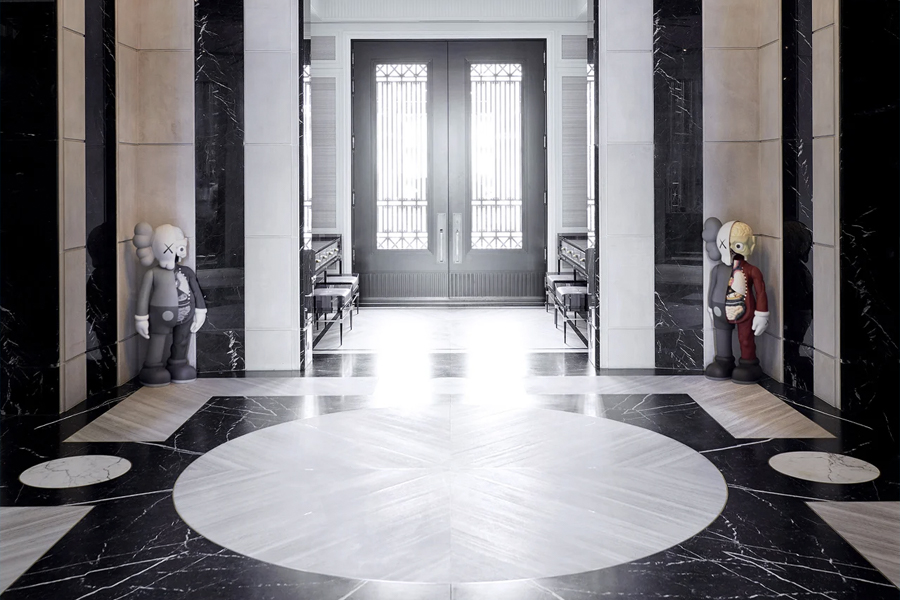 All images courtesy of Architectural Digest.
You'll also like:
How to Get Drake's Haircut
What is Drake's Net Worth?
Property Icon Tim Gurner Lists $4.5 Million South Melbourne Penthouse