16 Best Wetsuits for Surfing in Any Condition
Unless you're lucky enough to live near warm ocean water, you'll need to wear one of the best wetsuits for surfing. That's because it performs the fundamental task of protecting you from cold or freezing temperatures as you wait for the perfect wave. By keeping your blood flowing and your muscles warm, the best surfing wetsuits improve coordination, reduce injury, and aid with mobility.
As most surfers can tell you, the activity is prone to all sorts of variables. So too is any given list of the best surfing wetsuits. Not only do different designs accommodate different temperatures and situations, but a few brands are eschewing materials like neoprene in favour of something more natural and sustainable. That said, trusty neoprene remains more or less ubiquitous.
The majority of swimmers and surfers opt for single-piece (aka closed-cell) wetsuits before taking to the water. However, there is also such a thing as an open-cell wetsuit, which offers more suction to prevent water from getting in (and can be a total pain to put on or take off).
At the end of the day, you might be hitting the waves with different intentions than the next guy. Then there are potential fluctuations in temperatures and budgets alike. For these reasons, we've included value wetsuits, winter wetsuits, cold-water wetsuits, and more. But first: let's review some basics.
You'll also like:
9 Best Surfboard Shops in Melbourne
11 Best Surfboard Shops in Sydney
The Gold Coast's Best 12 Surf Schools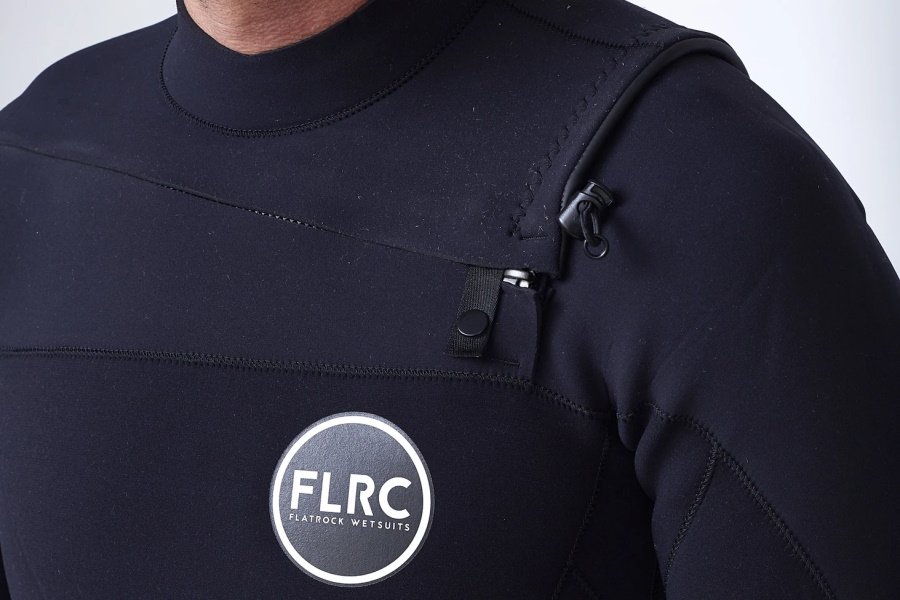 Wetsuit Zipper Placement Types
Surfing wetsuits are commonly distinguished by way of three separate factors: their zipper setup, the thickness of their material, and their stitching. Here are three different types of zipper setups:
Back-Zip Wetsuit – What was originally the only kind of wetsuit is now both the most affordable and least effective option. It features a zipper on the back, which usually goes down a little under halfway. This type of wetsuit is not recommended in cold temperatures, as the water can and will seep down your back.
Chest-Zip Wetsuit – Drop a little more cash and you can get yourself a quality chest-zip wetsuit. Featuring a small zipper in the chest area, this type of wetsuit generally lasts longer and offers better warmth and protection. On the negative side, it can be a hassle to put on and take off.
Zipperless Wetsuit – This type of surfing wetsuit is a relative newcomer, which reportedly offers security, flexibility, warmth, and durability in equal measure. Expect to pay for the privilege of owning one.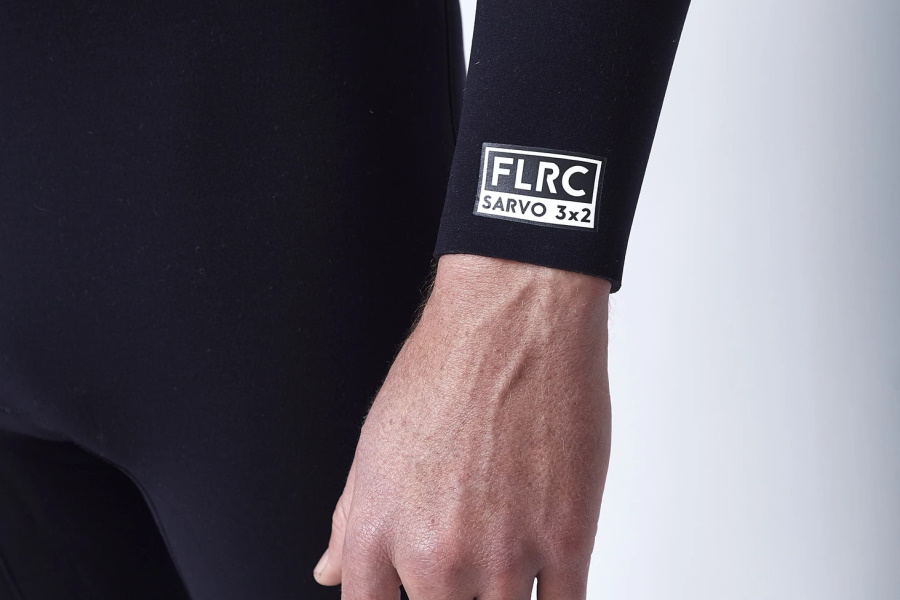 Surfing Wetsuit Thickness
Different temperatures call for different levels of thickness, which are measured in mm. When you see two or even three numbers in the overall measurement, those numbers go from the core layer outward. Here's a general outline:
2mm – Good for 19 – 22°C (mid 60s to low 70s).
3/2mm – Good for 13 – 18°C (low 60s to high 60s).
4/3mm or 4/3/2mm – Good for 10 – 14°C (low 50s to low 60s).
5/4mm or 5/4/3mm – Good for 8 – 12°C (low to high 40s).
6/5mm or 6/5/4mm – Good for 8°C (low to mid-40s and high 30s).
7/6 or 7/6/5mm – Good for <5°C (mid 30s and below, but seriously stiff and tough to manage).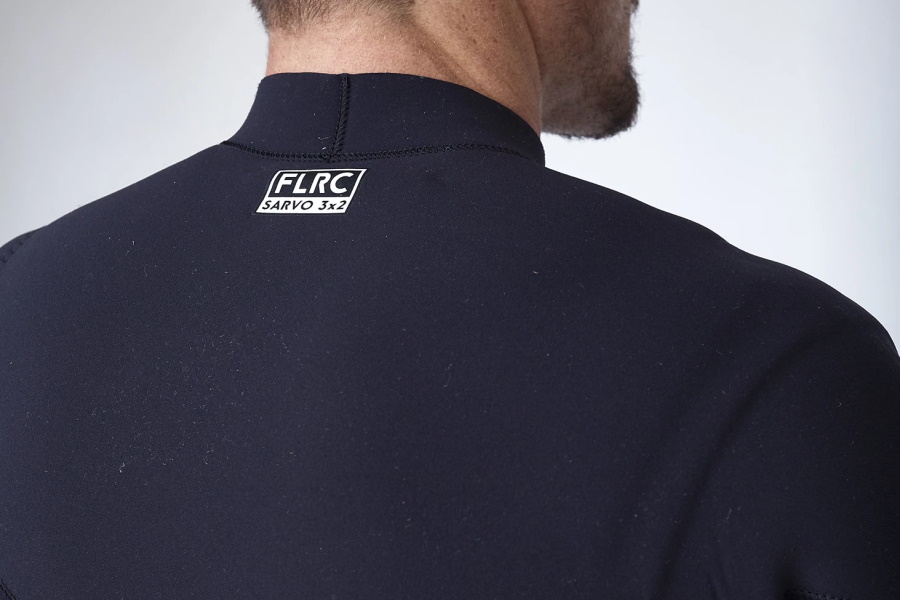 Type of Stitching
If you want to keep the water out and the heat in, get to know your stitching. Here's a breakdown:
Overlock Stitching – A fixture on cheaper wetsuits, it lets the water seep in.
Flat Stitching – A middle of the road option that holds up better than overlock stitching, but still lets the water in.
Blind Stitching – Narrower stitching and glued seams will keep you relatively warm and dry, meaning this is one of your best (and more expensive) options during cold weather.
Stitchless – When a surfing wetsuit is sealed, taped, glued, or all of the above, it tends to skyrocket in terms of price point. Furthermore, it won't necessarily hold up as well over time as most blind stitched counterparts. Nevertheless, some of the best winter surfing wetsuits are stitchless because they do a great job of keeping you dry.
Best Wetsuits for Surfing
For warm and cool conditions, here are some of the best wetsuits for surfing: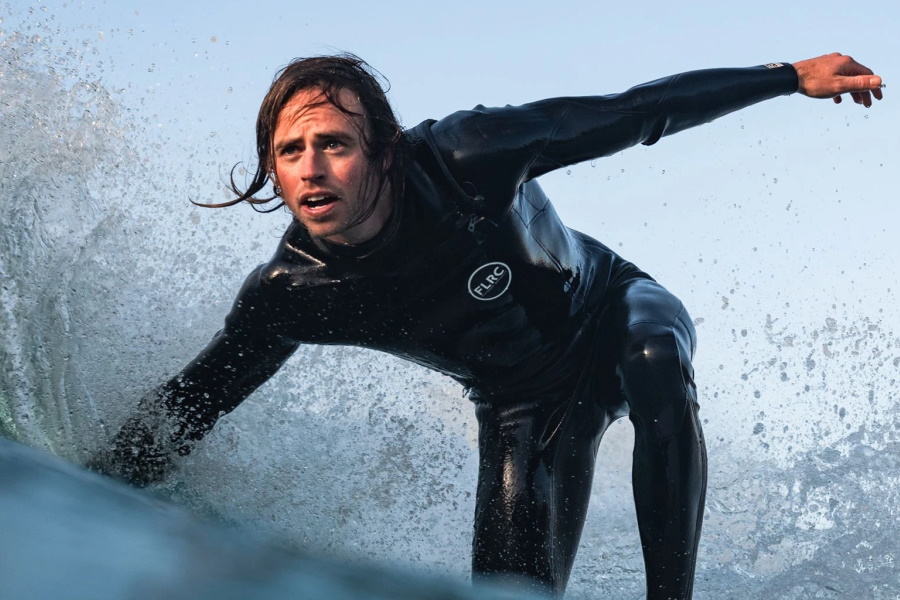 1. Flatrock Sarvo Steamer 3/2mm
Each Flatrock wetsuit is constructed by hand in a small Japanese fishing village, resulting in an extra tier of detail, softness, and craftsmanship. This might very well be the most comfortable surfing wetsuit money can buy.
Zipper system: Chest
Neoprene thickness: 3/2mm
Price: AU$350
2. Rip Curl Flashbomb Heat Seeker Zip Free 3/2mm
Look ma, no zippers! Pair that with innovative Flex Energy lining—which generates heat as it stretches—and you have one of the best surfing wetsuits, period. It comes to us from Rip Curl, whose reputation is second to none. Welcome to the top shelf, gentlemen.
Zipper system: Zipperless
Neoprene thickness: 3/2mm
Price: AU$700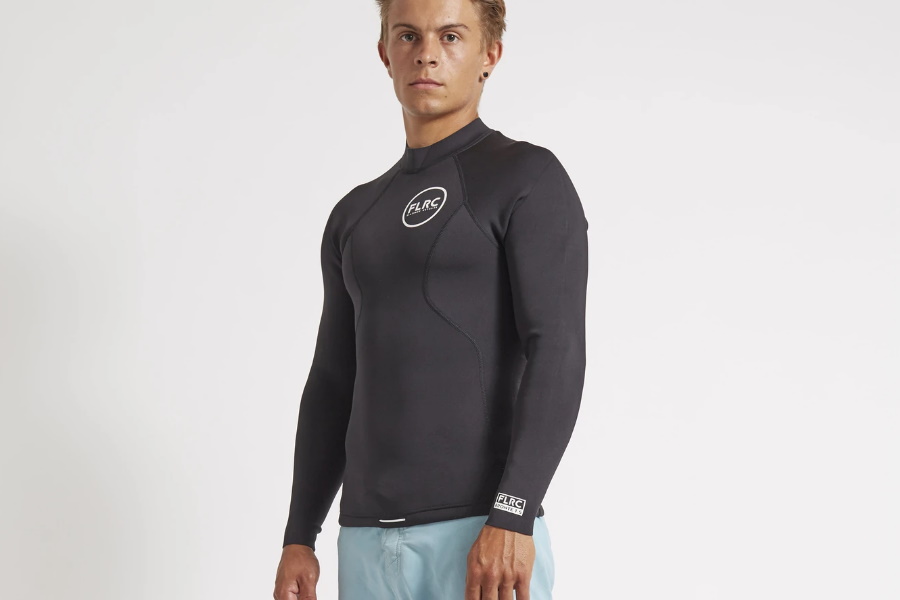 3. Flatrock Bronte Wetsuit Top 1.5mm
Years in the making, the Bronte Wetsuit Top is yet another ultra-comfortable stunner from Flatrock. Its lightweight material regulates your body temperature to prevent overheating, while a toggle system allows for seamless adjustments. Put it on with ease and wear it during the warmer months.
Zipper system: Zipperless
Neoprene thickness: 1.5mm
Price: AU$150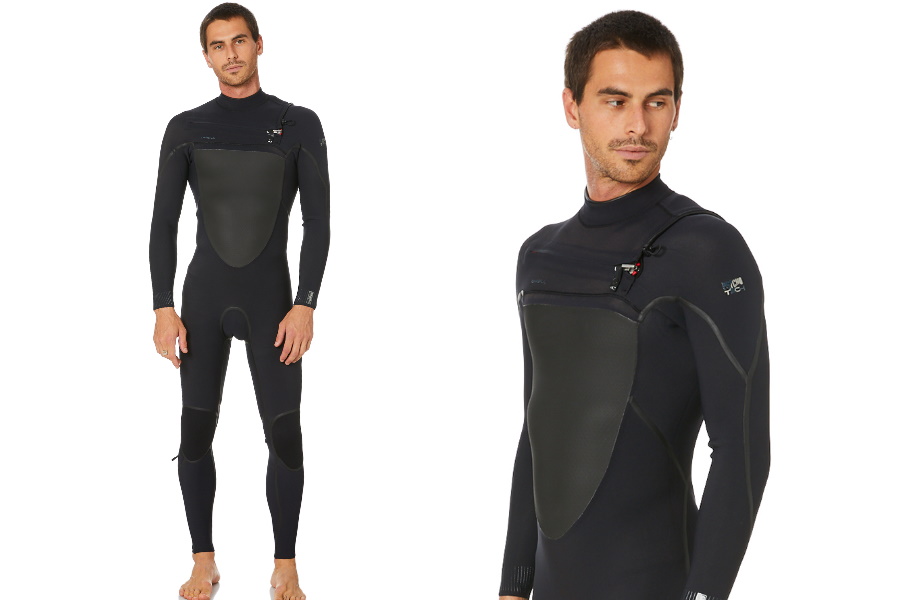 4. O'Neill Psycho Tech Steamer Chest Zip Wetsuit 3/2mm
Often touted as some of the best wetsuits for surfing, O'Neill's Psycho Tech line delivers an impeccable tier of warmth and stretchability. As with other entries in the range, this one combines TechnoButter 3 neoprene with heat-generating TechnoButter Air-Firewall for the ultimate package.
Zipper system: Chest
Neoprene thickness: 3/2mm
Price: AU$600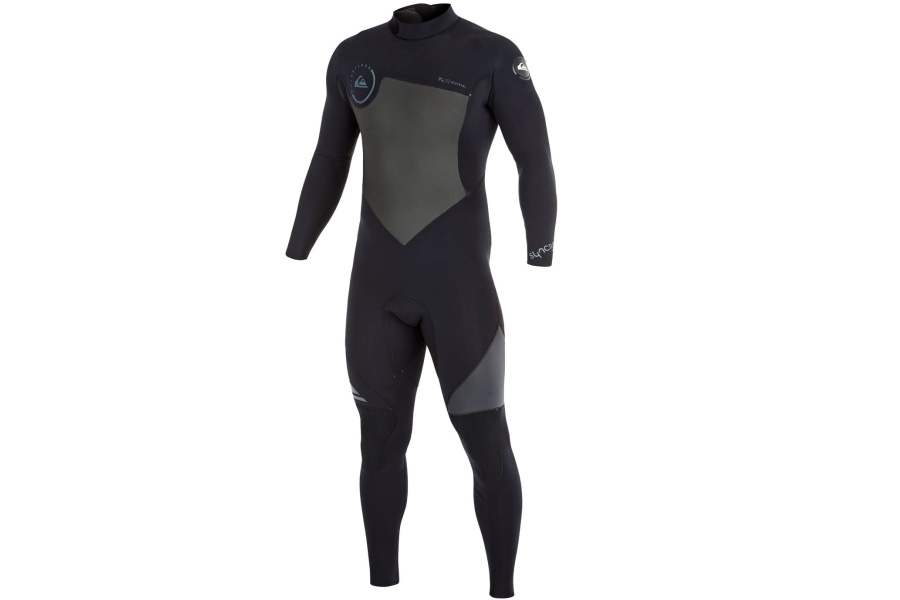 5. Quiksilver Men's Syncro Steamer Surfing Wetsuit 3/2mm
Lightweight by design and quick to dry, this surfing wetsuit from Quiksilver strikes the perfect balance between quality and affordability. If you want to cover the basics with efficiency and style, look no further.
Zipper system: Back
Neoprene thickness: 3/2mm
Price: US$170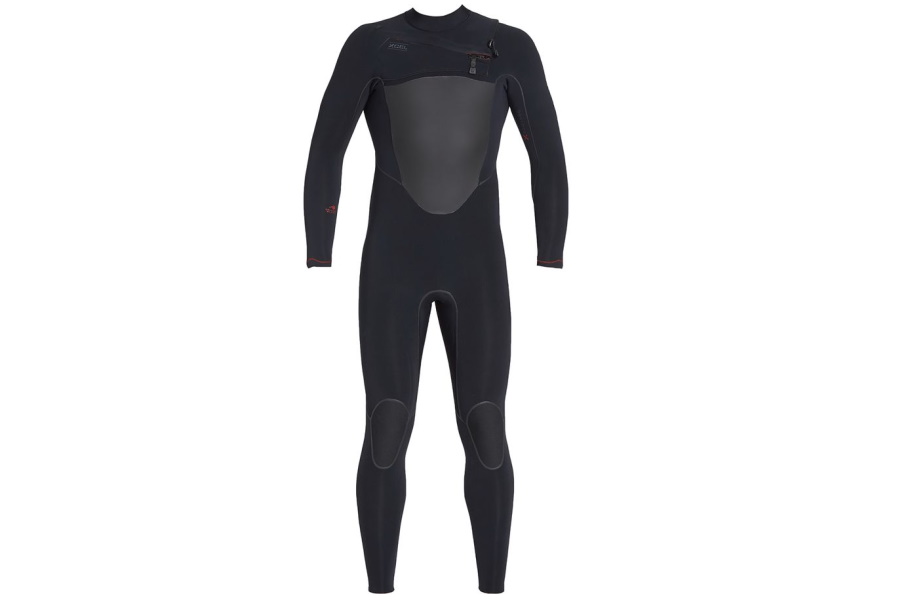 6. Xcel Drylock X Surfing Wetsuit 3/2mm
Xcel is beloved by surfers worldwide and with good reason, as the brand warms you up without weighing you down. Crafted from Japanese limestone nanoprene (aka neoprene), Drylock X features Celliant black inner lining, extra protection on the wrists, ankles, and collar, and a waterproof chest zipper with a magnetic seal.
Zipper system: Chest
Neoprene thickness: 3/2mm
Price: US$280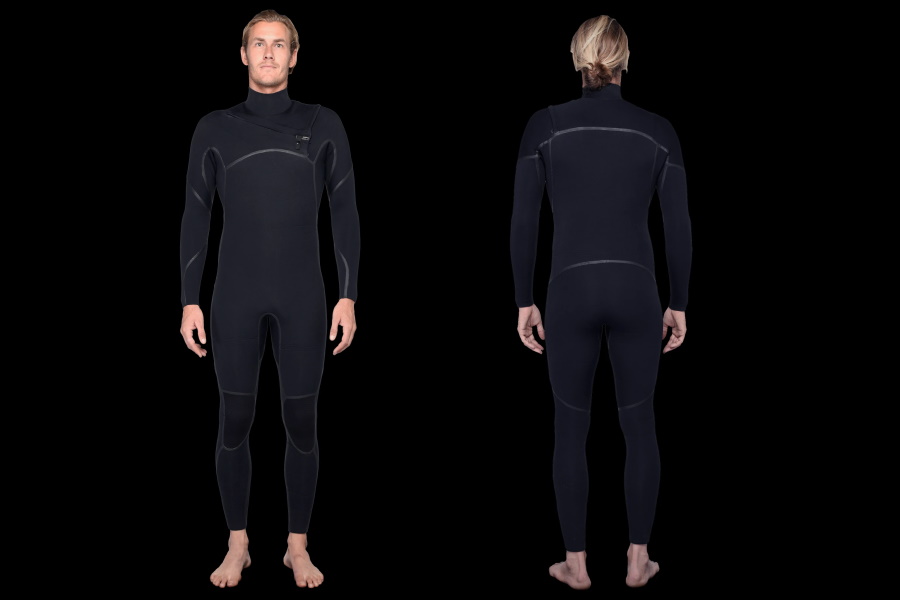 7. Need Essentials Ultra Premium Chest Zip 3/2mm
If you want true bang for your buck, check out Need Essentials, which packs a bevy of choice features into its Ultra Premium wetsuit. That includes 80% Rapid-dry thermal lining, sealed cuffs, and the highest grade of 4-way stretch neoprene. The blind stitched seams are both glued and taped and the cuffs are sealed. At US$290, this is easily one of the best value wetsuits for surfing.
Zipper system: Chest
Neoprene thickness: 3/2mm
Price: US$290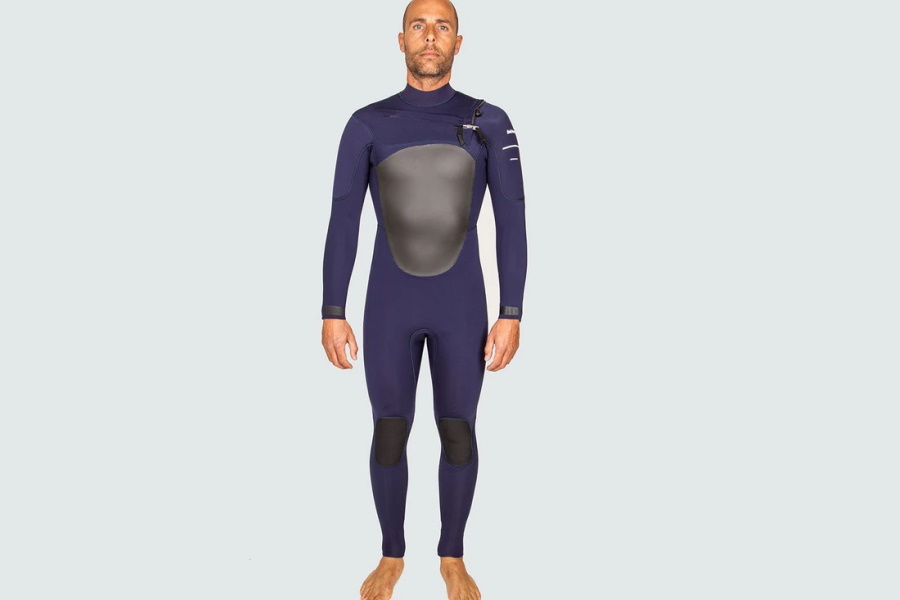 8. Finisterre Nieuwland 3E Surfing Wetsuit 3.5/2.5mm
Offering peace of mind and body alike, Finisterre's first summer wetsuit is made from sustainable materials such as Yulex Pure natural rubber and recycled laminates. Double-needle blind stitching and fully taped seams keep the water out while an elongated back panel improves heat retention. You might struggle a bit (or require assistance) when putting this wetsuit on or taking it off, but in return, you get supreme warmth and a perfect fit.
Zipper system: Chest
Thickness: 3.5/2.5mm
Price: US$295
Best Wetsuits for Winter & Cold Water
Thanks to the best winter and cold-water wetsuits for surfing, frigid temperatures won't get between you and those gnarly waves!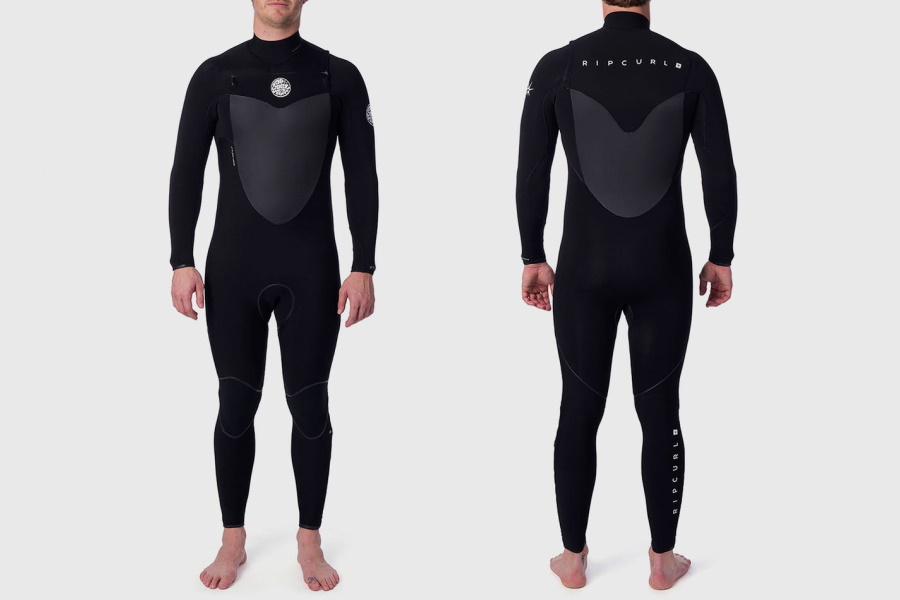 9. Rip Curl Flashbomb Chest Zip Wetsuit Steamer 5/3mm
This high-performance wetsuit is fast to dry and 25% stretchier and lighter than the previous model. Plus, it comes from Rip Curl. If you have the cash to spare, grab a Flashbomb and be done with it.
Zipper system: Chest
Neoprene thickness: 5/3mm
Price: AU$680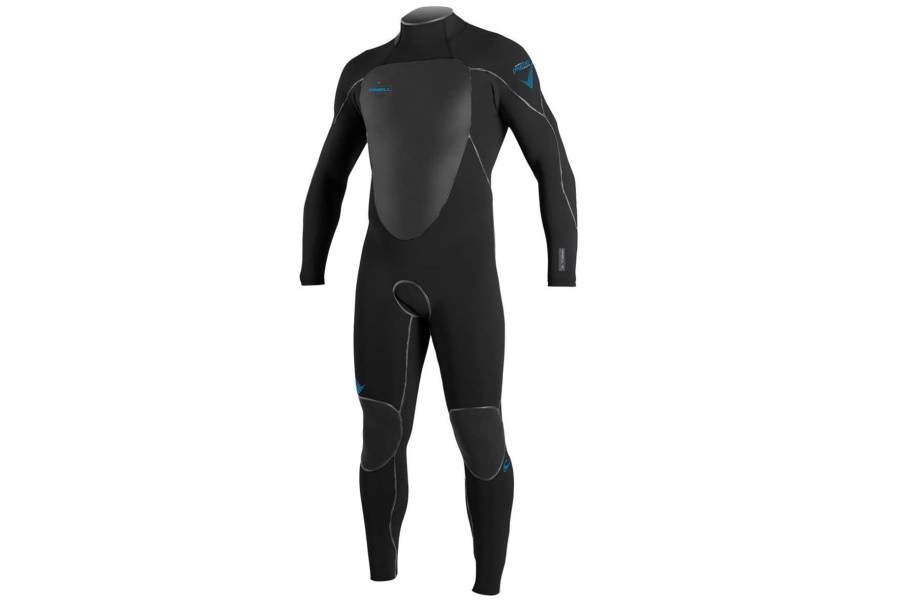 10. O'Neill Psycho Freak Zen Surfing Wetsuit 4/3mm
O'Neill's top-selling silhouette culls from the best of all worlds. Streamlined and superior, it pairs high-grade neoprene with watertight stitchless technology and super seal cuffs. If you're seeking one of the best cold-water wetsuits for surfing, it's a no-brainer.
Zipper system: Back
Neoprene thickness: 4/3mm
Price: US$520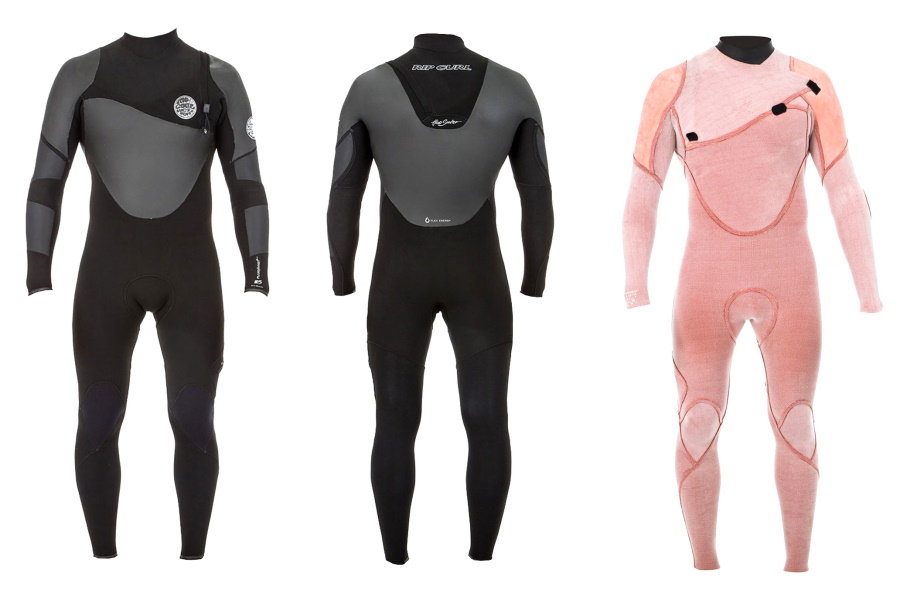 11. Rip Curl Flashbomb Heatseaker Surfing Wetsuit 4/3mm
Rip Curl is one of the best names in the game and Flashbomb is their best range, which is why we've included it no less than three times. This zip-free wetsuit is bolstered by Flex Energy lining, liquid mesh panels, and so much more. It will cost you, but it's worth every penny.
Zipper system: Zipperless
Neoprene thickness: 4/3mm
Price: US$436 (and up)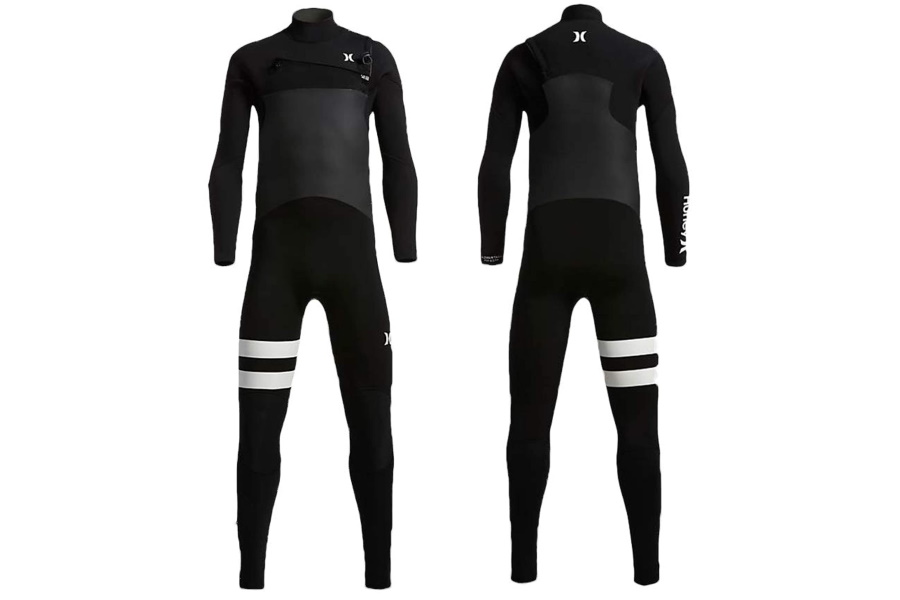 12. Hurley Advantage Plus Surfing Wetsuit 4/3mm
One of the best value wetsuits for surfing, Hurley's Advantage Plus features double-glued, blind stitched seams for a smooth feel. That's joined by lightweight and less absorbent kneepads and a discreet external key pocket on the lower leg, amongst other things.
Zipper system: Chest
Neoprene thickness: 4/3mm
Price: US$230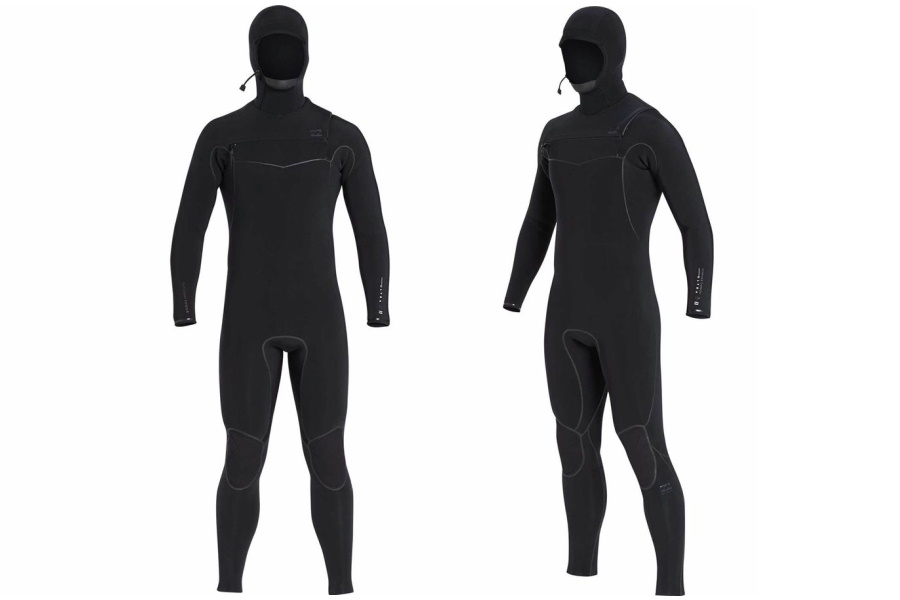 13. Billabong Furnace Surfing Wetsuit 5/4mm
Built like a furnace with the name to show for it, this premium wetsuit features welded seams and an adjoining hood. To put it in the simplest of terms: when the water is cold (about 45-55F), you stay mobile and warm.
Zipper system: Chest
Neoprene thickness: 5/4mm
Price: US$440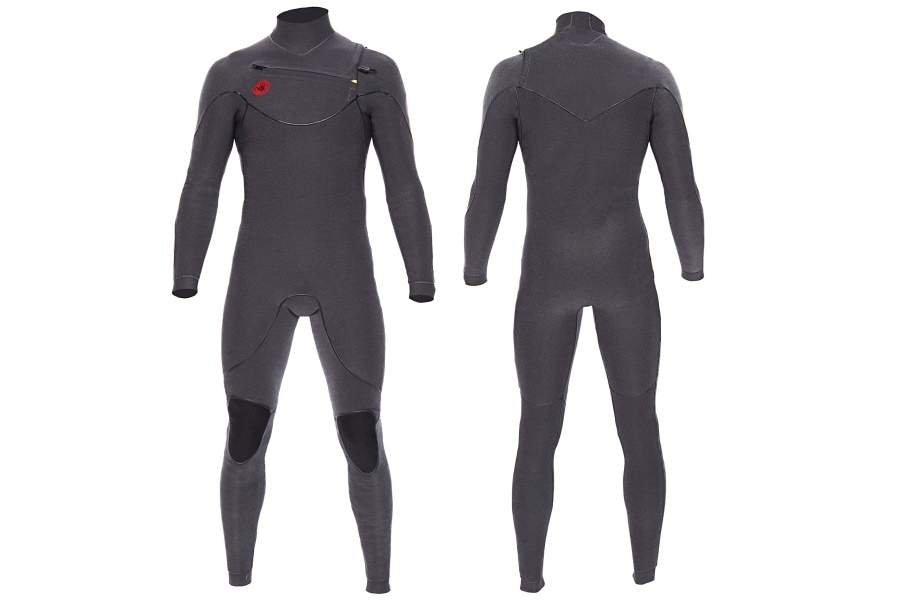 14. Body Glove Red Cell Surfing Wetsuits 4/3mm
With its infrared honeycomb insulation, evo-dry exterior, super-stretch neoprone, and other choice specs, the Red Cell easily ranks amongst the best winter wetsuits for surfing. It's a smooth and durable operator, to say the least.
Zipper system: Chest
Neoprene thickness: 4/3mm
Price: US$368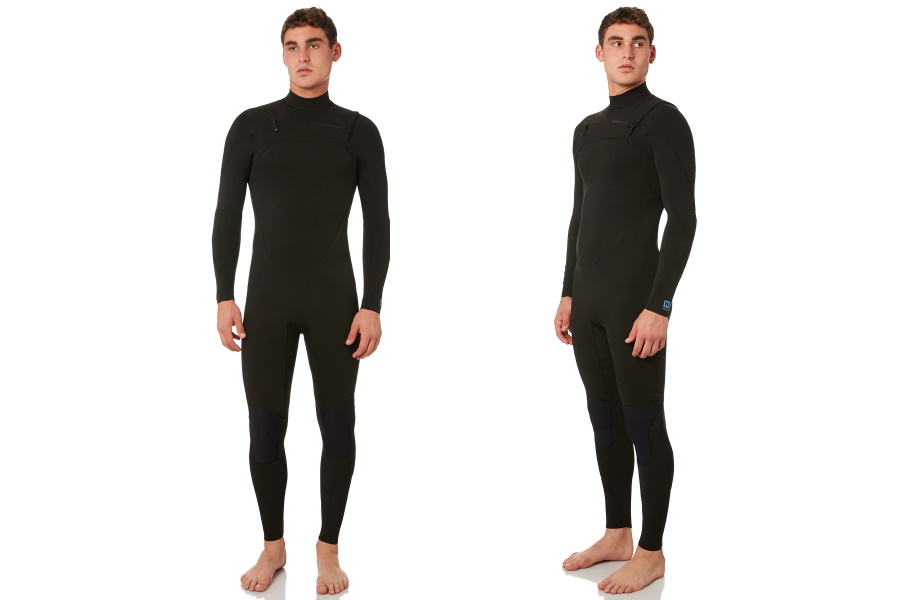 15. Patagonia Men's R3 Yulex FZ Surfing Wetsuit 3.5/3mm
The wetsuits from Patagonia have a reputation for being overpriced and a little uncomfortable, but they're also eco-friendly. In lieu of neoprene, this silhouette employs a blend of 85% Yulex natural rubber and 15% synthetic rubber. It's also Fair Trade Certified sewn.
Zipper system: Chest
Neoprene thickness: 3.5/3mm
Price: US$363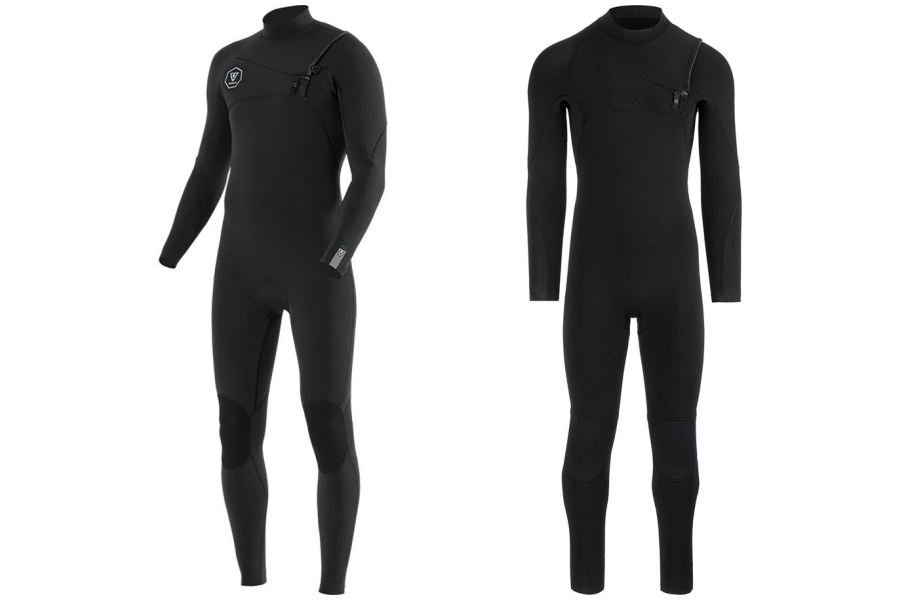 16. Vissla 7 Seas Surfing Wetsuit 4/3mm
Vissla's 7 Seas Surfing Wetsuit is constructed from limestone neoprene and loaded with high-performance features. Glideskin on the neck and liquid tape cuffs reduce flushing while Brain Fuzz lining traps heat and drys quickly. Stretchy and comfortable, the wetsuit is further distinguished by its striking colourway and unbeatable price point.
Zipper system: Chest
Neoprene thickness: 4/3mm
Price: US$230
General FAQ
What's the best wetsuit for surfing?
O'Neill's Psycho Tech line and Rip Curl's Flashbomb line are considered two of the best wetsuits for surfing, though they tend to cost more than most counterparts.
Which wetsuit brand is the best?
Some of the best wetsuit brands are Rip Curl, O'Neill, Flatrock, Xcel, Quiksilver, Need Essentials, and Billabong.
How do I choose a wetsuit for surfing?
Once you know the general temperature of the water, consider the following factors when buying a wetsuit: placement of the zipper, thickness of the material, and type of stitching. All of these features will affect dryness, warmth, and comfort levels while you surf.
How much should you spend on a wetsuit?
The price of a quality wetsuit can swing from US$180 up to US$600 and higher. If you don't have tons of money to spend, you can find a number of great wetsuits in the US$200-$350 range.
You'll also like:
9 Best Surfboard Shops in Melbourne
11 Best Surfboard Shops in Sydney
The Gold Coast's Best 12 Surf Schools